Well, so much for that first series win of 2015. The Yankees, who have looked like the better team in exactly one of their nine games, dropped the rubber game 7-5 to the Orioles on Wednesday night. They've lost their first three series of the season for the first time since 1991. Not a good year to be associated with!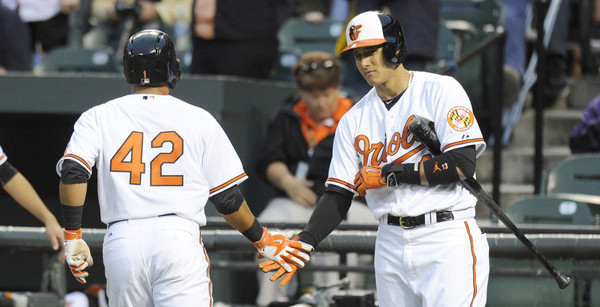 Bullpen Meltdown
By and large, the bullpen has been really good in the early going this season. The relief crew went into Wednesday night's game with a 1.73 ERA (3.80 FIP) in an MLB high 36.1 innings, which is partly due to the 19-inning game and partly due to the starters basically never completing six innings. The bullpen was supposed to be a strength and it was up until this game.
The Yankees handed the bullpen a one-run lead to start the sixth, and the lead was gone within two pitches and the game was out of hand within 16 pitches. David Carpenter served up a solo homer to Jonathan Schoop (of course it was Schoop) and a soft single to Alejandro De Aza to start the inning before the Orioles gifted him an out with a sac bunt, pushing the go-ahead run into scoring position.
Joe Girardi wisely intentionally walked Adam Jones and went to lefty Justin Wilson to face Travis Snider, who was lifted for pinch-hitter Delmon Young. Young, who always seems to kill the Yankees, pulled a dinky little ground ball through the left side — it wasn't even a bad pitch, it was on his shoestrings — to score De Aza and give the Birds a 4-3 lead. The beast formerly known as Chris Davis slapped a two-run double into left-center to make it 6-3. Four runs in the span of 16 pitches, including the intentional walk.
Caleb Joseph (Caleb Joseph!) capped off a 3-for-4 night with a single against Chris Martin to score Davis and make it a 7-3 game. The bullpen has been a weapon for the most part this season, but three relievers combined to allow five runs on five hits and one intentional walk in that sixth inning, turning a one-run lead into a four-run deficit. For these Yankees to have any chance of contending, the bullpen needs to turn those one-run leads into wins regardless of whether they're asked to get three outs or 12 outs. That's just the way the team was built.
Three Early, Two Late
Some two-out singles gave the Orioles a quick 1-0 lead in the first, though the Yankees rallied in the second and third innings to take a 3-1 lead. They scored their first run with a two-out rally —
Jacoby Ellsbury
doubled,
Chase Headley
walked, and Zombie
Carlos Beltran
rose from the dead to hit a two-run double off the very top of the right field wall. It was maybe six inches from being a three-run homer. Best ball Beltran has hit all year, hands down.
The third run came on a vintage Alex Rodriguez moonshot. Bud Norris made the mistake of throwing Alex a 2-0 fastball and A-Rod unloaded. It was a no doubter off the bat and it cleared the first section of seats in left field. Watch the video above. That's peak A-Rod silliness right there. That poor pitch didn't stand a chance. The homer gave the Yankees a 3-1 lead … then ten of the next 13 men they sent to the plate made outs.
To their credit, the Yankees made a run late on Baltimore's bullpen, scoring a pair of runs in the eighth against Tommy Hunter. It would have been more had Jones not made a great running catch to rob Brian McCann of a double. The would-be double was instead a sac fly, then Mark Teixeira scored on a wild pitch to make it 7-5. A Chris Young double and an Ellsbury walk — he worked an 0-2 count into a walk — put the tying run on base with two outs in the ninth, but Headley grounded out to second for the 27th out.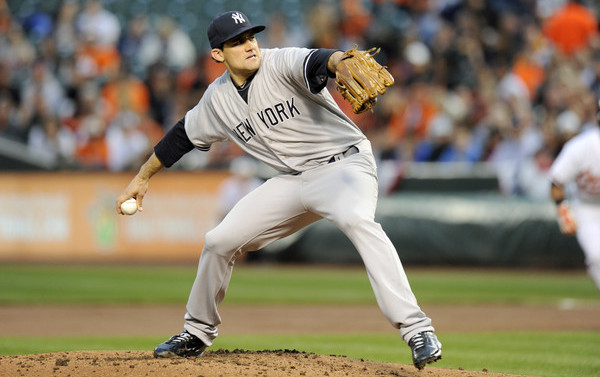 Nasty Nate And The Nine Strikeouts
After getting one strikeout and four swings and misses in his first start of the season last week, Nathan Eovaldi struck out nine Orioles — one shy of his career high — and generated 15 swings and misses in five innings Wednesday night. He threw 101 pitches and six of those nine strikeouts came on sliders. Eovaldi seemed much more comfortable with his breaking ball in this start than he did his last.
Of course, 101 pitches in five innings isn't all good, and Eovaldi didn't have a single 1-2-3 inning. He stranded runners in scoring position in the first, fourth, and fifth innings, including the bases loaded in the fourth. The nine strikeouts are nice, but Eovaldi allowed eight hits and three walks in five innings and that's not very good! He's had a history of being hittable — to be fair, the entire rotation has been hittable this year — and we've gotten a firsthand look at it these first two starts. Eovaldi looked really good at times. It'll be nice if he can do it most of the time going forward.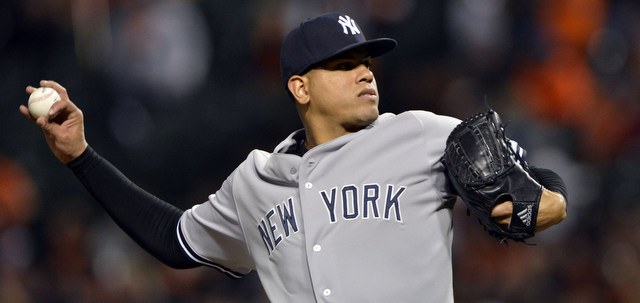 Leftovers
Branden Pinder made his big league debut in the eighth and allowed a booming triple to De Aza, then got bailed out when Everth Cabrera popped up a suicide squeeze attempt for a double play. Pinder managed to allow a hit and record three outs on four total pitches. Dellin Betances chucked the eighth and struck out two while allowing a hit. He looked better than he has — ten of his 14 pitches were breaking balls — but still isn't all the way back to 2014 Dellin.
Every starter aside from McCann and Stephen Drew had a hit, and McCann would have had a hit if not for that great play by Jones. Didi Gregorius has a two-game hit streak going — hey, he'll take it! — and nearly made a nice play ranging to his left to snare a hard-hit grounder, but he couldn't make the transfer. They initially ruled it an error but changed it to a hit, and good. That play was far from routine.
I'm not normally one to complain about the strike zone, but home plate umpire Sean Barber's zone in this game was … oddly shaped. Let's put it that way. Here are the PitchFX plots. Erik Boland says Barber is a fill-in ump from Triple-A, which I guess explains it. Lots of weird calls for both sides.
The Yankees have scored the first run in two of nine games this year. They're trailing every time you look up, it seems. Playing from behind all the time is no way to go through life.
And finally, the homer was the 656th of A-Rod's career. Four more until he ties Willie Mays for fourth place on the all-time list.
Box Score, WPA Graph & Standings
Here are the box score, video highlights, and updated standings. Also make sure you check out our Bullpen Workload and Announcer Standings pages. Here is the win probability graph:

Source: FanGraphs
Up Next
The Yankees have an off-day Thursday then will head to Tampa, their home away from home. They open a three-game series with the Rays on Friday night. Adam Warren and Nate Karns are the scheduled starters.