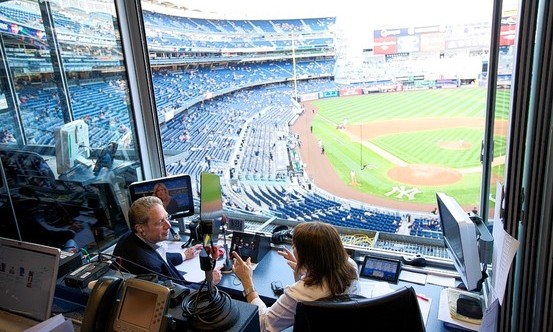 According to Bob Raissman, John Sterling and Susan Waldman have agreed to a new two-year contracts to stay on as radio voices of the Yankees. Raissman says negotiations with Sterling were "somewhat acrimonious," but the Yankees were committed to bringing the duo back.
Sterling and Waldman just completed their 12th season together. Sterling is an iron man, he hasn't missed a game in 27 years, and last year he said he is "never going to retire. I don't understand why people would." Waldman replaced Michael Kay in the radio booth when Kay joined the YES Network.
I enjoy Sterling and Waldman though I don't listen to many games on the radio. Sterling does seem to be making more mistakes or simply missing more plays nowadays than he did a few years ago. The Yankees reportedly do not have hiring or firing power over the radio booth, but they do have input, and apparently they wanted Sterling and Waldman back for at least another two years.