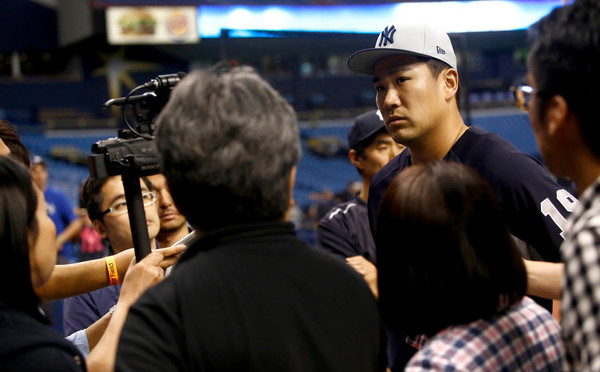 Before stepping to the mound yesterday afternoon in Tampa, Masahiro Tanaka had already surrendered ten home runs to opposing hitters. Then he gave up three more. His HR/9 currently sits at an unconscionable 2.44 and his HR/FB% is absurdly high at 24.5%. Tanaka's always been prone to giving up home runs, but they're flying out at a ridiculously rapid rate in 2017. How?
The first culprit that jumps out is the fastball. Per Brooks, that pitch had a 50% HR/(FB + LD) rate going into yesterday's game. That pitch accounts for the lowest percentage of Tanaka's pitches this season, and he's famously avoided throwing it recently, sticking more to a sinker, splitter, slider mix. But two of the homers he gave up yesterday–the ones to Corey Dickerson–were both on the four seam fastball. The other homer, from Longoria, came against a sinker.
Then, there's the splitter. As always, this has been a generally effective pitch for Tanaka. Its whiff/swing% is over 30 and its grounder rate is pushing 70%. But on the flip side, its led to three homers against Tanaka and batters are hitting it to a .229 ISO, not counting yesterday's start. Its HR/(FB+LD)% is up at 27.27. For his career, it's predictably low at 7.3%.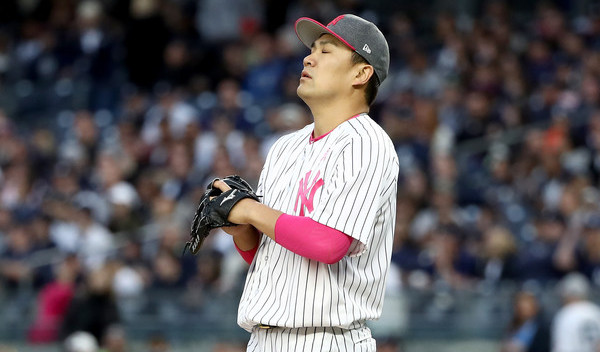 The slider, conversely, has been right along with his career rates in its success this year. Basically, all the hard stuff Tanaka throws is being hit equally hard, leading to lots of homers, lots of runs, and lots of frustration. Taking a look at the ISO marks against the hard stuff, it's clear that Tanaka's command of those pitches is off.
A solution to this problem isn't necessarily easy to find. It'd be wrong to suggest a pitcher with elbow issues in the past begin throwing more sliders, but we can't just click our heels or cross our fingers and expect Tanaka's command to be back to form.
Time is likely the best answer since this is such an extreme exaggeration of one of the few issues Tanaka has had on the mound since joining the Yankees. Were this a year like 2016, this might be less worrisome. But given that the Yankees seem to be, well, actually pretty good this season, Tanaka performing like his normal self is imperative. 2017 was lined up to be a 'house money' type of year for the Yankees. If they did well, great! If not, hey, at least there's a bunch of young, exciting guys. Luckily for us, the two things seem to be converging. Regardless of that, one thing was true heading into this year–as it has been the last few years–if anything good was going to happen to this team, it needed Tanaka to be its strongest pitcher. That hasn't happened so far in 2017. And given the rest of the Yankee rotation, if Tanaka doesn't get back to his regular levels, the charm of an unexpected playoff season may not last too long.