By

Feb. 24th: The rule change, which is being called "experimental," has officially been announced by MLB and the players' union. Long story short, the runner must not deviate from his path to the plate and the catcher can not block the plate without the ball. Plays at the plate are subject to instant replay. The full details are right here.

Feb. 19th: Via Jon Heyman: The ban on home plate collisions may be ratified in time for the start of Spring Training games. MLB approved the rule change back during the Winter Meetings, but both the umpires' and players' unions still have to sign off. Heyman says the umpires are likely to approve the change, so really all that's left is the thumbs up from MLBPA.

According to Buster Olney (subs. req'd), the holdup has to do with precise language for the new rules and is not an indication things may fall apart. Several players and managers were consulted during the process, including Joe Girardi. The basic idea is that the runner will not be able to target the catcher and the catcher must give the runner a clear line to the plate. Everyone wants the game to be safer, but they also want the rule change to be approved soon so players can adjust during Spring Training, before the real games begin. · (35) ·
With the exhibition games set to begin on Tuesday, the Yankees had a very light workout day today. All the fun stuff starts tomorrow. Here's the latest from Tampa.
This is your open thread for the night. The Knicks are playing tonight and that's pretty much it. The NHL returns from the Olympic break tomorrow and, of course, Spring Training games start across Florida and Arizona. You folks know how this works by now, so have at it.
By

The Yankees have officially signed outfielder Brett Gardner to a four-year contract extension with a fifth year club option, the team announced. Yesterday we heard the deal was worth $52M guaranteed with a $12.5M option ($2M buyout). Gardner is already under contract for $5.6M for 2014, so the extension covers 2015-18 and potentially 2019. Can't say I was expecting to write something like this as recently as 48 hours ago. · (14) ·
I honestly did not expect it to happen, but over the weekend the Yankees agreed to a long-term contract extension with outfielder Brett Gardner. The four-year deal kicks in next season and can keep him in pinstripes through potentially 2019. The Yankees paid market rate but they kept their homegrown player and avoided a potential free agent bidding war after the season.
After news of the deal leaked, Brian Cashman confirmed to reporters that the team's no extensions policy was dead. It had been dead for a while, but it wasn't until now that the club actually managed to sign a player long-term. They tried to ink Russell Martin, Hiroki Kuroda, and Robinson Cano to extensions before they hit the open market within the last two years, but were unsuccessful each time. Only Kuroda re-signed with the team as a free agent.
Hammering out the extension with Gardner was another sign the Yankees have started to change the way they operate these last few months. The extension policy was trashed, changes were made to the player development system, and the international market was embraced. Yes, the team will pass on Aledmys Diaz, but they showed more interest in him than they ever did Yoenis Cespedes and Yasiel Puig. They also went hard after Masahiro Tanaka and are planning a massive international spending spree this summer.
Those are all signs of progress and it's just the stuff we know about too. Who knows what else is going on behind the scenes. I think the Yankees have been slow to adapt in recent years and not just with this stuff either — they've yet to embrace dynamic ticket pricing and fan caravan events for example, stuff the rest of the league has been doing for years. The front office and ownership have changed their team building philosphies though, and not a moment too soon either. Gardner's deal is the latest and greatest example.
Exhibition games start tomorrow and the regular season is five weeks away. Between now and then, we're going to preview the 2014 Yankees not individually, but by grouping players (and personnel) together into different categories. Today we're going to look at the guys who will put the Bombers in Bronx Bombers.
The Yankees made history last season and not in a good way. They hit 101 (!) fewer homeruns last year than they did the year before, the largest year-to-year drop in baseball history. New York went from leading baseball in dingers (245) and ISO (.188) in 2012 to ranking 21st out of the 30 teams in both categories (144 and .133) in 2013, and their runs-per-game average dropped from 4.96 (second) to 4.01 (17th). The lack of power is a big reason why they missed the postseason for only the second time in 19 years.
Blame injuries (Curtis Granderson, Mark Teixeira) and blame roster construction (Ichiro Suzuki and Chris Stewart replacing Nick Swisher and Russell Martin, etc.) for the decline in power. All of that and more was a factor. The Yankees set out to fix that problem starting at the trade deadline last summer and they continued to add some power-hitting pieces over the winter. I doubt they will be able to hit 240+ long balls this coming season, but they should improve on last year's power production overall. Here are the team's primary power sources.
Alfonso Soriano
To the surprise of no one, Robinson Cano led the Yankees with 27 homers last season. Soriano managed to finish second on the team with 17 despite not returning to the Bronx until the deadline. The Yankees were that power starved. Cano left for the Mariners over the winter but the club will now have a full year of Soriano, which will help compensate a bit.
Despite turning 38 last month, Soriano has put together back-to-back 30+ homers seasons these last two years and he's hovered in the .225-.238 ISO range over the last four seasons. He's no longer the 40+ doubles threat he was earlier in the career, but he has managed between 27-33 two-baggers the last three years. Soriano is a steady 60+ extra-base hit bat and, most importantly, the average direction and distance of his batted balls has not changed at all since 2007. From Baseball Heat Maps:
You can click the image for a larger view. The chart on the left is the horizontal angle of the ball off the bat — so +45° is the left field line and -45° is the right field line — and the chart on the right is the distance. Each red dot is an individual batted ball (grounders excluded, so this is everything he hit in the air) and the vertical clusters are individual seasons, so 2007-13 from left to right.
At Soriano's age, any change in his batted ball angle or distance would have been a red flag and possibly an indication his bat has started to slow beyond the point of no return. Instead, Soriano continues to hit the ball to all fields (slightly more towards right field) and just as far as he did seven years ago. Sure, he's had to make adjustments over the years, most notably switching to a lighter bat in 2012, but the end results are the same. He's hitting the ball the same way he has for much of the last decade.
Now, that isn't to say this will continue in 2014. Things can go south in a hurry when you're talking about a player closer to 40 than 35, but there have been no obvious red flags in Soriano's game to date. Outside of 2009, when he missed a month with a knee problem, Soriano has been a consistent 25+ homer, 25+ double, .220+ ISO hitter for a decade now, and aside from sudden age-related decline or injury, there is no reason to expect anything different in 2014. He is the Yankees' best full-time right-handed power source by frickin' far.
Brian McCann
New York's catchers hit eight total homeruns last season, three of which came from Frankie Cervelli before he got hurt in mid-April. The catcher position was an offensive blackhole in 2013 and the Yankees rectified that problem by giving McCann a five-year contract worth $85M. The just-turned-30-year-old is one of only two catchers with 20+ homers in each of the last three seasons (Matt Wieters) and one of only eleven players (all positions) with 20+ homers in each of the last six seasons.
Of course, McCann hit all those dingers while with the Braves in Atlanta, playing his home games in a park that has been perfectly neutral in terms of left-handed homers over the last five seasons according to the park factors at FanGraphs. His lefty power was extra desirable to the Yankees because of Yankee Stadium's short right field porch, which is tailor made for McCann's pull happy swing:
Source: FanGraphs
Don't trick yourself into thinking McCann is something he isn't. This guy is a pure grip it and rip it hitter who is going to try to yank everything over the right field wall. He's going to hit .250-ish and walk enough (9.9% walk rate since 2011) to post decent but not great OBPs, but his real offensive value comes from his power. Homers too, forget about doubles.
I think the whole "sign a left-handed hitter and he'll automatically hit a bunch more homers in Yankee Stadium" idea is generally overstated — not everyone's swing fits the ballpark (see: Overbay, Lyle) — but McCann is exactly the kind of hitter who can really exploit that short porch. His career-high is 24 homeruns (2006 and 2011) and I wouldn't be surprised if he finishes this year with 30-35 homers, especially if he spends some of his catching off-days at DH.
Carlos Beltran
Over the last three years, only ten outfielders have racked up at least 50 extra-base hits in each season. Soriano is one of them and another is Beltran, his new teammate. Heck, if you want to bump up the arbitrary criteria, Beltran is one of only four outfielders with at least 55 extra-base hits these last three years. Soriano is not one of the other three.
The Yankees finally snagged their white whale (well, I think he was the fans' white whale more than the team's) this winter by signing Beltran to a three-year deal worth $45M, nine years after declining to sign him at a discounted rate before he joined the Mets. Beltran has aged remarkably well as a hitter, dipping below a 120 wRC+ only once in the last eight years, and that was his injury-plagued 2010 campaign. He's also managed 20+ homers and 25+ doubles in each of the last three years and six of the last eight years, with 2009-10 being the only exceptions. Injuries limited him to 145 total games those two seasons.
Unlike Soriano and McCann, Beltran is a switch-hitter. He maintained a .200+ ISO against both righties and lefties these last two years (.214 vs. LHP and .202 vs. RHP) but he is a different type of hitter from each side of the plate. Beltran is pretty much a dead pull hitter as a righty and an all-fields guy as a lefty, though he does the most damage from the left side when he pulls the ball to right field at this point of his career (spray charts). That's perfectly fine and plays right into Yankee Stadium. The concern is the declining distance of his batted balls: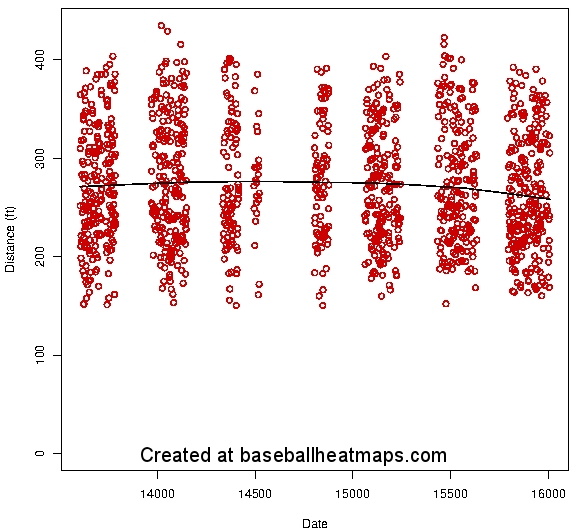 Given his age (37 in April), that little downtick last year (really the last two years) is a concern. It's not much, but pretty much anything is a red flag with a player this age. On average, Beltran did not hit the ball as far last year as he did the year before. Could be a one-year fluke, could be a sign of age-related decline. We're going to find out in the coming months.
I am pretty confident Beltran will be a 20+ homer, 25+ double guy for the Yankees this coming season and right now that is the most important thing. He could fall completely off a cliff in 2014 but it would be a surprise to me. (The 2015-16 seasons are another matter for another time.) Even if he is starting to slip due to age, some of Beltran's would-be homers should still go for doubles in 2014. The guy is such a good pure hitter and it's not like he was bad in 2013. The somewhat early signs of decline are there though. No doubt about it.
Mark Teixeira
Teixeira is a total unknown heading into this season. He missed almost all of last summer with a wrist injury, an injury that required season-ending surgery after a brief and failed return to the lineup. Teixeira is currently taking batting practice and is slated to start playing in Spring Training games in early-March, but wrist injuries are known to sap power even after the player has been cleared by doctors.
Even as his overall production has declined, the 33-year-old Teixeira has always remained a source of homers, hitting at least 33 dingers from 2008-11 and then 24 in 123 games in 2012. He has never once had a sub-.220 ISO during a full season in his entire career. Teixeira has admitted to changing his hitting style to take advantage of the short porch as a left-handed hitter and there's no reason to think he'll do anything differently going forward.
Guys like Jose Bautista and David Ortiz had similar wrist tendon sheath problems in recent years and it took them a few months before returning to their previous form. It's easy to say Teixeira will hit for power because he's always hit for power, but there's just no way of knowing what he can do following the injury. He's included in this post because hitting the ball over the fence is his thing, but there is a chance he might not do that in 2014, at least not early in the season. It might take him a while to get back in the swing of things.
Kelly Johnson
The Yankees gave Johnson a nice little one-year, $3M contract back in December and he is now their everyday third baseman in the wake of Alex Rodriguez's suspension. The 32-year-old isn't much of a doubles guy but he has hit at least 16 homeruns in each of the last four seasons, and he has power to all fields:
Source: FanGraphs
Johnson can hit the ball of the park in any direction, which is a good thing. He'll get some help from the short porch but he's also shown he's strong enough to drive those outside pitches the other way. Is he ever going to hit 26 homers with a .212 ISO like he did in 2010 again? Probably not, but the 16 homeruns he hit in 2012 and 2013 might become 18-22 in the Bronx. Considering the Yankees only had one guy mash 18+ taters last summer, getting a similar number from a player like Johnson, who is slated to bat seventh, will be a welcome addition.
* * *
On the other end of the spectrum, the Yankees do not figure to get much power from second base (Brian Roberts), shortstop (Derek Jeter), left field (Brett Gardner), or center field (Jacoby Ellsbury) this year. From that group, only Jeter (15 HR in 2012) and Ellsbury (outlier 32 HR in 2011) have managed to hit double-digit homers at some point in the last three years and neither is a lock to do it in 2014. Sure, Ellsbury might pop a few extra dingers with the move into Yankee Stadium, but for the most part his ground ball/opposite field approach won't boost his homer total all that much. Those four guys will pick up some extra-base hits with their speed, but over-the-fence power isn't happening. Soriano, McCann, Beltran, Teixeira, and Johnson will be leaned on for homers and extra-base hits.
2013 Season: 85-77 (637 RS, 671 RA, 77-85 pythag. record), didn't qualify for playoffs
Spring Training Games This Week: vs. Florida State (Tues.), @ Pirates (Weds.), vs. Pirates (Thurs. on YES, MLBN), @ Tigers (Fri.), vs. Phillies (Sat. on YES, MLBN), @ Blue Jays (Sun. on MLBN)
Top stories from last week:
Please take a second to answer the poll below and give us an idea of how confident you are in the team. You can view the interactive Fan Confidence Graph anytime via the nav bar above, or by clicking here. Thanks in advance for voting.
Given the team's current roster construction, farm system, management, etc., how confident are you in the Yankees' overall future?
By

Via George King: The Yankees will not offer free agent Cuban infielder Aledmys Diaz a contract following his private workout on Friday. They aren't planning to offer right-hander Odrisamer Despaigne a contract either, but he isn't much of a prospect.

Diaz, 23, is said to be seeking upwards of $20M, according to King. He worked out for the club at their minor league complex in Tampa and I guess they weren't all that impressed. The Yankees have reportedly been scouting Diaz for months, so they are familiar with him. There are questions about his long-term potential but it is surprising they won't even make an offer. · (79) ·
Feb. 23rd: I've had lots of people ask, so here are the dates of the scheduled John Sterling and Suzyn Waldman radio broadcasts, courtesy of Sweeny Murti: February 28th, then March 8th, 9th, 15th, 16th, 18th, 20th, 22nd, 23rd, 25th, and 29th. Remember, the Yankees are now on WFAN, not WCBS 880.
Feb. 20th: The MLB Network broadcast schedule has been announced via press release and added below. All games listed are on YES and MLB.tv unless otherwise noted. Twenty-six of 32 exhbition games are currently scheduled to be broadcast, though there is still no word whether the games in Panama will be aired. I imagine they will.
Feb. 16th: The MLB.tv schedule has been released and added to the list below (all listed games on YES and MLB.tv unless otherwise noted). Twenty-four of 32 exhibition games are currently scheduled to be broadcast somewhere.
Feb. 11th: In roughly two weeks, Yankees baseball will be on your television. Both the YES Network and ESPN released their Spring Training broadcast schedules today, which include 16 of the team's 32 exhibition games. That's actually down from 19 broadcasts last year. I guess that's what happens when you miss the postseason. We're still waiting for MLB Network and MLB.tv to release their schedules, so when it's all said and done, something like 24 or 25 Grapefruit League games will be broadcast.
The Yankees and Marlins are supposed to play a pair of exhbition games in Panama on March 15-16th, but nothing has been officially announced yet. Right now the schedule says the Yankees will play the Orioles and Braves those days. I dunno, we'll see. Here are the Spring Training games that will be broadcast. All listed games start between 1-2 pm ET and are available on YES, unless otherwise noted.
Thursday, February 27th vs. Pirates (also on MLBN tape delay)
Saturday, March 1st vs. Phillies (also on MLBN)
Sunday, March 2nd @ Blue Jays (live on MLB.tv only, also MLBN tape delay)
Monday, March 3rd vs. Nationals (also on MLBN)
Tuesday, March 4th vs. Orioles (7pm ET, also on MLBN)
Thursday, March 6th @ Phillies (MLBN and MLB.tv only)
Saturday, March 8th @ Astros (MLBN only)
Sunday, March 9th vs. Rays (also on MLBN tape delay)
Tuesday, March 11th @ Nationals (live on MLB.tv only, also MLBN tape delay)
Wednesday, March 12th vs. Tigers (also on MLBN)
Thursday, March 13th vs. Orioles (split squad)
Thursday, March 13th @ Phillies (split squad, MLB.tv only)
Friday, March 14th vs. Twins (also on MLBN tape delay)
Saturday, March 15th @ Orioles (MLBN and MLB.tv only)
Sunday, March 16th vs. Braves (also on MLBN tape delay)
Monday, March 17th @ Pirates (live on MLB.tv only, also MLBN tape delay)
Tuesday, March 18th vs. Red Sox (also on ESPN, also MLBN tape delay)
Thursday, March 20th @ Red Sox (7pm ET) (also on ESPN)
Friday, March 21st vs. Pirates (7pm ET, MLBN only)
Saturday, March 22nd @ Twins (live on MLB.tv only, also MLBN tape delay)
Sunday, March 23rd vs. Blue Jays (also on MLBN)
Tuesday, March 25th vs. Phillies (7pm ET, also on MLBN)
Wednesday, March 26th @ Blue Jays (live on MLB.tv only, also MLBN tape delay)
Thursday, March 27th @ Pirates (also on MLBN)
Saturday, March 29th vs. Marlins (7pm ET)
MLB Network will inevitably pick up a bunch of road games, but nearly all of the team's home games at George M. Steinbrenner Field are available. I'll update this post whenever MLBN releases their schedule.
Just one more day of workouts left until the Yankees start playing real, live Spring Training games. Here's the news from Tampa.
This is your nightly open thread. The Nets are playing tonight and the Olympics closing cermonies are on as well. I'll miss 'em, I'll admit it. Talk about anything and everything right here. Have at it.
By

Via Dan Barbarisi: Brian Cashman confirmed the Yankees have not had any contract extension talks with David Robertson. The GM told Mark Feinsand the team's no extensions policy is a thing of the past after they signed Brett Gardner long-term earlier today.

Robertson, 28, will earn $5.125M this year before becoming a free agent after the season. He will be a full-time closer for the first time this summer, and closers make a lot more money than setup men. Unless the Yankees pay him like a closer or he is concerned about getting hurt this year, Robertson has little reason to take an extension right now. · (29) ·