By

Via the AP: Orlando Hernandez has joined the Yankees as a Spring Training minor league pitching instructor. The 48-year-old retired in 2011 and last pitched in the big leagues in 2007. This will be El Duque's first coaching gig as far as I can tell and he's slated to remain in Tampa for several weeks. Since he's working with minor leaguers, I wonder if Hernandez will stick around for all or part of Extended Spring Training as well. · (17) ·
It is in no way an exaggeration to say CC Sabathia was one of the worst pitchers in baseball last season. Out of the game's 81 qualified starters, he ranked 76th with a 4.78 ERA and 72nd with 0.3 bWAR. He also led the league with 112 earned runs allowed. Last season was the worst of Sabathia's career by a large margin and it was a big reason why the team failed to qualify for the postseason for only the second time in 19 years.
Why did Sabathia struggle so much in 2013? There is no shortage of theories. He lost too much weight, he lost too much velocity, he had offseason elbow surgery, all the innings are catching up to him, his mechanics were out of whack … on and on we could go. Sabathia never made excuses and pitching coach Larry Rothschild blamed it on inconsistent mechanics that led to too many pitches out over the plate. My guess? All of it. All of that stuff and more contributed to his poor year.
That disastrous 2013 season is in the past now. Sabathia is now more than a full year out from elbow surgery and he remade his body this winter, shedding bad weight and adding muscle in hopes of building power and stamina. He looks marvelous and in better shape than he's ever been as a Yankee, but that was also true last spring, just not to the same extent. Physical condition is not going to be excuse, not that it ever was. CC is always going to be a big guy, that's just his body type, but now he is slightly less big.
In his first Spring Training outing on Saturday, Sabathia came out firing 88 mph bullets that raised a little red flag but are not really freakout worthy yet. It was his first Grapefruit League start and we'll re-evaluate his fastball when he builds up some more arm strength and gets another start or two under his belt. Sabathia's velocity has steadily declined in recent years …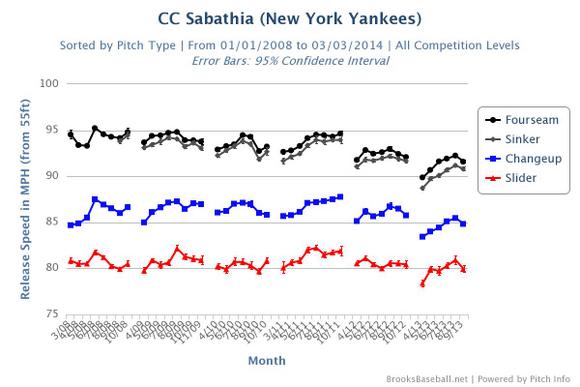 … and there is little reason to think that will stop. That's the reality of being a 33-year-old workhorse who will top the 3,000 career innings (regular season and postseason) mark this summer. Once the fastball starts to go, it tends to continue going. Reversing the velocity decline is just not something that happens. The best the Yankees and Sabathia can hope for is halting the decline and maintaining this level of velocity for a little while longer.
Lefties who can pump 94-96 mph consistently — like Sabathia a few years ago — are the exception. Lefties who sit right around 90 are the rule. That's Madison Bumgarner (91.2 mph in 2013), C.J. Wilson (90.9), Cliff Lee (90.4), and Mike Minor (90.4) velocity, and that foursome combined for a 3.06 ERA and a 3.12 FIP in 841 innings last year. Sabathia averaged 91.3 mph with his fastball last season and even if he loses another mile an hour this year, it should still be enough.
At his peak from 2007-12, CC maintained an ~8 mph separation between his fastball (93.7 mph) and changeup (86.0 mph). Last year it was only a 6.5 mph separation and that's a big difference. That's the difference between squaring a pitch up and hitting it off the end of the bat or flat out swinging and missing. Linear weights reflect the reduced effectiveness of his changeup (-8.3 runs saved in 2013 after +35.6 from 2007-12), a pitch that his been one of his most dangerous weapons the last seven years or so.
Of course, velocity and separation between the fastball and changeup is only one small piece of the pitching pie. Sabathia's location flat out stunk last season, anecdotally because his arm slot wavered (he admitted as much) and his pitches cut back over the plate. According to Baseball Heat Maps, a whopping 39.2% of Sabathia's pitches were over the heart of the plate last season, up from 30.7% in 2012 and 31.7% from 2011-12. That's a big, big deal. He averaged 104.25 pitches per start last season, so we're talking an extra nine pitches (!) over the heart of the plate per start on average. Big deal. Really big deal.
Improving on last season's performance will require a number of things. Sabathia's not finding more velocity so just forget about that. He needs to improve his location first and foremost. I'm not sure there is any way you can improve performance quicker than by not throwing the ball in the hitter's wheelhouse. If Sabathia can get back to living on the corners and at the knees, it doesn't really matter if he's throwing 85 or 95. Easier said than done, obviously. Regaining that 8-ish mph separation between the fastball and changeup is another key.
How does Sabathia go about improving his location and the effectiveness of his changeup in 2014? Damned if I know. That's up to Sabathia and Rothschild to figure out. The problems could be mechanical or the result of the elbow surgery — he underwent a biomechanical analysis over the winter and things checked out okay, for what it's worth — or they could be the result of muscling up and trying to manufacture velocity. Overthrowing is a great way to miss spots. Again, it's probably a little of everything.
Maybe I'm just a raging homer, but I truly believe Sabathia can rebound and be an effective starter for the Yankees this summer. He has to make several adjustments first and even if he does, I still think it's unlikely he'll ever get back to peak CC form, that Cy Young caliber ace. Simply being not one of the worst pitchers in baseball like last year seems reasonable to me though. A guy who can give the team 200+ innings of 3.70-ish ERA ball is still really valuable, even if it is not what we're used to seeing from Sabathia.
I don't know if the Yankees can make the postseason in 2014 with a good but not great performance from Sabathia, but I do know they have almost no chance of going to the playoffs if he pitches like he did a year ago. Even with Masahiro Tanaka and Hiroki Kuroda around to anchor the rotation, I believe a rebound from the club's erstwhile ace is a necessity for contention this season.
The following is a guest post from long-time reader Alex M. He attended the recent Sloan Sports Analytics Conference and in a two-part series will outline a few themes from the conference and their application to the Yankees.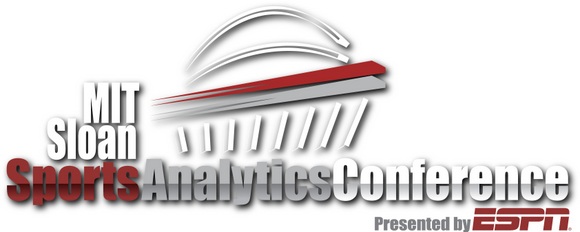 The 2014 MIT Sloan Sports Analytics Conference is akin to Mecca for the mathematically inclined sports fan. Featuring esteemed panelists, including current athletes, coaches and front office personnel, the conference provided a forum to showcase advances in analytics across the sporting world. In particular, five* big ideas stand out for their potential to reshape our understanding of baseball going forward.
1) Disconnect Between the Availability of Information and Application on the Field – To date, the application of statistics and other analytics in sports has been primarily focused on roster construction. Going forward, new streams of data will increase the potential for in-game management. From tandem pitching to reliever usage and defensive shifts, the goal of GMs and coaches across sports will be to translate analytically-derived strategies (defensive shifts) into execution on the field (player placement and pitch selection).
2) Health Analytics as The Holy Grail– On panels covering every major American sport, health analytics, the ability to predict and prevent injuries, was consistently emphasized as "the holy grail." Despite advances, pitcher injury rates have remained unchanged over the last 20 years, which teams hope to address through biomechanical analysis and load monitoring. Yankees fans were exposed to biomechanical analysis recently when CC Sabathia visited Dr. James Andrews to compare his delivery over time.
3) Potential for More Efficient Drafting – An interesting anecdote from the conference was about the recent tendency of the Houston Rockets to draft players with a big arm-span-to-height ratio, as chronicled in David Epstein's book The Sports Gene. The bias towards longer wingspans highlights the variety of information teams use to assess players, and also how difficult it is to judge a draft as an outsider. Three areas where teams are making advances in evaluating draft choices include biomechanical analysis, improved comparable player projections, and, perhaps most importantly, train-ability assessments.
4) Batted Ball Profiles Have More Predictive Value than We Realized – The Houston Astros have recognized that not all line drives are created equally. By measuring the vector and speed of the ball off the bat, the Astros have been able to associate individual batted balls with a run expectancy that is highly predictive. Tracking the ball off the bat allows teams to develop individual park factors for players, potentially improving player valuations in trades or free agency. SABR President Vince Gennaro specifically cited Brian McCann as benefiting from Yankee Stadium compared to Turner Field.
5) Batter Strategies to Counter Improved Pitching and Defense – On the baseball analytics panel, multiple speakers expressed surprise at the relatively limited response of hitters to the increased use of defensive shifts. Based on the data, hitters should bunt and attempt to place hits more to overcome extreme shifts and pitching strategies. A second area for improvement is in valuing position versatility, which provides flexibility in roster construction, consistently affords platoon advances and accelerates injury recovery.
Advances in data collection, analytics and on-field implementation are happening across every major sport. The five big ideas outlined above all have the potential to improve our understanding of baseball as fans and also the performance of our favorite team. Next week, I'll discuss applications of the next big things in sports analytics to the Yankees.
* As RAB previously reported, MLB Advanced Media's new Player Tracking System offers fans and front offices a treasure trove of new data. Through a $300M capital investment, MLB will be rolling out network infrastructure in stadiums that will improve our understanding of defense, baserunning, and to a lesser extent offense and pitching. Most affected will be our assessment of defense with new data including first step time, first step efficiency (angle taken relative to optimal angle), route efficiency, speed, acceleration and turnaround on a throw back into the infield. Our understanding of baserunning will also be profoundly affected with data on runner leads, reaction times, route efficiency, speed at every step and acceleration. In a game of inches, MLBAM has figured out a way to measure the inches that determine the outcome of games.
This past weekend, in his first outing of the spring, CC Sabathia chucked two scoreless and relatively uneventful innings against the Phillies. Uneventful unless you were watching the radar gun, of course. Sabathia topped out at 88 mph with his fastball on Saturday and sat mostly in the 86-88 mph range, which is far below what you want to see, even on March 1st. And everyone did see it thanks in no small part to the Michael Pineda velocity fiasco of 2012. The radar gun has become a focal point in Spring Training.
"My fastball is what it is. If it gets better, it will. If it's not, it won't. I can pitch. I'm fine. As long as I'm healthy I'll be good," said Sabathia to Chad Jennings after Saturday's game because what is he supposed to say? No this is terrifying and I don't think I'll ever be effective again? C'mon now. It takes a lot of confidence and a certain level of arrogance to be an elite pro athlete, and part of that is never doubting your own ability despite signs of decline. Of course Sabathia is unconcerned about his fastball.
I am concerned about Sabathia's fastball, however. Well, concerned isn't the right word. I'm keeping my eye on it. That's better. I wanted to go back and compare CC's early spring velocity to past years, but there's a bit of a problem: there isn't any Grapefruit League pitch data out there. We're limited to MLB.tv archives and the YES Network gun because there's no PitchFX. Sabathia did not appear in a YES broadcast game until the middle of March in both 2012 and 2013, so we can't even compare early spring velocities. We're stuck lumping it all under a big "Spring Training velocity" umbrella. Here's what we're left with:
| | First Televised ST Game | April | May-Sept. |
| --- | --- | --- | --- |
| 2014 | 86-88 (March 1st) | ? | ? |
| 2013 | 89-90 (March 15th) | 89.8 | 90.7 |
| 2012 | 89-92 (March 16th) | 91.8 | 92.9 |
Sabathia did not pitch in a YES televised game in Spring Training 2011, so we can't go back any further. I'm not sure how useful anything from pre-2012 would be anyway.
Just to give you an idea of how unprecise this is, Sabathia had one fastball clocked at 94 mph in the 2013 start and another clocked at 57 mph (!) in the 2012 game. I can buy 94 mph, but the most relevant thing is that he was consistently in that 89-90 range with a handful of 91s during the five-inning outing. I can't buy 57 mph, but again, Sabathia was regularly in that 89-92 range with a smattering of 93s back in 2012. That's what's important.
Sabathia's velocity in his first televised Spring Training game, as questionable as it may be given the source, was right in line with his PitchFX recorded April velocity in both 2012 and 2013. He held that Spring Training velocity through the season's first month before adding another tick or two in the summer months, after the weather warmed up and he got into midseason form. That alone makes you want to see Sabathia get his heater closer to 90 mph this month.
Because of who he is and how important he is to the 2014 Yankees, Sabathia is going to be under the microscope this spring. His first outing was less than encouraging because his fastball was a little short, but it was only March 1st. I want to see how he looks after another outing or two before getting … well … concerned. I don't think the fastball he showed on Saturday is full freakout worthy, but as much I hate Spring Training velocity watches, I don't think we can simply sweep it under the rug just because it's early-March either.
By

When Baseball America released their annual top 100 prospects list last month, the Yankees only had two representatives, and one (RHP Masahiro Tanaka) isn't really a prospect. C Gary Sanchez was the only true prospect to make the list but he was far from the only Yankees' farmhand to receive consideration. In fact, nine others were within shouting distance of the top 100.

J.J. Cooper published the top 100 also-rans list today, meaning the players who appeared on the personal top 150 prospects lists of the various editors but not the final top 100. The nine Yankees: OF Aaron Judge (one vote, peaked at #150), 3B Eric Jagielo (four, 131), 2B Gosuke Katoh (one, 147), 1B Greg Bird (one, 97), LHP Ian Clarkin (one, 135), C John Ryan Murphy (two, 122), RHP Luis Severino (one, 150), OF Mason Williams (six, 90), and OF Slade Heathcott (six, 89). Seems like Williams and Heathcott were the closest to the top 100, understandably so. · (17) ·
The winning streak is up to four. The Yankees beat the Nationals 4-2 on Monday afternoon thanks to an extended second inning rally against lefty Ross Detwiler. Kelly Johnson (double) and Corban Joseph (single) sandwiched run-scoring hits around a two-run error by shortstop Zach Walters. Johnson, Brett Gardner, Francisco Cervelli, and Zoilo Almonte all had doubles and all except Cervelli's were to the opposite field. Zoilo and Cervelli had two hits apiece.
Here is the box score for this afternoon's game. Ivan Nova looked very, very sharp in his three innings of work, striking out four and allowing only one base-runner (CoJo error). David Robertson hit a batter in an otherwise perfect inning in his spring debut and Shawn Kelley surrendered a solo homer in his inning. Danny Burawa looked good despite allowing a run because ground balls kept finding holes (or being bobbled for errors). Here's the rest from Tampa.
This is your open thread for the evening. Both the Knicks and Nets are playing, plus MLB Network will re-air a Spring Training game later tonight. This afternoon's win over the Nats is not being replayed anywhere. Use this thread to talk about whatever you like. Have at it.
By

Via Wally Matthews: Ichiro Suzuki wants to play "many" more seasons after 2014. "Retirement from baseball is something I haven't even thought about," he said. "[I want to play] not just a few [more years]. Many. For me, I feel there's no reason for me to retire right now."

Ichiro, 40, has already been pushed into a fifth outfielder role and his last three years have not been good at all (80 wRC+ in 1,939 PA). He is only 258 hits away from 3,000 though, so he'll need to hang around through at least 2015 to get to the milestone. Ichiro's contract is up after the season and it's hard to see the Yankees bringing him back, so he'll have to hope another team picks him up next winter. · (27) ·
As Joe explained last week, the Yankees have several important players coming back from injury this season. They also have several players who, due to their age and/or recent history, are at risk of getting hurt in 2014. Injuries are part of the game and many times they're completely unpredictable or unavoidable, but there are certainly players who are more likely to get hurt than others. The Yankees haven't exactly been good at keeping their guys healthy these last few years either. Here are New York's biggest injury risks for the coming season and their respective backup plans.
Injury Risk: Derek Jeter
Backup Plan: Brendan Ryan
Aside from the dislocated shoulder back in 2003, last season was the only time Derek Jeter spent an extended period of time on the DL in his career. A twice-fractured left ankle and various leg muscle problems limited him to only 17 games, and even though he's been healthy this spring and working out for weeks, his age (39) and the series of leg problems will make him an injury risk pretty much all year. The Cap'n is very much day-to-day at this point of his career.
The Yankees acquired Ryan last September when Jeter went to the DL for the fourth and final time, then they re-signed him to a two-year contract (with a player option!) over the winter to serve as shortstop insurance. If Jeter does go down with injury this summer, regardless of whether it's two days or two weeks or two months, Ryan will step right in and play shortstop everyday. He can't hit a lick but his defense is among the best in the game.
Injury Risk: Brian Roberts
Backup Plan: Ryan, Dean Anna, Eduardo Nunez, etc.
There is no greater injury risk on the roster than Roberts. He has appeared in only 192 of 648 possible regular season games since 2011 due to a variety of injuries, including back spasms (2010), concussions (2010-11), hip labrum surgery (2012), and hamstring surgery (2013). Second base is a dangerous position because of the blind double play pivot and it feels like it's only a matter of time before Roberts hits the DL, kinda like it did with Travis Hafner last summer.
Infield depth is something the Yankees spent most of the offseason accumulating, though none of it really stands out. They don't have a 2005 Robinson Cano waiting in the wings, for example. Ryan, Anna, Nunez, Yangervis Solarte, and Corban Joseph are the various backup plans at second base, though only Ryan and Nunez have any kind of substantial MLB time. The player who gets the job when Roberts goes down with injury may simply be the guy who's playing the best at that time.
Injury Risk: Frankie Cervelli
Backup Plan: Austin Romine, John Ryan Murphy
Cervelli seems to have a knack for the fluke injury. His wrist was broken by a home plate collision in Spring Training 2008 and he's also had foul balls break his foot (2011, again in Spring Training) and hand (2013) in recent years. The broken hand last year turned into a stress reaction in his elbow. More seriously, Cervelli has had four concussions in his pro career, including three from December 2009 through September 2011. Romine and Murphy will both be stashed in Triple-A as insurance, and I suspect Romine would get the call as a short-term replacement while Murphy would be the guy if Cervelli misses most of the season again.
Injury Risk: Michael Pineda
Backup Plan: Vidal Nuno, David Phelps, Adam Warren
When a player misses two full years due to a major surgery, it's really hard to count on him staying healthy going forward. Pineda is an unknown and unreliable until he proves otherwise, which might never happen. His surgery was serious stuff and that's why he hasn't been handed a rotation spot as of yet. Pineda has to earn it by showing he can be effective post-surgery in camp. Phelps, Warren, and Nuno are all competing for the same fifth starter spot and will be ready to jump into the rotation at a moment's notice if Pineda makes the team and goes down for any reason.
Injury Risk: Jacoby Ellsbury & Brett Gardner
Backup Plan: Ichiro Suzuki, Zoilo Almonte
Over the last three seasons, Ellsbury and Gardner have combined to play in 686 of 972 possible regular season games, or 71%. Go back four seasons and it's only 66%. Both guys have had injury problems over the years but the major ones can mostly be classified as flukes. Here are Ellsbury's notable injuries …
Fractured Ribs, 2010: Crashed into a teammate chasing a pop-up then suffered a setback after returning too soon.
Shoulder Subluxation, 2012: Fielder fell on top of him following a break up slide at second base.
Foot Fracture, 2013: Fouled a ball off his foot.
… and here are Gardner's:
Fractured Thumb, 2009: Slid into second base on a stolen base attempt.
Wrist Debridement, 2010: Hit by a pitch, needed offseason surgery after playing hurt in second half.
Inflamed Elbow, 2012: Made a sliding catch and suffered three setbacks (!) before having season-ending surgery.
Oblique Strain, 2013: Swung a bat. Nothing more.
There has been other day-to-day stuff over the years but those are the big injuries. Gardner's oblique strain last September is the only one that isn't a fluke to me, though I think it's also important to understand both guys have a playing style that puts them at greater risk of injury. When you steal a ton of bases, you risk hurting your fingers and having an infielder fall on top of you. When you run around the outfield making sliding and diving catches, you can jam something pretty easily.
Is it fair to consider Ellsbury and Gardner injury risks for 2014? Maybe not, but they have been hurt a bunch in recent years and I felt they were worth discussing. If Ellsbury were to get hurt, Gardner would slide right into center field. If Gardner got hurt, Alfonso Soriano would probably take over as the everyday left fielder, as he would if Gardner moved to center. Ichiro would see more playing time — I think Soriano and Carlos Beltran would still get regular turns at DH even if Ellsbury or Gardner gets hurt — and Zoilo is the early favorite to be the first guy called up from Triple-A. If both Gardner and Ellsbury got hurt at the same time … well that's a mess I don't want to think about. A trade for a center fielder would seem likely.
Injury Risk: Mark Teixeira
Backup Plan: ???
A tendon sheath problem in Teixeira's right wrist that eventually required surgery limited him to only 15 games last year and still has him on the mend in camp. He's been brought back slowly — he faced live pitching in batting practice for the first time just today — and is slated to get into a game later this week, but wrists are very tricky. Even if the doctors say they're healed, they tend to sap power for another few weeks and months. David Ortiz (2008-09) and Jose Bautista (2012-13) have had similar tendon sheath problems and they didn't regain their previous form until well after returning to the lineup.
Given the nature of the injury, it might be more accurate to say Teixeira is a risk for reduced production than he is a risk for injury. He hasn't exactly been Mr. Durable the last few years though, most notably missing more than a month with a calf strain in late 2012 and blowing out his hamstring during the 2010 postseason (forgot about that, huh?). That doesn't include the infamous cough/vocal cord damage that hampered him two years ago. The Yankees don't have an obvious backup first baseman — Kelly Johnson and his 18 career innings at the position is currently the backup at first — so a trade would be in order if Teixeira goes down. It's either digging up another Lyle Overbay or playing Russ Canzler everyday.
* * *
I think it goes without saying that pitchers are inherently risky. CC Sabathia, Hiroki Kuroda, and Masahiro Tanaka have been very durable throughout their career (Kuroda less so, but he's been healthy with the Yankees) but it would surprise no one if they got hurt this year. Same with all the relievers. Pitchers get hurt. It's what they do.
Carlos Beltran's knees were a big problem from 2009-10, but he has played at least 140 games in each of the last three seasons. Brian McCann had shoulder problems in 2012 that required offseason surgery, which kept him out for the first month of 2013, but he has been healthy and productive since. Scott Sizemore has played a total of two games the last two seasons because of back-to-back torn left ACLs, but he is far from a lock to make the roster, nevermind play regularly. Same goes for Nunez, who missed a bunch of time with a ribcage problem last year. Just about every player has been hurt somewhere along the line.
The Yankees are well-equipped to deal with an injured outfielder, catcher, or back-of-the-rotation starter. The infield is were it gets dicey and unfortunately that is where we find the most at risk players (Jeter, Roberts, Teixeira). The backup plans on the infield are interesting of nothing else, but they're all wildcards. I don't think we can reasonably estimate what any of them would do if pressed into regular duty. The Yankees have a lot of important players at risk of injury this year and their ability to stay on the field will play a huge role in whether they return to the postseason.
The first week of Grapefruit League games is not yet complete but it still feels like the day-to-day grind of baseball has returned. It's wonderful. Meaningless Spring Training games are not for everyone, I get that, but I've always felt these games are fun in their own way. We get to see a bunch of prospects we otherwise never get to see and the results don't mean anything. You can just sit back and enjoy some baseball. It's wonderful.
This afternoon's game will be Derek Jeter's third at shortstop this spring. He made it through the first two just fine following his lost leg injury plagued season, but obviously there is a long way to go before he's ready to play nine-inning games on an everyday basis. That's what these next four weeks will be all about. Ivan Nova has a rotation spot already locked up, he'll just be preparing for the season and getting work in today. He says he feels like he's competing for a job, but we all know that's not the case.
The Nationals made the long trip across the state from Viera for today's game, so their roster is a skeleton crew. None of their best players made the trip. Denard Span, Danny Espinosa, Scott Hairston, and Jose Lobaton are the only guys in the starting lineup who remotely qualify as MLB regulars. Left-hander Ross Detwiler will be on the mound for Washington. Here is the Yankees' starting lineup:
SS Derek Jeter
And on the mound is Nova. Since this is his second Spring Training outing, he's probably scheduled for something like three innings or 50 pitches, whichever comes first. Don't hold me to that though.
Available Pitchers: RHP David Robertson, RHP Shawn Kelley, RHP Danny Burawa, RHP Yoshinori Tateyama, RHP Robert Coello, and RHP Jim Miller are all scheduled to pitch. This will be Robertson's spring debut and Kelley's second outing. Matt Thornton can't be too far behind. RHP Chase Whitley, RHP Mark Montgomery, and RHP Brian Gordon are also available if needed.
Available Position Players: C John Ryan Murphy, 1B Jose Gil, 2B Zelous Wheeler, SS Addison Maruszak, 3B Jose Pirela, LF Ramon Flores, CF Mason Williams, and RF Adonis Garcia will all come off the bench to replace the starters. C Francisco Arcia, C Peter O'Brien, C Gary Sanchez, IF Dean Anna, IF Yangervis Solarte, and OF Antoan Richardson are also on the bench.
They play these games in Florida (and Arizona) for a reason, and that's because the weather is just perfect for baseball. It's in the mid-70s with a few scattered clouds in Tampa. Can't wait until that weather hits New York. This afternoon's game will begin a little after 1pm ET and can be seen live on YES, MLB Network, and MLB.tv. Enjoy.
By

Baseball Prospectus published their top 25 and under talent rankings earlier today, and the list is free for everyone. You don't need a subscription. The Cardinals and their bevy of youngsters sit atop the list while the Nationals and Braves round out the top three. No surprises there; those clubs have some seriously great players and prospects on the right side of 25.

The Yankees rank 28th, better than only the Phillies and Brewers. New York actually ranked 30th in the initial post, which accidentally omitted Masahiro Tanaka. The team moved up two spots when he was added to the revised version. Tanaka is the only player age 25 or younger who is a lock to be on the active big league roster this season, with Michael Pineda the only other strong possibility. The Yankees are an old team, this isn't a secret, and the rankings reflect that. · (36) ·