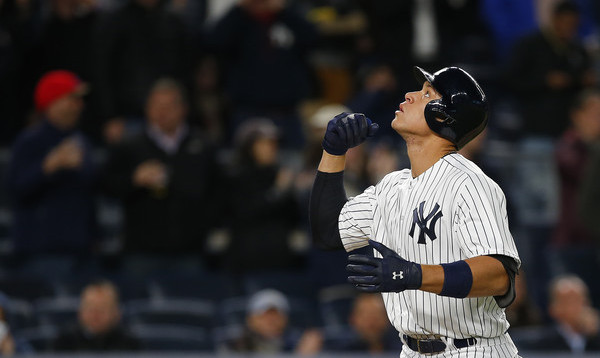 Aaron Judge, huh? Okay, guys, thanks for reading! Check back next week for…something else…and enjoy whatever show Judge's gonna put on for the next week.
Despite Chase Headley's heroics and Starlin Castro's hot start, the hands-down, no doubt about it, bonafide best thing about the Yankees in April of 2017 has been Aaron Judge. He's been an absolute monster, clocking massive homer after massive homer, displaying the power we all dreamed of and got flashes of during 2016. Additionally, he's cut down on his strikeouts from a mind-boggling 44.2% last year to a still-high-but-manageable 25.4% this year. Part of that is due to a reduced chase rate and a reduced whiff rate.
In 2016, the league averaged an O-Swing% (swings on pitches out of the zone) of 30.6%; Judge came in at 34.9%. This year, the average has dropped (so far) to 30.1%; Judge clocks in with a wonderfully below average rate of 18.3%. And while his contact rate–74.8%–is still worse than average (77.1%), it's a demonstrable improvement from last year's tally of 59.7%.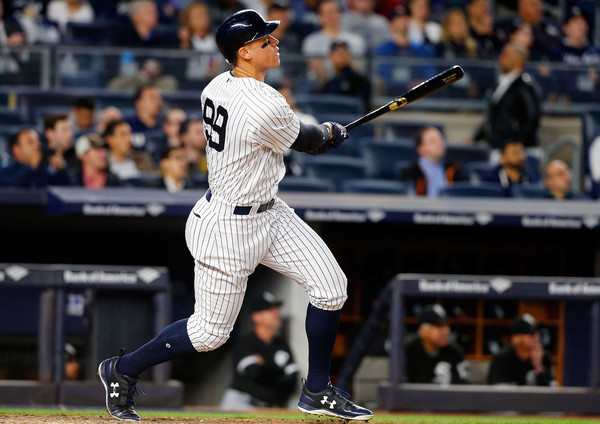 It's no surprise that a guy as big and strong as Judge will do damage when he makes contact and so far, that's what he's done. The improved contact rate is a big step forward in Judge reaching his full potential. He's shown growth in both the "where" and the "what" of making contact–not just in one area–and that dual fact has been key for his hot start.
In 2016, there were 13 zones out of a possible 25 that saw Judge whiff on 50% or more of his swings. So far in 2017, he's cut that number to just five zones. Additionally from 2016 to 2017, Judge has dropped the whiff rates on fastballs by about one percent, sinkers by about three percent, changeups by over 20 percent, sliders by about 14 percent, and curves by about ten percent.
We tend to be selfish as fans and we want results when we want them and no later. Of course, baseball doesn't work like that and we must be careful not to get mad at the microwave for not heating up our burrito fast enough. But so far this year, we've gotten near instant gratification from Aaron Judge. He's given us the improvement we all knew he'd need to make while keeping his prodigious power. The rest of the year has a long time to play out, but with things starting to stabilize, we may be in for a truly great year from a truly great talent.