That was a satisfying win. Your big trade deadline pickup out-pitches your crosstown rival's ace? And one of your young core players takes said rival's ace way out of the park? Good game. Would watch again. The Yankees beat the Mets by the score of 5-4 on Tuesday.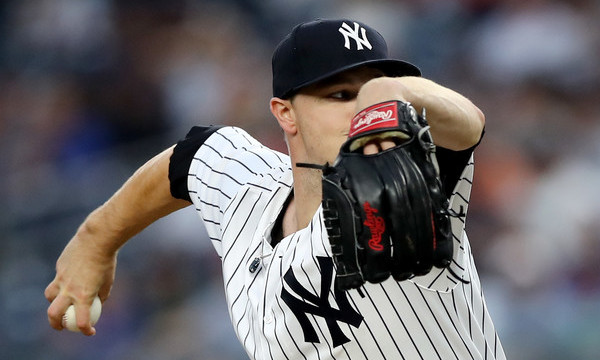 Six Strong From Sonny
Two runs in six innings doesn't really do Sonny Gray's performance justice. He held the Mets scoreless through six innings and cruised most of the game. His only real jam came in the fourth inning, when Yoenis Cespedes beat out an infield single and Michael Conforto walked with one out. Gray popped up Wilmer Flores and grounded out Dominic Smith, and that was that.
It wasn't until the seventh inning that the Mets finally got to Gray. He went back out to start that seventh inning with 94 pitches, walked Flores, then gave up an opposite field two-run homer to Smith. First career homer for the oldest looking 22-year-old in baseball. It just barely snuck over the wall in left field. Aaron Hicks nearly made a play on it. I had no problem sending Gray out for the seventh. Sometimes guys hit homers. It happens.
The final line on Gray: 6 IP, 5 H, 2 R, 2 ER, 2 BB, 5 K. Two of those five hits were Cespedes infield singles. One thing that doesn't show up in the box score are all the Mets right-handed hitters who fouled pitches into their feet and shins. At least five or six of them crumbled to the ground. Gray really busts righties inside with his two-seamer, and that's the result. Pitches to the shins and feet. His pitch locations against righties: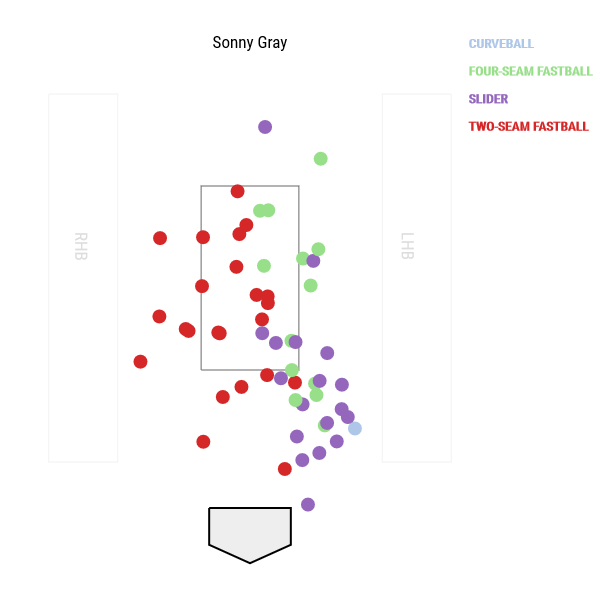 Gray reminds me so much of Hiroki Kuroda. He throws the kitchen sink at hitters, but he has velocity, so he's not a junkballer. And as David Adler wrote last week, Gray varies the break and velocity on all his pitches, so he really has two or three versions of each pitch. His velocity ranges Tuesday night:
Four-Seamer: 91.2 mph to 95.4 mph
Two-Seamer: 90.0 mph to 94.4 mph
Curveball: 81.1 mph to 82.3 mph (only five recorded by Statcast)
Slider: 83.9 mph to 87.8 mph
Aside from the curveball, Gray had roughly a four mile-an-hour separation between his fastest and slowest offering with each pitch. It doesn't sound like much, but it's just enough to disrupt the hitter's timing. How to do you gear up for, say, an 84 mph slider when you might get 88 mph instead? Kuroda used to do the same thing. Big arsenal with varied breaks and deliveries for everything.
Anyway, Smith's home run was the first home run Gray has allowed since July 5th, five starts ago. His season home run rate jumped to 0.70 HR/9. That'll continue to climb because of the move from Oakland Coliseum to Yankee Stadium, of course. That's inevitable. Also, Gray has now thrown at least six innings with no more than two earned runs allowed in nine straight starts. Next longest such streak in the AL? Three by Carlos Rodon and Andrew Cashner.
Small Ball & Dingers
The Yankees finally scored some runs for Gray! They did it against Jacob deGrom too. The Yankees didn't score a single run while Gray was on the mound in any of his two previous starts. The scoreless tie was broken in the third inning thanks to some little ball. Ronald Torreyes managed to keep a ground ball fair down the third base line for a double, Brett Gardner bunted him to third, and Hicks drove him in with a bloop single for a 1-0 lead.
In the fourth, the Yankees went back to the long ball to create some breathing room. Chase Headley worked a six-pitch walk with two outs to extend the inning, and Jacoby Ellsbury made deGrom pay with a two-run home run into the short porch. It was a Yankee Stadium cheapie all the way, but who cares? Gary Sanchez made it 4-0 in the sixth with a long solo home run. Check out the bat drop:
Love it. Life is short. Pimp every homer like it's your last. That's seven homers in the last 18 games for Sanchez. He's hit 41 home runs in 138 games since being called up last year. Twenty-one at home, 20 on the road. Pretty, pretty good. The Yankees have them a true franchise catcher, folks.
The Yankees scored an insurance run in the eighth inning and a) it turned out to be a very important insurance run (more on that in a sec), and b) it was very nearly multiple insurance runs. An Aaron Judge double and a Didi Gregorius single put runners on the corners with no outs, and Sanchez hit a bullet to center field that Juan Lagares managed to run down. Beautiful over-the-shoulder catch. He was playing shallow and had to race back to the warning track. If that falls in, Gregorius almost certainly scores from first. The Yankees settled for one run and a 5-2 lead.
The Ninth Inning
For the first time since 2012 and only the third time in his career, Aroldis Chapman has allowed a run in three straight appearances. And, like Sunday, a rookie took him deep to the opposite field. On Sunday it was Rafael Devers. On Tuesday it was Amed Rosario with a two-run homer into the short porch. A Yankee Stadium cheapie? Indeed. Something's (still) not right with Chapman though. Some numbers from Tuesday:
Fastballs: 12
Sliders: 11
Swings & Misses: 2 (out of 23 total pitches)
As Mike Petriello notes, Chapman had thrown 23+ pitches in an outing 73 times prior to Tuesday, and never once did he throw as few as 12 fastballs in those 73 appearances. He was noticeably slider heavy in this game. They weren't particularly good sliders either. The Rosario homer came on a cement mixer on the outer half. Not good. Chapman looks basically nothing like the flame-throwing monster the Yankees thought they signed.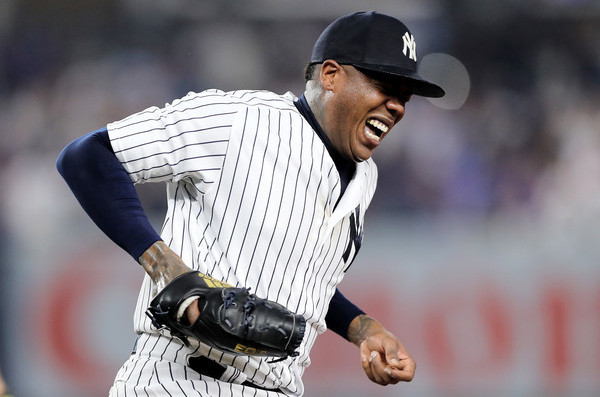 But wait! It gets worse. Chapman got hurt. He hurt his right hamstring covering first base on the final play of the game. It actually happened during the pitch. Replays showed him grimacing after releasing the ball and before breaking to cover first base. Chapman said it's nothing serious. Joe Girardi said he'll go for tests Wednesday. Either way, healthy hamstring or not, Chapman has not been very good lately, and that has been the case for far too much of the season.
Leftovers
The non-Chapman relievers were pretty great. Tommy Kahnle replaced Gray following Smith's home run in the seventh and got three quick ground ball outs on ten pitches. Dellin Betances, in his third straight day of work, pitched around a two-out walk and struck out Conforto to end the eighth inning. He represented the tying run at the time.
The Yankees had nine hits and two walks against deGrom in his 7.1 innings, which I totally expected. deGrom was charged with all five runs. Gregorius, Sanchez, and Torreyes each had two hits while Hicks, Judge, Headley, and Ellsbury had one each. Judge and Headley drew the walks. Nice night for the bats against a truly great pitcher.
Box Score, WPA Graph & Standings
ESPN has the box score and updated standings while MLB.com has the video highlights. We have a Bullpen Workload page. Here's the win probability graph:

Source: FanGraphs
Up Next
The Subway Series shifts to Citi Field. The Yankees and Mets will now play two games out in Flushing. Jaime Garcia and Robert Gsellman — not Seth Lugo, as originally scheduled — will be the starting pitches Wednesday night. Lugo was placed on the 10-day DL with a shoulder impingement Tuesday afternoon. Gsellman will be making his first start back from a hamstring injury. RAB Tickets can get you into the ballpark for either game remaining in the series.