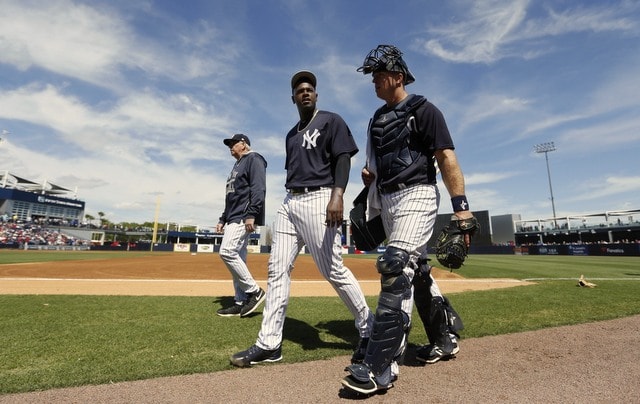 Yesterday morning Aaron Boone named Luis Severino his Opening Day starter, a decision I'd call unsurprising even though most RAB readers thought Masahiro Tanaka should get the ball. Severino was great last season and he earned the Opening Day assignment. He is the Yankees' best pitcher and he'll be on the mound in Game One of 162.
This afternoon Severino will make his second Grapefruit League start — he threw a simulated game a few weeks ago, so this is really his third "outing" of the spring — and he'll face the skeleton crew the Marlins sent over from the other side of Florida. Caleb Smith is making the start! Garrett Cooper is hitting cleanup! The joys of spring. Alas, Starlin Castro didn't make the trip. Here is the Marlins' lineup and here is the Yankees' lineup:
CF Brett Gardner
RF Aaron Judge
1B Greg Bird
LF Giancarlo Stanton
C Gary Sanchez
SS Didi Gregorius
2B Neil Walker
3B Brandon Drury
DH Tyler Austin
RHP Luis Severino
Available Pitchers: RHP Cale Coshow, RHP Joe Harvey, RHP Jonathan Holder, RHP Brady Lail, LHP Wade LeBlanc, RHP Andrew Schwaab, LHP Chasen Shreve, and RHP David Sosebee. Coshow, Harvey, Schwaab, and Sosebee are up from minor league camp for the day.
Available Position Players: C Francisco Diaz, C Austin Romine, C Jorge Saez, 1B Chris Gittens, IF Angel Aguilar, IF Abi Avelino, IF Gosuke Katoh, OF Rashad Crawford, OF Billy McKinney, OF Shane Robinson, and OF Zack Zehner. Gittens, Aguilar, Avelino, Katoh, Crawford, and Zehner are all up from minor league camp.
Another nice and sunny day in Tampa. Temperatures in the 80s too. Real baseball weather. Anyway, this afternoon's game will begin at 1:05pm ET and you can watch on YES and MLB.tv. Enjoy the game.