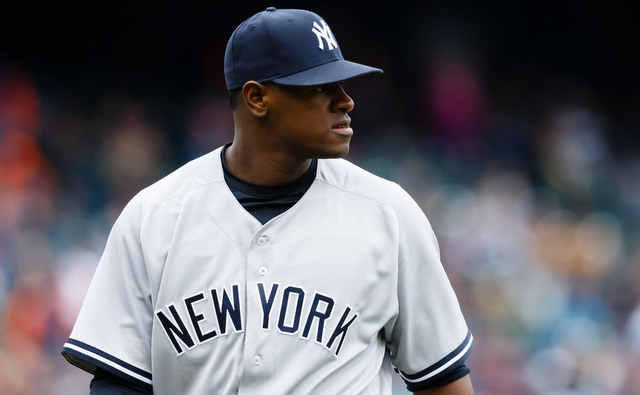 Want to hear something wild? The Yankees have won three of their last four games. Doesn't feel like it, right? The offense still hasn't snapped out of its funk, but the pitching has been much better of late, and the bullpen is making every lead stand up. Sometimes the pitching has the pick up the hitting and vice versa.
The Yankees are sending young Luis Severino to the mound tonight, and Severino has struggled in three starts so far. He hasn't been awful, just pretty mediocre, and I don't think anyone came into the season expecting mediocrity from Luis. Command of his secondary pitches, particularly his slider, remains the main issue. Here is the Rangers' lineup and here is the Yankees' lineup:
The weather in Arlington is pretty scary tonight. There are thunderstorm warnings and apparently tornado warnings as well, but the worst of it is not supposed to start until later tonight. Every time I checked the forecast today the worst stuff seemed to get pushed back an hour. It's supposed to start raining and raining hard about three hours after first pitch, so we'll see what happens. Tonight's game is scheduled to begin a little after 8pm ET. You can watch on YES. Enjoy.
Injury Updates: Alex Rodriguez (oblique) is feeling better. He took swings in the batting cage yesterday and again today. It doesn't sound like he's a pinch-hitter option yet, however.