By

Keith Law published the midseason update of his top 50 prospects list today (subs. req'd), with Cubs 3B Kris Bryant jumping over Twins OF Byron Buxton to claim the top spot. Buxton, who ranks second, has missed most of the season with a wrist injury. Astros SS Carlos Correa is third. He broke his leg sliding into a base a few weeks ago and is done for the year. Sucky year for the game's top prospects.

OF Aaron Judge is the only Yankees' farmhand on the list, ranking 45th. Law says he deserves to share some of the hype going to RHP Luis Severino — Severino, not Judge,  was included in both Baseball America's and Baseball Prospectus' recent top 50 updates — because of his tools and overall excellent season. "I like Severino, who has a loose, easy arm and a chance for three above-average pitches, but Judge is higher probability and could be the middle-of-the-order bat the Yankees have tried to develop for years," wrote Law. · (57) ·
Even though it is not really the halfway point of the season, there is no better time to review the first half than the All-Star break. This week we'll hand out some simple, straightforward, and totally subjective grades, A through F, for the catchers, infielders, outfielders, rotation, and bullpen. We've already covered the catchers, infielders, and outfielders, so now let's move on to the rotation.
Masahiro Tanaka — Grade A
I didn't think it would be possible for Tanaka to meet, nevermind exceed expectations after the Yankees invested $175M in the 25-year-old right-hander this winter. A contract (and release fee) like that comes with ace-sized expectations and given everything he had to adjust to — five-day pitching schedule, new hitters, tougher parks, new culture, etc. — I didn't think there was any chance he would pitch that well right away. I didn't think he'd be bad, he'd be really good but there would be an adjustment period, right? How could there not be?
Well, there wasn't. Tanaka showed up to Spring Training on the first day and looked like he had been wearing pinstripes for years. The transition was seamless, or at least he made it appear that way. He was all business from day one, embracing the five-day schedule and the new workout routines (remember all the running early in camp?). Tanaka was the position player of Hideki Matsui. The guy who fit in so well, so soon that it was like he was born to wear pinstripes.
Tanaka lived up to the hype on the field, of course. That's most important. He has thrown 129.1 innings in 18 starts, and among the 45 AL pitchers with enough innings to qualify for the ERA title, Tanaka ranks third with a 2.51 ERA, third with 4.1 bWAR,, fourth with a 3.7% walk rate, fourth with a 7.1 K/BB ratio, fifth with a 26.6% strikeout rate, sixth with 3.2 fWAR, tenth with a 3.07 FIP, and 20th with a 45.9% ground ball rate. The only negative in his game is the long ball; he'll give up some dingers (1.04 HR/9 and 14.4 HR/FB%). It's a minor nuisance. Other than that though, Tanaka was one of the five best starting pitchers in the league in the first half.
Unfortunately, Tanaka suffered a partially torn elbow ligament in what was scheduled to be his second to last start before the All-Star break. Three doctors recommended he rehab the injury rather than undergo season-ending Tommy John surgery, so Tanaka received a platelet-rich plasma injection earlier this week and is currently resting before starting a throwing program. The expectation is that he will be able to return to the rotation later in the year, but surgery will remain a possibility if the rehab is less than perfect. It sucks but it is what it is. Tanaka managed to exceed expectations before the injury. What a stud.
CC Sabathia — Grade F
I was optimistic about Sabathia's chances of rebounding this year, though I didn't have much to base that on other than blind faith and Sabathia's track record. I'm not even talking about getting back to being an ace. Just being a solid mid-rotation workhorse would have been plenty good enough for me. Instead, Sabathia gave the team a 5.28 ERA (4.79 FIP) in eight starts and 46 innings before going down with a degenerative knee condition. A stem cell procedure apparently did not work and now he's facing the possibility of microfracture surgery, which could be career-threatening.
Rather than shake off the career worst 2013 season, Sabathia got worse and added in a serious injury this year. Not good. I mean, if you really want to squint your eyes and find a silver lining, know that his strikeout (9.39 K/9 and 23.0 K%) and walk (1.96 BB/9 and 4.8 BB%) rates were outstanding. That … really doesn't make me feel much better at all. Maybe an incomplete would be a more appropriate grade given the injury (which might have led to the poor performance), but eight starts is one-fourth of the season. That's not insignificant.
Anyway, Sabathia's knee injury is very serious and remember, he's only 33. We're not talking about some guy approaching 40 here. Sabathia is still relatively young and an ultra-competitive type who leaves everything on the field — remember when he started four games in 12 days for the Brewers on the eve of his free agency? You're kidding yourself if you think he's just going to walk away from the game because of the knee injury — and now there's a chance he may never pitch again. Like, for real.
Hiroki Kuroda — Grade C
There were plenty of reasons to be skeptical of Kuroda coming into the season, specifically his age (39) and brutal finish to the 2013 season. The Yankees re-signed him though, and while he has not pitched as well as he did the last two years, Kuroda has given the team innings every fifth day and is the only Opening Day rotation member not to come down with an injury. His 4.10 ERA (3.91 FIP) can be split up into a 4.62 ERA (3.75 FIP) in his first eight starts and 48.2 innings and a 3.72 ERA (4.02 FIP) in his last eleven starts and 67.2 innings, if you choose.
With Tanaka and everyone else going down with injuries — for weeks too, these aren't 15 days on the disabled list and you're good to go type of injuries — the Yankees need Kuroda to remain that reliable innings eater in the second half. Actually, they need him to be better than that, which is a problem because of his late-season fades. The Yankees absolutely can not afford that this year, not if they want to contend. Kuroda is currently the staff ace by default and the team needs him to reverse his recent trends and be better in the second half than he was in the first.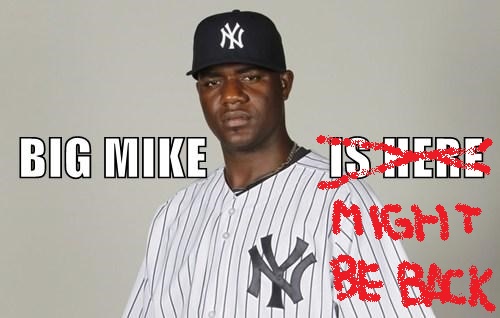 Michael Pineda — Grade D
It was fun while it lasted, wasn't it? Two years after the trade that brought him to New York, Pineda was finally healthy enough to help the Yankees, and he started the year by pitching to a 1.83 ERA (2.73 FIP) in four starts and 19.2 innings. He was an ace! An ace on a very strict pitch count (no more than 94 pitches or six full innings in his four starts), but an ace nonetheless. The Yankees were finally getting some kind of return on the trade and it was glorious.
Then it all came to a crashing halt in Fenway Park in late-April. Two starts after the internet caught him with a glob of pine tar on his hand, Pineda was caught with an even bigger glob of pine tar on his neck. Red Sox manager John Farrell did not let it slide this time. He alerted the umpires and Pineda was ejected and eventually suspended ten games. While serving the suspension, he suffered a back/shoulder muscle injury and has been sidelined since. He just started throwing off a mound last week (after the #obligatorysetback). Given his recent history, there's no possible way the Yankees could count on Pineda to return to help the rotation in the second half. If he does come back, it's a bonus. But man, those 19.2 innings were pretty awesome, weren't they?
Ivan Nova — incomplete
I went back and forth between giving Nova an F or an incomplete. He did make four starts this year, after all. Four terrible starts, with 40 base-runners and an 8.27 ERA (6.91 FIP) in 20.2 innings. But he also blew out his elbow and needed Tommy John surgery in late-April. I'm giving him the benefit of the doubt and assuming the elbow contributed to his poor performance and that he was never really healthy this year. I don't know, an F just seems too harsh for a guy that barely pitched before his elbow ligament snapped. Maybe I'm being too kind.
The Yankees lost Nova for the season and that's a pretty significant blow. Not just for this year either, the timing of the injury means he will start next season on the disabled list and the team won't really know what to expect from him. This is an injury that impacts two seasons, not only one. This was supposed to be the year for Nova to build on his strong second half of 2013 and stop the up and down nonsense, establishing himself as a no-doubt big league starter. That won't happen.
David Phelps — Grade B
Once the injuries started to strike, Phelps worked his way into the rotation and has remained there ever since. He's pitched to a 3.94 ERA (4.31 FIP) in 89 total innings, including a 3.96 ERA (4.08 FIP) in 13 starts and 77.1 innings since moving into the rotation. The Yankees have also been able to count on Phelps for innings — he's thrown at least five full innings in all 13 starts (even before he was fully stretched out) and at least six full innings eight times in his last ten starts. That's been much-needed.
There were some questions about Phelps and his ultimate role coming into the season — remember, he missed most of the second half last season with a pair of forearm strains — but things worked themselves out and he's become one of the team's three most reliable pitchers in the wake of the injuries. He's been a godsend. You can't ask anything more of a sixth starter. Now the Yankees need Phelps to keep it up in the second half. He's in the rotation for good.
Chase Whitley — Grade C
It was definitely a tale of two first halves for Whitley. He came up following all the injuries and was outstanding in his first seven starts, posting a 2.56 ERA (2.75 FIP) in 28.2 innings. Considering he was a full-time reliever as recently as last July and the rotation was in total disarray, getting that kind of production out of Whitley was a minor miracle. The Yankees needed it desperately.
Then everything came crashing to a halt one night in Toronto last month, when the Blue Jays punished Whitley for eight runs in 3.1 innings. It wasn't just a bump in the road either. He has a 9.43 ERA (6.14 FIP) in 21 innings since. (That includes two scoreless innings in relief.) After allowing eleven runs on 44 base-runners (one homer) in his first seven starts, Whitley has allowed 20 runs on 40 base-runners (five homers) in his last four starts. Those first seven starts were so good that I'm not going to go any lower than a C, especially since we're talking about a guy who had never started regularly until this year. All things considered, Whitley's been a plus even if he'll only be a reliever going forward. He helped much more than I thought he would as a starter.
Vidal Nuno — Grade D
Nuno was actually the first guy to be pulled out of the bullpen and stuck in the rotation, but that had more to do with timing than anything. He was the only one rested and able to make a spot start because of a doubleheader in April, and he lined up perfectly to replace Nova after he blew out his elbow. That's all. Nuno had a 5.42 ERA (5.18 FIP) in 78 total innings for the Yankees, including a 4.89 ERA (4.86 FIP) in 14 starts and 73.2 innings before being traded away two weeks ago. There were some good starts mixed in there and more than a few duds as well.
Brandon McCarthy and Shane Greene — incomplete
These two both joined the rotation last week. I mean literally. Greene made his first career start last Monday and McCarthy made his first start in pinstripes on Wednesday. Throw in Greene's second start last Saturday and they've combined to allow six run (three earned) in 20.1 innings. They also have a combined 57.1% ground ball rate, which is pretty awesome even if it is a super small sample. Greene's mid-90s sinker and upper-80s slider make me think he has more rotation staying power than either Nuno or Whitley, but, either way, we'll see plenty more of these two in the second half.
* * *
Any time a team loses four of its five Opening Day rotation members, including three within the first six weeks of the season, they're going to be scrambling for pitching. No team has enough depth to go nine starters deep. The Yankees have been able to tread water thanks to Phelps and some timely outings from Whitley and Nuno, who have since been replaced by McCarthy and Greene. The team clearly needs another starter in the wake of Tanaka's injury and, frankly, they could have used another starter before that. This is a patchwork staff held together by Kuroda, Phelps, and McCarthy at the moment, and there's no telling how much longer the duct tape will hold.
Some notes, including a few promotions. It's that time of year:
3B Eric Jagielo and LHP Ian Clarkin have been activated off the High-A Tampa DL and Low-A Charleston DL, respectively, the teams announced. Jagielo missed more than a month with an oblique issue while Clarkin missed two weeks with a sprained ankle.
RHP Brady Lail and LHP Caleb Smith were both promoted from Charleston to High-A Tampa, the River Dogs announced. Matt Kardos says LHP Francisco Rondon and RHP Diego Moreno are going down from Triple-A Scranton to Double-A Trenton.
In case you missed it yesterday, OF Jake Cave, LHP Jacob Lindgren, and RHP Luis Severino were all promoted as well.
Triple-A Scranton is off until tomorrow for the All-Star break. The International League beat the Pacific Coast League by the score of 7-3. Here's the box score.
2B Jose Pirela: 0-1, 1 R, 2 BB – started the game and batted second, played five innings … he was the only Yankees farmhand elected to the game
Now that the Home Run Derby and the All-Star Game and all that is in the past, there's nothing left to do these next two days but rest. As someone who spends too much time watching and thinking about baseball, I will enjoy the two days off. I get the sense the second half of this season will be a little crazier than usual, especially as the games wind down in Derek Jeter's career. Enjoy the time off while you can.
Here is your open thread for the night. The Triple-A All-Star Game will be on MLB Network at 7pm ET (UTIL Jose Pirela was the only Yankees farmhand elected to the game) and that's pretty much it. You're on your own for entertainment otherwise. Talk about anything on your mind right here.
From our friends at TiqIQ:
New York City is the largest market in the country. In sports that's meant more than one franchise per major sport. But instead of a double dipping in allegiance and an increased chance of a championship for the region each season, the city divides support…even if it's never been done evenly. And, as the saying goes, familiarity breeds contempt. That's led to plenty of intercity rivalries in the NBA, NHL, NFL and MLB. Now you can add MLS to the mix.
Major League Soccer is a growing sport in the United States, even if it doesn't feel that way. Soccer has long been an afterthought to the majority of sports fan in the US, and many of those that have paid attention choose to focus on leagues overseas. But that doesn't mean MLS has remained stagnant. Since it's inception in 1996 the league has grown from 10 teams to 19. Up until now the lone New York team was the New York Red Bulls, and like the New York Giants and Jets they're New York only in title, playing their games in New Jersey instead.
Starting in 2015 New York City Football Club will be added to the league as the 20th team, playing their games in Yankee Stadium for their first season. Jointly owned by the Yankees and Manchester City owners, there are already plans to build a new stadium for the club adjacent to Yankee Stadium. The point is, this team will actually play its home games in the city.
Until the new stadium is built, those home games will be played at Yankee Stadium.
Yankee Stadium
has already been host to several international matches in the past few years, including Manchester City against Chelsea and Spain vs Ireland last year. On
July 30
, Man City will play Liverpool at the stadium as part of exhibition tournament for European clubs in the US. The Man City-Liverpool matchup will be the fifth soccer game held at Yankee Stadium since 2012. While plans for a new soccer stadium are in progress, the friendlies and NYCFC game will have to schedule their games around the Yankees schedule with two to three days needed to change the field over from a baseball diamond to a soccer pitch. After the
July 30
match, the Yankees won't play at home until
August 4
.
So with the birth of the latest New York City rivalry and another coming to Yankee Stadium, this one will have an interesting wrinkle. While the New York Red Bulls have been part of the league since the start – though as the MetroStars through the 2005 season – they are far from a longstanding tradition like the Giants, Yankees, Knicks and Rangers were before rival franchises entered the league. With the team actually located in the city confines, former Red Bull supporters may jump ship. With the prime venue of Yankee Stadium for home games, it wouldn't be a surprise if NYCFC tickets become some of the most coveted in the league on the secondary market.
NYCFC, following suit of the Yankees, has already made some big name additions to the roster mainly David Villa, who played for Spain's national team in the World Cup, and the rumored signings of Frank Lampard, who played for England and recently Chelsea in the English Premier League while there have also been reports a deal with Spanish midfielder Xavi is imminent.
From 2009-13, no team in baseball had more wins (258) or a better winning percentage (.637) in their home ballpark than the Yankees. They dominated in Yankee Stadium, outscoring their opponents by more than one full run per game (1.002 runs per game, to be exact) in the Bronx over that five-year stretch. The team had a home field advantage and knew out to use it.
That home field advantage has not existed in 2014. The Yankees came into the All-Star break at a mediocre 47-47 overall due in part to their inability to win consistently at Yankee Stadium — they are 18-23 at home and have been outscored 192-147 in the process. That's an average of 1.10 runs per game. They have the fifth lowest home winning percentage (.439) in baseball and they've also been out-homered 58-47 on their own turf. That's just not something that should happen. A team should be built for its home park.
Earlier this week, Buster Olney (subs. req'd) subjectively ranked the remaining schedules of each contender, putting the Yankees tenth out of 17 teams. (Tenth most difficult remaining schedule, seventh easiest, that is.) That ranking is based primarily on the New York's 41 remaining home games, the most in baseball. Here is Olney's blurb:
10. New York Yankees
Home/away: A whopping 41 games at home (including the first 10 games after the All-Star break); 27 on the road.
Games against teams with records of .500 or better: 34
Schedule notes: The Yankees' rotation injuries will hurt them, but if playing many games at home provides any kind of an advantage, manager Joe Girardi's team will certainly have it. The Yankees also have six games left in July against Texas, and three in August against the Houston Astros.
Big finish: After a seven-game homestand against the Jays and Orioles, the Yankees close out their regular season in Boston.
Beyond the Box Score says the Yankees have the second easiest remaining schedule among AL teams in terms of opponent's winning percentage. If you prefer a more analytical approach, Jeff Sullivan used projected WAR to analyze the remaining schedule and found the Yankees have the toughest second half schedule in the AL. Not by much, but the toughest based on his method nonetheless. That's not reassuring.
Anyway, it should be obvious where I'm going with this: the Yankees need to play better at home in the second half. It's a must if they want to at least challenge for a postseason berth and not throw in the towel on Derek Jeter's final season. The schedule works in their favor in that they have so many remaining home games, so the opportunity will be there. Now they have to hold up their end of the bargain and capitalize.
Now, it's not just one reason why the Yankees have struggled at home. They average only 3.56 runs per game with a team 94 wRC+ in Yankee Stadium, both below-average and middle of the pack. On the other hand, they allow 4.66 runs per game at home with a team 4.15 FIP, which is awful. Both are among the bottom five marks in the league. They're not scoring enough runs and they're allowing too many runs. Losing Baseball 101.
There are two problems here, the run creation and run prevention, which is true for the team overall. The offense actually seems like it'll be easier to fix. A big part of that is getting both Brian McCann and Carlos Beltran going, something that has to happen if the team wants to contend anyway.  The pitching … well that's a different matter. Masahiro Tanaka's injury is a devastating blow and there's no way to replace him. Brandon McCarthy is a good fit for Yankee Stadium as an extreme ground ball pitcher, plus new rotation Shane Greene is a big ground baller as well. Another trade feels inevitable.
The Yankees have been hit hard by injuries (especially pitching injuries) this year and they were able to tread water through the first half. Continuing to tread water is not good enough though. If the Yankees want to push for a postseason berth — and there are no indications they will do anything but that right now — they have to starting playing better immediately. That starts at home in Yankee Stadium. Their first ten games after the All-Star break are in the Bronx and that is the perfect time to turn the home field disadvantage around.
The Yankees are off both today and tomorrow before resuming the regular season on Friday, at home against the Reds. Here are some injury updates in the meantime, courtesy of George King and Ken Davidoff:
Masahiro Tanaka (elbow) received his platelet-rich plasma injection on Monday as scheduled. Brian Cashman said the plan now calls for the team's ace to rest before beginning a throwing program. There is no set date for Tanaka to resume working out and throwing.
CC Sabathia (knee) is scheduled to see Dr. Neal ElAttrache on Friday. He has already been examined by Dr. James Andrews, Yankees team doctor Christopher Ahmad, and Rangers team doctor Keith Meister. Microfracture surgery is a possibility but not guaranteed.
Michael Pineda (shoulder) continues to throw bullpen sessions and Cashman said the team hopes to get him back "sometime in August." "He has gone from throwing on flat ground to bullpens. That leads to batting practice and rehab games," added the GM.
Carlos Beltran (concussion) should be ready to be activated off the 7-day concussion disabled list when the second half opens on Friday. "That's our hope," said Cashman. The team has already sent down Bryan Mitchell to open a roster spot.
Even though it is not really the halfway point of the season, there is no better time to review the first half than the All-Star break. This week we'll hand out some simple and straightforward grades, A through F, for the catchers, infielders, outfielders, rotation, and bullpen. These grades are totally subjective. We've already covered the catchers and infielders, so now let's move on to the outfielders.
Brett Gardner — Grade A
Through the first 94 games of the 2014 season, Gardner has been the Yankees' best position player. The team got out ahead of his impending free agency by signing him to a four-year extension worth $52M in Spring Training, a deal that looked sensible at the time and looks like a bargain now given his production and the lack of quality outfielders in the upcoming free agent classes.
Among players with at least 100 plate appearances, Gardner leads the team in one-base percentage (.353) and total bases (146), ranks second in batting average (.279), slugging percentage (.424), stolen bases (15), OPS+ (116), and wRC+ (116), and first in both bWAR (2.9) and fWAR (2.7). He's already set a career-high with nine homers. Gardner actually started the season in a funk, going 15-for-62 (.242) in the team's first 18 games, but he's hit .286/.366/.447 (126 wRC+) in the 76 games since. That'll do just fine.
Gardner's defense continues to be excellent as well. He slid back into left field seamlessly and has performed up to his usually defensive standards, which are rather high. Inside Edge data rates his glovework very well. The Yankees tried shuffling things around and actually started Gardner in right field during a game at Fenway Park in April, but that was a disaster. It looked like he had never played the outfield before. Left field is where he remains and whenever the need has arisen for whatever reason, he's slid over and filled in at center without missing a beat.
The only negatives in Gardner's game are his career-high 21.7% strikeout rate and career-low 11.6% stolen base attempt rate. The strikeout issue seems to have to do with him being a little more aggressive in certain counts and swinging for a fences, hence the homers. The stolen base this is weird — he ran in 14.3% of his opportunities last year and in 25.0% of his opportunities from 2010-12. Gardner is still on pace for 26 steals (in 33 attempts), but it appears his days of 45+ stolen bases are over. That's a shame. Either way, he's having an unreal season.
Jacoby Ellsbury – Grade B
As the story goes, it became clear to the Yankees they were going to lose Robinson Cano on a Friday, so they acted quickly to sign Ellsbury before a bidding way broke out. The two sides were in agreement the following Tuesday, and the Friday after that, Cano hooked on with the Mariners. The Yankees replaced Cano with the second best free agent in Ellsbury even though he wasn't a great fit for the roster — they already had a perfectly capable speedy leadoff hitter and strong defensive center fielder in Gardner.
Ellsbury has been very good through his first season in pinstripes, hitting .282/.346/.400 (105 wRC+) with six homers and 24 steals in 29 chances. That's right in line with the .289/.341/.407 (103 wRC+) batting line he put up from 2012-13 following his outlier 2011 campaign. Ellsbury's power has not ticked up despite the move into lefty friendly Yankee Stadium and that makes total sense — almost all of his hits are line drives to left and center field. That's not a bad thing, it's just not conducive to taking advantage of the short porch.
As expected, Ellsbury has had an impact both on the bases and in the field. He's on pace for 41 steals with an 82.8% success rate, which would make him the team's first 40-steal guy since Gardner in 2011. The defensive stats hate Ellsbury this year and I don't get it — it's a Gardner thing, it happened with Curtis Granderson too, he must be stealing outs and hurting the center fielder's defensive numbers — but based on the eye test he's been phenomenal in center. Better than Gardner last season and Gardner was awesome.
Because of injuries and underperformance and all that, the Yankees and Joe Girardi have had to improvise with their lineup. That means Ellsbury has been miscast as a three-hole hitter for most of the year while Gardner bats leadoff. They really don't have an alternative at this point. Ellsbury lacks the traditional three-hole hitter skills in that he can't create a run with one swing, but that's not his fault. He's a leadoff hitter the team is asking to hit third. Either way, Ellsbury was pretty awesome in the first half.
Carlos Beltran — Grade F
Worst case scenario? Possibly. The Yankees signed the 37-year-old Beltran (for three years!) to be the middle of the order hitter they lost in Cano, but so far all they've gotten is a broken down former star who has struggled to both be productive and stay on the field. This is the position player version of Randy Johnson — the right player, only nine years too late.
Beltran has hit .216/.271/.401 (78 wRC+) with nine homers in 228 plate appearances this year while missing time with elbow, knee, and concussion problems. He has a bone spur in his elbow that cost him a month and will require offseason surgery. It has relegated him to full-time DH duty because he can't throw. (He tried a throwing program but had to shut it down due to discomfort.) The concussion was a fluke injury that occurred when he lined a ball off the cage and back into his face during batting practice. It's that kinda year.
It's easy to forget Beltran actually mashed at the start of the season. He was hitting .298/.339/.614 (151 wRC+) with four homers through the team's first 16 games, then he flipped over the short wall in Tropicana Field while trying to catch a foul pop-up, and has hit .189/.249/.331 (56 wRC+) in 193 plate appearances since. I don't know it it's just a coincidence or if he hurt himself flipping over the wall, but he hasn't hit for nearly 200 plate appearances now. Clutch hits? Beltran hit that walk-off homer against Zach Britton but otherwise has a .156/.216/.297 (25 wRC+) batting line with men in scoring position and a .130/.241/.391 (55 wRC+) batting line in high-leverage situations.
Because he's not hitting and can't play the field — not that his defense was a positive, he hurts the team less as the DH, to be honest — Beltran has very little value to the Yankees right now. He could start hitting at any moment and it would be a huge help if he did, but the combination of injuries and age are working against him. Beltran's first three and a half months in pinstripes couldn't have gone much worse.
Alfonso Soriano — Grade F
Man, this sucks. Soriano was one of the most fun to watch players when he on a roll and having a full season of him was supposed to give the Yankees a big offensive shot in the arm. Instead, he put up a .221/.244/.367 (60 wRC+) line with six homers and an unsightly 71/6 K/BB in 238 plate appearances before being dropped from the roster roughly two weeks ago. He wasn't even hitting lefties anymore (80 wRC+). That's it. Without warning he went from 34 homers and a 121 wRC+ in 2013 to being done in 2014. Like done done.
Soriano started the year as the full-time DH in deference to Gardner, Ellsbury, and Beltran in the outfield. He eventually moved to right — he had never played the position before (other than Spring Training) and I thought he did about as well as he could have realistically been expected to perform defensively — once Beltran got hurt, but eventually he lost playing time to Ichiro and was pushed into the light half of a platoon. The Yankees released Soriano earlier this week and he told Marly Rivera he might simply retire rather than continue playing. It was not a pretty end.
Ichiro Suzuki — Grade C
The Yankees relegated Ichiro to fifth outfielder status with their offseason spending spree, and even that was only after they were unable to trade him. And yet, through the traditional first half, he has batted 220 times and appeared in 81 games, the sixth most on the team. He took over as the most of the time right fielder a few weeks ago thanks to both his strong performance and the underwhelming performance of others.
Ichiro is hitting .297/.347/.337 (90 wRC+) with six stolen bases on the season, though his bat predictably cooled once pressed into everyday duty. He went 25-for-37 (.373) with a 142 wRC+ as a reserve player during the first 47 team games of the season but has managed only a .259/.308/.289 (63 wRC+) line as a regular in the 47 team games since. Ichiro's defense has been fine and he'll still steal the occasional base, but that's pretty much it. He's a very good extra outfielder and a pretty terrible regular outfielder at this point of his career.
Zoilo Almonte — incomplete
I get the feeling the Yankees are not going to give Almonte an opportunity to show whether he can be of some use at the MLB level, even as a nothing more than a fourth outfielder. He's been up and down a few times this year thanks mostly to Beltran's injuries, getting into ten games and going 4-for-25 (.160) with a homer. Even with Soriano gone, the Yankees have opted to play Ichiro everyday and sub in Zelous Wheeler on occasion. Meh
* * *
Coming into the season, the outfield was expected to be the strength of the team, and it has been. It just hasn't been as strong as expected due to Beltran's struggles and Soriano's brutal ineffectiveness. Gardner and Ellsbury have been the team's two best players all season and have lived up to expectations in my opinion. Everyone else in the outfield has kinda stunk. Getting Beltran back and producing at an above-average rate will be imperative in the second half. The Yankees will only be able to acquire so much offense in trades.
With an assist to leadoff hitter and Yankees captain Derek Jeter, the American League beat the National League by the score of 5-3 in the 2014 All-Star Game on Tuesday night. The AL will have home field advantage in the World Series this fall, which will be helpful after the Yankees make their huge second half surge and secure a postseason spot.
Jeter received the loudest ovations of the night, both during pre-game introductions and before each at-bat. He was pulled after taking the field in the fourth inning and was cheered as he exited to the dugout, eventually coming out for the curtain call. It was a pretty cool moment. Jeter went 2-for-2 with a double off Adam Wainwright in the first and a single off Alfredo Simon in the third, both to the opposite field (of course). He scored the game's first run on Mike Trout's triple. Trout was eventually named MVP. I thought Jeter would get it.
Following the game — or really in the middle of it — Wainwright created some controversy by saying he grooved a pitch to Jeter in his first at-bat. He eventually backtracked and said he misspoke, but whatever. It's not the first time a pitcher has grooved a pitch to a legend in an All-Star Game, see Chan Ho Park and Cal Ripken Jr. Don't forget Ian Kinsler's weak attempt to field a Chipper Jones ground ball during the 2012 Midsummer Classic, allowing it to scoot by for a hit. Who cares. Grooved pitch or not, it was an awesome night for Jeter.
Dellin Betances did not pitch in the game and as far as I know he did not even warm up. Disappointing but I'm fine with it. He could use the rest. Masahiro Tanaka, the team's third All-Star, was not in Minnesota because he is receiving treatment for his partially torn elbow ligament. What a sad sentence. Here is the box score, if you're looking for it. There is no Major League Baseball at all these next two days. Everything returns to normal on Friday, when the Reds come to the Bronx for a three-game weekend set.
Some notes:
Triple-A Scranton is off until Thursday for the All-Star break. The actual game is tomorrow night. UTIL Jose Pirela was the only Yankees farmhand selected to the International League squad.