By

The Yankees have acquired left-handed reliever Josh Outman from the Indians for a player to be named later or cash, the team announced. Outman is not on the 40-man roster but will report to the big league club. I assume Rich Hill's time in pinstripes is coming to an end.

Outman, 29, had a 3.28 ERA (5.24 FIP) in 24.2 innings for the Tribe this year before being sent to Triple-A, where he had a 4.43 ERA (4.09 FIP) in 22.1 innings. Big league lefties hit .180/.293/.380 (.304 wOBA) with a 25.9% strikeout rate against Outman in his limited time this year. He manhandled same-side hitters last year, holding them to a .195/.278/.261 (.249 wOBA) line with a 31.0% strikeout rate in 2013. Just another incremental upgrade. · (86) ·
Got a fun little quiz to pass along tonight: SB Nation put together a ten-question quiz about obscure baseball rules. I got six right out of ten and one of my correct answers was a total guess. There are a lot of really, really weird rules in this game. Check it out. It's pretty fun.
Once you've done that, here is your open thread for the night. The Mets are playing plus both the (football) Giants and Jets are playing their final preseason games. Talk about those games, the quiz, this afternoon's loss, or anything else right here.
Another winnable game slips through their fingers. The Yankees lost Thursday afternoon's series finale to the Tigers by the score of 3-2, mostly because the offense didn't bother to show up for the final five innings of the game. Two runs won't win you much in this league.
One Run At A Time
The Yankees and Tigers traded runs each inning from the second through fifth. A single (Nick Castellanos), a hit-and-run (Don Kelly), and a sacrifice fly (Alex Avila) gave Detroit a 1-0 lead in the second inning. The Yankees responded with an infield single and an advance on an error (Zelous Wheeler) plus another single (Jacoby Ellsbury) to score a run in the next half-inning, all with two outs. The hardest hit ball in those two rallies was probably Avila's sac fly. They didn't exactly knock the cover off the ball.
A more traditional rally gave the Yankees a 2-1 lead in the fourth. Martin Prado led off the inning with a single, then moved to third on Carlos Beltran's one-out line drive double to left. It took a weird carom off the side wall and deflected right to Kelly, the left fielder, otherwise I'm pretty sure Prado would have scored from first on the hit. It ultimately did not matter because Brian McCann pulled a two-strike pitch on the ground to the right side of the infield to score the runner from third. A productive out, as they say. I prefer to call it a less bad out.
Anyway, the Tigers tied the game at two in the bottom of the fifth thanks a leadoff walk (Kelly) and a wild pitch. Hiroki Kuroda gift-wrapped that rally for them. Kelly moved to third on Andrew Romine's ground out and scored on Rajai Davis' two-out single. Again, I'm pretty sure the hardest hit ball against Kuroda was Avila's sacrifice fly. Well, Victor Martinez lifted two long fly balls to left field, but that's pretty much it. The Tigers didn't square him up at all. But still, the score was knotted at two through five innings.
No More Offense
Somehow the Yankees only managed the two runs (one earned) in six innings against rookie left-hander Kyle Lobstein even though he gave up a ton of long fly balls and did not strike out a batter (one swing-and-miss out of 83 pitches). Here is the team's spray chart against Lobstein (taken from Gameday), just in case you don't believe me about the long fly balls:
No, the Yankees didn't hit any homers off Lobstein, so those two data points over the left field fence give you an idea of just how unreliable batted ball data is. But yeah, they hit four balls very deep to left field another deep to center, all for outs. The Yankees had some well-struck balls against Lobstein, just not well-struck enough. Blah.
Anyway, after Beltran doubled to left in the fourth inning, Lobstein and relievers Blaine Hardy and ex-Yankee Joba Chamberlain combined to retire 16 straight Yankees before Mark Teixeira drew a two-out walk in the ninth. Beltran followed that with a single to shallow center, moving Teixeira to third, but McCann struck out to end the inning. He just missed a three-run homer by a few feet earlier in the at-bat. It had plenty of distance but hooked just foul. The Yankees have just seven hits in 15 innings since recording nine straight hits off David Price in the third inning on Thursday.
Walked Off
For the second time this year, the Yankees were beaten by the fading bat of Alex Avila. He hit an extra-innings go-ahead solo homer in New York a few weeks ago, and on Thursday he clubbed a walk-off single with two outs in the bottom of the ninth. Shawn Kelley pitched into the mess by allowing a leadoff double to Victor Martinez and a walk to J.D. Martinez, but he rebounded to strike out both Castellanos and pinch-hitter Torii Hunter. He recorded both strikeouts with fastballs because his slider just wasn't working. Naturally, Avila hit the slider.
The game-winning hit looked to be gone off the bat, but it ended up hitting off the wall in right field. Ichiro Suzuki either alligator-armed it or simply timed his jump poorly and completely whiffed on the ball. It certainly wasn't a routine play, but it was catchable based on the fact that he was right there when it hit the wall. Not exactly the most graceful defensive play you'll see. I know the slider is Kelley's trademark pitch, but it was clearly his less effective offering on Thursday and that's what he got beat on. If you're not going to bring in David Robertson in situations like this, maybe at least have a lefty ready for Avila?
Leftovers
Kuroda's biggest mistake of the afternoon was probably the leadoff walk to Kelly in the fifth inning. He held the Tigers to those two runs on just four singles and a walk in seven innings, striking out four and recording 15 of his 21 outs on the infield. Kuroda looked very good considering he was making a late-August start on normal rest. Usually he hits a wall around 80 pitches this time of year — he threw 91 in this game, 58 for strikes (64%) — but that was not the case Thursday. Just another strong start in a recent string of them for the rotation.
The offense had five hits all afternoon: a single and a double by Beltran, and singles by Ellsbury, Prado, and Wheeler. Teixeira drew two walks. Derek Jeter went 0-for-4 with three ground outs and is down to .265/.313/.317 (76 wRC+) on the season. It's amazing the Yankees continue to shoot themselves in the foot by batting him second.
Dellin Betances threw a scoreless eighth inning but did walk Ian Kinsler — who immediately stole second — to bring Miguel Cabrera to the plate with a chance to drive in the go-ahead run. He struck out Miggy on four pitches and got the two-time defending AL MVP to take one of the silliest swings you'll ever see for strike three.
Box Score, WPA Graph & Standings
Head on over to MLB.com for the box score and video highlights. FanGraphs has some additional game stats. The updated standings are at ESPN. The Mariners are off Thursday, so the Yankees are three games back of the second wildcard spot at the moment. Depending on the outcome of the night game, they'll be either six games (Orioles lose) or seven games (Orioles win) back of the top spot in the AL East. FanGraphs puts New York's postseason odds at 12.9% at the moment.

Source: FanGraphs
Up Next
The Yankees are off to Toronto for a three-game weekend set against the struggling Blue Jays. Finesse lefties Chris Capuano and Mark Buehrle will open the series on Friday night.
By

As expected, Masahiro Tanaka threw his second simulated game this morning. He threw 49 pitches across three innings while facing Brendan Ryan, who batted both right- and left-handed. Tanaka threw all of his pitches and said he feels nothing more than normal soreness, though he is rusty. Joe Girardi called it a "good step in the right direction."

The Yankees will wait to see how Tanaka and his partially torn elbow ligament feel in the coming days before setting the next step in stone. Girardi indicated his ace will throw at least two and likely three more simulated games before returning to the team. The minor league season ends Monday, so Tanaka will have to do all of his rehab and prep work in simulated games. That's not ideal but there's really nothing they can do. · (84) ·
The Yankees are playing their best baseball of the season right now. The rotation is giving them a quality outing just about every day, and the offense is finally starting to consistently score runs. Scoring 16 runs in 14.2 innings against Chris Sale, James Shields, and David Price these last few days is something that would have never happened earlier this year.
This afternoon's rubber game against the Tigers gives the Yankees a chance to climb to within two games of the second wildcard spot (the Mariners are off today) with 30 games left to play. They also have a chance to draw closer to Detroit in the wildcard race. Passing one team is tough enough. Having to jump two is very difficult, which is why these head-to-head games are so important. Here is the Tigers lineup and here is the Yankees lineup:
It is nice and sunny in Detroit this afternoon. Cool, too. Temperatures are in the low-70s. These games are starting to have playoff level intensity and the weather is appropriate. First pitch is scheduled for 1:08pm ET and you can watch on YES locally and MLB Network nationally, depending on where you live.
The story of last night's win over David Price and the Tigers will be the nine consecutive hits in the third inning and rightfully so, but, just as importantly, rookie right-hander Shane Greene had another solid start and continues to solidify his place in the rotation going forward. I mean, nine straight hits is cool and all, but it's an anomaly. Greene pitching well has become the norm.
Greene's performance against the Tigers was particularly impressive because he was facing them for the second time. It was the first time a team got a second look at him as a starter. He threw eight scoreless innings against Detroit three weeks ago and followed that up with seven innings of two-run ball last night. Chase Whitley's second turn through the league was a disaster — the Blue Jays, the first team to face him a second time, pounded him for eight runs on eleven hits and three walks in 3.1 innings the second time around. It was good to see Greene more than hold his own against a team somewhat familiar with him.
The Yankees have now won six of their last seven games and eight of their last eleven games overall. Greene's outing continued a stretch of strong starting pitching from the makeshift rotation — the Yankees are on what, their eighth through 12th starters at this point? I've lost count — that has kept the team afloat during their offensive struggles. Here is what the rotation has done since August 16th, the start of this eleven-game stretch (via Baseball Musings):.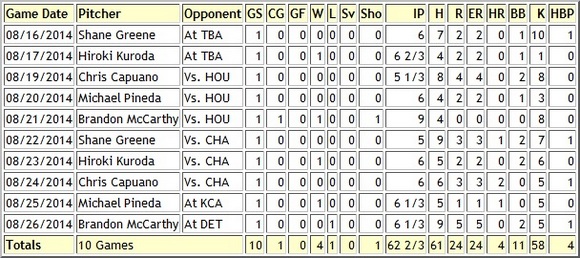 The table does not include Greene's strong start against the Tigers last night — I didn't have time to wait for the Baseball Musings database to update, so sue me — which was his third excellent outing during this eleven-game stretch. Include him and the rotation has a 3.36 ERA (2.69 FIP) with a 5.50 K/BB in 69.2 innings during these eleven games. Stretches like this explain why the rotation has a 3.82 ERA (3.75 FIP) this summer despite all the injuries.
The only real terrible start in the table above is Brandon McCarthy's outing on Tuesday, when he clearly didn't have his usual command and ability to locate. He walked two batters and a hit a guy in the second inning alone. He never does that in a full start, nevermind one inning. Pitchers have off nights once in a while and that was one for McCarthy. The bullpen (specifically Adam Warren) deserves some level of blame for allowing two inherited runs to score during Chris Capuano's start against the Astros, the other eyesore in the table.
Otherwise the Yankees have been getting strong start after strong start during his eleven-game stretch. And, really, it dates back even further than that. The team has been getting strong starting pitching for several weeks now, but the offense has failed to hold up to its end of the bargain most nights. These last few offensive explosions — you do realize the Yankees scored 16 runs in 14.2 innings against Chris Sale, James Shields, and David Price these last few days, right? — have been nice but they are hardly he norm for this club.
The Yankees don't win if they get anything less than a strong outing from their starter. They aren't capable of winning high-scoring games consistently and may the baseball gods have mercy on their soul if the bullpen is any worse than dominant on a given night. In this low-scoring day and age, it all starts with pitching, and the Yankees have been getting lots of it from everywhere imaginable. Scrap heap pickups, trades, big money free agents, you name it and they've helped out.
These eleven games have helped the Yankees climb back into the wildcard race — they're 2.5 games back and FanGraphs has their postseason odds at 13.8%, so they still have a ton of ground to make up — and they've had a chance to win just about every game because of the rotation work. This season could have (and, depending on who you ask, should have) been sunk once the regular rotation members started going down with injury. Guys like Greene, McCarthy, and Capuano have picked up the slack, and it has been especially evident during this recent surge.
Now that is how you rebound from a loss. The Yankees have had a knack for following winning streaks with extended losing stretches this year, but they brushed Tuesday's loss aside and pounded David Price and the Tigers on Wednesday, winning the middle game of the series 8-4. They've now won six of their last seven games and eight of their last eleven overall.
Nine Straight Hits
The third inning of this game was just ridiculous. The Yankees started the inning with nine (nine!) consecutive base hits against Price, and those nine hits featured a little of everything. Doubles into the corner, garden variety singles to the outfield, ground ball singles with eyes, infield singles, you name it. All nine of the hits came against Price too. It's not like they got five hits off him and the rest off some random scrub reliever.
I think the easiest way to recap this is with the play-by-play, so here: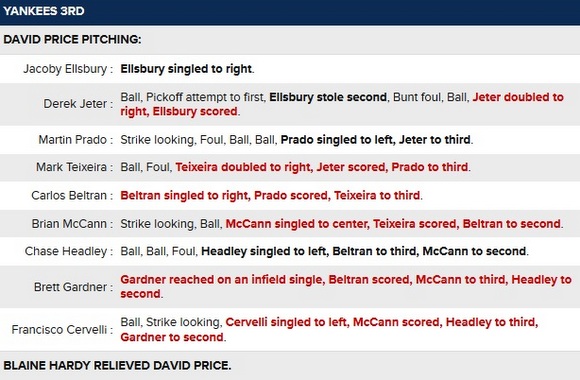 The doubles by Carlos Beltran and Mark Teixeira were opposite field shots into the right field corner. I thought Teixeira's would slice foul off the bat and Beltran's would sneak over the wall for a homer. Wrong on both counts. Ain't mad about it. Those nine straight hits gave the Yankees six runs and loaded the bases with no outs before Price was pulled. At one point they were 8-for-8 with runners in scoring position in the inning. In the inning!
According to YES Network broadcast, the MLB record for consecutive base hits is 12 by both the 1920 Cardinals and 1930 Dodgers, though those rallies both spanned multiple innings with outs recorded on the bases mixed in. The record for most consecutive hits in a single inning is eleven by the 2010 Rockies. The last AL team with nine straight hits was the 1996 Tigers. The 1992 Blue Jays hold the AL record with ten straight hits. So yeah, this was something else.
Two sacrifice flies followed the nine hits and the pitching change, giving the Yankees an 8-0 lead through three innings. Price had not allowed nine hits in any of his last 14 starts, amazingly. The eight runs is a new single-inning high for the Bombers this year — they scored seven runs in an inning a few times — and, most importantly, it gave Shane Greene plenty of breathing room. Most fun inning of the year? Most fun inning of the year.
Second Time Around
The huge inning and those nine straight hits are going to grab all the headlines and rightfully so, but man, Greene was awesome once again. This was the first time a team got to see him twice as a starter, which is always a big test for a young pitcher. Greene aced that test by holding the Tigers to two runs on five hits and one walk in seven innings. He struck eight out and recorded 16 of his 21 outs on the infield. If the Detroit batters were comfortable in the box because they had already seen him once before, it did not show. Dude was sharp.
Greene has now made nine starts for the Yankees since joining the rotation just before he All-Star break — he crossed the 50-inning rookie eligibility threshold in this start, by the way — and in those nine starts he has a 3.11 ERA (3.15 FIP) with a 3.79 K/BB ratio in 55 innings. Remember, he had a 4.61 ERA (3.41 FIP) with a 2.19 K/BB in 66.1 Triple-A innings before being called up. There were legitimate questions about exactly how much he would be able to help the team. Greene has been outstanding so far and his lively sinker/slider mix suggests his success is more sustainable than, say, Chase Whitley's. (No offense to Whitley.) This guy's been awesome.
Leftovers
Because these are the 2014 Yankees, the team did not have a base-runner following the nine straight hits until Martin Prado picked up a two-out in the sixth inning. A parade of Tigers relievers retired a) eleven straight Yankees from the third through sixth, and b) 20 of the final 25 Yankees batters to end the game. Hey, when you drop eight runs in an inning, you're allowed to take it easy the rest of the game.
Everyone in the starting lineup had at least one hit, obviously. That kinda has to happen to do the whole nine straight hits thing. Jacoby Ellsbury, Prado, Brian McCann, and Chase Headley all had two hits apiece. Derek Jeter, Prado, and Headley drew the walks. Ellsbury even stole two bases. The Yankees went 8-for-14 (.571) with runners in scoring position. Is that good? That seems good.
Adam Warren pitched the eighth inning and Dellin Betances pitched the ninth after Greene was done. They both allowed a garbage time run on two hits. Betances pitched because he actually needed the work, which is weird because he's had to work a lot this year. He had four straight days off before Wednesday's game and the rust showed. Better to shake it off in a game like than than a close one.
I don't mean to laugh at him, but Frankie Cervelli took a foul ball right to the biscuits in the fifth inning. Direct hit. It was rough. I couldn't help but laugh when Ken Singleton said "nope, didn't hit him in the collarbone" during the slow motion replay. Poor Frankie.
And finally, the Yankees have now beat up on Price, James Shields, and Chris Sale in the span of four days. Baseball, man.
Box Score, WPA Graph & Standings
For the box score and video highlights, check out MLB.com. You can find some other stats at FanGraphs and the updated standings at ESPN. Both the Orioles and Mariners lost, so the Yankees are now six games back in the AL East and 2.5 games back of the second wildcard spot. FanGraphs puts their postseason odds at 10.6%.

Source: FanGraphs
Up Next
The Yankees and Tigers will wrap up this three-game series on Thursday afternoon. Hiroki Kuroda and Kyle Lobstein are the scheduled pitching matchup for the rubber game. Apparently the Tigers decided to push Justin Verlander back and give him an extra day of rest as he comes back from his sore shoulder.
Triple-A Scranton Game One (6-5 loss to Buffalo in seven innings) makeup of the April 25th rainout
CF Jose Pirela & DH Ramon Flores: both 0-4 — Pirela struck out once, Flores twice
2B Rob Refsnyder: 2-4, 1 R, 1 2B, 1 K, 1 E (fielding)
1B Kyle Roller: 1-3, 1 R
3B Scott Sizemore: 1-2, 1 R, 1 2B, 1 RBI, 1 BB, 1 E (fielding) – 9-for-28 (.321) with three doubles and a homer in his last ten games
LF Zoilo Almonte: 0-2, 1 R, 1 BB, 1 K
C John Ryan Murphy: 0-2, 1 RBI
LHP Matt Tracy: 5.2 IP, 2 H, 1 R, 0 ER, 4 BB, 1 K, 8/5 GB/FB — 55 of 94 pitches were strikes (59%)
LHP Tyler Webb: 0.2 IP, 3 H, 4 R, 4 ER, 1 BB, 1 K, 0/1 GB/FB — 16 of 30 pitches were strikes (53%) … melted down in the seventh and started the five-run rally for the Bisons
RHP Edgmer Escalona: 0.2 IP, 1 H, 1 R, 1 ER, 0 BB, 1 K, 0/1 GB/FB — 10 of 15 pitches were strikes … allowed Buffalo to finish off the comeback
The Yankees lost last night because every late-August winning streak is bound to end at some point. The key is getting right back up and starting a new streak, not letting the losses pile up, something they've been unable to do this year. Examples:
Five straight wins in April followed with two straight losses and three losses in the next five games.
Four straight wins in May followed by four losses in the next five games.
Eight wins in ten games in June followed immediately by nine losses in eleven games.
Seven wins in eight games after the All-Star break, then five losses in the next six games.
Six wins in seven games earlier those month followed by a five-game losing streak.
If the Yankees are going to make a serious run at a postseason spot — and make no mistake, their chances are very small right now — one loss can't turn into a mini-two-game losing streak tonight. Bounce back, pick up a win, and keep moving forward. That's the only way they'll have a chance. Here is the Tigers lineup and here is the Yankees lineup:
It's cool and cloudy in Detroit, but there is no rain in the forecast. We're definitely starting to see more late-season baseball weather. You know what I mean. Tonight's game is scheduled to begin at 7:080pm ET and you can watch on YES locally and ESPN nationally. Enjoy the game.
The Yankees have signed outfielder Chris Young to a minor league contract, reports Jon Heyman. I assume he'll head to Triple-A Scranton for a few days and be called up when rosters expand on Monday. The Yankees will need to make room on the 40-man roster to accommodate him when the time comes, but that won't be much of a problem.
Young, 30, hit .205/.283/.346 (80 wRC+) with eight homers and seven steals in 287 plate appearances for the Mets this year before being released earlier this month. That includes a weak .136/.277/.227 (50 wRC+) line in 83 plate appearances against lefties. Young hit .200/.280/.379 (82 wRC+) overall and .209/.320/.392 (99 wRC) against southpaws while with the Athletics last year. He has consistently graded out as a strong outfield defender in his career.
At his best, Young hit .243/.331/.436 (104 wRC+) overall and .272/.377/.482 (131 wRC+) against lefties while with the Diamondbacks from 2010-12. His best year came in 2010, when he put up a .257/.341/.452 (109 wRC+) line with 27 homers and 28 stolen bases. Obviously that was a long time ago and he's not the same player now. Vernon Wells managed to be the best hitter in the AL for a few weeks last year, maybe Young can do the same. Baseball is weird sometimes.
The Yankees clearly need another right-handed bat — Zelous Wheeler has started four of the last six games — and Young might be able to fill that role for a few weeks. They only have to pay him the pro-rated portion of the league minimum — the Mets are on the hook for his $7.2M salary — and if he stinks, they can keep him glued to the bench. There's no such thing as wasting a roster spot in September. Minor move. Maybe he'll hit a random big homer or something.