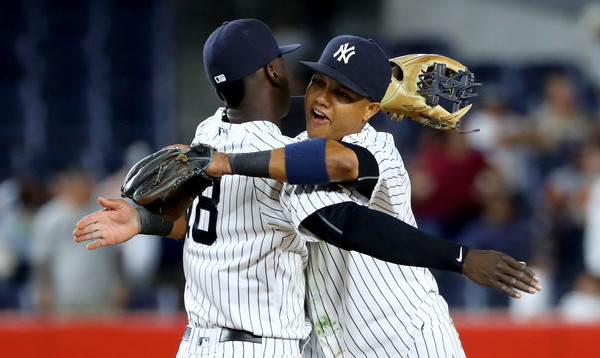 Here's a not-so-fun fact: the Yankees have not been more than one game over .500 since April 12th, when they were 4-2 a week into the season. This current three-game winning streak has them one game over at 47-46. The Yankees also haven't won as many as four in a row since early-June, so they can go places they haven't been in quite some time with a win tonight. Here is the Orioles' lineup and here is the Yankees' lineup:
It's been a very nice day in New York. The sky is mostly clear and it's on the cool side. Nice night for baseball, I'd say. Tonight's game will begin at 7:05pm ET and you can watch on YES. Enjoy.
Rotation Update: Joe Girardi said Masahiro Tanaka remains on track to start Friday. He still wouldn't say why Chad Green was scratched from last night's Triple-A start. My guess is Green will start Friday to give Tanaka and extra day of rest. Either that or there's some sort of trading pending. Or someone's hurt and we don't know about it. Developing!
Roster Update: Chase Headley was originally in tonight's lineup before being a late scratch. The Yankees it's an excused absence for "personal reasons." Hope everything's okay.