Do the Yankees have to leave Atlanta? They finished the three-game sweep of the Braves with a 20-6 win Sunday afternoon. They outscored the Braves 38-11 in the three games. The Yankees scored 38 runs during their recent ten-game homestand.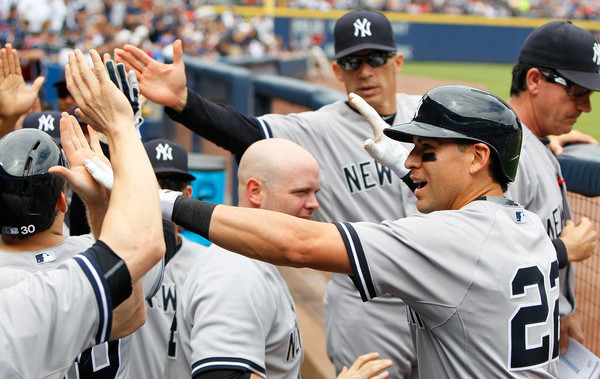 Seven Runs, Two Outs
The Yankees scored their first nine runs of Friday night's blowout with two outs — in two separate innings, but all with two outs — and they scored their first seven runs of Sunday afternoon's game with two outs. Jacoby Ellsbury started the scoring with a three-run home run in the second inning on a hanging Julio Teheran slider. It was … not a good pitch. That was a common theme. The Yankees stranded two runners in the first and were on the verge of doing it again in the second before Ellsbury's dinger.
In the third inning, Carlos Beltran and Brian McCann flew out for the first two outs before Greg Bird drew a two-out walk. Chase Headley followed with his tenth homer of the season, a bomb to dead center field. Again, it was a really bad pitch. Teheran laid it in there, right over the plate. Didi Gregorius followed the homer with a walk and Stephen Drew then went deep, hitting a two-run shot to right. Again, terrible pitch. Middle-middle meatballs all afternoon from Teheran.
Teheran has always been home run prone, but he's taken it to the extreme this year, allowing 21 homers in 157.1 innings coming into this game (1.20 HR/9). That's playing in a big park in the NL. Teheran was one out away from escaping the second and third inning scoreless, but instead he left some very hittable pitches over the plate, and the Yankees took advantage for an early seven-run lead.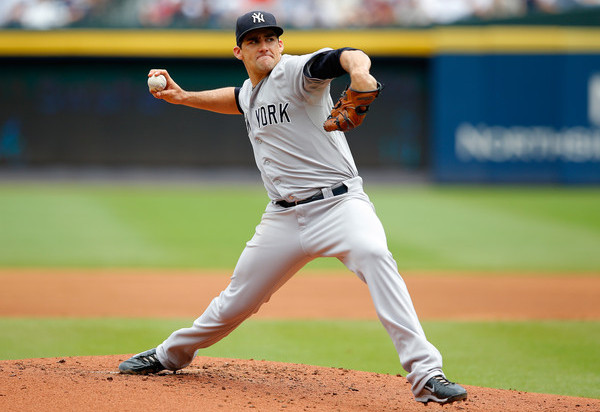 Not So Nasty Nate
Nathan Eovaldi picked a pretty good day to not have command of his … well … everything. He couldn't locate his fastball and his splitter hung more often than not, resulting in five runs in five innings. A better offensive team than the Braves might have made this a much uglier start for Eovaldi, who allowed those five runs on eight hits and two walks. He did strike out seven.
Much like New York's early rallies, Atlanta's two-run rally in the third inning all happened with two outs. Eovaldi got two outs, then walked Nick Markakis and Nick Swisher, and Freddie Freeman and A.J. Pierzynski drove them in with singles. The walks were the big problem there. Can't be walking dudes with the bases empty and two outs and the middle of the order looming. Especially not with a 7-0 lead. Not good, Nate. He knows that.
The sixth inning rally was kind of dumb but it still counts. The inning started with an Adonis Garcia ground ball single back up the middle. Okay. Then Jace Peterson hit a booming double to left-center to put runners at second and third with no outs. Argh. The Yankees led 8-2 at the time, but still. Andrelton Simmons then ripped a single back up the middle, scoring both runners and ending Eovaldi's day.
Adam Warren replaced Eovaldi and allowed Simmons to score on two dinky bloop hits. Brett Gardner almost caught one of them in left. Eovaldi allowed all three men he faced in the sixth to reach base and Warren allowed two of the four he faced to reach. Chasen Shreve came in, walked Freeman to load the bases, then got Pierzynski to ground out end the inning. Three runs scored on five hits. Not a good inning or afternoon for Eovaldi. Shake it off, do better next time out.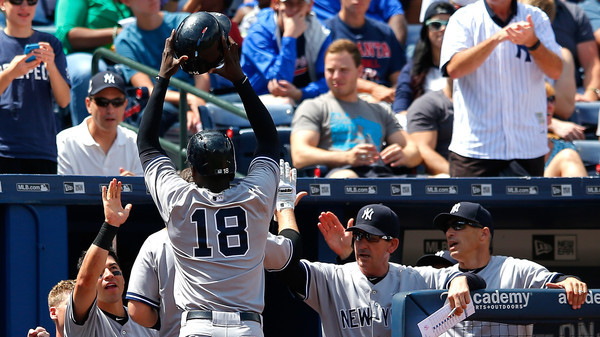 Insurance Runs
Thankfully, the Braves are not very good. They gave those three sixth inning runs back and then some in the seventh. Headley walked, Gregorius was hit by a pitch, and Drew singled to load the bases with one out. Alex Rodriguez drove in two with a pinch-hit single, Gardner singled in another run, McCann singled in two more runs, Bird doubled in yet another run, Headley doubled in two more runs, then Drew capped it off with another run-scoring single. Gosh. Nine runs on eight hits, two walks, and a hit batsman. That was an enjoyable inning. The lead was extended to 17-5.
Then, in the eighth, the Yankees scored three more times. The highlight of the inning was Branden Pinder's run-scoring double. It was his first pro at-bat, and, as far as I can tell, he never batted in college either. Pinder was the first Yankees reliever to drive in a run since … Mariano Rivera's bases loaded walk against Francisco Rodriguez back in the day. Good times. Bird (sac fly) and Gregorius (single) also plated runs in the three-run frame. Twenty total runs on a season-high 21 hits.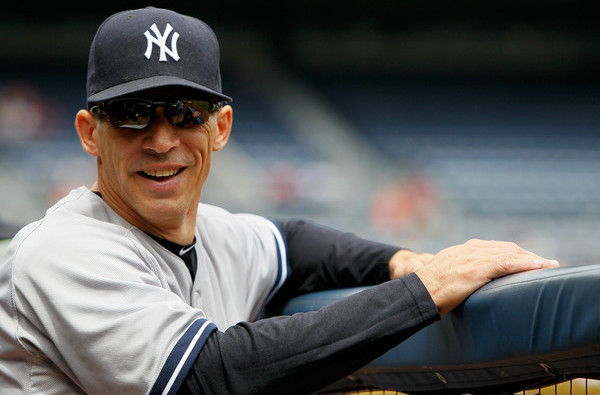 Leftovers
Drew went 4-for-4 the afternoon and is now hitting .20115 on the season. It was his first four-hit game since June 2013 and the first time this season he's finished a game hitting over .200. He reached base six times — he also drew two walks — for the first time in his career. Drew had reached base five times in one game on four previous occasions, last in 2011. Heck of a day at the plate.
Everyone in the starting lineup had at least one hit and one run scored aside from the pitcher's spot. Seven of the eight position player spots drove in a run. Headley (three hits, two walks) and Gregorius (two hits, two walks, hit-by-pitch) each reached base five times. Including Pinder, who hit in Headley's spot, the 6-7-8 hitters went 10-for-11 with two doubles, two home runs, six walks, a hit-by-pitch, and one strikeout. That's 17 times on base in 18 plate appearances. Wowza.
Pinder soaked up two inefficient innings in the blowout, allowing a run on an Adonis solo homer. He also walked three batters. Pinder threw 45 pitches in his two innings. Bryan Mitchell tossed a scoreless ninth. He made a nice play to snag a hard-hit comeback ground ball that was heading over his shoulder and into center. That was a little unsettling after Mitchell took the line drive to the face two weeks ago.
And finally, the Yankees have scored 20+ runs twice this season — they did it in Texas a few weeks ago, as I'm sure you remember — after doing it two times total from 2008-14. The last time they scored 20+ runs twice in one season was 1999. That was a good year.
Box Score, WPA Graph & Standings
You can find the box score and video highlights for the game here and here, respectively. Here are the updated standings and postseason odds as well. Now here's the win probability graph:

Source: FanGraphs
Up Next
Sadly, the Yankees are done with the Braves and now head to Boston for a three-game series with Red Sox. Ivan Nova and Eduardo Rodriguez will be the pitching matchup in Monday night's opener.