Only eleven questions in the mailbag this week. I had a few lined up that were rendered moot by the Aroldis Chapman signing. What about getting this guy instead of Chapman? That sort of thing. So blame the Yankees and Chapman for the relatively short mailbag. Anyway, RABmailbag (at) gmail (dot) com is the place to send your questions throughout the week.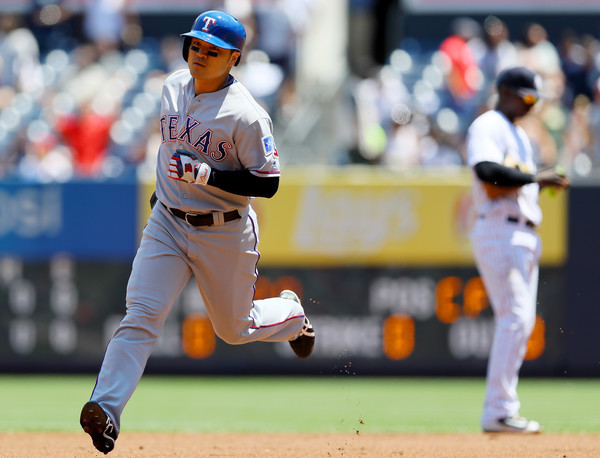 Jim asks: Ellsbury for Shin-soo Choo?
You know, I don't think this is completely impossible. Jacoby Ellsbury (four years, $89.6M) and Shin-Soo Choo (four years, $82M) have basically the same about of years and dollars left on their contracts, so it would be a wash financially. (Or at least the money is close enough that working it out shouldn't be difficult.) The teams would be swapping players who provide different things and fill different needs. An actual baseball trade. How about that?
The Rangers were said to be looking for both a left fielder and center fielder this offseason, and re-signing Carlos Gomez addresses one of those spots. Gomez played left field in deference to Ian Desmond late last season (which was completely backwards, but I digress), after being released by the Astros and signing with Texas. The Rangers could play Gomez in left, Ellsbury in center, and rookie Nomar Mazara in right. See? Perfect.
The Yankees, on the other hand, would be replacing one of their low power lefty hitting leadoff types with a better offensive player. Choo battled injuries all season and still managed a .242/.357/.399 (105 wRC+) batting line. Ellsbury hasn't had an OBP that good since 2011 or a wRC+ that good since 2014. Choo is a year removed from hitting .276/.375/.463 (129 wRC+) with 22 homers, remember.
It boils down to preference. Would the Yankees rather have the small bat/big glove player, or the big bat/small glove player? Choo is going to be a full-time DH before long and the Yankees do have an opening there going forward. No-trade clauses and things like that will complicate this, but if the Rangers are game, I think this would be worthwhile for the Yankees. They have center field alternatives and need the lefty offensive might.
Matt asks: You've recently said that you'd like to see Monument Park more prominently displayed at The Stadium and I 1000% agree. It should be the crown jewel of the ballpark. If they put you in charge of the project, how would you show off Monument Park?
I don't see a great solution given the ballpark. I think the best possible solution would be creating a double decker bullpen — Citizens Bank Park, Progressive Field, and Camden Yards all have them — on one side of the restaurant in center field, with Monument Park in the other side where the other bullpen currently sits. The Yankees would have to rip out seats to make that happen, but they're ripping out 2,000 seats this offseason anyway, so it doesn't seem like that would be a deal-breaker. They'd be left with Monument Park on the left field side of the restaurant, a la the old Stadium, and the double decker bullpen on the right field side. (Road team gets the top bullpen so fans can heckle them, of course.) If anyone has a better solution, I'm all ears.
Ricky asks: I've read repeatedly that the Yankees need to sign a veteran catcher to mentor Gary Sanchez. They already have Joe Girardi, who, with Joe Torre mentored Jorge Posada, and Tony Pena, one of the top defensive catchers of his time, sitting on the bench. What am I missing? Aren't these two more than capable of mentoring a young catcher?
Sure. I don't think a veteran backup is necessary and I'm pretty sure I've never written that on RAB. I know I've said the Yankees might look into one, but it's not necessary. Girardi and especially Pena do a ton of work with the catchers — Pena is always on the field with them before the game doing drills (blocking balls in the dirt, etc.) — and I'm not sure you could ask for a better catching coach tandem. Adding a veteran backstop would be about a) upgrading over Austin Romine, and b) having someone you're comfortable running out there three or four days in a row should Sanchez need a little break at some point.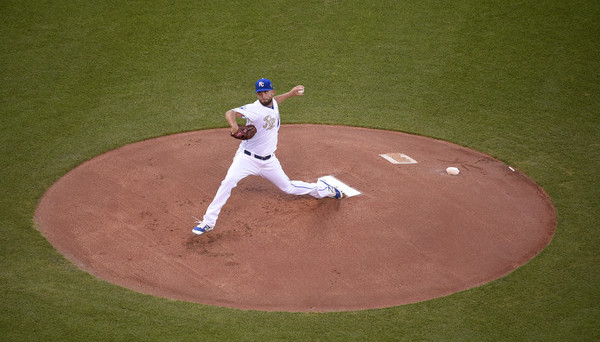 Ben asks: With the Royals looking to slash payroll, how about trading for Danny Duffy or Yordano Ventura?
Hard pass on Ventura. For starters, he isn't all that good and he's actually getting worse. He's gradually gone from a 3.20 ERA (3.60 FIP) in 2014 to a 4.45 ERA (4.59 FIP) in 2016. Also, Ventura is kinda crazy. He's incited several benches clearing brawls over the years because he gets angry when things don't go his way, so he starts throwing at people. If you pitch inside and accidentally hit dudes, fine. It happens. When you can't handle failure and start taking it out on the other team, that's bad. No thanks.
As for Duffy, he's really good and the only issue is that he'll be a free agent next offseason. He's not the young arm with long-term control he Yankees are a) seeking, and b) need. Duffy started this past season in the bullpen before moving to the rotation, where he had a 3.56 ERA (3.99 FIP) with a 25.4% strikeout rate in 161.2 innings. His injury history is pretty scary, but generally speaking, I think that's the real Duffy. A mid-3.00s ERA guy with a ton of strikeouts. I'm not quite sure what it'll cost to acquire Duffy, though I'm sure it'll be a lot. Holding off and signing him as a free agent next offseason is probably the smarter move right now.
John asks: Any interest in Scott Feldman as maybe a poor mans Rich Hill? Threw 180 pretty good innings in both 2013-2014. Has maybe fourth starter potential, innings eater, swing man if at the right price.?
I dunno, 2013-14 was a very long time ago. This past season Feldman had a 3.97 ERA (4.24 FIP) in 77 innings with the Astros and Blue Jays, almost all in relief, and I'm sure he'd perform worse as a full-time starter in Yankee Stadium. He might not be the worst free agent swingman option in the world, someone who could be your long man and also provide some spot starts whenever the kids get overwhelmed. Would he take, say, one year and $2M? The Yankees would have a hard time justifying spending more on such a player.
Michael asks (short version): To what extent does the Yankees FO prioritize a player's marketability in their decision-making process? Chris Sale and Jose Quintana may deliver essentially similar value on the field, but Sale is one of the most exciting players in the game today, a legitimate superstar, whereas Quintana is merely quietly, reliably efficient (a perception not helped by pitching in Sale's shadow).
This is impossible to answer but I have zero doubt the Yankees — and every other team in the league, for that matter — consider a player's marketability and marquee value when acquiring him. That's one of the reasons the Yankees gave Ichiro Suzuki two years back in the day. (Two years!) They were able to market the hell out of him. I saw as many ICHIRO 31 shirts around the ballpark from 2013-14 as I did JETER 2 and RODRIGUEZ 13. As good as Quintana is, he's kinda boring. Sale is more recognizable and more of a star. He'll put more butts in the seats, and that's something teams consider. How much? It's impossible to know exactly, but it is undoubtedly a consideration.
Dan asks: Based on everything I've read about the team's leadership core, Gardner seems to be the only position player left (you alluded to this on 11/18 in a post). Should that be a reason against trading him? How important are veteran mentors and good veteran clubhouse presences for young teams? Would it be stupid to not have any veterans known to be good mentors/leaders?
Based on everything we've heard the last few years, CC Sabathia and Brett Gardner are the remaining members of the team's recent leadership core. Others like Mark Teixeira, Alex Rodriguez, Brian McCann, and Carlos Beltran are all done. Matt Holliday has long had a reputation for being a great clubhouse guy and I'm sure he'll help fill some of the void. The Yankees are going to be a young team going forward, and they'll need at least a few veterans to help show those kids the way.
That said, I don't think leadership is something that stops a team from making moves. The Yankees have traded away McCann and Beltran (and Andrew Miller) and released A-Rod, so it's obviously not a big concern. The Dodgers traded away A.J. Ellis, Clayton Kershaw's good friend and personal catcher, in August. Leadership seems like one of those things teams want and need to have to some degree, but won't go out of their way to acquire it in most cases. Talent comes first, or in the case of Gardner, shedding salary and clearing space for a younger player takes precedence over any clubhouse skills.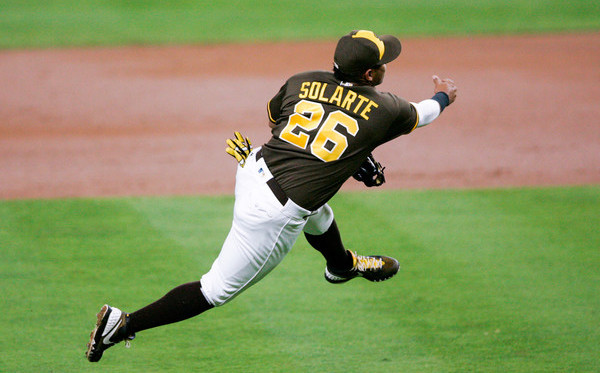 Joey asks: Any chance of the Solarte party returning to the Bronx?
The Padres have reportedly put Yangervis Solarte (and the rest of their roster) on the trade block, and a few teams have checked in. The Dodgers and Angels, most notably. The Yankees don't have an obvious opening for him at this point. They'd have to trade Chase Headley — or Starlin Castro, I suppose, but that won't happen — because trading for Solarte to be a bench player is pointless. You're going to pay starting player prices for a bench guy. Nope.
The Yankees don't have a long-term third baseman at the moment and Solarte would, if nothing else, buy them some more time to find one since he's under control one more year than Headley. Salary dumping Headley in favor of Solarte would also save cash, which is a big deal given the luxury tax situation. So, to answer the question, is there any chance of a reunion? I'll say yes, but it's unlikely. Other clubs out there have a greater need for a second or third baseman, and will probably be more desperate. Solarte doesn't change the Yankees' long-term outlook much, if at all.
Adam asks: Is it worth pursuing Danny Espinosa of the Nationals to improve upon Torreyes and provide insurance for Didi and Castro?  If so, What might it take to get a deal done? 
Nah. He's projected to make $5.3M through arbitration next year and that's way, way too much for a utility infielder, especially since Espinosa was one of the worst hitting regulars in baseball in 2016. A few years ago I was on board with Espinosa, when he seemed to fall out of favor with the Nationals and the Yankees had no obvious long-term replacement for Robinson Cano or Derek Jeter, but those days are long gone. Ronald Torreyes is a perfectly fine utility infielder who costs nothing. Finding an upgrade there is very low on the offseason priority list.
Mark asks: Just a hypothetical, Reds select Torrens in Rule 5. Trade him to Padres. If he doesn't stick, does he get offered back to the Reds or Yankees? Answer is probably obvious, but I'm curious. Y'all are AWESOME!
The Yankees. They're still his original team. The Rule 5 Draft rules stick to Luis Torrens no matter how many times he's traded or claimed on waivers next season.
I'm pretty confident Torrens will be offered back in Spring Training. Making the jump from Low-A to MLB as a 20-year-old catcher is basically impossible. The only real ramification for the Yankees is now they absolutely have to add Torrens to the 40-man roster next offseason. He'll be Rule 5 Draft eligible again, and if someone takes him, he can elect free agency rather than return to the Yankees. Can't allow that to happen. The Yankees might have been able to get away with leaving him protected another year had he not been selected this year, but no luck.
Gene asks: What kind of return could Betances bring from the Dodgers ?
I don't think the Dodgers want to spend big on a closer at all. They seem to be making just enough of an effort to retain Kenley Jansen so they can say "we tried" when he signs elsewhere. I imagine Andrew Friedman doesn't want to trade a boatload of prospects for a reliever either, but who knows. He'll surprise me one of these days.
Dellin Betances' trade value is basically the same as Miller's was this summer. It's three years of Dellin vs. two and a half of Miller, but the bottom line is you're getting each guy for three postseason runs. Both are excellent, and Betances won't make as much as Miller either because he's still in his team control years. The Miller trade is my template: two top prospects and two others. Whether the Dodgers are willing to pay that is another matter. They seem content to go with the Louis Colemans and Luis Avilans of the world.