By

10:52pm: Beltran is day-to-day after receiving a cortisone shot in his elbow, according to Joe Girardi. He won't play tomorrow but could be in the lineup on Friday.

3:59pm: Carlos Beltran is heading to see the doctor after feeling pain in his right elbow following a swing last night. It's the elbow with the bone spur he's been playing through since May. Beltran felt it during last night's game and it did not improve overnight. Joe Girardi said the team is hopeful he will miss a day or two, but who really knows. I guess we'll find out soon enough. · (157) ·
Triple-A Scranton (11-2 loss to Syracuse)
CF Jose Pirela: 1-3, 1 RBI
2B Rob Refsnyder, RF Zoilo Almonte & 1B Kyle Roller: all 0-4 — Refsnyder and Zoilo each struck out once
3B Scott Sizemore: 1-4, 1 K, 1 E (fielding)
C Austin Romine: 0-3, 2 K – 0-for-7 with four strikeouts since being sent down, which will happen after you sat around doing nothing for eight days
RHP Bryan Mitchell: 4.2 IP, 7 H, 8 R, 8 ER, 2 BB, 4 K, 1 WP, 6/4 GB/FB — 48 of 81 pitches were strikes (59%)
SwP Pat Venditte: 2.1 IP, 1 H, 0 R, 0 ER, 1 BB, 1 K, 1 WP, 1/3 GB/FB – 22 of 35 pitches were strikes (63%)
LHP Tyler Webb: 0.2 IP, 3 H, 2 R, 1 ER, 1 BB, 1 K, 1/0 GB/FB — 24 of 37 pitches were strikes (65%) … rough
RHP Branden Pinder: 1.1 IP, 2 H, 1 R, 1 ER, 0 BB, 1 K, 0/1 GB/FB — 11 of 19 pitches were strikes (58%)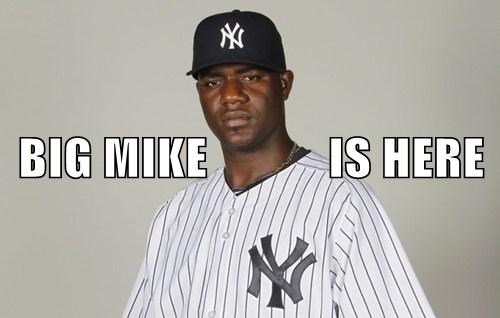 For the first time since April 16th, 109 games ago, Michael Pineda will start for the Yankees in Yankee Stadium. He last start before hurting his back/shoulder came in Fenway Park and his first start off the disabled list came in Camden Yards. This will be his third career start in the Bronx. He's only been a Yankee for 2.765 seasons, but who's counting? Here is the Astros lineup and here is the Yankees lineup:
It's a little cloudy in New York but there is no rain in the forecast, so that's good. Tonight's game is scheduled to start a little after 7pm ET and you can watch live on YES. Enjoy.
By

5:00pm: Tanaka threw 35 pitches in the bullpen this afternoon, including fastballs, curveballs, sliders, and even five splitters. Everything went well and he feels fine. Joe Girardi told reported the next step with either be another bullpen session or facing hitters in live batting practice, depending how Tanaka feels in the coming days.

12:30pm: Masahiro Tanaka will throw his second bullpen session today as he attempts to work his way back from a partially torn elbow ligament. He is expected to throw some breaking balls — but not splitters — this time, which is a pretty significant step. Tanaka has thrown breaking balls while playing catch on flat ground.

The Yankees have said the team's position in the wildcard race will not change how they approach Tanaka's rehab. They won't rush him, but they also would like to get him back in games if possible just to see what they have. I guess there is also some feeling that if his elbow is going to blow out, it's going to blow out, and it's better to find that out now than early next year. Let's not get ahead of ourselves though. Hope today goes well. · (60) ·
Over the last six or seven years, basically the entire Joe Girardi era, the Yankees have done a nice job of building the bulk of their bullpen on the cheap. Oh sure, there still is the occasional Rafael Soriano or Matt Thornton signing, but the days of handing out big money multi-year contracts to (occasionally multiple) relievers every offseason are over. That has allowed the club to maintain some semblance of payroll and roster flexibility.
Low-profile pickups like Boone Logan, Luis Ayala, Cory Wade, Brian Bruney, and Shawn Kelley have contributed over the years, even if only for a short period of time — not everyone needs to be around forever to qualify as a success, getting 50-60 good innings out of a scrap heap pickup is a win — but for the most part the farm system has provided the bullpen core. David Robertson and Dellin Betances are the standouts, with others like Adam Warren, Preston Claiborne, Phil Coke, Joba Chamberlain, Edwar Ramirez, and Alfredo Aceves playing important roles at various times.
There are no indications the Yankees will stray from this approach, nor should they. They've been successful at cobbling together bullpens this way for several years, and it saves money to use elsewhere on the roster. They could have easily signed a veteran closer over the winter to replace Mariano Rivera, that would have been a very Yankees move, but no, they went with Robertson. (They were connected to Fernando Rodney and Grant Balfour at different points, though I think that was just due diligence.) It'll be interesting to see what happens when Robertson is a free agent after the season.
Anyway, as I mentioned yesterday, bullpens have a way of getting overhauled during the course of the summer. Already this year we've seen Betances go from interesting wildcard to arguably the best reliever in the game. Warren went from long man to setup man and back to … something. His role is kinda undefined at this moment. Thornton was signed to be the primary lefty specialist but was literally given away for nothing. Robertson in the ninth inning has been the one constant, so in a sense this year has been no different than the last few, only with Robertson playing the role of Rivera.
Coming out of Spring Training, the Yankees had three young relievers who were slated to serve as depth in Triple-A in Mark Montgomery, Danny Burawa, and Fred Lewis. All three impressed in camp and put themselves in position to be called up if a need arose. Instead, all three pitched their way into demotions down the Double-A before the end of July. All three of them! Lewis almost made the team out of Spring Training and now he's currently on the Double-A disabled list after pitching to a 6.89 ERA with the same number of walks as strikeouts (31) in 32.2 innings. We shouldn't forget Jose Ramirez either. He was part of that next bullpen wave but has been alternately hurt and ineffective in 2014.
Such is the life of a reliever though, especially reliever prospects. They just start sucking without warning and sometimes for no apparent reason. That's why you need a lot of them, which the Yankees have. As Lewis, Montgomery, Burawa, and Ramirez took steps back this year, other relievers have taken steps forward and put themselves on the big league map. Specifically, I'm talking about righty Nick Rumbelow and lefties Tyler Webb and Jacob Lindgren. Lindgren you all know by now. Rumbelow (seventh) and Webb (tenth) are both 2013 draftees who have climbed from Single-A to Triple-A this summer. Rumbelow started all the way down at Low-A Charleston, Webb with High-A Tampa.
The Yankees have emphasized one singular trait these last six or seven years while building their bullpen: the ability to miss bats. They don't care how the guy does it — blow a fastball by hitters, nasty breaking ball, filthy changeup, whatever — but that is clearly their top priority out of the bullpen. In fact, the Yankees have the highest bullpen strikeout rate in baseball this year (26.7%) and the second highest since the start of the Girardi era in 2008 (23.0%). Only the Braves (23.3%) have been better. It makes sense, right? Late in the game you want to miss as many bats as possible. The other team can't hurt you if they can't put the ball in play, after all.
Lindgren, as you know, has a wipeout slider that has allowed him to pile up 41 strikeouts in only 20.2 pro innings (17.9 K/9 and 49.4 K%). Rumbelow has 72 strikeouts in 51.1 innings this year (12.6 K/9 and 35.0 K%) thanks to his big breaking curveball. Webb is another curveball guy. He's struck out 89 in 64.1 innings (12.5 K/9 and 33.1 K%) during his meteoric rise this year. That's the trademark right there. Strikeouts. The Yankees do as good a job as any team of digging up pitchers with present or future out pitches in the mid-to-late rounds of the draft, whether it be Rumbelow or Montgomery or Robertson. If you have one swing-and-miss pitch, you have a chance to help out of the bullpen. If you have two, you can dominate like Robertson and Betances.
"We've got some arms, no doubt about it," said Brian Cashman to Nick Peruffo yesterday. "We had Webb here (at Double-A), and now he's at Triple-A. Rumbelow is at Triple-A. These guys are pretty interesting characters in themselves, and we have some guys who could be moving up to Triple-A soon enough. I think a lot of the guys that you are seeing that have been here or are currently here, you have a chance to see as early as next year, and in some cases you can never rule anything out. We do have some left and right side arms that get asked a lot about, and that I'd certainly ask about a lot."
Like the big league bullpen, the Yankees' pool of minor league relief prospects has changed as the season as progressed. Montgomery and Ramirez in particular where expected to help at some point — Ramirez got a chance but it didn't go well, it happens — while guys like Rumbelow and Webb were little more than interesting arms in Single-A back in April. I didn't even know who Lindgren was in April and now he's on the cusp of being a Yankee. Their rises combined with the fall of some upper level arms have given the Yankees a new-look crop of bullpen prospects these last four months.
Last night's come from ahead loss to the Astros dropped the Yankees to four games back of the second wildcard spot with 39 games to play. Insurmountable? Of course not. Long shot? It sure feels like it. FanGraphs puts the team's postseason odds at 6.3% while Baseball Prospectus has them at 5.4%. ESPN has them at 3.3%, if you want another measure. Point is, New York's chances of playing in October are growing smaller by the day.
The series opening loss to Houston was the third time the Yankees lost to the Astros in four meetings this year. We're talking about an opponent that has lost at least 106 games in each of the last three years, a level of performance so pathetic that this year's 94-loss pace represents a 17-win improvement (!) from 2013. And yet, the Yankees are 1-3 against the Astros in 2014. Four games tell us nothing about the talent level of these two teams, but they do count in the standings and they've hurt the Bombers.
Obviously, this is baseball and any team can beat any team on any given day. We all know that. But if you're a team like the Yankees, one with plans of contending, then you've got to rack up some wins against bad teams like the Astros. Especially at home. They failed to do that last night and lost even more ground in the standings. Unfortunately, this extends beyond Houston. Here's how the Yankees have fared against the teams with the ten worst winning percentages in baseball this year:
Mets: 2-2
White Sox: 2-2
Red Sox: 8-5
Twins: 4-3
Cubs: 3-1
Astros: 1-3
Rangers: 4-3
(They have not and will not play the Phillies, Diamondbacks, and Rockies this season.)
That works out to 24-19, or a .558 winning percentage. That's a 90-win pace over a full season. Pretty good, right? Well, not really. The rest of the league has a .573 winning percentage against bottom ten teams. The AL East leading Orioles have a .629 winning percentage against bottom ten teams. The Tigers and Mariners are essentially tied for the second wildcard spot and they have .565 and .500 winning percentages against bottom ten teams, respectively, which is why they're battling for the second wildcard and aren't higher in the standings, same as the Yankees.
The old adage says you're supposed to hold your own against the good teams and beat the snot out of the bad teams, but baseball's changed. Every team is a bad team these days, or at least it feels that way. There are two or three very good teams (zero truly great teams, though) and I'd say five or six awful teams. Every other club is scrunched together in the middle, beating up on each other. Those games against bad teams are a separator. Whoever does the best job of actually getting wins against the teams "you're supposed to beat" will have a leg up on the competition. The Yankees haven't done that this year and it's hurt them in the standings.
A lot has gone wrong for the Yankees this year, mostly pitching injuries and some really bad offensive performances. It seems like they've been playing catch up all season. One thing goes right, two things go wrong. Dropping three of four to Astros stings. So does splitting four games with the Mets and winning only four of seven against both the amazingly terrible Twins and Rangers. There is no such thing as an easy win in baseball, but the Yankees have let some very winnable games against bad teams slip away (like this one, this one, this one, this one, this one, and last night) and that's part of the reason why they're facing such a big deficit in the race for a postseason spot.
So much for starting the homestand off on the right foot after those two wins in Tampa, huh? A rare David Robertson meltdown led to a 7-4 Astros win in Tuesday night's series opener. The Yankees are now 1-3 against Houston this year.
From 0-2 to 2-0
As usual, the Yankees traded zeroes with [insert opponent here] for the first three innings of Tuesday's game. They should just start every game in the fourth or fifth inning with the score 0-0 the rest of the season. It would save so much time. Mark Teixeira (strikeout) and Carlos Beltran (fly out) were quickly retired in the bottom of the fourth, but Martin Prado followed with a first pitch single and Brian McCann followed that with a two-run homer into the second deck in right. Brett Oberholtzer hung an 0-2 breaking ball right out over the plate. It was a cookie. Those were two of the five men the Yankees put on base in the first five innings.
Birthday Boy
For his 36th birthday, Chris Capuano have himself a no decision. His bullpen tried to give him a loss. Adam Warren, specifically. Capuano did what he's done since he arrived in New York, specifically using his array of changeups and curveballs and other soft stuff to keep the Astros completely off balance through four innings, striking out six in the process. Houston had a base-runner in each of those four innings but only one (Gregorio Petit's ground rule double in the third) made it as far as second base.
Capuano gave up a run in the fifth inning on Petit's double and Robbie Grossman's soft single to right, which kinda sucked because a) there were two outs and bases empty before the mini-rally, and b) McCann had just given the Yankees a 2-0 run in the previous half-inning. But, one run in five innings of work isn't bad by any stretch. You'd take that from your … 11th? 12th? I've lost count at this point … starter every time out. Dexter Fowler's leadoff stand-up triple in the sixth is when things started to fall apart.
Jason Castro drove in Fowler with a simple ground out to tie the game, which, I mean, fine. Hard to strand a guy after a leadoff triple. But then Matt Dominguez singled. Then Jon Singleton singled. Then Joe Girardi came out of the dugout to get Capuano with his pitch count at a season-high 103, opting to go with struggling Warren. Warren got the second out of the inning on a weak ground ball that hit him, but he hung a slider to pinch-hitter Marwin Gonzalez, who pulled it to right for a two-run single. Ichiro Suzuki completely misplayed the ball but there wouldn't have been a play at the plate anyway.
Warren stranded the runner and got the third out, but the damage had been done. The 2-1 lead was suddenly a 4-2 deficit, and all four runs were charged to Capuano. His final pitching line — 5.1 IP, 8 H, 4 R, 4 ER, 2 BB, 8 K — looks worse than he pitched, if you know what I mean. Some shoddy bullpen work could gave given him a lead and did bloat his ERA. On his birthday, no less. Jerks.
Rally To Tie
You gotta hand it to them, as soon as the Astros had that big three-run top of the sixth to take the lead, the Yankees answered right back to tie the game in the bottom half. Jacoby Ellsbury started things off with a first pitch single — he's a much better leadoff hitter than number three hitter, no? — and he took second on a stolen base/balk. He got a great jump and had the base stolen, but Oberholtzer balked, so it didn't matter. Sucks if you own Ellsbury in fantasy, but it accomplished the same thing.
Teixeira struck out and Beltran walked, putting the tying run on base with one out. Astros manager Bo Porter opted to stick with the left-handed Oberholtzer against the right-handed Prado, who took five straight pitches to work the count full. One of the strikes was way off the plate should have been called a ball, but it's a good thing it wasn't. Prado yanked Oberholtzer's 94th and final pitch of the night into the left field corner for a game-tying two-run double. It nearly hopped over the wall for a ground-rule double, which would have cost the Yankees a run. Thankfully it stayed in play and the game was tied.
The Yankees didn't get Prado in from second with one out because that's what they do. Just be happy they got the two runs. Ellsbury led off the bottom of the eighth with an infield single before stealing second and getting to third on a throwing error. The throw literally hit his leg as he slid into second and bounced into the outfield. Unfortunately, Beltran grounded right to shortstop with the infield in and Ellsbury was thrown out at home on the contact play. What can you do? This team can't score runs and a speedy runner like Ellsbury could have forced a young infielder like Gonzalez to rush his throw, but alas. Wasted opportunity.
Meltdown
Robertson picked a really, really bad time to have his first terrible outing in about two and a half months. The score was still knotted up at four when he took over in the ninth inning, and he did get a quick first pitch out to start the inning, but things unraveled from there. Robertson walked Grossman on five pitches — he stole second, though that really didn't matter given the outcome — then walked Jose Altuve after being ahead in the count 0-2. The Astros had men on first and second with one out.
In between the Altuve at-bat and the Chris Carter at-bat that followed, Robertson threw seven straight balls. The Astros turned Carter lose 3-0, Robertson grooved a fastball right down the middle, and Carter hit it a mile to left field for a three-run homer. No-doubter, gone on contact. The game was over because the offense sure as hell wasn't scoring three runs in the ninth to tie. If you rank the players on the roster 1-25 based on how much of a problem they are, Robertson would be … 25th? Maybe 24th behind Dellin Betances? He's been awesome this year but stunk in this game.
Leftovers
Ellsbury and Prado both went 3-for-4 while the rest of the lineup went 3-for-27 (.111). McCann homered, Teixeira singled, and Ichiro singled. Ichiro actually slipped when he took his stride and put his front foot down, but he still got the barrel on the ball on found a hole for a base hit. The guy's bat control is ridiculous. Beltran drew the only walk. Brett Gardner and Derek Jeter both went 0-for-4 as the one-two hitters.
Between the Warren and Robertson calamities, Shawn Kelley and Betances retired six of seven batters faced with two strikeouts apiece. Betances allowed a dinky little ground ball single through the shift. Rich Hill came on to replace Robertson in the ninth, allowed the two lefties he faced to reach base (single and walk) and struck out the two righties. Of course.
I'm not normally one to complain about the strike zone (it is what it is), but Paul Emmel seemed to have a particularly big zone, especially the outside corner to righties. The PitchFX data confirms it. It completely changed Chase Headley's at-bat with Prado at second in the seventh, turning what should have been ball four in a 3-1 count into a 3-2 count. Changed everything. Headley struck out on the next pitch.
And finally, Jeter did the Ice Bucket Challenge before the game on Tuesday. The video is above. I'm sure there's a perfectly good reason for doing it on the carpet in the middle of the clubhouse. Anyway, the hug with Masahiro Tanaka is the best part.
Box Score, WPA Graph & Standings
For the box score and video highlights, go to MLB.com. You can find some more game stats at FanGraphs and the updated standings at ESPN. The Orioles won, so the Yankees are now 8.5 games back in the AL East. They're in second place too. This division was there for the taking if someone wanted to go on an extended run, and Baltimore took advantage. The Mariners won as well, meaning the Yankees are now four games back of the second wildcard spot. FanGraphs has their postseason odds at 6.6%.

Source: FanGraphs
Up Next
Same two teams on Wednesday night, when Michael Pineda and Scott Feldman meet in the middle game of this three-game series. Hoping to see some big things out of Big Mike. If you want to catch that game or any of the other four games left on homestand, RAB Tickets can get you in the door.
The notes:
RHP Luis Severino (oblique) was activated off the Double-A Trenton disabled list, the team announced. How about that? A minor injury that actually turned out to be minor. C Gary Sanchez was placed on the paternity list to clear a roster spot, according to the team. Congrats to him.
1B Mike Ford was promoted from Low-A Charleston to High-A Tampa, says Nicholas Flammia. 1B Bubba Jones was bumped from Short Seasons Staten Island to Charleston in a corresponding move, according to the team.
Triple-A Scranton (6-5 win over Syracuse, walk-off style)
CF Jose Pirela: 3-5, 2 R, 1 3B, 1 HR, 4 RBI, 1 K — walk-off three-run triple … hot damn
2B Rob Refsnyder: 1-4, 1 R, 2 K
RF Zoilo Almonte: 1-4, 1 RBI, 1 K
1B Kyle Roller: 0-4, 1 K
SS Zelous Wheeler: 0-2, 1 R, 2 BB, 1 K
C Austin  Romine: 0-4, 2 K
RHP Zach Nuding: 5 IP, 4 H, 2 R, 2 ER, 2 BB, 7 K, 1 WP, 2/6 GB/FB — 59 of 93 pitches were strikes (63%)
The Yankees and Astros could not be any more different. One team has a huge payroll, the other has a laughably small payroll by 2014 standards. One has one of the oldest rosters in the league, the other has one of the youngest. One is actually trying to contend and doing whatever they can to win, the other is content with losing and stockpiling prospects for a future than may never come.
After winning two straight over the Rays this past weekend, the Yankees have some renewed hope that their postseason chances are not completely shot. They are three games back of the second wildcard spot with 39 games to play after tonight. If they're going to make a run, it has to start with a beatdown of a lowly Astros at home this week. Here is Houston's lineup and here is the Yankees lineup:
It's starting to feel a little like fall in New York. The temperature is hovering around 80 even though it's nice and sunny and there are no clouds in the sky. There is no rain in the forecast tonight either. Tonight's game is scheduled to begin at 7:05pm ET. You can watch on My9. Enjoy.
By

For the first time since being placed on the 15-day disabled list with elbow inflammation two weeks ago, David Phelps played catch today yesterday. He made 50 throws from 60 feet and told reporters he had an MRI yesterday. The results will be available at some point today. Joe Girardi told reporters that Phelps is likely three weeks away from returning to the team if the tests come back clean (as expected), though they might bring him back as a reliever just to speed things up. · (17) ·