Now that it's Hall of Fame season, I've been getting all nostalgic about Mike Mussina. I liked him even during his days with the Orioles and he was easily my favorite non-Mariano Rivera pitcher on the team last decade. I've been looking for that video above for-frickin-ever but Twitter came through yesterday. Grumpy Moose telling grumpy Joe Torre to "stay there!" is just the best.
Anyway, here is your open thread for the night. There is no football game and none of the hockey or basketball locals are playing, so you're on your own for entertainment. Talk about whatever here. Go nuts.
By

Via Joel Sherman: The Yankees continue to seek a right-handed hitting infielder even after agreeing to sign Brian Roberts. The team may wait until the Alex Rodriguez ruling is announced (likely next month) before adding that player, however.

Meanwhile, the team remain in touch with Mark Reynolds, but Dan Barbarisi hears "as far as a deal there is nothing even remotely close." The Angels and Twins are among the other clubs with interest in the slugger, according to Jon Heyman. Reynolds would fit nicely since the Bombers only have one righty hitter capable of hitting the ball out of the park at the moment. · (46) ·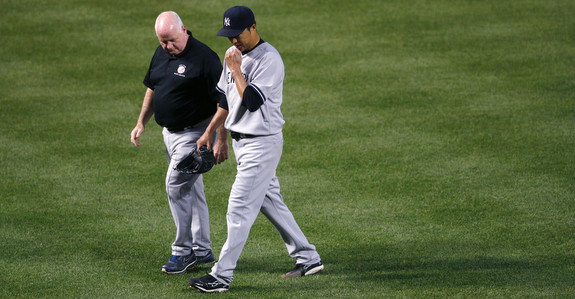 The Yankees came into the offseason needing at least two starting pitchers and so far they've added just one, re-signing Hiroki Kuroda to a one-year contract. He was the team's best pitcher in each of the last two seasons and makes perfect sense on a one-year deal, but he is also the second oldest starter in the AL behind R.A. Dickey. Age brings a bevy of concerns.
Chief among those concerns is injury … well, both injury and recovery time. Older players tend to take longer to heal, that's just the way the human body works. The Yankees have had a lot of health problems in recent years (both injuries and setbacks) thanks in part to their older roster. They've made their bed and have had to sleep in it when it comes to players getting hurt, and given their moves this winter, they're content with rolling the dice again in 2014.
Last week, Jeff Zimmerman at FanGraphs published his annual starting pitcher DL projections, which have been shockingly accurate over the years. It's not a specific injury projection (so and so will have a shoulder problem, etc.), just a projection of who will visit the DL next season based on their age and workload, as well as other factors like breaking ball usage and strike-throwing ability. It's complicated, so click the link for the full explanation.
The Yankees only have three starters locked into spots next season: CC Sabathia, Ivan Nova, and Kuroda. A bunch of young kids will compete for the fifth spot and that fourth spot figures to go to a pitcher to be acquired later. Not only are Sabathia (career-worst year in 2013), Kuroda (crashed hard late in 2013), and Nova (erratic has hell) performance concerns heading into next season, but they're also DL risks according to Zimmerman's data.
Sabathia: 47% chance of landing on DL
It wasn't too long ago that Sabathia was baseball's preeminent workhorse, and in some ways he still is — he is one of four pitchers to throw at least 200 innings in each of the last seven seasons (Justin Verlander, Mark Buehrle, and James Shields are the others). Over the last 26 months, however, CC has dealt with a torn knee menisicus, a groin strain, elbow stiffness, a bone spur in his elbow, and a hamstring strain. He has finished each of the last three seasons either injured or in need of offseason surgery. Sabathia is getting up there in years and he's thrown a frickin' ton of innings in his career, and he compounds the problem by not telling anyone he's banged up until it gets really bad (he pitched through the knee, elbow, and hamstring problems). It's no surprise his risk of landing on the DL is so high, 16th highest among the 128 projected pitchers.
Kuroda: 43% chance of landing on DL
Kuroda has avoided the DL since arriving in New York but he has dealt with fatigue late in each of the last two seasons, so much so that he stopped throwing his usual between-starts bullpen session in September. He had a shoulder problem in 2008, an oblique problem in 2009, and a concussion (hit by a line drive) in 2010. Kuroda has topped 195 innings in each of the last four seasons and 180 innings in five of his six seasons in MLB. His DL projection is the 34th highest thanks mostly to his age.
Nova: 41% chance of landing on DL
Coming up through the minors, Nova was a workhorse who rarely missed a start. He has been hurt in each of the last three seasons though, missing time with a forearm strain (2011), shoulder tightness (2012), and triceps inflammation (2013). That's three arm-related injuries in the last three years, albeit minor non-structural injuries that shelved him no more than a few weeks at a time. Nova has youth on his side, but his DL projection is still the 45th highest out of the 128 projected pitchers.
* * *
Now, obviously, every pitcher is an injury risk. It comes with the territory. Some are riskier than others for a variety of reasons. The pitcher most likely to land on the DL next season according to Zimmerman is Bartolo Colon (64%), which makes sense given his age, injury history, and general portliness. He's the only active pitcher over 60% (retired Andy Pettitte is at 63%). The pitcher least at risk is Madison Bumgarner (26%). The top free agent hurlers rank anywhere from not that risky (Ervin Santana, 34%) to moderately risky (Ubaldo Jimenez, 38%) to very risky (Matt Garza, 51%).
As for the Yankees, they have three of the 45 starters most at risk of visiting the DL next season, and that's on top of their performance concerns. The team does have some nice back-end depth in David Phelps, Adam Warren, Michael Pineda, and Vidal Nuno, but three of those four guys spent at least a few months on the DL this past season themselves. Only Warren made it through the entire year healthy. The Bombers not only need to add a starter, they need to add a durable innings guy they can count on to take the ball every fifth day.
By

Three weeks after agreeing to terms, the Yankees have finally announced the signing of Carlos Beltran to a three-year contract. He already revealed on Twitter he will wear #36. The press conference is scheduled for tomorrow at 11am and you'll be able to watch on YES.

To clear a spot on the 40-man roster, the Yankees designated right-hander Brett Marshall for assignment. The 23-year-old had a disappointing 5.13 ERA (4.62 FIP) in 138.2 innings for Triple-A Scranton this past season. He made his big league debut and allowed six runs in 12 innings across three appearances. I'm thinking he'll slip through waivers. We'll see. · (38) ·
By

Via Sponichi (translated by Yakyu Baka): Rakuten Golden Eagles president Yozo Tachibana says the team is "still undecided" about whether to post Masahiro Tanaka this winter. They're still discussing matters with their ace right-hander and there is no timetable for a decision.

A report floating around earlier today indicated Tanaka would not be posted, but it appears that was a game of telephone gone wrong. It was a report referencing reports from Japan, reports no one can seem to find. Rakuten is said to be willing to make Tanaka the highest paid player in NPB history at roughly $8M next season, but that's still only about half what he'd earn by coming to MLB. So, anyway, there is still nothing to report about Tanaka's availability. The pitching market is in a holding pattern until there is some resolution. · (65) ·
At some point very soon, perhaps today, the Yankees will formally announce the signing of Carlos Beltran. The 40-man roster is full at the moment, so someone will lose their spot when Beltran puts pen to paper. The same will happen when Brian Roberts becomes official. Ditto Matt Thornton and another starter and a third baseman and a reliever or two.
Needless to say, the Yankees are going to have some tough decisions to make regarding roster spots in the near future. There are more pending contracts and still unaddressed needs than obvious designate for assignment/release candidates. Let's sort through the roster (here's the 40-man for reference) and attempt to figure out who is most expendable when 40-man spots are needed in the coming weeks.
Definitely Safe (19): Jacoby Ellsbury, Brett Gardner, Slade Heathcott, Derek Jeter, Kelly Johnson, Shawn Kelley, Hiroki Kuroda, Brian McCann, J.R. Murphy, Ivan Nova, David Phelps, Michael Pineda, David Robertson, Brendan Ryan, CC Sabathia, Gary Sanchez, Alfonso Soriano, Mark Teixeira, Adam Warren
These nineteen players aren't going anywhere for obvious reasons. They're either key pieces of the big league roster or among New York's top prospects. If any of these guys are traded, they'll be traded for someone to help the big league team. Not a non-40-man roster candidate for a sake of clearing a roster spot.
It's Complicated (1): Alex Rodriguez
The day will come when the Yankees dump A-Rod off the 40-man, but that day is not imminent. Not as long as the ruling for his appeal hearing — a ruling that could save the team tens of millions of dollars — is still pending.
Now, that said, Rodriguez would not count against the 40-man roster if he is suspended, so he could win up opening a spot anyway. The ruling is expected sometime next month and there are indications the Yankees won't add another infielder until it comes down — makes sense since there is only one open position player slot on the roster at the moment — so either A-Rod or a player occupying his 40-man spot will man third come Opening Day. Like I said, it's complicated.
Probably Safe (12): Manny Banuelos, Dellin Betances, Cesar Cabral, Jose Campos, Frankie Cervelli, Preston Claiborne, Shane Greene, Bryan Mitchell, Eduardo Nunez, Vidal Nuno, Jose Ramirez, Austin Romine
I don't think you can say any of these folks are absolutely locked into the roster spots and untouchable, but it would be surprising if they were dumped to make room for someone else. Is it possible? Sure. Likely? Nah. There's no such thing as too much pitching or catching depth, and the Yankees are in a position to cut loose an infielder like Nunez at this moment.
On The Bubble (6): Zoilo Almonte, Dean Anna, Ramon Flores, Brett Marshall, Ichiro Suzuki, Nik Turley
These are the guys who could legitimately lose their roster spot in the next few weeks. Ichiro is a useful fifth outfielder at this point but he doesn't really have a role with the team outside of defensive replacement and pinch-runner. The Yankees have been shopping him in recent weeks and if the opportunity emerges to shed some salary, they'll probably jump all over it.
Flores and Marshall had disappointing 2013 seasons and that's probably enough to put them on the chopping block. They're okay but not great prospects, the kinda guys who could slip through waivers. Turley is a notch above those two on the prospect totem pole and since he's both left-handed and breathing, he'd definitely get claimed off waivers. He seems like an unlikely future roster casuality but I wouldn't rule it out completely if things get tight.
Almonte and Anna are the "next in line" depth players. If (and when, really) an outfielder gets hurt next summer, Almonte will be called up to take his place. When an infielder gets hurt, it'll be Anna. Maybe the Yankees feel comfortable with Heathcott and Nunez in those roles, but that MLB-ready depth is never a bad thing. Considering the current roster situation, it's not unreasonable to think one of these two could be in jeopardy come February or so.
Front Of The Line (2): David Huff, Vernon Wells
These two guys stand out as obvious candidates to lose their spots. Huff had a nice run as a swingman late in the season but he has a) not been mentioned as part of any kind of Spring Training competition, and b) been replaced as the lefty out of the bullpen by Thorton. As a soft-tosser in a tiny ballpark in the AL East with no track record of big league success, he's exactly the kind of guy you want to dump too early rather than too late.
Wells, meanwhile, has been relegated to sixth outfielder status by the Ellsbury and Beltran signings. He doesn't hit lefties (89 wRC+ vs. LHP in 2013) and his power completely vanished in mid-May last season. He also doesn't play anything more than passable defense and isn't particularly versatile. Wells is a man without a role now that he's stopped hitting southpaws, making him a prime roster cut candidate. The fact that he counts as zero dollars against the luxury tax (the Yankees owe him $2.4M in real dollars next season) makes walking away a little easier to swallow.
* * *
Whenever the Beltran contract is made official, it would make sense that Wells would lose his 40-man roster spot as the corresponding roster move. The Yankees would still have Ellsbury, Beltran, Soriano, Gardner, and Ichiro at the big league level with Almonte slated for Triple-A. Cutting Wells for Beltran is so obvious and makes so much sense it probably won't happen. I wouldn't be surprised if they cut Huff instead.
Either way, both guys seem likely to lose their 40-man spots in the coming weeks given the roster crunch. After them, I would guess Marshall and Flores are most at risk of being cut. An Ichiro trade and/or an A-Rod suspension would both make life a little easier and give the team some added flexibility. Once Huff and Wells are gone, the Yankees are going to have to make some real tough decisions when it comes to fitting everyone on the roster heading into next season.
If you're interested, Dan Szymborski published his ZiPS projections for the current Yankees roster over at FanGraphs today. The graphic above includes the WAR projections. Just to be clear, projections are not predictions. The system is just spitting out an estimation of each players' current talent level. I wouldn't take the projections to heart even though ZiPS has been the most accurate of the various systems (on a macro scale) for a while now. Just look at 'em for fun.
Some quick observations: Holy cow that infield is awful. ZiPS has Ellsbury hitting 14 homers, which would be awesome. The system likes Dean Anna and J.R. Murphy (both 1.6 WAR) but hates Brett Marshall (-3.1 WAR (!)). I wonder if any other player projects that poorly. After David Robertson, the current bullpen is just about replacement level or worse. ZiPS thinks Derek Jeter is toast (0.4 WAR) while Alex Rodriguez has a tiny something left in the tank (1.0 WAR).
As the disclaimer in the ZiPS post says, don't add up the projected WAR total and use that to come up with an expected 2014 win total. The system doesn't work like that. If it did, the Yankees would be pretty screwed. Click the link to scroll through the individual projections if you're so inclined.
Rumor has it Carlos Beltran will be introduced at a press conference on Friday, though the Yankees have not yet officially announced anything. If true, the announcement should come within the next 24 hours or so. I'm guessing the Yankees will wait until after the holidays to finalize the Brian Roberts and Matt Thornton signings. That will give them some time to get the 40-man roster situation figured out.
This is your open thread for the evening. Every local hockey and basketball club is in action except for the Islanders, so lots to talk about. Anything goes here. Enjoy.
By

The Yankees agreed to sign reliever Matt Thornton to a two-year contract yesterday, and today David Laurila at FanGraphs posted an interview with the southpaw. He spoke about his development from a guy who "still knew nothing about pitching" when he was drafted into one of the best relievers in baseball, as well as his struggles in the ninth inning and his succeess throwing almost nothing but fastballs. Thornton's unconventional career path is pretty fascinating, so check it out. · (2) ·
By

Via Jon Heyman: The Diamondbacks and Eric Chavez have agreed to a new contract. No word on the terms, but it's probably a one-year deal worth a couple million bucks. Chavez hit nine homers with a 114 wRC+ in 254 plate appearances for Arizona this past season.

The Yankees reportedly had interest in bringing Chavez back earlier this offseason, before signing Kelly Johnson and Brian Roberts. The team still needs infield help but it appears they will wait for the ruling in Alex Rodriguez's appeal to be handed down before making another position player move. They also need a right-handed hitter; there are enough lefties on the roster as is. Chavez was an option for the Yankees but not a great fit. · (24) ·