By

The Mississippi State season ended a few days ago and Yankees top pick LHP Jacob Lindgren is ready to begin his pro career. "I want to sign as soon as possible and begin my journey as a New York Yankee. I'm ready," said the southpaw to reporters during a conference call. Chad Jennings has some more quotes from the call.

The Yankees selected Lindgren in the second round (55th overall) after forfeiting a bunch of high picks to sign free agents last winter. Slot money for the 55th overall pick is $1,018,700, and there were no indications he would require an above-slot bonus before the draft. He might even sign for something less than slot. We'll see. Everything you need to know about Lindgren is right here. The sooner he signs the more likely he is to pitch in the big leagues this year. · (7) ·
Despite yesterday's win, the Yankees just wrapped up a pretty terrible homestand in which they went 2-5 and were outscored 37-16. So far this season they are 13-16 with a -39 run differential at home compared to 17-13 with a +11 run differential on the road. So I guess this ten-game road trip came at a good time? The Yankees are in Kansas City this weekend for a four-game wrap around series with the Royals.
What Have They Done Lately?
The Royals just took three of four from the Cardinals in one of those newfangled home-and-home series, but before that they'd lost eleven of 17. Overall, Kansas City is 29-31 with a -18 run differential. They are tied for last place in the AL Central.
Offense
The Royals are one of the worst hitting teams in baseball this season. They rank dead last with a team 81 wRC+, and their average of 3.87 runs per game is third worst in the AL. They've only hit 26 homers in 60 games, or five more than Nelson Cruz has hit in 57 games. Kansas City replaced their hitting coach less than two weeks ago and have averaged 4.38 runs per game since. Their only injured position player is 3B Danny Valencia (80 wRC+).
Manager Ned Yost's lineup is supposed to revolve around OF Alex Gordon (124 wRC+), 1B Eric Hosmer (81 wRC+), and DH Billy Butler (68 wRC+), but only Gordon is pulling his weight. Between Hosmer and 3B Mike Moustakas (41 wRC+), Kansas City is quickly replacing Seattle as the place young hitters go to have their careers stall out entirely. Those two were the third and second overall picks in their draft classes, respectively. OF Lorenzo Cain (113 wRC+) has been good and C Salvador Perez (99 wRC+) average.
OF Norichika Aoki (79 wRC+) has been something of a disappointment while 2B Omar Infante (76 wRC+) has dealt with a few injuries this year. SS Alcides Escobar (95 wRC+) and OF Jarrod Dyson (80 wRC+ in limited time) lead the team with 16 and ten steals, respectively. C Brett Hayes (-44 wRC+ in very limited time) is the backup catcher and IF Pedro Ciriaco (46 wRC+ in limited time) is the backup infielder. Yes, the same Pedro Ciriaco who tormented the Yankees a few seasons ago with the Red Sox. That was a long time ago though. He stinks now.
Pitching Matchups
Friday: RHP Chase Whitley (No vs. KC) vs. RHP Jeremy Guthrie (vs. NYY)
Guthrie is 35 already. Am I the only one surprised by that? I thought he was still 32 or 33. Anyway, Guthrie has a 4.00 ERA (5.17 FIP) in a dozen starts and 78.2 innings so far this year. He throws strikes (2.17 BB/9 and 5.8 BB%) but doesn't miss bats (4.46 K/9 and 11.8 K%), doesn't keep the ball in the park (1.49 HR/9 and 12.4 HR/FB%), and doesn't really get grounders (42.6%). That's nothing new though. Guthrie has been doing that for nearly a decade now. He's always outperformed his peripherals and after nearly 1,500 innings, it's not a fluke. Lefties, by the way, have it him pretty hard (.358 wOBA). Righties (.289 wOBA) have not been as lucky. Guthrie still sits in the low-90s with his two and four-seamers, and he will throw a handful of cutters per start as well. A mid-70s curveball and mid-80s sliders and changeups are his three offspeed pitches. Guthrie is a bit of a kitchen sink guy despite still having good velocity.
Saturday: RHP David Phelps (vs. KC) vs. LHP Danny Duffy (vs. NYY)
Duffy, 25, returned from Tommy John surgery late last season and has spent the better part of this year bouncing between the rotation, the bullpen, and Triple-A. He has a 3.05 ERA (4.44 FIP) in 41.1 innings spanning six starts and and six relief appearances. The strikeout rate is a little low (6.31 K/9 and 17.0 K%), the walk rate a little high (3.92 BB/9 and 10.5 BB%), and the ground ball rate very low (30.5%). Duffy's homer rate is fine (0.87 HR/9 and 7.4 HR/FB%) and righties have hit him a kinda hard (.315 wOBA), but man, he's demolished lefties (.077 wOBA!) in a small sample. He throws his mid-90s fastball more than 70% of the time, even as a starter, and he backs it up with an upper-70s curveball and a handful of mid-80 changeups per start. Duffy has not yet thrown more than 97 pitches in a start and only once has he thrown more than 88 pitches.
Sunday: RHP Hiroki Kuroda (vs. KC) vs. RHP James Shields (vs. NYY)
Here's a very familiar face. Shields, 33, has a 3.68 ERA (4.12 FIP) in 13 starts and 85.2 innings in his second season with the Royals, and he's on pace to top 200 innings for the eighth straight season. Only once in that time did he throw fewer than 215 innings. Crazy. Shields is giving up a few more homers than usual (1.26 HR/9 and 14.1 HR/FB%), but otherwise his strikeout (7.35 K/9 and 19.3 K%), walk (2.00 BB/9 and 5.3 BB%), and ground ball (47.1%) numbers are in line with previous years. He has a tiny platoon split. The mid-80s changeup remains his go-to pitch, but Shields has scaled back on it a bit this year and is throwing more low-90s four-seamers and mid-80s cuttera. He also throws an upper-70s curveball on occasion. The Yankees and Shields have had many, many battles over the years, but this is a new lineup and he's in a different uniform.
Monday: LHP Vidal Nuno (No vs. KC) vs. LHP Jason Vargas (vs. NYY)
The Royals gave the 31-year-old Vargas a four-year contract over the winter, and so far this season he has a 3.28 ERA (4.17 FIP) in 13 starts and 85 innings. There's a lot of value in eating innings at a league average-ish rate, which Vargas has done for about five years now. He keeps walks down (2.44 BB/9 and 6.5 BB%) but otherwise does not have great strikeout (6.56 K/9 and 17.5 K%), ground ball (38.9%), or homer (1.16 HR/9 and 10.6 HR/FB%) numbers. His platoon split is pretty small as well. Vargas is definitely a finesse southpaw, sitting in the mid-to-upper-80s with his two and four-seamer. A changeup right around 80 mph is his top secondary pitch, though he'll also throw some mid-70s curveballs. These two came right out of the generic lefty factory.
Bullpen Status
The Royals have one of the very best setup man/closer combinations in baseball in RHP Wade Davis (1.17 FIP) and RHP Greg Holland (1.25 FIP). They have 41.5% and 40.2% strikeout rates, respectively. The good news for the Yankees is that Holland has pitched in each of the last three games and Davis has pitched in three of the last four. Seems unlikely Holland will pitch tonight, and if Davis does, he probably won't be available tomorrow.
RHP Aaron Crow (4.53 FIP), RHP Kelvin Herrera (3.00 FIP), and LHP Tim Collins (4.83 FIP) figure to pick up the high-leverage slack these next few days. Herrera throws very, very hard. Regularly hits triple digits. LHP Francisley Bueno (2.07 FIP in limited time), RHP Michael Mariot (2.76 FIP), and RHP Wilking Rodriguez (3.07 FIP in limited time) round out the rest of the eight-man bullpen. They've been carrying an eight relievers almost all year. Check out our Bullpen Workload page for the status of the Yankees' relievers, then check out Royals Review and Royals Authority for the latest and greatest on the team's opponent these next four days.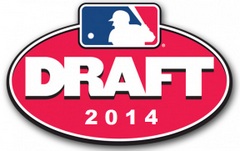 The first day of the 2014 draft is in the books and now we're moving on to day two. The Yankees selected Mississippi State LHP Jacob Lindgren with their first and only selection on day one — everything you need to know about him is right here — after forfeiting a bunch of high picks to sign free agents last winter. It was kinda boring waiting around for their pick to come up, but that's life.
Day two will cover rounds three through ten, and the Yankees have a pick in every one of those rounds. Their first selection of the day is 91st overall, or the 17th pick of the day. Their second pick of day two is 122nd overall, then things go back to normal and they'll pick once every 30 picks. The Yankees will select seven eight players today and remember, these picks are all tied to the draft pool. Expect to see some regular ol' prospects as well as some cheap college seniors picked today. The draft pool money saved on the seniors will be redirected to other players.
Here are some stray links following day one and heading into day two:
The draft resumes at 1pm ET with a half-hour preview show beforehand, and it'll all be streamed on MLB.com. Here's the video link and here's the Draft Tracker link. There won't be a liveblog today (sorry, I just don't have the time), so do all your draft talking here.
Got six questions for you this week. Feels like a light mailbag. Anyway, remember to send us anything through the Submit A Tip box in a sidebar.
Noel asks: Looking at the way this team is constructed and the offensive woes … A-Rod? Is he welcomed back with open arms next year? None of the kids will be ready, Derek Jeter will be gone, do they go another year with him and hope he can help with some thump?
They might welcome Alex Rodriguez back, but it sure won't be with open arms. It'll be reluctantly, if anything. He'll be back only because he's still under contract too, not because the Yankees think he can help the team. They've have made it pretty clear they want nothing to do with A-Rod and would like it if he just went away forever. Can you blame them at this point?
I've said I do not expect Alex to ever play in MLB again and I'm going to stick to it. Might as well at this point. He'll turn 39 years old next month, and once the suspension is over, he will have played 59 games over the last 24 months. That's both majors and minors. Rodriguez also had the hip surgery last year, remember. So he's got close to two years of rust and a breaking/broken down body. Can he come back to hit MLB pitching? I very much doubt it, but I suppose it's not impossible. I am very anxious to see how this all plays out.
T.J. asks: Could you see the Yankees moving Yangervis Solarte to second base, full time, and going with Scott Sizemore at third? Brian Roberts isn't too bad, but he seems more like a bench player.
Solarte has played mostly third base for the Yankees, but he's actually played second base primarily throughout his minor league career. Last season he played 88 games at second and 46 at other positions. The year before it was 91 games at second and 35 at other positions. Solarte is actually on pace to play nearly as many games at third base this season (131) as he did in his entire minor league career (135). He's a second baseman playing the hot corner, basically.
If the Yankees are going to shuffle things around to find some more production, second and third bases are the spots to do it. Roberts has been alright the last few weeks but he's still the obvious guy to replace. Stick Solarte at second full-time and platoon Sizemore (who was sent to Triple-A yesterday) and Kelly Johnson at third? That could actually be pretty productive. I don't like Johnson being a guy who plays once or twice a week out of position at first base. Play him fairly regularly at third (or second) and he'll hit some dingers and steal some bases. That plan works for me. The Yankees seem committed to Roberts because he gives veteran presents though.
Scott asks: Do you think that if CC Sabathia misses a significant chunk of the season (until August or so), and when he does pitch is as ineffective as he has been, that the front office would try to make a big free agent splash a la Jon Lester/Max Scherzer? Or would it disincentivize them even further from signing a big contract despite the needs on the field?
With Sabathia and Masahiro Tanaka both on the books, I would be surprised if they went out and added another huge pitching contract. Scherzer's going to wind up with $200M or so and Lester won't be too far behind him, so we're talking about potentially three $22M+ pear year pitching contracts, one of which looks like a total albatross at this point. Obviously both Scherzer and Lester would make the Yankees substantially better, but they are both already 30 (Scherzer will be next month) with lots of regular season and postseason innings on their arms. Remember, Sabathia was 28 when he signed with New York. I'm not sure another huge dollar starter is in the cards.
I'm One asks: I understand why some are calling for the Yankees to sign Kendrys Morales, yet I don't agree. To much positional inflexibility, despite the added offense. If he does get signed and Carlos Beltran doesn't need surgery, what would you expect to be the corresponding 25-man move?
It would have to be cutting ties with Alfonso Soriano at this point, wouldn't it? He's been terrible so far and I don't think the leash should be any longer. His at-bats are flat out non-competitive. The problem with cutting Soriano is that the Yankees would be stuck playing Beltran in right field regularly, something they said they want to avoid. They don't want to risk re-aggravating the bone spur by having him throw. I can't imagine Morales will sign up for a job where he rotations between first base and DH and might only play two-thirds of the time, so this is all probably just a moot point.
Stephen asks: Here's a crazy hypothetical. Game 7, World Series. Your starting pitcher must be either Randy Johnson or Greg Maddux, as they are today. Whoever you choose can have a month to prepare. Who do you go with?
When I first read this question, I thought Stephen was asking if I would rather have Johnson or Maddux start a Game 7. I would go with Johnson because he dominated. Maddux was awesome, obviously, but in one game where anything can happen, I want the guy who can miss bats and put the ball by hitters. We've seen what Johnson can do in big game situations firsthand unfortunately, and that's the guy I'd want on my side.
Then I realize the question was asking which one I would rather have right now, as in today with both guys pushing 50. (Johnson is 50, Maddux is 48.) Johnson had back problems later in his career and relied more on the quality of his stuff, so I'd be concerned about what he has left in the tank. Can he finish his pitches and break off those nasty sliders? Maddux was all command. I feel like he could wake up in the dead of winter at 48 years old, repeat his mechanics, and paint the corners on both sides of the plate. At their peak, I'd take Johnson for a Game 7. In 2014, give me Maddux.
gehrig27 asks: Because of the injuries and bad performance there is a good possibility that no Yankee player will have at least 100 RBIs at the ends of the season. When was the last time it happened?
Mark Teixeira leads the team with 27 RBI at the moment, a rate of 0.69 RBI per healthy team game. That puts him on pace for 98 RBI over the full season when you adjust for the time he missed due to injury and all that. They had one 100+ RBI guy in both 2012 (Curtis Granderson, 106) and 2013 (Robinson Cano, 107), and before that they had at least two 100+ RBI guys from 2002-11. How times have changed, eh?
The last time the Yankees did not have a 100+ RBI guy in a non-strike season was way back in 1992. Don Mattingly led the team with 86 RBI that year. They didn't have a 100+ RBI guy in 1990 or 1991 either. Unless Teixeira stays healthy, it doesn't look like the Yankees will have someone hit the century mark this season. Solarte is second on the team with 26 RBI and he is on pace for only 71 RBI over the full season. With Teixeira's wrist figuring to be on ongoing problem, it looks like the team won't have a 100+ RBI for the first time in more than two decades.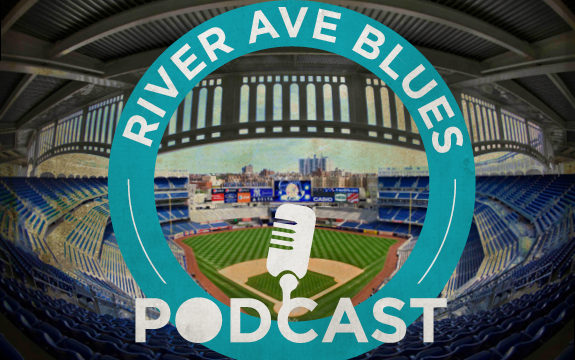 Guest: Matt Klaassen of FanGraphs. If you follow him on Twitter, @devil_fingers, you'll know that he's pretty die hard on the Royals. For which we pity him.
There's plenty to talk about, both about the upcoming series and about the Yankees, uh, not ideal play for the past week or so.
Remember to email in your questions before Friday's show (recorded Thursday night), podcast at riveraveblues.com.
You can also give us a call us at 716-393-5330 and leave a voicemail. We'll play it on air and answer it. It'll feel more radio-like that way.
Podcast: Play in new window | Download (Duration: 40:43 — 18.6MB)
With their first pick in the 2014 amateur draft (second round, 55th overall), the Yankees selected Mississippi State LHP Jacob Lindgren. They did not have a first round pick after signing all those free agents over the winter. Here is what I wrote about Lindgren a few weeks ago and here is the obligatory video:
"Jacob has two Major League pitches that are above average and possess swing-and-miss quality. He has been extended for multiple innings and holds his stuff consistently," said scouting director Damon Oppenheimer in a statement. "Jacob has been very successful in a tough conference and has produced exceptional strikeout numbers. We are very happy to have selected him."
Lindgren, 21, was a full-time reliever this spring after trying out the rotation last year. He pitched to a 0.81 ERA with a 100/25 K/BB ratio in 55.1 innings this year, and his 16.27 K/9 would have been by far the highest in the country if he had enough innings to quality. As @collegesplits notes, Lindgren also had the second highest ground ball rate in Division I at approximately 79%.
Here is what the big three scouting publications have to say about the 5-foot-11, 205 lb. southpaw:
Baseball America (ranked 50th best prospect in the draft):
He regularly reaches 93-94 mph with his fastball with heavy life and arm-side run. He's tabled his curve and changeup in a relief role, sticking to the heater and his hard, plus slider in the low to mid 80s. His stiff delivery likely leads him to a future relief role as well, and his 16.8 strikeouts per nine indicate he can dominate in that job. Lindgren lacks command, and his control usually is just enough.
MLB.com (51st):
He has overmatched hitters more than ever in shorter stints, making it unlikely that he'll last past the second round of the Draft. His best pitch is a wipeout slider that arrives at 82-84 mph with late bite. His fastball has jumped from 87-91 mph as a starter to 91-95 as a reliever … Because Lindgren has a sinking changeup and throws strikes, a pro team could be tempted to develop him as a starter. But his stuff plays up as a reliever, and he could reach the Majors very quickly in the role. He has closer upside.
Keith Law (67th):
His fastball sat in the 88-90 mph range as a starter, but that has shot up to the 92-94 range in relief. That velocity plays up even more because of his slider, which flashes plus-plus with outstanding late tilt that is practically unhittable for left-handed hitters … Someone might be tempted to see if Lindgren's two plus pitches can play in the rotation, but more than likely he's a high-leverage reliever who can be death to left-handed hitters and hold his own against right-handers as well.
I am not at all joking when I say Lindgren might be better than Matt Thornton right now. Unless the Yankees try him in the rotation — always a possibility, but I think it's unlikely — Lindgren should fly through the system and become a big league bullpen option very soon. There's a chance he can pitch in the show later this season, a la Paco Rodriguez for the Dodgers two years ago. It's really a question of whether the Yankees will let him more than anything.
New York is reportedly planning to spend a ton of money internationally this summer, upwards of $30M between bonuses and penalties, so that is where they're going to add the high-ceiling prospects this year. They opted to use their top draft pick to add a player who can help the MLB club in short order. It's a reasonable strategy given their low draft slot and upcoming international spending spree. Plus they've stunk at player development lately and Lindgren doesn't need much work. The Yankees have plenty of power righty relievers in the system and he helps balance things out.
Slot money for the 55th overall pick is $1,018,700 and there are no concerns about Lindgren's signability. Mississippi State's season ended earlier this week, so he is free to sign at any time. I would expect it to happen soon. The Yankees didn't take a reliever with their top draft pick to wait around. They want to get his career started as quickly as possible.
Triple-A Scranton (13-9 loss to Norfolk)
LF Jose Pirela: 3-4, 1 R, 1 RBI, 1 BB
RF Zoilo Almonte: 3-5, 2 R, 1 HR, 3 RBI, 1 K — second game back after being sent down
1B Kyle Roller: 0-4, 1 BB, 3 K
RHP Shane Greene: 3 IP, 10 H, 8 R, 8 ER, 2 BB, 3 K, 1 WP, 4/1 GB/FB — 51 of 81 pitches were strikes (63%)
RHP Preston Claiborne: 2 IP, 1 H, 0 R, 0 ER, 1 BB, 1 K, 1/2 GB/FB — 18 of 29 pitches were strikes (62%)
SwP Pat Venditte: 1.1 IP, 6 H, 5 R, 5 ER, 1 BB, 0 K, 2/1 GB/FB — 33 of 49 pitches were strikes (67%) … took one for the team with the bullpen short due to injuries and call-ups
RHP Russ Canzler: 0.2 IP, zeroes, 0/1 GB/FB — ten pitches, six strikes … made his pitching debut when the team simply ran out of arms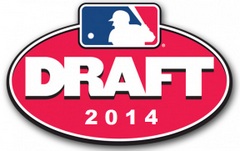 The 2014 amateur draft begins tonight with the first round, the supplemental first round, the second round, and the two competitive balance rounds. A total of 74 picks will be made tonight, including the Yankees' second rounder (55th overall). They don't have a first rounder after signing all those free agents last winter. The Cardinals and Royals lead the way with four picks tonight while the Orioles are the only team without a selection on Day One.
The Yankees are said to be targeting a high school catcher or Indiana 1B Sam Travis with that 55th overall selection. Scouting director Damon Oppenheimer also has a long history of selecting players from Southern California (Ian Kennedy, Ian Clarkin, Gerrit Cole, Gosuke Katoh, Austin Romine, Tyler Wade, Angelo Gumbs, etc.), plus we know the Yankees are willing to go off the beaten path with their picks.
All of our 2014 draft coverage can be found right here. Baseball America has a list of the top 500 draft eligible prospects while MLB.com has a great top 200 list that includes video and scouting reports, all for free. If you're wondering what it's like in a draft war room, read this FanGraphs article by former Mariners front office staffer Tony Blengino.
All of tonight's action, all 74 picks, will be broadcast live on MLB Network and streamed on MLB.com. Here's the video link. You can also follow the entire draft with MLB.com Draft Tracker. The broadcast is scheduled to run from 7pm to 11pm ET, so the Yankees will probably make their selection sometime during that 10 o'clock hour. That's just a guess though.
Use this thread to day about the draft or anything else tonight. Sorry, there won't be any liveblog(s) this year, I just don't have the time. The Yankees already won this afternoon, so there's no game to watch. The Mets are playing and the NBA Finals start tonight.
By

Via Jon Heyman: The Yankees asked Kendrys Morales to hold off on signing so they could have a little more time to evaluate Mark Teixeira (wrist) and Carlos Beltran (elbow) following their injuries. Morales and Scott Boras said no because they've been waiting to sign for months and that is a stupid request. Heyman says Morales is likely to sign within a day or two since the draft is beginning tonight.

Teixeira already said he's going to need regular days off to manage the wrist, no? And Beltran will receive treatment for the elbow the rest of the season, right? Right. They've already been evaluated, there you go. They're probably going to get hurt again because they have injuries prone to setbacks and because everyone on the Yankees gets hurt again. If the Yankees are this hesitant to add help, then they're in even more trouble that we all think. · (83) ·
The four-game losing streak is over and hey, the Yankees didn't get swept. They escaped the series against the Athletics (and the homestand in general) with a tight 2-1 win on Thursday afternoon.
A Bloop And A Blast
The Yankees kinda sorta got screwed out of a run in the first inning when Jacoby Ellsbury's double hit off the very tippy top of the wall in right field. I'm not joking at all when I say it was three inches from being the cheapest homer in Yankee Stadium history. The umpires called it a homer on the field, but A's manager Bob Melvin challenged the play and the it was rightfully overturned. Ellsbury was dangerously close to hitting his second homer in two days.
Derek Jeter was running on the play and it appeared he would have scored on the double, but the umpires send him back to third base. After looking at the replays, I don't think he would have scored. Right fielder Stephen Vogt got the ball into the infield in a hurry, and Derek was basically right at third base when the throw got to the cutoff man. Still, second and third with one out isn't bad. Then Mark Teixeira lined out to third and Carlos Beltran struck out, so no runs. Three inches from a two-run homer to no runs. Sigh.
Thankfully, the luck broke their way in the second inning. Brian McCann dunked a single into left that became a double when Brandon Moss misplayed the hop and let the ball get by him. It was McCann's 12th hit to the opposite field this season. He had between 14-19 hits to the opposite field every year from 2011-13. The mega-slumping Alfonso Soriano managed to get wood on a hanging curveball as the next batter and blooped a single into shallow center to score McCann. Soriano had been hitless in his last previous 16 at-bats with nine strikeouts.
The bloop single knotted the game up at one, then Brett Gardner blasted a solo homer into the second deck leading off the third inning to give the Yankees the lead. It was one of his classic ambush homers. Every once in a while he loads up and guesses first pitch fastball, and when he guesses right, the ball tends to leave the park. Five of his 12 homers since the start of last year have come on the first pitch for that very reason. One almost homer, one actual homer. Progress!
Grind It Out
There's a pretty good chance Masahiro Tanaka faced the best lineup he's ever faced on Thursday afternoon. The Athletics came into the game leading baseball with 308 runs and ranking second with a 116 wRC+. They don't make offenses like that in Japan, and John Jaso let Tanaka know what's up when he hit his seventh pitch of the game out to right for a solo homer. Tanaka had not allowed a dinger in his previous five starts after giving up seven in his first six starts.
Ten straight Athletics made outs following Jaso's homer, but in the fourth and fifth inning, they worked Tanaka very hard. Oakland didn't score, but they forced him to throw 53 pitches in those two innings, ten of which were fouled off with two strikes. McCann and Tanaka had more than a few chats on the mound those two innings as they tried to figure out a plan of attack. Tanaka's pitch count sat at 93 after five innings and he ended the afternoon at 104 pitches in six innings. He held the A's to just the one run on five hits and a walk, but man, it was a grind. Those six innings tied a season-low for Tanaka, and he set a new season-low with four strikeouts. Even when he's bad, he's still pretty good.
Hold On To Your Butts
The bullpen has been pretty shaky of late, so, naturally, the Yankees never bothered to score any insurance runs. They stranded runners at second base in the sixth, seventh, and eighth innings. Dellin Betances got the call in the seventh and struck out one in a perfect inning, so he's clearly been rattled by his weak outing the other day. I mean, only one strikeout? What else could it be? His strikeout rate is down to 15.17 K/9 and 45.7 K%. Slacker.
Adam Warren got the ball in the eighth and he immediately made things interesting by allowing back-to-back singles to start things off. Then he retired Josh Donaldson (strikeout), Brandon Moss (line out to right), and Yoenis Cespedes (strikeout). Defensive replacement Ichiro Suzuki made a great sliding catch to save the lead and take a base hit away from Moss. I thought it was ticketed for the gap off the bat. Warren hit 97 mph several times according to PitchFX as he cut through the 3-4-5 hitters of the highest scoring lineup in baseball in the eighth inning of a one-run game. Hell yeah.
The ninth inning went to David Robertson, of course, and he put a runner on base, of course. That was Stephen Vogt's one-out single to center. Craig Gentry pinch-ran and stole second base — the throw was right on the money, he just out-ran the damn thing — then moved to third on Alberto Callaspo's ground ball. That's what the game log will say. In reality, it was a hard-hit grounder that Robertson luckily deflected to Teixeira at first with his foot. Robertson hustled over to cover first base, then he struck out Derek Norris to seal the win. He's 13 for 15 in save chances so far.
Leftovers
Beltran went 0-for-3 with two strikeouts at the plate in his return to the lineup after missing close to a month with a bone spur in his elbow. He picked up right where he left off before the injury. (I kid, I kid.). Soriano went 2-for-3 with the bloop single and a sun-aided double. It was a routine fly ball that Coco Crisp lost in the sun and was unable to reel in. Soriano needs all the help he can get these days.
Following Gardner's leadoff homer in the third inning, the Yankees had just three base-runners: Ellsbury walked in the sixth and singled in the eighth (stole second both times), and Soriano sun-doubled in the seventh. That's all. Eighteen of the final 21 Yankees made outs and only five hit the ball out of the infield. Gardner, Jeter, Ellsbury (two), McCann, and Soriano (two) had the seven hits and Ellsbury the only walk.
Six of the Yankees' last eight wins have come by two runs or less. When they lose, they tend to lose big. When they win, they hang on for dear life. That is … ominous. Two runs a game just isn't going to cut it. The offense needs to wake the frig up already.
And finally, it's pretty funny neither the YES nor MLB.com people get the YEAH JEETS! joke on the guy's shirt in the video above.
Box Score, WPA Graph & Standings
MLB.com is the place to go for the box score and video highlights. FanGraphs has some additional stats and ESPN has the updated standings.

Source: FanGraphs
Up Next
The Yankees are off to Middle America for a wrap-around four-game weekend series with the Royals. Chase Whitley and Jeremy Guthrie will start the series opener on Friday night.