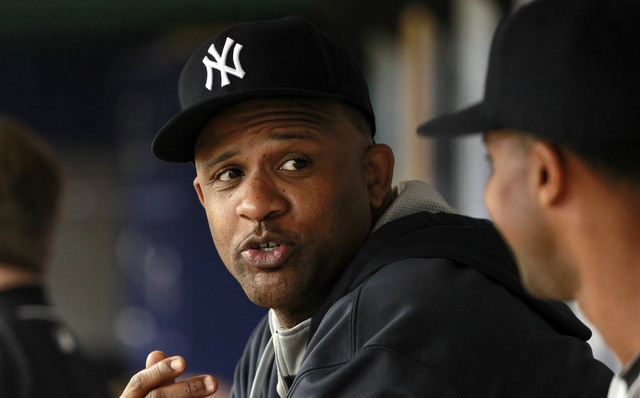 Heading into Spring Training, the Yankees had plenty of reasons to be concerned about their rotation. Masahiro Tanaka, CC Sabathia, and Michael Pineda all missed significant time with injuries last season, Nathan Eovaldi was making the NL-to-AL transition, Chris Capuano is Chris Capuano, and Adam Warren had never held down a full-time big league rotation spot. Question marks were abound.
The Yankees lost Capuano to a quad injury early in camp and they took it very easy on Tanaka and Sabathia this spring, bringing them along slowly for completely understandable reasons. They're also hoping to give them an extra day of rest between starts this month whenever possible, even if it means using a spot sixth starter. So far so good — everyone has stayed healthy aside from Capuano and they've all shown flashes of effectiveness, if nothing else.
One thing the Yankees were not getting from their rotation in the early going this season is length. New York's starters completed six innings of work just three in the first ten games of the season — Pineda did it twice (6 IP and 6.1 IP) and Sabathia did it once (7 IP) — and they were averaging only 5.3 innings per start, which is no good. It's no surprise the team's bullpen has thrown the fourth most innings in baseball this season (55.0). (The 19-inning game skews things but those innings happened and contributed to the bullpen workload.)
Only once has Joe Girardi allowed his starter to throw 100+ pitches this year — Eovaldi threw 101 pitches against the Orioles last week — though that is partially by design. Like I said, the team is trying to take it easy on everyone early in the season, so Girardi isn't necessarily letting them pitch as deep as they normally would. Of course, some early season starts were ugly and leaving the starter out there for 100+ pitches wasn't doable. They were getting knocked around.
Over the last five games though, the last turn through the rotation, the starter has completed seven innings of work three times and come within one out of completing six innings the other two times. Tanaka and Eovaldi both completed seven innings and Sabathia threw an eight-inning complete game. Pineda and Warren both labored in their 5.2-inning starts but still managed to take the ball deeper into the game than the rotation had averaged in the first ten games of the year.
The Yankees have gotten seven innings from their starting pitcher four times in the last eight games and six innings five times in the last nine games. After averaging 5.3 innings per start through the first ten games, they've raised their season average to 5.8 innings per start through 15 games. The AL average is 5.6 innings per start right now, so the Yankees are just above that mark and they're trending in the right direction.
As we've seen so far this season, the Yankees have a pretty dynamic bullpen, particularly at the end of games with Dellin Betances and Andrew Miller. Not many clubs are using relievers as good as David Carpenter and Chasen Shreve in mop-up innings like New York did last night. Pitchers like that are logging setup innings for many clubs around the league. I mean, how many teams could afford to send someone like Shreve to Triple-A for ten days to get a fresh arm?
As good as that bullpen is, Girardi and the Yankees don't want to use it as much as they've had to so far this year. Miller has already recorded a four-out save and a five-out save, and they don't want outings that long to become the norm. The longer the starters can go, the easier it is on the bullpen, and the more effective the club's key relievers will be late in the season. The Yankees weren't getting many innings from their starters the first two turns through the rotation, but this last turn though was much better and it's lightened the load on the bullpen considerably.