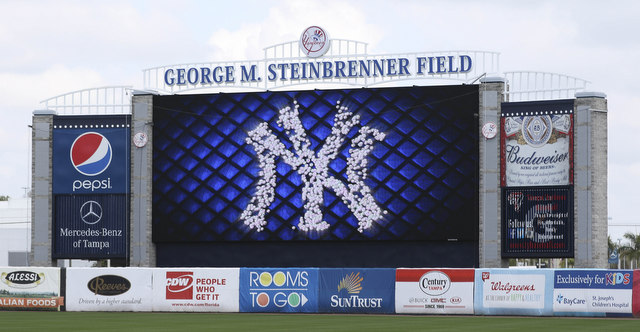 I know it's only Spring Training, but the Yankees are playing a real live baseball game today, and dammit that makes me happy. It's been a long offseason, what can I say. So, before the Yankees embark on a month's worth of meaningless yet still fun baseball, I have some thoughts to share.
1. Both John Ryan Murphy and Austin Romine are making the trip to Clearwater today and I don't think that's insignificant. Those two are competing for the backup catcher's job — a competition that starts today — even if all signs point to Murphy being the favorite. Romine reportedly came to camp in excellent shape and is hellbent on making the decision tough for the team. This is one of those situations where Spring Training stats will matter. If Romine comes out and knocks the crap out of the ball for a few weeks, the Yankees will be hesitant to trade him or try to pass him through waivers at the end of camp. I don't think it will happen, but I wouldn't be completely surprised if the team decides to send Murphy to Triple-A Scranton come Opening Day and give Romine what amounts to a few extra weeks to audition himself as Brian McCann's backup in the regular season.
2. Prospects I am most excited to see in camp: Jacob Lindgren, Aaron Judge, and Rob Refsnyder. I mean, yeah, I want to see all the prospects, and those three are among the most obvious "must see" prospects in camp, but I have my reasons. Lindgren because I want to see just how MLB ready his slider looks. Judge because he's a monster — "We have a defensive end in camp," said Joe Girardi to Brendan Kuty about the club's top prospect — and it's not often you get to see someone that big and that athletic on baseball field. And Refsnyder because I want to see just how bad his defense really is at second base. That stuff can be easy to overstate. Everyone gets graded on a curve in Spring Training, especially early in Spring Training, but get enough looks at a guy in camp and you can learn something. With so many games set to be broadcast this month, we should get a chance to see all of the team's top prospects multiple times.
3. Spring Training is a time for optimism, but inevitably someone is going to get hurt to knock us all down a peg. This year that player is catching prospect Luis Torrens, who is facing a potentially serious shoulder injury. (We should know more soon but early reports indicate he may need season-ending surgery.) Torrens is one of my favorite prospects in the system and I thought he had a chance this year to really zoom up some prospect rankings and possibly into next year's top 100 lists. He's a very good defender despite a general lack of experience behind the plate, and basically all he needs to do offensively is get stronger. The approach and hitting smarts are already there. Hopefully whatever the injury is, Torrens can rebound and continue his development. He's still really young (18), after all. But make no mistake, nothing good comes from this injury.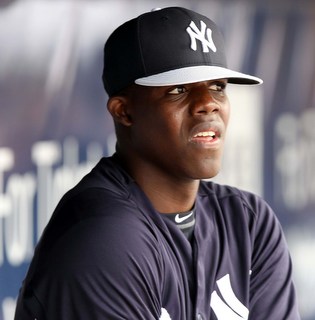 4. Consider this my annual "please oh please let Jose Ramirez stay healthy this year" blurb. Please let him stay healthy. Please. He missed most of last year with a lat strain but is supposedly healthy now, and yesterday he impressed Mariano Rivera with his live batting practice session. "I like him, he looks stronger. He can be a guy that can help the team. He has tremendous stuff, electric stuff. He has it all. He is a good kid and put on weight in the lower half and his legs are a lot stronger," said Rivera to George King. Ramirez won't do what Dellin Betances did last year — you can't put those kind of expectations on anyone — but I do think he has impact reliever potential if he ever stays healthy. He topped out at 98.3 mph during his brief MLB cameo last year according to PitchFX, and when opponents swung at his changeup or slider, they missed more than 30% of the time. I want to see more of that guy going forward. The tools for dominance are there.
5. Last, but certainly not least, I just want to say I'm so happy baseball is back. I'm one of those weird people who enjoys Spring Training games — meaningless exhibition games are fun in their own way — so I'm very much looking forward to Grapefruit League play beginning today. This was a long offseason because the Yankees missed the postseason — it felt longer than last offseason for whatever reason — and I'm glad it's all behind us now. No more rumors, thankfully. That stuff ran its course and I'm ready to move on. Eight months of baseball — some of it waaay more stressful than the rest — begins today and I don't think I could have waited another day. Hooray for the end of the offseason.