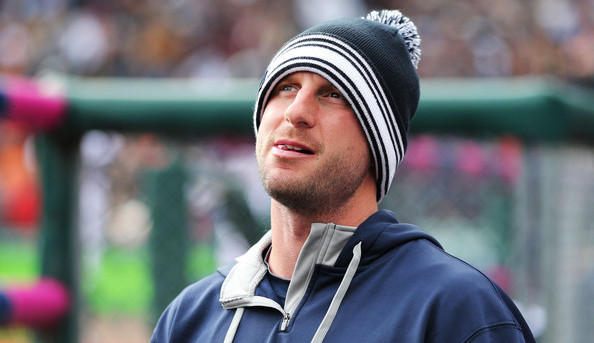 Earlier this week, the Yankees shipped Shawn Kelley to the Padres for a Double-A reliever in a trade that sure looks like a pure salary dump. Kelley is projected to earn $2.5M through arbitration in 2015, so the team isn't saving a ton of money, but they are saving money nonetheless. They also saved money in the Martin Prado/Nathan Eovaldi trade, in the Francisco Cervelli/Justin Wilson trade, and by replacing David Robertson with Andrew Miller.
I wrote about this at CBS the other day — the Yankees have been saving small amounts of money in almost all of their transactions over the last few months. Every team looks to be more cost efficient, so this isn't some wild idea, but it's rare to see the Yankees making moves like this. They usually take on salary, not shed it. Naturally, as soon as Kelley was dealt, more than a few people assumed the Yankees were clearing money to make another move. Kelley himself added fuel to the fire by telling Dan Barbarisi this after the trade:
"[Brian Cashman] said he hated to see me go, but they have some things they're doing, some things they're working on, and it was part of new plan," Kelley said.
"They have some things they're doing, some things they're working on" is a fun quote! You can really let your imagination run wild with that one. Is all this saved money, the $1M or $2M at a time, going to eventually add up to Max Scherzer? James Shields? Yoan Moncada? Something else no one expects? The Yankees have a way of keeping things totally off the radar, you know.
And yet, Kelley's quote really means nothing at all. It's the "it's not you, it's me" of baseball breakups. Of course the Yankees are working on some things. They're always working on things. Every team has an entire staff of people just working on things all the time. The real question is whether the savings from the Kelley trade — and the savings from the Cervelli trade, the Prado trade, letting Matt Thornton go on trade waivers in August, etc. — is earmarked for a specific move, or simply being set aside for future flexibility should something pop up.
Personally, I think the money is being set aside for later and not a specific move. The Yankees insist they are not in on Scherzer and while I do think they are sincere, I also understand Hal Steinbrenner & Co. could change their minds at a moment's notice. It's happened before and it'll happen again. I'm sure of it. I don't believe saving a couple million 2015 dollars equals being more open to a massive six or seven-year contract, however. I think they're more likely to make one or two small moves before Spring Training or save the money for a bigger midseason trade addition. That's just me.
Shedding relatively small amounts of money through trades doesn't have to be a precursor to anything. Dealing Kelley one year before free agency when you have a small army of MLB ready-ish relievers in Triple-A makes perfect sense. Unloading the injury prone Cervelli when you have John Ryan Murphy waiting for an opportunity? Totally sensible. Replacing Robertson with Miller and getting a draft pick in the process is a smart baseball move. Maybe an unpopular one, I love Robertson and I know a lot of you do too, but we're all smart enough to get it. Trading Prado both added a hard-throwing starter and opened a spot for Rob Refsnyder. Two birds, one stone.
Saving money seems like a secondary concern to opening a roster spot for a young player with these moves, if you ask me. (With Miller/Robertson they're adding a young player via the draft rather than opening a roster spot, but you catch my drift.) The Yankees have clearly focused on getting younger this offseason and these moves all help accomplish that. Freeing up money comes with the territory. Young players are cheap. That's why everyone wants 'em. Shedding salary by trading Kelley and whoever else doesn't necessarily to mean something else is about to happen. It just means the Yankees are going in a different direction with their roster. A younger direction.