Got a trio of injury updates, courtesy of the AP…
Derek Jeter (ankle) did some light running on the bases for the second consecutive day today, going first-to-third and third-to-first three times apiece. He also fielded 45 ground balls at short and started making throws to first, plus he took 32 swings in batting practice on the field.
Curtis Granderson (forearm) had a round of follow-up x-rays yesterday and could be cleared to throw as soon as tomorrow. "Everything is looking good," he said. Granderson has reportedly been cleared to swing a bat underwater, and he hopes to be given the okay to swing a fungo bat this weekend.
Michael Pineda (shoulder) faced hitters for the first time since surgery in a scheduled round of live batting practice on Tuesday. No word on how many pitches he threw or anything like that, but it's still really good news. Big step in the rehab process.
By

This isn't the most surprising thing in the world, but Joel Sherman reports the "top of the Yankees hierarchy" demanded the re-signing of Ichiro Suzuki this past offseason following "a strong Division Series and adoration from the fans." Who knows what "top of the hierarchy" actually means, but it sure sounds like something above the baseball operations department.

Ichiro, 39, has managed to raise his early-season batting line to .185/.233/.296 following a multi-hit game and a homer against the Indians these last two days. The Yankees gave him a two-year, $13M contract over the winter and it just so happens he has a shot to record his 3,000th MLB hit next September. He'll have to pick-up the pace to get there though, he's currently 389 hits away from the milestone. It seemed like a move motivated more by off-field interests (marketing, merchandise, etc.) than on-field production from the start. · (97) ·
The Yankees have bludgeoned the Indians the past two days with two more games left to play in the series. I'm greedy and would like two more laughers before they head home for a three-game weekend set with the Orioles. I don't think I'm the only one who feels that way.
1. I don't think it is at all a coincidence the bats finally got going after an extended stretch against right-handed starters. The Yankees have seen seven straight righties after facing Jon Lester on Opening Day, which means the guys have been able to get into a bit of a routine and groove. Sure, it stinks for the Ben Franciscos of the world, but he's not all that important in the grand scheme of things. It's unclear what the Indians will do the next two days after using Brett Myers in relief last night, but the Yankees are scheduled to see at least three and possibly four (depending on what the Tribe do) more right-handers in the five games prior to Monday's off-day. Wei-Yin Chen on Friday is the line exception. That's very good news for the offense.
2. I think the Yankees should consider splitting up Ivan Nova and Phil Hughes in the rotation. I know Hughes averaged a very solid ~6.1 innings per start in his final 18 starts of last season, but those two back-to-back could create some bullpen headaches even with two long-man types on the roster. If they want, they could use Monday's off-day to push Phil back one day to Thursday and start CC Sabathia on Wednesday on normal rest. That way the two youngsters would have the big bullpen-saving workhorse between them going forward. Not a huge deal at this point in the season, but I think it is something the they should strongly consider.
3. This is not Yankees-related, but it is a bit of a bummer to see what Roy Halladay (14.37 ERA and 7.94 FIP so far) and Tim Lincecum (4.91 and 5.21) are going through right now, which dates back to last year as well. Those two were on the very top of their game as recently as 2011, but now they could be confused for journeymen. Halladay's stuff is lifeless and his command has taken a step back while Lincecum has simply lost about five miles an hour off the fastball in recent years. Here, look: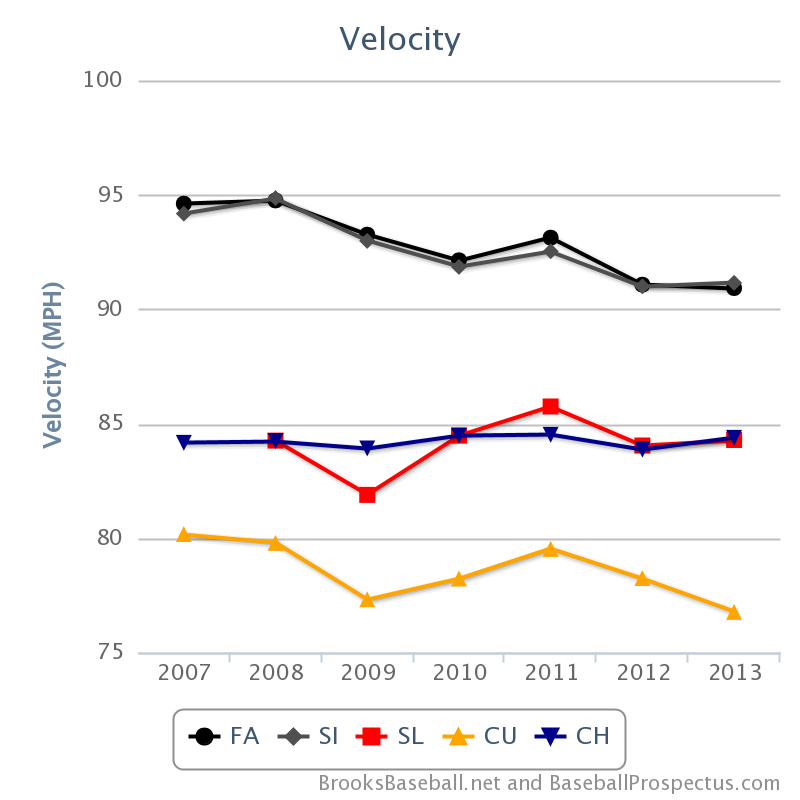 I do think there is some merit to the idea that someone Lincecum's size with that wild, twisting delivery wasn't built for the long haul, but who knows. Either way, both guys are a harsh reminder about just how quickly it can go south in this game, even when talking about elite players. Really a bummer.
4. Yes the season is a week old, but it's never too early to start thinking about possible trade deadline pick-ups. Just kinda spit-balling the obvious needs right now, I'd say a backup catcher, a right-handed hitting outfielder, a utility infielder, and general pitching depth are on the agenda at the moment. Obviously things could change depending how well the Yankees play and how well some of the injured guys return in the coming weeks, but those four needs stand out eight games into the season. We knew they could all potentially be a problem coming into the year and I haven't seen anything that makes me feel any differently.
Triple-A Scranton (2-1 loss to Rochester)
CF Melky Mesa: 0-4, 2 K
2B Corban Joseph: 1-2, 2 BB — five walks and three strikeouts through six games
LF Zoilo Almonte: 1-4, 2 K
C Austin Romine: 2-4, 1 R, 2 K
LHP Vidal Nuno: 7 IP, 3 H, 1 R, 1 ER, 0 BB, 6 K, 6/5 GB/FB — 60 of 85 pitches were strikes (71%) … all he has to do is keep getting outs, and eventually he'll get his opportunity
RHP Mark Montgomery: 2 IP, 2 H, 1 R, 1 ER, 0 BB, 5 K, 0/1 GB/FB — 25 of 36 pitches were strikes (69%)
Offensive problems? What offensive problems? The Yankees pounded a subpar Cleveland pitching staff for the second straight day on Tuesday, walloping the Tribe by the score of 14-1. For the first time in 2013, the Bombers have won three straight games.
Two-Out Rallies
After going 13 games without scoring more than four runs, the Yankees have now scored at least seven runs in each of the last three games. They pounded Indians starter Carlos Carrasco for seven runs in 3.2 innings thanks to two homers, two doubles, three singles, and two walks. Ichiro Suzuki (solo shot pulled to right) and Robinson Cano (two-run shot other way to left-center) hit the dingers while Brett Gardner (off the wall to left) and Cano (over the center fielder's head) had the doubles. Those plays accounted for five of the 14 runs, but they were the first five and gave the team a comfortable lead.
Although the Yankees were banging the ball all over the yard against Carrasco, the best part was that the four-run rally in the second all happened with two outs. Vernon Wells led off the inning with a single but was quickly erased by Ichiro's double play. Then, with two outs, the Yankees went single to left-center (Eduardo Nunez), single to center (Lyle Overbay), walk (Frankie Cervelli), two-run single (Gardner), then two-run double (Cano) before Kevin Youkilis struck out. Gardner's single came with two strikes and two outs, and 12 of the 14 runs overall were scored with two outs. Love it. Those two-out runs are real backbreakers.
Slightly Less Dandy Andy
Andy Pettitte pitched well in his second start of the year, but he wasn't as sharp as he was the first time around. The game had already gotten out of hand by the time Asdrubal Cabrera tagged him for a solo homer in the sixth, but Andy also walked three and allowed five hits, including three for extra bases (two doubles in addition to homer). Yeah, seven innings of one-run ball is pretty awesome, but he was seemed to be behind in the count more than usual and pitching from the stretch a little more often. Not a problem or anything, just one of those nights.
The rotation as a whole has been better the second time around, though it would have been tough for them to be any worse. CC Sabathia and Hiroki Kuroda worked their way through effective starts despite being less than at their best, and Pettitte continued the trend on Tuesday. The bullpen got some much needed time off — Adam Warren mopped up the mess with two scoreless innings — and it seems like every part of the team is starting to move in the right direction. The offense is obviously clicking and now the rotation is coming together. Just need it to keep going, they're not all the way there yet.
Leftovers
Carrasco, who was making his first start after serving a six-game suspension for throwing at Billy Butler's head (and having Tommy John surgery), was ejected for throwing at Youkilis after Cano homered to make it seven-zip in the fourth. Not sure if it was suspension worthy, but it was obviously out of frustration following the homer. Stupid kids. Youkilis got even by hitting a two-run dinger his next time up.
Overbay (solo) and Brennan Boesch (two-run) chipped in garbage time homers to really make this one a laugher. Gardner had four hits including two doubles, so he's starting to get it going from the leadoff spot. That is really big, the table-setters had not been doing their job for the last week or so. Cano went 4-for-6 with two doubles and the homer to raise his season line to .303/.381/.667. He had a sub-.400 OPS less than 48 hours ago. Hooray early season stats.
Box Score, WPA Graph & Standings
MLB.com has the box score and video highlights, FanGraphs the nerd score, and ESPN the updated standings.

Source: FanGraphs
Up Next
The Yankees and Indians will play game three of this four-game set on Wednesday night, but I'm not sure who will be on the mound for the Tribe. Noted jerk Brett Myers was scheduled to start that game, but he instead came out of the bullpen and threw 5.1 innings in this game. I guess former Yankees farmhand Zach McAllister will get bumped up a day — he would be on regular rest — and start tomorrow instead. Either way, Ivan Nova will be on the mound for New York.
By

Via Chad Jennings: Derek Jeter did some light running today, his first time doing anything more aggressive than walking since receiving a cortisone shot and being shut down with lingering soreness/inflammation in his surgically repaired left ankle. He also hit in the batting cages and took ground balls with a little bit of side-to-side movement. The Cap'n is making progress, but it still seems like he's a ways off. At this point I wouldn't be surprised if he doesn't return until sometime in May.

In other news, Curtis Granderson has been cleared to swing a bat underwater. Joe Girardi said he is hopeful Granderson can start hitting off a tee and soft toss by the weekend. He's been running and shagging fly balls for a while, but this is the first time he's been cleared to do something with his right (broken) arm. Hopefully he's not much more than two or three weeks away from returning. · (24) ·
The Yankees have won their last two games and the offense has started to click, but now it's time to get the pitching staff in order. Andy Pettitte was masterful in his first start of the year, twirling eight innings of one-run ball against the Red Sox last week. The team needs a similar effort tonight because the middle relief crew is both shaky and a bit overworked from yesterday, plus it would be nice to see a starter complete six full innings for a change. It's only happened twice so far this year. Here is the starting nine…
And on the mound is the three-time All-Star, Andy Pettitte.
Tonight's game is scheduled to start a little after 7pm ET and can be seen on YES. Enjoy.
By

The Yankees have re-signed lefty Clay Rapada to a minor league contact, the team announced. "I never wanted to leave (and I'm) pleased it all worked out to return," said the southpaw to Dan Barbarisi.

Rapada, 32, was released before Opening Day to clear room on the 40-man roster for Lyle Overbay. Because he re-signed with the same team, he can't return to the big leagues until May 3rd (30 days from the date of his release). Rapada missed the last few weeks of Spring Training because of shoulder bursitis, and I have no idea how his rehab from that is going. He will head to Tampa for now and join Triple-A Scranton at some point. · (14) ·
By

Via Andrew Marchand: Brian Cashman reiterated the team will indeed bring Curtis Granderson back as the center fielder once his fractured right forearm heals up. "I don't think so," said the GM when asked if there was a chance of keeping Brett Gardner in center.

I don't the switch is as cut-and-dry as it seems, especially since there's at least a small chance it could impact Granderson's offense. This isn't as simple as sticking Ichiro Suzuki in left last year because they weren't putting anything at stake offensively. I definitely think they should reconsider though, because it will be a defensive upgrade (how much exactly? not sure) and the Yankees will need to squeeze every ounce of production from their roster if they plan to contend for a playoff spot. · (14) ·
The 2013 amateur draft will be held from June 6-8 this year, and between now and then I'm going to highlight some prospects individually rather than lump them together into larger posts.
Oscar Mercado | SS
Background
Mercado was born in Colombia, but he and his family moved to the United States when he was eight years old. He plays for Gaither High School in Tampa — a straight shot on Dale Mabry Boulevard and about 20 minutes from George M. Steinbrenner Field — and is committed to Florida State.
Scouting Report
Listed at 6-foot-2 and 175 lbs., Mercado's calling card is his defense. He's a no-doubt shortstop long-term because of his fast-twitch athleticism, quick reactions, soft hands, and strong throwing arm. The concern is his offense, as it's unclear if he'll hit enough in pro ball. Mercado, a right-handed hitter, is a line drive hitter without much power or much projection for future power. He can run and is a threat to steal, but he simply might not hit enough against better pitching. Here's some more video.
Miscellany
Baseball America (subs. req'd) and Keith Law (subs. req'd) ranked Mercado as the 30th and 34th best prospect in the draft, respectively, in their latest rankings. He's one of the two best shortstops in the draft — California high schooler J.P. Crawford is the other, and he's expected to be a top 10-15 pick — and the Yankees love raw-ish, up-the-middle athletes. Considering he plays right in their back yard in Tampa, it's safe to say Mercado is at least on their radar and someone they could consider for one of their top three selections (26th, 32nd, 33rd).