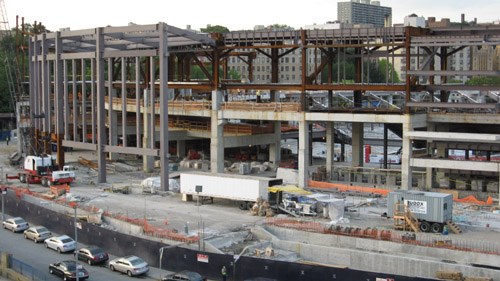 The New Yankee Stadium, shown here on Sept. 5, is lagging behind Citifield. (Photo by Ben K.)
Via Curbed comes an update on the stadium construction sites in New York City. According to this article in today's New York Sun, Citifield is ahead of the new Yankee Stadium in terms of construction progress, and the rumors that the Yanks are behind schedule continue to grow louder.
In the article, Sun reporter Christopher Faherty talks about the progress at Citifield. The Mets have much of their iron and concrete work completed and a good percentage of bricks in place. The electrical wiring is nearly finished as well. New Yankee Stadium is an entirely different story altogether.
Faherty writes:
With just about three months until the first official day of winter, the surrounding façade that will form the perimeter of the new Yankee Stadium is yet to be completed. A large swath, about 100 feet long, lies barren between two hulking walls of concrete, and views into the stadium show no evidence that any of the interior or the 50,000 planned seats are near completion.

Two Yankee electricians, who were interviewed by a reporter on Tuesday as they exited the construction site of the new stadium for a lunch break and asked not to be identified for fear of losing their jobs, said four separate crews were currently working on electrical aspects of the stadium.
I've noticed this as well. Over the season, I've taken pictures at most of the 19 games I've been to so far of the progress on the new stadium. To call it slow would be an insult to snails.
The Yankees, spending $1.2 billion to build the world's most expensive ballpark, refuse to comment on the pace of construction. "We are on schedule with construction, on budget, and fully expect to be operational and ready for opening day 2009," Alice McGillion, a team spokesperson, said to Faherty. But that's been their standard line since we first head the stadium was behind schedule in July.
I doubt the Yanks will fall too far behind in their stadium construction. Opening Day 2009 is set to be a very big day for the organization. They'll want to open their first new stadium since 1923 in grand style, and you can bet that a late opening date isn't in those plans.