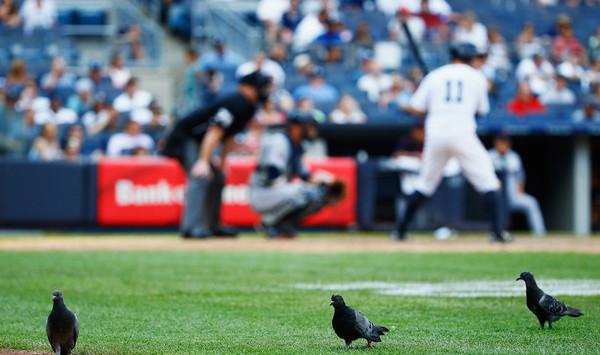 That weekend series against the Indians was pretty rough. One win in four tries and two of the losses were one-run losses. Blah. The Yankees have been much better at home (36-24, +52 run differential) than on the road (32-31, +15 run differential) overall this year, but not this month. They've won one six of 13 home games this month. That ain't gonna cut it. The Yankees need to clean up at home the rest of the way.
The Astros, who are in the Bronx for a three-game series this week, are another team with a drastic home/road split. They're 45-21 with a +71 run differential at home but only 24-35 with a +11 run differential on the road. This series is in Yankee Stadium and the Yankees are great at home while the Astros stink on the road. What could go wrong? Here is Houston's lineup and here is New York's lineup:
Pretty nice night for a ballgame in the Bronx. It's a little cloudy out and there is a tiny little chance of rain, but nothing serious. I'm not worried about it. Tonight's game is scheduled to begin just after 7pm ET and you can watch on WPIX locally and MLB Network nationally. Try to enjoy.
Injury Update: Mark Teixeira (leg) said he thinks he could pinch-hit today, but running is still an issue. He took batting practice right-handed today and the Yankees will face the lefty Dallas Keuchel tomorrow, which probably isn't a coincidence … Dustin Ackley (back) also took batting practice today. He could begin a minor league rehab assignment later this week.
Roster Update: In case you missed it earlier, CC Sabathia was placed on the 15-day DL and Chris Capuano was brought back.