By

The Yankees have given David Aardsma his unconditional release, manager Joe Girardi confirmed this afternoon. The right-hander was designated for assignment last week to clear a 40-man roster spot prior to the season. The release indicates he went unclaimed on waivers.

Aardsma, 31, was cut loose because the team preferred relievers capable of pitching multiple innings. He pitched well in Spring Training despite missing a few days with a groin problem, but hip and Tommy John surgeries have kept him on the shelf for the last two years. I assumed some team could claim Aardsma off waivers given his $500k base salary, but I guess no one wanted to roll the dice. Maybe the medicals are worse than we realize. · (19) ·
By

Hiroki Kuroda is currently scheduled to make his next start, manager Joe Girardi told reporters this afternoon. The right-hander said he still has some soreness in his right middle finger and will know more about his status after throwing a bullpen tomorrow.

Kuroda took a line drive to the finger tips last night and left the game with a contusion, but post-game x-rays showed no broken bones. It's just a bruise, which is why the team is optimistic he will be on the mound in Cleveland on Monday. It's not set in stone, however. · (10) ·
The 2013 amateur draft will be held from June 6-8 this year, and between now and then I'm going to highlight some prospects individually rather than lump them together into larger posts.
Billy McKinney | OF
Background
A Texas kid out of Plano West High School, McKinney played for the Texas Scout Team Yankees last fall — the Yankees use the club to familiarize themselves with Texas high school prospects (2012 second rounder Austin Aune played for the squad a year ago) — and starred at the Perfect Game World Wood Bat Association World Championship in Florida back in November. He's committed to TCU.
Scouting Report
McKinney, who is listed at 6-foot-1 and 195 lbs., stands out for his offensive potential from the left side of the plate. He consistently gets the fat part of the bat on the ball thanks to his smooth and easy left-handed swing. McKinney is a line drive gap-to-gap hitter with some power potential, and the hitting tools all play up because of his advanced approach. He's one of the best pure hitters in the draft class, high school or college.
Although he plays center field in high school and shows good speed with an okay arm, McKinney might end up in a corner outfield spot down the line as he fills out and slows down. Regardless, his bat is his calling card and the reason teams are looking at him prior to the draft. Here's some more video. Love that swing.
Miscellany
Baseball America (subs. req'd) ranked McKinney as 23rdth best prospect in the class in today's updated rankings while Keith Law (subs. req'd) had him 27th last month. He looks to be very much in that late-first round/supplemental round mix at the moment, and we know he's on the Yankees' radar since he played for their Texas Scout Team just a few months ago. The Yankees love pure high school hitters like J.R. Murphy and Tyler Austin even if their position is unsettled, so McKinney sure seems like someone they could target with one of their top three picks (26th, 32nd, 33rd).
Given their newfound austerity and the fact that more and more star players are signing long-term extensions, the farm system will be more important for the Yankees going forward than it ever was before. If they plan to remain competitive year after year — I don't expect those intentions to change, they are the Yankees after all — they'll need a deep and steady pipeline of young prospects to plug into the roster and trade for established big leaguers.
Because of the way the most recent Collective Bargaining Agreement changed the system, the Yankees are going to have to simply out-scout and out-develop other teams. They will never have access to top amateur talent as long as they remain competitive, so finding those diamonds in the rough and turning them into useful players will be extra important going forward. I'm not very confident the current regime can actually do that, but they have made some player development changes in recent years — most notably re-hiring pitching coordinator Gil Patterson — so maybe things will change. We'll see.
When writing about the draft in recent years, in tended to put together posts focusing on prospects who were grouped together somehow. High school bats, players with good makeup, pitchers who had success in the Cape Cod League … whatever. They were almost always players I liked for whatever reason. I want to get away from that this spring and instead highlight individual players who fit what appears to be the Yankees' draft philosophy. That means players with good makeup, athletic high school position players, hard-throwing college arms, and big-framed high school pitchers.
I still have my personal favorites and I'm sure I'll wind up writing about those guys as well, but I plan to pump out shorter player profiles like this one I did last year for outfielder Ty Moore last spring. The Yankees wound up drafting him in the later rounds but did not sign him. Those shorter posts make it easier to be a little more specific and provide more information about a player while also being easier to reference in the future. Plus there will be more of them; instead of one big post every so often there will be smaller posts regularly. I dunno, maybe I'm wrong, but I feel like getting away from group posts of four of five players in favor of more short, individual player posts is more informative and enjoyable. At least it is on my end.
Anyway, the Yankees have three relatively high picks and a lot of draft pool money available this year. It will also be their last chance to add multiple high-end prospects to the farm system with a single draft for a while. They don't really have any qualifying offer-worth players on the roster scheduled to become free agents in the next few years (outside of Robinson Cano, obviously), so they're stuck with the picks they have. The draft will be fun this season as fans thanks to those three high picks, but its importance to the club can not be overstated. They need to bring in quality and quantity this year.
The only way to start a post like this is with a standard "it's incredibly early in the season" disclaimer. Two games tell us so very little in the grand scheme of things — we would barely pay any attention to a pair of back-to-back losses in June or July — but because they happened at the start of the year it's very easy to look too deep into things. We're baseball starved and we want to see things that aren't there. It's only natural.
That said, the Yankees have had a problem on offense in their first two games. We knew the lineup wouldn't be as potent as it has been in the past coming into the year, and nothing that's happened the last three days makes me think otherwise. Robinson Cano has one single in eight plate appearances but that will change, he's driven a number of balls to the outfield that were reeled in by nice defensive plays. Both Vernon Wells and Kevin Youkilis have shown promising signs and Travis Hafner has a hit in each game, so let's cross our fingers and hope he stays healthy.
The lineup spots that have really killed the Yankees in these last two games are the 9-1-2 spots, the third of the lineup before Cano and the rest of the middle of the order bats. Here's what that threesome of hitters has done in the first two games…
Monday: 2-for-11, 2 BB, 1 K
Wednesday: 0-for-12, 1 BB, 3 K
Total: 2-for-23 (.087), 3 BB (.192 OBP), 4 K
Yeah, that's not going to cut it. I guess the good news is that those three lineup spots have worked the count well — 109 pitches in 26 plate appearances, or 4.2 P/PA — but that's a small consolation prize. I mean, I generally consider it a win when bad hitters see a bunch of pitches and work an at-bat, but that was back in the days when the Yankees had a deep lineup and one black hole wasn't a problem. These days they need some actual production, and a sub-.200 (!) OBP from the three guys hitting in front of Cano won't cut it over any length of games.
Thankfully, this is just two games. Brett Gardner won't have many 0-for-5s like he did yesterday and Eduardo Nunez is unlikely to go 0-for-4 with three strikeouts from the two-hole like he did on Monday very often. The schedule suggests the Yankees will see a ton of right-handed starters over the next two weeks or so, meaning Gardner and Ichiro Suzuki will have an opportunity to settle in and have the platoon advantage for the while. Hopefully that happens. It's not a guarantee but history suggests it will.
The Bombers had an awful lot of trouble scoring runs these last two games (at least until Wells hit that garbage time three-run homer last night) and that woeful production from the 9-1-2 hitters is a big reason why. If Cano and Youkilis aren't getting any opportunities to drive in runs, the Yankees won't score. This isn't a team that can generate offense from the 7-8-9 spots anymore. Hopefully Gardner & Co. get this stuff straightened out and soon, the Yankees will have a real hard time pushing runs across if they don't.
It's only been two games, but the Yankees look about as flat and uninteresting as I can ever remember. It's basically everything that was said about the team during the offseason and Spring Training come to life — the old players look washed up and the young guys aren't really good enough. Two games into the season, the Yankees have scored six runs and surrendered 15.
A Pronk's Bomber
The Yankees tried the small ball/extended rally thing on Opening Day and the result was a non-competitive showing on offense. On Wednesday they got back to doing what they do best, and that's clobbering the ball over the fence for homers. Travis Hafner (solo) and Vernon Wells (three-run) both hit their first homers in pinstripes, though in both cases they were too little too late. The Yankees were down six when Wells hit his off Aceves in the eighth.
Unlike the last … I dunno, 15 years or so, it doesn't feel like the Yankees can score runs at any time this year. The lineup just isn't good enough. In the past they had lineups that were deep with power and patience, but now they have a bunch of slap-hitters in front of Robinson Cano and reclamation projects in the middle of the order. They put the token runner on-base every so often but it never really feels like this lineup is a threat. I dunno, maybe it's just me.
Oh No #HIROK
Losing sucks and all that, but I would gladly trade a loss in the standings for a healthy Hiroki Kuroda. The right-hander looked a little shaky — command wasn't great but he was battling, as usual — before this happened leading off the second: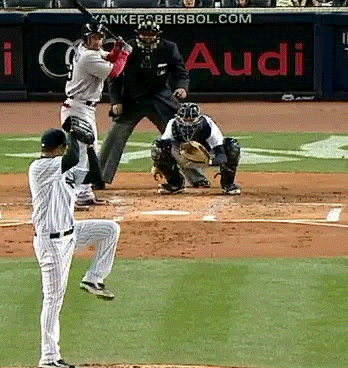 That ball hit Kuroda in the finger tips and forced him from the game with a contusion. He actually stayed in and faced a few more hitters after throwing some warm-up pitches for the trainer, but his command was completely gone and it was obvious something was wrong. Thankfully x-rays were negative and it's just a bruise.
Warren Saves The Day
One of the few good things to come out of Wednesday's loss was Adam Warren's long-relief performance, which if nothing else moved the game along quickly and got it over with at a reasonable time. He allowed two inherited runners to score but spared the rest of the bullpen by throwing 5.1 innings of one-run ball on 86 pitches. Warren allowed five hits and one walk against four strikeouts while showing off a real nice changeup. If Kuroda winds up missing a start due to the finger, Warren put himself in position to enter the rotation. He's been the bright spot of the two-game-old season.
Leftovers
It's pretty silly that the Yankees cut David Aardsma because he couldn't throw multiple innings and instead kept Cody Eppley, who can't get lefties out. Sure enough, Joe Girardi allowed him to face multiple left-handed hitters on Wednesday and the result was multiple runs (three and two, respectively). The game was effectively over once Eppley worked his magic.
How about defense-first catcher Chris Stewart? He let an Eppley pitch get by him to advance a runner and also made an off-line throw to second on a stolen base attempt. To his credit, did he make a great catch along the third base dugout railing and nearly flipped over. That play earned him another ten weeks of playing time, I'm sure. Stewart went 0-for-2 before being lifted for a pinch-hitter and hit one ball to the warning track, which should really count as a homer for him.
Wells actually had three hits, believe it or not. Kevin Youkilis and Eduardo Nunez chipped in two apiece while Hafner and Lyle Overbay each had one hit. The top three hitters in the lineup went a combined 0-for-12 with a walk (Ichiro Suzuki) and a hit-by-pitch (Ben Francisco pinch-hitting for Ichiro). Nunez also drew a walk and committed an error, but it was a tough play. It's easy to pile on him for the defense but he deserves a pass for that one, it was a hard-hit short-hop grounder.
Didn't realize this the other day, but six players made their Yankees debut on Monday. That's the most since the franchise's very first game (!), and I'm talking about 1903 with the Highlanders. Yikes.
Box Score, WPA Graph & Standings
MLB.com has the box score and video highlights, FanGraphs the nerdy stats, and ESPN the updated standings.

Source: FanGraphs
Up Next
The Yankees will try to salvage this sorry excuse of a series on Thursday night, when Andy Pettitte gets the ball against new Red Sox right-hander Ryan Dempster. If you want to catch the game and yell at the players, check out RAB Tickets for some deals.
By

10:50pm: "He's okay. Bruised middle finger," said Joe Girardi after the game. It's still to early to know if he will make his next scheduled start, however. A bruise is good news.

8:28pm: Kuroda has a contusion on his finger and will go for x-rays tonight. So … continue to stay tuned for updates.

7:52pm: Hiroki Kuroda left tonight's game after taking a line drive off his right finger tips. He threw some warm up pitches and remained in the game for a few batters, but he had no idea where the ball was going and it was obvious something was wrong. Stay tuned for updates. · (44) ·
All the pomp and circumstance of Opening Day is over. We're beyond the base line introductions and we've already seen all the new faces in pinstripes, now it's time to get back to the day in, day out grind of baseball. One game after another, day after day. The everyday schedule is both beautiful and without mercy, caring not about bad timing or injuries or anything else. As the old saying goes, playing everyday is both the best and worst thing about baseball.
After facing left-hander Jon Lester on Opening Day, the Yankees will be able to trot out their A-lineup against right-hander Clay Buchholz this evening. Well, at least what's left of their A-lineup anyway. I don't think I'm alone in saying I'd much rather than Travis Hafner and Lyle Overbay in the lineup than Ben Francisco and Jayson Nix. Either way, it's time to #HIROK. Here's the lineup…
DH Travis Hafner
LF Vernon Wells
1B Lyle Overbay
And on the mound is number eighteen, Hiroki Kuroda.
It is brutally cold in New York and I'm not sure how that will impact the game. Maybe the pitchers will have trouble gripping the ball or maybe the hitters will be in agony when they make contact. Who knows. The game is scheduled to start a little after 7pm ET and can be seen on YES locally and ESPN2 nationally. Enjoy.
Derek Jeter Update: The Cap'n did some strengthening exercises and played long-toss in Tampa today, but he hasn't done any running or hitting since receiving a cortisone shot and being shut down with lingering soreness in his surgically repaired left ankle.
By

Via the AP: The Yankees opened the season with a $230.4M payroll, breaking their previous record for the highest payroll in baseball history. "We're the Yankees. We've had a lot of success doing business the way that we do it … Why would you change?" said Mark Teixeira, apparently unaware of his bosses' future plans.

The Dodgers, who opened the season with a $214.8M payroll, were expected to pass the Yankees and claim the highest payroll in baseball this season. Late Spring Training additions like Lyle Overbay and (especially) Vernon Wells pushed New York back on top. The Yankees have something like $91M in players on the DL right now, so that $230.4M payroll isn't reflected in the quality of the roster. You knew that already. At $27.3M, the Astros started the year with baseball's smallest payroll. · (31) ·
By

The Yankees have given Clay Rapada his unconditional release, the team announced. He was designated for assignment on Sunday to clear room on the 40-man roster for Lyle Overbay. The release tells us he cleared waivers.

Rapada, 32, is currently sidelined with shoulder bursitis and as far as I know there is no timetable for his return. The funky southpaw is a true lefty specialist — career .231 wOBA against lefties but .453 against righties — which is an area the Yankees have some depth. I'm guessing the team will at least try to re-sign him to a minor league contract, but who knows how that will go. · (21) ·