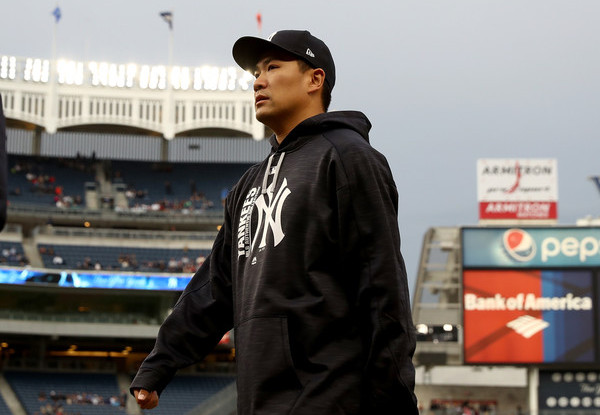 Through the first two turns through the rotation, Masahiro Tanaka has been the Yankees' worst starting pitcher, and I didn't expect to say that at any point this season. Tanaka's last start wasn't truly awful (5 IP, 6 H, 3 R, 3 ER, 4 BB, 5 K) but he still didn't look quite like himself. His location was poor, and hey, Tanaka said he didn't feel right mechanically all throughout Spring Training. We all just kinda brushed it off because he was dominating.
Tonight Tanaka and the Yankees will face the St. Louis Cardinals, who are making their first ever trip to the new Yankee Stadium. The last time they visited New York for an interleague series with 2003, when Tino Martinez returned to the Bronx for the first time since being let go as a free agent. This series is the return of, uh, Eric Fryer? Fryer, the Cardinals backup catcher, is the guy the Yankees got from the Brewers in the Chase Wright trade in 2009. The Yankees later sent Fryer to the Pirates for Eric Hinske at the deadline. So there's your tie-in for the series. Here is the Cardinals' lineup and here is the Yankees' lineup:
Another gorgeous day here in New York. The weather has been great all week. It'll be a bit cold tonight, though the sky will be clear. Pretty much perfect. Tonight's game will begin at 7:05pm ET and you can watch on YES locally and MLB Network nationally. Enjoy the game.