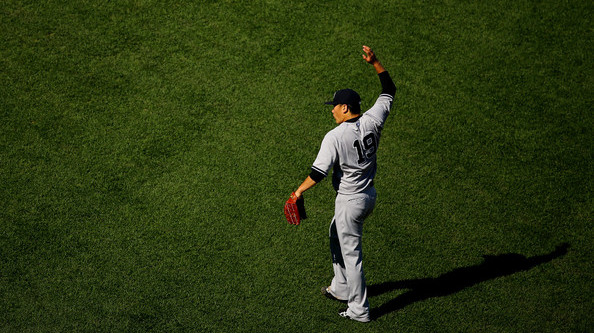 This could be nothing more than the long offseason taking its toll, but I've found myself changing how I feel about the 2015 Yankees on an almost everyday basis. Some days I think they're much improved and in position to contend in the AL East. Other days I think they have no shot whatever. I keep going back and forth. And the thing is, I don't think either stance is wrong.
As presently constructed, the 2015 Yankees could either be very good or bad very. I mean, that's true of every single team every year, breaks go both ways, but I feel these Yankees have a wider ranger of possible outcomes this coming season than any other team in the game. They have so much riding on health and the development of young players, two of the most unpredictable things in the game.
First and foremost, the quality of the rotation depends tremendously on Masahiro Tanaka's elbow and Michael Pineda's shoulder. Those two are the biggest x-factors of the season in my opinion. If they both stay healthy and take the ball every fifth day, the Yankees will be in very good shape. Healthy Tanaka and Pineda are difference-makers and arguably the two best starters in the division.
But, on the other side of the coin, if they both get hurt and miss substantial a amount of time, the Yankees will have a major uphill battle to climb. I won't say it isn't doable — they lost Tanaka and Pineda for extended periods of time last year but were able to keep the rotation afloat thanks to some shrewd pickups — but losing those two guys would take a huge, huge bite out of their chances to contend.
The health concerns extend to the position player side as well. Healthy Mark Teixeira is better than Garrett Jones, but healthy Teixeira is something we don't see much of these days. Health Carlos Beltran is way better than a Jones/Chris Young platoon. Beltran flat out mashed before the bone spur in his elbow gave him problems last May. Teixeira and Beltran are not close to what they were at their peaks but they can still contribute more than their replacements.
And then there are the young players, specifically Didi Gregorius and Nathan Eovaldi. Gregorius is the new everyday shortstop. The Yankees might sit him against the toughest of lefties, but otherwise the job is his. They seem determined to let him sink or swim, and since he's a young player without much of an MLB track record, sinking is more likely than swimming, even with his defense. Being an everyday big leaguer is hard.
Eovaldi is a different story because he's been a full-time big league starter for just about three years now. He's coming over from a pitcher friendly park in the inferior league (come at me, NL diehards) where he had a very good year in 2013 (3.39 ERA and 3.59 FIP) and a not so good year in 2014 (4.37 ERA and 3.37 FIP). The Yankees clearly hope the 2013 version is the real Eovaldi, but until he gets out there every fifth day, who knows?
CC Sabathia has his own health and performance concerns. He had his knee cleaned out in July and is expected to be ready to go come the start of Spring Training. Great! But just how good is healthy Sabathia at this point of his career? He's not an ace anymore, but could he be what Hiroki Kuroda was last year? The veteran guy who goes out and eats innings every fifth day with a league average-ish ERA? That would be a big upgrade over what Sabathia gave the Yankees the last two years.
In my opinion, the Yankees have significantly improved the left side of the infield as well as the bullpen. I also think the farm system is in better shape with more call-up options (Rob Refsnyder, Tyler Austin, etc.) and more trade chips. There are tangible reasons to believe the Yankees will be better in 2015 than they were in 2014. The injury risk really lets a lot of air out of the balloon though. If you could tell me with certainty that Tanaka and Pineda and everyone else will stay healthy, I'd pick the Yankees to win the AL East. But we can't say that with any certainty. Not even close.
I see Tanaka as a microcosm of the 2015 Yankees. He could either win the Cy Young or pitch literally zero innings this coming year. Somehow neither would surprise me. He's a boom or bust player for 2015 and the Yankees are a boom or bust team, a team with some interesting young talent that could take the next step and a team that could be crippled by injuries to veterans.
The worst case scenario for the 2015 Yankees is very bad. Like low-70s win total bad. Maybe worse. The best case scenario is pretty good though. Better than I think they get credit for, maybe something along the lines of 90-92 wins. As the title says, this team has a very big range of possible outcomes, and while it's easy to expect the worst, we should also keep the mind the best case is likely enough to take the AL East.