Got a dozen questions in this week's mailbag and some of the answers are longer than usual. So this is an extra large mailbag. The "For The Mailbag" form is gone from the sidebar and won't return. If you want to send us a mailbag question, email us at RABmailbag (at) gmail (dot) com. The email address is in the sidebar at all times in case you forget.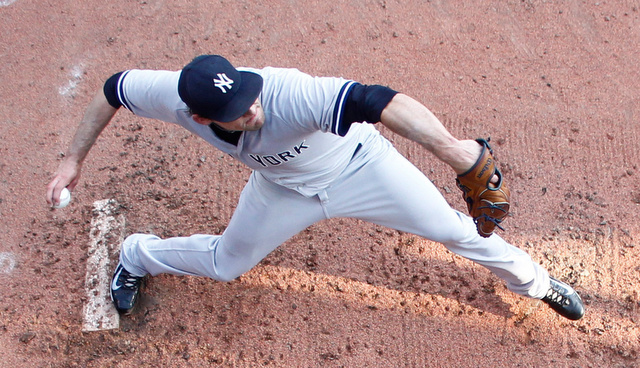 P.J. asks: Do you think there is any chance the Yankees will sign Nathan Eovaldi to an early extension? I know he's under team control through the 2017 season. He's just 25 and pitching extremely well. I would think a early extension say locking up 2 years of his FA through the 2019 season would be good for both parties? Something in the neighborhood of $45 to $50MM over 4 years (2016 through 2019) would seem fair I think.
Yes, I do think there's a chance the Yankees will try to sign Eovaldi long-term this offseason, certainly moreso than Michael Pineda. Nothing personal, just health reasons. I love Big Mike, but man, his injury history is scary. Eovaldi has made some tremendous strides this year and the splitter is a tangible reason for those strides. This isn't a small sample size statistical fluke. He's a different pitcher now than he was even in April thanks to the split-finger pitch.
Eovaldi will have just over four years of service time after this season, so he's two years removed from free agency. Only four starters have signed a multi-year extension at that service time level over the last four years, according to MLBTR's Extension Tracker:
Jordan Zimmermann: two years and $24M
Matt Harrison: five years and $55M, plus one option year
Tim Lincecum: two years and $40.5M
Brandon Morrow: three years and $21M, plus one option year
Gosh, how about that list for some cautionary tales? Harrison, Lincecum, and Morrow all broke down during their contracts — Harrison and Morrow physically, Lincecum performance-wise — and even Zimmermann's performance took a step back in year one. Zimmermann and Lincecum only signed two-year deals that gave their teams cost certainty over their two arbitration years but did not buy out free agent years, and both were elite pitchers at the time.
Those four players really don't help us get a sense of what it would cost to sign Eovaldi, who is probably looking at $6M or so through arbitration after the season. Harrison probably works the best but he was much more effective than Eovaldi at the time of signing his deal — he had a 132 ERA+ in 399 innings in the two years leading up to extension while Eovaldi has a 90 ERA+ in 343.2 innings from 2014-15. Morrow? He bounced back and forth between the bullpen and the rotation, plus he battled injuries.
Eovaldi did not receive a big signing bonus when he was drafted ($250,000 as an 11th rounder) and his $3.3M salary this year is his first significant payday. He might jump at the security of a multi-year contract. The $45M to $50M over four years that P.J. suggested might be a little pricey but I do think it's in the ballpark. Let's say $6M next year (second arbitration year), $9M the year after that (third arbitration year), and then $12M each for the two years after that (both free agent years). That's four years and $39M. Throw in a $1M signing bonus and call it an even four years and $40M. Sound reasonable? Maybe! Something tells me this won't be the last time we discuss an Eovaldi extension.
Adam asks: How many years does a team have control of minor leaguers (International FA/College/High School) before they have to be added to 40-man?
This is all driven by the Rule 5 Draft. Players who have to be added to the 40-man roster but are not are then eligible for the Rule 5 Draft, which means another team can take them and try to keep them on their big league roster all season. Here's what the rulebook says about 40-man roster eligibility:
Players who were 18 or younger on the June 5th preceding their signing get four years before being eligible for the Rule 5 Draft.
Players who were 19 or older on the June 5th preceding their signing get three years before being eligible for the Rule 5 Draft.
It goes by age and signing date regardless of whether the player was drafted or signed as an international free agent. Generally speaking, high school players from the 2011 draft, college players from the 2012 draft, and international players from the 2011-12 signing period have to be added to the 40-man roster this offseason. A few years ago eligibility was pushed back a year — players 18 or younger used to only get three years while players 19 or older got two before being Rule 5 Draft eligible — and that took some of the luster of the Rule 5 Draft. That extra year of control means more suspects are weeded out from the prospects.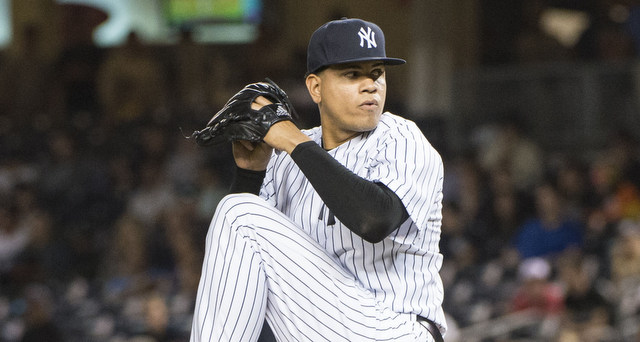 Adam asks: Is anyone talking about or worried about Dellin Betances' workload? On pace for another 87 innings this year. I realize he is a large, strong dude, but he is used quite a lot.
I can't remember seeing anyone talk about it, but yeah, I do have some concern about his workload. Dellin threw 90 innings in 70 appearances last year and is already at 66 innings in 58 appearances this year, so he's on pace for roughly 85 innings and 76 appearances. That's an awful lot of work by today's reliever standards — David Robertson has never made more than 70 appearances or thrown more than 66.2 innings in a season, for example — so of course there is some concern.
Dellin was a starter in the minors, but pitching on a set schedule as a starter and sporadically as a reliever are very different things. Also, Betances has an average Leverage Index of 1.73 when entering games this year, tenth highest among 140 qualified relievers. So it's not just a lot of innings, it's a lot of intense, stressful innings. Dellin has already walked more batters this year than he did last year (27 to 24) and it seems like he isn't as razor sharp as he was a year ago. He's still great! But there have been a few more hiccups this summer. Perhaps that is due to the workload. Betances is awesome and he's a big strong guy, and so far that workload has not stopped him from being elite. Going forward though, it's not unreasonable to be a tiny bit worried.
Nathan asks: What are the chances that Adam Warren could be traded after this season a la David Phelps and paired with a prospect (Rob Refsnyder or Gary Sanchez) for another cost controlled pitcher or infielder? Seems as if the Yankees are dead set on not letting Warren start and another team could probably use that.
I could see it, sure. Warren's a good pitcher but he's not indispensable. As always, it would depend on the return. Phelps and Martin Prado netted them a pretty exciting young pitcher in Eovaldi (plus other stuff), so is another trade like that out there? If so, the Yankees would be foolish not to at least consider it. I do think Warren is pretty valuable to the Yankees though, moreso than Phelps was simply because he's a better pitcher (3.37 ERA/3.77 FIP vs. 4.29/4.15) and more durable. Warren's been completely healthy throughout his career while Phelps has had an arm injury in each of the last four seasons. I think the Yankees would be much more hesitant to part with Warren than they were Phelps. If I were another team though, I'd absolutely try to pry Warren loose this winter and stick him in my rotation.
Todd asks: So after not hitting almost his whole minor league career, I haven't seen Cito Culver's name in a while. Has our former #1 draft pick been released?
Nope, he's still in the system. Culver, who turned 23 on Wednesday, has spent most of the year as the everyday shortstop for Double-A Trenton, though he did also spend some time with Triple-A Scranton when they needed an extra infielder. He went into last night's game hitting .199/.252/.276 (52 wRC+) in 381 plate appearances this year, which is, uh, not good. Culver is a career .227/.306/.312 (80 wRC+) hitter in over 2,600 minor league plate appearance since being the 32nd overall pick in the 2010 draft. Swing and a miss, that pick was. (To be fair, everyone wanted Nick Castellanos with that pick, and he's stunk too, but at least he reached MLB.)
Michael asks: What do you see as Dustin Ackley's role once healthy for September? The playoffs? And for next year?
Same as Garrett Jones, basically. Except I imagine Greg Bird will get any backup first base reps — as well as any big left-handed pinch-hit plate appearances — in September and maybe even the postseason. I guess that leaves Ackley as the fifth outfielder who plays once or twice a week down the stretch, maybe less depending on the various postseason races. Next year could be a different story, especially if the team asks him to work at second base over the winter, which I think will happen. (It's not a new position, he'd just be getting reacquainted with an old position.) I think the Yankees want to turn Ackley into their Brock Holt, the guy who plays semi-regularly to give everyone else a rest. Next year he could see time at second base, first base, and all three outfield spots, maybe starting two or three games a week. Assuming he hits a little, of course. That's a big if.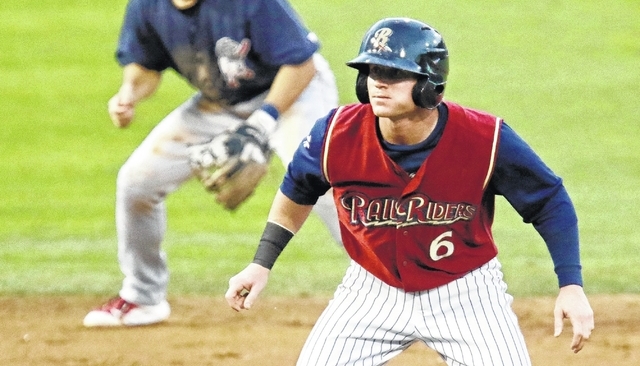 Geoffrey asks: What about Ben Gamel? Aaron Judge obviously attracts the most attention, but Gamel is clearly having a very impressive year in AAA. How do you think he fits into the Yankees' plans? Trade chip?
Gamel's having a fantastic year. A breakout year, really. The team's tenth round pick in 2010 hit .276/.352/.392 (112 wRC+) at mostly High-A two years ago and .261/.308/.340 (80 wRC+) at Double-A last year, but this season he's hitting .304/.360/.474 (140 wRC+) for Triple-A Scranton. Gamel always had a promising hit tool, the question was his power, and it's taken a step forward this season. He went into last night's game with nine homers after hitting two last year and ten total from 2011-14.
The problem with Gamel — this isn't so much a "problem" as it is a set of circumstances — is that he's a left-handed hitting outfielder in an organization loaded with them. The Yankees have Brett Gardner and Jacoby Ellsbury on the big league roster. They also have Mason Williams and Slade Heathcott on the 40-man roster. Both Gamel and Jake Cave will be Rule 5 Draft eligible this winter, so they'll have to be added to the 40-man as well. That'll be six lefty hitting outfielders on the 40-man and at Triple-A or above going into next season. (Easy to see why they could afford to trade Ramon Flores, right?)
That's a lot of one thing. Yes, you need multiple outfielders, but not that many of the same type of outfielder. Gamel is at a disadvantage because he's worst defender of those six lefty hitting outfielders, and also has the least prospect pedigree. My guess is the Yankees add Gamel and Cave to the 40-man in the offseason and look to trade one or even two of these outfielders. Maybe Williams and Cave. Or Heathcott and Gardner. Who knows. The outfield depth is good for the Yankees but bad for Gamel.
John asks: If Major League Baseball was serious about protecting arms, why not expand rosters to say, 30 players? More arms = more rest, less innings from starters, etc.
I don't think rosters will expand to all the way to 30 players — that's a couple extra million bucks the owners would have to fork over in salary, per diem, and travel costs! — but I do think we'll see a 26th man added to the roster reasonably soon. Maybe not this coming round of Collective Bargaining Agreement negotiations (after next season), but perhaps in the next round after that. Adding the 26th man for doubleheaders seems to have been the first step towards increasing the active roster from 25 players to 26. Starters are throwing fewer innings (not just for the Yankees, I mean all around the league) and games are much more competitive because of the league-wide parity, so relievers are getting burnt out. The MLBPA has reasons to push for a 26-man roster beyond the usual "add a roster spot and that's another player making good money" stuff. This could potential keep players healthy and extend careers. That's good for everyone, including fans.
Justin asks: If the Yankees did end up trading for Johnny Cueto or David Price, what would happen if they refused to cut their hair or beard? Their contract with their former teams wouldn't have any appearance stipulations. Would the Yankees really trade a top prospect and then bench an ace over their hair policy?
I'm not sure but they might be able to suspend them for breaking team rules, and suspensions are pretty pricey for guys at that pay scale. There are no appearance clauses in contracts but teams do have rules, some more strict than others. The Yankees have their hair/facial hair policy and require players to wear suits on road trips. Other teams are much more relaxed. Maybe the union could file a grievance over something like this. Not really sure. Sitting out or getting suspended because you refuse to cut your hair or shave your beard wouldn't kill the market for guys like Cueto or Price, but teams and other players would notice. Refusing to conform to team rules gives off a "not a team player" vibe.
Adam asks: Greg Bird to Pirates for Neil Walker. Thoughts?
I think that is fair but I don't think the Yankees would do it, based on the way they held on to their top prospects at the trade deadline. The Pirates need a first baseman — Pedro Alvarez is almost certainly going to be non-tendered this offseason — and Bird would be a great cheap, long-term option for them. Walker is one of the most productive second baseman in baseball, but he'll also be a free agent after 2016, and Pittsburgh has a ton of infield depth, with Jung-Ho Kang, Jordy Mercer, and Josh Harrison at the MLB level plus Alen Hanson in Triple-A.
Both teams would be dealing from a position of strength to address a weakness. The Pirates have a ton of infielders and need a first baseman. The Yankees need a second baseman and have several first base candidates if you include Sanchez and Eric Jagielo. I just don't think the Yankees would trade Bird for one year of the switch-hitting Walker, who went into last night's game hitting .267/.327/.431 (110 wRC+) but has been graded as a below-average defender for years now. Maybe Ivan Nova for Walker works? One impending free agent for another? My guess is the Pirates would balk at a one-for-one deal. Walker's one of the top second baseman in the game and Nova's a good but not great starter.
Andrew asks: So, say the Yankees and Blue Jays end the season tied for the AL East title and the first wild card spot. Is there a one-game playoff to decide who gets which spot or is it decided based on head-to-head record (i.e. 2005 Red Sox-Yankees).
They'd play a tiebreaker game to decide the division in that case. Under the old single wildcard system they would simply use head-to-head record, but, under the current system, they'd actually play a game to decide the division title. (Home field advantage in the tiebreaker game goes to the team with the better head-to-head record during the regular season.) There's a huge difference between winning the division and getting stuck playing in a winner take all wildcard game, and both MLB and the MLBPA don't want that being decided by something as trivial as head-to-head record. So far there's been just one tiebreaker game under the current playoff system: the Rays beat the Rangers in Game 163 in 2013 to decide the second wildcard spot. Here's the box score. Tampa Bay went to the postseason, Texas went home.
Samuel asks: How far ahead are teams made aware of which umpires are calling which games? As a follow up question to that — obviously there are "pitcher's umpires" and "hitter's umpires" is there a place that shows a list of who is most friendly to both?
I'm not sure how far in advance teams are told about the umpire crew. The umpire schedule is presumably set before the season, so there's probably a master list somewhere every team can access. Just a guess. I don't want to spoil much, but I'm working on a post about the strike zone and umpires for CBS, and every player has said their teams have umpire scouting reports available. The pitchers and catchers use them way more than hitters, which makes sense. The hitters don't really seem to worry too much about who is behind the plate. Baseball Savant, which is so good it's intimidating, has an umpire option that allows you to see PitchFX data for umpires. Here's the called strike on pitches out of the zone leaderboard. Angel Hernandez has the highest rate of called strikes on pitches out of the zone this year (6.864%) while Tom Woodring has the lowest (3.879%). Can't say I'm surprised to see Hernandez atop that leaderboard. He's the worst.