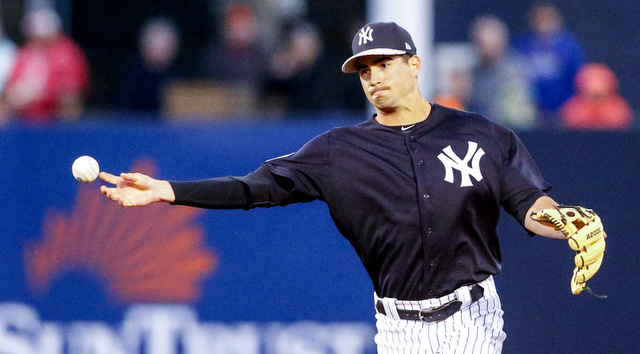 Thanks to Didi Gregorius' shoulder injury, the Yankees suddenly have an opening at shortstop that will last for at least the first few weeks of the regular season. They have a small army of okay-ish fill-in shortstops, and now they have to sort through them and figure out who can best handle the job. Opening Day is only eleven days away now. There's not much time to evaluate.
On the mound this afternoon is Masahiro Tanaka, who is making his fifth Grapefruit League start. He's looked excellent this spring, allowing only three hits and two walks in 13.1 scoreless innings. Tanaka has struck out 19 and is currently riding a 8.2-inning hitless streak. One more out to complete the hidden Spring Training no-hitter. Here is the Phillies' lineup and here are the players the Yankees sent across the bay to Clearwater:
1B Greg Bird
DH Chris Carter
SS Tyler Wade
RF Billy McKinney
RHP Masahiro Tanaka
Available Pitchers: RHP Gio Gallegos, RHP Matt Marsh, RHP Ernesto Frieri, RHP Jonathan Holder, LHP Caleb Frare, and LHP Joe Mantiply are all expected to pitch after Tanaka. It's a Johnny Wholestaff kinda day. Gallegos, Marsh, Frare, and Mantiply are all up from minor league camp. (Gallegos and Mantiply were reassigned earlier this month after being in big league camp.)
Available Position Players: C Kyle Higashioka, 1B Ji-Man Choi, 2B Donovan Solano, SS Ruben Tejada, 3B Pete Kozma, LF Zack Zehner, CF Dustin Fowler, and RF Rashad Crawford will be the second string off the bench. C Radley Haddad, IF Abi Avelino, OF Clint Frazier, and UTIL Wilkin Castillo also made the trip. Zehner, Crawford, Haddad, and Avelino are up from minor league camp for the day.
It's a very pleasant afternoon in Clearwater, the internet tells me. Mostly sunny with temperatures in the mid-70s. Perfect. This afternoon's game will begin a little after 1pm ET. If you're in the Philadelphia market, you can watch the game on TCN. If not, you can watch on MLB Network and MLB.tv, even in the New York market. Enjoy the game.