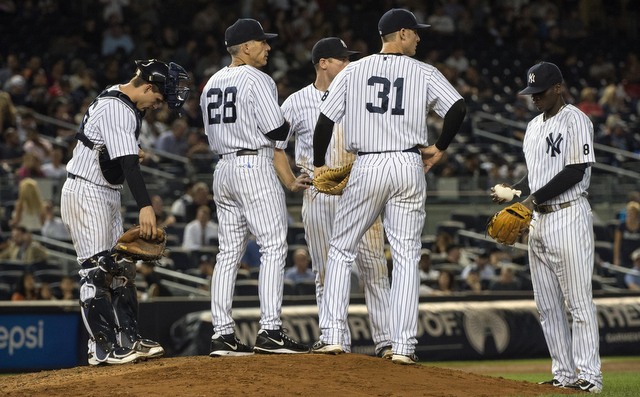 The Yankees are somehow pulling off the ultra-rare combination of exceeding expectations and being a huge disappointment this season. Not many people thought this team would contend coming into the season, yet here they are, on the verge of clinching a postseason spot. A win and they're in. Nice and simple, right?
At the same time, expectations recalibrate, and the Yankees were seven games up in the AL East just two short months ago. That lead vanished in a matter of days, it seemed. The Yankees were eliminated from the division race yesterday and will have to settle for a wildcard spot. I think many of us would have taken a wildcard spot before the season. But in late July? Nah.
The Yankees are playing an awful brand of baseball right now. The rotation is shaky, the offense can never seem to get The Big Hit, and the bullpen has become such a liability that even Dellin Betances blew a lead last night. Nothing is going right at the moment. Nothing other than the new Dustin Ackley/Rob Refsnyder second base platoon, I guess. These last few games have not been inspiring.
The good news is the Yankees have a clean slate coming. The regular season ends Sunday and the postseason starts Tuesday. That's a fresh start. A new beginning. I'm not sure how many years have to pass before it doesn't have to be pointed out that being hot or cold heading into the postseason doesn't matter one bit. Hot and cold streaks are not predictive. Hitting .400 over the last two weeks doesn't mean you'll get a hit tomorrow. (Tom Verducci wrote more on the myth of momentum.)
"We never want to lose," said Andrew Miller to Chad Jennings following yesterday's game. "We don't want to lose one game, let alone two, three in a row, or whatever it is. At the same time, if we take care of business, we get a chance to start anew, and I think that's what we look forward to. Anything can happen once you get there. I've seen it first hand multiple times. I think once you get into it, we've got the team to win games and get hot and take off and play as a unit, and I think that's what's important."
Do I want the Yankees to turn things around and finish the regular season strong heading into the wildcard game? Of course. When you watch them play, there are times you wonder how they're ever going to win again. But look at last night's game — they had 21 (!) base-runners in the first nine innings. That's really good. It didn't lead to a win, but it's a sign of good play. Leaving all the runners on base was ugly, sure, but those base-runners are a huge positive. That's a good sign and it shouldn't be overlooked.
The Yankees are backing into the postseason but hey, that's still the postseason. It's tough to watch and feel good about their postseason chances, that's human nature, but the wildcard game is five days away. Five days is an eternity in baseball. We see it every year — every single year without fail — that the postseason is a clean slate and performance can change in a hurry, for better or worse. The Yankees desperately need that fresh start, and thankfully it is right around the corner.