The Yankees have shaken up their bullpen, at least slightly. Alfredo Aceves has been designated for assignment and Preston Claiborne has been sent down to Triple-A Scranton, the team announced. In corresponding moves, Jose Ramirez was called up and Wade LeBlanc was added to the active roster. LeBlanc was claimed off waivers from the Angels yesterday. The moves leave the Yankees with an open 40-man roster spot.
Aceves had a 6.52 ERA (6.22 FIP) in 19.1 innings during his second stint in pinstripes. He somehow allowed six homers in his last 12 innings. In addition to his bad pitching, I think the Yankees were sick of his attitude as well. Aceves didn't seem to get on the same page as Brian McCann, plus Larry Rothschild had to go out to the mound the other day to tell Aceves to stop throwing inside after giving up a few homers. He's long had some attitude problems.
Claiborne had a 3.57 ERA (3.74 FIP) in 17.2 innings. I think he's going down because the team wants to get a look at Ramirez more than anything. Ramirez had a 0.84 ERA (2.86 FIP) in 10.2 Triple-A innings this year after missing the start of the season with an oblique problem. LeBlanc simple takes over as the veteran journeyman long reliever  Joe Girardi can use and abuse as needed. With the starters struggling to go five innings at times, that's guy is kinda necessary.
The Yankees called up Scott Sizemore and demoted Zoilo Almonte yesterday, and today they shook up the bullpen a little bit. Carlos Beltran is expected to activated off the disabled list either tomorrow or the next day, so there is at least one more change coming. It's not much, but it's better than remaining status quo. Sizemore should be more useful than Almonte, Ramirez could be an impact reliever, and dumping Aceves is a positive almost regardless of who replaces him.
In his first eleven starts of the season, Masahiro Tanaka has been dominant and one of the very best pitchers in all of baseball. I expected him to be very good this year, but not this good. No adjustment period, no bumps in the road, nothing. Even his bad starts are still pretty good. Tanaka's been the rock in the rotation and he's making the Yankees look very, very wise for their much-criticized $175M investment.
In his first eleven starts of the season, Tanaka has faced ten different teams. The only team he has faced more than once is the Cubs of all teams. An interleague rival the Yankees won't see for another three years. There are still seven AL clubs that have yet to see the former Rakuten Golden Eagles ace. The schedule has worked in Tanaka's favor and he's had the element of surprise going for him in all but one of his starts.
Tanaka's worst start of the season was that second game against the Cubs two weeks ago. He allowed four runs (three earned) on eight hits in six innings, the only time he's allowed more than three earned runs in an outing. It was raining for a good chunk of that game remember, and the rain surely could have affected his performance. He didn't look all that comfortable on the mound, I remember that much. That said, the Cubs acknowledged seeing Tanaka once before did help them out.
"If you look at the first game, we were having trouble hitting the ball out of the infield. If a guy is throwing the ball down, you're going to hit a ground ball," said catcher John Baker to David Lennon. "Our goal was, when we get something up in the strike zone, to get a swing off. Whether it's the first pitch or 0-and-2, we were looking more up as opposed to for our pitch. Generally, across the board with the lineup, I think we executed it pretty well."
Tanaka did indeed leave some pitches up in the zone against the Cubs — here is the pitch location for the eight hits, six of which were belt high — and he paid for it. They still couldn't lay off the splitter, swinging at 18 of the 23 he threw, missing nine times. That 50% whiff rate is basically identical to the splitter's 49.2% whiff rate for the season. He just made some bad pitches and he paid for them. That's baseball.
One thing we've seen from Tanaka in his first eleven starts is that he will leave some pitches up in the zone, but he's had a tendency to get away with them. There have been a lot of swing-throughs on handing sliders and just plain old called strikes on pitches up in the zone. Here is Tanaka's pitch location heat map for the season. The darker the red, the more pitches in that particular zone compared to the league average: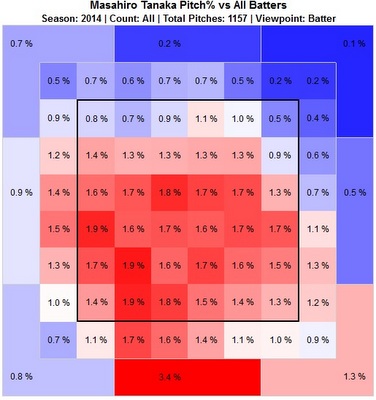 So yeah, compared to the rest of the league, Tanaka has definitely left more pitches basically in the middle third of the strike zone and higher. The PitchFX data backs up the eye test in this case. That many pitches up in the zone is generally a bad idea, but I also think Tanaka's unpredictability — PitchFX says he's thrown eight different pitches this year, including four at least 20% of the time each — allows him to get away with those pitches more often than the average pitcher. I don't know how we could go about investigating that, it's just a thought.
Tanaka will face the Athletics tomorrow, the Mariners next Tuesday, and then the Athletics again the following Sunday, barring rainouts and whatnot. After that, the Yankees play 15 straight games against AL East rivals, teams that have already seen Tanaka once this year. So, after these next two starts against the A's and Mariners, he'll run into a stretch of games against clubs he has already faced. The element of surprise will be gone. Those teams will have a first-hand scouting report and experience seeing him, which tips the scale in the other direction slightly.
Everything in baseball is designed to give the pitcher the advantage. Hitters need four balls to draw a walk but pitchers only three strikes to make an out. The offense needs to travel four bases to score a run yet the pitcher only needs three outs to end the inning. Heck, the pitcher even stands on a mound raised above the rest of the playing field. The pitcher controls the at-bat and it's up to the hitters to first make the adjustment to him, not the other way around. If what worked for Tanaka the first time through the league works again, then he has no reason to change.
If it doesn't work though, I think he has more than enough weapons to adjust and remain a top flight starter. I mean, is Tanaka going to maintain a 2.06 ERA and 2.52 FIP all season? No, probably not. Even in this offensively starved era that is still an unrealistic standard for a guy in a tiny ballpark in the AL East. Tanaka does have two put-away offspeed pitches in his slider and (especially) splitter, plus he's shown he will pitch to both sides of the plate and dot the edges. And the dude has no fear too. That's not nothing. The second time through the league is coming up and it will be a test for Tanaka. He has the tools to succeed though. His success to date is no fluke.
The draft is now just one day away. The three-day event starts tomorrow night with a live MLB Network broadcast of the first 74 picks. That is the first round, the supplemental first round, the second round, and the two competitive balance lottery rounds. I could have sworn only the first and supplemental first rounds were broadcast in the past. Either way, the Yankees have one selection tomorrow night, in the second round (55th overall).
Before we get to the miscellaneous draft links and notes, here's a great piece on former Yankees farmhand Brien Taylor by Andrew Marchand. Taylor, as you know, was the first overall pick in the 1991 draft, but he never reached the big leagues after blowing out his shoulder in a fight. The article is an oral history featuring those involved in the process of drafting and developing Taylor (Gene Michael, Scott Boras, etc.), and they all seem to agree he was the best pitching prospect they've ever seen. Check it out. Now here are the spare links:
The Yankees are bad right now. They weren't bad the whole season. They might not be bad in a week or so. But for the past few weeks they've been pretty bad.
When the going gets rough, people want a shakeup.
"If George were alive [insert desired shakeup here]."
…because George presided over nothing but winning teams, and they definitely didn't build the 90s dynasty while he was out of the picture.
A shakeup sounds great. It means that ownership is taking action to correct a problem. Mistakes were made, and someone is to blame. Someone has to pay.
Where would such a shakeup start with the Yankees?
Brian Cashman? He's the one who built this roster. Why should he get a free pass for its poor performance?
Perhaps Cashman has worn out his welcome with the Yankees. I've always been a fan, but there could certainly be some Stockholm Syndrome aspect to that opinion. But is the time now to fire him?
Absolutely not. What would that accomplish? The draft is tomorrow. The Yankees have spent months preparing. It's not as though you can just let them draft guys and then fire everyone. (Because if you fire Cashman, you fire the entire front office essentially.) They still have to sign those guys.
Hell, when the Cubs finally fired Jim Hendry, they kept him on for nearly a month after making the decision. Why? Because a new general manager — or worse, and interim GM — would probably fare worse than the guy they were firing in dealing with the roster at the trade deadline.
A new GM is rarely, if ever, a savior. He or she might bring a change of philosophy, but it can take years for that philosophy to make a difference on the field. A new GM will not turn around a team that is underperforming.
Cashman's contract is up after this year. If they want to get rid of him, they have the opportunity to do so soon enough. (Although as Buster Olney said on the podcast, there is every indication that the Steinbrenners will opt to bring back Cashman even if the Yankees miss the postseason.)
There is one thing the Yankees can do to shake things up, at least a little bit.
They can DFA Alfonso Soriano.
Getting Soriano at last year's trade deadline worked wonders. He went on an immediate tear, and kept the Yankees relevant for a month longer than they had any business being relevant. But his role diminished early in the off-season, when they signed Jacoby Ellsbury. Unless they traded Brett Gardner, Soriano would have to DH or play out of position. Signing Carlos Beltran meant DH, a non-position Soriano had vocally opposed in the past.
The Yankees have four outfielders once Carlos Beltran is healthy. Both Kelly Johnson and Yangervis Solarte have some experience playing out there, so they can act as emergency options. Zoilo Almonte can come back up at some point and be the fifth outfielder if the Yankees feel they need one.
We know Soriano can go on ridiculous hot streaks. Mike and I discussed that on the latest podcast. But can you really count on that happening this year, given how absolutely terrible he's looked? His lone hot streak this year lasted 12 games, during which he hit four doubles and three homers. In the other 41 games? Nine doubles and three homers.
The Yankees can't exactly afford to wait on Soriano at this point. They need to turn around a stagnant offense. Getting improved production from Brian McCann, Beltran, and Jacoby Ellsbury would help. Keeping Mark Teixeira healthy would help as well.
You know what else would help? Replacing the least productive starter with someone who is potentially very productive*. Replacing Soriano at DH with Kendrys Morales, a process they can start as early as Friday, could jolt an offense that has struggles going on a month at this point.
*Sorry, they're not replacing Jeter. Cry about it if you want, blame everyone for letting it happen. Just understand that you're arguing with reality.
There isn't much the Yankees can do with the current roster. Is there anyone who should be getting less playing time — other than Jeter, who I mentioned, and McCann, who is in a similar position? Brian Roberts? With whom would you replace him, and would it be enough of an upgrade to the offense?
The Yankees lose little by replacing Soriano with Morales. It costs them some money, but there will be a return on that investment.
Like Morales or not, he's the most efficient and potentially effective upgrade at this point.
For the third straight game, the Yankees scored exactly two runs. That's their daily allotment. Two runs certainly isn't enough to beat the high-powered Athletics, who grabbed the series-opener by the score of 5-2 in ten innings on Tuesday night. The Yankees have lost three straight and have scored no more than three runs in all five games on the homestand.
I Guess The Wrist Is Healthy
The Yankees have been without Mark Teixeira for five and a half of their last seven games due to nagging soreness in his surgically repaired wrist. He received a cortisone shot over the weekend, was re-evaluated on Tuesday afternoon, and was back in the lineup Tuesday night. His impact was immediate.
The Yankees used one of their patented "three hits, one run" rallies in the first inning to jump out to an early lead. Brett Gardner singled through the right side of the infield, Jacoby Ellsbury singled on a line drive to shallow left, then Teixeira blooped a single into right to plate Gardner from second. It was the bloopiest bloop that ever blooped. Stayed just inside the line and out of the reach of two fielders. Perfectly placed for the quick one-zip lead.
Then, later in the game after the Athletics knotted things up at one, Teixeira hooked a very poorly located Scott Kazmir fastball into the visitor's bullpen for a solo homer. His team-leading tenth dinger gave the Yankees a 2-1 lead in the sixth inning. The right wrist is the one that hurts, so it shouldn't bother him too much batting right-handed. If it does, you couldn't tell on Tuesday.
Kuroda Parties Like It's April-July 2013
For at least one night, the good version of Hiroki Kuroda returned to Yankee Stadium. The slider was working, the splitter was working, and home plate umpire Chris Guccione had a nice big strike zone. Here's the strike zone plot. That definitely helped. Kuroda allowed just one run — a solo homer by Brandon Moss, which happens — in 6.2 innings of work, though with his pitch count at 93, he could have easily finished the inning. Joe Girardi just didn't want him facing Moss a third time. I don't blame him.
Kuroda allowed only three base-runners all night: a Yoenis Cespedes single in the second, a Coco Crisp walk in the fourth, and the Moss homer in the fifth. Both Cespedes and Crisp were immediately erased by ground ball double plays. Kuroda threw seven of his 93 pitches from the stretch. That's it. He struck out only two but recorded 15 other outs on the infield via pop-ups and ground balls. That's what the good version of Kuroda does, he manages contact well and gets a lot of high-percentage outs on weakly hit balls in play. Does this mean he has turned the corner and will be better going forward? Who in the world knows. Kuroda was excellent on Tuesday. That's all we know.
Don't Do That Dellin
The Yankees had a golden opportunity to tack on another run or two after Dellin Betances struck out Moss to end the seventh inning. Scott Sizemore and John Ryan Murphy singled and walked, respectively, to put runners on first and second with no outs. Brendan Ryan tried to bunt them over, but he fouled a pitch off. For whatever reason, he never tried to bunt again. He struck out, Gardner struck out, and Derek Jeter flew out to end the rally. I don't get it. It's Brendan Ryan. He should be bunting in that situation even with two strikes.
Anyway, the insurance run never came, so Betances went back out for the eighth inning. He started the inning innocently enough with a weak ground out and a strikeout, but then Dr. Dellin showed up and Mr. Betances was nowhere to be found. Betances walked Alberto Callaspo before leaving a total meatball of a fastball out over the plate for Stephen Vogt, who lined a double into the gap to score Callaspo all the way from first to tie the game at two. It was a terrible pitch. After getting three outs on eleven pitches, Betances threw 13 to Callaspo and Vogt. It was the first run he allowed in 9.1 innings and the first non-homer run he allowed in 16.1 innings.
The A's tried to give this game to the Yankees, but the Yankees just didn't want to take it. Not only did they blow that two on, no outs situation in the seventh, but they couldn't get Ellsbury in after he drew a four-pitch walk to leadoff the eighth. Teixeira struck out, Yangervis Solarte grounded out, and Ichiro Suzuki flew out. Ellsbury stole second during Solarte's at-bat — he didn't run earlier because they would have walked Teixeira, and the Yankees need him to hit — and was eventually stranded at third. This goes here.
Leftovers
David Robertson pitched for the first time since his meltdown on Sunday, and, unsurprisingly, he was totally fine. His psyche was not shattered. He threw a perfect ninth inning on 13 pitches. It was Adam Warren's turn to cough it up, however, and he surrendered three runs in the top of the tenth. An absolute missile of a solo homer by Moss to lead off the inning was the only run that really mattered. So, within the last three games, each of Girardi's key late-inning relievers blew up. Maybe throwing multiple innings every other day last month is catching up to them.
Teixeira was the only player in the lineup with two hits. His homer was the only extra-base hit as well. The Yankees have exactly one extra-base hit in three straight games. Gardner, Ellsbury, Solarte, Sizemore, and pinch-hitter Brian McCann had singles. Ellsbury, Solarte, and Murphy all drew walks. Ten base-runners in ten innings is good, right? Michael Kay said a 1.00 WHIP was good during the broadcast.
This was probably the infield's best defensive game of the season. Sizemore made two nice plays (one to turn a double play, one jumping to field a chopper), Ryan made a few nice plays (one jumping to snag a liner), and both Solarte and Teixeira were solid as well. It was really refreshing to see. The infield has been a nightmare this year.
So far this year the Yankees are averaging 3.70 runs per game at home and 4.47 runs per game on the road. That's a pretty huge difference. Maybe they should offer to swap ballparks with the Mets. This offense is much more suited for a large pitcher's park like Citi Field, where hitting for power isn't a thing.
Box Score, WPA Graph & Standings
For the box score and video highlights, head on over to MLB.com. For some other stats, go to FanGraphs. For the updated standings, check out ESPN.

Source: FanGraphs
Up Next
Same two teams on Wednesday night, when the Yankees will look to avoid falling to .500 for the first time since May 13th, after the second game against the Mets. Don't worry, Vidal Nuno will be on the mound. He'll be matched up against Jesse Chavez. Check out RAB Tickets if watching this team on television isn't off-putting enough.
As usual, let's start with some notes:
Triple-A Scranton (7-6 loss to Norfolk)
2B Jose Pirela: 1-5, 1 R, 1 3B, 1 RBI — 18-for-50 (.360) in his last ten games
1B Kyle Roller: 1-4, 1 R, 1 2B, 1 K
DH Corban Joseph: 0-3, 1 R, 1 BB
C Austin Romine: 0-3, 1 K
RHP Zach Nuding: 6 IP, 10 H, 4 R, 4 ER, 0 BB, 2 K, 9/3 GB/FB — 51 of 79 pitches were strikes (65%)
SwP Pat Venditte: 2 IP, 3 H, 1 R, 1 ER, 0 BB, 3 K, 0/2 GB/FB — 24 of 36 pitches were strikes (67%)
On paper, this series looks like it could be a bloodbath. The Athletics are no worse than the second best team in baseball and the Yankees are playing horribly. The offense and defense, specifically. The pitching hasn't been bad, it's just fallen victim to the terrible glovework. Now they have to face the team that has scored the most runs and allowed the fewest runs in baseball? Hide the women and children.
Luckily, they don't play games on paper. That would be pretty boring. I'm not going to lie to you and say the Yankees will be just fine, you aren't stupid, you can see how bleak things look, but anything can happen in one game. That's what makes it fun. Hopefully the Yankees can steal a win tonight and go from there. Here is the Athletics lineup and here is the Yankees lineup:
It was hot and sticky in New York today and it's been raining for about an hour now. They're going to be playing through some slop if there isn't a delay. First pitch is scheduled for a little after 7pm ET and can be seen on YES locally and MLB network nationally, depending on where you live. Try to enjoy.
Roster Moves: In case you missed it earlier, Sizemore has been called up and Zoilo Almonte was sent down to Triple-A Scranton. The Yankees also claimed lefty Wade LeBlanc off waivers from the Angels. He'll report to the team in a day or two, which I assume means the end of Alfredo Aceves.
Injury Updates: Carlos Beltran (elbow) went 2-for-3 with a walk in his second Extended Spring Training game and said he felt fine. He is expected to play again tomorrow, then rejoin the team a day or two later … Frankie Cervelli (hamstring) went 3-for-5 with a double and caught five innings in the same game. He's going to play again tomorrow. [Adam Berry]
Update (6:56pm): Tonight's game will start in a delay, the Yankees announced. No word on a possible start time. The weather is supposed to clear up around 11pm ET though.
Update (7:32pm): Word is the game will start at approximately 8:15pm ET. They're probably going to be playing through some light rain, if true.
Jakson Reetz | C
Background
Reetz is from tiny little Firth, Nebraska, a town with less than 1,000 people. It's about 30 miles outside Lincoln. Reetz is committed to Nebraska and is the best high school prospect the state has produced since former Yankee Buddy Carlyle was drafted in the second round of the 1996 draft.
Scouting Report
Listed at 6-foot-1 and 195 lbs., Reetz is a very good pure hitter, with quick hands and the innate ability to get the fat part of the bat on the ball. He also has a good approach and has shown a willingness to use the entire field. The power is not there yet but figures to develop as he fills out and gets stronger. Reetz's best defensive tool is his strong arm — he pitched in the past and showed a low-90s fastball. His overall footwork and received need work, especially catching high-end stuff. Reetz has above-average speed, so the outfield could be an option if catching doesn't work out. He is also said to be a very intense competitor who plays all out, all the time.
Miscellany
MLB.com, Keith Law (subs. req'd), and Baseball America ranked Reetz as the 40th, 42nd, and 62nd best prospect in the draft class, respectively. Just last week Law said the Yankees are once again targeting high school catchers and mentioned Reetz as a target by name. Their first pick is in the second round (55th overall), so he fits right into that range. Catchers do have a tendency to get drafted higher than expected due to position scarcity, however.
By

Masahiro Tanaka was named the AL Pitcher of the Month for May, MLB announced. He had a 1.88 ERA (2.21 FIP) with a 42/6 K/BB in 43 innings across six starts last month, so it was very clearly deserved. Tanaka's the first Yankee to be named Pitcher of the Month since … Ivan Nova last August. Two in the last four months. Neato. · (6) ·
By

The Yankees have called up infielder Scott Sizemore from Triple-A Scranton, the team announced. Zoilo Almonte was sent down in a corresponding move. Sizemore, 29, has hit .265/.333/.361 (96 wRC+) with the RailRiders this year. The Yankees will face four lefty starters in the next seven games and six lefties in the next dozen games. I'm guessing that's why the righty hitting Sizemore is up.

In other news, the Yankees also claimed left-hander Wade LeBlanc off waivers from the Angels. That's French for David Huff. Michael Pineda was transferred to the 60-day DL to clear a 40-man roster spot. He's already been on the disabled list for a month and just suffered a setback, so yeah. The 29-year-old LeBlanc made a spot start for the Halos the other day (four runs in 6.1 innings) and has a 3.69 ERA (4.46 FIP) in 53.2 Triple-A innings this year. His best attribute is that he's not Alfredo Aceves. I'm guessing Aceves will get the axe when LeBlanc joins the team in a day or two. · (45) ·