Got a dozen questions in this week's mailbag. If you want to send us a mailbag question(s), use the "For The Mailbag" form in the sidebar. If you want to send us links or tips or anything like that, email us directly at riveraveblues (at) gmail (dot) com, especially if you want a reply. We can't reply through the mailbag form. Thanks.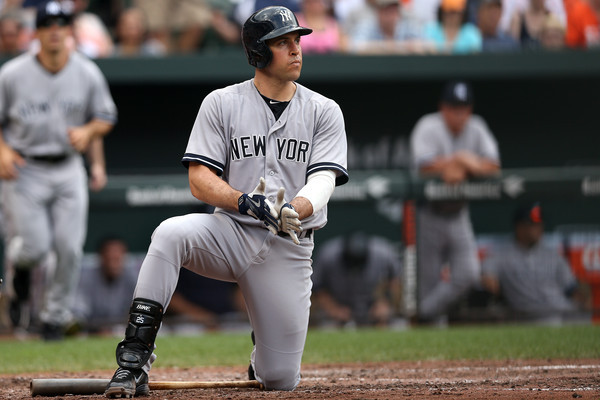 Dan asks: With Mark Teixeira's resurgence this season, any chance the Yankees are able to trade him in the offseason with a year left on his contract, maybe even getting a decent prospect in return? With his defense, plenty of teams would be willing to take a one year flier on him.
I'm guessing a few teams would be willing to take on one year of Teixeira (Mariners? Padres? Tigers with Miguel Cabrera back at third? Athletics? Angels? etc.) but there are two problems with this. One, Teixeira has full no-trade protection thanks to his 10-and-5 rights, so that's an obstacle. Two, does trading Teixeira benefit the Yankees? Maybe they get a decent prospect in return but probably not given his contract. They'd be out their first baseman and best power hitter to save $22.5M, which is not an amount that will hamstring this team. Teixeira has shown he's still a pretty good hitter with a healthy wrist. I'm not sure the trade return would be enough to make it worthwhile. Teixeira seems more valuable to the Yankees in the lineup than as part of a trade, which is not something I thought I would be saying before the season.
Kip asks: Would you actually want all your team playing in the All-Star Game like how the Royals are currently set up or would you want most of your players getting a chance to relax at home and get ready for the second half of the season?
When I was younger I wanted to see every Yankee in the All-Star Game. Even the bench players. Now I want them all home and resting. I mean, yeah, I would have loved to have seen Dellin Betances pitch in the All-Star Game last year, but, in the grand scheme of things, the rest was better for Dellin and the Yankees. I still consider the All-Star Game a fun novelty and yes, I do watch every year, but I'm the point where I don't mind if a Yankee doesn't play. I guess it's a win-win. It's cool if a Yankee gets into the game and cool if they don't.
George asks: Since the AL starting team for the ASG has so many Royals, do they still have to have one player from each team? Maybe we should have a maximum number any one team can send if everyone has to send one? Any minor league player from the Royals going?
Oh yeah, of course they still need at least one player from each team. Each roster is 34 players deep, so even if those eight Royals win the voting and start at their positions, that leaves 26 other roster spots for the remaining 14 AL teams. Close to two per team. And that doesn't even count the guys who are named to the team but replaced on the roster later — pitchers who start the prior Sunday, guys who have to bow out to the injury, etc. Joe Torre used to always take a ton of Yankees to the All-Star Game each year simply because he could. I don't like the idea of putting a limit on the number of players from one team but I could see the argument. Royals fans are voting like crazy. Let 'em have their fun.
Gannon asks: I'm sure they don't keep stats for this, but can you remember an instance when a left handed batter hit a home run off the left field foul pole?
There are no stats for this as far as I know but I do remember this happening once. Well, sorta. Carlos Delgado hit a home run off the very bottom of the left field foul pole at Yankee Stadium back in 2008, but that was before the days of instant replay, and it was incorrectly ruled a foul ball. Here's the video:
After the game home plate umpire Bob Davidson told
Christian Red
: "I —-ed it up. I'm the one who thought it was a —- foul ball. I saw it on the replay. I'm the one who —-ed it up so you can put that in your paper … No one feels worse about it than I do." The Mets went on to win 11-2 (
box score
), so the non-homer call didn't matter. I'm sure there have been other left-handed batters who have homered off the left field foul pole, but I can't remember any.
Tom asks: If Betances does well closing while Andrew Miller is hurt (no reason to think he won't obviously), will Joe Girardi revisit the co-closer idea when Miller comes back? Should he?
I hadn't thought of that and I hope Girardi would revisit the idea. I like the co-closers plan. It seems like a good way to create some bullpen flexibility and get more platoon advantages. At the same time, both Betances and Miller are so insanely good that I'm not sure it would matter much. They both dominate righties and lefties. There is a financial incentive to letting Miller close — more saves for Dellin means larger salaries in his arbitration years, that's just how the system works — and those savings might actually be more valuable than any platoon advantage gained with these two. They're just so good.
Ethan asks: In your opinion, which Yankee starter (including Ivan Nova) has the most trade value?
I'd say Michael Pineda over Masahiro Tanaka for two reasons. One, fair or not, Tanaka's elbow is viewed as a ticking time bomb. Two, Tanaka's got a huge contract that hurts his value even if it is more than fair for a 26-year-old ace. Not many teams can afford him and that would limit his trade market. Pineda is not as good as healthy Tanaka but he is pretty great himself, and he's both substantially cheaper and somewhat less of an injury concern. (I think?) I'd rank the trade value of the starters this way: Pineda, Tanaka, Nathan Eovaldi, Adam Warren, Nova, CC Sabathia. Warren's only been a full-time starter for less than three months and Nova will be a free agent after next season.
Kevin asks: Now, the last time the Yankees drafted a defense-first shortstop in the first round it did not turn out very well. What makes Kyle Holder different than Cito Culver?
Holder is both a way better hitter and defender than Culver. Outside of the position and the reputation for being glove-first players, there's not much of a comparison here. Holder did hit .348/.418/.482 at San Diego this spring and I'm not sure Culver could even do that. He hit .269/.320/.363 in rookie ball, remember. Cito is a really good defensive shortstop but Holder is on another level entirely. He's just several grades better than Culver both at the plate and in the field. I understand why the comparison is being made and I get the skepticism surrounding Holder, but he and Cito aren't all that similar.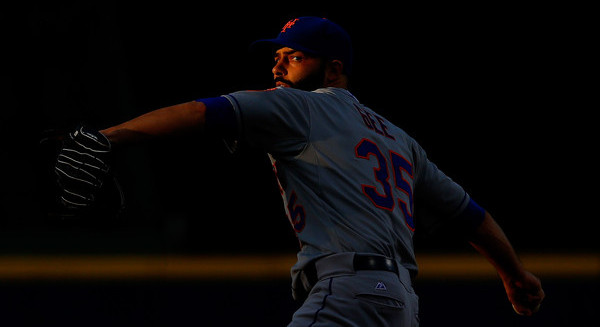 Scott asks: Any reason for the Yanks to take a flier on Dillon Gee?
Other than stashing him in Triple-A for depth — Gee does have at least one minor league option remaining, Mets GM Sandy Alderson said their plan was to send Gee to Triple-A if he clears waivers and they can't work out a trade — not really. Gee has a little more than $3M left on his contract this year but that's not a backbreaking amount to the Yankees. Gee is not very good (5.90 ERA and 4.39 FIP) but on a straight waiver claim, sure, stash him in Triple-A. That said, teams usually don't spend $3M or so for seventh or eighth starters in Triple-A. It's just not realistic.
Dustin asks: How about piggy-backing Warren after Nova for Nova's first few starts back, as he ramps up his innings? That would keep Warren pitching while he's hot and then ease him back into a late-inning pen role, while helping limit the pen usage for Nova's first few starts and not putting too much pressure on stretching him out too soon.
I like the idea. It would keep Warren stretched out so he could easily slot back into the rotation if necessary, and it would effectively be a scheduled off-day for the rest of the bullpen. That said, Girardi would be working with a six-man bullpen the other four days, and you know he'd be itching to bring in Betances and Miller (once healthy) if he as a late lead in a Nova/Warren start. Who could blame him? I'd want to use Betances and Miller whenever possible too. I like the idea of piggybacking Nova and Warren, I just don't think it'll actually happen.
Jim asks: In last week's mailbag you were asked how James Kaprielian compared with Mike Mussina; my question is what is your opinion on how Kaprielian compares with Ian Kennedy and Joba Chamberlain, who were both 1st round college pitching selections by the Y's?
Joba and Kaprielian aren't really comparable. Joba had injury issues in college and his stock was down at the time of the draft — had he been fully healthy at Nebraska he probably would have been a top ten pick. He had nasty stuff, a mid-to-high-90s fastball and that wicked slider to go along with a curveball and a changeup. Joba's stuff was better than Kaprielian's but his command and health lagged. He developed into a top prospect, but, on draft day, Kaprielian was better than Joba.
The Kennedy comparison is much more appropriate but still not perfect. I mean, no comp is going to be perfect, but you catch my drift. Kennedy was a candidate to go first overall heading into the spring of 2006 before he had a subpar junior year. I think their secondary pitches are comparable but Kaprielian had more fastball — he was sitting 93-95 come April this year — while Kennedy had more command. Kennedy had (and still has, really) tremendous command and that's why he was a considered a first overall pick candidate for a while. He's the most appropriate comp for Kaprielian almost by default. I'd take 2006 Kennedy over 2015 Kaprielian. That's just me.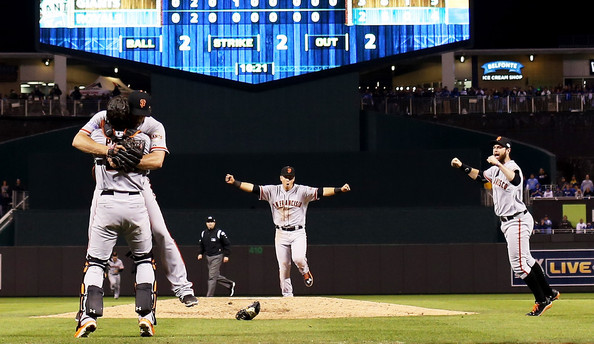 Tamir asks: How can baseball decide which team in the World Series gets home field advantage in a better way? Clearly the current way is not ideal.
I agree. I don't like the All-Star Game determining home field advantage in the World Series at all. The league can either have fans voting for the All-Star Game starters or having the All-Star Game decide home field advantage. Having both doesn't really work. Years ago the AL and NL used to alternate home field advantage in the World Series which was equally dumb, if not worse.
I don't understand why the team with the better regular season record doesn't get home field advantage. Doesn't that make the most sense? If they had the same record, the tiebreaker is head-to-head record during interleague play. If they didn't play during the regular season, the next tiebreaker is run differential. Is that so hard? The team that had the better record in the regular season should get home field advantage in the World Series. That's my take. Problem solved.
Joe asks: What pitcher had the highest game score for the Yankees in 2014? So far this year?
Game Score is a really simple stat created by Bill James that attempts to quantify the quality of a start in a single number. I'm not going to explain the entire calculation — here's the Wikipedia page — but, in a nutshell, it's a points system. Start with 50, add X points for good events (strikeouts, etc.) and subtract Y points for bad events (walks, runs, etc.). The average Game Score is around 50.
Three starts tied for the highest Game Score by a Yankee last season. Here's the full list and here's the top four, via Baseball Reference:
Those were the team's only 80+ Game Scores last year. Only the Nationals (five), Indians (five), Dodgers (four), and Red Sox (four) had more starts with an 87+ Game Score last season. The single best Game Score in 2014 was Clayton Kershaw's 15-strikeout no-hitter at 102. Here's the full list. That would have been a perfect game if not for a Hanley Ramirez error. Womp womp.
As for this season, the Yankees' best start by Game Score is not Pineda's 16-strikeout masterpiece because he did allow a run, and runs are bad. Here's the full list and here are the top five:
The best start by someone other than Tanaka and Pineda this year was Chase Whitley's gem against the Blue Jays — that registered a 72 Game Score. The best start in baseball this season was Max Scherzer's recent 16-strikeout one-hitter, which came in at an even 100 Game Score. Chris Heston's no-hitter and Corey Kluber's 18-strikeout game both check in at a 98 Game Score. I don't think Game Score has a ton of analytical value, but I do think it's useful for something like this, trying to decipher which start was better than another. It's a "for fun" stat.