That was a tale of two games. The first five and a half innings were kinda crummy, then the last three and a half innings were fantastic. A-Rod is now just one away from his 3,000th hit, but, more importantly, the Yankees beat the Marlins 9-4 on Thursday night. They've won two straight.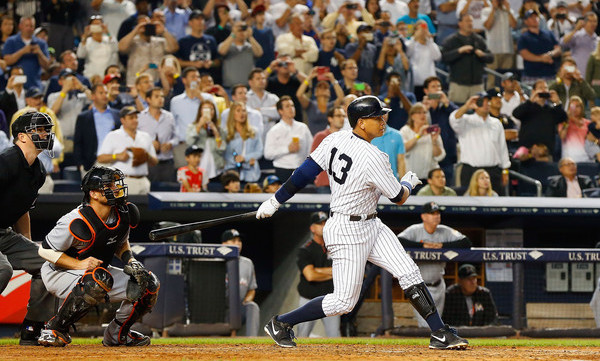 Score Early, Score Often … No Wait, Nevermind
Three batters and nine pitches into the game, the Yankees had three hits and a 1-0 lead. That's always fun. Brett Gardner slapped a single to left, Chase Headley squibbed a single through something resembling the shift, and American Hero Alex Rodriguez drove in the run with a single back up to the middle. Bang bang bang, Yankees lead. They've now scored 62 first inning runs this year, 15 more than any other team.
The Yankees didn't add any more runs in the first inning, however. Mark Teixeira followed A-Rod's single with a deep fly ball, then Brian McCann drew a walk to load the bases (that's good!) for Carlos Beltran (that's bad!). Beltran swung at four identical pitches in the dirt — he fouled one off — and struck out for the second out. Didi Gregorius then popped up on the first pitch to end the inning. Golden opportunity wasted. They also stranded one runner in the second, two in the third, and two in the fifth for good measure.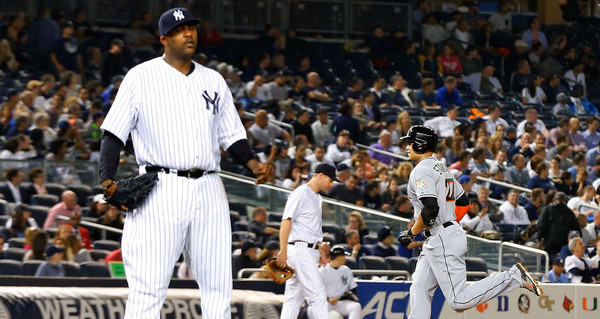 Mistake Pitches
CC Sabathia opened the game with three perfect innings but you could see it was only a matter of time until he got into trouble. He was missing the glove consistently and got away with many mistake pitches. The Marlins really bailed him out with some terrible swings, both on pitches and in and out of the zone. Nine up, nine down was wonderful. But yeah, Sabathia's location was ominous.
The fourth inning started with Dee Gordon's Beltran-aided triple — how in the world do you let someone hit a triple on a soft line drive to right field in this ballpark? — and, two batters later, Christian Yelich tied the game with a run-scoring ground out. A single, a hit-by-pitch, and two fly balls created Miami's second run in the fifth inning. Mason Williams was able to show off his arm on the two fly balls, but he was unable to cut Jeff Baker down at third or at home. Alas.
Following those three perfect innings to start the game, six of 14 Marlins reached base against Sabathia (.429 OBP). One of those six was a Giancarlo Stanton solo homer that wasn't even a bad pitch — it was at Stanton's shins and he golfed it out. Doesn't hurt any less, but Sabathia didn't leave him a meatball down the middle. Stanton's just that good. The final line was three runs on five hits and no walks in six innings. He struck out seven. At this point of his career the Yankees will take that from Sabathia.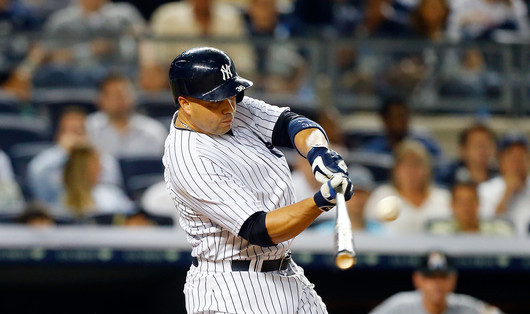 Tie The Game, Take The Lead
The comeback from the 3-1 deficit started with two outs in the bottom of the sixth. Williams ripped a double into the right-center field gap with two outs to extend the inning, then Gardner unloaded on a center cut Mat Latos fastball for a game-tying two-run home run into the bullpen. It was a line drive that just barely cleared the wall. Latos was one out away from completing six innings of one-run ball, but he didn't finish the sixth.
In the seventh, Teixeira sliced a one-out single to left, setting up the rally. Well, it wasn't so much a rally as it was two swings. Ex-Yankee Mike Dunn left a pitch up to Beltran, who hammered a no-doubt two-run go-ahead homer to left field. Beltran has not been good this year and especially of late, and I've been hard on him, but he came through big time right there. The Yankees were #RISPFAILing all over the place earlier in the game and he finally provided the big hit. Good work.
Rather than sit on the two-run lead, the offense broke out in the eighth and hung a four-spot on reliever Sam Dyson. Leadoff walks to Headley and A-Rod put the wheels in motion. McCann singled in one run, A-Rod scored on a wild pitch, Chris Young doubled in another run — he took over as a defensive replacement for Beltran — and Stephen Drew got the fourth run in with a sac fly. That was a fun inning. The 5-3 lead became a 9-3 lead pretty quick.
All A-Rod, All The Time
Boy, did Dyson hear some boos after walking A-Rod in the eighth. Alex singled in the first inning and again in the fifth to get to within one hit of 3,000. He flew out on the first pitch in the sixth, his first shot at the milestone, then walked on four pitches in the eighth. None of Dyson's pitches were close and the Yankee Stadium crowd gave him an earful. Ton of boos. A ton. The kind A-Rod used to hear. Rodriguez will look to pick up his 3,000th hit on Friday night.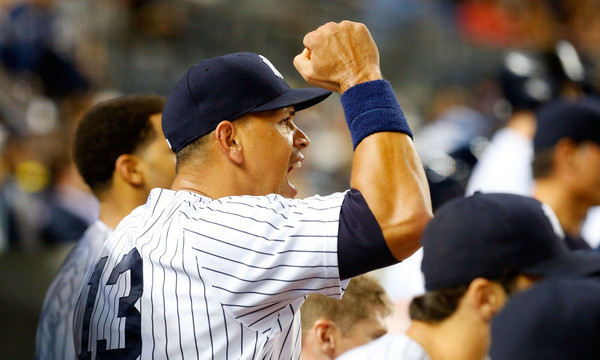 Leftovers
Chasen Shreve and Justin Wilson each allowed one hit in a scoreless seventh and eighth inning, respectively. Chris Martin allowed a run and almost made a real mess of things in the ninth — Gregorius saved his bacon with a great diving stop to get the force out at second — before nailing down the win. The middle relief is not very reliable right now. Shreve, Wilson, and hold on to your butts.
Gardner (single, homer), Headley (two singles), A-Rod (two singles), McCann (three singles), and Williams (two doubles) all had multiple hits. Headley, A-Rod, McCann, Beltran, Drew, and Williams drew walks. The Yankees pounded out season-high 15 hits. They had 17 hits total in the first three games of the series.
And finally, Sabathia did not get the win, but if he had, he would have become the 14th pitcher in history to record a win over all 30 teams. I heard that on the YES broadcast and thought it was neat. Pretty good chance Sabathia never pitches against the Marlins again, so this was probably his last chance to join the club.
Box Score, WPA Graph &  Standings
Here are the box score and video highlights as well as the updated standings. Also make sure you check out out Bullpen Workload and Announcer Standings pages. Here is the win probability graph:

Source: FanGraphs
Up Next
This four-game home-and-home series with the Marlins is finally over. The Tigers are coming to the Bronx next for a three-game weekend series. Adam Warren and Justin Verlander will be the pitching matchup in Friday night's opener. Head over to RAB Tickets if you want to catch that game or one of the many other upcoming home games live.