Only the 2016 Yankees could win two of three and make it feel like a disappointment over and over again. They are now an imperfect 0-7 in the third game of a three-game series after winning the first two. I wonder how long it's been since the Yankees last went an entire season without a three-game sweep? They dropped Sunday's finale 5-0 to the Orioles.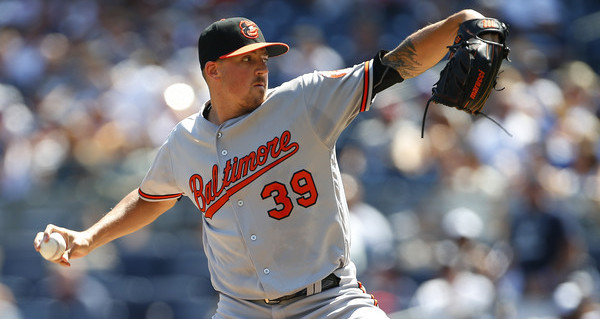 You Can't Win If You Can't Score
Yet again, the Yankees were completely shut down by Orioles righty Kevin Gausman. Fourth time this season. He's held them to three runs total in 27.2 innings this year, which works out to a 0.98 ERA. Gausman has a 4.41 ERA against all other teams. The worst. Here are his four starts against New York:
May 5th at Camden Yards: 8 IP, 3 H, 0 R, 0 ER, 0 BB, 4 K
June 5th at Camden Yards: 6 IP, 7 H, 1 R, 1 ER, 2 BB, 5 K
July 18th at Yankee Stadium: 6.2 IP, 6 H, 2 R, 2 ER, 1 BB, 6 K
August 28th at Yankee Stadium: 7 IP, 7 H, 0 R, 0 ER, 0 BB, 9 K
The Yankees had their best chance to score against Gausman in the fourth inning, when Gary Sanchez and Mark Teixeira opened the frame with consecutive singles. Sanchez, however, got a little overeager and tried to go first-to-third on Teixeira's single to right. Steve Pearce threw him out with an assist from a great Manny Machado tag. Can't make the first out of the inning at third base, Gary.
Didi Gregorius followed with a single of his own, so the first three batters in the inning reached base. A Starlin Castro ground out and a Brian McCann strike out ending the threat. We'll never know how the inning (and the game) would have played out had Sanchez put on the brakes and stopped at second, but man, it does stink to not score after the first three batters of the inning get hits.
The Yankees never threatened much after that fourth inning failed rally. In fact, they only had three baserunners the rest of the way. Ronald Torreyes singled in the fifth, McCann singled in the seventh, and Sanchez doubled in the eighth. Seventeen of the final 20 Yankees to bat made outs. Classic getaway day game by the offense.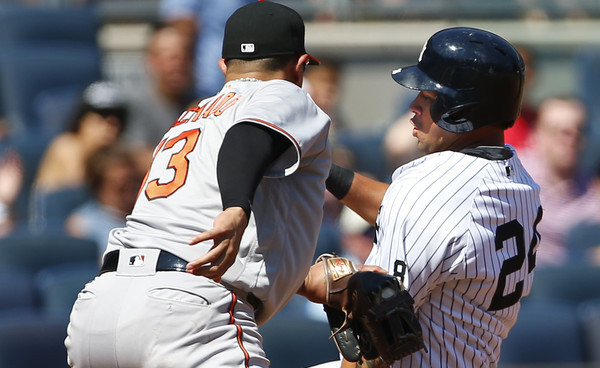 Sabathia's Long Leash
For a while now I've been saying I'd like see Joe Girardi have a shorter leash with CC Sabathia, but it just isn't happening. Coming into this game opponents were hitting .289/.347/.485 against the big man from pitch No. 75 on, yet there he was, out there for 99 pitches as the game slipped out of reach. The O's went 3-for-6 with a walk after Sabathia threw his 75th pitch. Sigh.
The Orioles had no answer for Sabathia through the first five innings. He held them to two singles and a walk in those first five innings, and one of the singles was an infield single. His first mistake came leading off the sixth, when Steve Pearce connected for a solo home run to break the scoreless tie. Sabathia rebounded to finish the inning before the wheels came off in the seventh.
To be fair, the Orioles didn't hit Sabathia hard in that seventh inning. Jonathan Schoop poked a ground ball single the other way with one out, then Nolan Reimold reached on a weird infield single in which Castro went around the baserunner and missed the ball completely. Hard to explain. Just watch: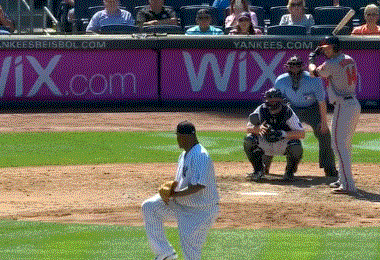 Weird play. That put runners on first and second with two outs. Girardi left Sabathia in to get the left-on-left matchup against Hyun-Soo Kim, who CC struck out twice earlier in the game, but it didn't work. Sabathia walked him on four pitches, loading the bases and ending his afternoon. Adam Warren came in and allowed a two-run single to Pearce to turn a 1-0 deficit into a 3-0 deficit.
Sabathia was charged with three runs on six hits and two walks in 6.2 innings. He did strike out eight. I don't think I would have sent him back out for the seventh given a) his pitch count, b) the Pearce homer in the sixth, and c) the fact he was going through the lineup a third time. This isn't the first time Girardi has left Sabathia in a little too long and watched it result in tack-on runs, and it won't be the last unless he shortens up the leash. CC's days of being a 100+ pitch monster are long over.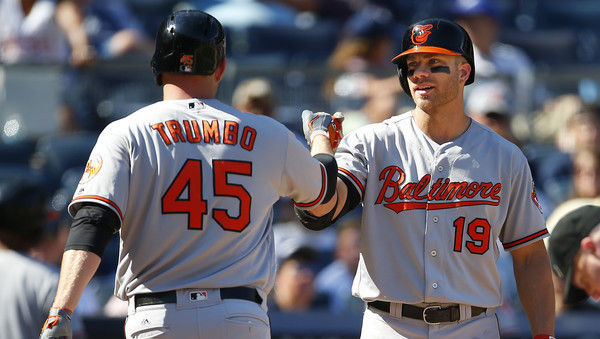 Leftovers
Down three in the eighth doesn't exactly seem like "bring in the rookie to face the middle of the lineup in his second MLB appearance" territory, but Girardi went to Ben Heller in that spot, and sure enough Mark Trumbo took him deep for a two-run homer to make it 5-0 O's. Heller faced six batters and retired two. Blake Parker had to bail him out.
Machado made three great defensive plays in this game. He had the tag on Sanchez in the fourth inning, then he made a diving stop on Castro's hard-hit grounder later in the inning, and then in the eighth he robbed Torreyes with a diving stop. He dove into foul territory and threw across the diamond from his knees. What can you do? Machado's gonna do that.
The Yankees had eight hits total, including two each by Sanchez and Torreyes. They also drew zero walks for the 12th time this season. That's their second highest total of no-walk games this century. (They had 17 in 2013.)
Box Score, WPA Graph & Standings
ESPN has both the box score and updated standings while MLB.com has the video highlights. The Yankees are again 3.5 games back of the second wildcard spot. FanGraphs puts their postseason odds at 5.6% as of this writing. Here are our Bullpen Workload and Announcer Standings pages, and here's the lame-o win probability graph:

Source: FanGraphs
Up Next
The Yankees are off to Kansas City for an important three-game series with the Royals. The two clubs are both vying for the second wildcard spot and have identical 67-62 records. (Kansas City is playing Sunday night though.) Michael Pineda and ex-Met Dillon Gee are the scheduled starters for Monday night's opener.