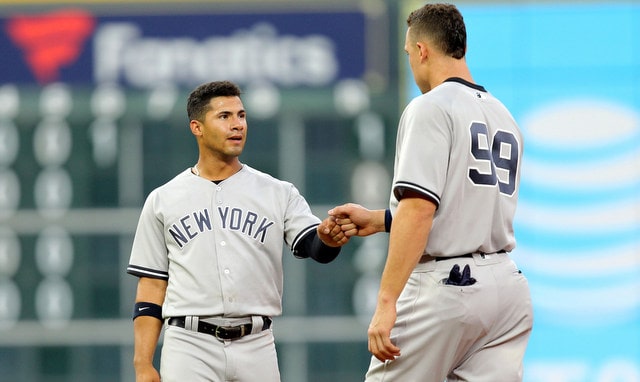 Even with Monday's loss, the first six games of this seven-game road trip have gone pretty darn well for the Yankees. They've won five of the six games so far, including the last two by shutting out the Astros in Houston. They've allowed seven runs total in the six games. Also, the Yankees have not allowed a home run in their last four games, their longest such streak since August 2016.
This afternoon's pitching matchup is a good one: Masahiro Tanaka vs. Lance McCullers Jr. They are the poster children for this new anti-fastball movement that is slowly taking over baseball. Here are the bottom three pitchers in fastball usage since the start of last season:
R.A. Dickey: 16.6% (knuckleballer)
Masahiro Tanaka: 36.0%
Lance McCullers Jr.: 40.5%
Yeah. We might be in for 70% non-fastballs this afternoon, which is fun in its own way. Win the game, win the series. Here are the starting lineups:
New York Yankees
1. CF Brett Gardner
2. RF Aaron Judge
3. SS Didi Gregorius
4. LF Giancarlo Stanton
5. C Gary Sanchez
6. 1B Neil Walker
7. DH Miguel Andujar
8. 3B Ronald Torreyes
9. 2B Gleyber Torres
RHP Masahiro Tanaka
Houston Astros
1. RF George Springer
2. 2B Jose Altuve
3. SS Carlos Correa
4. DH Yuli Gurriel
5. LF Josh Reddick
6. 3B Alex Bregman
7. 1B Marwin Gonzalez
8. C Brian McCann
9. CF Jake Marisnick
RHP Lance McCullers Jr.
It is hot in Houston this afternoon, also cloudy and windy, so the Minute Maid Park roof will be closed. This afternoon's series finale will begin at 2:10pm ET and you can watch on YES locally and MLB Network out of market. Enjoy the game.
Injury Updates: Greg Bird (ankle) will begin playing in Extended Spring Training games Monday. I imagine he'll do that a bunch of times before joining one of the minor league affiliates for an official rehab stint. Bird's timetable is unchanged. He's still looking at a mid-to-late May return … Tommy Kahnle (shoulder, biceps) has started throwing and everything is going well. Adam Warren (lat) is inching closer to playing catch … Tyler Austin is okay after jamming his hip making a diving play last night. He's available today. Aaron Boone said Austin was scheduled to sit against McCullers anyway.