Another riveting night of Yankees baseball, that was. They dropped the series finale — and thus the series — to the White Sox by the score of 5-0 Wednesday night. The Yankees are now 2-5-3 in their last ten series. Both series wins came against the Twins.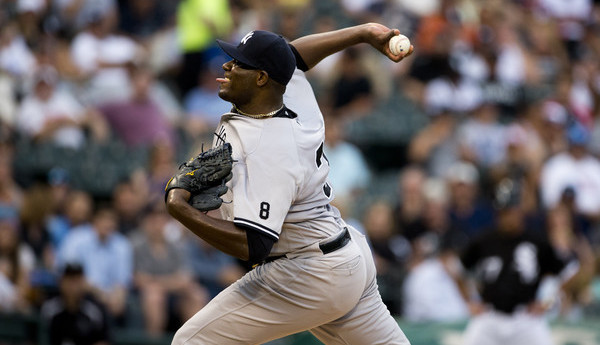 Little Mike
Clutch performance from Michael Pineda, who I presume is on #TeamSell. He pitched well in his last six starts and was starting to turn his season around, but against the White Sox he reverted back to the guy who makes a lot of two-strike mistakes and can't finish an inning. Pineda was charged with five runs in six innings, and four of the five runs scored in the second inning.
That second inning started with two quick outs, naturally. Melky Cabrera popped up and Todd Frazier struck out, then Brett Lawrie totally ripped a single to keep the inning alive bruh. A passed ball and a Dioner Navarro walk put runners on first and second. Avisail Garcia slapped a single through the 5.5 hole to score the first run, then J.B. Shuck dumped a ground rule double to left to score the second run.
Giving up the two runs stinks, though it's not the end of the world that early in the game. Bear down and finish the inning so the offense can do to work, you know? Pineda jumped ahead in the count 0-2 on rookie Tim Anderson, who swings at pretty much everything. Instead of burying a slider in the dirt for the strikeout, Pineda threw it here …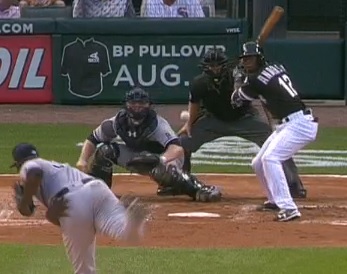 … and Anderson doubled down the line into the left field corner to give the ChiSox a 4-0 lead. Classic Pineda. He gets ahead, puts himself in position to escape the jam, then gives it up. Another bad two-strike slider that gets punished. The White Sox scored their fifth run in the sixth when Starlin Castro bobbled the transfer on a would-be inning-ending double play. So it goes.
To be fair, Pineda retired 13 of the final 16 batters he faced after Anderson's double, so it's not like he completely melted down and let the game get out of hand. If nothing else, he spared the bullpen a bit. Still not a good start for Pineda, who had gotten himself on a bit of a roll of late. This was his last start before the All-Star break, so he's going to have more than a week to think this one over.
Down Four? Ah Forget It
Not a great night for the offense against ex-Oriole Miguel Gonzalez and various relievers, including ex-Yankee David Robertson. Jacoby Ellsbury singled and Brian McCann drew a walk in the first inning, but of course the Yankees didn't get any runs home. It seems like they've been blowing a lot of first inning chances recently, doesn't it? Maybe it's just me.
Anyway, after the White Sox took that 4-0 lead in the second, the offense went into Operation Shutdown mode. They had six baserunners the rest of the game: two hits by Ellsbury (singles), two hits by Didi Gregorius (single, double), and singles by McCann and Castro. That's it. Twenty-one of the final 26 Yankees to bat made outs. The closest thing they had to a rally came in the ninth, and they only had that opportunity because instant replay confirmed Anderson did not step on second while turning a would-be game-ending double play.
Ellsbury and Gregorius both went 3-for-4 on the night. Didi raised his season batting line to .293/.321/.445 (102 wRC+), which is pretty cool. The rest of the offense aside from those two went a combined 2-for-26 (.077) with a walk. The Yankees went 0-for-8 with runners in scoring position. I'm surprised they had eight at-bats in those situations. Sure didn't seem like it.
Leftovers
We got our first look at Nathan Eovaldi, Reliever, and he looked an awful lot like Nathan Eovaldi, Starter. His fastball did average 100.2 mph and top out at 102.4 mph, so that's fun, but he walked two in two innings and ran some long counts, hence 34 pitches thrown. Meh. This was Eovaldi's first relief appearance since his rookie year in 2011.
What else is there to say? I guess that since June 15th, the Yankees have never been more than two games above or below .500. What a boring three weeks. I can't remember the last time a Yankees team was this unexciting. Also, the White Sox are ahead of them in the wildcard race, so this series was an opportunity to gain ground. Nope.
Box Score, WPA Graph & Standings
Go to ESPN for the box score, MLB.com for the video highlights, and ESPN for the updated standings. Also make sure you check out our Bullpen Workload and Announcer Standings pages. Here's the win probability graph:

Source: FanGraphs
Up Next
The Yankees are off to Cleveland to close out the first half for a four-game series with the Indians. The Indians don't have the best record in the AL (still the Rangers), but for my money, they're the best and most well-rounded club in the league. Ivan Nova and Trevor Bauer are the scheduled starters for Thursday night's opener. That's a regular 7pm ET start.