By

Looking for some Saturday morning reading? David Waldstein wrote a great feature on Danilo Valiente, the Yankees' batting practice coach. That's all he does, throw batting practice and soft toss and stuff like that. He joined the staff this season after working down in the minors for several years. The article isn't about his job though, it focuses on Valiente's incredible backstory as a guy who used baseball as a way to cope with the death of his wife, which eventually led to a big league coaching job. It's a fantastic read and gets RAB's highest level of recommendation. Check it out. · (2) ·

Source: FanGraphs
For only the seventh time in 24 games at the new Yankee Stadium (including postseason), the Twins won on Friday night. They took the series opener by the score of 6-1 and frankly I'm amazing the Yankees even scratched that one run across. The offense was non-existent. Let's recap the loss:
MLB.com has the box score and video highlights, FanGraphs some other stats, and ESPN the updated standings. These same two teams will continue this three-game series on Saturday afternoon, when Masahiro Tanaka starts against Kevin Correia. Correia has the highest ERA in baseball (6.34). If they can't win that game, DFA everyone.
Let's start with some notes:
OF Slade Heathcott has been placed on the Double-A Trenton DL with "lower body soreness," according to Mike Ashmore. He was in New York to have his surgically repaired knee looked at yesterday.
3B Dante Bichette Jr. placed 13th on this week's Prospect Hot Sheet. C Gary Sanchez was in the "In The Team Photo" section while 3B Miguel Andujar was in the "Not So Hot" section.
Keith Law (subs. req'd) posted an updated list of the top 25 prospects in the minors. There are no Yankees, either in the top 25 or the honorable mentions. No surprise.
Triple-A Scranton (11-6 loss to Indianapolis)
LF Ramon Flores: 1-4, 1 R, 1 2B, 2 BB, 1 K
1B Kyle Roller: 1-5, 1 R, 1 2B, 1 RBI, 3 K
3B Scott Sizemore: 0-4, 1 K
SS Zelous Wheeler: 2-4, 1 R, 1 2B, 1 RBI — 10-for-34 (.417) with two doubles and two homers in his last five games
DH Corban Joseph: 2-4, 1 RBI, 1 BB — 7-for-14 in his last four games
C Austin Romine: 0-4, 1 BB, 1 K
RHP Joel De La Cruz: 4 IP, 5 H, 5 R, 3 ER, 3 BB, 1 K, 1 WP, 1 HB, 7/3 GB/FB — 46 of 86 pitches were strikes (53%) … 81/27 K/BB in 60.2 innings this year
RHP Diego Moreno: 1 IP, 5 H, 6 R, 6 ER, 2 BB, 0 K, 1 WP, 2/1 GB/FB — 17 of 32 pitches were strikes (53%)
SwP Pat Venditte: 2 IP, 1 H, 0 R, 0 ER, 0 BB, 1 K, 2/2 GB/FB — 16 of 25 pitches were strikes (64%)
Maybe it's just me, but that road trip seemed to last forever. I dunno, it was only nine games, yet it felt much longer. Whatever. The important thing is that the Yankees are once again back home in the Bronx, starting a three-game series against the Twins tonight. They've dominated Minnesota over the years and it would excellent if that continued this weekend. It would be nice to see the Yankees get on something of an extended roll, win seven of nine or nine of 12, something like that.
Here is the Twins lineup — ex-Yankee Eduardo Nunez is starting … at DH! — and here is the Yankees lineup:
It is cloudy and cool in New York right now, and there is some rain in the forecast later tonight. Nothing too heavy. Seems like they'll be able to play through it. Either that or there will be a slight delay. First pitch is scheduled for a little after 7pm ET and you can watch on YES. Enjoy the game.
The Yankees open their three-game series with the Twins in a few hours, but first here are some more injury updates courtesy of Bryan Hoch, Chad Jennings, and Jeff Roberts:
Carlos Beltran (elbow) took batting practice on the field today and felt no discomfort. It seems increasingly likely he will avoid surgery. Beltran will need to play in some minor league rehab games before rejoining the team. He won't do anything more than DH at first.
Shawn Kelley (back) threw his first bullpen session since hitting the disabled list today and everything went fine. He'll need a minor league rehab outing or two before rejoining the club.
CC Sabathia (knee) will visit the doctor today and they'll determine the next step in his rehab process. Joe Girardi said everything is going well so far.
Even as the Yankees struggled last season, their dominance over the Twins remained. They took five of seven from Minnesota and have won 72 of 94 games against the Twins during the Ron Gardenhire era, including the postseason. Four of those 22 losses came against peak Johan Santana. Gardenhire's team is in the Bronx for a three-game weekend set.
What Have They Done Lately?
The Twinkies lost a close game to the Rangers yesterday afternoon and have dropped two in a row. They've also lost six of their last seven games. Minnesota is 24-27 with a -27 run differential overall, which has them sitting right smack in the middle of the AL Central.
Offense
Despite one of the highest walk rates in baseball (10.1%), the Twins are a slightly below-average club offensively, with a team 95 wRC+ and an average of 4.24 runs per game. They are currently without OF Sam Fuld (87 wRC+) long-term due to a serious concussion, but otherwise Minnesota is perfectly healthy on the position player side.
As always, Gardenhire's lineup is built around 1B Joe Mauer (96 wRC+), who had the tools of ignorance taken away this offseason in an effort to keep him healthy. 2B Brian Dozier (122 wRC+) has been very good (11 homers and 12 steals) and the catching platoon of C Yosmil Pinto (120 wRC+) and C Kurt Suzuki (114 wRC+) has been excellent. 3B Trevor Plouffe (108 wRC+) has had his moments and OF Josh Willingham (147 wRC+ in limited time) is just returning from a wrist injury. SS Eduardo Escobar (134 wRC+) has been awesome since taking over as the starter a few weeks ago.
OF Aaron Hicks (74 wRC+) stopped switch-hitting like four days ago and is still going through the adjustment of facing right-handed pitchers as a right-handed batter. OF Jason Kubel (83 wRC+) got off to a crazy start but has really cooled off of late. OF Chris Parmelee (62 wRC+), OF Oswaldo Arcia (108 wRC+), and IF Danny Santana (151 wRC+ in limited time) are also on the roster. Oh, and they're carrying UTIL Eduardo Nunez (82 wRC+) too. He's on outfielder now. Yep, playing left field. How about that?
Pitching Matchups (Pitcher GIFs is still down for whatever reason)
Friday: LHP Vidal Nuno (No vs. MIN) vs. RHP Ricky Nolasco (vs. NYY)
The Twins spent a lot of money this winter to improve their rotation, and most of that money went to the 31-year-old Nolasco. He signed a four-year deal worth $49M. The early returns: a 6.12 ERA (4.67 FIP) in ten starts and 60.1 innings. Ouch. Nolasco has a very good walk rate (2.39 BB/9 and 6.0 BB%), but he isn't missing bats (5.97 K/9 and 15.0 K%), getting ground balls (41.7%), or keeping the ball in the park (1.49 HR/9 and 12.7% HR/FB). Lefties (.431 wOBA) are hitting him hard and righties (.358 wOBA) aren't being so kind either. Nolasco is basically a kitchen sink guy these days. He throws upper-80s/low-90s two and four-seam fastballs, an upper-80s cutter, low-80s changeups and sliders, an upper-70s splitter, and a mid-70s curveball. Seven pitches. The cutter and changeup are show-me pitches more than anything, but he uses the other five regularly.
Saturday: RHP Masahiro Tanaka (No vs. MIN) vs. RHP Kevin Correia (vs. NYY)
Correia, 33, is the prototypical Twins pitcher in that he doesn't strike anyone out (5.04 K/9 and 12.6 K%). It's amazing a pitcher can have a strikeout rate that low. Then again, Correia has a 6.34 ERA (3.86 FIP) in ten starts and 55.1 innings, so it's not like it's working either. His walks are low (2.11 BB/9 and 5.3 BB%) and he hasn't had any homer problems (0.81 HR/9 and 6.0% HR/FB) despite a low ground ball rate (42.2%). He actually has a reverse split so far this season: righties have a .373 wOBA while lefties are at .340. Correia is another kitchen sink guy, and believe it or not, he uses his upper-80s two-seamer, four-seamer, and cutter fewer than 40% of the time combined. A hard upper-80s slider is his top pitch, and he'll also throw mid-80s changeups and mid-70s curveballs. I get the sense PitchFX might be misclassifying some of his cutters as sliders.
Sunday: RHP Chase Whitley (No vs. MIN) vs. RHP Phil Hughes (vs. NYY)
After years of watching Hughes give up dingers and struggle to put hitters away, we'll finally get to see how the other half lives. Hughes, 27, has actually been very good this year, with a 3.23 ERA (2.61 FIP) in ten starts and 61.1 innings. His strikeout (7.34 K/9 and 19.8 K%) and ground ball (32.6%) rates are right in line with his career norms, but he isn't giving up as many homers (0.59 HR/9 and 4.7% HR/FB). Spacious Target Field certainly has something to do with that (1.9% HR/FB at home, 8.9% on the road). The biggest improvement in Hughes' game is his walk rate. He always limited walks, but now he's taken it to the extreme: 0.88 BB/9 and 2.4 BB%. Phil hasn't walked a batter in his last 44.2 innings (!), a span of 125 batters. His streak of six straight walk-less starts is the longest in baseball since Stephen Strasburg also went six straight back in 2011. Go figure. Righties (.353 wOBA) have hit him much harder than lefties (.232 wOBA) so far. Hughes has always been a tinkerer and he again changed his repertoire this year, bringing back his upper-80s cutter and shelving his low-80s slider. He'll throw a few mid-80s changeups and mid-70s curveballs per start, but for the most part it's straight heat, low-90s fastballs in the zone. What do you think, two runs in seven innings or seven runs in two innings? I feel like there's no middle ground. Hughes will either dominant on Sunday or get hammered.
Bullpen Status
Gardenhire quietly has a strong back end of the bullpen, led by closer LHP Glen Perkins (1.33 FIP). He might be the second best lefty reliever in baseball behind Aroldis Chapman. Top five for sure. RHP Casey Fien (2.41 FIP) has been very good in a setup role and LHP Caleb Thielbar (3.63 FIP) gets the call to face the toughest left-handed batters.
RHP Jared Burton (5.62 FIP) is having a terrible year after being very effective the last few seasons. RHP Anthony Swarzak (3.17 FIP) is the long man while perpetual Twins RHP Matt Guerrier (2.93 FIP) and LHP Brian Duensing (4.62 FIP) round out the rest of the bullpen. Duensing, Swarzak, Fien, and Guerrier all pitched yesterday and Guerrier has pitched in each of the last two days. Check out our Bullpen Workload page for the status of the Yankees bullpen, then check out Twinkie Town and Aaron Gleeman's Blog for everything you need to know about the Twins.
With the amateur draft less than one week away — international free agency is a month away and the Yankees will reportedly spend some serious money — it's time to check in on the current state of the farm system. The top 30 prospects, specifically. The system overall has bounced back well from that nightmare last year, when almost everything that could go wrong did go wrong. All three 2013 first round picks hit the disabled list before playing their first pro games, for example.
Anyway, because the minor league season is only two months old, there isn't a ton of difference between this list and my Preseason Top 30 Prospects List. Players may move a spot or two, but that's nothing really. There aren't many big climbers or fallers, though I will say there is more movement in this year's pre-draft list than there has been other years for a few reasons, including injuries. As always, this list is my personal preference and you are very welcome to disagree. The cool thing about prospects is that there is no right way to rank them, so no one's wrong. It's a balance between potential and probability, and people value those things differently.
The only player to graduate to the big leagues from the preseason list is LHP Vidal Nuno. The rookie limits are 50 innings or 130 at-bats, so if you're above that, I don't consider you a prospect. That's a convenient enough cutoff point. Several other players dropped off the preseason list for different reasons, including OF Zoilo Almonte (numbers crunch), RHP Jose Campos (another elbow injury), and LHP Nik Turley (arm problems). The ages listed are as of today, and the levels listed are the player's current level. Away we go:
Read More→
Only six questions for you this week, but they're good ones. Remember to use the Submit A Tip box in the sidebar to send us anything at anytime.
Paul asks: Dellin Betances: All-Star?
At this point in time, I say yes on merit and no on actually getting elected to the game. Among the 108 relievers who had thrown at least 20 innings going into yesterday's game, Betances ranked first in strikeouts (51), second in strikeout rate (44.9%), and second in FIP (1.02). Wade Davis ranked second (40), first (44.9%), and first (0.94), respectively. Betances has legitimately been one of the five or ten best relievers in baseball this season and that makes him All-Star Game worthy in my opinion.
Non-closing relievers get elected to the All-Star Game every year — Brett Cecil and Jesse Crain went just last year, for example — but it's usually only one or two (not including the final vote). Remember, Red Sox manager John Farrell is filling out the AL roster this year after the players have their vote, and the manager tends to take his own guys. Joe Torre did it all the time in the late-90s and early-2000s. Would the Red Sox manager take a Yankees middle reliever over one of his own guys like Junichi Tazawa or Koji Uehara? Probably not. Betances has been awesome and I think he belongs to be in the All-Star Game, but belonging there and getting there are two different things.
Matt asks: Can you see the Yankees letting David Robertson walking at the end of the year and giving Betances the closer job?
Yes, I could, but the problem is that they'd still have to replace Robertson. Sure, Betances takes his role as the closer, but the Yankees would still be letting an elite reliever walk. Robertson is replaced as closer, but who replaces Betances as the middle innings fireman? Maybe someone like Danny Burawa or Mark Montgomery or Jose Ramirez could step up and do the job, but until they get a chance, we don't know how much they can really help.
The Yankees have done a very good job of fielding a quality bullpen on the relatively cheap over the years, and letting Robertson walk as a free agent and saving $10-12M a year to spend elsewhere makes sense. At the same time, Robertson just turned 29 and he hasn't had any arm problems in his career. He's a strikeout machine who has proven he can handle high leverage spots in New York. It's tough to let that guy walk, isn't it? If he's demanding Jonathan Papelbon money, then yeah, maybe let him walk. But if they can get Robertson to come back on a three-year deal worth that $10-12M per year (Rafael Soriano money, basically), I think they should do it. This isn't like letting Joba Chamberlain or Luis Ayala walk.
Travis asks: What about Raciel Iglesias? What are the scouting reports on him?
Iglesias, 24, defected from Cuba over the winter and is throwing a showcase for scouts in Haiti today, according to Joel Sherman. Sherman says teams view the right-hander as a bullpen arm who could help as soon as the second half of this year (he was a reliever in Cuba). Here's some more from Ben Badler:
Major league scouts (and Baseball America) have been able to see Iglesias pitch in person outside of Cuba twice this year. At the World Baseball Classic in March, Iglesias pitched at 88-92 mph. When Cuba visited the U.S. in July for a five-game friendship series against the U.S. College national team, Iglesias looked more impressive, throwing 92-95 mph while varying the speed and shape of his sweepy 76-81 mph breaking ball to get swings and misses.

…

"I think he's a guy that, as he gets bigger and stronger, could be in the mid-to-upper 90s," said Team USA coach Jim Schlossnagle, who is also the coach at Texas Christian. "He's lean, has a ridiculously loose arm and pounded the strike zone. I was glad they didn't pitch him more. He was the guy where you're like, 'Let's find a way to get a lead before they get to this guy.'"
Badler says Iglesias stands 5-foot-11 and 165 lbs., so he's a skinny little guy. You can see that in the video above. I've also seen his name spelled Raciel, Raicel, and Rasiel, so we don't even know how to properly spell the guy's name at this point. There isn't much information about him available. Sherman is well connected though, and if he hears that teams think Iglesias could help in the bullpen later this year, then it's probably true. I assume the Yankees will do their due diligence — they can use another reliever, but that's true for every team — but I haven't heard anything specific about their level of interest. Same goes for every other team for that matter.
A different Mike asks: Should the Yanks see if they can nab Wandy Rodriguez? He was recently designated. I don't know if I'd give him a major league deal but a minor one for certain.
Yeah, there's no way I'd give Wandy a big league contract at this point, but there's no harm in a minor league deal. The Pirates ate about $5.5M in salary by cutting him — yet they won't call up Gregory Polanco because they're worried about a similar amount of money three years into the future, but I digress — so no one will claim him off waivers and take on that money. Rodriguez will eventually be released and free to sign with anyone.
Before getting designated for assignment, the 35-year-old southpaw had a 6.75 ERA (7.32 FIP) in 26.2 innings. He also gave up ten homers (!) and has been dealing with on and off elbow problems the last two years. Wandy's numbers against lefties haven't been all that good either, so it's not even like there is reason to think he could help as a situational reliever. There's no harm in giving him a minor league deal just to see if something clicks, but I don't see how an AL East team could stick this guy on their active roster right now.
Nik asks: Question about Extended Spring Training games. Just who exactly is left down in Tampa to play these games? We hear about rehabbing players going to ExST and playing and how that doesn't count toward their return countdown. Are these like practice squad players?
Extended Spring Training is basically Spring Training for the two short season leagues. It's similar to regular old Spring Training in that there are daily drills and games against other ExST teams. They travel to the other complexes in Florida and everything. The games are not official though, they're basically scrimmages. From what I understand they are open to the public too, you can just walk in and watch.
The players in ExST are the guys under contract with the team who have not been assigned to one of the full season minor league affiliates. SS Thairo Estrada is in ExST right now. So are RHP Ty Hensley and OF Leonardo Molina, for example. ExST ends when the short season leagues start in late-June (so when Short Season Staten Island and the Gulf Coast League Yanks begin play) and the players who do not get assigned to a minor league affiliate at that time are released or hidden on the phantom disabled list somewhere. It's pretty much exactly what it sounds like, a continuation of Spring Training, only with minor leaguers.
Ryan asks: After seeing what Babe Ruth's paycheck was it has me curious. If Ruth were say a 28 year old free agent today, what type of deal do you think he would sign? Money and years.
Here is Ruth's paycheck, if you miss it floating around the internet the other day (I did). He was paid $7,685.23 twice a month (MLB players are paid on the 15th and 30th during the season, so today's payday), which works out to $104,709.93 in 2014 dollars according to the CPI Inflation Calculator. That puts his annual salary at $1.25M or so in 2014 dollars, which is nothing by MLB standards. Baseball salaries have increased at a rate greater than general inflation.
Ruth was 32 years old in 1927 (the date on the paycheck) and was still a marvelous hitter, hitting his career-high and then-record 60 homers that season. Here is what Ruth did through his age 28 season:
| Year | Age | Tm | Lg | G | PA | R | H | 2B | 3B | HR | RBI | BB | SO | BA | OBP | SLG | OPS | OPS+ |
| --- | --- | --- | --- | --- | --- | --- | --- | --- | --- | --- | --- | --- | --- | --- | --- | --- | --- | --- |
| 1914 | 19 | BOS | AL | 5 | 10 | 1 | 2 | 1 | 0 | 0 | 0 | 0 | 4 | .200 | .200 | .300 | .500 | 49 |
| 1915 | 20 | BOS | AL | 42 | 103 | 16 | 29 | 10 | 1 | 4 | 20 | 9 | 23 | .315 | .376 | .576 | .952 | 188 |
| 1916 | 21 | BOS | AL | 67 | 152 | 18 | 37 | 5 | 3 | 3 | 16 | 10 | 23 | .272 | .322 | .419 | .741 | 121 |
| 1917 | 22 | BOS | AL | 52 | 142 | 14 | 40 | 6 | 3 | 2 | 14 | 12 | 18 | .325 | .385 | .472 | .857 | 162 |
| 1918 | 23 | BOS | AL | 95 | 382 | 50 | 95 | 26 | 11 | 11 | 61 | 58 | 58 | .300 | .411 | .555 | .966 | 192 |
| 1919 | 24 | BOS | AL | 130 | 543 | 103 | 139 | 34 | 12 | 29 | 113 | 101 | 58 | .322 | .456 | .657 | 1.114 | 217 |
| 1920 | 25 | NYY | AL | 142 | 616 | 158 | 172 | 36 | 9 | 54 | 135 | 150 | 80 | .376 | .532 | .847 | 1.379 | 255 |
| 1921 | 26 | NYY | AL | 152 | 693 | 177 | 204 | 44 | 16 | 59 | 168 | 145 | 81 | .378 | .512 | .846 | 1.359 | 238 |
| 1922 | 27 | NYY | AL | 110 | 496 | 94 | 128 | 24 | 8 | 35 | 96 | 84 | 80 | .315 | .434 | .672 | 1.106 | 182 |
| 1923 | 28 | NYY | AL | 152 | 697 | 151 | 205 | 45 | 13 | 41 | 130 | 170 | 93 | .393 | .545 | .764 | 1.309 | 239 |
Bold means he led the AL, bold and italicized means he led all of MLB. Take a second to fully grasp how dominant a hitter Ruth was. Defense is irrelevant at that point. He could have sat in a lawn chair in the outfield and been the best player in the game, which he clearly was.
Anyway, Ruth had a 231 OPS+ in his first four years in pinstripes. Miguel Cabrera had a 177 OPS+ in the four years before signing his record extension this spring. (We can't really compare raw homer totals given the difference in eras, but Ruth hitting 40+ in the 1920s is far superior to Miggy hitting 40+ these days. Ruth out-homered entire teams back in the day.) Cabrera's deal was ten years and $292M total, the extension plus the two years left on his current contract. He wasn't a free agent on the open market, so there no bidding war to drive up the price.
Having just completed his age 28 season, I think Ruth would wind up getting something like 12 years and $396M ($33M per year) these days. That's nothing more than my guess, we're in uncharted territory here. Ruth was far and away the best player in baseball and I think that would result in far and away the richest contract in sports history. Remember how Alex Rodriguez's contract with the Rangers shattered records (the second largest sports contract at the time was Kevin Garnett's $126M deal)? I think that would happen again today if 28-year-old Ruth hit free agency in today's market. It would be unlike anything we've seen before.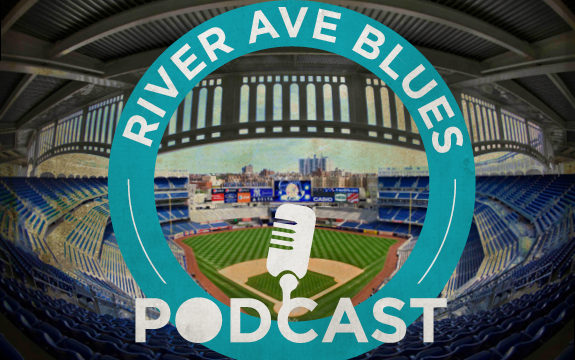 Guest: Brandon Warne of the St. Paul Pioneer Press. He's also on a Sunday radio show with Jack Morris, which is pretty cool. We're talking about the plucky Twins, just three games under .500, and the familiar faces we'll see this weekend.
Jay and I are, of course, discussing the successful road trip, including the recent series win against the Cardinals. We do bring up Cliff Lee, of course. I don't think I mentioned him in the previous podcast…
Admin note: For consistency's sake, we're going with a Tuesday and Friday show schedule.
Remember to email in your questions before Friday's show (recorded Thursday night), podcast at riveraveblues.com.
You can also give us a call us at 716-393-5330 and leave a voicemail. We'll play it on air and answer it. It'll feel more radio-like that way.
Podcast: Play in new window | Download (Duration: 45:59 — 21.1MB)