Now that Masahiro Tanaka is officially a Yankee, we can finally stop talking about what it will take to land him and begin to focus on how he might actually … you know … pitch next season. Novel idea, I know. Unfortunately scouting reports and NPB stats don't tell us much about how Tanaka will handle the transition from NPB to the AL East, nevermind the cultural change and all the off-the-field stuff he'll have to deal with. It can be overwhelming.
Most reports have indicated Tanaka will be a number two starter in the big leagues and that means … I don't know, really. Aces are pretty easy to identify; they're the guys who have strung together a few years of truly elite production*. Justin Verlander, Felix Hernandez, Clayton Kershaw, guys like that. You can see them a mile away. They're in their own little world. Number twos are a little different, they're a notch below the aces but still among the top 25-30 starters in the game. At least that's what I think.
* That "strung together a few years" part is important in my opinion. It's possible for a pitcher to have a random ace-like season (Esteban Loaiza!) but the true aces are the guys who do it year after year.
A few days ago Dan Szymborski (subs. req'd) ran Tanaka through his ZiPS system to come up with a projected performance over the life of the seven-year contract. Projections are not predictions, they're just an estimation of a player's true talent level. There's wiggle room in each direction and that is especially true when talking about a pitcher making the transition from NPB to MLB. Here's what the system spit out: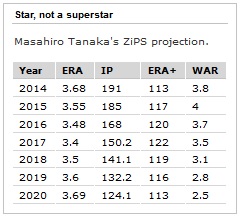 Let's focus on 2014-17 since Tanaka can opt-out after the fourth year. They're the only guaranteed years of the contract. ZiPS has Tanaka sitting in the 3.5-4.0 WAR range during those four years, averaging 3.8 WAR per seasons. Pitchers who have averaged roughly 3.8 WAR per year from 2011-12 include Kris Medlen, Jhoulys Chacin, Kyle Lohse, Zack Greinke, and Doug Fister. Those guys feel like number twos right? They were among the top 25 pitchers in baseball by WAR over the last two seasons, so they fit what we talked about a paragraph or two ago.
I suspect the general sense will be that Tanaka did not live up to expectations if he manages a 3.68 ERA and 3.8 WAR next season, but I think that would actually be pretty awesome in his first year stateside. ZiPS projected Yu Darvish for a 3.62 ERA and 4.5 WAR two years ago, a bit better than his actual 3.90 ERA and 3.9 WAR. The system was in the ballpark, at least. If Tanaka finishes with, say, a 4.00 ERA and 3.0 WAR in 2014, it would still be pretty good but I think most would say he failed to meet expectations, fair or not.
The projections shouldn't be taken to heart, obviously. It is an objective measure based on historical data though, and that's better than guessing, which is what we'd be doing otherwise. If Tanaka lives up to the projections and gives the team something close to 4.0 WAR during the first four years of his contract, he'll have more than lived up to the contract. If he settles in as a 3.0 WAR pitcher instead, that'll be fine too. Maybe not what we all expected but not bad by any means.
By

Left-handed pitching prospect Omar Luis was arrested for driving under the influence in Tampa early Friday morning, reports the Tampa Tribune. It took two police cars to pull him over after he drove the wrong way down not one, but two one-way streets. He registered a 0.102 blood-alcohol level compared to the 0.08 legal limit. Luis was released after posting bail.

The Yankees signed the 21-year-old southpaw in July 2012 for $2.5M, their final big money international signing before the new spending restrictions were implemented. He originally agreed to a $4M bonus, but it was reduced after something popped up in his physical. Luis defected from Cuba two years ago and made his pro debut in the Rookie Level Gulf Coast League last summer. DUI is very bad and hopefully he is punished accordingly. · (33) ·
By

As the title says, the Yankees have traded left-hander David Huff to the Giants for cash considerations, the team announced. Huff, who had a nice late-season run in a swingman role, was designated for assignment earlier this week to clear a 40-man roster spot for Masahiro Tanaka. Cash is better than nothing, which is what the team would have gotten had he cleared waivers and elected free agency. · (21) ·
By

MLB.com released their list of the top 100 prospects in baseball yesterday, a list that was predictably topped by Twins OF Byron Buxton. He's the clear number one prospect in the game right now. Red Sox SS Xander Bogaerts and Cardinals OF Oscar Taveras round out the top ten. Nearly one-quarter (23, to be exact) of the players on the list belong to the Red Sox, Astros, or Cubs. That seems like a lot.

The Yankees had two players make the top 100: C Gary Sanchez (47th) and OF Mason Williams (75th). RHP Masahiro Tanaka is technically a rookie/prospect, but he was ineligible for list given his already lengthy pro career. Ditto White Sox 1B Jose Abreu. Jim Callis said he would have ranked Tanaka somewhere in the 4-7 range had he been eligible. MLB.com's list is always off the beaten path a bit and that's not a bad thing; different opinions are good. I'm not sure if we'll see Williams on another top 100 list this spring though.

The top 100 link includes a scouting report and video for all 100 prospects, as well as a breakdown of the top ten prospects by position. Sanchez ranks fourth among catcher and 1B Greg Bird is seventh among first basemen. There's also a companion piece looking at the best individual tools among the various prospects. · (18) ·
When the Yankees agreed to sign Masahiro Tanaka to his massive seven-year contract, it eliminated any small remaining chance they would stay under the $189M luxury tax threshold this coming season. Their payroll currently sits around $204M and, based on their Opening Day payrolls over the last three years, it appears they have another $10M or so to spend. Once you're over the threshold, might as well go way over, right? Fill out the rest of the roster as needed.
As Joe mentioned earlier, the Yankees were predictably connected to free agent shortstop Stephen Drew less than two days after the ink dried on the Tanaka contract. Jon Heyman had the news:
The Yankees are now considering free-agent shortstop Stephen Drew, which could potentially put another dent in the rival Red Sox's up-the-middle alignment only weeks after the Yankees signed Boston star center fielder Jacoby Ellsbury.

There has been a thought the Yankees might be willing to keep spending after landing star Japanese free agent pitcher Masahiro Tanaka. But while there doesn't seem to be a push for another top starter or reliever, Drew is one free agent the Yankees are at least weighing, according to people familiar with their thinking … Although the Yankees apparently aren't quite a bottomless pit of cash, a possible run at Drew "depends on the price" according to a person familiar with their thinking.
This makes sense, right? The Yankees have an obvious need for infield help and Drew is substantially better than any other free agent infielder left on the market. Agent Scott Boras has indicated Drew is willing to play somewhere other than his natural shortstop position according to Peter Gammons, which is good because Derek Jeter isn't going to change positions. I know it, you know it, and the Yankees know it. It ain't happening.
Now, just a little more than 14 hours after Heyman's initial report, Buster Olney reported this:
Am told Yankees are still not weighing a run at Stephen Drew. In other words: Status quo.

— Buster Olney (@Buster_ESPN) January 24, 2014
Ken Rosenthal backed up Olney's report, saying "sources say team essentially has reached spending limit" while noting a more likely move is a trade involving players with similar salaries, like Ichiro Suzuki for a reliever (J.J. Putz?).
The whole "sources say team has interest in a player, team then denies report and interest in a player" routine is so very common during the offseason. Both sides, the club and the player (and his agent), want to control information. Agents will float reports about teams being interested in their players even if they aren't just to drum up some leverage. Teams will deny interest in a player even if they want him because they don't want other clubs to get involved and potentially drive up the price.
We see this all the time and it's possible (if not likely) that neither Heyman and Olney (and Rosenthal) is wrong. The Yankees could indeed have interest in Drew and be denying it at the same time. They may want to keep things quiet so the Red Sox stay out of the mix. It's also possible Boras leaked a fake rumor as a way of creating the appearance of a bidding war in an effort to coax every last dollar out of Boston. This isn't some kind of crazy conspiracy theory. This stuff happens all winter and especially with rivals like the Yankees and Red Sox.
Teams and agents manipulate the media in an effort to control information and, for the most part, fans eat this stuff up because we love talking about potential roster moves and playing GM. At the same time, all the conflicting reports are just awful. The 24-hour news cycle is really second-by-second, given me updates in real time news cycle nowadays, so every little blurb finds it's way onto the web and in front of fans. It's exhausting. It really is.
It makes perfect sense for the Yankees to have interest in Drew following the Tanaka signing. It also makes sense that Boras would try to use them as negotiating leverage against the Red Sox. I don't know what to believe and this is the aspect part of the offseason.
Only one spot remains on the Yankees' bench, and chances are it will go to an infielder. With five outfielders already under contract, and with a questionable infield situation, the Yanks can use any reinforcements they can get at this point. Eduardo Nunez just isn't going to cut it.
A few decent infielders remain on the free agent list, though Stephen Drew stands out as the greatest potential upgrade. He bounced back nicely last year after suffering a rough ankle injury that kept him out for much of 2011 and 2012. Now a free agent, he has seemingly few landing spots. The Yankees remain a logical match.
According to Jon Heyman, the Yankees are indeed internally discussing Drew as an option. Their chance of landing him "depends on the price," but now that they're over $189 million that price matters at least a little less than it did earlier this week.
As a Yankees official said earlier this winter, "We either have to be under $189MM or up over $200MM or more." According to Cot's the Yankees figure to be just a hair under $200 million right now, in terms of actual 2014 payroll (the benefits portion of the luxury tax pushes them over). Given that they've started every season since 2008 over $205 million in actual payroll, they should certainly have some room.
How much will Drew help? Two factors make him a bit more valuable to the Yankees than straight WAR. First is the team's potential need at shortstop, not just this year but next year as well. If Jeter can't cut it, they probably don't want to fall back on Brendan Ryan as an every day guy. If Jeter is done after this year, Drew becomes even more valuable since he can man shortstop everyday in 2015.
Mike mentioned the second factor in his reflection on the Tanaka signing. A win might be going for $6 or $7 million on the open market, but where the Yankees stand right now each additional win is worth so much more since it brings them closer to the postseason. There isn't any other player on the market that can more dramatically tip the scales for the Yanks.
Drew does come with his negatives. Most notably, as Mike mentioned when making the case for Drew, he isn't rated very high defensively, and he doesn't hit lefties well at all. With Jeter around, the Yanks can mitigate the latter. One point Mike didn't mention was Drew's extreme home/road splits in 2013 (.687 OPS on the road and .859 at home), but it's not as though Drew's moving from Fenway to PETCO. Yankee Stadium is plenty hitter friendly, and as Mike noted it might suit Drew's swing very well.
As of right now, it appears Drew has few options. The Mets think he's too expensive and only want a one-year deal. If that's the case, we can rule them out because both the Yankees and the Red Sox would offer a similar deal. Then again, the Yankees might not be willing to spend that kind of money.
That would be a mistake. The Yankees have an opportunity to strengthen one of their weaknesses, adding valuable wins in their quest for a postseason berth and World Series Championship No. 28. They're already over the luxury tax, and there appears no way they'll slide under it next year or any time in the near future. Why not go all out at this point?
Eleven questions and eleven one-paragraph answers this week. You can send us mailbag questions or anything else using the Submit A Tip box in the sidebar.
Dan asks: Doesn't it make a lot of sense for the Yankees to go after Francisco Rodriguez? He'd provide a power arm for the bullpen (which clearly still needs one or two more pieces). He has closer experience if Robertson doesn't work out.
Rodriguez, 32, didn't sign until the middle of April last year, remember. He did pitch better in 2013 (2.70 ERA and 3.65 FIP) than he did in 2012 (4.38 ERA and 3.83 FIP), so maybe that means he won't have to wait as long to find a new team this offseason. K-Rod still misses plenty of bats (10.41 K/9 and 28.0 K% in 2013) but he's also become way more fly ball (only 36.4% grounders) and homer (1.35 HR/9 and 15.2% HR/FB) prone in recent years as he's lost velocity. He's not the elite, shutdown reliever he was as recently as 2011 anymore, but Rodriguez is still a solid bullpen arm who can help the Yankees. They might be wary of his off-field issues though.
David asks: Now that the Yankees have signed Masahiro Tanaka, are they more free to trade Ichiro Suzuki? I thought they might hold onto Ichiro long enough for him to help with the sales pitch, but they really need an OF who can hit the ball out of the park now and then. On the days Beltran plays the OF and Jeter plays SS, would Ichiro be the current option at DH?
I don't think Ichiro was ever part of the sales pitch to Tanaka — if we was, we haven't heard anything about it — and they were always free to trade him. It just seems like there are no takers, even if the Yankees eat some salary. The bench right now looks really awful (Frankie Cervelli, Brendan Ryan, Ichiro … Scott Sizemore?) with no one who can be used as a pinch-hitter or anything like that. Beltran and Alfonso Soriano figure to split DH and right field, but on the days one of them sits, it'll be Ichiro who plays. That's not ideal. I'd like to see an actually hitter on the bench, someone who can run into a fastball or at least get on-base at a decent clip.
Sam asks: We see Robinson Cano get 10/240, Clayton Kershaw land 7/217, and Tanaka (without an MLB pitch to his name) get 7/155. Is there a point, in your opinion, where we hit a ceiling of what an MLB player is being paid, or are we looking at $500+ million dollar contracts down the road?
This isn't an MLB only thing, though MLB salaries have inflated more rapidly than the rest of the working population's. It's only a matter of time before we get a $500M+ contract and I bet it'll happen sooner than we expect, maybe within the next 20 years or so. Heck, there will be a point where the average annual salary in the U.S. is $500M, but that won't happen in our lifetimes. As long as the union stands its ground and does not allow a salary cap, MLB salaries are only going to continue going up. It's the way of the world.
Kevin asks: Do you think last year's three first round draft picks and the planned spending frenzy in international free agency can lead to the Yankees' farm system being decent and (dare I say it) maybe even good? I know they won't have a first round pick this season, but it's not like you are completely missing out on talent if your starting your draft in the second round.
To steal a phrase from Hubie Brown, there is a lot of upside potential in the Yankees' farm system this year. They're adding what amounts to four first round talents in Eric Jagielo, Aaron Judge, Ian Clarkin, and Ty Hensley, who is due to return from his hip(s) surgery. Manny Banuelos will also return from Tommy John surgery to give the system a boost. International guys like Abi Avelino and Luis Severino will have a chance to improve on last year's success as well. Just based on the guys already in the system, there's a lot of potential for a big step forward in 2014. Every team has a handful of guys who could really awesome if they stay healthy and take a step forward and yadda yadda yadda, but I feel like the Yankees have more than the average team.
Dan asks: Will the failure to achieve $189m put away all talk of getting under for the foreseeable future? Or every offseason from now on will the Yankees consider $189m as a possible offseason strategy to evaluate each year?
Given all the long-term commitments they handed out this winter and the fact that Alex Rodriguez's salary will be back on the books next year, I don't see how the Yankees could get under the luxury tax threshold in the future. My real quick math already has the 2015 payroll at $152.1M for only eight (!) players, and that's with two above-average producers (David Robertson and Brett Gardner) heading for free agency and needing to be either re-signed or replaced. The Collective Bargaining Agreement expires after the 2016 season and I have to think the luxury tax threshold will rise at that point. There's too much money in the game to keep it at $189M; they might have to bump it up to $200M or even $210M.
Uke asks: Now that the Yankees have gone over the $189 million goal, why don't they offer Ervin Santana and Ubaldo Jimenez one-year contracts with the stipulation that they won't make a qualifying offer next year?
The Collective Bargaining Agreement says you can't sign a player and promise to not make the qualifying offer in the future, though I'm not sure how they'd go about enforcing that. I'd love to see Ubaldo fall into their laps in March, similar to what happened with Kyle Lohse last year, but I'm counting on it. I wouldn't be surprised if he signed this weekend. Adding another starter, even someone like Bronson Arroyo, to knock the internal guys down a peg would be awesome in my book, but the infield and bullpen have to be the priorities right now.
Dustin asks: Should the Yankees put a claim on Brayan Villarreal if he falls to them? He walks way too many, but his strikeout propensity would do well in low-to mid-leverage innings, kind of like how Joba Chamberlain was used of late.
The Red Sox designated the 26-year-old Villarreal for assignment a few days ago after an ugly season in which he walked nine and struck out six while allowing ten runs in 4.1 big league innings. His 2.67 ERA (3.17 FIP) in 42.1 minor league innings looks great, but he also walked 30 batters (6.4 BB/9 and 16.5 BB%). Villarreal had a strong 2012 season with the Tigers (2.63 ERA and 2.98 FIP in 54.2 innings) but he's a classic hard-thrower who has no idea where the ball is going. Very similar to Brian Bruney when the Yankees signed him. All you can do with a guy like that is hope he irons out his command for a long stretch of the season. The Bombers need bullpen help but they don't have room for Villarreal on the 40-man roster and I'm not sure if he's worth clearing a spot for.
Charley asks: Do you think now that the Yankees got Tanaka that Vidal Nuno has a leg up on the fifth starter spot since he is a lefty? Joe Girardy typically likes to split his lefty/righty pitchers and now they have only one lefty in CC Sabathia.
In a perfect world, the Yankees would have more than one left-handed starter because of Yankee Stadium's short right field porch and the various power lefty bats in the division (David Ortiz and Chris Davis, primarily). I don't think it's a requirement though. At this point the team needs to just assemble the best pitching staff it can regardless of handedness. If Nuno wins the fifth starter's spot in camp, great. If it's David Phelps or Adam Warren, well that's okay too. To answer the question, no, I don't think Nuno's handedness gives him a leg up on the competition. I think they'll give the job to whoever impresses the most.
Paul asks: Let's play glass-half-full for a moment and assume that Michael Pineda is healthy and producing in ST and gets the #5 rotation slot. Phelps would almost certainly go to the BP. What about Warren and the other #5 competitors? Are they too similar in the roles they would fill to go with him?
I think both Phelps and Warren would go to the bullpen in that case, one as the long man and one as a more traditional short reliever. Warren was the long man all last year while Phelps did the short relief thing in September after returning from his forearm injury. It's possible one would go to Triple-A to remain stretched out as the sixth starter, but I think both would wind up working in relief given the state of the bullpen. Using both as multi-inning middle relievers (rather than a long man and a one-inning guy) would be pretty neat. It would obviously be awesome if Pineda showed enough to win a rotation spot in camp. That would really create some roster options for the Yankees.
Tucker asks: In the past with these ST starter competitions, we've seen the Yankees seemingly give one candidate a leg-up. I think this year we could see that happening with Pineda. Do you agree, or do you think that a different starter fits that role better?
The Yankees have definitely held some rigged Spring Training competitions over the years, most notably the fifth starter competition in 2010 (Phil Hughes over Joba) and last year's catching competition (Chris Stewart over everyone). If it does happen with the fifth starter's spot this year, I think Phelps would be the guy with the advantage given the last two years. That's just a hunch though. Pineda is coming off two lost years and might need more time in Triple-A to shake the rust off. As I mentioned before, I honestly think this competition will be more legitimate — whoever pitches the best in camp will win it. Of course, Spring Training competitions don't end in Spring Training. If the fifth starter doesn't perform well early on, someone else will take his spot. The team has enough candidates that they won't have to live with a poor performing fifth starter for more than a few starts.
Kyle asks: Do you see the Yankees re-signing Brian Cashman or will they let someone else take the role as GM, like Billy Eppler?
I wrote this post about the future of the front office two years ago, after Eppler was officially named the assistant GM. It seemed like the Yankees were setting up a line of succession — Eppler spends three years learning the ropes as the assistant before taking over as GM when Cashman's deal was up. Cashman would presumably be moved to some kind of president or director or chairman or whatever role. The Indians (Mark Shapiro and Chris Antonetti) and White Sox (Kenny Williams and Rick Hahn) have both made similar moves in recent years. I still expect something like that to happen. Ownership clearly loves Cashman but this will be his 16th year as GM. Things can get pretty stale after that much time and a new voice could do wonders for the organization (it could also do a lot of damage, remember). Moving Cashman into a different role and making Eppler the GM seems very possible and I do think that is what will happen.
By

About a month after his deal with the Orioles fell apart, Grant Balfour has hooked on with the Rays. He's returning to Tampa on a two-year contract worth $12M, so the whole failed physical fiasco only cost him $3M total. The Mets reportedly offered the same contract, but Balfour preferred returning home to Florida. Guessing the same would have held true if it was the Yankees.

The Yankees had renewed interest in Balfour after his deal with the O's fell through but they were never seriously involved as far as we know. The relief corps behind David Robertson, Shawn Kelley, and Matt Thornton is pretty unsettled, and right now it looks like there will be a massive bullpen competition in Spring Training. They're going to be asking some kids to shoulder quite a bit of responsibility at the outset of the season. · (46) ·
The Yankees signed Masahiro Tanaka to help them win games on the field, but there is more to the signing than the on-field aspect. The team also wants to him to help improve ratings and attendance and all sorts of other stuff as well. Last night's Yankees Hot Stove show on YES was the highest rated of the winter by a decent margin, and that was only day one of Tanakamania. Revenue generated by international players tends to be overstated — it was for Hideki Matsui, at least — but the team will make money off him globally. No doubt about it.
This is the nightly open thread. Both the Rangers and Islanders are playing, so talk about those games or whatever else right here. Enjoy the evening.