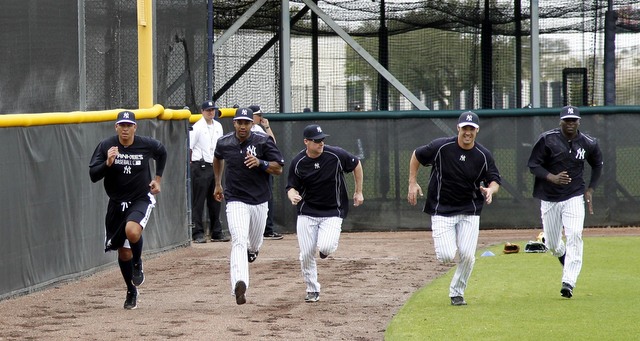 Pitchers and catchers have been in camp since last Friday, and today position players officially join them in Spring Training. Many of them — including Alex Rodriguez! — have already been in Tampa for a few days now. I've already said what I had to say about Yoan Moncada. Let's move on to some Spring Training related thoughts now.
1. A-Rod reported to camp on Monday and apparently the Yankees were upset he showed up early without letting them know. "He's learned nothing. He's the same old guy. He just did what he wanted to do," said one executive to Mark Feinsand. This has to be, hands down, the stupidest possible thing to be upset about, especially since Feinsand says A-Rod has showed up to the complex without advance notice lots of times in the past. This isn't some kind of isolated incident. It's so dumb I refuse to believe it's true. Maybe Feinsand's source is just one guy with a grudge? I hope so. Alex did not play at all last year and has barely played the last two years. Most people — well, rational people, and maybe that's not most people — would be happy he showed up early to camp to get prepared for the season. Good grief.
2. CC Sabathia said he regained some weight this offseason because it made him more comfortable. "I lost a bunch of weight drastically, pretty quick, two years ago, and was kind of off-balance. I didn't know really how my body was working," he said to Feinsand. I'm pretty sure I've mentioned this in the past: I wonder how much the weight loss led to Sabathia's ineffectiveness the last two years. Not necessarily the reduced fastball velocity, I don't expect that to come back at all at his age (he'll probably lose more velocity going forward, if anything), but it seemed like his command was all over the place. Sabathia was leaving pitches up in the zone and over the plate way more often than he had from 2009-12. I wonder if his mechanics were all out of sync because of the weight loss. There's no real way to prove this. It's just a thought. Hopefully the extra weight — reportedly only ten pounds — gets his mechanics and command back in place without further complicating his knee issue.
3. I hate that this is happening but I now find myself optimistic about Masahiro Tanaka's elbow because of some stupid early Spring Training bullpen sessions. I've been doing this blog thing for a while now. I know early spring optimism is for suckers, but dammit, I can't help myself. Tanaka said he is "absolutely fine" the other day and revealed an MRI in October came back clean. Dammit. Stop saying that. I spent all winter accepting Tanaka had a pretty severe elbow injury and would need Tommy John surgery, likely sooner rather later, yet here I am thinking he might actually make 30 starts and dominate this summer. I'm setting myself up for some major disappointment because of two stupid bullpen sessions in February. Spring Training optimism is just the worst.
4. I have nothing to back this up, but my hunch is the Yankees want Andrew Bailey to win the final bullpen spot. That would be the perfect world scenario. Bailey shows he's healthy and effective in Grapefruit League play — he said he feels a "night and day difference" between this spring and last spring following shoulder capsule surgery — then claims the last bullpen spot. That doesn't mean he'll close or anything like that, I just think they want him to be healthy enough to make the team. They have all this bullpen depth and Bailey will give others like Jacob Lindgren and Chasen Shreve more time in Triple-A. And if Bailey stinks, they can cut him loose early in the season and move on. He wouldn't be hanging around in the minors wasting bullets.
5. Last week I said I was most interested to see Nathan Eovaldi in camp, and among the position players, I'm most interested in seeing Didi Gregorius. Yes, I know those two are the new additions and that's a bit of a cop-out, but they are important long-term pieces and this will be my first extended look at them. Didi's defensive reputation is top notch but the numbers say he's been average in his relatively short big league career, so I want to see him with my own eyes. It appears there is evidence he is capable of highlight plays but will occasionally have a brain fart and botch the routine one. If true, he's not unlike many young middle infielders. I also want to see his at-bats. Gregorius has a slightly above-average 8.1% walk rate in his career, but 56.5% of his career plate appearances have come batting eighth in the NL. Opposing pitchers pitched around him to get to the pitcher on more than a few occasions, I'm sure. So I just want to see his at-bats. Does he really know the zone? Is he overmatched by good velocity? Can he handle breaking pitches? So on and so on.