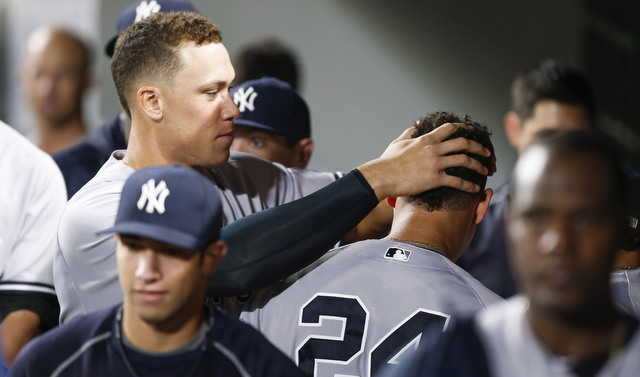 Yesterday afternoon the Yankees wrapped up a successful ten-game homestand in which they went 7-3. It feels like it could have been better because they lost three of the last four games, but 7-3 is still pretty good. Now the Yankees are heading out on a long eleven-game road trip through Boston, Tampa, and Toronto. Come the end of that trip we'll know whether the Yankees are really in this race. Going to be fun. Nerve-racking, but fun. Anyway, I have some thoughts.
1. The Aaron Judge injury stinks for multiple reasons. First and foremost, he's losing at-bats and experience against big league pitching, which brings his adjustment period to a screeching halt. Those reps have a lot of value. Secondly, we won't be able to watch him hit the occasional massive dinger. It's been far too long since the Yankees had a guy who can hit baseballs as far as Judge. And thirdly, the team defense takes a hit. Rob Refsnyder might be an offensive upgrade in right field, at least in terms of on-base ability, but the defensive drop-off will be noticeable. It would have been nice to see Judge get hot and finish the season strong so he could head into the offseason feeling good about things. Alas, it was not meant to be. I think Judge will be perfectly fine though. He seems really even-keeled.
2. One more quick note on Judge: because his season is over, he will retain his rookie (and prospect) eligibility next season. He doesn't come close to exceeding the service time limit for rookies (45 days outside September) and he'll finish the season with 84 at-bats, well short of the 130 at-bat cutoff for rookie status. Judge will still be Rookie of the Year eligible next season and you'll see him on all the prospect lists too. That should be interesting. Several publications, most notably Baseball America and MLB.com, dropped Judge in their rankings last year because he struggled when he got to Triple-A. He figured out Triple-A this year and struggled after getting to MLB. Will Judge fall in the rankings again, or will prospect rankers look at his history of making adjustments and give him the benefit of the doubt? My guess is the former. It's so much easier to drop a guy in the rankings in favor of the new hotness in A-ball than it is to stick to a ranking when a talented upper level guy struggles.
3. I'm glad Mason Williams has been called up but I understand he's not going to play all that much. Refsnyder and, once healthy, Aaron Hicks figure to be the Joe Girardi's go-to right fielders down the stretch. And once Hicks returns, he'll likely get any spot start duty in center field too. Williams might only get to play defense in the late innings for Refsnyder — he took over in right field yesterday after Refsnyder was lifted for a pinch-hitter in the seventh inning — and soak up some at-bats late in blowouts. That's better than nothing. Williams is not a top prospect anymore but he still has really nice skills, namely his bat-to-ball ability and top notch defense, so he could still be useful down the road. He has an option left for next season and I expect the Yankees to take advantage of it and stash Williams in Triple-A. I'd be very surprised if he's an offseason 40-man roster causality. The Ben Gamel trade puts Mason at the front of the line for a call-up next season whenever an outfielder is needed.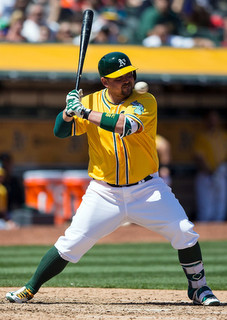 4. I do find it kinda funny that after releasing Alex Rodriguez last month, the Yankees went out and signed Billy Butler to be their right-handed platoon DH last night. The circumstances are totally different, of course. Rosters are expanded now, so carrying a limited player like that is no big deal. Also, Butler is ten years younger than A-Rod, so the chances of him finding it for a few weeks are much higher. But still, it's kinda funny. The Yankees are tentatively scheduled to face seven left-handed starters during this eleven-game road trip, including three in Boston this weekend, so something had to be done. Austin Romine couldn't be their primary righty DH these last 17 games. Hopefully Butler hits a random big home run like Chris Young after he was picked up off the scrap heap in 2014. Unlike Young though, Butler is not worth bringing back next season. Way too limited. Plus he's kind of a jerk.
5. Conspiracy theory incoming: placing Hicks and Chad Green on the 15-day DL this month had more to do with CC Sabathia than Hicks and Green. At this point finishing the season on the disabled list with a shoulder injury is the only way Sabathia's $25M option for next season won't vest. The 15-day DL is useless in September. Rosters are expanded and putting a player on the 15-day DL accomplishes nothing. It doesn't buy the team a roster spot or anything. Now, should Sabathia hurt his shoulder at some point, the Yankees could place him on the 15-day DL this month and it wouldn't be out of character. Had they kept Hicks and Green active then suddenly DL'ed Sabathia, it'd look weird, you know? The MLBPA would surely fight the move given all the money on the line, and they'd argue the DL stint is not common practice for September and was made solely to prevent the option from vesting. Now the Yankees can better defend themselves against a potential grievance by pointing to Hicks and Green and saying "hey, we put them on the DL too!" What do you think? Am I on to something or completely crazy? Probably the latter.
6. Forgive me for being optimistic and looking ahead, but if the Yankees stay on rotation the rest of the season, they can't line Masahiro Tanaka up for the wildcard game. Even if they use Monday's off-day to skip another starter and move Tanaka up a day, it won't work. He'd still have to start the wildcard game on three days' rest. The only way to line Tanaka up for the wildcard game is by skipping a regular season start somewhere along the line, and there's pretty much no chance that will happen. Not with the Yankees far from a lock for the postseason and needing as many starts from their ace as possible. As it stands right now, both Sabathia and Michael Pineda would be lined up for the wildcard game, which I assume means Sabathia gets the ball. I'd happily take my chances with Sabathia or Pineda in the wildcard game at this point because that means, you know, the Yankees are in the postseason. Playoff baseball this season would be a gift from the baseball gods.
7. I can't help but look at the schedule and think that final series against the Orioles is going to be huge. The Yankees host the O's in Yankee Stadium for Games 160-162 in two weeks, and a postseason spot could very well be on the line. Hopefully the Yankees close the gap in the standings between now and then, but you know what? Going into that series needing a sweep to go to the postseason would be a-okay in my book. I've had zero expectations of this team going to the playoffs since, like, May. This late season run is fun as hell and the fact there are a bunch of kids chipping in along the way makes it that much better. Going into that final series with a shot at the postseason would be awesome. It would be far more than I ever could have hoped for at the trade deadline. Even if the Yankees fall short, this 2016 team is much more entertaining than the 2013 and 2014 teams, the other two recent clubs to miss the playoffs.