Alas, the Subway Series win was not meant to be. The Yankees and Mets split their four games this season, so no one has bragging rights. Fitting for a city currently full of mediocre pro sports teams, I suppose. The Yankees dropped Thursday night's Subway Series finale 4-1.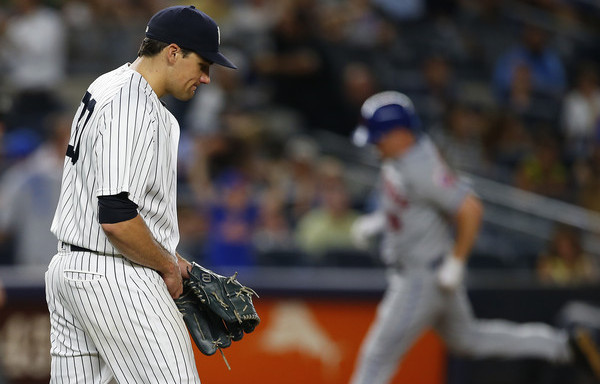 The One Bad Inning
Nathan Eovaldi was really good in six innings Thursday night. Too bad he threw seven innings. That four-run fifth inning really ruins what was an otherwise strong outing from Eovaldi, who held the Mets to two hits and two walks in the not fifth inning. The fifth inning featured a double, two homers, and a crucial brain fart by Eovaldi.
The game was still scoreless when that fifth inning started, and ex-Yankee Kelly Johnson broke the 0-0 tie with a line drove homer into the first row of the short porch. Meh. A solo homer won't kill you. What will kill you is allowing a double and then making an ill-advised throw on a comebacker. That's what Eovaldi did after the double. He looked Curtis Granderson back to second then threw to second for some reason. They got zero outs on the play. Jay Bruce followed with a three-run homer. Womp womp.
Overall, Eovaldi allowed the four runs on five hits and two walks in seven innings. He struck out five and threw a first pitch strikeout to 26 of 29 batters, which is ridiculous. That fifth inning sucked and it cost the Yankees the game. Eovaldi's other six innings were pretty good though. If the Yankees could somehow figure out how to get Eovaldi and their other starters to avoid that one big inning, they might actually be pretty good.
One Token Run
The Yankees had no answers for Bartolo Colon. It wasn't until the seventh inning that they broke through, and Colon wasn't even on the mound for that. He served up a booming double to Gary Sanchez, then lefty Jerry Blevins came on and allowed Aaron Hicks to slap a ground ball single back up the middle to score the run. That was the entire offense. The Sanchez double was mighty impressive though. Colon threw a running two-seamer and busted him inside …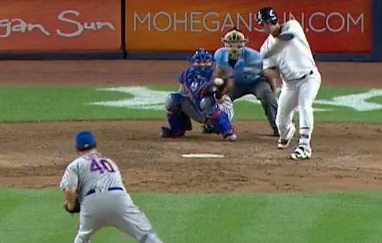 … yet Sanchez was able to get his bat around quick enough and muscle it into left field for extra bases. It was about six feet short of a home run, I'd say. Most hitters get jammed and hit a roller to the left side of the infield on a pitch like that. Maybe even break their bat. Sanchez hammered that to left field for a double. We haven't seen much of Gary yet, but turning on that pitch shows why he's so highly regarded.
The Yankees had nine hits total, including two each by Sanchez and Jacoby Ellsbury. (Sanchez beat out an infield single in the ninth.) Unsurprisingly, Sanchez's double was the only extra-base hit. What else would you expect from the team with the AL's lowest slugging percentage? This was New York's 29th game with no more than one extra base hit. Only the Braves (38), Angels (31), Mets (30), and Brewers (30) have more. Yuck.
Leftovers
The Yankees did bring the tying run to the plate in the ninth inning, but Rob Refsnyder grounded into a game-ending double play. I was hoping Alex Rodriguez would pinch-hit there, but nope. You need someone who can run into a fastball in that spot and lol that's not Refsnyder. He hasn't homered since May 15th, when he was in Triple-A. Whatevs.
Adam Warren and Anthony Swarzak each threw a scoreless inning. Swarzak had one of those innings where he looked completely untouchable. He does that once in a while. Warren looked pretty good as well, which is nothing new. He's looked like the guy the Yankees had the last three years. Hard to believe he struggled so much in Chicago.
And finally, Bartolo Colon became the first pitcher to win a Subway Series game as both a Yankee and a Met. That surprised me. Then again, how many pitchers have played for both teams the last 20 years? Not many had long stints with both teams.
Box Score, WPA Graph & Standings
ESPN is the place to go for the box score and updated standings. MLB.com has the video highlights, and RAB has Bullpen Workload and Announcer Standings pages. Here's the win probability graph:

Source: FanGraphs
Up Next
The 2016 edition of the Subway Series is over. Andrew Miller and the Indians are coming to the Bronx next for a three-game weekend series. Michael Pineda and Josh Tomlin are the scheduled starters for Friday night's series opener. If you want to catch that game or either of the other two games live at Yankee Stadium, RAB Tickets can get you in the door.