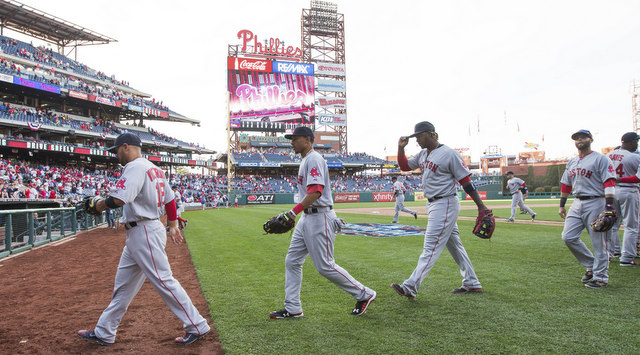 One AL East rival leaves town and another comes in. The Red Sox will be in the Bronx for three games this weekend, including the ESPN Sunday Night Game. At least Saturday's game won't be on FOX. It ain't all bad.
What Have The Red Sox Done Lately?
The Sawx drew the short straw and opened their season with a road interleague matchup against the awful Phillies. Boston took two of three in Philadelphia and outscored them 16-6 in the three games.
Offense & Defense
Like I said, Boston scored 16 runs in three games against the Phillies. Only five teams have scored more runs in the early going of the new season, which means not much, really. I'm not kidding when I say it's early. The first series of the year isn't definitive proof of anything. That said, everyone expects the Red Sox to hit this year. Here's their lineup, their season performance to date, and their ZiPS projections:
| | 2015 Performance | 2015 ZiPS Projection |
| --- | --- | --- |
| CF Mookie Betts | 3-for-13 (.231), 1 HR | .266/.336/.408 (109 wRC+) |
| 2B Dustin Pedroia | 3-for-12 (.250), 2 HR | .278/.340/.392 (104 wRC+) |
| DH David Ortiz | 1-for-7 (.143) | .277/.363/.526 (139 wRC+) |
| LF Hanley Ramirez | 4-for-13 (.308), 2 HR | .271/.345/.455 (123 wRC+) |
| 3B Pablo Sandoval | 2-for-12 (.167) | .279/.328/.454 (114 wRC+) |
| 1B Mike Napoli | 0-for-5 | .241/.353/.441 (123 wRC+) |
| RF Shane Victorino | 2-for-8 (.250), 1 SB | .261/.317/.393 (98 wRC+) |
| C Ryan Hanigan | 1-for-8 (.125) | .240/.335/.333 (86 wRC+) |
| SS Xander Bogaerts | 4-for-11 (.364) | .263/.322/.409 (103 wRC+) |
So yeah, everyone expects the Red Sox to hit and hit big this year, including the totally objective projection systems. Boston has at least three and maybe four guys who would qualify as the Yankees' best hitter this season. They have power and on-base skills, mostly from the right side. Ortiz and the switch-hitting Sandoval are their only significant threats from the left side and Betts is their best stolen base threat at this point.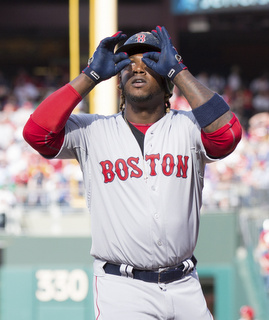 On the bench, manager John Farrell has UTIL Allen Craig, UTIL Brock Holt, OF Daniel Nava, and C Sandy Leon. Leon was a last minute pickup in Spring Training after projected starting C Christian Vazquez blew out his elbow and needed Tommy John surgery. Holt can play anywhere and Nava, who can really hit righties, abandoned switch-hitting this spring and now bats exclusively from the left side. Craig is coming off a brutal 2013 season (69 wRC+) and is a square peg in a round roster hole. I have to think he'll be traded at some point this summer.
Defensively, the Red Sox are strong on the infield and sketchy in the outfield. Pedroia and Sandoval and comfortably above-average at their positions and Napoli is strong around the bag, though not the rangiest at first. Bogaerts has skills but is maddeningly inconsistent. He's error prone in the purest sense of the term. The outfield features two guys who have been full-time outfielders for less than a year (Hanley and Betts) and a 34-year-old coming off back surgery (Victorino). This isn't a disaster outfield, but it's not as good as the infield, for sure.
Pitching Matchups
Friday: RHP Nathan Eovaldi (Career vs. BOS) vs. LHP Wade Miley (Career vs. NYY)
Both Eovaldi and Miley will be making their first starts for their new teams later tonight. Miley, 28, came over from the Diamondbacks in the offseason after pitching to a 4.34 ERA (3.98 FIP) in 201.1 innings a year ago. His strikeout (21.1%) and home run (1.03 HR/9) rates were about average, his walk rate was below average (8.7%), and his ground ball rate was above average (51.1%). Miley didn't have a platoon split at all — lefties had a .326 wOBA and righties had a .331 wOBA. The burly southpaw works in the low-90s with his two and four-seam fastballs, which he uses interchangeably, and he also throws a mid-80s slider and a low-80s changeup. Miley has pitched in Yankee Stadium before, allowing three runs in 6.2 innings with Arizona back in 2013.
Saturday: RHP Adam Warren (Career vs. BOS) vs. RHP Joe Kelly (Career vs. NYY)
The 26-year-old Kelly missed the end of Spring Training with a biceps problem, and he was originally expected to make a minor league rehab start this weekend, but Farrell told Scott Lauber yesterday they "are leaning towards" starting him against the Yankees tomorrow. Whatever. Kelly had a 4.20 ERA (4.37 FIP) in 96.1 innings split between the Cardinals and Red Sox last year, and only his ground ball (54.9%) and homer (0.74 HR/9) rates were better than average. His strikeout (15.9%) and walk (10.1%) rates were comfortably worse than average. He didn't have much of a platoon split though (.318 vs. .307 wOBA in favor of righties). Kelly throws hard, sitting in the mid-90s with a two-seamer he uses as his main fastball. An upper-70s curveball is his go-to secondary pitch and he'll also throw some low-80s changeups. If Kelly doesn't start Saturday, it'll be 30-year-old knuckeballer Steven Wright instead.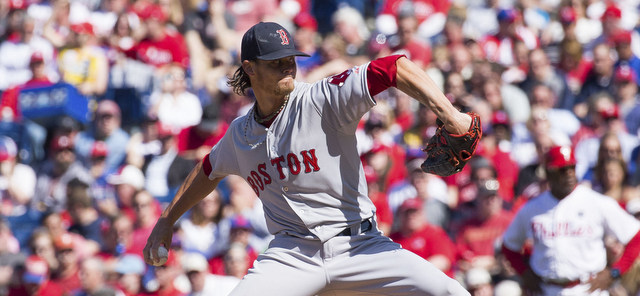 Sunday: RHP Masahiro Tanaka (Career vs. BOS) vs. RHP Clay Buchholz (Career vs. NYY)
So there will be plenty of rational discourse about Tanaka during the ESPN broadcast, right? Lol no. It'll be awful. Anyway, the 30-year-old Buchholz held the punchless Phillies scoreless for seven innings on Opening Day, striking out nine and allowing just three hits and one walk. He had a 5.34 ERA (4.01 FIP) in 170.1 innings a year ago thanks to a below average strikeout rate (17.9%) and average-ish walk (7.3%), grounder (46.6%) and homer (0.90 HR/9) numbers. Lefties (.351 wOBA) hit him quite a bit harder (.308 wOBA) than righties. This is Clay Buchholz though, who knows what you're going to get on a given night. Low-90s two and four-seamers and an upper-80s cutter set up his upper-70s curveball and low-80s changeup, both of which are legit swing-and-miss pitches on their best days. Even with the roster turnover the last year or so, the Yankees have seen quite a bit of Buchholz. He's no stranger.
Bullpen Status
The Red Sox are without closer RHP Koji Uehara, who missed most of Spring Training with a hamstring injury and a subsequent setback. He's still working his way back and won't return this series. Farrell has said RHP Edward Mujica will take over ninth inning duties in the meantime. He threw eleven pitches in an inning of work last night. Middle innings lefties Craig Breslow and Tommy Layne also threw an inning each yesterday.
Mujica's primary setup man is RHP Junichi Tazawa, who is quietly one of the better setup men in the game. He threw an inning on Opening Day and hasn't pitched since. Ex-Rangers RHP Alexi Ogando and LHP Robbie Ross are Boston's version of Justin Wilson and David Carpenter, but with less velocity. They each threw an inning Wednesday. RHP Anthony Varvaro is a Staten Island kid who is the quintessential "maybe he can more but probably not" middle reliever. He's yet to pitch in the game this season. Wright is in the bullpen as well and I assume he'll go to Triple-A to make room for Kelly. Check out our Bullpen Workload page for the status of New York's bullpen and Over the Monster for the latest and greatest on the Red Sox.