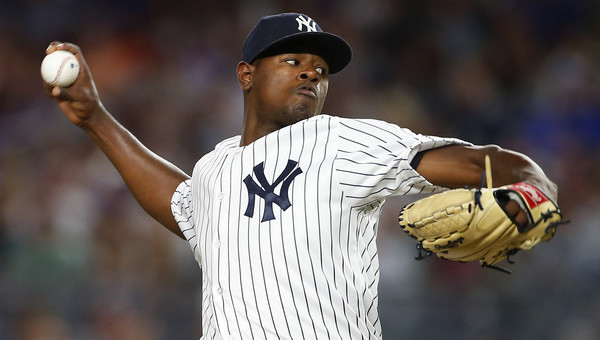 Things have not gone according to plan for the Yankees and Luis Severino this season. Following his strong eleven-start cameo last year, Severino was expected to emerge as a mainstay in the rotation this year, if not at the front of it. Instead, the young righty struggled as starter early in the season, so much so that he had to be demoted to the Triple-A and the bullpen. Not great.
Severino, who is still only 22, has resurfaced as a reliever this month and been completely dominant. He's made four relief appearances in September and allowed three hits and four walks in 8.1 scoreless innings. Severino has struck out nine and held batters to a .107/.219/.179 batting line. It goes without saying he's looked far better in relief this month than he did at any point as a starter this season.
Thanks to the shift to the bullpen and an early season DL stint, Severino has thrown only 140 innings this season, well short of the 161.2 innings he threw last year. The Yankees insist they see him as a starter long-term and I believe them, but surely they were hoping to stretch his workload this year and get him up closer to 180-190 innings, putting him in position to throw 200 innings in 2017. That's obviously not going to happen.
The Yankees have one open pitching roster spot in the Arizona Fall League but Severino is over the service time limit, so he's not eligible. Winter ball is another option, and it would allow Severino to not only build up his workload, but also continue working on his changeup, which he's stopped throwing in relief. It doesn't sound like winter ball is in the plans though. From Randy Miller:
"I think he probably has the innings that we want," Girardi said. "If we do that, there's concern that he'll be physically tired going into next year. That's just my thought. Could he work on (his changeup) in maybe a couple of starts in Instructional League? Yeah, I guess. Let's just see where we end up."
Instructs usually run from late-September through mid-October, which means Severino will miss the first few days and hopefully much more than that because the Yankees are in the postseason. Sending him to Instructional League would be ideal because Severino would be with the team's coaches and instructors, and under their watch. They wouldn't have to worry about overuse or anything like that.
The concern with winter ball is that it lasts so damn long. The Dominican Summer League season begins October 15th and runs up until Christmas. Sure, the Yankees could shut Severino down earlier, but even then you're talking about him pitching into November. In meaningless games, remember. It would be much different if he were part of a World Series pitching staff in November. Making sure Severino gets enough rest in the offseason is a priority.
As best I can tell, the Yankees kept Severino in the minors long enough this year to delay his free agency, so he'll start next season where he started this season: six years away from free agency. Of course, that extra year of control is sorta pointless if Severino continues to struggle like he did as a starter. That said, I feel pretty confident he can be a shutdown late-inning reliever at worst. He's shown that ability these last few weeks.
The 2016 season was a disappointment for Severino, no doubt about, and hopefully he uses it as a learning experience. It's unfortunate he wasn't able to build up his workload, but that is secondary to his health and overall effectiveness. If he can go to Instructs, great. If not, the upside of winter ball almost certainly doesn't outweigh the potential downside of Severino coming to Spring Training next year at something less than 100% physically.