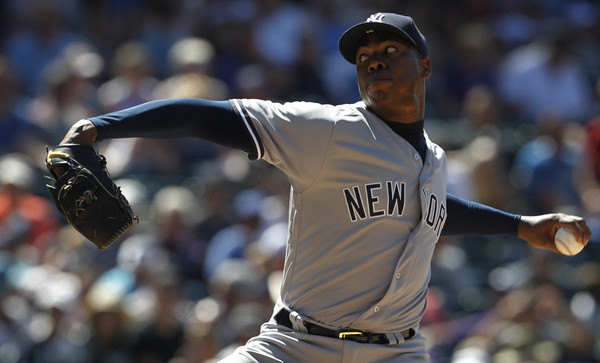 One of the best and worst things about baseball these days is the second wildcard. It's great because it gives more teams a chance at the postseason, and that's generally a good thing for baseball. The Giants won the 2014 World Series as the second wildcard team, remember. Fans want to watch their team play meaningful games and the race for the second wildcard means more meaningful games.
At the same time, the second wildcard leads to a lot of indecision. More teams are in contention — or can talk themselves into thinking they're in contention — that they're hesitant to make major moves and deal away players throughout the summer. There's no better example of this than the 2013 and 2014 Yankees. The 2016 Yankees may be heading for a similar fate. Teams are frozen. The second wildcard clouds their judgment.
The trade deadline is exactly five weeks away, and at least one team is open to buying right now. That team? The Red Sox. They have some pitching problems and president of baseball operations David Dombrowski told Evan Drellich he's already working the trade market for help. Only a few teams are ready to sell though. From Drellich:
"It's still early," Dombrowski said. "I can tell you I've done a great deal work, there's five clubs that are willing to talk about it. They're the same five clubs that have been at it all year, so it's still a little early for that type of situation. We'll just see what happens.

"I think the thing you got to remember is, it takes two clubs to make a deal. And most clubs, as I've said all along — and it hasn't changed whatsoever really — are not prepared to move towards 2017 and be in a position of where they're willing to move. I mean, there's probably five clubs that have been looking at that all year long and I think those five clubs are probably the five that remain."
My guess is the Braves, Phillies, Brewers, Reds, and Padres are those five teams ready to sell. They're all rebuilding and have aggressively moved veterans for prospects in recent weeks and months. What pitching do they have to offer the Red Sox? Eh, not much beyond Julio Teheran. That's Boston's problem though. Who cares about them.
Anyway, the point is the Red Sox are looking to add help right now, but there's a shortage of viable trade partners. And if the Red Sox are ready to buy, you can be sure other contenders like the Rangers, Nationals, Giants, Cubs, Indians, Dodgers, and Orioles are ready to buy as well. No roster is perfect. They can all be improved, some more than others. The sooner you get that help, the better your chances to contend.
The Yankees insist they are not ready to sell — what else are they supposed to say? — but Dombrowski's comments indicate they could benefit from being decisive and making moves now. It's a seller's market because that second wildcard spot has so many teams thinking playoffs and thus holding on to their players. Selling now comes with some obvious benefits, such as:
You can ask for more in return. Because you're trading away more games of a player — as of today, it's five extra weeks of a player compared to moving him at the deadline — you can ask for more in return. Maybe not a ton more, but more.
You lower your risk. This is pretty simple. The longer you hold onto your top trade chips, the odds of them getting hurt on your watch goes up, especially when it comes to pitchers. Think the Padres regret not moving Tyson Ross sooner? You bet they do.
Less trade market competition. No one is ready to sell right now, which means buyers don't have many options. It's simple supply and demand. Making your players available right now means you control the market. Everyone is trying to get your players because they're actually available.
The Red Sox are looking to buy but the Yankees aren't going to trade with them. I think Dombrowski and Brian Cashman would be open to trading with each other, but a Yankees-Red Sox deal probably gets squashed at the ownership level. I'm talking about a major deal here, not Kelly Johnson for Stephen Drew. Neither team wants to risk losing a major trade to the other. That's just the way it goes.
There are still plenty of other trade partners out there though! Teams are all over the Yankees' relievers and I'm sure there's interest in Carlos Beltran too. The Yankees could put those guys (and others) on the market today and not only get some bites, but find legitimate interest. Their ability to be sellers depends entirely on their willingness to sell. It's not that there's no market for their players yet. The market exists.
Are the Yankees going to make their players available right now and take advantage of the lack of competition? Almost certainly not. They want to get back into the race — I understand that, but the players aren't exactly cooperating — so they'll wait until the deadline to make moves, if any. That means assuming the added injury risk and forfeiting the ability to get out ahead of the market. There's potentially a lot to be gained by selling now, but the Yankees seem content to wait this out.