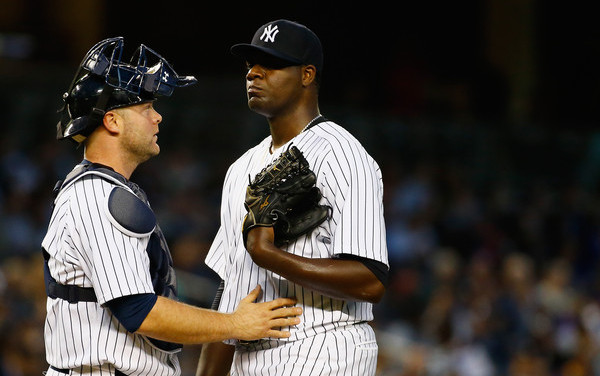 Michael Pineda was the model of consistency for the first 20 games of his pinstriped career. He never gave up more than three runs in consecutive outings, and he'd never had a "disaster" start where he allowed more runs than innings pitched (except for his pine tar-shortend game last year).
Until May 15 (5 1/3 IP, 5 R, 10 H, 1 K) and May 22 (6 IP, 7 R, 8 H, 4 K) happened.
It's definitely not time to press the panic button after just two poor starts, but this (extremely) mini-slump is somewhat noteworthy because it's the first time Pineda has struggled in back-to-back outings since joining the Yankees.
With Pineda facing the Royals again this afternoon — the same lineup that clobbered him less than two weeks ago — let's take a look inside the numbers to see what's gone wrong for the right-hander in his last two turns, and how he can get back on track against the best team in baseball on Wednesday.
*******
Here's a quick overview of his first seven starts this season compared to his last two:
| | IP | ERA | FIP | K% | BB% | HR |
| --- | --- | --- | --- | --- | --- | --- |
| Last 2 | 11 1/3 | 7.15 | 4.82 | 9.3% | 1.9% | 2 |
| First 7 | 46 1/3 | 2.72 | 1.91 | 29.5% | 1.6% | 3 |
The most shocking number in the table above is the huge drop in his strikeout rate. Sure, that 30 percent figure is skewed a bit by the 16-strikeout game. But the fact that he's had his two lowest strikeout totals of the season in his last two games is really hard to ignore.
Predictably, batters are making more contact against Pineda in his past two games (83 percent) compared to his first seven (77 percent), but that doesn't completely explain the lack of whiffs. Almost all of the increase in that contact rate is on pitches outside the zone — the pitches that he normally uses to get strikeouts.
| | Contact % | O-Swing % | O-Contact % | Z-Contact % |
| --- | --- | --- | --- | --- |
| Last 2 | 82.9% | 34.8% | 71.0% | 87.5% |
| First 7 | 76.5% | 32.3% | 56.9% | 86.5% |
So while Pineda is still generating above-average swing rates on those out-of-zone offerings, hitters haven't been fooled by his stuff and he's not missing as many bats with those pitches.
Over his last two games, his signature slider has hardly been the wipeout pitch that made Pineda such a dominant force on the mound to start the season. He's lost about an inch of horizontal movement on his slider, making it easier for hitters to square up on the pitch. After getting batters to whiff on 19 percent of his sliders in his first seven games, that rate has plummeted to just nine percent since then.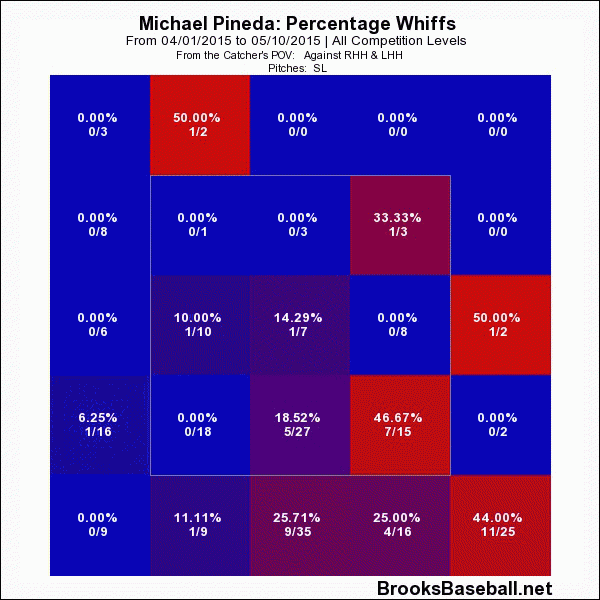 Another concern related to this lack of strikeouts is his inability to finish off hitters when ahead. Pineda is actually getting into more favorable counts now, but he hasn't been able to execute those put-away pitches.
Opponents are 5-for-8 against him in pitchers' counts over the last two games, a situation that the Royals really took advantage of when they crushed Pineda on May 15. The game was decided in the sixth inning as Pineda allowed two doubles and a triple to three of the first four batters he faced — unsurprisingly, each of those extra-base hits came on a 1-2 pitch from the right-hander.
The other obvious problem for Pineda recently is that he's simply been more hittable, and he's given up nearly as many runs in his last two outings (12) as in his first seven (14). Let's break it down, good-bad-ugly style:
• The good: he's still generating ground balls at the exact same rate (53 percent);
• The bad: he's traded a few fly balls for line drives;
• The ugly: he's really struggled when pitching from stretch:
After limiting batters to a .230 average with runners on base in his first seven starts, they are 8-for-20 (.400) over the last two games. Even worse, Pineda has stranded just 43 percent of baserunners during this mini-slump, a drop of more than 30 percentage points from the first month of the season (78 percent). Not being able to get that big strikeout in those key scoring situations has really hurt him recently.
******
While there are some reasons to be optimistic that Pineda will be able to rebound today against the Royals — he's still getting a ton of grounders, showing excellent control and limiting walks — he will definitely be challenged by Kansas City's high-contact lineup and powerful lefty bats.
Pineda, who held opposite-handed batters to a .200 average in his first seven outings, has been hit hard by lefties in his last two starts. They are a combined 10-for-24, and he's allowed identical 5-for-12 lines against both the Royals (May 15) and Rangers (May 22).
If Pineda can't contain the Royals' quartet of Eric Hosmer, Mike Moustakas, Alex Gordon and Kendrys Morales — three lefties and a switch-hitter — it could be another long afternoon for the Yankees and their budding staff ace.