Well, not much to see here folks. As Mike said, it was an "impressively bad night for the offense." I don't want to use too many metaphors to describe how I felt about the Yankee bats because 1) that's not why I earned my creative writing minor, and 2) it would be just plain mean. As for the pitchers, the least painful guy to watch was Chasen Shreve and he still allowed a home run and a HBP in a frame. This was one to forget. Let's just recap this thing right here.
Leaving It Up
The Rangers drew first blood in the first. Nomar Mazara reached first with a single and Prince Fielder later drove him in with an RBI single. 1-0 in the first. At this point, it was still very much a game. Eight more innings to go, still a good chance for Sevvy and the bats to win the game, right?
As the rain started to really come down entering the bottom of third, Luis Severino got into more Mazara-induced trouble (and then much more). With two outs, Mazara lined a single to center and Adrian Beltre followed it up with a double to put two runners on. At that point, it was kind of obvious that Severino's command was off tonight. It was in a way that reminded me of Michael Pineda from Sunday. He was leaving pitches up in the zone, making it easier for hitters to drive. For instance…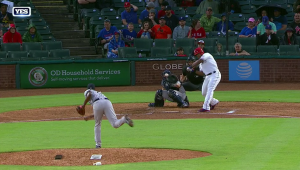 The Yankees decided to intentionally walk Prince Fielder to face Ian Desmond, which in many ways, is an easier matchup, especially considering Fielder has scorched Sevvy with an RBI single earlier. Unfortunately, Severino walked Desmond to bring a run home and Mitch Moreland followed it with a 2 RBI single to make it 4-0 Rangers.
The inning was far from over. On the second pitch versus Elvis Andrus, Severino threw a slider on the ground that bounced too much for Brian McCann to block, scoring another one. Andrus followed it up with another RBI single to increase the lead to 6-0. Tough inning for a young guy but that kind of stuff will happen. He threw a whopping 43 pitches in that inning to make it 74 total in 3.0 IP.
Joe Girardi put Ivan Nova in the fourth to relieve Severino, hoping to not let the game even more out of hand. Nova has had a pretty meh season as a long relief guy. Prior to tonight, he had 8.1 IP logged in with a 4.32 ERA. With the Yankee starting rotation being as inconsistent they have been, Nova has had some chances to audition his way into the rotation possibility.
Unfortunately, he was pretty mediocre tonight. In 4.0 IP, he allowed five hits, three runs, one home run (a laser by Ian Desmond) while striking out no one. One good thing about his outing was that he was generating grounders at a 81.3% clip, which is quite high. And, uh, well, that's pretty much it.
As I mentioned earlier, Chasen Shreve was the least painful Yankee pitcher to watch and he still got torched by the Rangers offense a bit. He got the first two quick outs and surrendered a solo homer to Rougned Odor to make it 10-1 Texas. He followed it up by hitting Mazara with a pitch but struck out Hanser Alberto to get out of the inning.
One Run Is Better Than Nothing? 
I don't know what was the worst Yankee offense performance of the year, but this has to be in the conversation. A.J. Griffin is not a bad pitcher, but he had not pitched in majors since 2013 (his first ML full season). Against the Yankees tonight, he seemed like a seasoned veteran that knew how to confuse hitters and get weak contact. To his credit, while his stuff doesn't wow anyone, he was throwing strikes while changing speeds – sometimes that's all it takes to tame a big league lineup. Through the first six innings, he had allowed only two baserunners – both of them being Ronald Torreyes base hits.
The Yankee bats had something going on in the seventh. Brett Gardner led off with a walk and a Carlos Beltran single made it no outs with runners on corners. Mark Teixeira hit a hot shot that Andrus couldn't handle, driving Gardner in. 8-1 Rangers. McCann hit another hard grounder towards Andrus but the shortstop scooped it flawlessly to turn a double play. Of course. Griffin struck out Starlin Castro with a slow-you-to-death 67 mph curveball to get out of the inning.
Down 10-1, New York attempted to squeeze in another run against RHP Tony Barnette (who recently returned to the Stateside after spending years in Japan as a closer for the Yakult Swallows). Gardner and Teixeira both singled to put two baserunners on but, as the theme of the night went, Yankee offense went away quietly to end the game.
Box Score, WPA, Highlights and Updated Standings
Here's tonight's box score, standings, WPA and video highlights.

Source: FanGraphs
---
A three-game series tied 1-1, so you know what that means. The rubber match is tomorrow. The big man CC Sabathia will face Martin Perez in the battle of the lefties.