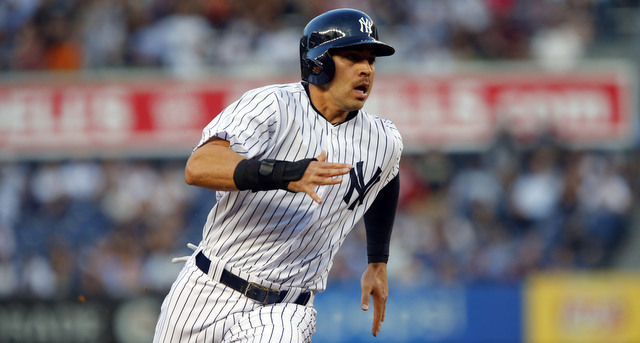 The Yankees lost more than a game last night. They also lost Jacoby Ellsbury to what is being called a right knee sprain, though we haven't heard anything about the severity of the injury or a timetable for his return. It goes without saying the Yankees can not afford to lose Ellsbury for anything longer than the minimum 15-day DL stint. He's way too important on both sides of the ball. Here are some thoughts in the wake of the injury.
1. Ellsbury is a speed player, so any sort of injury to his lower half is a concern, and those lower half injuries have started to pile up the last few years. He broke his foot in September 2013, missed time in Spring Training with a calf issue in both 2014 and 2015, had an ankle issue at the end of last season, and now he has this knee sprain. It's not uncommon for speed players to start suffering these nagging leg issues in the second half of their careers — their legs take such a pounding and eventually it catches up to them — and you just have to hope they don't rob Ellsbury of his speed or first step quickness. Without his legs, he's a pretty average player, both at the plate and in the field. Hopefully this knee issue is nothing serious and the Yankees are just being cautious. A diminished Ellsbury going forward would be very bad.
2. I was a little surprised the Yankees opted to call-up Slade Heathcott over Ramon Flores, but with Ellsbury going down, they needed another player capable of playing center field, so Slade's the guy. I'm not sure how Joe Girardi will use Heathcott but I hope it's in a straight platoon with Chris Young, at least at first. Young has been pretty great this year — he's slowed down of late, which was to be expected — but I don't want to see him in the lineup every single day. That's a good way to overexpose him real quick. He's a part-timer at this point of his career and Ellsbury's injury shouldn't change that. Heathcott has been stuck in a slump with Triple-A Scranton the last two weeks or so (.163/.196/.184 in his last 12 games) but I wouldn't hold that against him. Stick him in the lineup against righties and let's see what he can do. What's the point of calling him up otherwise?
3. Personally, I'm really happy for Slade, who's been through hell in his pro career. He battled alcoholism early in his career and of course has had all those injuries. Every year it was another injury. Heathcott worked very hard to get back from his two knee surgeries last season and supposedly he's done a lot of growing up — he got married recently and I'm sure that helped him — over the last few years. Yeah, he's a former first round pick, but Slade is also an underdog at this point. Lots of people wrote him off entirely — how could you not after all those injuries? — but now he's finally made it MLB and has a chance to help the Yankees. I'll be rooting like hell for him.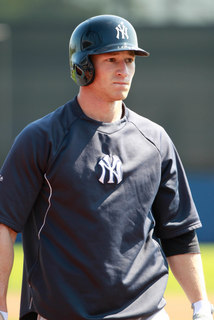 4. So, as far as the lineup goes, I assume Brett Gardner will now take over as the leadoff hitter. That's the easy part. But who bats second now? Both Carlos Beltran and Chase Headley have started to hit recently, and they could be options, especially since they're switch-hitters who create matchup headaches. Young has batted second against left-handers a few times already this year and I suppose that could continue going forward. Heathcott will probably get the rookie treatment and bat eighth or ninth until he shows he deserves a higher lineup spot. That's just the way it goes. Gardner and Robinson Cano batted ninth when they first came up too. Either way, the Ellsbury/Gardner dynamic atop the lineup made the offense go, and now that dynamic is gone. It's a huge blow to a team that has had trouble scoring runs of late.
5. Obviously this is a huge opportunity for Heathcott to show he's a big league caliber player. This is a guy who was non-tendered this past offseason, remember, he knows what's in front of him. The sucky part is that even if Heathcott plays very well while Ellsbury is out, the Yankees aren't scheduled to have an outfield spot open up anytime soon. Ellsbury, Gardner, and Beltran are all signed through next year, ditto Alex Rodriguez, so Beltran can't even slide to DH. This is similar to the Melky Cabrera situation in 2006 — Melky came up as an injury replacement, but once Gary Sheffield and Hideki Matsui got healthy, there was no spot for him. (The Bobby Abreu trade didn't help either.) The Yankees traded Sheffield that offseason to clear the logjam and maybe Heathcott plays so well they'll look trade an outfield this winter — it would have to be Gardner, right? he's the only one without a no-trade clause or an onerous contract — otherwise he'll be stuck going up and down as injury replacement. I'm getting ahead of myself though. The Yankees will be lucky if Slade plays as well as 2006 Melky this year.