The first win of the season always feels good, doesn't it? Especially when it's a blowout. The Yankees walloped the Astros 16-6 on Wednesday night. Nice way to rebound from that yucky Opening Day loss.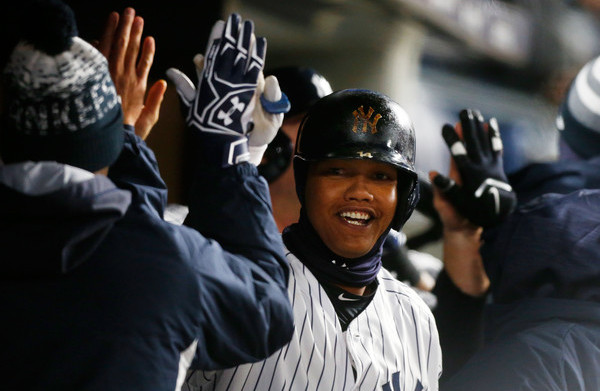 A Good Start
So hey, it turns out the Yankees are pretty good at scoring runs when the reigning Cy Young award winner is not on the mound. Twelve of the first 17 men they sent to the plate Wednesday night reached base. Is that good? That seems good. Let's recap the six-run first inning with an annotated play-by-play. (Click the image for a larger view.)


(1) The six-run rally started with a catcher's interference call, something Jacoby Ellsbury is weirdly good at. Since the start of the 2008 season, Ellsbury's first full season as a big leaguer, he has 15 catcher's interference calls, most in MLB. Ryan Ludwick and Carl Crawford each have 13, and David Murphy has eleven. No one else has more than eight. Weird. For whatever reason, Ellsbury seems prone to catcher's interference calls. Hey, can't complain about it. You've got to do whatever you can to get on base.
(2) The Yankees loaded the bases with no outs in the first inning without putting a ball in play. That Alex Rodriguez walk really seemed to set the tone for the rally too. Collin McHugh jumped ahead in the count 0-2, but A-Rod worked the count back full and eventually drew the walk. He laid off some tough pitches too. Rod is still such a great hitter. His at-bats are rarely non-competitive.
(3) Mark Teixeira's two-strike single started the scoring — he hit the ball so hard and George Springer threw it back in so quickly that Ellsbury, who was on third base, had barely crossed the plate when the throw was cut off near the pitcher's mound — and Brian McCann's two-run single ensured the Yankees would not waste a golden opportunity. He was down 0-2 in the count, then went down and hooked a McHugh curveball into right field. Look where this pitch was:
I know broadcasters usually reserve the "nice piece of hitting" line for singles filleted to the opposite field, but I'm using it here: that was a nice piece of hitting. McCann probably shouldn't have swung at that pitch, but he had seen McHugh's curveball earlier in the at-bat, so he made the adjustment and went down to get it. Just like that, the Yankees were up 3-1 and the line kept moving.
(4) The team's first out of the game was a productive out: Carlos Beltran hit a hard-hit ground ball to first base that scored Teixeira from third. The Chase Headley at-bat after that was pretty big in my opinion. The Yankees had a runner at third with one out, and you definitely want to get that run. Headley could have gotten the job done with an out. Instead, he battled McHugh for an eleven pitch at-bat, the last pitch of which went for a run-scoring single. It's still very early in the season. McHugh's pitch count was over 40 in the inning, and I'm sure his legs were starting to get heavy. He seemed to have nothing to put Headley away. Ultimately, that was his final batter of the night.
(5) A-Rod stole the team's first base of the new season Tuesday. Naturally, Headley stole the team's second base of the season Wednesday. Go figure. Starlin Castro took advantage of the opportunity and drove in Headley with a single up the middle. I don't really have much more to say about that. When Headley starts stealing bases, you know the inning is going well.
(6) Ellsbury, the tenth batter of the inning, made the second out on a line drive to short. Even the first two outs in the inning were hard-hit. Everything was going well for the Yankees. They worked the count and they made good contact against two pitchers presumably struggling in the cold. Textbook.
(7) I was really hoping Teixeira would get a chance to bat with the bases loaded twice in the first inning. Alas, Rodriguez popped out to end the inning. The total damage: six runs on four singles, one double, three walks, one stolen base, and one catcher's interference. McHugh and reliever Michael Feliz combined to throw 65 (!) pitches. The Yankees led all of baseball with 125 first inning runs in 2015. They're up to six in two games in 2016.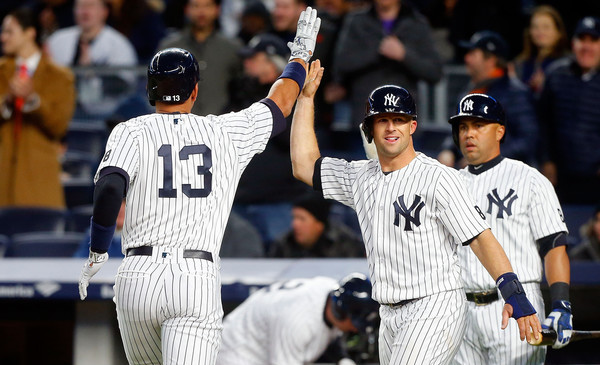 Oh, You Thought They Were Done?
The Yankees followed that six-run first inning with three runs in the second and another three runs in the third. Houston pitchers did not have a 1-2-3 inning until the eighth. Castro's first home run as a Yankee, a three-run ding dong into the visitor's bullpen, was the big blow in the second. McCann walked and Beltran singled earlier in the inning to set things up.
In the third, Teixeira's first home run of the season drove in three runs to give New York a 12-5 lead. Up to that point, the Yankees had scored 13 runs in 4.1 innings against Not Dallas Keuchel in 2016. It was a classic Tex shot, pulled into the second deck in right field. We've seen him hit about a hundred of those these last seven years and two games. Three-run dingers are pretty cool, you guys.
Big Fly Mike
Not a good night for Michael Pineda, huh? He allowed six runs on eight hits and no walks in five innings, including three home runs. One was a grand slam by George Springer in the second inning, immediately after the Yankees' six-run first, and two were solo shots by the very good at baseball Carlos Correa. Correa's second blast hit halfway up the windows of the restaurant in center field. Look at this thing:
Statcast measured that homer at 462 feet. I'm not even mad. I'm impressed. The three home runs came on pitches very much like that one in the video, soft stuff Pineda left up in the zone. Really good hitters like Correa and Springer (and Correa again) don't miss those.
As with McHugh, I'm sure the cold was a factor in Pineda's rough start. It's hard to grip a baseball when the temperatures are in the 40s, and let's not forget Big Mike sat in the dugout for a long time between innings because the Yankees were scoring all those runs. I'm going to sound like a homer but whatever: I think Pineda (and McHugh) should get a mulligan for this game because of the cold. If he does it again in five days, it's a problem.
Proven Closer
With a six-run lead and four innings to go, Joe Girardi turned the game over to new long man Ivan Nova. This was a real good opportunity to keep Ivan stretched out. Sometimes those can be hard to come by. Nova allowed four hits and a walk in four scoreless innings, striking out five. He threw 56 pitches. Ivan did a nice job closing this one without making it interesting. We all had Nova getting the team's first save of the season, right? Right.
Leftovers
I feel bad for Feliz. He's an actual prospect — MLB.com ranked him as Houston's No. 10 prospect coming into the season — and manager A.J. Hinch hung the kid out to dry, leaving him in to allow six runs in 4.1 innings. Feliz threw 107 pitches (!) and was clearly out of gas near the end of his outing. I get it, the kid made the team as the long reliever and someone has to wear it in games like this, but man, that's rough. His confidence must be shot, and I'm sure the 'Stros are going to send him down for a fresh arm before Thursday's game. Sucks.
Beltran hit a solo home run in the sixth inning to push the lead to 13-6. Lefty Tony Sipp, who I kinda sorta wanted the Yankees to sign this offseason, tried to climb the ladder, but Beltran just reached up and drove the pitch out left. Little Ronald Torreyes — I say that affectionately, the guy is listed at 5-foot-10 on the official roster but he's really more like 5-foot-8 — came off the bench late in the blowout to hit a two-run triple.
Brett Gardner managed to draw four walks in six plate appearances. He saw 34 total pitches, by far the most of any player on either team. Believe it or not, the 1-2-3 hitters went a combined 1-for-11. They did draw six walks though, the four by Gardner and two by A-Rod. Ellsbury singled for that one hit. Dustin Ackley came off the bench to play the last few innings at first base. He flew out to right in his first at-bat of the campaign.
Castro and Gregorius, the Prestige Worldwide™ middle infield, combined to go 7-for-10. Castro had four hits and drove in five runs. He was a triple shy of the cycle. This middle infield is: cool. Teixeira, McCann, and Beltran had a pair of hits each.
And finally, the Yankees sent 49 batters to plate Wednesday, and 24 reached base. That's a .490 OBP. Yay offense! Yay Yankees!
Box Score, WPA Graph & Standings
Head on over to ESPN for the box score and MLB.com for the video highlights. Here are the up to the minute standings. It's never too early to scoreboard watch, you know. (Yes, yes it is.) Now here is the WPA graph:

Source: FanGraphs
Up Next
The Yankees and Astros will wrap up this three-game series Thursday afternoon, weather permitting. Right now the forecast is calling for rain pretty much all afternoon. Bummer. The game is scheduled to begin at 4pm ET. Nathan Eovaldi and Mike Fiers will be the starting pitchers, should the game be played. RAB Tickets can get you in the door if you want to brave the coming storm.