By

4:37pm: David Phelps will start tomorrow's game with Hiroki Kuroda and Vidal Nuno starting Sunday's game, the Yankees announced. The order for Kuroda and Nuno has not been determined. I'm guessing Kuroda will get to pick which game he starts. The veterans usually makes the call.

12:57pm: Tonight's game has been postponed due to rain, the Yankees announced. They will play a rare single admission doubleheader on Sunday. No word on what this does to the pitching staffs, but I'm sure we'll find out soon enough. Thanks to Monday's off-day, the Yankees will not need to dig up a spot starter. They can keep everyone on turn.

The Yankees say tickets for tonight's game are NOT valid for Sunday's doubleheader. Only tickets for Sunday's game will get you into the doubleheader. Tickets for today's game can be exchanged for tickets to any regular season game within the next 12 months. The first game on Sunday will begin at 1pm ET. The second game will begin roughly 30 minutes after the first one ends. · (21) ·
I thought all the interleague games were supposed to be spread out now? The Yankees begin the third of four straight interleague series tonight tomorrow as the Pirates come to town for a three-game weekend series. This is the Pirates' first trip to the new Yankee Stadium and their first trip to the Bronx in general since 2007. They are 0-6 all-time in Yankee Stadium during interleague play.
What Have They Done Lately?
Pittsburgh was handed a walk-off loss by Khris Davis and the Brewers yesterday, and they have lost three of their last four games overall. They won four straight before that. Following their stellar 94-win campaign last season, the Pirates are 17-23 with a -13 run differential in 2014 and are again looking for a way out of the NL Central cellar.
Offense
At 3.95 runs per game with a team 98 wRC+, reigning NL Manager of the Year Clint Hurdle has a decidedly average offense. It doesn't help that former Yankee C Russell Martin (103 wRC+) is out with a hamstring injury. He's on the 15-day DL and it doesn't sound like he will return this weekend. OF Starling Marte (96 wRC+) has been dealing with back tightness and has been limited to pinch-hitting duties these last few days.
Hurdle's lineup revolves around reigning NL MVP OF Andrew McCutchen (159 wRC+), who is actually performing better this year than he did last year. He's an elite all-around player. Second best outfielder in the game behind Mike Trout. 2B Neil Walker (128 wRC+) has been very good this year, as has the first base platoon of 1B Gaby Sanchez (159 wRC+) and 1B Ike Davis (127 wRC+). I assume both guys will play this weekend thanks to the DH. Washington Heights native 3B Pedro Alvarez (101 wRC+) has enormous power and may be in for quite a weekend thanks to the short porch.
With Martin hurt, C Chris Stewart (47 wRC+) has more or less taken over as the everyday catcher. I'm sure you remember what that was like. The platoon of OF Travis Snider (88 wRC+) and former Yankees farmhand OF Jose Tabata (78 wRC+) is just keeping right field warm for top prospect OF Gregory Polanco, who figures to be called up after the Super Two deadline passes late next month. SS Clint Barmes (38 wRC+) and SS Jordy Mercer (47 wRC+) share shortstop duty and UTIL Josh Harrison (125 wRC+) has had a nice year off the bench. C Tony Sanchez (79 wRC+) is Stewart's backup. It's a top heavy (really middle heavy) lineup.
Pitching Matchups
Tonight's game has already been postponed due to rain, so the Yankees and Pirates will play one game on Saturday and two games on Sunday. There's no word on how the pitching staffs will shake out, so here are the matchups that were scheduled coming into today. I assume the same six pitchers will start these three games, just not necessarily in the same order.
Friday: RHP David Phelps (vs. PIT) vs. RHP Edinson Volquez (vs. NYY) (Pitcher GIFs)
I'm not sure there is a more frustrating pitcher to watch in all of baseball than Volquez. He's like A.J. Burnett times three. Volquez, 29, has a 4.36 ERA (4.49 FIP) in 43.1 innings across seven starts and one relief appearance this season, though his strikeout rate (5.19 K/9 and 13.9 K%) is way, way down. He has cut down on his walks (2.70 BB/9 and 7.2 BB%), and while that may be an early season fluke, the Pirates did manage to help Burnett curb his walk problem, so it might be real improvement. Volquez is getting grounders (50.4%) and allowing homers (1.04 HR/9 and 11.9% HR/FB) at almost exactly his career rates. Lefties (.269 wOBA) have hit him much harder than righties (.277 wOBA) this season. Volquez's stuff is usually electric, as he uses low-to-mid-90s two and four-seam fastballs to set up his hard upper-70s/low-80s curveball and a mid-80s changeup. It's just that his command is so bad he often has no idea where the ball is going, though when it clicks and he's having a good day, he is dominant.
Saturday: RHP Hiroki Kuroda (vs. PIT) vs. RHP Charlie Morton (vs. NYY) (Pitcher GIFs)
Morton, 30, made a name for himself a few years ago by copying Roy Halladay's mechanics and essentially saving his then stalled out career. "We made a change, and things are going better. Did I reinvent myself? Reinventing is a fairly accurate term," he said to Paul Daugherty about copying Halladay. This season he owns a 3.22 ERA (4.14 FIP) in eight starts and 50.1 innings. He's a ground ball guy (55.3%) who does an okay job limiting walks (3.04 BB/9 and 7.8 BB%) and homers (0.54 HR/9 and 8.8% HR/FB), but he can't miss bats (5.54 K/9 and 14.2 K%) to save his life. Morton has a reverse split this season — .274 wOBA by lefties and .327 wOBA by righties — but that is the exact opposite of the last few seasons. He usually gets destroyed by left-handers. Morton is basically a two-pitch pitcher, throwing his sinking low-90s two-seamer and upper-70s curveball more than 90% of the time combined. He'll throw a handful of mid-80s changeups per start, but that's it. Think of him as a lesser version of vintage Chien-Ming Wang.
Sunday: LHP Vidal Nuno (No vs. PIT) vs. RHP Gerrit Cole (No vs. NYY) (Pitcher GIFs)
Of course. Of course Cole is going to pitch against the Yankees this weekend. Of course the team's first round pick in 2008 who didn't sign and wound up going first overall to Pittsburgh in 2011 after three years at UCLA is going to make his Yankee Stadium debut on Sunday. The baseball gods wouldn't have it any other way. The 23-year-old Cole has a 3.76 ERA (3.96 FIP) in eight starts and 52.2 innings this season, though his strikeout rate (7.69 K/9 and 20.2 K%) doesn't match the quality of his stuff. He is getting grounders (54.5%), limiting walks (2.73 BB/9 and 7.2 BB%), and doing an okay job of keeping the ball in the park (1.03 HR/9 and 14.6% HR/FB), however. Lefties (.351 wOBA) have had much more success than righties (.317 wOBA) this season, which is the exact opposite of last season. Cole's arsenal has evolved a bit since the Yankees drafted him, but he still has his trademark high-octane fastball. It is averaging 95.6 mph this season, the fourth fastest fastball in the game. Cole backs it up with a nasty upper-80s slider and mid-80s curveballs and changeups. The changeup is arguably his best offspeed pitch and more than a few people think he needs to throw it more often. Right now Cole only throws it 4.2% of the time. Get ready for a whole lotta "what could have been" chatter this weekend.
Bullpen Status
Hurdle has been without closer RHP Jason Grilli (oblique) since last month, so former Yankee RHP Mark Melancon (2.63 FIP) has been handling ninth inning duties in his place. He blew the save and took the walk-off loss yesterday. The Pirates have two very good, hard-throwing lefties in LHP Justin Wilson (2.39 FIP) and LHP Tony Watson (1.95 FIP).
RHP Bryan Morris (4.88 FIP), RHP Vin Mazzaro (8.77 FIP), and RHP Jared Hughes (3.80 FIP) handled the middle innings while  RHP Jeanmar Gomez (5.88 FIP) is the long man. Melancon, Wilson, and Watson all have had high workloads recently and may not have been available tonight. The rainout comes at a good time for Pittsburgh. Check out the status of New York's relievers at our Bullpen Workload page, then check out Pirates Prospects, Raise the Jolly Roger, and Bucs Dugout for everything you need to know about the Pirates. There are some really good Pirates blogs out there.
By

Via Nick Cafardo: The Yankees may re-consider signing Stephen Drew after the draft passes next month, when they would not have to forfeit their second round pick. The team also doesn't want the Red Sox to gain another compensation pick after essentially giving them one as part of the Jacoby Ellsbury signing.

Drew, 31, will probably need several weeks to get ready for MLB game action at this point, even if he has been working out in the meantime. (I'm sure he has.) The best case scenario is what, probably one week to get ready? As Joe wrote yesterday, the Yankees could clearly use help on the infield — if Carlos Beltran needs surgery, Derek Jeter could serve as the regular DH with Drew at shortstop — but it's obvious no other team is going to jump in to sign him before the draft. With only three weeks to go, I think they could wait. He wouldn't move the needle enough in those three weeks to justify losing the pick. · (39) ·
Got eight questions for you this week, some with long-ish answers and some with short answers. If you want to send us anything, mailbag questions or otherwise, use the Submit A Tip box in the sidebar.
JoeyA asks: How much would TANAK get on the open market RIGHT NOW. My guess: more than 7/155.
Yeah, I'm pretty sure Masahiro Tanaka would fetch more than seven years and $155M right now. He's legitimately pitching like an ace (2.17 ERA and 2.81 FIP) because he doesn't walk anyone (1.09 BB/9 and 3.1 BB%) and he misses a ton of bats (10.24 K/9 and 29.5 K%). Tanaka's been durable throughout his career, he's adjusted to the different ball and five-day schedule just fine, and he's only 25 years old. Plus he's a stone cold killer on the mound. Absolutely nothing rattles him. He would be a seriously hot commodity on the open market now that he's shown he can handle MLB.
Tanaka's contract (not counting the release fee) is already the fourth largest pitching contract in baseball history. I don't think he'd get Clayton Kershaw money (seven years, $215M) if he was a free agent right now, but Felix Hernandez (seven years, $175M) and Justin Verlander (seven years, $180M) money seems very doable. That said, none of those three were free agents, they all signed extensions. Tanaka would be able to create a bidding war, so maybe $200M isn't out of the question. I think Max Scherzer's headed for $200M this winter and he turns 30 in July. Wouldn't you rather have Tanaka's age 25-31 seasons over Scherzer's age 30-36 seasons?
Stephen asks: CC Sabathia's xFIP is 3.14, good for 21st in the bigs. Since the purpose of xFIP is to normalize home run rates, do you see a large regression coming for the big guy? How is it possible for a guy with his peripherals to be this bad? Tanaka is actually leading the xFIP leaderboard, due to his bloated HR rate. Is it possible that he's going to get even better as the season progresses?
I am absolutely not a fan of xFIP because it does normalize homer rates to the league average. Why are we doing that, exactly? We know pitchers give up homers at different rates so why would we expect them to regress back to the rest of the league? You're better off comparing a pitcher's homer rate to his recent performance.
For example, Sabathia has a 23.3% HR/FB rate this year, which is way higher than last season (13.0%) and the last three seasons (11.3% from 2011-13). At the same time, he's given up some serious bombs this year — Hit Tracker says eight of Sabathia's ten homers allowed were "no doubters" or had "plenty," basically meaning they were crushed. One was "just enough" and barely got over the wall. The other was Wil Myers' inside the park homer — and that indicates hitters are squaring him up well. The 23.3% HR/FB rate is insane (would be the highest in MLB history by a mile) and I would expect it come down some, but given the swings hitters are taking against him, I wouldn't be surprised if he was a true talent 15-16% HR/FB guy now, especially in Yankee Stadium. The AL average is 9.4% this year and it feels like it would take a miracle for Sabathia to get his homer rate down that far at this point of his career. Long story short: I'm not an xFIP fan at all.
Spencer asks: I know it's a tad premature, but how does the contract Yangervis Solarte has work? Does he become a free agent this year? Also, suppose he has the same slash line as he has now at the end of the season what would you sign him for?
This is the first time Solarte has been in the big leagues, so the Yankees still have his full six years of team control. Assuming he never goes back to the minors, he'll earn something close to the league minimum from 2014-16, then go through arbitration from 2017-19. Solarte can not qualify for free agency until after the 2019 season at the earliest, when he will be 32 years old.
As for signing him long-term … I think it might be too early for that. Solarte's been awesome, don't get me wrong, but given his out of nowhere emergence from mediocre minor league journeyman to impact big leaguer, I think you need to see if he does it again next season before committing real money to him. If he'd agree to something like five years and $10M after the season (say $550k, $750k, $1.5M, $2.9M, $4.3M from 2015-19), then hell yeah, do it. He might jump at the guaranteed payday after toiling in the minors so long. At worst he'd be an expensive bench player four years down the line. The Yankees have a ton of money and can roll the dice by waiting a year to see if this is the real Solarte though.
Chris asks: Any thoughts at a run at Mike Moustakas? He's off to an awful start and they are talking of sending him back to the minors.
I think the Yankees should call and ask, sure. Moustakas is off to a dreadful start (53 wRC+ going into last night's game) and he simply can't hit lefties, either this year (.198 wOBA) or throughout his relatively short big league career (.267 wOBA), so he's basically a platoon player. He does have left-handed pop and he's made himself into a strong defender at the hot corner, plus he is only 25 and it wasn't that long ago that he was considered one of the ten best prospects in baseball. Maybe hitting coach Kevin Long can help him take him to the next level like he did Robinson Cano and Curtis Granderson (and Solarte?).
The Royals are not the cellar-dwellers they once were, or at least they aren't acting like that anymore. They're trying to win right now, this year, before James Shields leaves as a free agent. I don't think they'll trade their starting third baseman — they have some internal candidates to replace him, so trading Moustakas is not necessarily a crazy idea — for a handful of prospects. They'll want help for the big league team in return. Kansas City could probably use another outfielder and another starting pitcher. There's no way I'd give up Brett Gardner for Moose Tacos and I doubt Zoilo Almonte or Ichiro Suzuki would cut it. As for the pitching, hah. The Yankees have zero to spare. He's worth a phone call but I'm not sure there's a good trade fit at this moment.
Mike P. asks: Under the new replay system, let's say the HQ in New York tells the umpires a batter is safe at first, but the umpires watch the scoreboard replay and think he's out. Do they have to follow the call from NYC or can they make their own judgment?
It's all done in the Midtown office, the reviews and the decision. They just relay the call through the headsets. I don't believe the on-field umpires have the authority to make the call either once it goes to review, that would defeat the purpose.
Daniel asks: You mentioned being sort of iffy on the decision to give Tino Martinez a plaque. Are there any of the other plaques or retired numbers that you disagree with or that at least are strange to you?
Here's the list of monuments, plaques, and retired numbers. None of them stand out to me as odd but most of those guys played or managed or whatever long before my time. I think there's a "feel" element to this stuff. You can't just set some arbitrary WAR threshold and say guys over this number get a plaque, guys over this number get their number retired, so on and so forth. The guy has to feel like he belongs in Monument Park. You know I mean. Tino was awesome for the Yankees for six years, but was he an all-time great Yankee? Not a chance. I think others like Willie Randolph, Bobby Murcer, and Joe Gordon (Hall of Famer!) are more deserving of plaques. That's just my opinion though. Everyone is welcome to feel differently.
Dan asks: Do you think Peter O'Brien has reached his top level this season? He got a quick promotion. If he keeps hitting like he did in High-A could he make it to AAA this year?  
O'Brien was promoted quickly because he spent the second half of last season in High-A as well, it wasn't just a few weeks early this year. That said, yes I definitely think another promotion may come later this season. Not right away, O'Brien needs some time to catch his breath and get comfortable in Double-A, but in August or so? Sure, bump him up if he's still raking. Guys like him — drafted as a college senior, ton of power, lots of strikeouts, never walks, still trying to find a position — are the ones teams should promote aggressively because you're not going to know what you have until he gets to the highest levels of the minors. He's not someone like, say, Luis Torrens, who is trying to learn to catch high-end velocity and get through the grind of a full season. Give O'Brien like two months in Double-A then see where he's at.
Kevin asks: Why not try Gary Sanchez at third at least part-time? They seem pretty set with Brian McCann and John Ryan Murphy behind the plate. 
Sanchez still needs to work on his catching and I mean just about everything. Footwork, receiving, throwing, the whole nine. I think they should let him focus on improving behind the plate because that is where he's most valuable. Who's to say McCann won't be a full-time DH and Murphy won't be a bust by time Sanchez is ready? We're still a long way away from worrying how he fits onto the roster and I think the odds of him being traded are much higher than the odds of him wearing pinstripes for more than a few weeks. When he gets to Triple-A and it looks like he might be ready to help the MLB team, that's when I'd worry about his position. For now, leave him behind the plate and let him learn.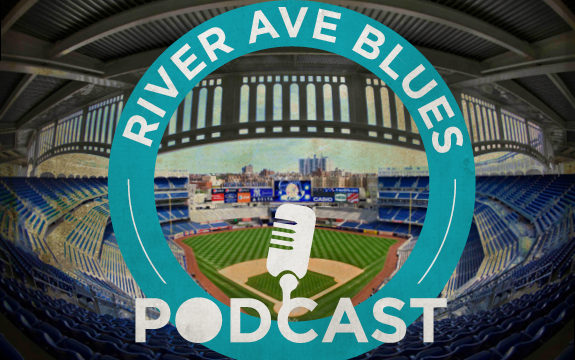 How much more injured can the Yankees get? Frankly we don't want to know the answer. Mike and I kick off the show talking about the latest injuries to CC Sabathia and Carlos Beltran (and Shawn Kelley, don't forget him).
Then we're talking to Jorge Arangure of The New York Times, Sports on Earth, and other fine sports publications. Jorge wrote an article on Carlos Beltran this week, which you can find here. We talk about some aspects of Beltran you don't see reported every day. Catch Jorge on Twitter, @jorgearangure.
The Pirates come to town this weekend, which gives us an opportunity to talk with Tim Williams of Pirates Prospects, a wonderfully run team blog. Might even be the second-best team-specific blog out there. It might be called Pirates Prospects, but it covers all aspects of the team. If you're wondering about the team that broke a horrible below-.500 streak last season, but has started out slowly this year, Tim's your man. You can catch him on Twitter, @timwilliamsp2.
iTunes link: subscribe here
Or you can subscribe to the RSS feed.
You can find us on Stitcher.
There are also plenty of iOS and Android apps that will grab the pod.
Podcast: Play in new window | Download (Duration: 1:02:16 — 28.5MB)
Baseball is weird, man. The Mets destroyed the Yankees and their pitching staff in the first two games of the Subway Series, scoring 21 runs in the two games at Yankee Stadium. Then, naturally, the Yankees shut their crosstown rivals out in the two games at Citi Field. Rookie starter Chase Whitley and three relievers followed Masahiro Tanaka's shutout with a combined shutout of their own on Thursday. The final score was 1-0.
One Run? That's All You'll Get And You'll Like It
This game was a pitcher's duel for the first 6+ innings. Whitley (more on him in a bit) and fellow rookie righty Jacob deGrom traded zeroes for a while, and it wasn't until there were two outs in the seventh that the Yankees broke through. Mark Teixeira drew a one-out walk but was erased at second on Brian McCann's fielder's choice. He beat out the would-be double play thanks to a poor relay throw from second. Alfonso Soriano made the Mets pay with a double into the left-center field gap, scoring McCann all the way from first base. He was huffing and puffing the whole way.
Aside from that rally, the only other time the Yankees put a runner at third base came in the eighth inning, when Derek Jeter grounded out weakly to short with the infield in. The runner was cut down at the plate. Kelly Johnson and Brett Gardner drew walks earlier in the inning and advanced on a wild pitch. deGrom retired eleven in a row at one point and looked very sharp in the middle innings. The Yankees had their hands full with the rookie hurler. He made basically one mistake pitch in that seventh inning and they pounced.
Whitley's Debut
Based on the fact that he picked up his first career hit before allowing his first career hit, Whitley's big league debut was a success. Throw in the fact that he held the Mets to two singles and two walks in 4.2 scoreless innings and I'd say it was a definite success. Despite his lack of experience as a starter, Whitley didn't seem nervous on the mound and he filled the strike zone before tiring in the fifth inning. It was only the fourth scoreless MLB debut by a starter in team history and the first since Sam Militello in 1992. Yep.
I'm sure Joe Girardi was very tempted to let Whitley get the final out of that fifth inning, especially since the pitcher's spot was due to lead off the next half-inning, but I thought he pulled him at just the right time. Whitley was starting to tire in that final inning (back-to-back walks) even though he threw only 74 pitches on the night — his season-high in Triple-A was 88 pitches two weeks ago, his only game over 78 pitches — and the most important thing is always winning the game. The bullpen bailed him out of the second-and-third jam and Whitley can spend the next few days feeling good about his debut.
All told, Whitely struck out four and got eight ground ball outs compared to only two in the air. The only hard hit ball was Lucas Duda's fly out to the left-center field warning track to end the second inning. That's it. The two hits were a ground ball through the right side and a bloop to center. Whitley was missing barrels, that's for sure. Here's hit pitch breakdown, courtesy of Brooks Baseball (PitchFX data may change overnight):
37 fastballs, 26 strikes, three whiffs, averaged 92.3 mph and topped out at 94.4
23 changeups, 10 strikes, four whiffs, averaged 84.8 and topped out at 87.9
14 sliders, seven strikes, three whiffs, averaged 86.8 and topped out at 88.8
The Yankees' pitching staff is full of opportunity right now and I have to think Whitley will make another start in five days (six, really, because of an off-day). He'll remain in the rotation almost by default. Whitley pitched very well though, especially considering he's been a starting pitcher for basically two and a half months. He gave the Yankees a much needed shot in the arm — this was the first scoreless outing by one of the team's non-Tanaka starters in four weeks, since Vidal Nuno in Tampa — and it was good to see someone come up from Triple-A and contribute right away for once.
Brilliant Bullpen
Dellin Betances came into this game with a 41.3% strikeout rate (14.85 K/9) and left it with a 44.8% strikeout rate (15.72 K/9). The big man got a ground ball to third to escape Whitley's jam in the fifth inning, then he tacked on another two scoreless innings. He struck out the side. Both times. Seven batters faced and six strikeouts, all in a row. Betances was overpowering. The Mets had no chance. David Robertson is awesome, but I can't remember the last time the Yankees had a pitcher this dominant on an inning-by-inning basis. Maybe Mariano Rivera in 1996? Dellin's awesome.
Adam Warren got the ball to start the eighth inning, and he ran into a little self-inflicted pickle by walking the reanimated corpse of Bobby Abreu with one out. Following an Eric Young Jr. strikeout, Daniel Murphy put runners on the corners with two outs by slapping a soft ground ball single inside the third base foul line. Girardi did what he said he would do a few days ago and went to Robertson for a four-out save, which was absolutely the right move. One-run game, runners on the corners, David Wright at the plate? Get your best reliever in there. Robertson coaxed a ground out from Wright and then tossed a 1-2-3 ninth for his seventh save. Girardi did a great job with the bullpen by going to Betances and Robertson in the biggest spots of the game.
Leftovers
According to the batted ball data at FanGraphs, Jeter hasn't hit a ball in the air since last Wednesday, the final game of the series in Anaheim. He made four outs in three plate appearances in this game (lined softly back to the pitcher for a double play) and failed to get an insurance run in from third in the seventh inning when the runner was thrown out at home. Jeter was double-switched out of the game when Robertson was brought in, a move that would not have happened had the game been played in an AL. I wouldn't expect this to be a regular thing. Either way, the Cap'n could probably use a day or two off this weekend.
Yangervis Solarte had really rough day, going 0-for-4 with a strikeout and two double plays. He killed a potential rally in the ninth with a double play and I thought Girardi should have challenged the call at first. It was very close and replays showed he probably out, but in that situation, just use the challenge and see if you get lucky. Maybe the umpire in Midtown sees it differently. I understand wanting to save the challenge for potential call in the bottom of the ninth (you could always "encourage" the umps to review a play in the ninth, as per the rulebook), but chances are you won't need it and the rally could have been extended. Oh well.
The Yankees only had six hits on the night, including two by Soriano. Jacoby Ellsbury doubled, Teixeira single, McCann singled, and Whitley singled. Gardner drew two walks while Teixeira and Johnson drew one apiece. Zoilo Almonte struck out in his first at-bat of the season, which wasn't surprising considering he was facing a lefty. He is a switch-hitter, but that doesn't mean much. He had a .946 OPS against righties in Triple-A compared to a .392 OPS against lefties. Eek.
In addition to his 44.8% strikeout rate, Betances is now down to a 0.82 FIP on the season. The three relievers combined to strike out ten batters in 4.1 innings and they did not allow a ball to leave the infield in the air. Murphy's single that stayed just fair as it rolled by third base was the only ball they allowed to leave the infield in general.
Box Score, WPA Graph & Standings
MLB.com has the box score and video highlights, FanGraphs some other stats, and ESPN the updated standings.

Source: FanGraphs
Up Next
The Yankees continue the Yankee Stadium portion of the homestand with a three-game series against the Pirates this weekend. Edinson Volquez and David Phelps kick that one off on Friday night. Worst pitching matchup of the year? Possibly. RAB Tickets can get you in the door if you want to catch any of the three games.
The High-A Tampa game is finally over following two lengthy rain delays and the post has been updated. Here are some notes:
C Austin Romine was placed on the Triple-A DL, according to Donnie Collins. He left yesterday's game with a hand injury. LHP Fred Lewis, meanwhile, was activated off the DL. He had been out with a blister issue.
LHP Matt Tracy and RHP Eric Ruth have swapped places, according to Nick Peruffo. Tracy goes up to Triple-A Scranton and Ruth goes down to Double-A Trenton.
Here's a good article from  Bill Ballew on OF Aaron Judge. He discussed why he went to college instead of turning pro out of high school, what he's trying to improve, stuff like that.
Triple-A Scranton (7-1 loss to Lehigh Valley)
SS Dean Anna: 0-4
LF Adonis Garcia & CF Ramon Flores: both 1-4, 1 2B
3B Scott Sizemore: 0-3, 1 K
1B Kyle Roller: 1-3, 1 R, 1 HR, 1 RBI, 1 K — second homer in his last three games and eleven homers in 27 games this season
RHP Shane Greene: 5 IP, 8 H, 4 R, 4 ER, 2 BB, 4 K, 4/4 GB/FB — 55 of 84 pitches were strikes (65%)
RHP Danny Burawa: 2 IP, 1 H, 0 R, 0 ER, 1 BB, 2 K, 4/0 GB/FB — half of his 30 pitches were strikes
LHP Fred Lewis: 0 IP, 4 H, 3 R, 3 ER, 1 BB, 0 K — eleven of 20 pitches were strikes (55%) … rough first game back
RHP Mark Montgomery: 1 IP, 1 H, 0 R, 0 ER, 0 BB, 3 K — 13 of 19 pitches were strikes (68%) … 22/10 K/BB in 18.2 innings
Thanks to injuries to each team's Opening Day starter, both the Yankees and Mets will have a pitcher make his MLB debut tonight. Righty Chase Whitley is filling in for CC Sabathia (knee) while fellow righty Jacob deGrom steps in for Dillon Gee (lat). Neither Whitley nor deGrom is a top prospect, but they have the potential to be useful big league arms in some capacity. Whitley only recently converted from reliever to starter, so it'll be interesting to see how he handles turning over a big league lineup.
Via Bryan Hoch, Elias says this is the first time the Yankees have been involved in a game in which both starters were making their MLB debut since October 1908. They were still the Highlanders back then. That is kinda nuts. The Mets were involved in one of these games back in September 2010, when Gee made his debut against Yunesky Maya. That's the last time two starters have made their debuts in the same game. It just so happened to include the Mets. Here is the Mets lineup and here is the Yankees lineup:
SS Derek Jeter
RHP Chase Whitley
It is cloudy and cool in New York, and it was raining overnight and for a good chunk of the morning. There is no more rain in the forecast though, so they shouldn't have any trouble getting this game in. First pitch is scheduled for 7:10pm ET and you'll be able to watch on both YES and SNY locally, as well as MLB Network nationally. Depending on where you live, of course. Enjoy the game.
Roster Moves: In case you missed it earlier, Carlos Beltran (elbow) has been placed on the 15-day DL. That cleared a 25-man roster spot for Whitley. The Yankees are back to a normal seven-man bullpen and four-man bench. Righty Bruce Billings was activated off the 15-day DL and designated for assignment to clear a 40-man roster spot for Whitley, the team announced. He was out with a forearm strain.
Spencer Adams | RHP
Background
Adams is from Cleveland, Georgia, a tiny little town in the northern part of the state. He plays three sports at White County High School and is a standout basketball player. There is video of him dunking all over YouTube. Adams is committed to Georgia, where he would play baseball only.
Scouting Report
Listed at a projectable 6-foot-4 and 180 lbs., Adams is one of the very best athletes in the entire draft. He has a quick arm and usually sits in the low-90s with his fastball, occasionally touching 95. Adams throws three different offspeed pitches, but his tight low-80s slider is the best of the bunch and a potential out pitch. He also throws inconsistent curveballs and changeups. There is some effort in his delivery and Adams throws from a lower arm slot, so he's not picture perfect on the mound. Whichever team drafts him will hope his high-end athleticism will lead to improved mechanics and command as he focuses exclusively on baseball.
Miscellany
Baseball America, MLB.com, and Keith Law (subs. req'd) ranked Adams as the 24th, 27th, and 35th best prospect in the draft class, respectively. He came into the spring as more of a second round talent but has climbed draft boards in recent weeks. I've become kinda obsessed with athletic pitchers after reading this article about the Cardinals' scouting and development strategies, but the Yankees will need some luck if they want Adams to fall to their top pick, 55th overall. He has all the look of a guy who will come out of college as a potential top three overall pick in three years.