By

During a recent YES Network interview (video link), Mark Teixeira acknowledged still feeling some stiffness in his surgically repaired right wrist. "Right now, I'm six months out of surgery. Will I be 100% day one? I hope so," said Teixeira. "Even my doctor said 'it's going to keep getting looser, keep getting stronger' … I'm a little anxious about the way I'm going to feel, but I know that as long as I'm doing what I'm told, doing what I'm supposed to be doing, that I should be fine."

Teixeira, 33, missed all but 15 games last year due to wrist trouble, eventually having season-ending surgery in early-July. During the interview he said he has been taking dry swings for two months and just recently started hitting off a tee. Hitting against 90+ mph pitches is on tap for next month with game action to follow in early-March. Hearing Teixeira still has some stiffness in the wrist is disconcerting, but there is still a long way to go before Opening Day. The Yankees improved their offense this winter but they're still going to need their first baseman to remain healthy and productive. · (84) ·
At some point in the next 80 hours or so, the Masahiro Tanaka sweepstakes will be over. He has until 5pm ET this Friday to sign with an MLB club, and that club might even be the Yankees. They reportedly made a fat nine-figure offer but so did four other clubs. There have been no serious indications about him leaning towards one team either. It's a total mystery, amazingly.
The Yankees need Tanaka if they want to contend this coming season, but he is still only one pitcher. There are four other rotation spots to consider and one of them belongs to CC Sabathia, who, up until last year, was the sure thing. During his first four years in pinstripes, the club could count on their ace left-hander to take the ball every five days and provide a ton of high-end innings. Even his bad starts were rarely disasters.
That all changed last year. Sabathia was legitimately one of the worst starters in baseball in 2013, ranking 76th out of 81 qualified starters with a 4.78 ERA and 72nd with 0.3 bWAR. His 122 runs and 112 earned runs allowed were both the most in the game. A normal Sabathia season probably would not have been enough to get the Yankees into the postseason, but his performance was a big reason why the team was stuck home in October. It was ugly.
The list of potential reasons for CC's sucky season is seemingly endless. He lost too much weight. He lost too much off his fastball. He had offseason elbow surgery. All the innings are catching up to him. Those are the most popular theories and I'm sure all four factor in somehow. I definitely think there is something to the idea of the elbow surgery throwing off his usual offseason routine, which Sabathia said he really noticed when his normal arm strength just wasn't there in mid-April. That doesn't figure to be an issue in 2014.
"I've been working out 100 percent, doing all my lifting and everything. I've felt fine," said Sabathia to Bryan Hoch recently, referring to his season-ending hamstring injury. "I've been able to throw the whole winter. Last year, I had the surgery, so I wasn't able to throw. I lost a bunch of weight all at one time. This year, it's all about just getting stronger, building my strength back up and keeping my arm loose."
Of course Sabathia was at his worst at midseason, after his velocity returned. His four-seam fastball averaged 92.3 mph during his disastrous nine-start run following the All-Star break (7.33 ERA and 4.80 FIP in 50.1 innings), velocity that was on par with his strong 2012 season (92.4 mph). There's a lot more to pitching life than fastball velocity, and this seems like a good spot to mention Sabathia's continually dropping release point (via Brooks):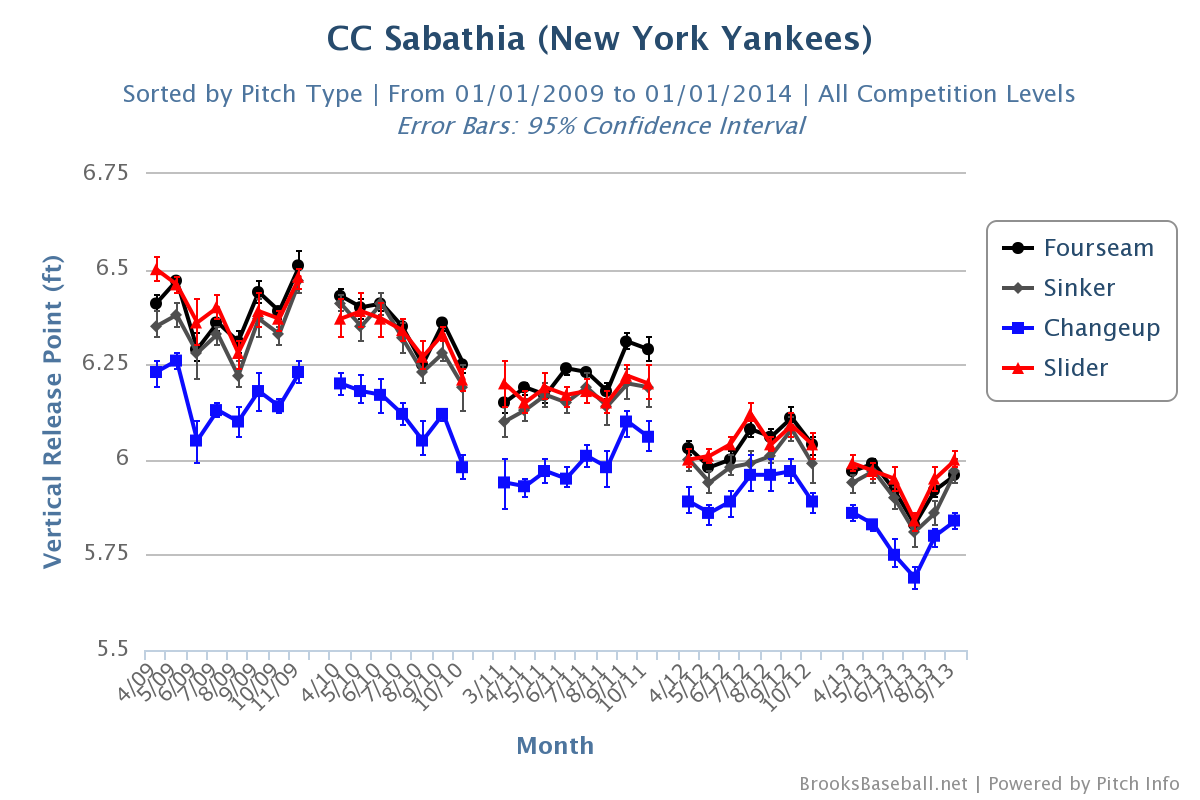 That's scary but also completely normal. Pitchers tend to drop their arms as they age because of all the wear and tear — the shoulder just isn't strong enough to maintain a high release point after a couple thousand innings. Pitching coach Larry Rothschild mentioned several times last year that Sabathia would lose his release point and his pitches would start to cut (right out over the plate, unfortunately), and the PitchFX data backs that up. I'm not sure anything can be done to reverse this trend at this point. The solution might not involve raising his arm slot, but learning how to pitch with a lower arm slot.
Anyway, Sabathia has had a normal offseason this winter, a normal offseason that will hopefully boost his velocity and maybe help a bunch of other stuff. You can tell he's been working hard these last few weeks because, well, look:
Holy crap!
That photo is from former teammate Rickie Weeks' wedding this past weekend. We've seen "CC is getting skinnier!" photos for like, three offseasons in a row now, but I think that one is the most startling. Not a bad way, just … wow. Sabathia told Ken Rosenthal he is "actually the same weight as I was last year, just a little more toned and a lot more strong," so it wasn't so much losing weight as it was turning bad weight (fat) into good weight (muscle). Still, you can't look at the photo and tell me he doesn't look way slimmer. Good for him.
"He's been going full speed since before Halloween," said trainer T.J. Lopez to Mike Puma. "This year he's going to go into Spring Training in the best shape of his life … Having the year he had last year, he's coming back really with a vengeance and he wants to prove something now, that he can do it."
That's a good thing. Everyone should want Sabathia to go out there with a chip on his shoulder and a desire to show last season was a bump in the road and not the start of a harsh decline. The Yankees need that Sabathia because the 2014 rotation will be full of question marks, with or without Tanaka. How will Tanaka or a similar pitcher handle the move into the AL East? Will Hiroki Kuroda shake off his rough finish? Will Ivan Nova find some consistency? What will David Phelps and various back-end arms contribute? It's unlikely Sabathia can get back to his dominant, Cy Young caliber form from 2007-11, but a healthy and productive above-average starter will go a long way towards improving the Yankees this summer. It's a necessity if they hope to contend.
By

As expected, Derek Jeter started baseball activities today in preparation for the upcoming season, reports the Associated Press. He hit off a tee and fielded over 100 grounders at the team's minor league complex in Tampa. "It's good to have a normal offseason and get some work in," said the Cap'n. "Everything is normal now."

Normally a player starting his offseason routine is not newsworthy, but Jeter is different this year. He will turn 40 this summer and he missed all but 17 games due to various leg injuries last year, including the fractured ankle he suffered during the 2012 ALCS and a subsequent setback. Jeter did not begin baseball workouts until early-March last year, so he's well ahead of that schedule. As he said, this is a normal offseason for him, something he didn't have a year ago. · (24) ·
Late last week, Derek Jeter sat down for the above interview with Harold Reynolds. They discussed his offseason and rehab from the various leg injuries, Alex Rodriguez, Alex Rodriguez some more, Robinson Cano bolting for the Mariners, Masahiro Tanaka, and a bunch of other stuff. I thought Jeter opened up a little more than we're used to seeing but not a ton. Nothing controversial or anything like that. It's only six minutes, so check it out.
This is your open thread for the evening. The various local basketball and hockey teams played earlier today, so you're on your own for entertainment. You should know how these things work by now, so go to town.
Four winters ago, the Yankees faced a dilemma. Should they bring back Johnny Damon, a huge part of the 2009 World Series Championship team, or move in a different, younger direction?
During the season it actually looked like the Yankees would sign Damon for another two or three years. Given his productivity for the previous two years, and the life of the original four-year contract in general, this seemed like a decent enough idea.
Alas, it was not meant to be. After winning the World Series they did make Damon a two-year, $14 million offer, which he did not accept. With a need remaining in the outfield, and purportedly without the budget to sign Matt Holliday, the Yankees turned to the trade market.
Once we learned that Granderson would become available, the fit seemed logical enough. While the Yankees didn't necessarily need a center fielder, with both Melky Cabrera and Brett Gardner on the roster, they certainly needed an outfielder with some pop.
At the Winter Meetings, Cashman pulled the trigger on a three-team trade that cost the Yankees top prospect Austin Jackson, left-handed reliever Phil Coke, and starter Ian Kennedy. The price might have seemed a little steep at the time, and even steeper in hindsight. Was the trade worthwhile in the end?
The case at the time
When the Yankees sent those three players to the Tigers and Diamondbacks, the case was easy enough to make. With the losses of Damon and Hideki Matsui, the Yankees needed an outfielder with some pop. If they weren't going to sign Matt Holliday (because they certainly weren't going to sign Jason Bay), a trade was the only avenue to that end. Granderson was the best outfielder available on the trade market at the time, so the Yankees were right to pursue him.
The other end lies in what they traded. Few, if any, would miss Phil Coke and his pointing to the sky on home run balls. Ian Kennedy rubbed fans, and likely the organization, the wrong way during his horrible 2008 season. Perhaps he could have pitched himself into a spot on the team in 2009 had he not suffered an aneurysm and missed most of the season. Then again, maybe he just would have been dealt at the deadline.
Losing Jackson certainly hurt, but with the losses of Damon and Matsui, the Yankees did need a little pop. Jackson didn't hit for much power in the minors, and at the time it was reasonable to think he'd show as much in the majors as Brett Gardner. The potential was there, sure, but the Yankees needed more of a sure thing. It was difficult to argue with the Granderson trade at the time.
Looking back
After a rough first four months in New York, which involved a hamstring injury, Granderson started to turn it around when he put in some serious work with hitting coach Kevin Long. He not only finished the 2010 season strongly, but he had a phenomenal postseason, going 10 for 28 with two doubles, a homer, and a huge triple off Francisco Liriano in Game 1 of the ALDS.
Jackson, for his part, put up decent numbers in his rookie year, though he lead the league in strikeouts. His defense dazzled at times. Earlier in the season it did appear that the Yankees might have been better off just keeping him, but by season's end it was clear Granderson was coming around.
The kicker came in 2011, when Granderson belted 41 home runs while leading the AL in both runs and RBI. That's the kind of year that changes the entire thinking on a trade. Not only did Jackson tank, with an 88 OPS+, but it was unlikely he'd ever perform anywhere near that level even in his best-case scenario.
That one year is really what the Yankees can hang their hat on. Jackson came back with a strong 2012 and good 2013, accumulating 14.6 WAR since the trade. Granderson put up only 13.9 during his time as a Yankee. This isn't the best comparison, of course; defensive values are sketchy, and Granderson has clearly been the better hitter over the last four years (120 OPS+ vs. 105).
Ian Kennedy, for his part, found some success after leaving the Yankees. After a rocky April he went on to produce a 3.68 ERA in the final five months of the 2010 season, and then followed it up with a fourth-place finish in the Cy Young Award voting in 2011. Oh, what could have been.
Of course, there's no guarantee that Kennedy would have achieved that kind of success as a Yankee. Had he not suffered the aneurysm in 2009 he might have gotten another shot at consistent starts, since the Yankees were hurting for starters towards the end of the season. Had he failed to impress then, chances are he wouldn't have gotten another shot. Arizona, coming off a 70-92 season, could afford to let Kennedy settle in.
The question in this trade comes down to how you value Granderson's 2011 specifically, and his hitting in general. The Yankees needed that high-end production, and for at least one year they got it. Though he performed a bit worse in 2012, getting another 40-homer season certainly helps make the trade look a bit more favorable.
Long-term, the Yankees clearly would have been better served holding onto Jackson. He's had one very good year to go with a few average ones, he plays stellar defense, and he's still under team control for two more years. In an ideal world, they can keep him and let him play. But where they were at the time, in need of some outfield power, Granderson made a bit more sense.
These next five days are going to be all about Masahiro Tanaka. The right-hander has until 5pm ET on Friday to sign with an MLB team, otherwise he'll return to the Rakuten Golden Eagles for another year. I don't see him returning to Japan. Especially not with five clubs reportedly making nine-figure offers. The Yankees are said to be one of those teams.
New York will not make another major move until the Tanaka situation is resolved — every club seems to be doing the same thing — and while adding a starter should be the top priority, the team also needs to fill out its bullpen. Just yesterday we heard they are seeking a proven late-inning arm to pair with David Robertson, Shawn Kelley, and Matt Thornton. Add a bullpen arm is a necessity more than a luxury at this point.
According to Ken Rosenthal, the Nationals would like to trade current setup man and former closer Drew Storen. Washington is in the mix for the still available Grant Balfour, and trading Storen would be a cost-saving move. Does the 26-year-old right-hander make sense for the bullpen-needy Yankees? Let's look.
The Pros
From his big league debut in May 2010 through the 2012 season, Storen posted a 2.96 ERA (3.13 FIP) with good to great strikeout (8.39 K/9 and 23.0 K%), walk (2.80 BB/9 and 7.7 BB%), and ground ball (45.9%) rates in 161 innings. He also handled lefties (.261 wOBA against) as well as he handled righties (.270).
Storen is one of those rare relievers who will use four pitches regularly: mid-90 two and four-seam fastballs, upper-80s changeup, and low-80s slider. That deep arsenal is why he had no platoon split.
The only thing Storen has not done in his short career is be a long reliever. He has experience closing (52-for-60 in save chances from 2010-12), he's been a setup man, and he did the middle relief thing earlier in his career. Nothing would be new to him.
Storen will earn $3.45M next season, his second of four years of arbitration-eligibility as a Super Two. He has at least one minor league option remaining and will not be eligible for free agency until after the 2016 season.
The Cons
Storen was not particularly good last season, pitching to a 4.52 ERA (3.62 FIP) in 61.2 innings while spending roughly two weeks in Triple-A. Lefties destroyed him (.347 wOBA against) and he had a career worst homer rate (1.02 HR/9) as well.
Surgery to remove bone spurs from his elbow limited Storen to only 30.1 innings in 2012. His fastball velocity has slipped a bit over the years and his slider whiff rate last year (11.44%) was way lower than the previous three years (15.49%).
Storen has had some high-profile meltdowns, specifically blowing a two-run lead in the ninth inning of Game Five of the 2012 NLDS. The Nationals clearly lost confidence in him after that even though they insist otherwise.
It's possible Storen's issues last year were related to simple bad ball-in-play luck — his career-high .319 BABIP in 2013 was way higher than his .267 mark from 2010-12. Weird stuff like that can happen when you're talking about a game that involves hitting a round ball with a round cylindrical bat onto a large swath of grass, especially in the confines of 60-something innings. The elbow surgery, slight velocity decline, and possible confidence hit from blowing the 2012 NLDS may have also been (and likely were) factors.
Given his poor year and the fact that the Nationals have made it clear they've lost faith in him, Storen qualifies as a buy-low candidate. He's still young and the upside is three years of an above-average to lights out late-inning reliever. If worse comes to worst, he could always be non-tendered. It's difficult to come up with trades involving similar relievers at similar points of their career (Mark Melancon? Addison Reed? Ernesto Frieri?), so who knows what it would take to acquire him. Bill Ladson says the Nationals are looking to trade for a backup catcher, but I doubt Austin Romine gets it down without a good secondary piece. (I don't mean Eduardo Nunez either.)
It's worth pointing out that the Yankees drafted Storen out of high school back in the day (34th round in 2007), so they liked him at some point in the not too distant past. There is a tiny bit of familiarity there, but, even if there wasn't, the club needs late-inning bullpen help and Storen looked to be on the path to becoming one of the best relievers in the game less than 18 months ago. Washington has soured on him and, like teammate Danny Espinosa, there might be an opportunity for the Yankees to acquire him for 75 cents on the dollar. There are some red flags, no doubt, but the same is true of every available reliever.
2013 Season: 85-77 (637 RS, 671 RA, 77-85 pythag. record), didn't qualify for playoffs
Top stories from last week:
Please take a second to answer the poll below and give us an idea of how confident you are in the team. You can view the interactive Fan Confidence Graph anytime via the nav bar above, or by clicking here. Thanks in advance for voting.
Given the team's current roster construction, farm system, management, etc., how confident are you in the Yankees' overall future?
One way or another, the Masahiro Tanaka sweepstakes will be over one week from today. His signing deadline is 5pm ET on Friday but I think we'll probably hear about an agreement a day or two earlier. He has to pass a physical and literally sign the contract before the deadline, so there needs to be a little wiggle room. These next few days should be fun. Here are the weekly links:
Friday: This is your open thread for the night and will be for the rest of the weekend as well. The Knicks are the only local team in action and, from what I understand, they're unwatchable. It is Friday though, so it's a good night to go out. Talk about any and everything right here.
Saturday: Once again, this is your open thread. The Islanders and Devils are both playing, but that's pretty much it. Talk about whatever. Enjoy.
Sunday: For the third and final time, this is the nightly open thread. The AFC Championship Game should be just about ending and the NFC Championship Game should be close to beginning as of the time of this post. The Rangers are playing as well. Enjoy the rest of the weekend.
By

Via Joel Sherman: The Yankees have "indicated a desire" to bring in another reliever to help David Robertson and Shawn Kelley in the late innings. They signed Matt Thornton a few weeks ago, but he is a left-handed specialist more than anything at this point of his career. They've also signed a bunch of relievers to minor league deals in recent weeks (Matt Daley, Robert Coello, Brian Gordon, etc.) but seem to be looking for some more certainty.

The free agent market doesn't offer many appealing options right now. Grant Balfour comes with wrist and knee concerns, Fernando Rodney is pretty unpredictable, and it's tough to consider others like Luis Ayala, Kevn Gregg, and Francisco Rodriguez impact relievers. There are some interesting reclamation projects out there, with Joel Hanrahan and Eric O'Flaherty standing out as the best of the bunch. Both are rehabbing from Tommy John surgery and expected back at midseason. It'll be interesting to see how the Yankees address their bullpen. It looks pretty sketchy right now. · (37) ·
By

Via Nikkan Sports (translated article): The Yankees were one of several teams to submit a formal offer to Masahiro Tanaka by Thursday, which apparently was Tanaka's self-imposed deadline for offers. He has until 5pm ET on Friday to sign. Guess he wanted a few days to mull things over.

The Dodgers, Diamondbacks, White Sox, and Cubs also made offers according to Nikkan Sports, and all of the offers were worth more than $100M across six years. Reports out of Japan have been very sketchy throughout this entire process — at one point they said Tanaka would not be posted at all — so take this with a huge grain of salt. This whole thing will be over within six days, one way or another. · (163) ·