Fourteen questions in this week's mailbag. There were a bunch of "what about this guy for the fourth outfielder spot?" questions sitting in the inbox that went straight to the trash thanks to the Aaron Hicks trade. Anyway, RABmailbag (at) gmail (dot) com is the place to send questions.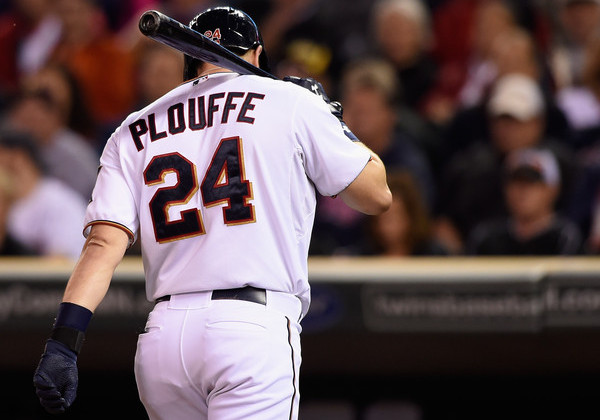 Alex asks: Could Trevor Plouffe be the Zobrist-esque player the Yankees want? Twins have four players for three spots with the addition of Byung-Ho Park, and they're down an outfielder after Torii Hunter retired. Gardy & prospects for Plouffe, then sign a big OF. Thoughts?
Plouffe's days as a utility guy are over. He hasn't played anywhere other than first and third base (and DH) since 2012. Back in the day he played the corner outfield spots and even a little middle infield, but yeah, it's been three years since he's done that. Plouffe is what he is at this point …

… and that's a solid right-handed corner infielder. Casey McGehee with power. (For what it's worth, some Twins fans I know say Plouffe isn't as good in the field as the stats indicate.) MLBTR projects Plouffe to get $7.7M through arbitration this offseason and that's pretty pricey for a guy with no obvious place to play, right? He'd be a part-time third baseman, a part-time first baseman, and a part-time DH with the Yankees.
If the Yankees weren't tied down with Alex Rodriguez at DH and didn't have Greg Bird sitting in Triple-A, Plouffe would make more sense. But now, with no real versatility, I'm not sure were he fits on the roster. That's an expensive part-time player. Also, there's no chance I'd trade Brett Gardner for a guy who's a year away from being a non-tender candidate. (And besides, the Twins have plenty of outfielders. That's why Hicks was expendable.)
Torrey asks: Even though he hasn't pitched above A ball, do you think Campos is a candidate for the bullpen this season? Is that his upside now?
I do. I don't think the Yankees would have re-added Vicente Campos to the 40-man roster if they didn't consider him a 2016 big league option. The 40-man is too tight right now to tie up another spot with a pitcher who won't be able to help next season. (Domingo German is already filling that spot, and Rookie Davis figures to join him soon since he's Rule 5 Draft eligible.)
Campos had starter stuff — mid-90s heater, slurvy breaking ball, changeup — and command before getting hurt, but he's had all sorts of elbow problems in recent years and lost a lot of development time the last few years. He threw only 167 total innings from 2012-15. The Yankees figure to keep Campos in a starting role in the minors just to get him innings, but I think his ultimate role is reliever now. He's had too many injuries.
Here's a fun comp: Joakim Soria. Soria's another guy who had a starter's repertoire and command but couldn't stay healthy. He moved to the bullpen, continued to throw all his pitches like a starter, and dominated. Wade Davis is another guy who throws all his pitches in relief. Maybe Campos works out of the bullpen that way.
Simon asks: Does the MLB do sign and trades like they do in the NBA? I don't think they do? How come they don't do that?
There's no need. I don't know a ton about the NBA, but my understanding is the sign-and-trade move is all about the salary cap. The cap rules say you can re-sign your own player to a contract larger than the maximum he can receive from another team as a free agent. It's a way for the player to get more money and his former team to get something in return. (Right? Correct me if I'm wrong.) There's no need for that in MLB. There's no cap or contract limits. Teams can give free agents whatever they want.
Paul asks: Is there a future Hall of Famer on the roster right now? CC and Beltran are the only ones I think have a chance and CC's hanging by a thread.
I don't think so, no. A-Rod obviously has a first ballot Hall of Fame resume, but he's never getting in. CC Sabathia was on the Hall of Fame track until injuries set in these last few years. I suppose there's still a chance he could salvage his case with three or four solid years, but it's hard to see that happening. Carlos Beltran is the best Hall of Fame candidate on the roster and I think he's borderline. He's one of those guys who will hang around on the ballot a long time and people will debate each year. My hunch is Beltran doesn't get in, though I do think his chances improved when the BBWAA got rid of the legacy voters last year.
Jason asks: Is it possible that Cashman refusing to trade any top prospects at the deadline, continuously making it clear he does not want to move any of them, and even giving Severino and Bird extended playing time in the MLB this season, is just one, or at least part of one, very long drawn out plan to raise their trade value for a run at a big trade?
Ah yes, the long con. I don't think this is the plan though. That's way too risky. Luis Severino could get hurt at any moment and Bird might get exposed as a platoon DH with more playing time. I sincerely believe they wanted to incorporate these players into the big league roster and build around them going forward. That said, if the right trade offer comes along, I don't think the Yankees would hesitate to trade either (or both) Severino or Bird. Would Brian Cashman really say no to Severino and Bird for, say, Bryce Harper? Nope.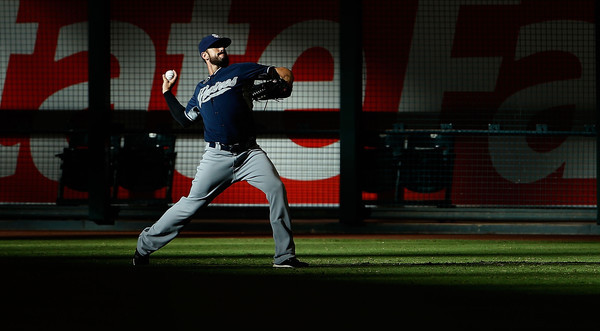 Matt asks: Jacoby Ellsbury for James Shields. The Padres wanna move him, they need an outfielder, opens the door for Heyward/Upton in left field, thoughts?
The Yankees would have to eat money. The Padres are trying to trim payroll this offseason — hence yesterday's Joaquin Benoit for two low level prospects trade — and there's a ~$45M difference between the Ellsbury and Shields contracts. (Shields' deal is heavily backloaded. He made $10M this season and gets $21M in each of the next three seasons.) I'd make that trade in an instant if I were the Yankees, even with the understanding Shields is probably a mid-rotation innings eater these days, not an ace. Bad contract for bad contract, but Shields' bad contract ends two years earlier, it clears an outfield spot, and adds a much-needed innings dude for the rotation. I have to think San Diego would need a nice chunk of money to make that deal.
Mike asks: Is there any chance the Yankees sign Shawn Kelley again? Is Mike Mussina a HOF'er and does he get in this year?
Yes there's a chance they re-sign Kelley — he had a 2.45 ERA (2.57 FIP) in 51.1 innings around back trouble in 2015 — but I think the Yankees are more inclined to give their young righties a chance first. Maybe if Kelley's market doesn't develop as hoped this winter, they swoop in and sign him in January. Otherwise I think they plan to give guys like Branden Pinder and Nick Rumbelow a longer look in 2016.
As for Mussina, I do think he's a Hall of Famer but I don't think he has much of a chance of getting in this year. His voting percentage went from 20.3% two years ago to 24.6% last year. He's got another eight years on the ballot, which remains overstuffed because most voters aren't voting for performance-enhancing drug guys. I don't think Mussina is a slam dunk Hall of Famer. You can definitely make a case he isn't. I think he is worthy though and yet I can't see him getting in this year. Moose will have to wait a while.
Peter asks: Is Zobrist still a viable SS option? If so then doesn't signing him solve most of the position player needs? He can rotate into 2B/RF and be the backup SS, covering the 3 most upgradeable positions with one player.
Ben Zobrist did not play any shortstop last season but he started 23 games (and played 31 games) at the position for the Rays in 2014, so it's not so far in the rear-view mirror that it's a non-option. I think you could rely on him as a backup at the position, but if there's an injury to Didi Gregorius, you'd probably rather run someone else out there on everyday basis. Signing Zobrist could conceivably allow you cut Brendan Ryan — Zobrist becomes the everyday second baseman and backup shortstop with Dustin Ackley or Rob Refsnyder the backup at second — and free up a bench spot.
Matthews asks: Last week's mailbag had a question regarding what you would consider a fair deal for Starlin Castro. From my perspective, Baez is the more interesting target (despite the high strike out total). What sort of package do you think it would take to land him? Given Epstein-Ellsbury have history from Boston, and the fact that they don't currently have a true center fielder/leadoff man since Fowler is a free agent, could we try center a deal around Ellsbury (with cash) plus other pieces?
I think Theo Epstein & Co. have reached the point where they know they can't keep everyone. With Addison Russell locked in at short, there's only one spot (second base) for Castro and Javier Baez. I also think they're in a tough spot because they're not going to get a huge return for either guy at this point. Their stock is down. I also think the Cubs have some fear they'll trade Baez and he'll turn into a 40+ homer shortstop for someone else.
Anyway, am I pro "get rid of Ellsbury and his contract," and I'd trade him for Baez (or Castro) straight up. I don't think the Cubbies would do it unless the Yankees kicked in a whole bunch of money, which sort of defeats the purpose. Chicago has shopped Baez for aces — David Price and Cole Hamels, reportedly — so they're shooting for the stars. This isn't a "Michael Pineda and a prospect for Baez" situation. It'll cost something that hurts to get him.
There's a decent chance you get zero return from Baez because he has no plan at the plate at all, but it's legit superstar upside. I'd definitely take a shot on him at second given New York's internal options.
dfed87 asks: With the news that the Mariners want Gardner and the Yankees like Paxton, I have to ask, wouldn't they be better off trying to sign Brett Anderson? They are both close to the same age, both could fall apart if you stared too long, and you get to keep your best trade chip.
I think that's a reasonable alternative, yeah. Anderson will cost you a draft pick and a decent sized contract — he's going to take the largest offer after all those years of injuries, right? — with no guarantee of better health. Paxton's appeal is his four years of affordable team control, upside as a hard-throwing southpaw, and youth. (Anderson is only nine months older than Paxton, however.) He's worth acquiring in my opinion. I just wouldn't trade Gardner for him. My concern with Anderson is the injury history, and at this point the Yankees need a guy they can count on for innings. They have enough dudes with health concerns.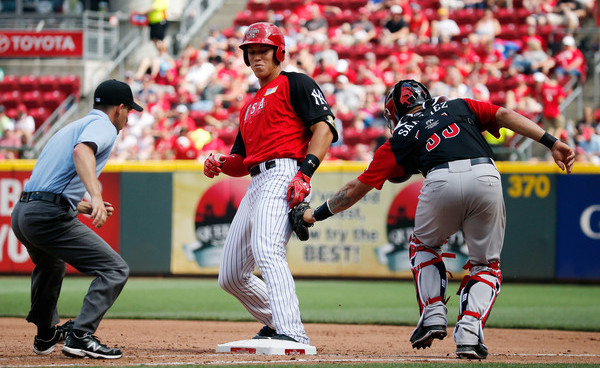 Brian asks: Could the Murphy for Hicks deal be a precursor to a deal involving Judge (not Gardner)? If so, what type of return might he command?
That would really surprise me. I think the Yankees would much sooner trade Gardner than Aaron Judge. They seem very focused on getting younger and Judge is a big part of that. Lets' talk this one out for fun though. Judge is a top 30-ish prospect in MLB right now. You could argue higher or lower, but top 30 or so sounds good enough to me. Here's what some recent top 30-ish prospects (per Baseball America) netted in trades in recent years:
No. 34, 2015: Matt Wisler, headliner in a package for three years of Craig Kimbrel.
No. 30, 2014: Andrew Heaney, headliner in a package for four years of Dee Gordon and one year of Dan Haren
No. 22, 2013: Mike Olt, headliner in a package for a half-season of Matt Garza.
No. 28, 2012: Wil Myers, headliner in a package for two years of Shields and four years of Davis.
No. 31, 2011: Casey Kelly, headliner in a package for one year of Adrian Gonzalez.
You'd like to make a Heaney or Myers trade, or at least a Wisler trade. A Kelly trade could work — Gonzalez was a monster back then — depending on which impending free agent you get. One year of, say, Stephen Strasburg or Jose Bautista would work just fine. (Obviously Bautista's not happening.) An Olt trade? Nope. That's bad even though Olt flamed out. Prospect rankings aren't a great way to gauge value but they work fine for this exercise. Those five give us an idea of what Judge may be able to fetch in a trade right now.
Tom asks: What is better for Sanchez's development – Playing once a week in the bigs and learning hitting from A-Rod and defense from McCann and Girardi or playing everyday in Triple-A?
Personally, I think Gary Sanchez is better off playing every day in Triple-A to continue working on his defense. I don't matter though. All that matters is what the Yankees think. They were prepared to use Bird as a part-timer late in the season — Mark Teixeira's injury turned Bird into an everyday guy — and may be willing to do it with Sanchez. There are ways to work on catching without playing games — catching bullpens, mostly — but there's no real way to simulate game action. I think the best thing for Sanchez is playing every day in Triple-A while the best thing for the Yankees is using him as McCann's backup. Make sense?
Jacob asks: How similar of an offensive player is Aaron Hicks as compared to Brett Gardner? Is he the same scrappy patient hitter?
No, they aren't all that similar. They do have similar strikeout and walk tendencies — Hicks has career 22.2 K% and 10.1 BB% while Gardner is at 20.8 K% and 9.3 BB% the last three years — but Hicks has much more over-the-fence power. He hit eleven homers in 390 plate appearances this season. Gardner hit five in 569 plate appearances at age 26. I wouldn't call Hicks a scrappy leadoff type, at least not to the extent Gardner is. He's got some pop and is more of a potential 20-20 guy than the 8-40 guy Gardner was in his mid-to-late-20s.
Rich asks: Last year there was some references to Omar Minaya possibly joining the front office (a move I would love). Hearing anything this year? I think he has an eye to see talent and asst gm title waiting for him!
Nothing at all. The Yankees were discussing adding Minaya to the front office last winter, it didn't happen, then he left his post as the Padres vice president of baseball operations for a job with the MLBPA. He's now a special advisor to union chief Tony Clark. Minaya made some bad moves as Mets GM a few years ago, no doubt about it, but he has a great reputation for his scouting and player evaluation acumen. Based on the little I know, Minaya would be a tremendous asset in the front office, as long as he's not the guy calling the shots.