By

The Yankees have officially signed fifth round draft pick RHP Jordan Foley, he announced on Twitter. Chris Cotillo says he received a $317,500 bonus, which is full slot value for the 152nd overall pick. You can see all of the team's picks at Baseball America and keep tabs on the draft pool situation with our 2014 Draft Pool Tracker.

Foley, 21 next month, was ranked as the 128th best prospect in the draft class by Baseball America. "Foley works primarily off an 89-94 mph fastball, touching 96, and at times he shows a plus slider, though he struggles to repeat it. Other scouts see Foley as a reliever because he uses a split-finger fastball as a changeup to combat lefthanded hitters," they wrote in their subscriber-only scouting report. The Yankees also drafted Foley in the 26th round of the 2011 draft out of high school. · (7) ·
I wasn't planning to put together a thoughts post today, but my brain wasn't working particularly well this morning and I was having a tough time coming up with a decent topic for a post. So, instead, here are a few short nuggets that have been on my mind.
1. I was somewhat surprised the Yankees opted to send Matt Daley rather than Jose Ramirez down to Triple-A Scranton yesterday, when Shawn Kelley came off the disabled list. Ramirez has only thrown 14 total innings this season after opening the year on the shelf with an oblique injury, so I figured they would send him down to continue shaking off the rust. I like that they kept him though. Kelley, Dellin Betances, and Adam Warren will continue to handle setup duty, as they should, but the middle innings will all go to Ramirez. Kinda like how Joe Girardi used Betances early in the season, say, down two or three runs in the sixth and seventh innings. (I would say up four or five runs, but, well, you know about the offense.) That's how Girardi has used his young relievers over the years. Cut your teeth in middle relief, and when the time is right, you'll get high-leverage innings. Ramirez has a huge arm and he has the potential to be a real weapon in short relief. The Yankees have apparently decided now is the time to get his feet wet, with all those other quality arms in the bullpen around him.
2. You know what was great about Masahiro Tanaka's outing last night? He got pissed off after allowing the homer in the ninth inning. You could see it in his face and in his body language. There was definitely some anger behind his pitches to the final two batters. Just look at his velocity spike at the end of the game (via Brooks Baseball):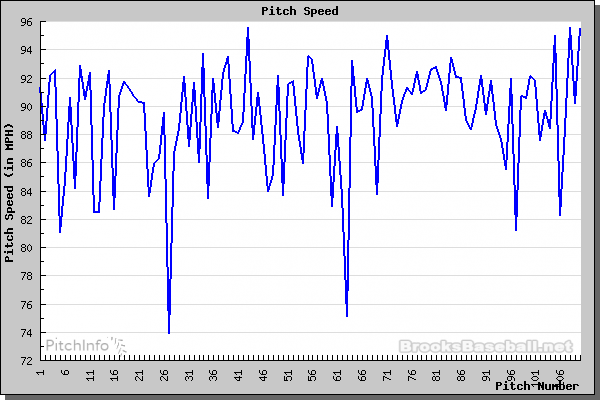 Tanaka threw 110 pitches overall and he was throwing his hardest at the end of the game. He was pretty clearly pissed about losing the shutout and he wanted to end the game with authority. As awesome as he's been on the mound getting  all those silly-looking swings and misses, the thing I love about Tanaka the most is his poise and competitiveness. We hear about players with good makeup all the time, but man, Tanaka is on another level. The guy is a stone-faced killer on the mound.
3. The Yankees clearly used last week's draft to balance out the upcoming international free agent signings. The international class is going to add a ton of risky, high-upside prospects to the system once the signing period opens next month, though the draft class was relatively light on upside and geared more towards probability. There is no such thing as a "safe" prospect, but guys like LHP Jacob Lindgren (second round) and LHP Jordan Montgomery (fourth) are high probability guys who are good bets to reach their ceilings, barring injury. The talent comes off the board very linearly in the draft these days, the best prospects go first and everyone falls in place behind them, so there weren't many high-upside guys left available when New York's top pick (55th overall) came around. Grabbing a quick to MLB guy like Lindgren makes a lot of sense considering the upcoming international signings. Adding a potential impact reliever (who happens to throw left-handed) to the organization at that spot is a great way to maximize the return on that draft slot. I mean, we're talking about the 55th overall pick. Not the 15th or even the 30th.
By

Via Andy Martino: The Yankees have verbal agreements in place with SS Dermis Garcia ($3.6M), 3B Nelson Gomez ($2.8M), and SS Christopher Torres ($2.6M) prior to the start of the July 2nd international signing period. All three players are 16 years old and from the Dominican Republic. Read more about them right here. Martino says the Yankees are believed to have agreements with two others in place as well.

Earlier this week Ben Badler (subs. req'd) said Torres was not expected to get anything close to his $2M+ asking price, so there's some conflicting information out there. That's nothing new for the international market. The Yankees are said to be planning a massive international spending spree this summer, upwards of $30M between bonuses and penalties, and they've already been linked to seven players seeking seven-figure bonuses. These verbal agreements in advance of the signing period happen all the time even though they are against the rules. · (38) ·
Now that the season is roughly 40% complete and we've had more than two months to evaluate the Yankees, their needs are obvious. They need another starter and another bat, in simplest terms. You can argue they need two starters and two bats, really. Specifically, they need a veteran innings eater and either an infielder (either second or third base works) or right fielder. Alfonso Soriano looks toast and Carlos Beltran's bone spur means he's stuck at DH for the foreseeable future.
Digging up trade candidates these days is not easy because of the second wildcard spot, which keeps most teams in contention until August or even September. Even if they're not really in it, they can still sell the idea that they are in it, like the Yankees did last year. All you need to do is stay close enough to keep fans excited. Selling off veteran players may be the best baseball move, but driving fans away has a very real and negative impact. Ask the Astros.
As of today, the division rival Tampa Bay Rays have the worst record in baseball. By a lot. They currently have the worst record (25-42) and second worst run differential (-52) in baseball, three games worse than the Cubs. The next worst AL team is the Red Sox at 29-36. Tampa was recently shutout in 31 straight innings and they've been a disaster this season. I thought they'd be good because the Rays have been annoyingly good since 2008, but the magic finally wore off. The pitching well dried up too.
Because they're so bad, there are already rumblings the Rays could look to trade some veterans and restock the young player cupboard. David Price is the big name for obvious reasons. He's making huge money ($14M) and will be a free agent after next season, and there's no way Tampa will a) let him walk for just a draft pick, or b) be able to afford to sign him long-term. Expect a ton of Price rumors in the coming weeks. Others like Matt Joyce, David DeJesus, Jeremy Hellickson (once healthy), and Joel Peralta could be shopped as well.
Then there's Ben Zobrist, the versatile switch-hitter who seems to play a different position every other game. He is the team's third highest paid player at $7M and his contract includes a very affordable $7.5M club option for 2015 that will surely be picked up. Like Price, the Rays probably won't let him walk for nothing more than a draft and probably won't be able to sign him long-term. Even if they could, he's already 33, and they might not want to re-sign him after next year.
Zobrist, as I'm sure you've figured out by now, is that "perfect fit" I referred to in the post title. He can play both second base and right field, two positions of need in the Bronx, and he's a switch-hitter with some power and a lot of patience. His walk rate has always been strong (10.6% this year, 12.1% from 2011-13) and while his power production has dipped to a .121 ISO this year (.176 from 2011-13), it may be partially explained by the dislocated thumb he suffered sliding into a base earlier this season. We've seen Zobrist play against New York for a long time, we know he's a quality player.
The appeal for the Yankees is obvious. Zobrist can not only play second and right, but he plays them both well and can shuttle between the two positions on a near daily basis without suffering at the plate. I don't think everyone understands just how hard that is. He's also a true switch-hitter without a platoon split historically, he walks, he has some pop, he steals some bases, he's familiar playing the shift, and he's very familiar with the AL East and those grueling late-season battles for postseason position. And the contract is more than reasonable. It's a bargain, really.
I don't need to spend any more time explaining why Zobrist would be perfect for the Yankees, right? The real question is whether the Rays would be open to trading him within the division, and, if they are, what they would want in return. The last time Tampa made a notable intra-division trade was … well, never, really. The three-team Joe Kennedy/Mark Hendrickson/Justin Speier deal with the Blue Jays and Rockies in 2003 is the biggest by far. The only trade they've made with the Yankees came in 2006, when Tampa sent Nick Green to New York for cash. That was before Andrew Friedman became GM.
The Blue Jays have made it clear they are unwilling to trade impact players within the division but the Rays have not really done that. They seem like the type of front office that would be open to trading a player anywhere as long as they received the greatest possible return, but who really knows? Zobrist figures to be in high demand (Mariners? Tigers? Dodgers? Giants? Blue Jays? Braves? Athletics?) so they shouldn't have a problem digging up high-end offers. They'll be able to get full value and deal him out of the division, so it's the best of both worlds.
The Rays have shown a tendency to seek big trade packages with a lot of throw-ins — five players for Matt Garza, four players for Jason Bartlett, five players for Alex Torres (plus a prospect) — and I assume the same would be true with Zobrist. Victor Martinez, another solidly above-average player who was traded a year and a half prior to free agency, was dealt from the Indians to the Red Sox for a young MLB ready player (Justin Masterson) plus a top ten (Nick Hagadone) and top 20 (Bryan Price) prospect in the system. That seems like an okay framework for Zobrist.
What could the Yankees give the Rays along those lines? Geez, I don't know. John Ryan Murphy, Manny Banuelos, Jose Ramirez, plus two throw-ins? Add another playing coming to the Yankees as needed? It won't be Austin Romine and Vidal Nuno, that's for sure. Figuring out an acceptable trade package is something for the front offices to determine. Talking about them is part of the fun of being a fan but ultimately we have no idea how these teams value these players. Based on everything I've seen in my years watching baseball, how we view players and how teams value them is often very different.
If the Rays do decide to sell — given their place in the standings and generally pro-active approach, it seems very likely they will sell — the Yankees should make a call about Zobrist because he'd be a great addition to the roster and help address several needs at once (offense, defense, second base/right field) both this year and next year. Several other teams will do the same and that will probably put the Yankees at a negotiating disadvantage with their division rival. Zobrist would be a perfect fit for the Yankees and chances are they have little shot of actually getting him.

Source: FanGraphs
Now this was a game that made staying up late worth it. The Yankees very nearly shut the Mariners out on Wednesday before Robinson Cano hit a two-run homer in the ninth (his first in Seattle as a Mariner!), so they had to settle for a 4-2 win instead. I'll take it. Let's recap the team's second straight win:
Cy Tanaka: We've seen Masahiro Tanaka be very good this season, but I think this was his best outing of the year. My favorite part was when the Mariners were sitting on the splitter the second and third through the order, so Tanaka started painting the corners with fastballs for called strikes. It was awesome. The Cano homer ruined the shutout, but otherwise Tanaka still held Seattle to six scattered hits in his second complete game of the season, striking out eleven and walking one. The Mariners had one batter reach third base before the dinger, and that was in the eighth inning. Ain't even mad about the homer. This guy is amazing. Just a brilliant performance.
Three Runs, One Swing: Jacoby Ellsbury singled in the Yankees' first run in the third inning, but the big blow came in the fifth, when Mark Teixeira went down and golfed a pitch out to right-center for a three-run homer. The three runs felt like 30 with a) the way Tanaka was pitching, and b) the way things have been going for the offense lately. Brian Roberts (single) and Brett Gardner (walk) set up the first rally, Gardner (single) and Ellsbury (single) the second.
Leftovers: Gardner, Derek Jeter, and Ellsbury had two hits apiece. The top four hitters in the lineup went a combined 6-for-16 (.375) while the rest went 4-for-20 (.200) … Ellsbury extended his hitting streak to 15 games … Jeter stole two bases for the first time since September 2009 and only the second time since August 2006 … for exactly one batter in the ninth inning, Tanaka led all of baseball in ERA. That was before the homer. He still has an excellent 2.02 ERA. That'll do just fine.
MLB.com has the box score and video highlights, FanGraphs some other stats, and ESPN the updated standings. The Yankees will look to wrap up their first sweep of a three-game series this season when Chase Whitley and Roenis Elias square off on Thursday night. Their only sweep this year was a two-gamer over the Cubs at Yankee Stadium back in April.
According to Andrew Marden, Fresno State head coach Mike Batesole says OF Aaron Judge will be promoted to High-A Tampa after the Low-A South Atlantic League All-Star Game next week. Judge played for Batesole in college, but still, take that with a grain of salt. It passes the sniff test though.
Triple-A Scranton had a scheduled off-day. Josh Norris says LHP Jeremy Bleich will be called up from Double-A Trenton to join the rotation after RHP Zach Nuding was sent down yesterday.
Double-A Trenton (10-4 loss to Richmond)
CF Mason Williams: 2-5, 1 R, 1 K — his bat is starting to come around a bit
1B Frankie Cervelli: 0-2, 1 R, 2 BB — played seven innings at first as the Yankees try to improve his versatility before he comes off the DL next week
LF Ben Gamel: 1-4, 1 R, 2 RBI, 1 BB, 1 K
C Peter O'Brien: 0-3, 1 BB– C Gary Sanchez was supposed to start behind the plate, but he was a late scratch for disciplinary reasons according to Nick Peruffo
RF Tyler Austin: 0-4, 3 K
LHP Tyler Webb: 2 IP, zeroes, 5 K, 1 WP, 1/0 GB/FB — 23 of 36 pitches were strikes (64%) … 47/11 K/BB in 32.1 innings
It's the best day of the week. Masahiro Tanaka is on the mound for the Yankees tonight, in the middle game of their three-game series against the Mariners. The Yankees won last night, and when you're trying to start a winning streak, there is no one better to give the ball to than your ace. Assuming he is a real ace, of course. Two runs might actually be enough when Tanaka is on the mound, though I hope the offense gives him a bigger cushion. Here is the Mariners lineup and here is the Yankees lineup:
It is, surprise surprise, cloudy and cool in Seattle. There is no rain in the forecast and, even if there was, Safeco Field has a retractable roof. Tonight's game will begin a little after 10pm ET and you can watch on YES. Enjoy.
Notes: Carlos Beltran (elbow) played light catch for the first time since the bone spur in his elbow started acting up, as expected … Shawn Kelley (back) has been activated off the disabled list and Matt Daley was sent down to Triple-A … David Huff was acquired from the Giants for cash and Wade LeBlanc was designated for assignment. Huff is available tonight.
The Yankees are still out on the West Coast for another few days, so the regular game thread will be along in a couple hours. Use this as your open thread in the meantime. The Mets are playing, ESPN is airing the Red Sox and Orioles, and the (hockey) Rangers will try to avoid being swept in Game Four of the Stanley Cup Finals. Talk about those games or anything else right here.
By

Another day, another new long man. The Yankees have re-acquired David Huff from the Giants and designated Wade LeBlanc for assignment. They swapped the French David Huff for the real David Huff. Go figure. They traded Huff to the Giants for cash over the winter. He will be in uniform tonight.

Huff, 29, had a 6.30 ERA (4.33 FIP) in 20 innings for San Francisco this year. They designated him for assignment the other day, so I'm guessing this was either a straight waiver claim or cash trade. Huff had a 4.67 ERA (4.95 FIP) in 34.2 innings for New York late last season, as I'm sure you remember. This move is about trying to get some better production out of the long man spot, that's all. · (25) ·
By

As expected, the Yankees have activated righty Shawn Kelley off the 15-day DL, the team announced. He missed about a month with a back problem. Fellow righty Matt Daley was optioned to Triple-A Scranton to clear a roster spot. Jose Ramirez remains with the team and figures to get a long look in a middle relief role in the coming weeks. · (4) ·