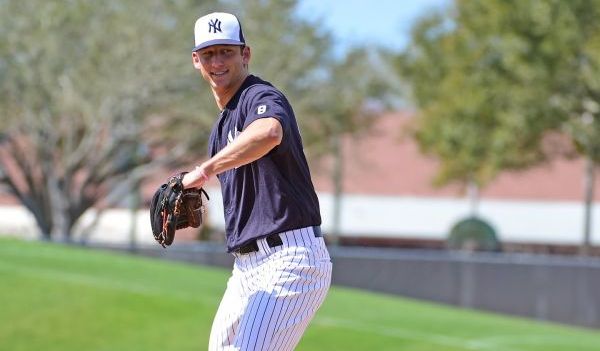 The poll results are in and this year's Prospect Watch prospect will be RHP James Kaprielian. He beat out OF Dustin Fowler, OF Aaron Judge, SS Jorge Mateo, and C Gary Sanchez to earn a place in this year's sidebar. Here are the final tallies after I removed all the spam votes:
Kaprielian: 2,819 (54.7%)
Mateo: 1,240 (24.0%)
Judge: 803 (15.6%)
Fowler: 209 (4.1%)
Sanchez: 87 (1.7%)
The 5,158 total votes are a new Prospect Watch poll record, so thanks for that. Last year we had 3,020 votes. Poor Gary Sanchez was barely a blip on the poll radar. No one voted for him because he's probably going to end up spending a bunch of time as Brian McCann's backup, meaning the Prospect Watch wouldn't be updated often. I'm sure he'll be much happier in the show than in our sidebar.
So anyway, what does this mean? It means we'll carve out a spot in the sidebar — right where the Opening Day Countdown is, I figure — to track Kaprielian's performance throughout the season, both his overall season performance and his most recent game. Because he's a starting pitcher, the Prospect Watch will only be updated once every five days or so. Kinda lame, but the people have spoken.
Kaprielian will begin the season with High-A Tampa — Brian Cashman confirmed it during a radio interview a few days ago — and the four full season affiliates begin their regular seasons next Thursday. I'll get the Prospect Watch up at some point before then. I'm not sure when exactly Kaprielian will make his first start, but it'll be soon.