We've got ten questions in the mailbag this week. RABmailbag (at) gmail (dot) com is where you can send us any questions. More than a few were rendered moot by the trade with the White Sox.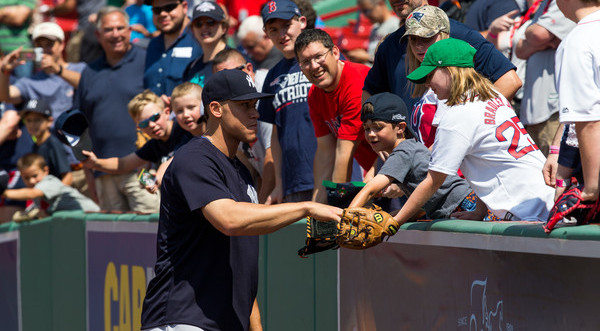 A few people asked: What could the Yankees get for Judge?
Several masochists emailed in asking what sort of return the Yankees could expect if they traded Aaron Judge. Just about all of them made it clear they don't want the Yankees to trade Judge, because duh. They're just curious.
Anyway, because he's already shown he can perform at an MVP caliber level and comes with five years of control beyond this season, Judge is one of the most valuable assets in baseball. FanGraphs ranked him the sixth most valuable trade asset in baseball behind basically the five best players on the planet. He carries some risk because his track record is limited and there's so little precedent for a dude this size, but yeah, Judge is insanely valuable.
The way I see it, the Yankees have a strong young position player core (Gary Sanchez, Clint Frazier, Gleyber Torres, Dustin Fowler, Miguel Andujar, etc.), so if you're going to trade Judge, you trade him for an ace-caliber starter with several years of control remaining. I'm talking four or five years of control, not two or three. Five names immediately jumped to mind:
Michael Fulmer, Tigers: A little unconventional because he doesn't strike out a ton of batters (17.4%), but he's been dynamite since being called up and is under control through 2022.
Jon Gray, Rockies: Coors Field makes it tough to appreciate how good Gray really is. He has three swing-and-miss pitches and he's under control through 2021.
Carlos Martinez, Cardinals: Martinez has already pitched like an ace for two full years, and his recent contract extension will pay him $46.8M from 2018-21 with affordable club options for 2022 ($17M) and 2023 ($18M).
Lance McCullers Jr., Astros: Electric arm and team control through 2021. The only downside is McCullers has an injury history. He's had both shoulder and elbow problems in the past.
Noah Syndergaard, Mets: Pretty much the perfect pitcher. Go into a lab to build a starter and you'd come out with Syndergaard. He's under control through 2021, though this year's injury problems are a red flag.
Among those five pitchers, Martinez is at the top of my list because he has the longest MLB track record and he also comes with the most team control thanks to his extension and the two club options. If you're going to trade Judge, a bonafide middle of the order force under control through his peak years, you trade him for a guy like Martinez.
Pitchers are risky because they break, but Judge comes with a fair amount of risk himself, so in this hypothetical it balances out. And that's all this is, a hypothetical. Never say never, but I don't think trading Judge has even crossed the Yankees' mind at this point. I say keep all those bats, build a powerhouse offense, and figure out a way to build a pitching staff around them. The Mets are a pretty good example why building around arms is so risky.
Jonathan Stewart: While it's still a SSS, if Mateo's keeps up his resurgence, could we see him this year?
It's certainly more likely we see him this year, yeah. Jorge Mateo has been tearing the cover off the ball since his promotion to Double-A Trenton, hitting .357/.438/.619 (189 wRC+) through 20 games. Before, when he was hitting .240/.288/.400 (98 wRC+) for High-A Tampa, there was basically no chance at a call-up. Brian Cashman likes to say anyone at Double-A is a call-up candidate, and with Mateo performing, his chances of coming up this year have increased.
The Thunder went into yesterday's game with a 64-31 record, the best record in all of Double-A, so they're going to the postseason. I do think the Yankees would prefer to keep Mateo in Trenton through the postseason to get him at-bats and continue his development. I don't think he will be a September 1st call-up to be a designated pinch-runner or something like that. We'll see how Mateo performs from here on out. If he's still playing well, yes I think he could get a token September call-up since he's already on the 40-man roster, though I don't think they'd yank him out of Trenton's everyday lineup just to sit on the big league bench and pinch-run. He might have to wait until after the playoffs.
Matt asks: New rumor has Hamels potentially being available at the deadline if the Rangers sputter out of the gate. Thoughts?
That is an interesting one. Cole Hamels is 33 now and he went into last night's start with a 3.05 ERA (4.29 FIP) in 59 innings around an oblique injury, so he has been effective, though the drop in strikeout rate is a definite red flag.
Hmmm. Hamels is still getting ground balls and keeping the walks in check, but the swings and misses have been harder to come by, and that's especially troubling because he has arguably the greatest changeup of his generation. The swing and miss rate on his changeup has declined noticeably in recent years. Hamels is in decline. He's entering his mid-30s and losing some stuff. It happens to everyone.
Hamels is owed $22.5M next season, the final guaranteed year on his contract, and this year's oblique injury ensures his $19M option for 2019 will not vest. He missed too much time and won't reach the innings threshold to lock in the option year. If the Rangers are willing to trade Hamels as a salary dump, meaning the Yankees would take on that contract and not give up much in return, I don't think it would be a terrible idea because he can still give you innings. The time to get Hamels was a few years ago though, then he was still in his prime and the Phillies were looking to move him.
Michael asks: What would it take to pry Aaron Nola from the Phillies? Under control through 2021, and he looks like a classic high strikeout guy the Yanks usually target. Seems like he'd fit with the trajectory of this team moving forward also. Thoughts?
Nola is probably someone I should have included in the Judge trade hypothetical earlier. The 24-year-old was the seventh overall pick in the 2014 draft and he has a 3.54 ERA (3.42 FIP) with very good strikeout (24.7%) and ground ball (48.1%) rates in 86.1 innings this season. He's also under team control through 2021. The run on his two-seamer is ridiculous.
The big concern with Nola is his elbow. He missed the entire second half of last season with an elbow strain and that's never good. The elbow has been fine so far this year — Nola did miss two starts with a back strain earlier this season — but still, a fairly significant elbow injury just last year? That's a red flag and an ongoing concern. How could it not be.
The Phillies would presumably want top prospects for Nola and I don't think that's unreasonable at all. Parting with either Torres or Frazier, plus a bunch of quality secondary pieces, seems like a must to me. Nola is young and very good, and he'd fit what the Yankees need going forward. He also fits what the rebuilding Phillies need going forward, which is why I don't think they'll entertain a trade unless they get a huge offer.
Dan asks: Between the marriage of his relievers to certain innings, the fact that hitters are bunting when they should be hitting, and his marriage to pitching and hitting matchups based on handedness, do you think we can start to fairly question whether Girardi is being too rigid as a manager?
Oh sure. Joe Girardi's paint-by-numbers managerial style has been a problem for a few years now. The most obvious example is his bullpen roles. He lets the inning dictate his reliever usage, not the game situation (score, where the other team is in their lineup etc.). Girardi is also pretty strict with left-right platoons even when the numbers say they don't make sense. He'll split up the lefties in the starting lineup to avoid a potential matchup situation in the seventh or eight inning rather than putting the Yankees in the best position to do damage against the starter. Girardi is not the only manager who does this stuff. Hardly. But I feel like, in the year 2017, we should be getting away from these moves. It's time to evolve.
Steve asks: Is it too early to think about what the 40 man roster will look like in November? With 11 MLB debuts this year, and the bevy of Rule 5 eligible prospects, it seems like some notable talent is destined to be lost. What prospects will be on the bubble?
Definitely not too early. The Yankees are certainly thinking about it. They know they're going to face a roster crunch, so they're doing what they can to clear things up. Ian Clarkin and Tito Polo will both be Rule 5 draft eligible after the season and neither guy was all that likely to be added to the 40-man roster, so they went to the White Sox in the trade. Here are the notable prospects due to become Rule 5 Draft eligible after the season:
Catchers: None
Infielders: Abi Avelino, Thairo Estrada, Gleyber Torres
Outfielders: Rashad Crawford, Billy McKinney
Pitchers: Albert Abreu, Domingo Acevedo, J.P. Feyereisen, Zack Littell, Erik Swanson, Stephen Tarpley
Frazier, Fowler, Tyler Wade, and Jordan Montgomery were all going to be Rule 5 Draft eligible before getting called up to the big leagues this season. Torres, Abreu, and Acevedo will definitely be added to the 40-man roster. Littell probably will as well. Estrada and McKinney are on the fence and could be trade bait before the deadline. A guy like Tarpley, a lefty with good velocity, is prime Rule 5 Draft fodder. Inevitably the Yankees will leave some good players exposed. That's what happens to teams with good farm systems.
Dan asks: Would you deal Clint Frazier for Jameson Taillon straight up?
Yes and the Pirates would not. They could get a lot more than Frazier for Taillon, despite all his pitching injuries over the years. Taillon is only 25 and he's under team control through 2022. In 171.2 big league innings, basically a full season, he has a 3.25 ERA (3.56 FIP) with 21.1% strikeouts, 5.5% walks, and 52.4% grounders. That is really, really good. I love Frazier. He's a blast. You also have to give something to get something, and pitchers like Taillon are a heck of a lot harder to find than corner outfield bats. Plus the Yankees are loaded with outfielders. The Pirates would say no because they could get more.
Austin asks: With the addition of Robertson and Kahnle, will the Yankees finally give Warren a look in the rotation? Surely he has more value there than as a 5th option out of the pen.
I don't think so. The Yankees have never seemed all that eager to put Adam Warren in the rotation. Even in 2015, when he made 17 starts (3.63 ERA and 3.92 FIP), it was only because Chris Capuano hurt his quad in Spring Training. The biggest thing working against Warren right now is that he's not stretched out. He could give you what, maybe 50 pitches his first time out? It'll take a month to get him stretched out completely, so by time that happens, it'll be near the end of August. I think the chances of Warren out-pitching Bryan Mitchell, Luis Cessa, and Chance Adams the rest of the season as a starting pitcher are pretty darn good. My guess is the Yankees will stick with the kids, and use Warren as part of the super bullpen they've been trying to build.
Adam asks: What are the chances we use Betances as trade bait now that we added two strong options? Probably more likely if the Yankees continue to spiral down.
I believe the plan is to add David Robertson and Tommy Kahnle to Dellin Betances, not use them to replace him. The more great relievers, the better. That said, having Robertson and Kahnle around makes it easier to part with Betances in a trade. The Yankees always listen to offers for everyone. Every team does. I don't think they'll be out there actively shopping Dellin, but I do think they'll be a little more open-minded when fielding phone calls. Maybe this is something that happens in the offseason rather than at the deadline?
Paul asks: What has changed in the last few years that has teams open to trading highly rated prospects again? A few years ago, there was extreme prospect hugging going on.
Teams were definitely much more reluctant to trade their prospects a few years ago. That isn't the case anymore. According to Baseball America's midseason top 100, the No. 1 (Yoan Moncada), No. 3 (Gleyber Torres), No. 5 (Eloy Jimenez), No. 13 (Willy Adames), No. 16 (Lewis Brinson), and No. 20 (Michael Kopech) prospects in baseball have all been traded. Just eyeballing the rest of the list, I count 22 top 100 prospects who have been traded at some point.
I think two things are happening here. One, more teams are willing to go into a deep rebuild, so they're making their best big leaguers available in trades, and those guys command top prospects. And two, more teams seem willing to acknowledge success can be fleeting, so they're going all-in when it looks like they have a shot. Like the Indians last year, for example. It's a bit of a Catch-22. More teams are rebuilding, meaning fewer teams are in contention, so those teams in contention are willing to trade their prospects to rebuilding teams to improve their chances.