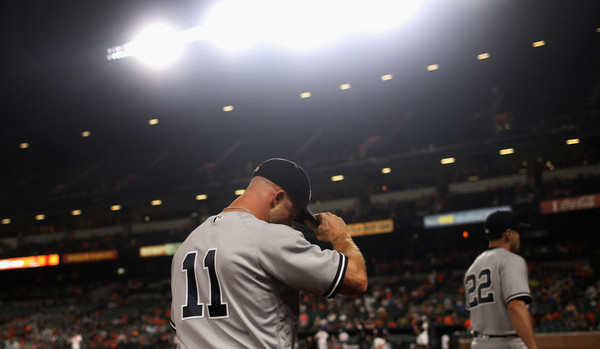 The Yankees and Orioles were rained out last night, so they will wrap up their three-game series this afternoon, on what was once a common off-day. The two teams have split the first two games of this series. The Yankees have not won a series in Camden Yards since September 2013, and it really would be nice to see them get that monkey off their backs. Anyway, I have some thoughts, so let's get to 'em.
1. What is the best possible lineup the Yankees could put on the field right now? This is really a question about three positions: first base, third base, and designated hitter. The outfield is set while Aaron Hicks and Clint Frazier are hurt, the middle infield is set, and of course Gary Sanchez belongs behind the plate. The Yankees right now are rotating Todd Frazier and Chase Headley at third, Headley and Greg Bird at first base, and Matt Holliday and everyone else at DH. What's the best alignment? Because at this point of the season, with the AL East title within reach and half the league chasing the Yankees for a wildcard spot with 20-something games to play, the goal should be putting the best team on the field as much as possible. Does the best lineup include Bird? He's gone 8-for-34 (.235) with three walks (.289 OBP) and two homers in eleven games back from the disabled list, and to me he looks very much like a guy who missed all of last year with a shoulder injury and most of this year with an ankle injury. How much should Frazier play? He has a good game every now and then but will strike out and pop-up an awful lot. He does add value on defense though. Should Holliday play against righties? Maybe the best lineup includes Miguel Andujar at DH. This is probably worth a full post at some point and I don't know the right answer. Headley's been way too good the last two months or so to take out of the lineup. That's the only thing I feel strongly about. I'm not sure if it's best to stick with the rotation or settle in on a set first base/third base/DH alignment the rest of the way.
2. The bullpen, man. The bullpen. The Yankees keep trying to build a SuperBullpen and it's not working out. It didn't last year with Dellin Betances, Andrew Miller, and Aroldis Chapman because the parade of middle relievers were so unreliable. Chapman and Tyler Clippard imploded earlier this year and Betances couldn't stop walking people, and Tommy Kahnle hasn't been as good as hoped since the trade. The Yankees can never seem to get everyone going at the same time. There's always one or two guys struggling that throw a wrench into things. That's usually how it goes though, right? The reason you try to build a deep bullpen is so when one or two guys hit a rough patch, you have enough bodies to cover. That hasn't really happened for the Yankees this year. And really, the bullpen is the reason the Yankees are not in first place. They've lost four games when leading in the ninth inning this year after losing four such games from 2014-16. They've lost five other games when leading in the eighth inning this season after losing six total from 2015-16. Twenty-nine blown leads is too many. Way, way too many considering the names in the bullpen. The Yankees should never stop trying to build a SuperBullpen or a SuperAnything. Right now though, the single biggest reason the Yankees are not in first place is all the leads their big name relievers have let slip away.
3. I'm pretty sure I've written this a few times, but over the last few years, I've felt the Yankees were a little too obsessed with size and velocity, and sacrificed pitchability for sheer stuff. I understand why they gravitated towards pitchers with big stuff — you can't really teach high-end velocity and nasty breaking balls — though with guys like Michael Pineda and Nathan Eovaldi, and even A.J. Burnett back in the day, the lack of reliable command took away from their overall effectiveness. So, needless to say, I'm pretty happy with the current state of the rotation. The only "he's a thrower not a pitcher" in the rotation is Luis Severino, and his command has improved considerably over the last year. Masahiro Tanaka has always been an artist on the mound, CC Sabathia made the transition from power pitcher to finesse pitcher, and Sonny Gray has like eight different pitches counting all the different variations of his fastball and breaking ball. Jordan Montgomery too. He's a pitchability guy. The rotation has been excellent in the second half and I don't think it's a coincidence given the shift toward command and away from raw stuff and radar gun readings, even if it wasn't necessarily by design. Stuff only goes so far. (And command only goes so far too.)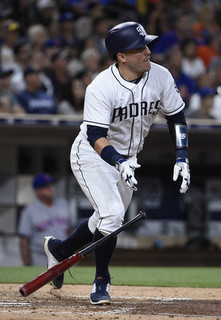 4. The Yankees have officially lost catcher Luis Torrens to the Padres as a Rule 5 Draft player — well, not officially yet, but rosters have expanded, so San Diego is going to keep him all year — and I wonder whether that will change how the Yankees approach the Rule 5 Draft going forward. The Cardinals have lost two Single-A kids to the Padres in the Rule 5 Draft in recent years (Luis Perdomo and Allen Cordoba) and president of baseball operations John Mozeliak recently told Derrick Goold the team will rethink their protection strategies going forward. The Padres, clearly, have no concern about being competitive. They're going to take talented young players from Single-A rosters, live with the growing pains in the big leagues for a year — Torrens is hitting .168/.248/.212 (23 wRC+) in 128 plate appearances this season — then plug them back into the minors and try to develop them. I think it's only a matter of time until other rebuilding teams (lookin' at you, White Sox) do the same. In the past, a kid like Albert Abreu never would've been protected from the Rule 5 Draft. Not after throwing only 49 Single-A innings around injuries this year. But now, the Yankees probably have to add him to the 40-man roster to protect him because a team like the Padres will stash him in the bullpen all year. That's just the reality of baseball now. Your talented players in A-ball are no longer safe, even if they're not close to MLB ready.
5. MLB is no doubt going to discipline the Red Sox for the whole stealing signs thing, though I don't think it'll be particularly harsh. They're definitely not taking wins away or anything like that — that is not a precedent MLB wants to set — and ultimately, I think they're going to slap them with a fine. I doubt they're even going to take a draft pick away. The Cardinals had to pay a $2M fine and send their top two draft picks to the Astros for the hacking scandal, and that was a far more serious infraction. That was literally corporate espionage. The Red Sox broke baseball's rules, not the law. The Red Sox have been playing the "he did it too!" game the last few days, but the fact of the matter is they used an illegal electronic device (the Apple Watch) in the dugout and admitted it when approached by MLB's investigators. The sign stealing is not really the focus here. It's the illegal electronic device. Technology is a huge part of baseball and everyday life, and it's not going away. I think MLB will levy enough of a punishment a) because they have to do something, and b) to let teams know hey, don't do this. Anyone hoping MLB hammers the Red Sox is probably going to be disappointed.
6. It's been a while since the last thoughts post, so I'm going to close with two outdated tepid takes. One, Betances should've been suspended for his role in the brawlgame with the Tigers. No, I don't think Betances hit James McCann in the head on purpose. It takes a monster to do that and Dellin is no monster. (Also, if it was intentional, it was the first time Betances hit his spot all season.) The optics of it were just awful though. Multiple benches clearing brawls and then you bean someone in the head? And to make matters worse, Joe Torre is the guy in the commissioner's office handing out discipline, and it looks like he played favorites. There comes a point where intent shouldn't matter, and in a situation like this, I thought Betances deserved a suspension, maybe three or four games to ensure he'd miss at least one appearance. And two, why didn't the Yankees wear their road gray pants with the Players Weekend jerseys? It would've looked so much better than the home pinstripes. Live and learn, I guess. Hopefully they come up with a better Players Weekend uniform next year.