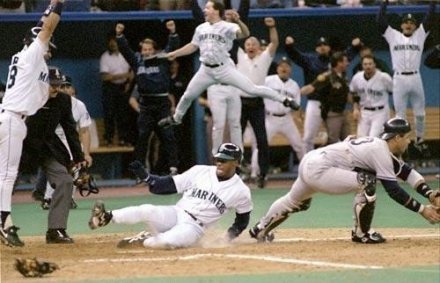 The 2015 Hall of Fame ballot was officially released by the BBWAA today. As a reminder, a player must have played at least ten seasons and be retired for at least five seasons to appear on the Hall of Fame ballot. This year's ballot runs 32 players deep: 15 newcomers and 17 holdovers. The full ballot is at the BBWAA's site.
Headlining those 15 newcomers is Ken Griffey Jr., who looks to me like the only lock for induction this year. Other notable newcomers include Trevor Hoffman, Jim Edmonds, and Billy Wagner. Mike Lowell, who only wore pinstripes briefly, and Randy Winn (!) are the only newcomers with ties to the Yankees.
Among the notable holdovers on the Hall of Fame ballot are Jeff Bagwell (55.7% of the vote last year), Barry Bonds (36.8%), Roger Clemens (37.5%), Mike Mussina (24.6%), Mike Piazza (69.9%), and Tim Raines (55.0%). Players need to appear on 75% of the ballots — there are 475 voters this year — for induction. Piazza has gradually inched closer in recent years and could get over the hump this winter.
Fred McGriff, Lee Smith, and Gary Sheffield join Clemens, Mussina, and Raines as holdovers on the Hall of Fame ballot with ties to the Yankees. Guys like Clemens and Bonds will never get into Cooperstown due to the various performance-enhancing drug allegations. Alex Rodriguez likely awaits the same fate.
The ballots are due by December 21st and the voting results will be announced on January 6th. At this very moment, my guess is only Griffey and Piazza get this winter.