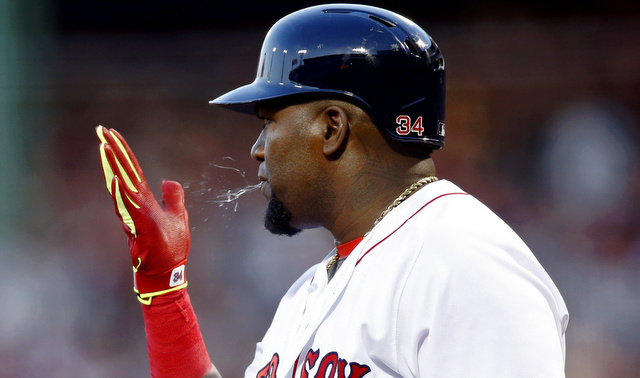 For the first time this season, the Yankees are playing a team for the second time. The Red Sox will be in the Bronx for a three-game series this weekend. As I'm sure you know, the BoSox swept the Yankees in Boston last weekend. I figured I would remind you of that just in case you wiped it from your memory.
What Have They Done Lately?
The Red Sox just took two of three from the White Sox in Chicago, dropping the first game then winning the last two. They've won nine of their last eleven games overall. Boston is currently 17-11 with a +26 run differential on the season. They're a half-game up on the O's for first place in the AL East.
Offense & Defense
So far this season the Red Sox are averaging 5.25 runs per game with a team 123 wRC+, so yeah, they're quite good offensively. Their only injured position player is 3B Pablo Sandoval, who had shoulder surgery earlier this week and is done for the season. Something tells me the BoSox are not too upset about that.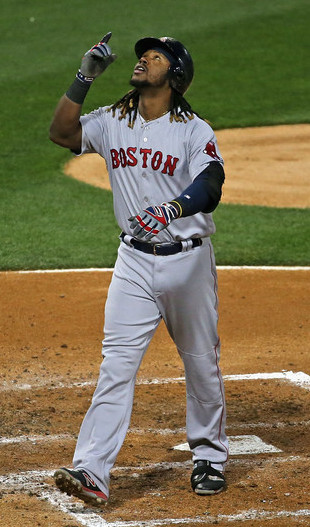 DH David Ortiz (189 wRC+) remains the centerpiece in manager John Farrell's lineup. The supporting cast includes RF Mookie Betts (94 wRC+), 2B Dustin Pedroia (140 wRC+), and SS Xander Bogaerts (125 wRC+). Those four hit in the top four spots of the lineup game after game. 1B Hanley Ramirez (103 wRC+) and 3B Travis Shaw (142 wRC+) hit fifth and sixth.
At the bottom of the lineup the Red Sox typically run LF Brock Holt (111 wRC+), C Christian Vazquez (66 wRC+), and CF Jackie Bradley Jr. (126 wRC+) out there. Ex-Yankee OF Chris Young (55 wRC+) will start against southpaws, but since CC Sabathia is not scheduled to start this series, we probably won't see him this weekend. C Ryan Hanigan (45 wRC+) and IF Josh Rutledge (126 wRC+) are the two other bench players in addition to Young. The Sawx are only carrying three reserves.
Since these two teams played just last weekend, I'm going to copy and past what I wrote about Boston's defense in the previous series preview:
On defense, the BoSox have above-average defenders up the middle in Vazquez, Pedroia, and Bradley. Bradley and Vazquez are truly elite defenders. Bogaerts has improved over the last year or so but is still closer to average than great. Betts has looked lost at times in right — he's made some great catches thanks to pure athleticism — and Holt's been adequate in left. Shaw and Hanley are no bueno on the infield corners.
So yeah, nothing has changed. The Red Sox haven't made any call-ups on the position player side over the last week.
Pitching Matchups
Friday (7pm ET): RHP Michael Pineda (vs. BOS) vs. RHP Rick Porcello (vs. NYY)
Porcello, 27, is off to a nice start this season after his first year with the BoSox did not go so well. He owns a 2.76 ERA (3.59 FIP) in five starts and 32.2 innings with career best strikeout (28.1%) and walk (4.7%) rates. His 49.4% ground ball is also above-average, yet he has been dinger prone early on (1.38 HR/9). Porcello has historically been more effective against righties than lefties. He lives off a sinker right around 90 mph, and so far this season he's preferred his low-80s changeup to his low-70s curveball. He'll also throw some mid-80s cutters/sliders. Last weekend Porcello held the Yankees scoreless over seven innings.
Saturday (1pm ET): RHP Nathan Eovaldi (vs. BOS) vs. LHP David Price (vs. NYY)
Depending on your point of view, Price has either been really bad (6.14 ERA) or really good (2.88 FIP) in his first six starts and 36.2 innings with the Red Sox. Peripheral stats are nice, but, at the end of the day, the name of the game is keeping runs off the board. Price has has great strikeout (30.6%) and walk (5.6%) numbers, though he doesn't get many grounders (40.0%) and you can take him yard (0.98 HR/9). His platoon split has generally been pretty small. Price, 30, is sitting around 93 mph with his four-seamer and sinker these days, and about 89 mph with his cutter. A low-80s changeup is his main secondary pitch, and he'll also mix in a few low-70s curveballs per start. The Yankees tagged Price for six runs in seven innings last week, though Alex Rodriguez did a lot of that damage, and he's currently on the DL. Life is pain.
Sunday (8pm ET): RHP Luis Severino (vs. BOS) vs. RHP Steven Wright (vs. NYY)
The 31-year-old Wright is in the rotation because Joe Kelly (shoulder) and Eduardo Rodriguez (knee) are both currently on the DL. He has a 1.67 ERA (3.22 FIP) in five starts and 32.1 innings this year. Early on he's gotten a lot of strikeouts (23.0%) and a decent amount of grounders (43.5%), though his homer rate is way low (0.28 HR/9) and his walk rate (11.1%) is way high. Expect that homer rate to climb in the coming weeks. Knuckleballers are historically homer prone. Wright throws his floater about 80% of the time and it clocks in at the mid-70s. His get-me-over fastball sits around 83 mph, and he'll flip a few upper-60s curveballs per start just to mess around with the hitters. I am not looking forward to hearing how facing a knuckleballer can screw up your swing for a few days. Gimme a break.
Bullpen Status
For whatever reason the Red Sox are carrying eight relievers at the moment. I guess they're concerned about not getting length from some of their starters, specifically lefty Henry Owens, who lasted only three innings yesterday. Here is Farrell's bullpen:
RHP Matt Barnes: 14.2 IP, 14 H, 6 R, 4 ER, 7 BB, 14 K, 1 HR (19 pitches Thurs., 0 pitches Weds.)
RHP Heath Hembree: 10.1 IP, 10 H, 1 R, 1 ER, 3 BB, 11 K, 0 HR (43 pitches Thurs., 0 pitches Weds.)
RHP Craig Kimbrel: 13 IP, 5 H, 5 R, 5 ER, 6 BB, 22 K, 2 HR (0 pitches Thurs., 12 pitches Weds.)
LHP Tommy Layne: 5 IP, 6 H, 2 R, 2 ER, 3 BB, 6 K, 1 HR (0 pitches Thurs., 0 pitches Weds.)
LHP Robbie Ross Jr.: 13 IP, 10 H, 4 R, 4 ER, 1 BB, 13 K, 1 HR (34 pitches Thurs., 0 pitches Weds.)
RHP Carson Smith: 1 IP, 0 H, 0 R, 0 ER, 0 BB, 1 K, 0 HR (0 pitches Thurs., 0 pitches Weds.)
RHP Junichi Tazawa: 10 IP, 5 H, 3 R, 3 ER, 5 BB, 12 K, 1 HR (19 pitches Thurs., 0 pitches Weds.)
RHP Koji Uehara: 13.1 IP, 5 H, 5 R, 5 ER, 5 BB, 15 K, 0 HR (0 pitches Thurs., 11 pitches Weds.)
Smith, who was one of the best relievers in baseball last season, was activated off the DL the other day. He was not active for the series in Boston last weekend. Smith suffered a flexor muscle strain in Spring Training. Same thing Andrew Miller had last year.
Farrell likes to give his relievers set innings, and right now Tazawa is his seventh inning guy and Uehara is his eighth inning guy behind Kimbrel in the ninth. They're easing Smith back into things for now, but he is expected to take over as the fireman once he gets the thumbs up. Layne is a true lefty specialist, not someone who will throw a full inning.
You can see the status of Joe Girardi's bullpen at our Bullpen Workload page. Everyone is pretty well rested. This is also the last series the Yankees will play without Aroldis Chapman. His suspension is up Monday.