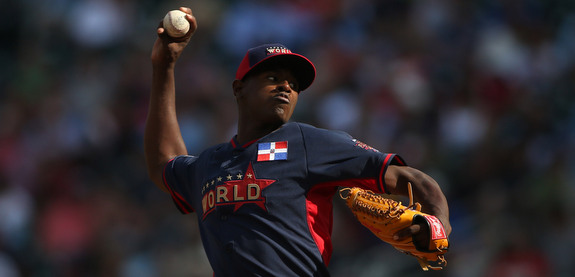 In yesterday's Season Review post, I noted Shane Greene was a big player development success for the Yankees, who turned an under-scouted (due to Tommy John surgery) right-hander into a bonafide Major Leaguer with a 15th round pick, a $100k bonus, and patience. They haven't had enough success stories like that, so much so that director of player development Pat Roessler was recently let go. I'm pretty sure VP of Baseball Ops Mark Newman would have been cut loose as well if he wasn't retiring.
The Yankees do, however, get just enough from their farm system each year to fill out their roster and make trades. This past season it was Greene in the rotation, Dellin Betances in the bullpen, and Vidal Nuno on the trade market. Last year it was Adam Warren and Preston Claiborne in the bullpen and Corey Black in a trade. They seem to crank out a few supporting players and trade chips every year despite the overall lack of production from the system. Spare parts aren't a problem. Getting regulars and above-average contributors is.
Anyway, both Joe Girardi and Hal Steinbrenner recently indicated the Yankees will get younger going forward. "At times we ran out four guys, five guys over 35 years old. I don't think that will happen next year," said Girardi during his end-of-season press conference. Hal said "there's no doubt, young players, player development, that's going to play a big part (going forward)" during a radio interview. They could both be blowing smoke, but I do think they're sincere.
Incorporating more young players into the roster going forward is a wonderful idea but it's not easy to pull off. If it was, every team would be doing it. They try, but many fail. That's baseball. The Yankees are also at a disadvantage because most of their top prospects are in the lower minors and aren't big league ready, so they're still a year or two away from the show. Which prospects could help next year, a la Greene or Betances or Black? Let's look.
The Obvious Candidates
As always, the Yankees have some upper level relievers who are knocking on the door and figure to get an opportunity in 2015. Top 2014 draft pick LHP Jacob Lindgren is the most notable bullpener while others like RHP Nick Rumbelow, LHP Tyler Webb, RHP Nick Goody, and LHP James Pazos could force the issue and get called up at some point. Every team winds up dipping into their farm system for bullpen help at some point and these guys are at the front of the line for the Yankees.
Elsewhere on the roster, both RHP Bryan Mitchell and C John Ryan Murphy have already gotten a taste of the show and are primed for bigger roles if the need arises. Same with RHP Jose Ramirez. I think we'll finally get to see LHP Manny Banuelos next season as well. He missed just about all of 2012-13 with elbow problems and had an up-and-down 2014, which wasn't entirely unexpected after the long layoff. With the rust shaken off, Banuelos is finally in position to help the Yankees next summer, either in the rotation or out of the bullpen.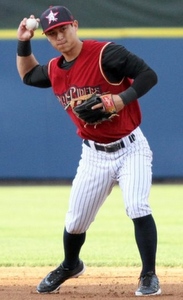 And then there's 2B Rob Refsnyder, who is very likely to get an extended trial at second base in 2015. It might not happen right away, he might have to spend a few weeks in Triple-A, but I'm very confident it'll happen at some point. Refsnyder has hit his way into big league consideration but his defense might be what keeps him in the minors a little longer. He's still rough around the edges at second base after playing the outfield in college. Aside from the relievers, Refsnyder seems like the safest bet to be called up next year.
The Maybes
New York's two best prospects are OF Aaron Judge and RHP Luis Severino. If you want to debate the order, fine. It doesn't really matter though. Both are Yankees. Both are also likely to start next season with Double-A Trenton, and any time a top prospect starts a season in Double-A, he's a candidate to be called up at midseason. The Yankees were very aggressive with the 20-year-old Severino this year in particular, so I'd be less surprised if he debuted in 2015 than I would with Judge.
Defensively-challenged C Gary Sanchez is expected to move up to Triple-A next season, so it'll be interesting to see how the team distributes playing time between him, Murphy, and C Austin Romine. Sanchez's climb up the ladder has been deliberate — he's spent parts of two seasons in Low-A, High-A, and Double-A — and a full year at Scranton is probably in the cards next season. I do think he'll end up getting a September callup since he's already on the 40-man roster though.
Other possible call-ups include OF Ramon Flores and OF Taylor Dugas, both of whom spent part of last season with the RailRiders and will return there in 2015. 1B Kyle Roller is in the same boat. 1B/OF Tyler Austin is expected to join them next year and because he plays two positions where the Yankees will need backup (right field and first base), the chances of him making his debut next season are very good. Even if it's only as a September call-up. Austin will be added to the 40-man roster this offseason to protect him from the Rule 5 Draft.
Among the pitchers who could pitch their way into a big league callup are RHP Jaron Long, RHP Zach Nuding, RHP Mark Montgomery, RHP Danny Burawa, and LHP Matt Tracy. Long is the son of recently dismissed hitting coach Kevin Long but I don't think that will have any impact on his standing in the organization. This is a business. Jaron knows it, Kevin knows it, the Yankees know it. If he's the best option to help the team at some point next year, Jaron will get a chance and both he and his father will be thrilled.
The Long Shots
In all likelihood 3B Eric Jagielo, 1B Greg Bird, and DH Dante Bichette Jr. will open next year with Double-A Trenton, though I think they're further behind Judge and Severino. Jagielo probably has the best chance of debuting in 2015 among these three and that's only because he plays third base (not well, apparently). If the team needs a first baseman or DH, Austin and/or Roller are head of Bird and Bichette on the depth chart.
OF Jake Cave is in the same situation as those guys — starting the year at Double-A but unlikely to see the show in 2015. If the Yankees need an outfielder, both Austin and Flores will already be on the 40-man roster and in Triple-A. We won't see young guys like LHP Ian Clarkin, RHP Brady Lail, OF Miguel Andujar, and LHP Daniel Camarena next year. It's too early for them. We can talk about them more seriously next offseason and even more seriously the offseason after that.
The Trade Chips
Everyone. Seriously. I don't think the Yankees have any prospects worthy of being deemed untouchable. But, to use an old Brian Cashman phrase, some are more touchable than others. I mean, if the Marlins come calling and say they're willing to deal Giancarlo Stanton as long as the package starts with Judge and Severino, how do the Yankees say no to that? They shouldn't give anyone away but everyone should be available in the right situation. Cashman did a great job getting a lot for a little at the trade deadline this year and I'm sure that's the approach he'll take going forward.
* * *
The Yankees say they plan to incorporate more youth going forward, and for 2015 that means Refsnyder and a bunch of relievers. That's really it. The 2016 season is when others like Judge, Severino, Jagielo, and Bird become realistic big league options. It will probably take them a year or three before they have a real impact, but that's true of every prospect. The process has to start sometime though, and for the Yankees, next season means better late than never.