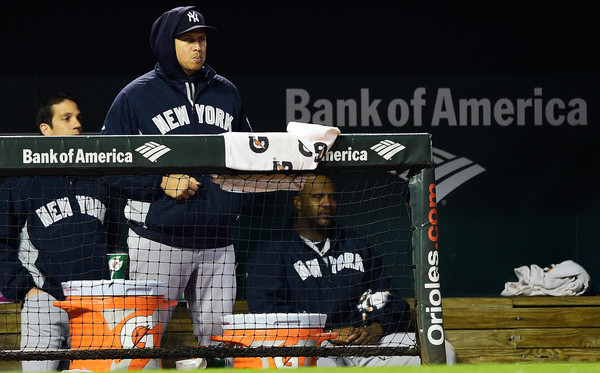 A few hours prior to last night's win the Yankees placed Alex Rodriguez on the 15-day DL with a right hamstring strain. He hurt himself running out a ground ball Tuesday night. Here's the video. The injury comes at a bad time — don't they all? — because A-Rod was just starting to heat up and the Yankees need all the offense can get. Here are some thoughts on the injury and the roster fallout.
1. The Yankees declined to announce the severity of the injury yesterday and that was weird if not worrisome. The team usually isn't shy about setting timetables. As it turns out, they won't know the full extent of the injury until A-Rod visits team doctor Dr. Ahmed when they return to New York tomorrow. That's per Bryan Hoch and Mark Feinsand. I guess the MRI only showed the injury was serious enough to require a DL stint. I dunno, I'm not a doctor. Stop looking at me for answers. Point is, we still don't know how long Alex will be sidelined. Two weeks? Two months? Something else entirely? Even at 40, Rodriguez still has a big presence in the lineup, and the Yankees will miss him. The longer he's out the harder it will be to climb out of this early hole in the standings.
2. Looking back, it's pretty incredible A-Rod made it through last season completely healthy at his age and with all his relatively recent lower body surgeries. He missed the entire 2014 season due to his suspension and was healthy enough to appear in 151 games last year. That's pretty crazy. Now a month into 2016 he's already missed a few days with an oblique injury and now he'll miss an undetermined length of time with a hamstring problem. That's what you expect from a player pushing 41. Not perfect health like last year. A-Rod joins Greg Bird and Bryan Mitchell as important Yankees on the shelf right now, not to mention various shuttle relievers.
3. Brian Cashman and Joe Girardi all but confirmed the plan is to give Aaron Hicks and Dustin Ackley more playing time in A-Rod's absence, not call someone up and insert them into the starting lineup. In fact, Cashman told Billy Witz they won't call up Nick Swisher because "where would we play him?" They'd rather go with Hicks and Ackley and rotate others in and out of the DH spot while Rodriguez is out. I think that's the best way to go … for now. The Yankees should be prepared to change it up if A-Rod will be out a while and Hicks/Ackley (Hickley? Ackicks?) don't start contributing at the plate. As I've been saying for a while now, I'm curious to see what Hicks can do with regular playing time, and now it looks like he'll get it.
4. I really hope the eight-man bullpen thing is temporary. It's overkill — Nick Goody has barely pitched as it is, and now there's another guy in the bullpen — and they'll end up with pitchers sitting around for a week between appearances. The Yankees are just starting this 20 games in 20 days stretch, and both the Orioles and Red Sox (their next opponent) have a lot of left-handed hitters, so keeping James Pazos through Sunday makes sense. After that though, they'd really be pushing it with a three-man bench. Eight relievers is one too many. (You can argue seven relievers is one too many.) With so many veteran position players, I'd rather have the extra bench player than the extra reliever. No doubt about it.
5. As for call-up candidates, I think Rob Refsnyder is the best fit because he can play second, third, and right. It was cool to hear he asked to play right field in Triple-A. He wants to improve his versatility because he knows it's his best chance to get back to show. I've said before I think the best way for him to help the Yankees long-term is as a utility man. Refsnyder would add a righty bat to replace A-Rod, be around as a Chase Headley alternative, and provide depth at multiple spots. Ben Gamel or Slade Heathcott would be yet another lefty hitting outfielder. I'm not sure what they offer the Yankees that they don't already have on the roster. Aaron Judge for a few weeks would be fun as hell, but he'd have to actually play. There's no sense in calling him up one to play once or twice a week. Refsnyder's the guy because the Yankees could play him at different positions and keep him on the bench for a few days a week with no real worry about his development.