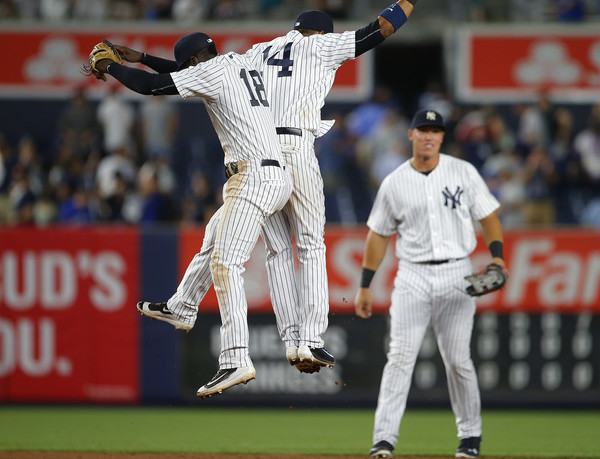 The Yankees just wrapped up their best series of the season, sweeping three games from the Blue Jays at home. They're now 2.5 games back of the second wildcard spot with 24 games to play. With the last place Rays coming to town for four games this weekend, the Yankees have a really great chance to close the gap even more. Anyway, here are some thoughts.
1. Aaron Judge's first few weeks as a big leaguer have not been pretty outside of a few home runs, and I think it's good this is happening now rather than early next season. Could you imagine if the Yankees hadn't called up Judge this year, then went into next season with him as Plan A in right field? It's impossible to know if he'd struggle this much in that scenario, but some sort of adjustment period was always expected, and he's going through it now. There's a little less than a month left in the season and the Yankees can use it to further evaluate Judge. Hopefully he rakes and comes to camp as the starting right fielder. If he continues to struggle, perhaps it would be wise to throw him into the maybe pile with some others. Aaron Hicks, Tyler Austin, Rob Refsnyder, a free agent, whoever. Not calling Judge up now and then having him start next season like this would have been really ugly.
2. A thing that probably should happen: move Chase Headley up in the lineup. His April was dreadful. Inexcusably awful. He also went into last night's game hitting .278/.346/.442 (109 wRC+) with 13 home runs in 102 games since the calendar flipped to May, and the Yankees could use all the offense they can get. Headley has seen some more time higher in the lineup recently, especially against lefties, but it might be time to take him out of the seventh and eighth spots for good. Without thinking about it too much, the best realistically possible lineup the Yankees could send out there probably looks like this:
3B Chase Headley
DH Brian McCann
1B Tyler Austin
RF Aaron Judge
The Yankees have wasted a lot of middle of the order at-bats on Mark Teixeira and Alex Rodriguez this season. Headley's been one of their best hitters for four months now, and I'd like to see them try to take advantage of that by not burying him at the bottom of the lineup. Maybe Headley is comfortable batting seventh and would wilt under the immense pressure of being the No. 3 hitter for the New York Yankees. I don't think that's the case though. He's been hitting well. Give him some more responsibility.
3. As crazy as it sounds, the Yankees miss Hicks right now. They have a ton of players on the roster capable of playing right field (Judge, Austin, Refsnyder, Eric Young Jr.) but Hicks was able to move seamlessly between the three outfield spots, plus he's a switch-hitter. All of those other guys are righties. (Young is a switch-hitter, but he was brought into run, not hit.) Hicks had a fine August and he was the team's best all-around alternative to the struggling Judge. Heck, Brian Cashman all but admitted Hicks would be taking away at-bats from Judge if he were healthy. "If Aaron Hicks were up and running, you might see some different things happening. But since Aaron Hicks went down, that's the way we're going," said the GM to Chad Jennings. Hicks is no savior, but the Yankees are worse off without him, even with all those extra outfielders on the roster.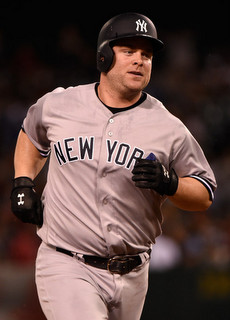 4. Despite the recent trade chatter, I think it would make sense for the Yankees to keep McCann next season. It all depends on the trade offers, of course, but McCann's not someone who should be dumped just for the sake of shedding (a portion of) his contract. Having two starting caliber catchers is a big luxury, especially when they hit from opposite sides of the plate and there are DH at-bats to be had. By all accounts McCann is a great teammate and Sanchez would benefit from having him around. Would I count on McCann to be the everyday DH? Absolutely not. But a half-time catcher and part-time DH? Someone who catches, say, 65-70 games and spend another 50 at DH? That could definitely work. This is probably something that is worth a longer post at some point down the line.
5. The Yankees saw the impressive Aaron Sanchez the other night and at this point they have to hope Luis Severino follows a similar career path as the young Blue Jays right-hander. That means impress during a second half cameo in year one, struggle as a starter and move to the bullpen in year two, then break out as a starter in year three. That's what Sanchez has done and Severino is now two-thirds of the way there as well. Sanchez was a better prospect than Severino and both his stuff and command are better, so this isn't a straight apples to apples comparison. We're just hoping Severino's development follows a similar timeline given everything that's happened this year. He's really, really important to the Yankees going forward.
6. There's an entire offseason ahead of us, but right now it looks like the Yankees are again going to open next season with a bunch of questions in the rotation. Masahiro Tanaka's elbow has held up just fine this year, though the partial tear continues to hang over every pitch he makes. Chad Green's going to be coming off a pretty serious elbow injury. CC Sabathia's had a better season than I think anyone expected, but what happens with another year of wear and tear on his arm? Severino had zero success as a starter this season. Michael Pineda? I don't even know where to start with him. No team has five sure things in their rotation. That's unrealistic. But right now the Yankees have one in Tanaka. I'm curious to see what the offseason brings. The Justin Wilson trade was surprising and confusing at the time, but it looks like a good (and very necessary) trade right now. I wonder if the Yankees will strike a similar deal for more depth.
7. I'm not going to lie, I wasn't a fan of the Jonathan Holder call-up. Still not, really. I applaud the Yankees for bringing up whoever they felt gave them the best chance to win. I'm just not convinced Holder is that guy despite his phenomenal season in the minors. Joe Girardi is typically slow to trust rookie relievers and I figured Holder wouldn't get much of a chance to throw important innings. To Girardi's credit, he's been force-feeding young guys high-leverage work lately, specifically Ben Heller, so maybe Holder will get a greater opportunity the rest of the way and make a difference. I'm not counting on it happening though. The upcoming 40-man roster crunch is very real, and getting, what, ten innings at most from Holder doesn't seem worth squeezing the roster even tighter. It's not a bad move and the logic was sound. I just didn't agree with it. That's all.
8. You know who's been sneaky good so far? Tommy Layne. The Red Sox released him last month, the Yankees picked him up, and he's retired 16 of 22 left-handed batters in faced. One of the six baserunners was an infield single. The problem: Layne has only struck out one of those 22 lefties, and you'd like your left-on-left matchup guy to miss more bats than that. But still, the Yankees picked this guy up for nothing, and he's filled a role that needed to be filled after the trade deadline. Matchups weren't necessary when Dellin Betances was in the seventh and Andrew Miller was in the eighth. Now the Yankees need someone like Layne. He can pitch pretty much every single day — his pitch count the last 14 appearances: 9, 4, 14, 5, 16, 4, 8, 17, 2, 6, 4, 3, 6, 8 — and he provides a different look with his funky delivery. I don't think he's a long-term piece or anything like that, but for these last few weeks of the season, he's stepped up and given the Yankees a nice boost.