Remember the seven-game win streak that brought the Yankees to within one game of a wildcard spot? It was only two weeks ago. Well, the Yankees are now 3-11 in the 14 games since, including 1-9 against teams other than the Rays. The latest loss, New York's fourth straight, was a 4-3 walk-off loss to the Blue Jays on Sunday. Fast forward to 2017, please. Maybe 2018.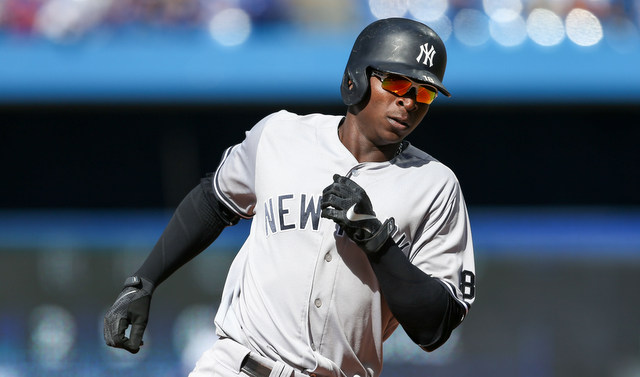 The Streak Ends
At long last, the Yankees have scored a run. Multiple runs, actually. Didi Gregorius ended the team's 33-inning scoreless streak with a leadoff home run in the seventh inning, which tied the game 1-1. It was the Yankees' third hit of the game and ninth of the series. The first six innings were more of the same. Lots of weak contact and empty at-bats. That 33-inning scoreless streak was well-earned.
Before the Gregorius homer, New York's best chance to break the scoreless streak came in the second inning, when they loaded the bases with one out on a double (Mark Teixeira), a walk (Brian McCann), and a single (Chase Headley). Headley's single likely would have scored a run had pretty much anyone other than Teixeira been running. Still, bases loaded and one out is pretty good. Then Mason Williams struck out and Ronald Torreyes grounded out. Opportunity wasted.
Five-Plus & Fly
Once upon a time Michael Pineda was a ruthlessly efficient pitcher who pounded the zone with power stuff. That was two years ago now. These days Pineda can barely complete five innings, nevermind six. He lasted 5.2 innings on Sunday, which was his longest start in a month. Pineda has completed six full innings just once in his last eight starts. He's failed to complete five innings three times in those eight games.
Overall though, Pineda was pretty good Sunday, holding the Blue Jays to just one run on a Jose Bautista solo homer in his 5.2 innings. He allowed three hits and three walks while striking out seven. His moment of truth came right in the first inning, when Josh Donaldson doubled and Bautista walked. Pineda escaped the jam on Russell Martin's line drive right to Williams. Adam Warren came in to record the final out of the sixth with two men on base, closing the book on Pineda's start, which was his best (and longest) in a while now.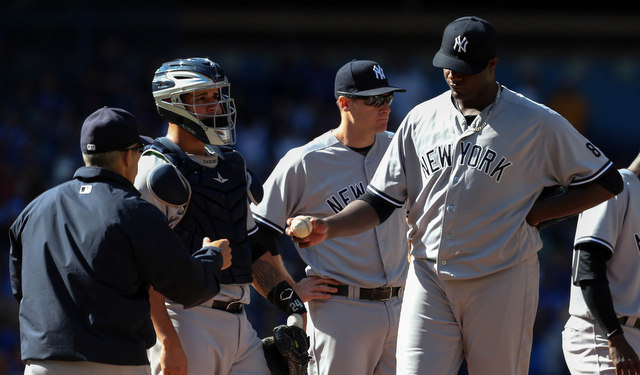 (Some) Speed Kills
Props to Joe Girardi. The game was still tied 1-1 in the eighth inning, and he went to his best to face Toronto's best. That meant Dellin Betances against Donaldson, Edwin Encarnacion, and Bautista. He didn't save his closer for the ninth inning or a save situation. Girardi went to Betances because he was the best man for the job. It's a shame this is so notable because it's so rare.
Anyway, bringing in Betances was the right move. It just didn't work out. Dellin walked Donaldson, who immediately stole second — opponents are now 20-for-20 in steal attempts against Betances — and advanced to third on Encarnacion's ground ball. Bautista drove in the go-ahead run with a two-strike single on a breaking ball up in the zone. Sucks. Pinch-runner Dalton Pompey stole second (21-for-21) — Dellin had him picked off, but he incorrectly threw to first rather than run right at him — before Betances escaped the inning.
A Short-Lived Lead
To their credit, the Yankees did not pack it in and go quietly in the ninth. They rallied for two runs to take a 3-2 lead. Teixeira and pinch-hitter Billy Butler — Eric Young Jr. pinch-ran for McCann earlier in the game, and Butler replaced EYJ — started the inning with back-to-back singles. Headley moved them up with a hard-hit grounder back to closer Roberto Osuna. The Yankees had the tying run on third and the go-ahead run on second with one out.
Osuna tried to overpower Williams and nearly succeeded; Williams was late on two fastballs and fouled them off to fall behind in the count 1-2. He caught up to the next fastball and sliced it to left field for game-tying run. Pretty huge moment for the rookie. Torreyes gave the Yankees the 3-2 lead with a sacrifice fly to deep center field. He saw five pitches in that at-bat and swung at them all. The last one was finally put in play instead of fouled off.
The Seemingly Inevitable Loss
After the Yankees took the lead, Girardi sent Betances back out for the bottom of the ninth even though he'd already thrown 26 pitches, and I thought it was absolutely the right move. He's their best reliever (by a lot), so much so that a fatigued Betances is still their best option. (He hadn't pitched in four days anyway.) Girardi didn't have a long leah though. After a leadoff walk, Dellin was pulled in favor of Tyler Clippard.
Clippard, who's been throwing batting practice for about a week now, allowed a single to Kevin Pillar to put runners on the corners, then inexplicably threw away Ezequiel Carrera's squeeze bunt. It was a great bunt, nothing the Yankees could do about it, but Clippard tried to flick it to the plate with his glove and it sailed way wide, allowing the runners to advance an extra 90 feet.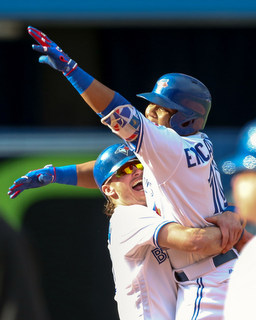 With the tying run on third and no outs, the Yankees elected to pitch to Devon Travis, who struck out on four pitches. The Yankees then opted to walk Donaldson to load the bases and create the force at any base. That's a no-brainer. Bautista was out of the game — he was lifted for a pinch-runner — so Toronto only had two of their three big bats in the lineup. The walk took one out of play, and set up the double play situation for a double play prone hitter.
Alas, it did not work. Encarnacion poked a ground ball to the hole in the right side of the infield, and while Torreyes was able to run it down and keep it from rolling into right field, he had no chance to make a play. Game over. Walk-off infield-ish single.
Girardi sent Betances out for the ninth, which indicates he was willing to let him throw 40+ pitches if necessary. Instead, he pulled him after the leadoff walk, which tells me he was more worried about holding the runner at first than not having the best available pitcher on the mound. Clippard has now allowed eight of the last ten batters he's faced to reach base — to be fair, one of the eight baserunners was an intentional walk — and runs in four of his last five outings. The leadoff walk stunk and is on Betances, no doubt. But again Clippard was unable to stop the bleeding.
Leftovers
The Yankees had eight hits as a team, which feels like a minor miracle. They had six hits total in the first two games of this series. Gary Sanchez went 0-for-4 with two strikeouts and, for the first time, he looked like an over-anxious rookie in the eighth inning. Brett Gardner was on second with one out, and Sanchez swung at a slider way out of the zone for strike three: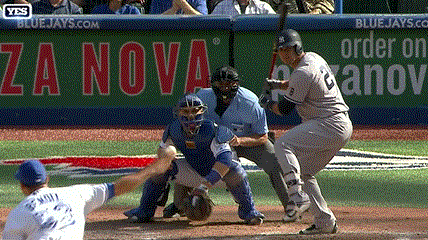 That's the 2016 season in one GIF. To be fair, it was a really good at-bat overall. Joaquin Benoit jumped ahead in the count 0-2, but Sanchez worked it back full and fouled off several tough two-strike pitches. The ninth pitch of that at-bat was that ugly hack off the plate. Sanchez stood hunched over at the plate for a moment, clearly miffed he expanded the zone so much in a big spot. Growing pains.
The Yankees went 2-for-10 with runners in scoring position, and, of course, one of the two hits didn't even score a run. That was Headley's second inning single, which advanced Teixeira to third. The other hit was Williams' game-tying single in the ninth, which ultimate went for naught.
The top three hitters in the lineup: 1-for-13 (.077) with two strikeouts, both by Sanchez. Jacoby Ellsbury is now 6-for-48 (.125) in his last 12 games, including 2-for-22 (.090) since returning from the bone bruise in his knee. Teixeira was the only starter with multiple hits.
Pineda's fifth strikeout was his 200th of the season. He's the first Yankee with a 200+ strikeouts since CC Sabathia fanned 230 batters in 2011. He's the first right-hander with 200+ strikeouts in pinstripes since Mike Mussina (214) and Rogers Clemens (213) both did it in 2001.
And finally, the Orioles won and the Tigers lost, so Baltimore has opened a 1.5-game lead for the second wildcard spot. The Yankees are 5.5 games back and their tragic number is two. On the bright side, the O's have an off-day Monday, so the Yankees can't eliminated until Tuesday at the earliest.
Box Score, WPA Graph & Standings
You can find the box score and updated standings at ESPN, and the video highlights at MLB.com. Here are our Bullpen Workload and Announcer Standings pages, and here's the stupid win probability graph:

Source: FanGraphs
Up Next
This series still isn't over. The Yankees and Blue Jays will wrap up this four-game set Monday night, in New York's final road game of the season. Girardi announced Luis Severino will get the start in place of the injured Masahiro Tanaka. Lefty J.A. Happ will be on the bump for Toronto.