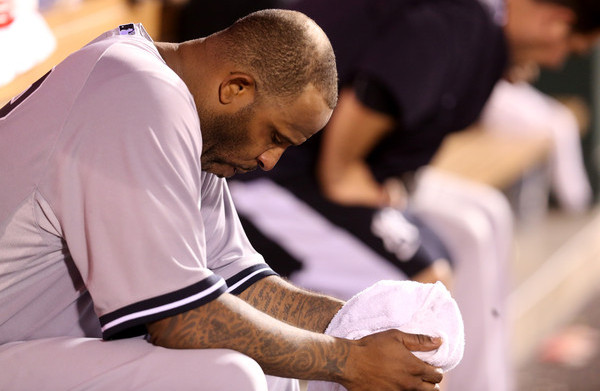 Late last week the Yankees announced CC Sabathia would not start as scheduled this past Sunday, and would instead get the ball today. Ivan Nova started Sunday on normal rest thanks to last Thursday's off-day. Sabathia will start on eight days' rest tonight, and, of course, he wasn't thrilled with the decision. He's a competitor, he wants to pitch.
"Don't ask me what I'm working on," said Sabathia to Zach Braziller last week. "It is up to them. Whatever they think is best is the schedule (is the one) that I'm following. It's a break that I probably need, I guess. Take a step back, look at some things, try to be ready on Wednesday … It's a good to get a break for my body, for sure."
The team framed the decision as a chance to give Sabathia extra rest and extra time to work on things in the bullpen. "It gives him a few extra days. He's been a guy that's thrown every fifth day or sixth day," said Joe Girardi to Andrew Marchand when the announcement was made. That was as predictable a response as it gets from Girardi, who protects his players as much as any manager in the game.
Sabathia may be getting some extra rest and time to work on things, but it's clear what's really happening here. The Yankees used their recent off-days to make sure Sabathia not only makes just one start before the All-Star break rather than two, but also to ensure he makes that start against the Athletics rather than the division rival Rays and Red Sox. It's a no-brainer move. They had to do it.
The Yankees are sheltering Sabathia like a fifth starter because that's what he is, their fifth best starter. (Really their sixth best starter, but let's not get started with that again.) They're putting him in position to hurt the team less. Like it or not, the Yankees are unwilling to pull Sabathia out of the rotation right now, so this it the next best thing. Keeping him away from division rivals and spacing out his starts as much as possible. It would have been foolish not to do it.
This is only a temporary measure, of course. The Yankees can use off-days and the All-Star break to limit Sabathia to one start in a 27-day span (!) if they really want — he started on July 29th, will start tonight, and they won't need a fifth starter after the break until July 26th — but then what? They will have successfully avoided using their worst start for close to a month — I have a hard time thinking they'll actually limit Sabathia's starts that much — though that's not a solution. It's a band-aid.
Perhaps this is step one in the process of removing Sabathia from the rotation. Something like that won't happen in an instant. That would be humiliating and there's a gentler way to do it. It could be a gradual process and pushing this start back is the start of that process. Maybe next they'll outright skip one of Sabathia's starts using an off-day. I'm not saying that's the right way to go about removing him from the rotation — ripping the band-aid off is almost always preferable to slowly peeling it away — but that could be the thought process.
For now, the team's plan for Sabathia seems to be nothing more than hope. Hope something clicked in the bullpen during this recent break, hope he finds a way to be a competent starter going forward, hope he doesn't hurt them as much as he has already this season. I love Sabathia, he's been a great Yankee, but man, he has a 5.06 ERA (79 ERA+) in his last 352 innings now. That's brutal. Pushing his start back was an easy decision and maybe that's a stepping stone to a more drastic move in the future.