No matter how long the losing streak gets and no matter how much the other starters get knocked around, every fifth day there is Masahiro Tanaka to make things right. The Yankees ace chucked his first career MLB shutout on Wednesday night, carrying his team to a 4-0 win over the Mets. It was their first Subway Series win since 2012. I'm taking about an individual game, not the whole season series.
Total Domination
The Yankees have won five games in the month of May and Tanaka has been on the mound for three of them. He was in total control on Wednesday, basically playing a game of catch with catcher Brian McCann and having his way with opposing hitters all night. Tanaka allowed three singles and one double in his nine scoreless innings, striking out eight and generating 22 swings and misses out of 114 low-stress pitches. He face the minimum three hitters in six of nine innings and only faced four batters in the other three innings.
The Mets did not have a runner reach third base against Tanaka and only two made it as far as second. Tanaka threw a first pitch strike to 21 of 30 batters and only went to three three-ball counts all night. By Game Score (87), this was the best pitched game by a Yankees starter since … Tanaka last month. He also had an 87 Game Score in that game against the Cubs (8 IP, 2 H, 0 R, 10 K). Tanaka is the first Yankee with two 87+ Game Scores in a single season since Mike Mussina in 2002. It's only May.
And just because what he did on the mound wasn't enough, Tanaka slapped a ground ball single back up the middle for his first career MLB hit in the ninth inning. You know a pitcher has done his job when he get four at-bats in a game. Tanaka was masterful, putting hitters away with every pitch in his arsenal — he got a swing-and-miss with five different pitches and at least six whiffs with three different pitches (four-seamer, splitter, slider) according to Brooks Baseball — and never once ran into trouble. This guy is in total control when he's on the mound. It's a blast to watch.
One Run, Four Times
The Yankees built something of a picket fence in the middle innings, scoring one run in each of the second, fourth, sixth, and seventh innings. The first run scored because Mets left fielder Eric Young Jr. made the bone-headed decision to dive for a soft line drive, only to fall short and watch the ball scoot by him for a Brian Roberts triple. Yangervis Solarte drew a walk before that and came around to score. There were two outs in the inning and Tanaka was due to hit. Why in the world is he diving? Whatever.
The second and third runs were pretty straight forward: Solarte jumped all over a 3-1 fastball for his fourth homer — if he starts regularly hitting dingers, oh boy — and Mark Teixeira yanked a 1-0 pitch out into the bullpen for his team-leading eighth homer. Solarte's was a annihilated and he hit it with style too, dropping to one knee a la Adrian Beltre. Here is the requisite GIF: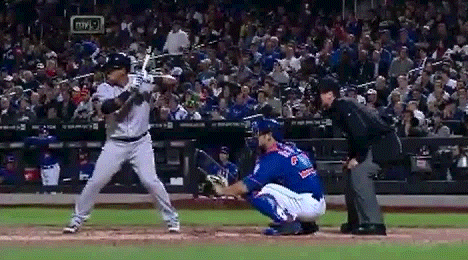 Outstanding.
The Yankees scored their fourth run with two hits that traveled maybe 100 feet combined. Brett Gardner beat out an infield single to second base, stole second, moved to third on a wild pitch, and scored on Derek Jeter's chopper out in front of the plate. The throw pulled first baseman Lucas Duda off the bag and Jeter was safe, which was good because they were two outs in the inning. I wonder if Joe Girardi would have gone to David Robertson in the ninth inning if the score was 3-0 instead of 4-0? I guess we'll never know.
The Yankees had at least one man on base in seven of nine innings and really worked rookie right-hander Rafael Montero hard early on. He threw 69 pitches in the first three innings — at one point he and Tuesday's starter Zack Wheeler had combined to throw 187 pitches to get 22 outs — and wound up throwing 108 pitches in six innings. He faced 25 hitters and had to throw at least four pitches to 14 of them. The Yankees really wore Montero down in his MLB debut. They have now scored at least four runs in each of their last eight games, their longest such streak since doing it in 12 straight back in July 2012.
Leftovers
Roberts went 2-for-4 with two triples, the first two-triple game of his career. He was pretty awesome and fast back in the day. I figured he would have had two triples in one game at some point, but I guess not. It's the first two-triple game by a Yankee since Curtis Granderson in 2010. Gardner had two more hits and is 22-for-62 (.355) in his last 16 games. Jeter (single), Teixeira (homer), Solarte (homer), and Tanaka (single) had the other hits while Jacoby Ellsbury and Solarte drew walks.
The daily defensive miscue did not come back to bite the Yankees on Wednesday. In the bottom of the first, as he was trotting out to shallow right field for the shift, Solarte got caught with his back to infield and Daniel Murphy stole second base uncontested. The Mets tried it again in the fifth inning, but Solarte was paying attention and he got to the bag in time to receive the throw and tag out Chris Young.
And finally, Tanaka is pretty awesome. I just needed to say that again. I'm sure you understand.
Box Score, WPA Graph & Standings
For the box score and video highlights, go to MLB.com. For some additional stats, go to FanGraphs. For the updated standings, go to ESPN. The Yankees have lost nine of their last 14 games are still a half-game back of the Orioles for the division lead. The AL East sucks this year.

Source: FanGraphs
Up Next
The Yankees and Mets wrap up the 2014 Subway Series on Thursday night at Citi Field. The starters — Chase Whitley and Jacob deGrom — will both be making their MLB debuts. It will be the first time two starters make their big league debut in one game since September 2010 (Dillon Gee and Yunesky Maya) according to @BRefPlayIndex. Neat. Check out RAB Tickets if you want to catch the game live.
OF Slade Heathcott (knee) will be activated off the disabled list by Double-A Trenton tomorrow, according to Matt Kardos. Hooray for that. Also, in today's Minor League Roundup, Josh Norris notes RHP Luis Severino ran his fastball up to 99 mph during last night's outing.
Triple-A Scranton (3-2 loss to Lehigh Valley)
2B Scott Sizemore: 0-3, 1 RBI
SS Dean Anna: 0-4, 1 K
CF Adonis Garcia: 2-4, 1 R, 1 3B — 20-44 (.455) during his eleven-game hitting streak
1B Kyle Roller: 1-4, 2 K
C Austin Romine: 1-2 — left the game in the sixth inning with an injured hand … not sure if it was a foul tip or what, but hopefully he's okay
RHP Joel De La Cruz: 7 IP, 6 H, 3 R, 2 ER, 0 BB, 1 K, 15/5 GB/FB — 59 of 90 pitches were strikes (66%) … 69/20 K/BB this season (3.45)
RHP Branden Pinder: 1 IP, zeroes, 2 K, 0/1 GB/FB – ten of 13 pitches were strikes (77%) … 21/2 K/BB in 20 total innings this season
By

7:01pm: In a follow up, Marakovits notes Sabathia's knee is structurally fine and stable. Carlos Beltran and Hideki Matsui are among those who have the same issue and have been fine with treatment.

6:38pm: According to Meredith Marakovits, Brian Cashman confirmed CC Sabathia has degenerative changes in his ailing right knee. He will receive a cortisone shot with stem cells tomorrow and there is no timetable for his return.

Just yesterday we heard Dr. Andrews confirmed Sabathia's original knee inflammation diagnosis, but inflammation is just a symptom, not the cause of the problem. Sabathia is a big dude and he's been coming down hard on that right knee (his landing knee) for years. It's no surprise it's starting to give out. Hopefully the stem cells work as well as they did for Bartolo Colon a few years ago. · (31) ·
The current rotation has a very 2008 vibe to it, with Masahiro Tanaka playing the role of Mike Mussina and Michael Pineda playing the role of Chien-Ming Wang. Once Wang went down, the rotation was Moose and pray for rain that year. It was pretty ugly, especially in the second half. Right now it's Tanaka and no one else. He's the only guy in the rotation who legitimately gives the club a chance to win each time out.
The Mets, meanwhile, are starting rookie righty Rafael Montero tonight. He will be the fifth pitcher to make his MLB debut during the Subway Series and the first since David Robertson in 2008. The others: Tyler Clippard, Brandon Claussen, and someone named Jaime Cerda. Baseball America ranked Montero as the 68th best prospect in the game before the season but I thought they underrated him a bit. He's the steady, reliable one while Noah Syndergaard is more flashy and exciting. Think of Montero as Matt Cain and Syndergaard as Tim Lincecum.
Anyway, here is a breakdown of Montero courtesy of MLB Farm. The Yankees have lost each of their last four games overall and each of their last six games to the Mets, dating back to last season. That's pretty annoying. Hopefully Tanaka takes care of business. Here is the Mets lineup and here is the Yankees lineup:
SS Derek Jeter
RHP Masahiro Tanaka
It has been cloudy and cool in New York all day, but there's no rain in the forecast. Tonight's game will air on both My9 and SNY locally as well as ESPN nationally. First pitch is scheduled for 7pm ET. Enjoy.
Injury Updates: Ichiro Suzuki (back) feels better but is still questionable for tonight's game. He did some running and hit in the batting cage both today and yesterday … Carlos Beltran (elbow) received treatment and feels "a little better," though he remains in wait-and-see mode … the Yankees still have four available bench players even with Ichiro and Beltran banged up, so they're in decent shape for the DH-less game.
Bullpen Update: There were no roster moves made, so Alfredo Aceves and Matt Daley remain on the roster despite yesterday's extended outings. David Phelps did not throw his usual between starts side session and can throw an inning or two tonight, if need be.
Mets Rotation Update: The Mets placed right-hander Dillon Gee on the 15-day DL with a lat strain this afternoon. Righty Jacob deGrom will start tomorrow night's Subway Series finale in his place. It will be his MLB debut.
Erick Fedde | RHP
Background
Fedde was born and raised in Las Vegas, and he passed on signing with the Padres as a 24th round pick in 2011. He jumped right into the UNLV rotation and had a 3.76 ERA with a 149/61 K/BB in 186.2 innings as a freshman and sophomore. Fedde had a 1.76 ERA with 82 strikeouts and 21 walks in 76.2 innings this spring before blowing out his elbow last week and needing Tommy John surgery.
Scouting Report
Tall and skinny at 6-foot-4 and 180 lbs., Fedde sits in the low-90s and touches 95-96 with his fastball when healthy. His go-to secondary pitch is a low-80s slider he can throw for called strikes or bury in the dirt for swings and misses. It's a legit big league out pitch on its best days. Fedde's changeup is an average pitch more than anything. Although he does a good job of repeating his delivery, though he tends to drop his arm later in starts due to fatigue and it hurts his command. There's a chance he winds up in the bullpen long-term. Fedde has not put on any weight during his three years in school and he isn't guaranteed to fill out that long frame. He's similar to Chris Sale in that regard.
Miscellany
In their latest rankings, Keith Law (subs. req'd), Baseball America, and MLB.com ranked Fedde as the 8th, 14th, and 28th best prospect in the draft class, respectively. That was before he blew out his elbow, however, and the injury will surely cause him to slide down some draft boards. As with ECU RHP Jeff Hoffman, a projected top five pick who recently had Tommy John surgery as well, I think the Yankees would jump all over Fedde if he fell into their lap at the 55th overall pick (their top selection following the offseason spending spree) but I suspect a team with extra picks will roll the dice first.
After these last few seasons, I find it very hard not to assume the worst when it comes to injuries. It's not because of the Yankees either. Pitchers are dropping like flies these days, but every Tommy John surgery starts out as a twinge or some forearm tightness. Not many guys have hurt their elbow and avoided the zipper lately. Ivan Nova and Jose Campos are among its casualties. Mark Teixeira's and Jose Bautista's wrist problems turned into surgery in much the same way.
So, forgive me for being worried the Yankees may soon lose Carlos Beltran for an extended period of time. He hurt his elbow taking swings in the batting cage between at-bats the other night, and while it was initially called a hyper-extension, an MRI revealed an old bone spur that just started to give him trouble. Bone spurs have a way of hiding until you move your body in some random everyday way and they rub up against stuff. The human body is weird like that.
"I just was taking swings in the cage and felt a sharp pain," said Beltran to Chad Jennings. "Took another one and felt the same. Told [Joe Girardi] that I wasn't going to be able to continue … I took many swings, but those two that I took there was a sharp pain that I felt that I just couldn't continue … I just hope it just goes away … I'm hoping for the best."
Beltran received a cortisone shot yesterday and he's going to rest two or three days to see if that helps. From what I understand, the cortisone shot will reduce any inflammation, which could allow the spur to go back to being unnoticed. If the shot doesn't work, however, Beltran will need surgery and will miss what I assume is several weeks. Brian Cashman told Jennings he's unsure if it would be season-ending, if that makes you feel any better. At some point though, either in the coming weeks or long after he's retired, Beltran's going to need the surgery.
The Yankees sunk three years and $45M into the 37-year-old Beltran this past offseason because they needed someone just like him, a proven middle of the order bat with power and patience from both sides of the plate. Someone who they knew could handle New York and big pressure situations. For the first few weeks of the season, Beltran was exactly that, hitting .327/.368/.673 (175 wRC+). Then he flipped over the wall in Tampa and hasn't hit a lick since. Maybe he jammed something during the fall, maybe the timing is pure coincidence. For whatever reason, he stopped hitting.
Despite that recent lack of production, losing Beltran to surgery would be a huge blow. Huge. He adds an impossible to replace element to the lineup with his professional at-bats and ability to hit for both average and power. Beltran's literally the only guy on the roster who can do both. Ichiro Suzuki will probably see more playing time as soon as his back heals up, but if Beltran were to miss a significant amount of time, the best possible solution may be to play Alfonso Soriano in right and let Derek Jeter spend more time at DH, allowing Brendan Ryan to play shortstop and improve the defense. The Yankees can't field worth a damn and they don't have a bat to replace Beltran. Replacing Jeter with Ryan in the field is an upgrade, especially given the ground ball heavy pitching staff.
The Yankees have had their seemingly perpetual issues with runners in scoring position in 2014, but the offense has been effective both recently (4+ runs in seven straight games) and overall this season (4.45 runs per game). Removing Beltran from the equation will hurt the lineup, especially if the Yankees do shift Jeter to DH and play Ryan more often. Hopefully the cortisone shot will work and he can return to the lineup within the next few days. I am expecting the worst though. A bone spur in a hitter's elbow strikes me as something that will require surgery sooner rather than later.
By

From the obvious news department: Brian Cashman told Brendan Kuty the Yankees are definitely open to adding pitching help from outside the organization, but the pickin's are slim right now. "Oh, I'd be open to any external options, but they're really hard to find this time of year," said the GM. Not many teams are looking to trade in May thanks in part to the second wildcard spot.

Non-Masahiro Tanaka starters have a 4.95 ERA this season and I'm surprised it's that low, to be honest. CC Sabathia (knee), Ivan Nova (elbow), and Michael Pineda (shoulder) are all on the disabled list and the Yankees will turn to converted reliever Chase Whitley on Thursday. They don't need to add an ace, though that would be nice. Someone who goes at least five innings every fifth day with a 4.00 ERA would be a big upgrade right now. · (55) ·
Last season was forgettable in more ways than one, but one thing I did not forget is the way it was written off almost universally as bad luck. They had too many injuries to overcome and really, who could see them coming? Joe Girardi and Brian Cashman and Randy Levine told anyone who would listen how proud they were of the guys for hanging in right until the very end. We heard it at every press conference this winter.
The problem with that whole idea was that many of the injuries weren't bad luck. Curtis Granderson having bones broken by pitches not once, but twice? Yeah that's bad luck. Derek Jeter having a series of leg issues after coming back from a fractured ankle? That's not bad luck at all. Kevin Youkilis' back? Travis Hafner's shoulder? As predictable as injuries get given their histories. Mark Teixeira's initial wrist injury was not expected, but the fact that he eventually needed surgery surprised no one. There was much more than bad luck at play.
This season, the Yankees are going through almost the same thing right now. Michael Pineda has a shoulder injury after missing two years following shoulder surgery. CC Sabathia is on the DL for the third time in four years because his twice surgically repaired knee is acting up. Teixeira's wrist has been fine, but his legs have been giving him trouble, as they did in 2010 (blown hamstring) and 2012 (calf strain). Carlos Beltran's elbow is an issue and, wouldn't you know it, Frankie Cervelli is hurt again. The only surprise injuries this year are Ivan Nova's blown out elbow and Shawn Kelley's back, though Kelley landing on the DL is not surprising in and of itself. He has a long history of elbow problems.
The Yankees made their bed with potential injuries this year, and the same is true defensively. By far the most consistent aspect of the team is the defense. It is consistently bad and it hurts them in some way every single game. It's remarkable, really. They never get away with a mistake. Beltran and Jeter have been poor defenders for years, presumed third baseman Kelly Johnson had only a handful of experience at the position before being relegated to the bench by Yangervis Solarte, who has his own defensive issues. Brian Roberts? The guy barely played the last four years and the rust has been evident, especially when it comes to throwing. The only defensive surprise has been Teixeira's issues.
When Cashman & Co. sought to fix last year's roster over the winter, it seems like the focus was simply adding the best players available. That's good, don't get me wrong. But there didn't seem to be much regard for actual needs. The Yankees already had a top notch center field defender and leadoff man in Brett Gardner, yet they added another one in Jacoby Ellsbury. With Gardner and Ellsbury joined by slugger Alfonso Soriano in the outfield, they added another slugging outfielder in Beltran. The lack of power and on base skills still exists. Among the four big offseason pickups, only Brian McCann and Masahiro Tanaka filled actual positional needs.
The roster puzzle pieces don't fit well together. The Yankees built an amazing outfield defense with Ellsbury and Gardner while more or less punting glovework on the infield. That unit is supposed to support a pitching staff that focuses on ground balls because Yankee Stadium is tiny and they don't want to give up many homers. Do you see the problem here? It's backwards. Either the infield needed to be the strongest part of the defense or the pitching staff had to start allowing the ball to be hit in the air. The Yankees have tried to compensate for the infield defense with shifts, but Mark Simon recently noted they have been hurt by the shift more than any other team in baseball. (Part of that is just how often they use them, more shifts means more chances to get burned.)
I don't mean for this to come off as complaining, but I guess it sounds like that anyway. The point I'm trying to make is that all the injuries and shaky defense are not bad luck problems, they're roster design problems. There was this sense of "let's get the best players we can and figure out how it all works later" throughout the offseason. The roster is prone to injury because there are so many older and/or injury prone players, and it's prone to bad defense because pitching staff is emphasizing the bad defenders. You need good players to succeed and the Yankees acquired several good players this winter. They were just good players who didn't address the team's biggest weaknesses.
By

Dr. James Andrews confirmed CC Sabathia's original diagnosis of right knee inflammation earlier today, Joe Girardi announced. Sabathia will have fluid drained from the knee and rest for a few days before throwing. Sounds like he won't miss much more than the minimum 15 days. · (5) ·
By

As expected, right-hander Chase Whitley will start Thursday's game in place of the injured CC Sabathia, Joe Girardi announced. Alfredo Aceves has pitched in relief in each of the last two games, taking him out of the running. The Yankees will need to make a 40-man roster move to accommodate Whitley, but that won't be difficult. Aceves can dropped from the roster and Bruce Billings (forearm) could land on the 60-day DL.

Whitley, 24, had a 2.39 ERA (1.72 FIP) in 26.1 innings across six starts and one relief appearance for Triple-A Scranton this year. He was originally drafted as a reliever and spent most of his career in the bullpen, up until late last season. Whitley has not thrown more than 88 pitches in a start this season (more than 78 pitches only once), so it's probably not reasonable to expect 100+ pitches out of him Thursday. Given the current state of the pitching staff, he has a chance to stick around for a while if he pitches well. · (8) ·