Big mailbag this week. Ten questions with nine answers. As always, use the Submit A Tip box in the sidebar to send us anything throughout the week.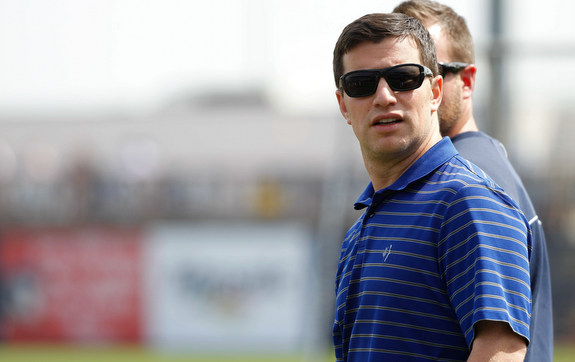 Dustin asks: With Andrew Friedman leaving the Rays, do you think there was ever a chance for the Yankees to have nabbed him? I am not a fan of getting rid of Brian Cashman just for the sake of getting someone new, but Friedman was an upgrade. Was he unwilling to leave the Rays for a division rival, or did this come out of nowhere and the Yankees never had a chance to try and get him?
No idea whatsoever. For all we know the Yankees could have tried to lure him away before re-signing Cashman but failed. The Rays did have to give the Dodgers permission to talk to Friedman and maybe they were unwilling to grant that same permission to a division rival. Maybe we'll get answer one day but probably not. There's lots of stuff that goes on behind the scenes that we never hear about.
I am looking forward to seeing how Friedman does with the Dodgers. He's playing a totally different ballgame now. It's one thing to put together a team with a small payroll and no expectations. It's another to have the largest payroll in baseball with expectations of winning the World Series in 2015. Not in two or three years, but next year. Friedman will have a $220M-ish payroll at his disposal but approximately $170M of that is already tied up through 2017. Seriously, they have ten players under contract for $170M  in 2017. Plus the Dodgers farm system has been way more productive than Tampa's lately. We'll see. I'm guessing Friedman looks a bit less like a genius in a year or two.
Tater asks: So Kansas City and St. Louis are one step away from the world series. Both teams are at the very bottom of their respective leagues in regard to home runs. Can we maybe start to lose the infatuation with and perceived need for Cashman's "big, hairy monsters?" Also is this a sign of the times in the post-PED league or should it just filed under "baseball is weird sometimes?"
I wouldn't take anything we see in the postseason as an indication of how teams should and shouldn't be built. The Royals beat the Angels in the ALDS and to a lesser extent the Orioles in the ALCS because they out-homered them. How many go-ahead late-inning homers have the Cardinals hit this postseason, both against the Dodgers and Giants? A lot. The Red Sox were a top five homer-hitting team last year when they won the World Series.
The only surefire way to contend is to be good at everything, but that's not really possible. Every team is going to have a weakness (except for the 1998 Yankees, of course). The Royals and Cardinals both play under very different conditions than the Yankees. The Royals play in a big park in a weak division, and they still only barely snuck into the postseason as a wildcard team. The Cardinals are in a big park in the NL. The Yankees play in a tiny park in a division with three other tiny parks. They have to hit homers because their opponents and division rivals are going to hit them. If they were the Giants in AT&T Park and the NL West, then power wouldn't be as much of a concern.
John asks: When can we expect to see Shohei Otani with a MLB team? The guy turned 20 in July, has struck out 176 in 153.1 innings so far this year and topped 101 mph with his fastball, beating the record for the fastest pitch thrown by a Japanese pitcher. He also hit .274/.338/.505 in 234 plate appearances with 10 home runs and played in the outfield. Here are the homers and here is his B-Ref page.
Otani, 20, is likely to be the next ace pitcher to come out of Japan a la Yu Darvish and Masahiro Tanaka. He hit 101 mph (~162 kmph) earlier this year as you said, tying Marc Krauss' NPB record and setting a new record for a Japanese-born pitcher. Ben Badler provided a scouting report off one of his starts back in June:
Otani's fastball was overpowering, sitting at 94-98 mph and hitting the upper end of that range consistently … Otani, who's 6-foot-4, 190 pounds, overmatched hitters with his fastball, though his 84-88 mph splitter was a solid pitch at times. He also throws a 78-81 mph slider and a curveball that he manipulates speeds on, ranging anywhere from the mid-60s to the mid-70s.
Otani flirted with signing with an MLB club out of high school* but opted to sign with the Nippon Ham Fighters as their first round pick instead. He's good outfielder with some power but his future is clearly on the mound at the moment. Otani won't be eligible for international free agency for another eight years and the Ham Fighters (it's actually just the Fighters, but c'mon) probably won't post him for another four or five years. A lot can happen between now and then obviously, but definitely keep him in mind.
* Junichi Tazawa signed with the Red Sox out of high school and that didn't go over well. MLB and NPB had an unwritten agreement in place saying they wouldn't sign each other's amateurs.
Dan asks: I feel like the Yankees have to trade Brett Gardner this offseason. He's redundant in the lineup (they don't need two LH leadoff hitters), moveable, and valuable. A true CF who can lead off would be desired by a lot of teams. For instance, he'd be a great fit with the Tigers, maybe the Yankees could get a package back that's built around Nick Castellanos (who is a righty and can play 3rd and LF).
C. Roy asks: Would a swap of Brett Gardner and Rick Porcello make sense for both teams? I think they'd have to sign Porcello long term right away but he is so young and entering his prime.
I do think the Yankees should explore trading Gardner to improve the team elsewhere this winter. They don't need two leadoff hitting center fielders, especially when both are signed into their mid-30s at market rate money. I really like Porcello and think he's close to breaking out as a top of the rotation guy, but I wouldn't trade four years of Gardner for one year of him. I said the same thing in last week's mailbag when someone asked about trading him for one of the Reds' soon to be free agent pitchers.
Castellanos would be interesting because he's young and a former top prospect who fills a position of need, but you'd have to be really confident in him to pull the trigger on that trade. Castellanos hit only .259/.306/.394 (94 wRC+) with eleven homers and brutal defensive numbers (-18.4 UZR, -30 DRS, -28 total zone) this season, which is why both FanGraphs (-0.5 WAR) and Baseball Reference (-1.5 WAR) had him at below replacement level. But still, 22-year-old kid playing in his first full season, growing pains had to be expected. I would prefer to trade Gardner for someone a little less risky, but that trade may not be out there.
P.J. asks: Would signing Josh Johnson to a minor league deal this winter be worth it for the Yankees considering all his health and performance issues? Assuming the Padres don't pick up his $4MM option.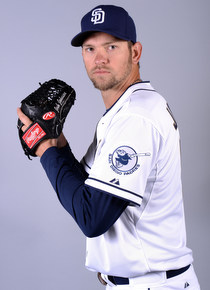 Johnson had a weird clause in his contract. The Padres gave him a one-year deal worth $8M last season, but if he made fewer than seven starts, the team got a $4M club option for 2015. Johnson blew out his elbow in Spring Training and missed the season following his second Tommy John surgery. I can't remember another time a team had an option written into a contact that depended on the player getting hurt, not staying healthy.
I would sign almost any player to a minor league contract and that includes Johnson. It's been two years since he was actually good — 3.81 ERA and 3.40 FIP with the 2012 Marlins and 6.20 ERA and 4.62 FIP with the 2013 Blue Jays — and the second Tommy John surgery is much riskier than the first, but he is only 30 and he's always missed bats (9.18 K/9 and 21.6 K% in 2013). Plus Joe Girardi knows him from his year managing the Marlins. Minor league deal, let him rehab on his own schedule, maybe get him back for the second half? Sure, why not? Minor league contracts are zero risk.
Dan asks: Do you think the Yankees are going to make an effort to get under the luxury tax number three years from now (after the current CBA expires, and that number is raised). At that time A-Rod, CC, Tex, and Beltran will all be off the books. The farm system (which took a step forward), will also have 3 years to further develop. To that end, I don't expect them to give any contracts more than 3-4 years this off season, so the payroll will dramatically drop in 3 years. What do you think?
I do think that's what will happen. Hal Steinbrenner confirmed the team will try to get under the luxury tax threshold at some point in the future during a recent radio interview and after the 2016 season makes sense. The luxury tax threshold will be $189M in both 2015 and 2016, then it will presumably go up once the current Collective Bargaining Agreement expires. It has to go up, right? Team payrolls continue to climb and I don't think the union will be happy with keeping the threshold where it is. Mark Teixeira, Carlos Beltran, Martin Prado are coming off the books after 2016 and possibly CC Sabathia as well, depending on his vesting option. If the Yankees can't get under the luxury tax threshold after 2016, then I think for sure they would try after 2017, when Alex Rodriguez and Sabathia will definitely be off the books.
Mickey asks: Is there a chance, in your opinion, that Prado is the starting shortstop next year? They could sign Chase Headley to man third, Rob Refsnyder could win the second base job in the spring (maybe they bring in a non-roster invitee to make it a competition), A-Rod can back up Teix at first and Brendan Ryan and Jose Pirela could play all over the infield. Now that J.J. Hardy is off the board, everyone else seems like an overpay or just not very good.
That would surprise me. I think they would play Ryan at short everyday before Prado and I don't think anyone wants to see Ryan play everyday. Prado has played short in the past but very sparingly: 15 innings in 2008, 92.1 innings in 2012, and one inning in 2013. That's all. Seems like he's an emergency guy at shortstop only. I like Prado best at second base, and even the Yankees re-sign Headley and stick A-Rod at DH full-time, it's only a matter of time before someone gets hurt. When that happens, they could simply move Prado into that spot (assuming he isn't the one who gets hurt!) and call up Refsnyder. I don't think Prado at short is a realistic shortstop option at this point of his career. Maybe when he was a little younger.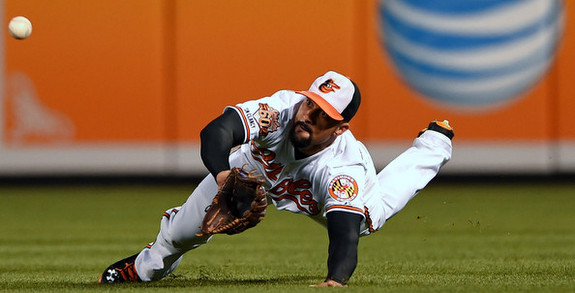 Arad asks: Could the Yanks take a look at Nick Markakis? O's just declined his option. He's been overrated but he's still a solid 2 win player and could fit nicely in RF.
Markakis, 30, is a solid player who never developed the 30+ homer power many expected back in the day. He hit .276/.342/.386 (106 wRC+) with 14 homers this year and that's pretty much exactly what he's hit since his rookie year in 2006. He's also a very good defensive right fielder with no real platoon split who plays just about every single game — 155+ games every year from 2007-14 except for 2012, when Sabathia broke his thumb with a pitch. Plus he's very familiar with the AL East, which is always a plus.
Jon Heyman says the Orioles will decline their $17.5M club option for Markakis, pay him a $2M buyout, then slap the $15.3M qualifying offer on him. Even if he accepts, they'd save $200k over simply picking up the option. Heyman says they will try to re-sign him at a lower annual value. Markakis is probably looking at Curtis Granderson money (four years, $60M) at this point, don't you think? If the Yankees weren't already tied down with so many outfield contracts — or if they trade Gardner — he's made a lot of sense. Otherwise I think they need to focus on the infield and completing the roster puzzle.
Adam asks: Why doesn't the YES Network have a strike zone graphic? (short version of the question)

I'm the wrong guy to ask but I personally would like a little strike zone widget. I would like to see one on the screen permanently like TBS has during the postseason, but just a pop-up graphic to show close pitches would be a nice start. The YES score bug is linked up with PitchFX for velocity, so it seems like it would be easy to add a strike zone graphic as well. They could even dig up a sponsor for it and make some more money. I dunno. Hopefully YES will have one next year but I'm guessing not.