Blah. That was a frustrating game. The Yankees lost Saturday's matinee 3-2 to the Rays. The pitching wasn't great, but it was good enough. The offense? It was both bad and somewhat unlucky.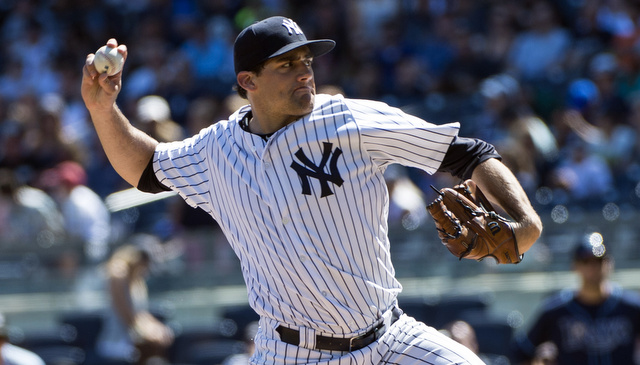 No Command Nate
Nathan Eovaldi's first set of back-to-back rough starts in three months have come at an inopportune time. The Yankees were able to beat up on the Braves when Eovaldi struggled last weekend, but Saturday against the Rays was a different story. He couldn't locate — Eovaldi threw a first pitch strike to the first ten batters, then to only seven of the next 15 batters — his fastball and the splitter was breaking more left-to-right than down. Not good.
Here's a strike zone plot of Eovaldi's pitches. All those purple dots representing splitters are in a bad location. They're supposed to be down around the knees and even below the zone, not way up in the zone or way outside:
The Rays scored their first run on a seeing eye ground ball single that was preceded by a Logan Forsythe double down the line and an Asdrubal Cabrera walk. Kevin Kiermaier was able to yank a grounder just far enough away from Brendan Ryan at second to score the run. The two runs in the third were messier. Eovaldi loaded the bases with one out without allowing a ball in play: Daniel Nava walked, Evan Longoria took a pitch to the forearm, then Grady Sizemore walked.
Eovaldi won a seven-pitch battle against Forsythe to get the called strike three for the second out, but Asdrubal Cabrera jumped on a hanging first pitch breaking ball and drove it to right field for a two-run single. Carlos Beltran bobbled the ball but I don't think it mattered. Both runs were probably scoring anyway with two outs. After allowing three runs only four times in his previous 12 starts, Eovaldi has now allowed five runs and three runs in his last two starts.
All told, Eovaldi struck out seven and allowed those three runs on five hits and a season-high four walks in 5.1 innings. He also hit a batter, so ten of the 25 batters he faced reached base. Definitely could have been worse. Three runs in 5.1 innings isn't a disaster but it also isn't what we've come to expect from Eovaldi recently. He's been really good the last few months. Bad command turned him back into April Eovaldi these last two starts. The Yankees need him to straighten it out soon.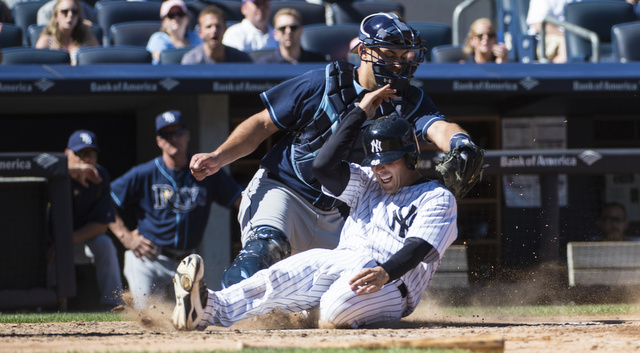 Chip, Chip Away
The comeback attempt started in the fifth inning, after Matt Moore limited the Yankees to two base-runners in the first four innings. John Ryan Murphy worked a leadoff walk and scored all the way from first on Didi Gregorius' double to left-center. How many catchers score from first on a double? Not many. Didi ambushed the first pitch and drove it over the outfielders' heads. He continues to be awesome.
The Yankees were able to score Gregorius with two ground balls — Ryan moved him to third and Brett Gardner got him in (Cabrera made a great play to get Gardner, it was almost an infield single) — to trim the deficit to 3-2 in the fifth. Chris Young followed Gardner's grounder with a ten-pitch walk after falling behind in the count 0-2. That was a heck of an at-bat. He fouled off some tough pitches and earned that free pass.
And just like that, Moore's afternoon was over at 78 pitches. The Rays are taking it easy on him as he works his way back from Tommy John surgery and they didn't want to push him any further. Moore cruised the first four innings, then the bottom of the lineup helped get him out of the game in the fifth. Very nice work. Forcing the Rays to get 13 outs from a bullpen thinned by trade (Kevin Jepsen) and injury (Jake McGee) was the Yankees' best chance at a win.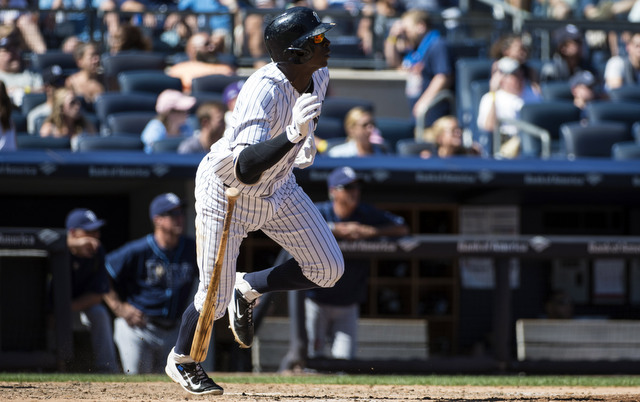 Five Rockets, No Runs
The eighth inning might go down as the most frustrating inning of the season. The Yankees were still down 3-2, and Alex Rodriguez started the frame with a rocket ground ball back up the middle … and right to the shifted infielder for the first out. Beltran, the next batter, ripped a line drive down the line … right at James Loney for the second out. It looked like Loney was standing on the foul line.
Chase Headley followed with a rocket of his own, and thankfully that one did not find a glove. It dropped into center field for a single. Greg Bird followed that with a line drive to left field. That one wasn't caught either. Another single to put runners at the corners with two outs. The first four batters of the inning all crushed the ball against Alex Colome. Pinch-hitter Brian McCann drew a walk to load the bases with two outs. Then Gregorius hit a rocket … right at the second baseman to end the inning. Brutal.
The Yankees did everything right that inning. They hit hittable pitches and tattooed everything. All five balls in play were scorched — the average exit velocity in the inning was 101.2 mph! — and they had nothing to show for it. Yuck. Bad BABIP luck? Maybe, but I don't think you can call it bad luck when the defenders were positioned perfectly for all three outs. Ugh. What an annoying inning. Five hard hit balls and a walk. No runs. I hate baseball.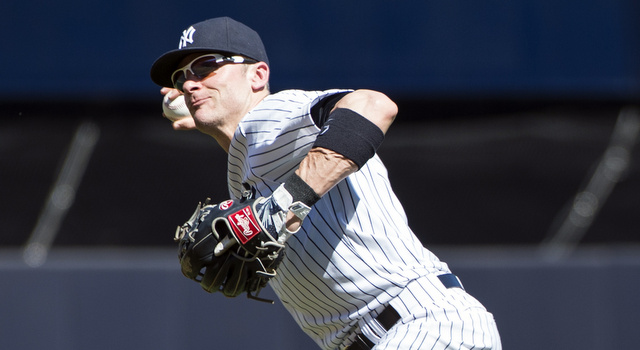 Leftovers
The bullpen was in bend but don't break mode, but 3.2 scoreless innings is 3.2 scoreless innings. Joe Girardi used five relievers to get those eleven outs. One of 'em was James Pazos, who made his MLB debut. He faced two batters, getting a 400-foot fly out and a strikeout. Andrew Bailey made his second appearance of the season, walking a batter before snagging a comebacker. Yankees pitchers walked seven batters.
The Yankees had four hits Friday night and only five Saturday afternoon. Headley had two singles, Beltran and Bird had singles, and Gregorius had his double. They did draw five walks though: two by Murphy and one each by Young, A-Rod, and McCann. Murphy was also hit by a pitch. He reached base three times and has a .371 OBP since Independence Day. That'll play.
Ryan, who has no business being in the lineup during a postseason race, went 0-for-2 and is 4-for-37 (.054) dating back to August 1st. At least he was replaced by pinch-hitter Jose Pirela against a lefty in the seventh. Better late than never, I guess. Also, that's twice Pirela has been used ahead of Rob Refsnyder in pinch-hitting situations since rosters expanded. I don't think it was the wrong move either time.
And finally, the Yankees are now 21-22 in one-run games this season. That was not the plan! They were hoping to dominate one-run games thanks to their ridiculous end-game bullpen. The Yankees are also 6-6 in their last dozen home games, nine of which have been played against mediocre teams.
Box Score, WPA Graph & Standings
Here are the box score and video highlights for the game, and here are the updated standings and postseason odds for the season. The magic number to clinch a postseason spot remains 23 for the time being. Here are our Bullpen Workload and Announcer Standings pages, and here's the win probability graph:

Source: FanGraphs
Up Next
The Yankees and Rays wrap up this three-game series Sunday afternoon at Yankee Stadium. Ivan Nova and Chris Archer is the pitching matchup. Make sure you head over to RAB Tickets if you want to catch that game or any of the other seven remaining games on the homestand in person.