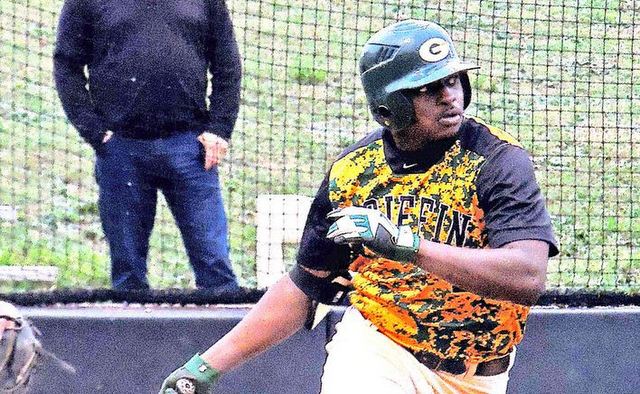 Earlier today Keith Law posted his third and next-to-last mock draft of the season (subs. req'd). Law has the Diamondbacks selecting Vanderbilt SS Dansby Swanson with the top pick and that seems to be the consensus now. There is no clear No. 1 prospect this year, so Arizona's been connected to a ton of players, but reportedly they have been zeroing in on Swanson of late.
With their first pick, the 16th overall selection, Law has the Yankees taking Georgia HS SS Cornelius Randolph. That's a new name. We haven't seen Randolph connected to the Yankees yet this year. Law says they "want a bat" with the 16th pick, either high school or college. Here is a snippet of Randolph's free MLB.com scouting report:
Randolph has the tools and approach to hit for power and average. He offers bat speed, strength and patience from the left side of the plate. He uses the entire field and has better pitch recognition than most high schoolers.

Currently a shortstop, Randolph will move to a less challenging position at the next level. The Clemson recruit has good hands but lacks the quickness to play in the middle infield. His arm hasn't been as strong this spring, when he has dealt with biceps tendinitis, but it and his bat would profile well at third base.
In addition to Randolph, Law says the Yankees are also in on California HS C Chris Betts, Cincinnati OF Ian Happ, and "the main prep outfielders" for the 16th pick. Here are my profiles on Betts and Happ. I assume New York HS OF Garrett Whitley, Michigan HS OF Nick Plummer, and Florida HS OF Kyle Tucker fall into that "main prep outfielders" group as well. Here are my profiles on Whitley, Plummer, and Tucker.
For their second pick, 30th overall (compensation for David Robertson), Law has the Yankees taking Tennessee HS RHP Donny Everett, who they've been linked to for much of the spring. Here's my profile on Everett. Law says the Yankees are "more likely to take an arm here if they get a bat they like at 16." New York has been connected to a ton of arms all spring, both prep and college, which isn't surprising because a) that's the strength of the draft, and b) the system could use some pitching.