I've got eleven questions for you in this week's mailbag. As always, use the "For The Mailbag" form in the sidebar to send us any questions, comments, links, or complaints at any time.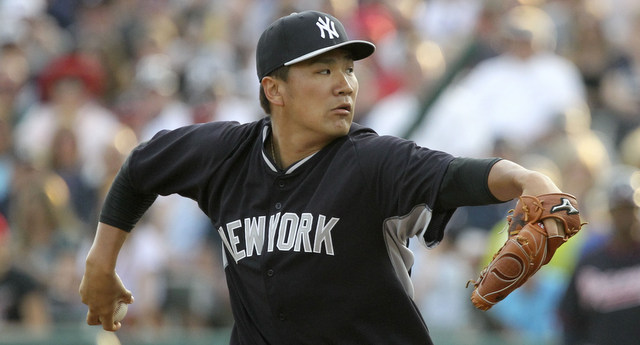 Dan asks: I know the Yankees are saying that Masahiro Tanaka is a fully healthy player, for whatever that is worth. But can you see Joe Girardi holding him back to the 7th inning in games that he might have otherwise have gone into the 8th or 9th, simply to cover his own backside out of abundance of caution?
Yes, I think that's very possible. We recently heard the Yankees are hoping to start Tanaka every sixth day instead of every fifth day, at least early in the season, so I'm sure they'll do other things to try to keep him healthy. Going back out for the eighth inning after cruising through the first seven on 95 pitches might not happen, for example. (Especially with the bullpen they've built.) The Yankees can afford to cap Tanaka at, say, 100 pitches per start and turn it over to their relief crew afterwards. At the very least, I expect Girardi to have a quicker than usual hook with his ace righty in April, though I don't necessarily think he would be doing it to cover for himself. I think he'd do it because it's the best thing for Tanaka and the Yankees in general. Girardi's not managing for his job. (Or at least he shouldn't be.)
Dohson asks: Taking health and money out of the equation, would you rather have Tanaka/Pineda or Harvey/deGrom at the top of your rotation?
There's really no wrong answer here, but I'm going to go with Matt Harvey and Jacob deGrom over Tanaka and Michael Pineda. I'd rank those four pitchers in this order: Harvey (small gap) Tanaka (moderate gap) deGrom (moderate gap) Pineda. Harvey is just outstanding when healthy, probably a top five pitcher in the game, and deGrom has more weapons than Pineda. He's got the big fastball, the overwhelming slider, a reliable changeup, and a useable curveball. Pineda's basically fastball/slider with a nascent changeup. I'd be thrilled with either duo, but right now, heading into the 2015 season, give me healthy Harvey/deGrom over healthy Tanaka/Pineda.
Old Yanks Fan asks: From Tanaka's preview: "Others like Chad Billingsley, Drew Hutchison, Matt Harvey, Francisco Liriano, Bronson Arroyo, Cory Luebke, and Pat Neshek are recent of examples of pitchers who tried to rehab their damaged ligament only to need surgery a handful of innings later." Can you tell us how long each guy pitched before he broke down again?
Sure, but "a handful of innings later" was a really poor choice of words on my part, in retrospect:
| | UCL Tear Diagnosis | Tommy John Date | Innings Between Diagnosis & TJS |
| --- | --- | --- | --- |
| Billingsley | 8/25/12 | 4/25/13 | 19.2 |
| Hutchison | 6/22/12 | 8/8/12 |  0 |
| Harvey | 8/25/13 | 10/22/13 |  0 |
| Liriano | 8/8/06 | 11/6/06 |  0 |
| Arroyo | 6/17/14 | 7/15/14 |  0 |
| Luebke | 5/4/12 | 5/23/12 |  0 |
| Neshek | 5/8/08 | 11/11/08 |  0 |
Those zeroes don't really tell the whole story. All seven of those pitchers attempted to rehab their partial ligament tears but only Billingsley made it back to the mound in any sort of official setting (7.2 innings in Spring Training and 12 in the regular season). The other six guys didn't complete their rehab and were on throwing programs when their elbows gave out completely. Remember, no one chooses to have Tommy John surgery. They only have it when it is necessary, and for those guys it wasn't necessary until a few weeks or months after the original diagnosis.
Between his starts last September and this spring, Tanaka has thrown 12.2 innings in official games since completing his rehab. That doesn't include the simulated games he threw last year in lieu of going out on a minor league rehab assignment before returning at the end of the year. Tanaka's already way ahead of where those six non-Billingsley pitchers were in their attempt to rehab their damaged elbow. Does that mean Tanaka will stay healthy going forward? Of course not. But I guess this shows how difficult it is to rehab this injury, something the doctors say Tanaka has done successfully.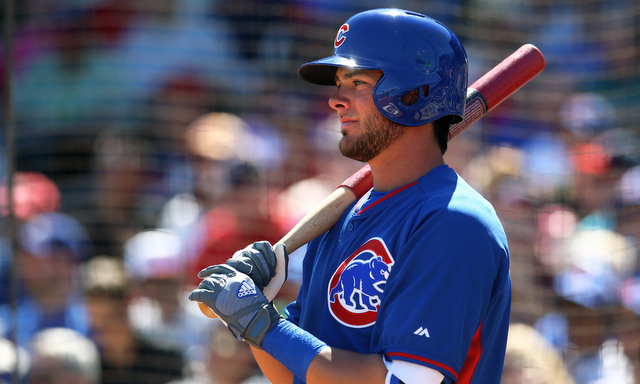 Mike asks: In the media storm that is Kris Bryant, his agent, Scott Boras, is pressuring the Cubs to put Bryant on the Opening Day roster. If Bryant isn't on the roster 12 days after the start of the season, then he is under team until he is 30 instead of 29. What determines how long can a player be under team control?
First of all, yes Bryant absolutely deserves to be on the Opening Day roster, but he won't. (Their starting third baseman otherwise is the sub-replacement level Mike Olt.) Getting that extra year of Bryant's peak in exchange for sacrificing two weeks early in 2015 is a no-brainer for Chicago even though there's basically no scenario in which they won't be able to afford him down the road.
As for the team control question, players need six full years of service time to qualify for free agency. The MLB season runs 183 days, but 172 days of service time counts as a full year. Every day on the active roster (or DL) equals one day of service time. There are some catches — a player who is sent down but recalled less than ten days later gets service time credit for the days he was in the minors, for example — but that's the gist of it. So by sending Bryant down for 12 days in April, he'll accrue only 171 days of service time in 2015, meaning he won't be a free agent until after 2021 instead of 2020. Rick Porcello and David Price were only two and eight days shy of qualifying for free agency last year, respectively. Ouch. This system needs to be fixed.
Drew asks: According to this article the Yankees have had 4 major league players undergo TJ Surgery since 2005. Obviously Ivan Nova is one but I can't seem to remember the others. I know they signed guys like Jon Lieber/Octavio Dotel who were recovering for TJ. Who are the others?
Nova had his surgery last year, Joba Chamberlain had his in June 2011, and Carl Pavano had his in June 2007. The fourth player wasn't a pitcher, it was an outfielder: Xavier Nady in July 2009. Jon Roegele has created a log of Tommy John surgeries dating back to the very first procedure performed by Dr. Frank Jobe on Tommy John in 1974. His list is far from complete, of course, though it's certainly not for a lack of effort on Roegele's part. The Yankees have had 25 players undergo elbow reconstruction according to Roegele research (eight MLB players and 17 minor leaguers), the fourth fewest in baseball. Only the Astros (20), Giants (23), and Rockies (24) have had fewer. The Rangers (48), Braves (47), and Dodgers (44) have had the most. No other team is over 40 (or 37, for that matter).
Brian asks: Commissioner Rob Manfred seems to be in favor of an international draft. I can see how that could have hurt the Yankees a couple years ago, since they were always top spenders on IFA talent, but now with the cap system, doesn't it improve their chances of "premium" talent making it to later picks in the upper rounds? Also, would they go back to like 30 rounds of the draft?
It depends how they structure it. If there are separate domestic and international drafts, the Yankees won't have access to the top players in either talent pool unless they really stink and get a high pick. If it's a combined draft, domestic players and amateurs, then the Yankees will have a better chance of landing a top talent because the talent pool will be deeper. That make sense? I'd prefer a combined draft to two separate drafts — why should the worst teams get first dibs on both the best U.S. born and internationally born players? — if an international draft happens, which I think it will. Eventually. The amateur draft is 40 rounds now and that's plenty, even if they add international players. They could probably chop it down to 25-30 rounds and have teams fill out minor league rosters with undrafted free agents, really.
Rob asks: I don't know if it's just the irrational exuberance of spring, but I feel really excited about these Yankees. Especially the pitching. Tanaka seems ok (for now). Pineda seems poised to have a dominant year. Nathan Eovaldi is intriguing. Couple that with some bounce-back years from veteran position players, and we could have something here. Or am I out of my mind?
Rob, if you're excited right now, then what's the point of it all? The Yankees are healthy right now. Tanaka, Pineda, and Eovaldi are throwing the snot out of the ball. Didi Gregorius is making two or three web gems a day. The bullpen is striking everyone out, even the minor league relievers. It's a long season. There will be plenty of time to bitch about the Yankees stranding a runner at third or Girardi bringing someone other than Dellin Betances out of the bullpen in a few weeks. Right now, the only negative in camp has been Chris Capuano's injury. Everything else has gone as good as we could have possibly hoped. Get excited. Enjoy it. Baseball's fun.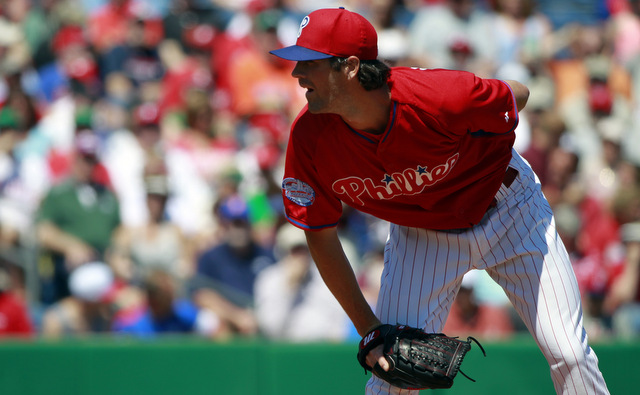 Brad asks: Does the Cliff Lee injury make Philly more or less likely to deal Cole Hamels?
I don't think Lee's injury will change the likelihood of Hamels being dealt. It might raise the price for Hamels since there is one fewer starter on the trade market now, but I'm not sure how many teams realistically viewed Lee as a viable alternative to Hamels considering Lee's elbow trouble started last year. Hamels is an elite starter owed a big annual salary but on a short-term contract by elite starter standards, so his market and trade value is unique. If the Phillies are going to trade him, it'll be because they think they're getting the best possible package and are setting themselves up for long-term success. That's it. Or at least that should be it. The Phillies are going to stink either way and Hamels is too great a trade chip to let other factors dictate their willingness to move him.
Peter asks: My two least favorite things the Yankees have done in the past two years are (1) sign Carlos Beltran, and (2) not sign Brandon McCarthy. Signing Beltran was such a legacy Yankee move at his age and $45M. I can't help but think there's causation between that and not signing McCarthy. Am I out of line here?
Other than Beltran theoretically making money the Yankees could have given to McCarthy, I'm not sure there's much of a relationship there. One way or another, the team was going to spend money to add another bat last offseason, it just so happened to be Beltran. McCarthy clearly wanted to return to New York, though it seems the Yankees never seriously engaged him in contract talks. Maybe they're worried about his long history of shoulder injuries. That's not unreasonable. I think the four-year deal the Dodgers gave McCarthy is bonkers and I'm happy the Yankees passed in this case. If they could have gotten him for three years, fine, I would have taken it but still been a bit nervous. Either way, I'm not sure there's any sort of relationship between signing Beltran and letting McCarthy go, same way I don't think there's a relationship between, say, signing Brian McCann and letting David Robertson walk.
Steve asks: What are the percentage of players who stay on the 25-man roster for the entire year? That means no injury, option to the minors, trade, etc. Not sure if bereavement list or paternity leave would count in this theoretical situation.
I have absolutely not idea, and I'm not even sure how to look this up. We can work up a rough estimate, but that's about it. Last year 1,187 players appeared in at least one MLB game, which is an average of 39.57 players per team. Since every team needed at least one spot to be a revolving door for call-ups, the absolute highest number of players who could have stayed on the 25-man roster all season is 720 (24 players times 30 teams). That would be 60.6% of all players. In reality, the percentage is way lower. Way, way lower. The Yankees used 58 players last year and only 19 (32.8%) stayed on the 25-man active roster or DL from Opening Day through Game 162. Only eight were on the active roster (non-DL) all season (McCann, Derek Jeter, Brett Gardner, Jacoby Ellsbury, Ichiro Suzuki, Hiroki Kuroda, Betances, Adam Warren), or 13.8%. That seems like a decent ballpark number to me. Roughly 14% of players stay on the active 25-man roster all season.
Chuck asks: I read RAB because I'm a Yankee fan, but as I was reading your "Thoughts Following Two Weeks of Grapefruit League Play," particularly the Chasen Shreve part, I was thinking I could sure use this kind of insight for other teams during my Fantasy Baseball prep. While I know there is no equal to RAB, would you be able to recommend the closest equivalent for the other 29 teams?
Our Team Blogs page is woefully outdated. I've had overhauling that thing on my to-do list for like two years now. I'll make a point of getting to it before Opening Day. In general, the SB Nation team sites are very good, so I recommend those. My personal favorites are, in no particular order, Athletics Nation (A's), Lookout Landing (Mariners), South Side Sox (White Sox), DRays Bay (Rays), Fish Stripes (Marlins), Amazin' Avenue (Mets), and, of course, the holy blog grail that is McCovey Chronicles (Giants). Other non-Yankees favorites include The Process Report (Rays), Dodgers Digest (Dodgers), Pirates Prospects (Pirates), Bleacher Nation (Cubs), Disciples of Uecker (Brewers), The DiaTribe (Indians), and Andrew Stoeten (Blue Jays). Once I get the Team Blogs page in order, I'll post an updated link.