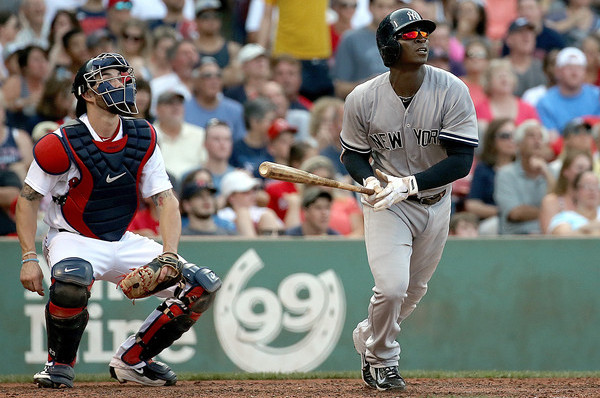 By and large, this season has been a success for Didi Gregorius. He had the unenviable task of replacing Derek Jeter — I underestimated the pressure of that job — and, after some early season hiccups, Gregorius has settled in and been an asset on both sides of the ball. His defense is clearly above-average at this point and his bat has come around as well.
Gregorius is hitting .272/.321/.372 (92 wRC+) overall this year and .298/.341/.411 (108 wRC+) since June 1st while the league average shortstop has hit .255/.304/.371 (84 wRC+) in 2015. If the post-June 1st version of Didi is here to stay, the Yankees have themselves one heck of a player. A 25-year-old left-handed hitting shortstop who is above-average on both sides of the ball? That's pretty awesome. Considering how bad he looked in April, Gregorius now appears to be one heck of an asset.
One of the biggest reasons behind Didi's midseason offensive breakout is his newfound ability to go the other way. We've all seen it these last few weeks. Gregorius was hooking everything to right field earlier in the season but now feasts on left-center field. They're aesthetically pleasing hits. He strokes the ball to the opposite field and he's found some success doing so. Someone deserves a lot of credit for the adjustment, whether it was Didi himself or the hitting coaches or someone else entirely.
The opposite field approach has worked splendidly for Gregorius the last few weeks, though there is a still way for him to take his offensive game to the next level: turning on the inside pitch. Here's a strike zone plot of Didi's batted ball velocity by pitch location. The darker the red, the more above-average the exit velocity. The brighter the blue, the more below-average (via Baseball Savant):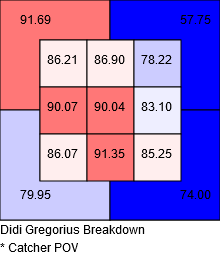 Gregorius can handle pitches down the middle or on the outer half of the plate. He's learned to serve those balls to left field. But the inner half? Those pitches have tied him up this year and resulted is generally weak contact. This isn't necessarily uncommon, hitting inside pitches is hard. (Throwing them is hard too!)
The Yankees just wrapped up a six-game road trip and during those six games Gregorius did indeed turn around some inside pitches and pull them with authority. He had 14 hits (!) on the six-game trip and eight were pulled to the right side of the field, including all three extra-base hits (one double, two homers). Look at the homer he hit in Atlanta:
The pitch was on the inner half of the plate, Gregorius got his bat around quickly, and drove the ball with authority to right field. Perfect. Exactly what you want a left-handed hitter to do with a pitch like that. (
Here's the strike zone plot
showing the pitch was on the inner half.) The benefit of being able to turn on pitches like that is obvious for a lefty swinger in
Yankee Stadium
.
Now this is all much easier said than done. Being able to yank inside pitches to the pull field while still maintaining that opposite field approach is a tough thing to do. Usually only the great hitters can maintain that balance, so maybe it's unfair and unrealistic to think this is something Gregorius will one day be able to do with regularity. Right now his power comes mostly from mistake pitches, and chances are that is how it will always be.
Gregorius has made a lot of progress this season already, however. He made the adjustment to go the other away and it's paid huge dividends. Learning how to turn on inside pitches is the next step in his offensive development, and hey, if it doesn't happen, so be it. This current version of Gregorius is pretty awesome as it is. At 25 years old though, and as a left-handed hitter playing his home games in Yankee Stadium, learning how to pull the ball could really turn Didi into something special.