The Yankees scored nine runs and had Michael Pineda on the mound Friday, yet they still lost. That's how poorly things are going right now. They dropped the series opener to the Rangers by the score of 10-9 in a hectic game that felt close and one-sided at the same time. New York has lost four straight and eight of their last nine.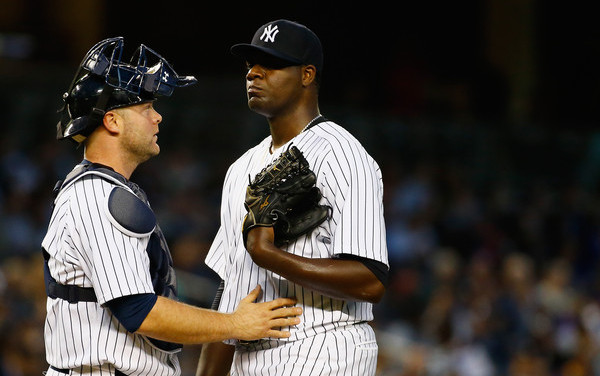 Pitching & Defense Optional
For a team built on pitching and defense, the Yankees sure don't have a lot of pitching or defense. Both supposed strengths were on full display for all the wrong reasons in a disastrous seven-run (!) third inning. Let's recap that inning with annotated play-by-play.

(1) It all started with a stupid little ground ball single between Mark Teixeira and Stephen Drew. I thought it was a routine ground ball to first base off the bat, but Teixeira broke towards first and Drew wasn't able to get there, so it went for a hit. It seemed like a ball Teixeira was supposed to field. What do I know though. He's the Gold Glover. Still, a weak hit started it all.
(2) Pineda walked three batters all season coming into Friday's game, then he walked the number eight hitter because he couldn't put him away after getting ahead in the count 1-2. For whatever reason, Pineda's slider has been pretty crummy his last two times out, and Robinson Chirinos wasn't biting. The put-away pitch has gone missing.
(3) You could see the first error coming a mile away. Thomas Field laid down a bunt, Pineda unnecessarily looked at second base, then airmailed the throw to first. Everyone's safe. It was bad and predictable. As soon as he turned towards second, you knew an out wasn't going to be recorded. That's one extra out.
(4) The second error came on a much tougher play. Delino DeShields Jr. hit a chopper to shortstop that Didi Gregorius simply whiffed on, though it appeared the runner may have screened him a bit. Either way, Didi played the ball poorly because he played it off to his side instead of getting in front of it and at least keeping it on the infield. Instead, the ball went into left field and two runs scored. Didn't even get one out. So that's two extra outs.
(5) The pitch Prince Fielder hit out for the three-run homer was one of the worst pitches I've ever seen. Pineda or any other pitcher. It was the very definition of a cement mixer slider. The pitch just spun and spun with no action. Spun right into Prince's bat. Look at this:
Good gravy. That's a really bad pitch! Like I said, Pineda's good slider has been missing since his 16-strikeout game for whatever reason. Could just be one of those things. Big Mike threw a similar pitch to Mitch Moreland two batters later, and Moreland hit a homer even deeper into the second deck than Prince. Fielder's three-run homer was the killer. That made it 6-0. Moreland's homer to make it 7-0 was just rubbing it in.
Outside of that nightmare third inning, Pineda was actually decent, throwing five scoreless innings while allowing just four singles. He struck out four overall and threw 67 of his 95 pitches for strikes. Pineda's allowed 12 runs (nine earned) in eleven innings in his last two starts. Not good. Big Mike needs to straighten himself out and fast.
Three-Run Dingers
The Yankees scored seven of their nine runs on homers, including two three-run homers. Who hit them? Gregorius and Garrett Jones, naturally. Gregorius hit his first homer as a Yankee in the fourth inning, and while it wasn't a no-doubter, it wasn't a Yankee Stadium cheapie either. It landed a few rows back in the right field section next to the home bullpen. That brought the Yankees to within 7-4.
Jones hit his homer in the eighth inning, when he pinch-hit for a pinch-hitter. Joe Girardi sent Chris Young up to bat against a lefty in place of Didi, and when the Rangers countered with a righty, Girardi sent up Jones. His homer was a Yankee Stadium cheapie, but hey, they all count the same. It was only a matter of time until Jones ran into one. A Teixeira solo homer off Ross Ohlendorf Rock 'N Rohlendorf brought the Yankees to within 10-9 in the bottom of the ninth.
I thought we were in store for a patented Chase Headley two-out game-tying homer in the ninth. He has a knack for those clutch homers. Instead, Headley drew a walk and Stephen Drew lined a ball off Ohlendorf and to the second baseman for the final out. Drew hit it hard, but damn, he can't even hit it off the opposing players properly. Considering they managed to bring the tying run to plate on multiple occasions and even brought the go-ahead run to the plate in the ninth after being down 7-0, I have to give the offense props for fighting. The 2013-14 teams would have packed it in after the third inning.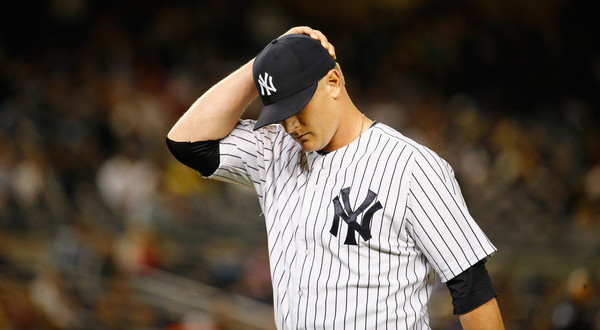 Lost In The Middle Innings
Once again, the middle relief crew was a big problem, and their inability to keep the Rangers off the board contributed greatly to the loss. The non-Andrew Miller/Dellin Betances portion of the bullpen came into the game with an ugly 3.94 ERA — the average bullpen ERA is 3.54 this year — and that went up Friday after three relievers combined to allow three runs in three innings.
Chase Shreve gave up a solo homer to Prince, which, fine, whatever. It happens. David Carpenter continued to be just awful, allowing an inherited runner to score as well as another run of his own. He's now allowed a run in six of his last seven appearances. I was all for giving Carpenter time to figure things out, but it's just not happening. Beyond unreliable. And then Justin Wilson tossed a scoreless ninth. Hooray for that.
The middle relief has been a real sore spot all season and especially of late, during this recent 1-8 stretch. They're blowing leads and letting opponents pull away, like this game. At some point the Yankees need to try something different, right? You can't just keep running the same guys out there and expecting different results. The Yankees built up some nice bullpen depth this offseason, and isn't this when you're supposed to use it? They guys they have now aren't getting the job done.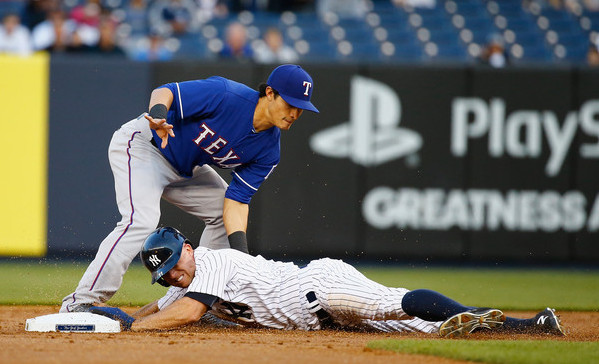 Leftovers
First MLB start for Slade Heathcott led to his first career hit (a hustle double, appropriately), his first career two-hit game (infield single later on), his first run (scored on Alex Rodriguez's seventh inning single), and his first reach on an error (catcher's interference). Little bit of everything. Slade went 2-for-3 with a strikeout and by gosh, a young player contributed. Crazy what happens when they get a chance.
The Yankees scored their first run on a McCann double that was basically a pity call. He hit a fly ball to right (surprise!) that Shin-Soo Choo lost in the lights. Nothing more. A-Rod also singled in Slade in the seventh to make it 8-5. What I remember most about that hit is that it had some weird spin on it — it seems to take a right turn as it sailed into center field.
Every Yankee to bat in the game had at least one hit, including the guys off the bench. Brett Gardner and Headley drew the only walks. They even went 4-for-10 with runners in scoring position. Twelve hits, nine runs, Big Mike … and still a loss?
Box Score, WPA Graph & Standings
Here are the box score, video highlights, and updated standings. Also make sure you check out our Bullpen Workload and Announcer Standings pages. Here's the loss probability graph:

Source: FanGraphs
Up Next
The Yankees and Rangers continue this three-game series with the second game on Saturday afternoon. Nick Martinez and CC Sabathia will be the pitching matchup.