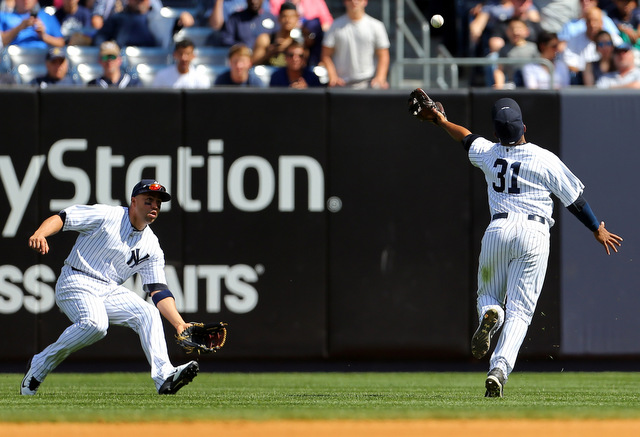 The Yankees dropped the series finale to the Rays yesterday afternoon but what can you do. They still won the series and have won ten of their last 13 games overall. Can't complain about that. I've already said what I had to say about Masahiro Tanaka's injury, so let's move on to some other stuff.
1. A few days ago we learned ex-Yankee Brandon McCarthy needs Tommy John surgery after tearing his UCL in his last start over the weekend, and the first thought that crossed my mind was "phew, the Yankees dodged a bullet." I sort of hate myself for thinking that way. I was hoping the Yankees would re-sign McCarthy this offseason — I mean, did anyone not want the Yankees to re-sign McCarthy after the way he pitched in pinstripes last year? — but three years was my absolute limit, and even that made me uncomfortable given his injury history. The four-year deal the Dodgers gave him was totally bonkers in my opinion. That was asking for trouble. Maybe not Tommy John surgery in year one trouble, but trouble. McCarthy reportedly wanted to re-sign with the Yankees, so much so that he was willing to talk during the exclusive negotiating period, but the Yankees never seriously engaged him in contract talks. Given their decision to steer clear of McCarthy despite their obvious need for pitching, I can't help but wonder if the team knew of some red flags with his elbow and stayed away for that reason. McCarthy did tell reporters he dealt with on-and-off elbow tightness last year, after all.
2. Given the way things played out this year, maybe the Yankees need to give Dellin Betances some more innings in Spring Training next year. Betances threw 12.1 Grapefruit League innings last spring and only 8.1 innings this spring, and it took him about four regular season innings to get back to being 2014 Dellin. Maybe 12 innings is that major number for him, maybe it's just a coincidence. Obviously the circumstances these last two years were very different — Betances was trying to impress and make the team last spring, this spring he was just going through the motions because he had a roster spot locked up — and who knows what sort of impact that had. For whatever reason it took Betances a little longer to get to locked in for the season this year, and since he threw fewer innings in Spring Training, it's a logical connection to make. Maybe the answer isn't more Grapefruit League innings, but more throwing in general. More bullpen sessions, stuff like that. Betances has said several times he feels the regular work he gets as a reliever helps him keep his mechanics in check. More innings could be a good thing for him, at least when preparing in Spring Training.
3. Speaking of Betances, it's clear at this point he is the setup man and Andrew Miller is the closer. I don't think the Yankees would suffer any if the roles were reversed — my only question: can Miller get four or five outs as often as Dellin? — but this arrangement could save them a lot of money when Betances becomes arbitration-eligible after next season. Saves pay and they pay big in arbitration. My go-to comparison is David Robertson vs. Addison Reed. Robertson got $1.6M his first trip through arbitration as an elite setup man (145 ERA+) while Reed got $4.875M as a mediocre closer (98 ERA+). Miller's salaries are set thanks to his contract, so picking up saves won't change anything there. Betances will go through the arbitration process and his earning potential as a setup man won't be as great as it would be as a closer. That's just the system. It sucks for Dellin — to be fair, he's still going to get paid very well — but with Hal Steinbrenner continuing to talk about getting under the luxury tax threshold, the savings could be significant. Once a player takes over as closer, he tends to stay the closer until he completely falls apart, and there's no reason to think Miller is at risk of losing it anytime soon. The job is his for the foreseeable future.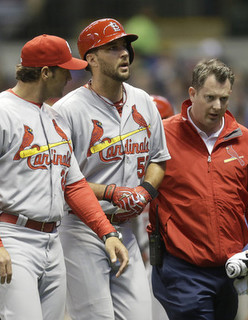 4. Adam Wainwright's injury has sparked a new round of discussion about implementing the DH in the NL — Max Scherzer likes the idea, Madison Bumgarner hates it, so on and so on — and I'm all for it. I get zero enjoyment from watching pitchers hit and the argument that it adds more strategy is pretty hollow. More moves do not equal more strategy. In every single AL game the manager has to decide when to remove his starter. Every single game. In the NL, lots of times the decision is made for the manager because the game says he has to pinch-hit. The game situation calls for it. I don't think the NL should specifically add the DH because of Wainwright's injury — it was a total fluke and he didn't even hurt himself in the act of hitting, he just took a step out of the box — but hopefully it sparks some serious talks about changing the rules the same way Buster Posey's injury a few years ago helped spur along the new blocking the plate rules. (The union should be in favor of adding the DH in the NL since it'll create a bunch of higher paying DH jobs.) Pitchers are hitting worse than ever and it's time to bring the NL up to speed. It's hard enough to do one thing well at the MLB level, whether it be pitching or hitting. Asking pitchers to do both is not feasible in the 21st century.
5. Didi Gregorius has quietly gone 8-for-30 (.267) in his last nine games — it's an empty .267, but it's better than what we saw earlier this year — and seems to be getting more comfortable with each passing game. The defensive brain farts are no longer an everyday thing and he hasn't made a bad base-running play since the first homestand. Some progress is being made, a little at a time. No one promised it would come quick. Now, imagine if the Yankees had traded for Elvis Andrus instead. They reportedly had interest in him this offseason, remember. Andrus is hitting .230/.253/.299 (43 wRC+) this season after hitting .267/.321/.332 (79 wRC+) in nearly 1,400 plate appearances from 2013-14. His defense has slipped in recent years and his eight-year, $120M contract just started this season. It's one thing for Gregorius to not hit or field as expected. The Yankees would be in much worse shape had they traded for Andrus because he's not hitting, not fielding, and is owed nine-figures through 2023. Didi might not work out, but at least the Yankees can walk away if necessary. He's the lesser of two evils, I guess.