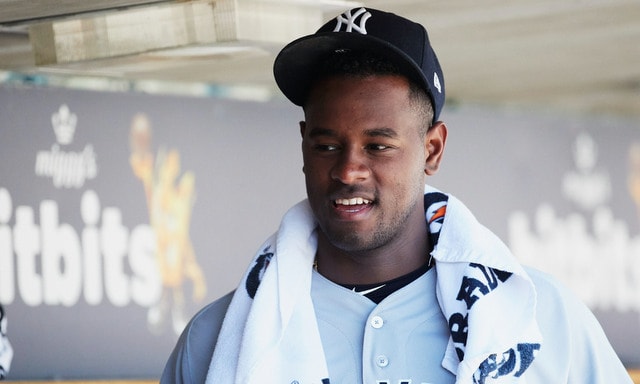 The Yankees are a ridiculous 13-1-2 in their last 16 series and this afternoon they have a chance to clinch their 14th win in their last 17 series. They're 12-3 in their last 15 games mostly because the pitching has been so good — the Yankees have allowed 38 runs in those 15 games and only twice in their last 14 games have they allowed as many as five runs — which is good, because the offense has been inconsistent at best.
Anyway, as I've been saying the last few days, this would be a good day for a blowout win. The key late-inning relievers could use a rest and A.J. Cole hasn't pitched in 19 days now — 19 days! — so he could probably use a little work, especially since the Yankees have cleared the Domingo German/Jonathan Loaisiga "we might need the long man today" portion of the rotation. Plus it'd be nice to see the offense wake up a bit. Against the Rays and their "opener" would be a good time to do it. Today's lineups:
New York Yankees
1. LF Brett Gardner
2. DH Aaron Judge
3. SS Didi Gregorius
4. RF Giancarlo Stanton
5. C Gary Sanchez
6. 1B Greg Bird
7. CF Aaron Hicks
8. 3B Miguel Andujar
9. 2B Gleyber Torres
RHP Luis Severino
Tampa Bay Rays
1. 3B Matt Duffy
2. DH Jake Bauers
3. SS Willy Adames
4. 1B C.J. Cron
5. 2B Joey Wendle
6. RF Carlos Gomez
7. CF Mallex Smith
8. LF Johnny Field
9. C Jesus Sucre
RHP Ryne Stanek
It is an absolutely perfect day for baseball in the Bronx. It's hot, but there's a nice breeze, and it's an all-around swell day. This afternoon's game will begin at 1:05pm ET and you can watch on YES locally and MLB Network out-of-market. Enjoy the game.