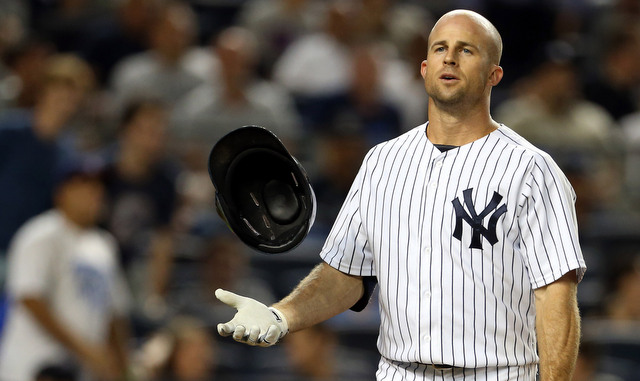 The Yankees had a lot of players coming into the season with health and performance concerns, and Brett Gardner was no exception. The team's longest tenured non-A-Rod player played through an abdominal injury in the second half last year, an injury so bad it required offseason surgery. The surgery came with a four-week recovery time and Gardner was 100% come Spring Training.
With Derek Jeter retired, Gardner was certain to hit near the top of the lineup in 2015 after being the club's best offensive player a year ago. (His 111 wRC+ led guys who were with the Yankees for all of 2014.) Whether he hit leadoff or second really didn't matter. Gardner was one of the team's best hitters and there was now a clear path to at-bats at the top of the order, which was a step in the right direction for an offense in need of help.
A Normal Spring
Abdominal injuries — Gardner had surgery to repair a core muscle near his ribs, specifically — are a pretty big deal in baseball. In all sports, really. Hitting and throwing requires a lot of quick-twitch movements. Gardner had no physical problems in camp but he didn't hit at all: .186/.294/.220 with 16 strikeouts in 22 Grapefruit League games. Did anyone even mention that? I don't remember that being talked about at all. Either way, Gardner was healthy and in the lineup come Opening Day, because duh.
An All-Star First Half
When the season started, Joe Girardi opted to use Jacoby Ellsbury at leadoff and Gardner as his No. 2 hitter. There was really no bad way to order them as far as I was concerned. As long as those two hit in the top two spots of the lineup, the Yankees were good. The first of the team's 764 runs in 2015 came on Opening Day, on Gardner's sixth inning solo home run.
That was the only run the Yankees scored in the Opening Day loss to the Blue Jays. Gardner nearly went deep in the first inning too, but Jose Bautista made a nice jumping catch at the wall.
Here's the video
.
The Opening Day home run was the start of an outstanding first half for Gardner. He basically never slumped. Only four times in the first half did Gardner go back-to-back games without a hit and he never once went three straight games without a hit. He started the season by reaching base in each of his first eleven games and in 31 of his first 32 games. From April 18th through May 15th, a span of 25 games, Gardner reached base 40 times.
During his best hot streak of the season, an eleven-game stretch in late-June, Gardner went 25-for-50 (.500) with seven doubles, a triple, and four home runs. That's a .500/.545/.920 (300 wRC+) batting line. It's both an extremely small sample and cool as hell. The performance helped earn Gardner a spot on the AL All-Star Final Vote ballot, though he was later named to the All-Star Team as an injury replacement for Alex Gordon.
Gardner went 3-for-5 with a home run that afternoon. He came off the bench in the All-Star Game in Cincinnati and went 0-for-2 with two strikeouts against Clayton Kershaw and
Mark Melancon
, his former teammate at several levels. He also played one inning in left field and three in center.
Gardner finished the first half with a .302/.377/.484 (137 wRC+) batting line. He had ten homers and 15 stolen bases, making him the only AL player with 10+ homers and 15+ steals at the break. Also, Mike Trout (179 wRC+), Nelson Cruz (154 wRC+), J.D. Martinez (146 wRC+), and Bautista (138 wRC+) were the only AL outfielders with better offensive production in the first half. Gardner was a monster. The Yankees scored a lot of runs in the first half and he was a huge reason why.
A Disaster Second Half
Believe it or not, Gardner started the second half fairly well, going 10-for-39 (.256) with a homer and more walks (nine) than strikeouts (eight) in his first eleven games after the break. It all collapsed from there. Gardner put up a .208/.304/.257 (60 wRC+) line in August then a .198/.271/.321 (62 wRC+) line in September (and October). Ice cold like too many of his teammates.
Gardner hit six home runs in the second half and three of them came on the same day. The Yankees played a doubleheader against the Blue Jays on September 12th, and Gardner went 4-for-9 with three homers and a walk on the day. He drove in seven of their 12 runs in the doubleheader.
The overall numbers are ugly. Gardner hit .206/.300/.292 (66 wRC+) in the second half, dragging his overall season slash line down to a still respectable .259/.343/.399 (105 wRC+). He stole 15 bases (18 attempts) in the first half and only five (seven attempts) in the second half. Brett was two totally different players in 2015. He was unbelievable in the first half. Legitimately one of the most productive outfielders in baseball. Then, in the second half, he ranked 145th out of 156 qualified hitters with that 66 wRC+.
Gardner started the wildcard game in the leadoff spot — Ellsbury was benched against Dallas Keuchel in favor of lefty masher Chris Young — and went 0-for-4 with three ugly strikeouts. He grounded out in the eighth inning and heard loud boos from the Yankee Stadium crowd, which was dumb, but whatever. Fans were frustrated. The Yankees went from leading the AL East (by seven games!) to barely hanging on to a wildcard spot and Gardner's disaster second half was a huge factor.
Before & After
Something changed this season. There has to be an explanation for Gardner going from great in the first half to a replacement level in the second half. Realistically, his true talent is somewhere in between the two halves. In fact, it's right where he finished the season. Gardner hit .259/.343/.399 (105 wRC+) in 2015 after hitting .267/.350/.397 (108 wRC+) as an everyday player from 2010-14, so yeah.
The easy way out would be to blame it on simple regression. He was so insanely hot in the first half and then the other shoe dropped, bringing his numbers where they belonged. That is … unsatisfying. For instance, we know Gardner had some kind of wrist injury this year. We don't know how much it affected his performance, but it would be silly to ignore it. Wrist injuries are kind of a big deal.
We know the raw stats, the 137 wRC+ in the first half followed by the 66 wRC+ in the second half. Let's look at some batted ball data to see if anything else was going on.

Gardner hit considerably more fly balls in the second half than he did in the first half, which at least somewhat explains going from a .363 BABIP to a .247 BABIP. Fly balls are bad for BABIP business.
Even worse for BABIP business: not hitting the ball hard. Gardner's hard contact rate fell big time after the All-Star break — he had a 27.5% hard contact rate from 2013-14, so his first half number isn't unusual, but his second half number is way down — and that's another BABIP killer. Unless you can expertly place the ball like peak Ichiro Suzuki, less hard contact generally leads to fewer hits. The wrist could be one possible explanation.
Gardner's spray rates didn't change much. He's always been pretty good at hitting to all fields and in the second half he hit some more balls back up the middle rather than the other way to left field. That's not really a huge deal in my opinion. Had Gardner suddenly started pulling like 50% of his balls in play, that would be a red flag. There's only a slight change. No biggie.
More fly balls and less hard contact is a really good way to reduce offensive production. I can't explain why it happened — I'm not even sure Gardner and the Yankees can explain it right now — but it happened. It would be nice if the wrist was behind all this, that way we could point to an injury and simply wait for it to heal. Injuries are a pretty good excuse most of the time.
It could also be that Gardner wore himself down in the first half. He has a history of being better in the first half — career 115 wRC+ before the All-Star break and 88 wRC+ after — and a few reports this summer indicated the Yankees are concerned Gardner's hard-nosed style of play causes him to wear down late in the season. That's a plausible explanation too. It also could be Gardner was a mechanical mess and lost his swing. It happens.
My guess as to the cause of Gardner's second half fade: everything. It was a little of everything. The wrist, being worn down, some swing issues, some poor ball-in-play luck, everything. This could all be connected too — the wrist injury led to bad hitting mechanics, etc. I don't think Gardner is suddenly a true talent 66 wRC+ hitter. He didn't forget how to hit during the All-Star break. Something happened and I don't know what.
Looking Ahead to 2016
There have been more than a few Gardner trade rumors this winter — we know the Yankees have talked to the Mariners about him — and while that's nothing new, it does seem like there is a bit more validity to them this year. He's one of their few (only?) movable veteran players and the Yankees would be able to replace him internally after picking up Aaron Hicks. For now, Gardner remains the team's starting left fielder. I think a trade is a very real possibility though.