Only five questions for you this week but they're five good ones. As a reminder, we got rid of the Submit A Tip box in the sidebar as part of the redesign. There's a new email button in the sidebar, right under the YES Network video widget. Use that to email us questions.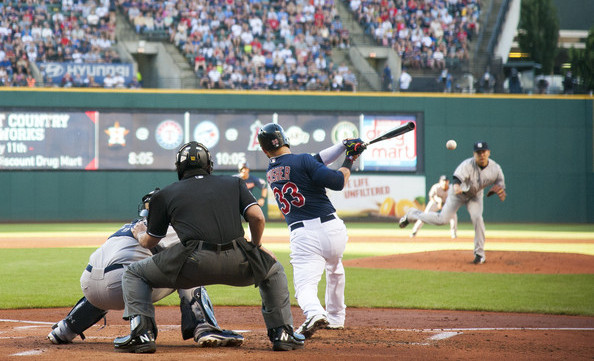 Many asked: What about a Nick Swisher reunion?
Earlier this week Ken Rosenthal reported the Indians are exploring ways to move Swisher, perhaps in a bad contract-for-bad contract swap. Swisher is owed $15M in each of the next two seasons with a $14M vesting option for 2017 based on his plate appearance total in 2016. He hit a weak .208/.278/.331 (75 wRC+) with eight homers in 97 games this year while batting injury — he had season-ending arthroscopic surgery on both knees in August — after hitting .246/.341/.423 (115 wRC+) with 22 homers in 145 games a year ago.
The Yankees already have a full outfield, complete with a right fielder with bad knees. Alex Rodriguez is clogging up the DH spot as well. Carlos Beltran will make $15M in each of the next two seasons, and a few people asked about trading him straight up for Swisher, but I don't see any way Beltran will waive his no-trade clause to go to Cleveland. Not after waiting all these years to wear pinstripes. If the Yankees weren't stuck with A-Rod or hadn't already re-signed Chris Young, maybe Swisher would have made sense as a fourth outfielder/backup first baseman/part-time DH if the Tribe were willing to eat a bunch of money, especially if you think he'll rebound following knee surgery. That's not happening though. There's no fit for Swisher on the current roster and I don't think the Yankees would bring him back anyway.
Dan asks: Do you think the Yankees pulled the trigger too early on dealing Francisco Cervelli?  With Russell Martin signing in Toronto, the Cubs and Dodgers are in need of catching. Maybe they could have done better than Justin Wilson? Doesn't it seem like Brian Cashman acts too early in general on minor moves, in a way that could foreclose better moves later in the offseason? (See also Chris Young.)
I don't agree with this at all. I'm surprised the Yankees got as much as they did for Cervelli, who was on the verge of being designated for assignment at various points within the last two years. Injury prone backup catchers don't have much trade value, especially when they're slated to make seven figures next season. Maybe the Yankees could have gotten something very slightly better than Wilson if they had waited a few weeks … or maybe they wind up with nothing at all because the Cubs and Dodgers find comparable players at a lower cost. With small moves like this, I think you need to pull the trigger as soon as possible. The risk of being the last last one standing in the game of roster musical chairs is high. Now, if they were shopping someone like Brett Gardner in the trade? That's a different story.
Arad asks: Could Chris Johnson from the Braves be a nice pickup? Bad contract and had an overall down year, but just look at his splits vs. lefties in 2014 and for his career. Could be a great platoon option for 3rd and 1st base.
Johnson, 30, had an insane BABIP-fueled season in 2013, hitting .321/.358/.457 (127 wRC+) with 12 homers and a .394 BABIP. He has a .260/.310/.391 (~96 wRC+) batting line with a .328 BABIP every other year since becoming a regular in 2010, including a .263/.292/.361 (82 wRC+) line with a .345 BABIP in 2014. We can't ignore 2013, it happened and Johnson deserves credit for it, but it's a big time outlier and I'm not sure you could expect him to repeat that in the future.
That said, Johnson hit .395/.435/.553 (177 wRC+) against southpaws this past season and has a career .312/.349/.443 (116 wRC+) line against lefties, so he's a viable platoon option. He can also play both corner infield spots (not well though), which fits what the Yankees need. The Braves jumped the gun and signed Johnson to a big contract following his career year in 2013, so he's owed $6M in 2015, $7.5M in 2016, and $9M in 2017 with a $10M club option for 2018. That's a lot of scratch for a platoon corner infielder you can stash on your bench. Johnson can be a useful player if used properly even if he is overpaid, but since the Yankees are saddled with A-Rod (who projects to fill the exact same role), I'm not sure there's a spot for Johnson on the roster.
Michael asks: If he's non tendered can you see the Yankees going after Everth Cabrera? Or any of the other theoretical at this point non-tenders?
Cabrera, 28, quietly led the NL with 44 stolen bases in 2012 and then stole 37 more in 2013. He hit a very weak .232/.272/.300 (65 wRC+) with 18 steals in 90 games this season, and is projected to earn $2.9M through arbitration next year, which is why he's a non-tender candidate. That and his litany of off-the-field issues. Cabrera was arrested for domestic abuse in 2012, suspended 50 games for his ties to Biogenesis in 2013, and arrested for driving under the influence in 2014. The Yankees need a shortstop and hey, a 28-year-old shortstop would be cool, but Cabrera isn't the type of person you want on the team. Dude is bad news.
As for some other interesting non-tenders, infielder Gordon Beckham, first baseman/outfielder Mitch Moreland, right-hander David Hernandez, and left-hander Travis Wood stand out to me. I'm going off MLBTR's list of potential non-tenders, by the way. The actual non-tender deadline is December 2nd. Beckham's salary will come down to maybe $1M or so next year, at which point he might be worth a flier because the Yankees need infield help. When he was making $4M? Forget it. Moreland seems like a real nice fit as a left-handed bench piece, Hernandez is a shutdown reliever coming off Tommy John surgery, and Wood could be a league average-ish fifth starter if things click. Once the non-tender deadline passes and we know who is and isn't available, we'll circle back around and discuss this further.
Eric asks: Do you think letting David Robertson leave sets a bad trend for the Yanks? This will be the 2nd year in a row they let a homegrown player leave.
Well, Robertson hasn't left yet, and even if he does, we need to see the details first. If some team comes out of nowhere and offers him five years at, say, $14M per year, I wouldn't be heartbroken about letting him walk. That's essentially what happened with Robinson Cano. The Yankees made him that seven-year, $175M offer that was the high bid until the Mariners completely blew it out of the water. As much as the team misses him, I have no trouble with letting Robbie walk at that rate.
Now, if the Yankees don't re-sign Robertson because they're unwilling to meet a totally reasonable contract request, something like three years and $39M or four years and $48M, then yeah, that would bug me. I don't think the Yankees should lose out on the top players at their positions — which Cano clearly is and Robertson is among — over nickels and dimes. If they get blown out of the water like Cano last year, fine. I can live with that. But letting Roberson go because of a small amount wouldn't sit well with me. They're the Yankees, after all.