Got 15 questions in this week's mailbag. If you want to send us anything throughout the week, send it to the RABmailbag (at) gmail (dot) com email address.
Anthony asks: If you had to engineer a hypothetical trade for Mike Trout, which team/system would come the closest to actually putting together a reasonable package? Which players change hands?
My first thought was the Nationals with Bryce Harper plus Anthony Rendon or Lucas Giolito, but it's three years of Harper for five of Trout. Giancarlo Stanton plus Jose Fernandez for Trout would be fun as hell, wouldn't it? Andrew McCutchen and Gerrit Cole? Buster Posey and Madison Bumgarner? Point is, the Angels would need immediate impact pieces. Trout is the best player in the world, he's only 24, and he's signed below market through 2020. His trade value goes beyond WAR.
Think about it. The Red Sox could offer Mookie Betts, Yoan Moncada, Eduardo Rodriguez, and Blake Swihart for Trout and it's still a no because there's only one clearly above-average big leaguer in that group. Jacob deGrom and Noah Syndergaard? No, pitchers are way too risky. Kris Bryant and Anthony Rizzo? That … might actually be in the ballpark. I'd rather have the +10 WAR up the middle star than the two +6 WAR corner infielders though.
Trout is insanely valuable because of his age, contract, and production. If the Angels trade him, it would need to be a massive franchise-altering deal that is simply way too good to pass up. You can't trade Trout's historic greatness and leave yourself saying "if these two young players work out, it'll be a great deal for us." No. The guys you get have to be impact players right away. Looking around the league, I don't think a reasonable package for Trout exists. He's way too good.
Sean asks: Fair to say the Diamondbacks traded the wrong shortstop (Didi)? He looks to be the better than Owings or Ahmed.
I was a really big Chris Owings guy a year or two ago. Coming up as a prospect who looked like someone who could play above-average defense at short and actually hit. There was some J.J. Hardy in his game. He was dreadful last year though, hitting .227/.264/.322 (52 wRC+) in 552 plate appearances, and the defensive stats hated him at second. Nick Ahmed is a very good gloveman at short and he was slightly less of a disaster at the plate (67 wRC+). Didi had an 89 wRC+ last year and he played the hell out of short. Plus he's less than a month older than Ahmed, so it's not like there's a huge age difference either. (Owings is 18 months younger.) Yeah, it's fair to say Didi is the best of the bunch right now.
J.J. asks: Not that I'd complain about it, but if the Yankees do have Sanchez and Severino on the 25-man roster for most/all of the year, and if Bird or Judge (or both) spend some time on the MLB roster as well, does the farm system ranking take a hit? It would seem the team has graduated most of its top prospects, other than Mateo, and the ranking would again plummet.
Of course. When you graduate talent like that — Greg Bird and Luis Severino both graduated last year, Gary Sanchez will this year, maybe Aaron Judge too — the farm system definitely takes a hit. I know everyone wants a high ranking farm system, but if you're graduating talent to the big leagues, who cares if the system is ranked 5th or 25th? The MLB level is what matters most. Even after those graduations, the Yankees will still have Jorge Mateo and James Kaprielian, hopefully a healthy Ian Clarkin, the entire 2014 international class, plus whoever they draft in June. The system will go on. Graduating talent to MLB is fun. Enjoy it and don't worry about farm system rankings.
Paul asks: What kind of send off do you think Alex will get? Gifts and ceremonies from each team at every stop? Nothing at all? Something in between?
Gosh, I don't know. I get the feeling Alex Rodriguez won't announce his retirement beforehand. His contract is up after the 2017 season and he might just play that out, and see what happens in the offseason. A-Rod loves baseball and let's face it, he's very narcissistic, so he might think he still has something left in the tank after 2017. It would be pretty awkward if he announced his plan to retire in Spring Training and then went the season with no recognition of his career whatsoever. It would be embarrassing. I don't think he'll make an early announcement. So nothing at all is my answer.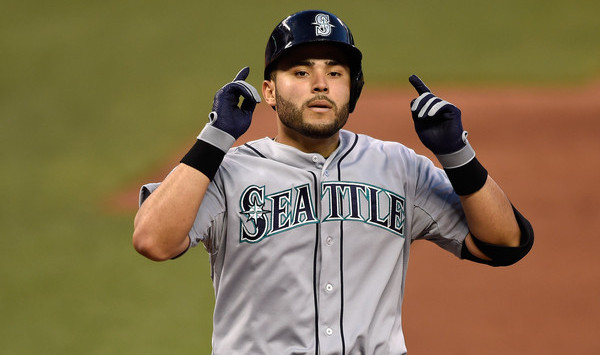 Kyle asks: What would it take to get Jesus Montero back? I know he's busted and positionless (and the Yanks have no spot for him), but man, I wish the Yankees had a chance to develop him, and they love reclamation projects.
Should be very little. There is no interest in fellow busted prospect Domonic Brown and he's a free agent. All he costs is cash. No one's going to give up something of value for Montero. The best case for Seattle seems to be the Dustin Ackley trade, meaning two possibly useful depth pieces. Montero is 26 now, he's a first baseman/DH, and he hasn't hit at the MLB level since September 2011 with the Yankees. And he's out of options too, so you can't stash him in Triple-A. I have Montero nostalgia too, 2008-11 was a great time for prospect watchers, but the Yankees have no use for him at all. Even if it clicks, where do they play him?
Paul asks: I don't understand the Yankees reasoning for not trying Greg Bird or even Rob Refsnyder at 3rd base. They both seem to be athletic enough. Since Bird was a catcher and Refsnyder an OF they should have the arm strength.

I strongly disagree about Bird having the athleticism for third — remember how stiff he looked at first base? — and Refsnyder having the arm. Second and third bases are very different. You have more time to make the play at second given the proximity to first base. I understand why people are wondering why Bird and Refsnyder aren't trying third, but if there was any tiny little reason to believe they could handle the hot corner, they'd be trying it in the minors. The Yankees had Tyler Austin and Pete O'Brien try third. They stuck with Eric Jagielo and Dante Bichette Jr. at third. Bird and Refsnyder are below-average defenders at less reaction-based positions. Trying them at third means ignoring their current defensive limitations and basically hoping and praying it works. That's no way to make decisions.
Greg asks: On the assumption he is not re-signed, what is Mark Teixeira's Yankee legacy like?
I've been thinking about stuff like this a lot recently now that all the long-term contracts are getting closer to ending. I don't know what Teixeira's legacy in pinstripes is. He was a key piece of a World Series team and he's had very productive years in pinstripes, but he's also had some injury plagued and disappointing years too. The 2016 season will be a factor here, but overall, I think Teixeira's time in New York won't be remembered as fondly as it should be. He's been a good player for a long time in pinstripes. When it's all said and he done, Teixeira is going to be over 200 homers and +22 WAR with the Yankees. And yet I feel like he'll be remembered as a disappointment. That's a shame.
Noel asks: As the game evolves, and the emphasis on younger players gets stronger could we see upcoming soon a whole crop of free agents in their primes?
Yes, I think so. Especially the pitchers, because nowadays teams seem to be in a rush to get their top young arms to MLB, perhaps to get as much out of them before they blow out their arms. Clubs will try to lock up their best young players to long-term contracts, but they won't sign all of them, especially not the Scott Boras clients. The much anticipated 2018-19 free agent class is scheduled to have a lot of mid-20s stars — Harper, Fernandez, Manny Machado, etc. — but who knows who will actually hit the market. I do think we'll see more prime-age free agents in the coming years. It might be five or six instead of one or two though. Not substantially more.
Rich asks: When it comes to outfield defense, do you consider it to be something that's often overrated or underrated (and why)?
Overrated. Strikeout rates are at an all-time high and ground ball rates are as high as they've been at any point since batted ball data started being recorded back in 2002. Some teams have low strikeout (Twins) or fly ball heavy (Rays) pitching staffs, but, generally speaking, fewer batted balls are traveling to the outfield in the air than at any point in baseball history. Outfielders are seeing less defensive action.
Also, as fans, I think we do a crummy job evaluating outfield defense. I seems like the concept of one year of defensive stats meaning little goes out the window with young center fielders. We've seen a lot of young center fielders come up, post an insane UZR in years one and two, then crash back to Earth. Peter Bourjos. Franklin Gutierrez. Juan Lagares. Ben Revere. (Let's see what happens with Kevin Kiermaier and Kevin Pillar in the coming years.) Outfield defense is really important. You can get away with bad outfielder defenders more easily now than you did a few years back though.
Sean asks: Whatever happened to Luis Sojo?
He's been coaching for the Yankees since his playing career ended in 2003. Sojo was the Yankees third base coach in 2004-05, High-A Tampa manager from 2006-09 and 2011-13, and Triple-A Scranton third base coach in 2014. He's still in the organization as an assistant field coordinator, whatever that is. Sojo also managed the Venezuelan team in the three World Baseball Classics.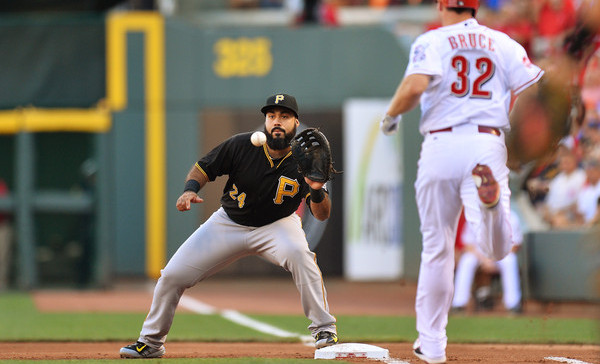 Sam asks: Pedro Alvarez. Hear me out. He's still relatively young, former 2nd pick overall, and it wasn't too long ago that he was actually an average to above average 3b (2013). Kind of pedigree the Yankees have been attracted to. I know you'll say he's just a platoon DH at this point, but if got in better shape could he be a passable backup 3b/1b? Allow Greg Bird more time in AAA.
Alvarez is not and has never been even an average defender. He's very much a butcher in the field. I don't know why the defensive stats rated him as above-average at third in 2013, but that year is a huge outlier compared to the rest of his career.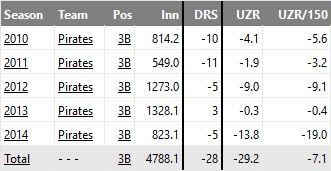 I don't think this is a matter of getting in better shape. Alvarez lacks the reflexes and athleticism for third. This is not new either. There have been big questions about his defense dating back to college. Alvarez is close to a full-time DH now — the Pirates used him at first base last year, and while we should cut him some slack due to inexperience, it was a disaster — and he needs a platoon partner too. Teams are steering clear of one-dimensional sluggers these days.
Alvarez grew up in Washington Heights and homecomings are always cool, but I don't see him as a fit for the Yankees. Bird has the same skill set. Give him the roster spot, if anything.
Dan asks: I always see for pitching prospects that their peak is a number two starter. Are there any pitching prospects in recent history that have been projected as number 1 starters?
Oh sure. There are very few though. No. 1 starters are rare and usually you can see them coming a mile away as prospects. Guys like Dallas Keuchel and Corey Kluber, who went from middling prospects to true aces, are extremely rare. They're the exceptions. Then again, maybe we'll see more out of nowhere aces as teams improve their scouting and coaching methods.
The only prospects in the minors right now who have true ace ceilings are Nationals RHP Lucas Giolito and Dodgers LHP Julio Urias. They have the stuff, the command, the athleticism, and the makeup. Usually young pitchers only have one or two of the four and teams hope to develop the rest. Going back through the last few years, I'd put Fernandez, Syndergaard, Cole, Dylan Bundy, and Stephen Strasburg in the ace prospect group. The term "ace" gets thrown around way too often. "Future ace" gets thrown around even more.
Michael asks: How low would the price have to drop before the Yankees would pounce on Mat Latos?
I assume the price is pretty low right now. Latos is still pretty young — he turned 28 last month– but he stunk last season (4.95 ERA and 3.72 FIP) and has had ongoing elbow and knee issues the last two years. That said, Latos was pretty good around the injuries in 2014 (3.25 ERA and 3.65 FIP). I think the Yankees would be thrilled to get Latos on a minor league contract for depth, though the same is true for 29 other teams. I don't think the Yankees would or should sign him to an MLB deal and guarantee him a rotation spot. I'm not sure the reward is there after how bad he looked down the stretch last year. His stuff was clearly down.
Mark asks: With the Yankees acquiring Corporan do you get concerned the Yankees will trade Sanchez for a young starter? Unfortunately it seems the Yankees have zero trust in what they used to call organizational depth. I'm having trouble remembering a catcher not named Jorge that the Yankees didn't trade away over the last 5 years. No 10 years. No 15 years. No 20 years. 25….. Ehhh.
Well you kinda started to answer your own question. The Yankees had Jorge Posada all those years, so trading young catchers like Dioner Navarro made sense. Montero could not catch, so they traded him. Same with O'Brien. You could argue the Yankees should have traded Austin Romine a few years back. Last year the Yankees had Frankie Cervelli and John Ryan Murphy behind Brian McCann, so something had to give. The same was true this year with Murphy and Sanchez.
The Yankees didn't give these guys away — Navarro, Montero, O'Brien, and Cervelli were all traded for above-average players (the jury is still out on Murphy and Aaron Hicks) — they recognized a surplus and used it to address other needs. That said, I don't think Sanchez is going to be traded because McCann is getting up there in catcher age and they need a good Plan B. Also, the catching pipeline has dried up. Luis Torrens is the only notable non-Sanchez catching prospect in the organization and he's in Single-A coming off shoulder surgery.
Tony asks: I just read an article on NY Daily News website that mentioned the contracts coming off the books after this season. They mentioned CC Sabathia has a 25 million dollar vesting option for 2017 "that will kick in if he enjoys strong health in his left shoulder and stays off the disabled list and in the rotation." My question is, is that a literal explanation?
Sabathia's option for 2017 will vest unless any one of these three things happen:
Sabathia finishes 2016 on the DL with a left shoulder injury.
Sabathia spends more than 45 days on the DL in 2016 due to a left shoulder injury.
Sabathia makes more than six relief appearances in 2016 due to a left shoulder injury.
To date, Sabathia has never had any kind of shoulder injury in his career. His right knee is a wreck and three years ago he had a bone spur removed from his elbow. He also had some oblique issues way back in the day with the Indians. Sabathia's shoulder is healthy, as far as we know. Will that be the case in 2016? Who knows. Pitchers break.