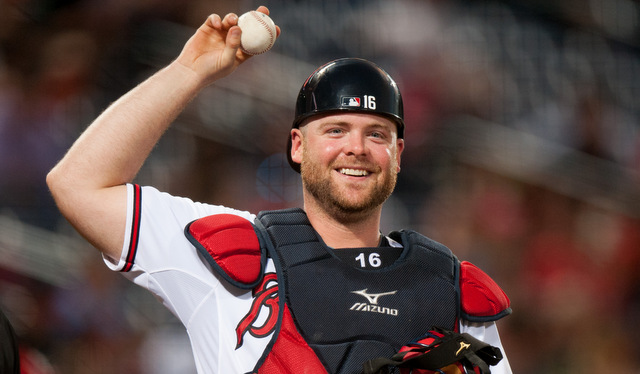 Time for some more interleague play. The Yankees open a three-game series with the Braves in Atlanta tonight. This is their first visit to Turner Field since 2012, when they swept three games. The Yankees are 11-2 all-time at Turner Field, including the postseason. This is the only series of the season between these two clubs; there won't be a return series in New York.
What Have The Braves Done Lately?
Boy do the Braves stink. They had an off-day yesterday and dropped two of three to the Rockies earlier this week. The Braves have lost 13 of their last 16 games and 48 of their last 76 games. They are not good at all. Atlanta is 54-73 with a -109 run differential overall this year, and, remarkably, they are in third place in the NL East. That's because the Marlins and Phillies are even worse.
Offense & Defense
The Braves are the worst offensive team in baseball in terms of runs per game (3.65) and third worst by wRC+ (86 wRC+). They've hit 81 home runs this year, ten fewer than any other team. Atlanta has a small army of pitchers on the DL but their position players are all healthy. No one on the DL or even day-to-day.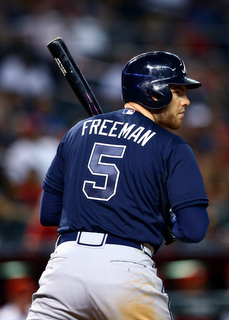 Manager Fredi Gonzalez does have some brand names in his lineup. The team's best player is 1B Freddie Freeman (126 wRC+), and he's been on and off the DL all season with wrist and oblique problems. OF Nick Markakis (110 wRC+) leads off and OF Cameron Maybin (104 wRC+) typically hits second. Freeman bats third and usually C A.J. Pierzynski (108 wRC+) cleans up. Ex-Yankee OF Nick Swisher (78 wRC+ in limited time), OF Jonny Gomes (92 wRC+), and OF Michael Bourn (63 wRC+) are in a three-way left field platoon at the moment.
Former Yankees farmhand UTIL Adonis Garcia (93 wRC+) has been playing third base on an everyday basis the last few weeks. What a world. SS Andrelton Simmons (85 wRC+) and 2B Jace Peterson (82 wRC+) is the double play combination. C Christian Bethancourt (26 wRC+), C Ryan Lavarnway (83 wRC+), and IF Pedro Ciriaco (68 wRC+) round out the bench with their small sample size stats. That seems like a really weak bench by NL standards.
The Braves have tremendous defenders at short (Simmons), second (Peterson), and in center (Maybin), plus Freeman is solid at first. Simmons is in the conversation for the best defensive player in baseball, regardless of position. The rest of the team? Not so good in the field. Swisher and Gomes are a disaster in left — Swisher's defense was always underrated during his time in pinstripes, but his knees are shot now — and Markakis isn't as good as his reputation in right. Pierzynski has never been a good defender behind the plate and that is still true at age 38.
Pitching Matchups
Friday (7:30pm ET): RHP Masahiro Tanaka (vs. ATL) vs. RHP Williams Perez (No vs. NYY)
Perez, 24, has a 4.76 ERA (4.95 FIP) in 79.1 innings spread across 13 starts and three relief appearances this year, and he does it with ground balls (49.6%). His strikeout (14.3%), walk (11.1%), and homer (0.91 HR/9) rates are really bad. Lefties (.375 wOBA) have also hit him a ton harder than righties (.309 wOBA) in his relatively brief big league career. Perez is a sinkerballer, sitting right at 90 mph with the pitch and throwing it nearly 70% of the time. He also throws an upper-70s changeup and a mid-70s curveball. When in doubt, guess sinker. That's his bread and butter.
Saturday (7pm ET): RHP Luis Severino (No vs. ATL) vs. RHP Matt Wisler (No vs. NYY)
Fun fact: Severino and Wisler were ranked consecutively on Baseball America's top 100 prospects list before the season. Wisler was No. 34 and Severino was No. 35. A few weeks after the list was released, the Padres shipped Wisler to Atlanta as part of the Craig Kimbrel trade. The 22-year-old northpaw has a 5.43 ERA (5.43 FIP!) in a dozen starts and 64.2 innings this year. His peripheral stats don't jump out at you at all: 14.1 K%, 7.9 BB%, 35.3 GB%, and 1.67 HR/9. Wisler has gotten clobbered by lefties (.464 wOBA) during his short big league career. Righties (.304 wOBA) haven't had as much success. Wisler throws two fastballs — low-to-mid-90s two and four-seamers — which set up his low-80s slider. He also throws a few mid-80s changeups per start but not many.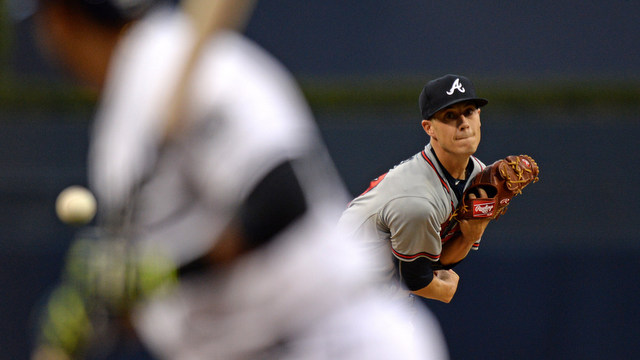 Sunday (1:30pm ET): RHP Nathan Eovaldi (vs. ATL) vs. RHP Julio Teheran (vs. NYY)
Teheran, 24, has taken a big step back this year. He has a 4.29 ERA (4.35 FIP) in 157.1 innings in 2015 after pitching to a 3.03 ERA (3.58 FIP) in 406.2 innings from 2013-14. His strikeout (20.5%) and grounder (40.2%) rates are in line with the last few years, but his walk rate (8.2%) has jumped and he's more homer prone than ever (1.20 HR/9). Teheran has always given up some long balls, but not this many. Like Perez and Wisler, Teheran has been hit harder by lefties (.376 wOBA) than righties (.278 wOBA). Low-90s four-seamers and upper-80s two-seamers are Teheran's two fastballs. A low-80s slider is his go-to breaking ball, though he also offers low-80s changeups and mid-70s curveballs. When he's on, Teheran is a borderline ace. He just hasn't been on all that often this year.
Bullpen Status
Gonzalez has a weak bullpen overall (4.28 ERA/4.18 FIP) and it's been even weaker these last few weeks, with Jim Johnson traded away and Jason Grilli hurt. Former Yankees farmhand Arodys Vizcaino (0.48/2.21) is closing now. He was part of the Javy Vazquez/Boone Logan trade back in the day. (Atlanta traded Vizcaino to the Cubs then re-acquired him this past offseason.)
The Braves have a few guys in the bullpen you'll recognize: RHP Edwin Jackson (3.52/3.78), LHP Ross Detwiler (6.58/5.96), and RHP Peter Moylan (2.45/6.12 in very limited time). Moylan didn't pitch at all year. The rest of the bullpen? You need to be the diehardest of diehards to recognize these guys: RHP Sugar Ray Marimon (6.35/4.10), LHP Matt Marksberry (5.54/4.20), and LHP Andrew McKirahan (4.35/3.32). Amazing. Atlanta had an off-day yesterday, so the bullpen is fresh. Here is our Bullpen Workload page. Check out Talking Chop for the latest on the Braves.