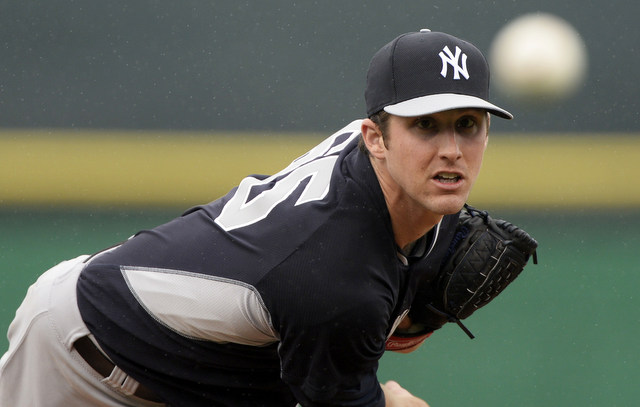 By all accounts, the competition for the fifth starter's spot is a two-man race between Adam Warren and Esmil Rogers. This afternoon's start against the Nationals might be Bryan Mitchell's last chance to make some sort of statement and force his way into the fifth starter conversation. Or maybe his last chance to remain in the conversation for a big league roster spot in general, rotation or bullpen.
Mitchell has allowed four runs on eighth hits in four innings so far this spring, striking out four and walking one. The 23-year-old could use some more Triple-A time to work on his command, though I doubt he sees it that way. He wants to earn a big league job this spring, or at least make a good enough impression that he's the first one called up when an extra starter is needed. If someone in Mitchell's position isn't thinking like that, then what's the point of showing up to camp?
Today's reason to watch: Mitchell, mostly. He needs to have a great outing to push his way into the fifth starter's race and I'm not even sure that will be enough. An okay outing definitely won't cut it. There's also a nice crop of prospect power relievers slated to come out of the bullpen this afternoon. Chasen Shreve is scheduled to pitch again after pitching yesterday, making this his first set of back-to-back games in camp. Also, Bryce Harper's playing for the Nats. That'll be fun.
The Yankees are all the way on the other side of Florida to play the Nationals in Viera. Many of the minor leaguers who played in yesterday afternoon's game stayed in a hotel last night rather than bus all the way to Tampa last night and back to Florida's east coast again this morning. Here is Washington's lineup and here is Joe Girardi's starting nine:
CF Chris Young
SS Brendan Ryan
RF Aaron Judge
3B Nick Noonan
RHP Bryan Mitchell
Available Position Players: C Austin Romine, 1B Francisco Arcia, 2B Dan Fiorito, SS Cole Figueroa, 3B Jonathan Galvez, LF Tyler Austin, CF Ramon Flores, RF Slade Heathcott, and DH Eddy Rodriguez will be the second string off the bench. IF Ali Castillo and C Kyle Higashioka are the extra players.
Available Pitchers: RHP Kyle Davies, RHP Jose Ramirez, LHP Jacob Lindgren, RHP Nick Rumbelow, and LHP Chasen Shreve are all scheduled to pitch after Mitchell. RHP Danny Burawa, RHP Branden Pinder, RHP Kyle Haynes, RHP Cesar Vargas, and LHP Fred Lewis are the extra arms.
It's pouring in Tampa, so it's a good thing this game is on the other side of the state. There is a chance of rain in Viera though, meaning the game could be sloppy, delayed, or even cancelled. We'll just have to wait and see. If they do play, this afternoon's game is scheduled to begin 1:05pm ET and you can watch live on both MLB Network and MLB.tv. Neither will be blacked out in the team's home market. Also, if you're in the Nationals' market, you can watch on MASN. Enjoy the game, y'all.