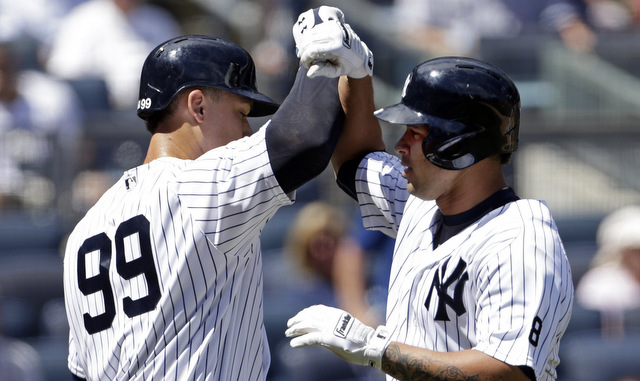 The Yankees are out on the West Coast and they'll begin a six-game trip tomorrow night in Anaheim. Angel Stadium used to be a house of horrors for the Yankees. Those days are long gone though. Anyway, here are some thoughts on the off-day.
1. The first two weeks of the Gary Sanchez era have been pretty awesome. It's not just all the dingers, though those are cool as hell. Sanchez has looked pretty good behind the plate in his limited time there. His arm is obviously a cannon. I mean, holy crap. One of the strongest arms I've ever seen. Sanchez's receiving and blocking look pretty good too. He's not Gold Glove caliber or anything, but the guy came up through the minors with a reputation for being a poor defender, and now he looks solid. I also like that he seems willing to take charge with the pitching staff. Sanchez is not shy about going out to the mound and talking things over in big spots. The bat is great. I felt pretty confident in Sanchez doing damage at the plate. Maybe not this much right away, but in time. The defense was the bigger question and everything looks good so far. I'm encouraged.
2. When Greg Bird first came up last year, I couldn't help but notice the way teams would aggressively attack him with fastballs up in the strike zone, especially with two strikes. It really drove home that teams these days have super detailed scouting reports, so much so that when a kid comes up from the minors, the MLB club already knows his tendencies and weaknesses. I remember a few years ago Red Sox manager John Farrell said they had to double check their internal data because the Yankees were shifting on Jackie Bradley Jr. in his first week as a big leaguer. So, with that in mind, here's the pitch selection against Aaron Judge in his first five games with the Yankees (MLB averages in parenthesis):
Hard (various types of fastballs): 66.7% (61.5%)
Breaking (curveballs, sliders): 20.5% (23.8%)
Offspeed (changeups, splitters): 12.8% (11.7%)
I did toss out Judge's two at-bats against R.A. Dickey because they tell us nothing useful. Knuckleballers are outliers. That's the pitch selection against Judge by non-gimmick pitchers. He's only batted 18 times against non-Dickeys, so it's not a big sample, but I was still surprised to see Judge has been getting so many fastballs. It hasn't seemed like that many while watching the games. I feel like he's been getting a steady diet of soft stuff away, which is exactly what gave Judge so much trouble late last season. Intrigue! Judge has performed well so far and I'm sure he's going to stop seeing so many fastballs soon. He's such a unique player because of his size. I'm looking forward to analyzing him as his big league career continues.
3. I get that it was as much a function of their place in the standings than anything, but I do like that the Yankees have called up several of their top young players at the same time. Sanchez was up before Judge and Tyler Austin, but by only a few days. I think it's good to break these guys in together. The big leagues are hard! It can be even harder and more intimidating if you're a rookie walking into a veteran clubhouse like the Yankees have had over the years. Sanchez, Judge, and Austin have been playing together for years now and they get to experience all of this together. The successes, the failures, everything. I'm certain MLB can be overwhelming, especially when you're new. Having a familiar face around to experience things with can only help.
4. Didi Gregorius has been the team's second best hitter this season behind the departed Carlos Beltran, and I'm glad to see he's finally moved up in the lineup the last few days. Gregorius is an energetic and excitable guy, and he can get really jumpy at the plate. We see it a lot with men on base and in big spots. He goes up there hacking. This little late-season look as the No. 3 or 4 hitter can maybe help get him used to hitting higher in the lineup and keep him from being so jumpy at the plate. I'm not sure if that's possible, but it's worth a try. I wasn't a huge believer in Didi's bat when the Yankees acquired him, but he's obviously turned himself into a quality hitter, someone the team can now expect to do damage. With any luck, he'll continue to improve and still be only their sixth or seventh best hitter as the kids establish themselves. Gregorius is awesome, but when he's arguably your best hitter like he has been this year, it's a bit of a problem.
5. What in the world are the Yankees going to do with Jacoby Ellsbury? He's hitting .263/.326/.361 (86 wRC+) this year, .246/.302/.349 (75 wRC+) since coming off the DL last year, and .264/.324/.379 (94 wRC+) as a Yankee overall. I was okay with giving him this season to show last year's poor performance was a result of the knee injury, but good grief. His last 800 or so plate appearances have been awful. The Yankees owe Ellsbury roughly $90M from 2017-20, and while no player is truly untradeable, trading him is a question of whether a) the Yankees are willing to live with the terms (eating money, etc.), and b) Ellsbury is willing to waive his no-trade clause. The team has to hope so. The Yankees are suddenly very willing to move on from veteran players, either by trading them (Beltran), reducing their role (Brian McCann), or releasing them (Alex Rodriguez). Ellsbury's the one guy on the roster with a lots of years left on a big money contract. Unloading him should be a priority this winter.
6. Mark Teixeira is totally going to wind up on television once the season ends and he's retired as a player, right? Maybe not as soon as next season, but eventually. He's really good on camera from what we've seen, he's willing to make fun of himself, and he can talk intelligently about the game. Add in the fact that he's a big name player and you've got a great recipe for a television analyst. The only real question is whether he wants to do it. Teixeira's made so much money in his career that he presumably doesn't have to work anymore. I'm sure some networks will come calling, maybe even YES, but Teixeira's in a position where he doesn't have to settle anything less than the perfect job. Hopefully he hooks on somewhere. I think he'd be really entertaining as a broadcaster.