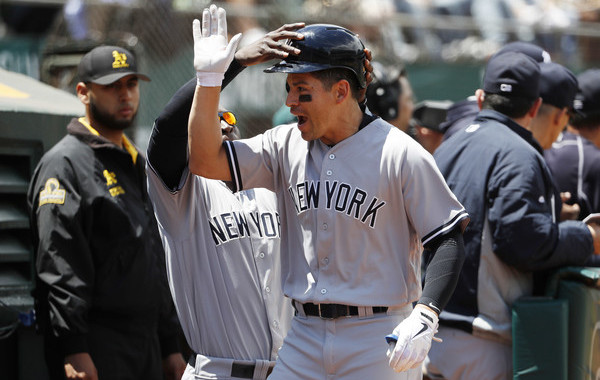 The Yankees start up another 20 games in 20 days stretch today — it was supposed to be 19 games in 20 days, but the makeup game of the rainout in Detroit wiped away the off-day — and 12 of their next 13 games are against AL East rivals. Pretty important stretch of the season coming up, I'd say. Here are some thoughts.
1. Gosh the offense looks so much better when Jacoby Ellsbury is hitting, doesn't it? He had a dynamite road trip and has gone 10-for-31 (.323) with four walks (.417 OBP) and four strikeouts in nine games since coming back from that little hip injury. Brett Gardner is running a .370 OBP on the season, and when he and Ellsbury are both getting on base at the top of the lineup, it changes the entire dynamic of the offense. Those two don't steal bases like they once did, but they still draw attention and create some headaches for the defense. Ellsbury and Gardner are, without question in my opinion, the two most important players on the team offensively. When they're going well, the Yankees tend to score a lot of runs.
2. Didi Gregorius has some pretty weird splits so far this season. He's hitting .333/.368/.417 (119 wRC+) against lefties but only .232/.245/.354 (58 wRC+) against righties, which is basically the opposite of what he's done his entire career. Some of this is definitely sample size noise — Didi has 102 plate appearances against righties and only 40 against lefties — though I do think it's worth noting Gregorius hit .308/.368/.397 against southpaws in the second half last season. He's struck out only 14.1% of the time against lefties since last year's All-Star break too. My guess is that as the season progresses, his numbers against righties will improve while his numbers against lefties slip back a bit. I do think Didi has made legitimate improvement against southpaws since the start of the last season though. He looked hopeless against lefties early last year. Now he puts up a fight.
3. Good gravy does Mark Teixeira look awful at the plate right now. Especially from the left side. I thought he showed some signs of life in Arizona — Teixeira hit a few hard hit balls right at defenders for outs — but nope. Didn't last and didn't carry over into Oakland. Teixeira is hitting .159/.227/.203 (16 wRC+) in May and he hasn't hit a home run since the seventh game of the season. Woof. The Yankees can't take him out of the lineup for a few reasons though. One, he's not going to snap out of his slump sitting on the bench. Two, his defense is way too valuable. His glove is a game-changer. Three, who replaces him? Dustin Ackley? Maybe once in a while, but not everyday. Alex Rodriguez's return today means the Yankees can drop Teixeira down in the lineup a little further and they should absolutely do that. He's been dreadful. The rest of the offense has really picked him up the last two or three weeks.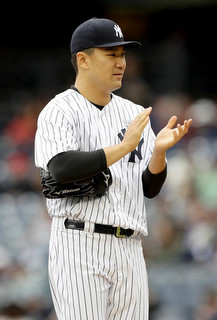 4. The last turn through the rotation was very good — four of the five starters allowed one run or less — and you can kinda talk yourself into believing the Yankees have four reliable starting pitchers at the moment. Masahiro Tanaka is very good even if some folks seem to want to pretend otherwise. Nathan Eovaldi has dominated of late, Ivan Nova has been rock solid since moving into the rotation, and CC Sabathia looks like a new pitcher with his new cutter (and new knee brace?). I can't fully buy in just yet because Eovaldi is still so inconsistent and Sabathia's knee is still a mess and Nova is still Nova, but I feel better about the rotation right now than I did a month ago. If nothing else, I feel like those four at least have a chance to give the Yankees a quality outing each time out. The non-Tanaka starters were pretty shaky in April. I don't think that is the case anymore.
5. I'm actually a little surprised Luis Severino is going to start a minor league rehab assignment this weekend. (Well, that assumes today's bullpen session goes a-okay.) I didn't think it would happen that soon. I figured the Yankees would be ultra-conservative with Severino given his long-term importance to the franchise. I guess the triceps injury really was mild. Severino was shut down for a week, he threw on flat ground over the weekend, and today he'll throw in the bullpen. I'm very curious to see what the Yankees do with him once healthy. Brian Cashman & Co. have said Severino is not guaranteed to step right back into the rotation once he's ready to be activated. Does that mean Triple-A? Or would they use him as a true long man and let him work out his command issues in three or four-inning bursts out of the bullpen? That can be tough to pull off but it's not a crazy idea.
6. You know who has been sneaky good this year? Nick Goody. Granted, it is only eleven innings, but in those eleven innings he has a 1.64 ERA (2.62 FIP) with 12 strikeouts and one walk. He's thrown multiple innings in four of his seven outings as well. I'm not saying Goody should suddenly be trusted in high-leverage spots. I'm just saying that for the sixth guy in the bullpen — Luis Cessa is the seventh guy right now, and, to be honest, I had completely forgotten he's on the roster — he's been really solid soaking up innings when necessary. This is the kind of performance the Yankees didn't get from any of the shuttle relievers last year. Goody has a chance to stick — partly because most of the other shuttle guys are hurt — and he's making the most of it. He's carved out a spot in the bullpen.
7. What do you think of the new strobe lights at Yankee Stadium when a Yankee hits a home run? You can see them as Carlos Beltran rounds the bases in this video:
I applaud the Yankees for trying to do something to inject some life into the Stadium, especially after their slow start to the season, but I'm not sure I'm a fan of the strobe lights. The first time I saw them in person I found them distracting and I wanted to look away. Not great. Maybe I'm just old with bad eyes. Maybe they'll grow on me. I guess I need to see them after a huge walk-off home run or something like that to fully appreciate it. But for a regular ol' home run, I could do without the strobe lights.