Got ten questions and nine answers for you this week. The best way to send us anything is through the Submit A Tip box in the sidebar. We get a ton of questions each week, so don't take it personally if we don't get to yours.
Vinny asks: Obviously he'd have to get his at-bats at DH at the expense of Carlos Beltran, but would you target Justin Morneau at the trade deadline? What would it take to get him?
Morneau, 33, is hitting .312/.345/.502 (119 wRC+) with 13 homers this year, his first with the Rockies. He's actually hit better on the road (127 wRC+) than at Coors Field (109 wRC+). Morneau has big left-handed pull power and he'd fit wonderfully in Yankee Stadium, plus he's always been a high contact hitter (10.6 K% this year). The Yankees need righty power more than lefty power at this point, but you take what you can get. The issue is Morneau's contract — he's signed for $6.75M next year and I'm not sure where they'd play him unless Beltran or Mark Teixeira went down with long-term injury. It took an okay big leaguer (Nate Schierholtz) and two prospects to get a year and half of Hunter Pence, which seems like a decent trade comp for Morneau. I'm just not sure where the Yankees would play him (unless Beltran has his elbow surgery).
Paul asks: Does St. Louis have any spare pieces the Yankees could deal for since they will need a catcher with Yadier Molina on the shelf for a while?
The Cardinals have a really deep farm system and lots to give up for a interim catcher, whether it be a stopgap like Frankie Cervelli or more of a long-term solution like John Ryan Murphy. Cervelli's trade value is tiny as an injury prone out of options catcher. George Kottaras is roughly as valuable overall and he's on waivers every other week (St. Louis actually claimed him right after the Molina injury). Murphy for someone like Randal Grichuk or Steven Piscotty would make a ton of sense for the Yankees since they could stick either player in right field immediately, but I'm guessing the Cardinals would balk, definitely on Piscotty. I get the sense the Cards will just ride this one out with what they have, maybe swing a nothing for a Cervelli type trade. Nothing more.
Jeb asks: Assuming the Yankees fold, would a trade of Jacoby Ellsbury to the Mariners be out of the question? If not, what would you guess the trade would look like?
I don't think the Yankees would trade him, but, even if they were open to it, a deal like this would hinge entirely on Seattle's financials and their willingness to take on that contract. This isn't a salary dump in my opinion, Ellsbury is too good of a player to eat money to move him in a trade. The Yankees would be trading an impact two-way player, someone who is a standout center field defender and top notch leadoff man, so the return would be pretty big. I'd ask for Taijuan Walker, Nick Franklin, and a very good prospect as a third piece. I don't even like Franklin all that much (Danny Espinosa without the defense!) and Walker has been battling shoulder issues all season, so that package might even be a little light. An Ellsbury trade doesn't seem likely at all.
Danny asks: Do you know if Luis Severino has an innings limit this year? At the time of his AA promotion, he's at 88.1 IP for the year, which is double what he pitched last year.
I'm sure he does. He is only 20, after all. Severino threw 64.1 innings in the Dominican Summer League in 2012 and 44 official innings last year. That doesn't include all the time he spent in Extended Spring Training, however. (He made his official season debut in late-June, so he was in ExST for a while.) I have absolutely no idea how many innings he could have thrown there, but he "real" innings total for last season might be closer to 80-90. If so, that would put him in line for 120 or so this year. So he's got another month or so before being shut down, more or less.
Joe asks: With the lack of any impact talent from the draft and Mason Williams, Slade Heathcott, Rafael DePaula, Manny Banuelos and Tyler Austin regressing (although I still think Austin ends up a solid ML player) and the Eric Jagielo, Jose Campos, and Abi Avelino injuries, would you say the system is having another down year or do you like the progress of others enough to offset this? Is this a top 15 or 20 system?
Nah, I don't think this is another down year. Williams and Austin have disappointed and Heathcott and Campos have serious injuries, sure, but the Jagielo (oblique) and Avelino (quad) injuries were just muscle strains. Nothing structural like Heathcott's shoulder/knee. Aaron Judge and Severino have emerged as top 50-ish prospects while Jagielo, Ian Clarkin, and Gary Sanchez are having good years. Dante Bichette Jr. has rebounded well, Jake Cave has built on last year's breakout, and guys like Jorge Mateo, Alex Palma, and Leonardo Molina all make their domestic debuts. Has it been a great year? No. But I don't think this is a down year. If anything, it's a normal year. Some good, some bad, lots in the middle. I think the system is in the 11-20 range among the 30 teams right now, probably closer to 13-17 if you want a tighter range.
Ryan asks: Would best case scenario for Peter O'Brien be Mark Trumbo? With offense in short supply around the league, there has to be a spot for him somewhere if he continues to hit for this kind of power.
Yeah, that sounds about right. It is worth noting that when Trumbo was O'Brien's age, he was hitting .299/.366/.575 (133 wRC+) with 36 homers at Triple-A, with better strikeout (21.2%) and walk (9.2%) rates than O'Brien has now (24.5% and 4.6%, respectively) in Double-A. O'Brien's right-handed power is very real — I seem to remember Keith Law rating it a 70 on the 20-80 scale recently and 70 power is no joke, but I can't find the link — but I'm not going to lie to you, I am very skeptical about whether O'Brien will be able to tap into that power at the big league level given the holes in his swing and his general lack of plate discipline. Keep giving him chances, of course. Everyone should be thrilled if he turns into Trumbo.
Mark asks: At what point do we know if Shane Greene is the real deal? I know two starts is a ridiculously small sample, but he sure would be a nice find in a bleak (to this point) season. Thanks in advance.
The stuff is the legit, right? You can see that from watching him. PitchFX says Greene has averaged 93.9 mph with his sinker and 87.8 mph with his slider, which will play anywhere. The only question is whether he will continue to command it well enough to be successful. I don't think we can put a number on this, X starts or Y innings before knowing if he's the real deal. Greene is going to hit a rough patch at some point, it's inevitable, and his ability to adjust will determine if he's the real deal. I will say that I feel far better about his chances of remaining in the rotation long-term because of the quality of his stuff than I did Chase Whitley, with all due respect. Whitley did have a nice little run there and that shouldn't be forgotten. Greene's stuff is more built to last.
Tom asks: With Masahiro Tanaka out for a while, could they flip Brandon McCarthy prior to the deadline if they fall further back (another good start or two and I'd think they could end up with something even better than Vidal Nuno)? Is there a restriction on trading a player recently acquired? (time limit? player approval?)
Darrin asks: With the health of CC Sabathia and Michael Pineda in indefinite question and Hiroki Kuroda's retirement coming sooner rather than later, if McCarthy pitches well would you be in favor of the Yankees signing him to a short term deal (1 year+option, 2 years) this offseason? He would cost less than some of the high dollar FA guys, although I wouldn't mind another elite pitcher as well. Yanks need to fill several rotation spots.
Going to lump these two together. The Yankees could flip McCarthy at the deadline, there are no restrictions. The Red Sox acquired Adam LaRoche just before the 2009 trade deadline and traded him away nine days later. I don't think they would get anything more than Nuno in return, however. There are a ton of teams looking for another starter and no one bit on McCarthy when he was with the Diamondbacks. If anything, they'd get a player similar to Nuno in return, nothing better.
As for re-signing McCarthy, that depends on how he performs in the second half, obviously. His long history of shoulder trouble is scary, so that will have to be considered. If McCarthy pitches well down the stretch and he's open to a short-term contract, then sure, bring him back. The Yankees are going to need pitching and he's a solid option for the middle to back of the rotation. As we've seen this year, there is no such thing as too much pitching. There will always been room for him. McCarthy is on a two-year, $15.5M contract right now and I wouldn't go any higher than that after the season. Maybe even offer less since he's two years older and not as good as he was the last time he was a free agent. Two years and $12M instead?
Austin asks: I'm glad to see that Bernie Williams is going to be honored with a plaque in Monument Park next year, but I think he deserves a larger footnote to the 'Core Four' discussion. From 1995 – 2002 he slashed .321/.406/.531 and averaged 5.2 bWAR. How does Bernie stack up with center fielders of his era?
I hate the Core Four (the term, not the players) because it completely ignores Bernie for no other reason than because Core Five doesn't rhyme. It is pretty disrespectful to the guy who was the best all-around hitter on the team during the dynasty years. Anyway, Bernie's peak was basically 1994-2002, so a strong nine years. Let's stretch it out and call his era 1990-2005. I'm not sure where else to cut it off. Here is the center field WAR leaderboard during that period (full list):
No, WAR isn't perfect, but it's fine for an exercise like this. Plus it's easy to search. Griffey being at the top should be no surprise. It's definitely Griffey (big gap) Lofton (moderate gap) everyone else among center fielders of the era. There's a decent-sized gap between Bernie and the number six player, Steve Finley (43.7 WAR and 107 OPS+). You could argue that, offensively, Williams was the third best center fielder behind Junior and Edmonds. His defense lagged behind the other guys and that costs him, but I don't see any shame in being the fifth best overall center fielder in an era with Griffey, Lofton, Edmonds, and Andruw. All five of those guys are borderline Hall of Famers at worst.
Some notes:
Triple-A Scranton (9-5 loss to Charlotte)
LF Jose Pirela: 0-5, 1 RBI, 1 K — threw a runner out at second
2B Rob Refsnyder: 1-5, 1 R, 2 K — third straight game at second after three straight in right field
RF Zoilo Almonte: 1-5, 1 R, 1 2B, 1 RBI, 1 K
DH Kyle Roller: 2-4, 1 R, 1 HR, 1 RBI, 2 K – career-high-tying 18th homer
1B Austin Romine: 1-4, 1 K, 1 E (fielding) — 13-for-30 (.433) in his last nine games
C John Ryan Murphy: 0-4, 2 K
CF Antoan Richardson: 2-3, 1 R, 1 HBP, 1 CS — that snaps his string of 43 consecutive successful stolen base attempts dating back to last May
RHP Bryan Mitchell: 4 IP, 7 H, 6 R, 6 ER, 3 BB, 3 K, 5/3 GB/FB — 40 of 74 pitches were strikes (54%) … he allowed four homers
RHP Danny Burawa: 1 IP, 2 H, 2 R, 2 ER, 1 BB, 0 K, 1/0 GB/FB — 12 of 23 pitches were strikes (52%)
SwP Pat Venditte: 2 IP, 2 H, 1 R, 1 ER, 0 BB, 4 K, 1 Balk, 2/0 GB/FB — 2/0 GB/FB — 21 of 27 pitches were strikes (78%) … 65/16 K/BB in 54 innings
RHP Matt Daley: 1 IP, zeroes, 2 K, 1/0 GB/FB — 13 of 23 pitches were strikes (57%) … 40/7 in 27.2 innings at this level
By

Mariano Rivera will be honored at Arm & Hammer Park on Thursday, August 7th, before Double-A Trenton's scheduled game against Altoona. Rivera will throw out the ceremonial first pitch and be presented with a check from the MVP Foundation on behalf of his church, Refugio de Esperanza (Refuge of Hope).

You can read more info about the ceremony right here and purchase tickets using this link. Use the special offer code "MVP" while purchasing tickets online and $3 will be donated to the Mariano Rivera Foundation. Special thanks goes out to Eric Lipsman, the Thunder's Senior Vice President of Corporate Sales & Partnerships, for the heads up and all his help and kindness over the years. · (3) ·
It's the last night of the All-Star break. Everything returns to normal tomorrow, when the Reds arrive in the Bronx for three games. If you're looking for something to read and have already checked out our Midseason Grades (catchers, infielders, outfielders, rotation, bullpen), then I recommend this Dan Barbarisi piece surveying the Yankees clubhouse. He asked the players who was the best dressed, who is most up to date on current events, who they'd let marry their daughter, stuff like that. It's pretty fun, check it out.
Here is your open thread for the remainder of the night. There is no baseball so I'm going to leave you on your own for entertainment. I've got one Orange is the New Black episode left and I might try to catch up on 24 too. Exciting night at the Axisa household, as you can tell. Talk about anything and everything right here. Enjoy.
By

Forbes published their list of the 50 most valuable sports franchises in the world yesterday, with the Yankees coming in fourth at $2.5 billion. They trail only European soccer clubs Real Madrid ($3.44 billion), Barcelona ($3.2 billion), and Manchester United ($2.81 billion). The Dallas Cowboys are fifth at $2.3 billion and the Dodgers are sixth at $2 billion.

"The Yankees are the most valuable non-soccer team in the world with a worth of $2.5 billion," writes Kurt Badenhausen. "TV is driving the value of the Bronx Bombers. Fox exercised its option to increase its ownership of the Yankees' regional sports network, YES, to 80% earlier this year (Yankees Global Enterprises, which is majority owned by the Steinbrenner family retains 20%). As part of the deal, the programming rights fee for the Yankees starts at $105 million (including the amortized value of a $400 million upfront payment) and will hit $350 million a year by 2042."

The Yankees were ranked as the most valuable franchise in baseball by Forbes for the 17th consecutive year back in March. Forbes estimated the team's value at $2.3 billion in 2013, $1.85 billion in 2012, $1.7 billion in 2011, and $1.6 billion in 2010, so it's going nowhere but up despite the mediocrity on the field for the last season and a half. I can't imagine what the asking price would be if the Steinbrenners ever decided to sell the Yankees. Maybe $4 billion? · (28) ·
Even though it is not really the halfway point of the season, there is no better time to review the first half than the All-Star break. This week we'll hand out some simple, straightforward, and totally subjective grades, A through F, for the catchers, infielders, outfielders, rotation, and bullpen. We've already covered the catchers, infielders, outfielders, and rotation, so now let's wrap up with the bullpen.
David Robertson — Grade A
So maybe replacing Mariano Rivera won't be so difficult after all. Robertson inherited the closer's job — to the dismay of more than a few — and has run with it, pitching to a 2.76 ERA (1.73 FIP) in 32 appearances and 32.2 innings. He is 23-for-25 in save chances with a career best strikeout rate (16.26 K/9 and 44.7 K%) and a career best ground rate (51.6%) while keeping his walk rate (2.76 BB/9 and 7.6 BB%) in line with the last two years. Robertson is also holding opponents to a .198 batting average, second lowest of his career (.170 in 2011) despite a career worst .356 BABIP.
Robertson has allowed ten earned runs this year with five coming in one disaster outing against the Twins on June 1st. He has allowed one run while striking out 27 of 56 batters faced since. Overall, 59 of 98 outs this season have been strikeouts, including 58 of 89 (65.2%) since coming off the disabled list (groin) in mid-April. No pitcher who has thrown at least 30 innings this season has a high strikeout rate. It's not even close, really. Robertson leads in K/9 by more than one full strikeout and in K% by roughly three percentage points. He's been dominant in every sense of the word.
The Yankees will need Robertson to continue his dominance in the second half for obvious reasons, though his looming free agency will be hanging over everyone's head. The two sides have not discussed an extension but that could change at any time. Relievers like Robertson — super high strikeout pitchers with proven late-inning/big market chops and no history of arm problems — are rare and the Yankees should make every effort to keep him beyond this season. If his work this year doesn't convince them he is the man to replace Rivera long-term, then I'm not sure they'll ever find someone good enough.
Dellin Betances — Grade A
Just a few short months ago, Betances had a win a roster spot in Spring Training. Now he's an All-Star high-leverage reliever who is 1996 Rivera to Robertson's 1996 John Wetteland. Betances has a 1.46 ERA (1.37 FIP) while ranking third among full-time relievers in innings (55.1) and first in both fWAR (2.1) and bWAR (1.7). His strikeout rate (13.66 K/9 and 40.8 K%) is a bit behind Robertson's but still among the highest in the league. He's also stopped walking dudes (2.60 BB/9 and 7.8 BB%) and is getting grounders (50.5%).
Joe Girardi has not been shy about using Betances for multiple innings given his history as a starter — Betances has recorded at least four outs in 25 of his 40 appearances and at least six outs 12 times — though he did take his foot off the gas right before the All-Star break because it did appear the big right-hander was starting to fatigue a bit. His stuff was still electric but not quite as crisp. Hopefully the break recharges his batteries. A little more than a year ago, Betances looked like he may soon be out of baseball. The move into the bullpen has saved his career and given the Yankees a second elite reliever to pair with Robertson in the first season post-Mo.
Adam Warren — Grade B
From spot starter to swingman to trusted high-leverage reliever. Warren has had his role redefined over the last few seasons and he has now settled in as a quality third option behind Robertson and Betances. His numbers — 2.79 ERA (2.70 FIP) in 42 appearances and 48.1 innings — are not quite as good as those two, but he gets strikeouts (8.57 K/9 and 22.4 K%), gets grounders (46.8%), and is stingy with ball four (2.79 BB/9 and 7.3 BB%). His fastball velocity has also ticked up in short relief, averaging 94.1 mph this year after sitting 93.0 last year.
As with Betances, Girardi has taken advantage of Warren's history as a starter by using his for multiple innings on several occasions — he's recorded 4+ outs in 18 of his 42 appearances. The Yankees have said that if the need arises, they would pull Warren out of the bullpen and stick him in the rotation, but starters are dropping like flies and it hasn't happened yet. Warren seems to have found a niche in short relief and he's been a very valuable member of the bullpen despite being overshadowed by Robertson and Betances.
Shawn Kelley — Grade C
It was a tale of two first halves for Kelley, who opened the season as the regular eighth inning guy and nailed down four saves in four chances while Robertson was on the disabled list in April. He had a 1.88 (1.67 FIP) in his first 14.1 innings of the year before a disaster outing against the Angels on May 5th (two outs, four walks, three runs), after which he was placed on the disabled list with a back injury. It kept him out a month and he has a 4.05 ERA (3.21 FIP) in 13.1 innings since returning.
Kelley didn't look right when he first returned from the back problem. He wasn't able to finish his pitches and his trademark slider didn't have much bite. It just kinda spun and floated. He looked much better in his last few outings before the All-Star break — one run, five hits, no walks, 13 strikeouts in 8.1 innings — and hopefully that's a sign he's now 100% and ready to take on some late-inning responsibilities so Girardi can spread the workload around. Definitely a mixed bag for Kelley in the first half.
Matt Thornton — Grade C
The rules of baseball fandom say we must hate the team's lefty specialist, but Thornton has been solid (3.10 ERA and 3.04 FIP) in his 38 appearances and 20.1 innings. As his innings-to-appearances ratio suggests, Girardi has used him as a true matchup left-hander and not tried to force it against righties whenever possible. Thornton has held same-side hitters to a .229/.319/.244 (.262 wOBA) batting line with a 15.1% strikeout rate, a 3.8% walk rate, and a 50.0% ground ball rate. Solid.
The only real negative about Thornton is he doesn't miss bats, even against left-handed hitters. That 15.1% strikeout rate is 76th out of the 90 left-handed pitchers who have faced at least 50 left-handed batters this year. Lefties have swung and missed only 20 times at the 220 pitches Thornton has thrown them this year (9.1%). That kinda sucks for a left-on-left reliever. Thornton missed a week with undisclosed soreness right before the break but did return to pitch against the Indians last week. LOOGYs, huh? Can't live with 'em, can't live without 'em.
Preston Claiborne and David Huff — Grade C
Remember how awful Claiborne looked in Spring Training? We were talking about him as a candidate to be dropped from the 40-man roster if a need arose, but the Yankees kept him around and he pitched to a 3.57 ERA (3.82 FIP) in 17.2 innings while going up and down a few times in the first half. Three of his nine walks were intentional, uglifying his numbers a bit. Claiborne is currently on the Triple-A Scranton disabled list with a shoulder injury of unknown severity, which is not insignificant given his status as the team's primary up and down depth arm.
The Yankees re-acquired Huff from the Giants in mid-June as part of their continuing efforts to find a not awful long man, and he's since given the team 16.2 innings of 2.16 ERA (5.18 FIP) ball. Girardi used him as a matchup lefty while Thornton was out with his soreness and that predictably did not go well. Warren was pretty awesome by long man standards last year and that kinda spoiled us. Most long relievers stink. Is Huff keeping runs off the board? His ERA says yes. Has it been pretty? No but who cares. In that role you just want someone who can limited the damage and Huff has done that for the most part.
Alfredo Aceves — Grade F
Did you realize Aceves threw the sixth most innings among the team's relievers in the first half? I sure didn't. The Mexican Gangster threw 5.1 scoreless innings in long relief in his first outing back with the team, but it was all downhill from there. He allowed 14 runs on 20 hits (six homers!) and four walks in his next nine games and 14 innings, putting his overall season numbers at 6.52 ERA (6.29 FIP) in 19.1 total innings. The Yankees designated Aceves for assignment in early-June, he accepted the outright assignment to Triple-A Scranton, and he was recently suspended 50 games after a second failed test for a drug of abuse. He will be missed by: no one.
Matt Daley, Jose Ramirez, Bruce Billings, Jim Miller, Chris Leroux, Cesar Cabral, and Wade LeBlanc — Grade F
The combined pitching line of these seven: 33.2 IP, 46 H, 36 R, 33 ER, 19 BB, 33 K, 6 HBP, 6 HR. That's an 8.82 ERA and a 5.19 FIP in one more inning than Robertson has thrown this year. I didn't even include Dean Anna. /barfs
* * *
Girardi has had to rely on his bullpen more than I'm sure he would have liked in the first half, mostly because of the rotation injuries. Yankees relievers have thrown 292 innings this season, the 13th most in MLB, though their 264 total pitching changes are only 23rd most. That's because of guys like Betances, Warren, and Huff being used for multiple innings at a time.
The bullpen has a 3.85 ERA (3.60 FIP) overall, which is bottom third in the league, but they have a top-heavy relief crew with arguably the best setup man/closer tandem in the game. The late innings are no problem at all. The middle innings are where it gets messy. Kelley is the bullpen key to the second half to me — if he gets back to pitching like he did before his back started acting up, Girardi will have another trustworthy high-strikeout arm who could potential solve that middle innings problem.
By

Keith Law published the midseason update of his top 50 prospects list today (subs. req'd), with Cubs 3B Kris Bryant jumping over Twins OF Byron Buxton to claim the top spot. Buxton, who ranks second, has missed most of the season with a wrist injury. Astros SS Carlos Correa is third. He broke his leg sliding into a base a few weeks ago and is done for the year. Sucky year for the game's top prospects.

OF Aaron Judge is the only Yankees' farmhand on the list, ranking 45th. Law says he deserves to share some of the hype going to RHP Luis Severino — Severino, not Judge,  was included in both Baseball America's and Baseball Prospectus' recent top 50 updates — because of his tools and overall excellent season. "I like Severino, who has a loose, easy arm and a chance for three above-average pitches, but Judge is higher probability and could be the middle-of-the-order bat the Yankees have tried to develop for years," wrote Law. · (57) ·
Even though it is not really the halfway point of the season, there is no better time to review the first half than the All-Star break. This week we'll hand out some simple, straightforward, and totally subjective grades, A through F, for the catchers, infielders, outfielders, rotation, and bullpen. We've already covered the catchers, infielders, and outfielders, so now let's move on to the rotation.
Masahiro Tanaka — Grade A
I didn't think it would be possible for Tanaka to meet, nevermind exceed expectations after the Yankees invested $175M in the 25-year-old right-hander this winter. A contract (and release fee) like that comes with ace-sized expectations and given everything he had to adjust to — five-day pitching schedule, new hitters, tougher parks, new culture, etc. — I didn't think there was any chance he would pitch that well right away. I didn't think he'd be bad, he'd be really good but there would be an adjustment period, right? How could there not be?
Well, there wasn't. Tanaka showed up to Spring Training on the first day and looked like he had been wearing pinstripes for years. The transition was seamless, or at least he made it appear that way. He was all business from day one, embracing the five-day schedule and the new workout routines (remember all the running early in camp?). Tanaka was the position player of Hideki Matsui. The guy who fit in so well, so soon that it was like he was born to wear pinstripes.
Tanaka lived up to the hype on the field, of course. That's most important. He has thrown 129.1 innings in 18 starts, and among the 45 AL pitchers with enough innings to qualify for the ERA title, Tanaka ranks third with a 2.51 ERA, third with 4.1 bWAR,, fourth with a 3.7% walk rate, fourth with a 7.1 K/BB ratio, fifth with a 26.6% strikeout rate, sixth with 3.2 fWAR, tenth with a 3.07 FIP, and 20th with a 45.9% ground ball rate. The only negative in his game is the long ball; he'll give up some dingers (1.04 HR/9 and 14.4 HR/FB%). It's a minor nuisance. Other than that though, Tanaka was one of the five best starting pitchers in the league in the first half.
Unfortunately, Tanaka suffered a partially torn elbow ligament in what was scheduled to be his second to last start before the All-Star break. Three doctors recommended he rehab the injury rather than undergo season-ending Tommy John surgery, so Tanaka received a platelet-rich plasma injection earlier this week and is currently resting before starting a throwing program. The expectation is that he will be able to return to the rotation later in the year, but surgery will remain a possibility if the rehab is less than perfect. It sucks but it is what it is. Tanaka managed to exceed expectations before the injury. What a stud.
CC Sabathia — Grade F
I was optimistic about Sabathia's chances of rebounding this year, though I didn't have much to base that on other than blind faith and Sabathia's track record. I'm not even talking about getting back to being an ace. Just being a solid mid-rotation workhorse would have been plenty good enough for me. Instead, Sabathia gave the team a 5.28 ERA (4.79 FIP) in eight starts and 46 innings before going down with a degenerative knee condition. A stem cell procedure apparently did not work and now he's facing the possibility of microfracture surgery, which could be career-threatening.
Rather than shake off the career worst 2013 season, Sabathia got worse and added in a serious injury this year. Not good. I mean, if you really want to squint your eyes and find a silver lining, know that his strikeout (9.39 K/9 and 23.0 K%) and walk (1.96 BB/9 and 4.8 BB%) rates were outstanding. That … really doesn't make me feel much better at all. Maybe an incomplete would be a more appropriate grade given the injury (which might have led to the poor performance), but eight starts is one-fourth of the season. That's not insignificant.
Anyway, Sabathia's knee injury is very serious and remember, he's only 33. We're not talking about some guy approaching 40 here. Sabathia is still relatively young and an ultra-competitive type who leaves everything on the field — remember when he started four games in 12 days for the Brewers on the eve of his free agency? You're kidding yourself if you think he's just going to walk away from the game because of the knee injury — and now there's a chance he may never pitch again. Like, for real.
Hiroki Kuroda — Grade C
There were plenty of reasons to be skeptical of Kuroda coming into the season, specifically his age (39) and brutal finish to the 2013 season. The Yankees re-signed him though, and while he has not pitched as well as he did the last two years, Kuroda has given the team innings every fifth day and is the only Opening Day rotation member not to come down with an injury. His 4.10 ERA (3.91 FIP) can be split up into a 4.62 ERA (3.75 FIP) in his first eight starts and 48.2 innings and a 3.72 ERA (4.02 FIP) in his last eleven starts and 67.2 innings, if you choose.
With Tanaka and everyone else going down with injuries — for weeks too, these aren't 15 days on the disabled list and you're good to go type of injuries — the Yankees need Kuroda to remain that reliable innings eater in the second half. Actually, they need him to be better than that, which is a problem because of his late-season fades. The Yankees absolutely can not afford that this year, not if they want to contend. Kuroda is currently the staff ace by default and the team needs him to reverse his recent trends and be better in the second half than he was in the first.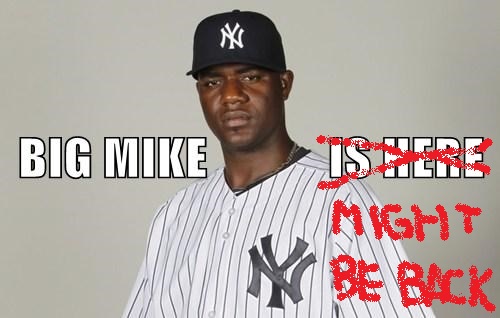 Michael Pineda — Grade D
It was fun while it lasted, wasn't it? Two years after the trade that brought him to New York, Pineda was finally healthy enough to help the Yankees, and he started the year by pitching to a 1.83 ERA (2.73 FIP) in four starts and 19.2 innings. He was an ace! An ace on a very strict pitch count (no more than 94 pitches or six full innings in his four starts), but an ace nonetheless. The Yankees were finally getting some kind of return on the trade and it was glorious.
Then it all came to a crashing halt in Fenway Park in late-April. Two starts after the internet caught him with a glob of pine tar on his hand, Pineda was caught with an even bigger glob of pine tar on his neck. Red Sox manager John Farrell did not let it slide this time. He alerted the umpires and Pineda was ejected and eventually suspended ten games. While serving the suspension, he suffered a back/shoulder muscle injury and has been sidelined since. He just started throwing off a mound last week (after the #obligatorysetback). Given his recent history, there's no possible way the Yankees could count on Pineda to return to help the rotation in the second half. If he does come back, it's a bonus. But man, those 19.2 innings were pretty awesome, weren't they?
Ivan Nova — incomplete
I went back and forth between giving Nova an F or an incomplete. He did make four starts this year, after all. Four terrible starts, with 40 base-runners and an 8.27 ERA (6.91 FIP) in 20.2 innings. But he also blew out his elbow and needed Tommy John surgery in late-April. I'm giving him the benefit of the doubt and assuming the elbow contributed to his poor performance and that he was never really healthy this year. I don't know, an F just seems too harsh for a guy that barely pitched before his elbow ligament snapped. Maybe I'm being too kind.
The Yankees lost Nova for the season and that's a pretty significant blow. Not just for this year either, the timing of the injury means he will start next season on the disabled list and the team won't really know what to expect from him. This is an injury that impacts two seasons, not only one. This was supposed to be the year for Nova to build on his strong second half of 2013 and stop the up and down nonsense, establishing himself as a no-doubt big league starter. That won't happen.
David Phelps — Grade B
Once the injuries started to strike, Phelps worked his way into the rotation and has remained there ever since. He's pitched to a 3.94 ERA (4.31 FIP) in 89 total innings, including a 3.96 ERA (4.08 FIP) in 13 starts and 77.1 innings since moving into the rotation. The Yankees have also been able to count on Phelps for innings — he's thrown at least five full innings in all 13 starts (even before he was fully stretched out) and at least six full innings eight times in his last ten starts. That's been much-needed.
There were some questions about Phelps and his ultimate role coming into the season — remember, he missed most of the second half last season with a pair of forearm strains — but things worked themselves out and he's become one of the team's three most reliable pitchers in the wake of the injuries. He's been a godsend. You can't ask anything more of a sixth starter. Now the Yankees need Phelps to keep it up in the second half. He's in the rotation for good.
Chase Whitley — Grade C
It was definitely a tale of two first halves for Whitley. He came up following all the injuries and was outstanding in his first seven starts, posting a 2.56 ERA (2.75 FIP) in 28.2 innings. Considering he was a full-time reliever as recently as last July and the rotation was in total disarray, getting that kind of production out of Whitley was a minor miracle. The Yankees needed it desperately.
Then everything came crashing to a halt one night in Toronto last month, when the Blue Jays punished Whitley for eight runs in 3.1 innings. It wasn't just a bump in the road either. He has a 9.43 ERA (6.14 FIP) in 21 innings since. (That includes two scoreless innings in relief.) After allowing eleven runs on 44 base-runners (one homer) in his first seven starts, Whitley has allowed 20 runs on 40 base-runners (five homers) in his last four starts. Those first seven starts were so good that I'm not going to go any lower than a C, especially since we're talking about a guy who had never started regularly until this year. All things considered, Whitley's been a plus even if he'll only be a reliever going forward. He helped much more than I thought he would as a starter.
Vidal Nuno — Grade D
Nuno was actually the first guy to be pulled out of the bullpen and stuck in the rotation, but that had more to do with timing than anything. He was the only one rested and able to make a spot start because of a doubleheader in April, and he lined up perfectly to replace Nova after he blew out his elbow. That's all. Nuno had a 5.42 ERA (5.18 FIP) in 78 total innings for the Yankees, including a 4.89 ERA (4.86 FIP) in 14 starts and 73.2 innings before being traded away two weeks ago. There were some good starts mixed in there and more than a few duds as well.
Brandon McCarthy and Shane Greene — incomplete
These two both joined the rotation last week. I mean literally. Greene made his first career start last Monday and McCarthy made his first start in pinstripes on Wednesday. Throw in Greene's second start last Saturday and they've combined to allow six run (three earned) in 20.1 innings. They also have a combined 57.1% ground ball rate, which is pretty awesome even if it is a super small sample. Greene's mid-90s sinker and upper-80s slider make me think he has more rotation staying power than either Nuno or Whitley, but, either way, we'll see plenty more of these two in the second half.
* * *
Any time a team loses four of its five Opening Day rotation members, including three within the first six weeks of the season, they're going to be scrambling for pitching. No team has enough depth to go nine starters deep. The Yankees have been able to tread water thanks to Phelps and some timely outings from Whitley and Nuno, who have since been replaced by McCarthy and Greene. The team clearly needs another starter in the wake of Tanaka's injury and, frankly, they could have used another starter before that. This is a patchwork staff held together by Kuroda, Phelps, and McCarthy at the moment, and there's no telling how much longer the duct tape will hold.
Some notes, including a few promotions. It's that time of year:
3B Eric Jagielo and LHP Ian Clarkin have been activated off the High-A Tampa DL and Low-A Charleston DL, respectively, the teams announced. Jagielo missed more than a month with an oblique issue while Clarkin missed two weeks with a sprained ankle.
RHP Brady Lail and LHP Caleb Smith were both promoted from Charleston to High-A Tampa, the River Dogs announced. Matt Kardos says LHP Francisco Rondon and RHP Diego Moreno are going down from Triple-A Scranton to Double-A Trenton.
In case you missed it yesterday, OF Jake Cave, LHP Jacob Lindgren, and RHP Luis Severino were all promoted as well.
Triple-A Scranton is off until tomorrow for the All-Star break. The International League beat the Pacific Coast League by the score of 7-3. Here's the box score.
2B Jose Pirela: 0-1, 1 R, 2 BB – started the game and batted second, played five innings … he was the only Yankees farmhand elected to the game
Now that the Home Run Derby and the All-Star Game and all that is in the past, there's nothing left to do these next two days but rest. As someone who spends too much time watching and thinking about baseball, I will enjoy the two days off. I get the sense the second half of this season will be a little crazier than usual, especially as the games wind down in Derek Jeter's career. Enjoy the time off while you can.
Here is your open thread for the night. The Triple-A All-Star Game will be on MLB Network at 7pm ET (UTIL Jose Pirela was the only Yankees farmhand elected to the game) and that's pretty much it. You're on your own for entertainment otherwise. Talk about anything on your mind right here.