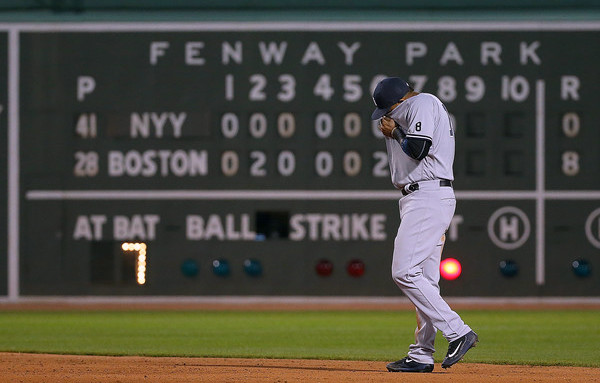 Today is the start of a new month and that means a fresh start for the Yankees. Heck, at this point I'll consider just about anything a fresh start. A new series, a new week, whatever. The Yankees have stunk of late and there's nothing they can do about it now. The losses are in the books. All they can do is turn the page and start winning some games.
We all know the story by now, right? The offense has been terrible and the rotation has been hit or miss at best. They need to see more consistency from both. The good kind of consistency, I mean. The offense has been consistent of late. Consistently crappy. Anyway, here is the BoSox's lineup and here is the Yanks' lineup:
Now, the bad news: the weather forecast is pretty ugly tonight. It's been raining in Boston most of the evening and right now the internet tells me it's supposed to continue raining on and off right through tomorrow morning. For a while this afternoon it appeared there would be a window to play, but I guess that changed. We'll see. The game is scheduled to begin at 8pm ET and you can watch on ESPN. Enjoy.