Woo boy. That was bad. The Yankees wasted Masahiro Tanaka's gem in Thursday's series opener against the Red Sox because they stranded 12 runners and an obviously fatigued Dellin Betances was allowed to give the game away. The result was a crushing 7-5 walk-off loss. The Yankees have now lost four of their last five games. That wasn't the final nail in the postseason coffin, but it was close.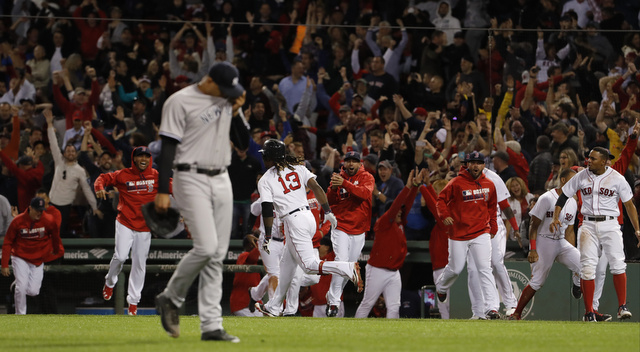 Out of Gas, Out of Time
For the second straight September, it looks like Betances is completely worn down. He's worked a lot recently, including pitching back-to-back-to-back days several times this year (he did it as recently as last week), and that's something he very rarely did from 2014-15. Betances took the loss Wednesday after a kinda stupid inning with two errors and one hard-hit ball. Thursday's loss was a full blown meltdown.
The Yankees took a 5-2 lead into the ninth and usually that means Betances time, but because he worked the last two days, Joe Girardi tried to stay away from him. Oh, and Tyler Clippard was unavailable too. Adam Warren had already pitched as well. That meant the ninth inning fell on the shoulders of Tommy Layne and Blake Parker, at least temporarily. Layne struck out his batter before Parker hit Chris Young with a breaking ball. That put the wheels in motion.
Apparently the leash was one batter. Parker let a curveball slip loose and plunked Young right on the top of the helmet, and that was it, Girardi had seen enough. In came Betances, and four of his first five pitches were out of the zone. Dustin Pedroia drew a walk to bring the tying run to the plate. The inning actually started like this: Layne comes in, strikeout, Parker comes in, hit-by-pitch, Dellin comes in, stolen base, walk, double steal. Three steals within his first seven pitches. Brutal. (They were actually scored defense indifferences, but come on.)
After Betances got Xander Bogaerts to hit a chopper back to the mound for the second out, he fell behind in the count 3-1 to David Ortiz and allowed a run-scoring single. Then Mookie Betts pulled a 1-1 pitch through the left side to score another run and put the tying run on third. Bad. Bad bad bad. Betances was obviously fatigued and only half of his 16 pitches had gone for strikes. Fewer were actually in the zone. (He got some chases off the plate.)
The at-bat against Hanley Ramirez was classic bad Betances. He fed him nothing but breaking balls, fell behind in the count 3-1, then tried to throw a fastball by him when his back was up against the wall. Hanley was ready for it and Jacoby Ellsbury could do nothing nothing but watch the ball sail over his head into the center field stands for the three-run walk-off home run. The pitch was on a tee: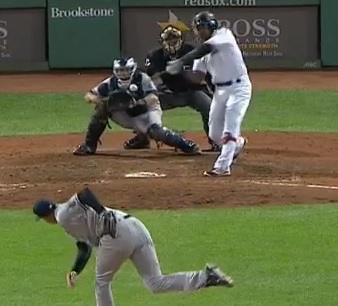 It's worth noting first base umpire D.J. Reyburn unquestionably missed a called on Ramirez's check swing in the 2-1 count. Replays showed Hanley clearly went around and chased the breaking ball of the plate, but Reyburn said no swing, so instead of a 2-2 count, it was a 3-1 count. Huge difference. Huge huge huge. To wit:
MLB average in 2-2 counts: .179/.184/.279
MLB average in 3-1 counts: .371/.699/.677
Yup. Brutal missed call, but you know what? The game shouldn't have gotten to that point in the first place. Betances was ineffective in general and he wasn't exactly put in the best position to succeed. Was he available or not? If yes, put him in to start the inning with a clean slate and stop getting cute with Layne and Parker. If not, they stay away. What kind of day off is it if Betances is going to warm up in the ninth anyway?
Stranded Runners
The Yankees scored five runs and I swear, I don't remember any of them. Billy Butler had a sac fly in the first inning, right? He had a run-scoring single later in the game too, so his Yankees career got off to a nice start. I'm drawing a blank on the other three runs. The box score says Starlin Castro, Chase Headley, and Castro again singled in those other three runs. Eh, whatever. The five runs the Yankees scored are not important. The runs they didn't score are.
Overall, the Yankees went 5-for-16 (.313) with runners in scoring position and they still managed to strand 12 runners. The missed opportunities absolutely came back to bite them. Look at these chances:
Second inning, two runners stranded. Tyler Austin dunked a bloop double down the right field line with two outs — it landed just fair and hopped into the seats — and Brett Gardner followed by being hit by a pitch. Ellsbury then flew out to end the inning.
Third inning, two runners stranded. The Yankees scored two runs in the inning but it should have been three; Headley dunked a run-scoring single to right and for some reason Didi Gregorius stayed at second to tag up. He's got to be halfway with one out there. Would have scored if he was. Alas. Headley later stole second on the first pitch, putting men on second and third with one out. Rob Refsnyder then struck out against righty Heath Hembree and Austin grounded out.
Fifth inning, one runner stranded. Gregorius led off with a double and moved over to third on the most terrible great play ever. He stole third for some reason and the throw absolutely beat him to the bag, but Gregorius was able to swim move around the tag. Replay confirmed it. Stealing third with no outs in Fenway Park is totally unnecessary. Headley, Refsnyder, and Austin then struck out to strand Didi at third. That was the third time Refsnyder struck out with a man on third and less than two outs in the last two games. At least he makes up for it by hitting for zero power and playing poor defense.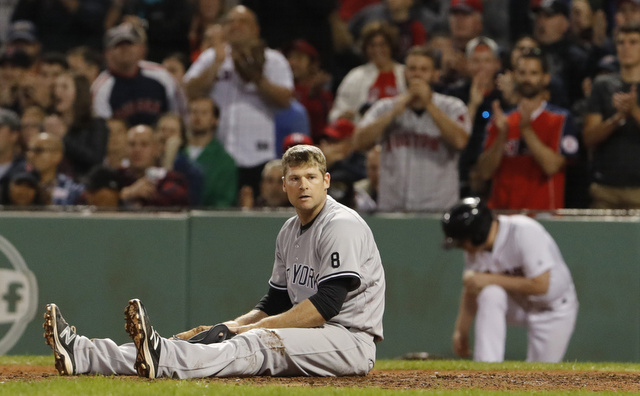 Eight inning, Joe Espada strikes again. I can't ever recall seeing a third base coach make as many baffling sends as Espada. Every team has runners thrown out at the plate. It's inevitable. But Espada seems to specialize in those OMGWTF sends. It's uncanny. A single (Headley), a bunt (Mason Williams), and a walk (Austin) put runners on first and second with one out. Gardner flew out to center, then Ellsbury hit a soft-ish grounder back up the middle. Bogaerts reeled it in and for whatever reason Espada sent Headley home. Replays show him waving him around even though the ball never left the damn infield. Headley was out by a mile. Is it possible for a third base coach to have a negative WAR?
Ninth inning, three runners stranded. The ninth inning was when it became clear that yeah, stranding all those runners was going to come back to hurt the Yankees. Two singles put runners on the corners with no outs, but pinch-hitter Brian McCann struck out. Boo. Then Gregorius drew a walk to load the bases. Woo! Then Headley struck out. BOO! Then Williams ripped a line drive right at Joe Kelly's stupid little head that he caught out of self-preservation. Threw his glove up and caught it. What can you do? It was ticketed for center field and at least one run, if not too.
In case you weren't keeping track through all of that, the Yankees went 0-for-5 with five strikeouts with a runner on third and less than two outs. Yup. As miserable as the Betances meltdown was, he never should have had to pitch anyway. The offense came up mighty small several times — Espada sure didn't help matters — and managed to turn 17 baserunners in Fenway Park into only five runs. Gross. What a traveshamockery.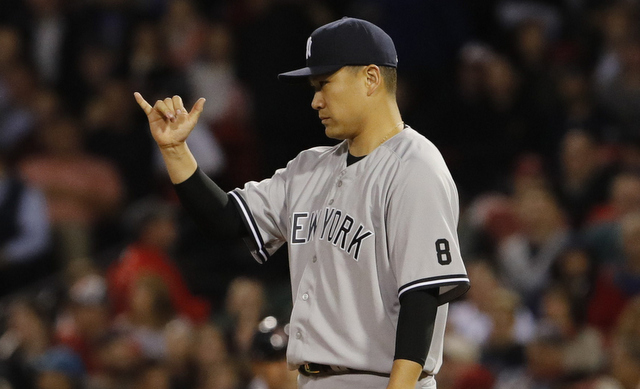 Masahiro My Hero
Oh Masahiro, you don't deserve to be stuck with these sad sacks. Tanaka did not have his best stuff or his best location Thursday night — he got four swings and misses and did not strike out a batter — yet he worked through seven innings of one-run ball. Damn is he good. I don't know if he deserves the Cy Young, but you'll have a hard time convincing me there are three better pitchers in the AL right now. (He leads the league with a 2.97 ERA.)
Tanaka's biggest mess was self-induced. It was in the third inning. He walked Jackie Bradley Jr. to start the inning, got a ground ball out, allowed a single to Pedroia, and walked Bogaerts to loaded the bases with one out for Ortiz. Hmmm. Not ideal. Ortiz flew out to deep left field to score the run on a sac fly, then Tanaka got Betts to ground out to third to limit the damage. That was the only time Tanaka seemed to be in real danger.
The final tally: 7 IP, 4 H, 1 R, 1 ER, 3 BB, 0 K. Tanaka got 15 ground ball outs and only six in the air. None of the final ten batters he faced hit the ball out of the infield. Why was Tanaka lifted after throwing only 93 pitches in seven innings? Beats me. He was cruising, and you'd think that with Betances and Clippard unavailable Girardi would want as much length out of Tanaka as possible. He was awesome. Tanaka deserves zero blame for this loss.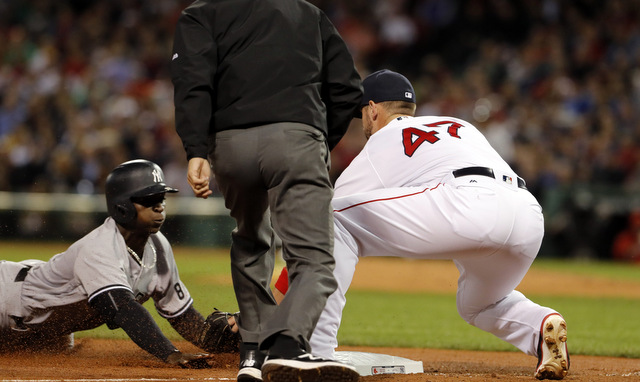 Leftovers
Warren allowed a solo home run to Ortiz in the eighth to help the Red Sox start the comeback. It seems Girardi went to Warren in the eighth because the middle of the order was due up, then he was going to roll the dice with Layne and Parker against the bottom of the order in the ninth. Smart. Too bad it all blew up in his face.
Ellsbury, Gary Sanchez, Castro, Gregorius, and Headley each had two hits. That 2-3-4-5-6-7 portion of the lineup went 13-for-28 (.464) and that's really good. Timing is everything in this game though, so all those stranded runners wound up costing the Yankees the game. Fourteen hits and three walks in Fenway and only five runs? Good grief.
And finally, the Blue Jays won but the Tigers and Orioles lost. The Yankees are three games back of Toronto for the second wildcard spot with 16 games to play. The Tigers and Mariners are both two games out. The Yankees aren't out of it — they still have four games left with the Jays, after all — but losses like this remind you this team just isn't good enough. Hasn't been all year.
Box Score, WPA Graph & Standings
Head on over to ESPN for the box score and updated standings, and MLB.com for the video highlights. We have Bullpen Workload and Announcer Standings pages too. Here's the devastating win probability graph:

Source: FanGraphs
Up Next
Unfortunately, the Yankees have to play again Friday. Then Saturday too. The worst. Hate baseball. Luis Cessa and Clay Buchholz will be on the mound Friday night. Eat at Arby's.