I have 14 questions and 13 answers in the mailbag this week. As always, RABmailbag (at) gmail (dot) com is where you want to send any questions or comments throughout the week.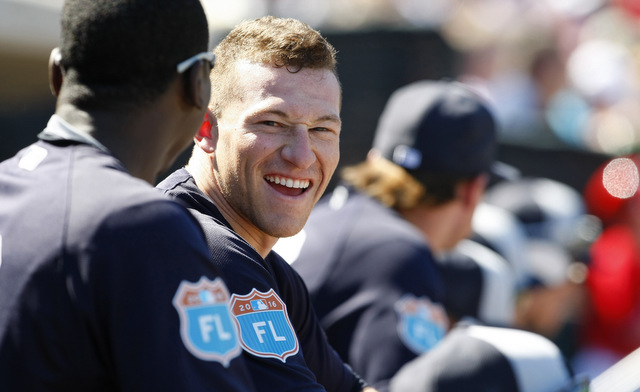 T.J. asks: I might have missed this over the course of Spring Training, but while I was perusing the Yankees 40-Man Roster, there was no Slade Heathcott to be found. That led me to the Scranton roster, where Heathcott is listed, but states that he is not on the 40-Man. Was he outrighted during the spring or is this some kind of conspiracy?
I have no idea what is going on with this. Heathcott has not been listed on the 40-man roster on the official site since being sent out in Spring Training, yet the Yankees have not made an official announcement about him removed from the 40-man, and teams announce every transaction. They send out little one sentence press releases like "so and so has been outrighted to Triple-A."
That never happened with Heathcott, which leads me to believe he is still on the 40-man. Furthermore, when the Yankees sent Slade to minor league camp, the announced he has been optioned to Triple-A, and you can only option 40-man players. Non-40-man guys are "reassigned," not "optioned." Mistakes have happened before — a year or two ago Tyler Austin was not listed on the 40-man for a few days — but this has been going on three weeks already. You'd think it would be fixed by now.
There's also this: why would the Yankees remove Heathcott from the 40-man? They didn't need a spot at any time. Everyone who made the Opening Day roster was already on the 40-man. Furthermore, Aroldis Chapman's suspension cleared a 40-man spot, so the Yankees have been at 39 players since the end of camp. And even if they needed a spot, Greg Bird and Bryan Mitchell are 60-day DL candidates. This has to some kind of clerical error. Heathcott should still be on the 40-man.
Chris asks: Would the Yankees Entertain trading Betances because he'll be getting a huge raise after this year through arbitration? And what do you think they can get for him?? I know it's crazy talk but I was just curious.
Damian asks: If everything but the bullpen goes wrong in the next four months, is there any chance the Yankees actively shop Betances or Miller? Seems like they could get a nice haul back from a playoff team and still have a pretty deep (though not as dominant) BP for the future. Was the Giles trade a benchmark?
Might as well lump these two together. I do think the Yankees would consider moving Dellin Betances in a trade as long as they are getting a big return. In fact, Joel Sherman reported a few days ago the Yankees listened to offers for both Betances and Chapman over the winter. That's in addition to Andrew Miller, who was on the block all offseason.
As good as he is, there are valid reasons to trade Betances. He's about to get expensive through arbitration, he has a history of arm injuries and a history of control problems, and relievers in general are just so damn volatile. Go back to 2013 and guys like Greg Holland, Joe Nathan, Jesse Crain, Danny Farquhar, and Neal Cotts were among the top 15 relievers in WAR. It can go quick and without warning.
The Ken Giles trade does establish a benchmark, though there are some key differences. Most notably, the Phillies traded five years of Giles. The Yankees would only be trading three years of Betances this offseason. Betances is better than Giles, but those two extra years of control are huge. A cheap young starter the Yankees could plug right into their rotation plus prospects seems like an appropriate return for Dellin.
I'm not sure the Yankees should actively shop Betances (or Miller) after the season, but they should absolutely be willing to listen to offers. And there's no reason to think they won't. Dellin's soon to be escalating salary should not be a driving factor. He's still going to very underpaid relative to his performance, and besides, the Yankees have money. Any trade should be about the talent coming back to the Yankees.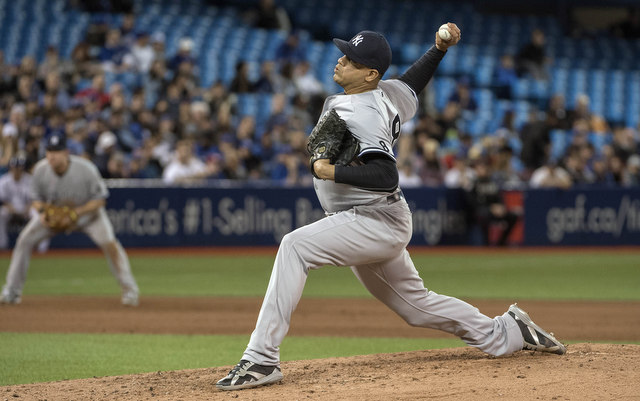 IJ asks: Saw in today's weekly notes that Dellin Betances turned down a modest raise and the Yankees renewed his contract at league minimum, why would Dellin turn down a modest raise? Does that effect arbitration hearings or something else in the long term that it would make sense to do that? Couldn't the Yankees have just said, "Hell with it give him the bump whether he wants it or not?"
Betances turned it down on principle, basically. He rejected the team's offered raise because he felt it was too small, and he did not want to accept a low offer and set a precedent. I know, it sounds silly, but that's what happened. I guess Dellin and his agent wanted to send a message. Declining the raise won't have a huge impact on his salary next year as a first time arbitration player, and it might not have any impact whatsoever. I'm certain he and his agent considered that. Betances figures to smash arbitration records for a non-closer reliever. A few extra grand this year won't change that.
Jeff asks: Why is A-Rod listed negatively defensively on Fangraphs when he hasn't played in the field at all so far this year?
FanGraphs has Alex Rodriguez at -1.3 runs defensively on the season so far, and that's the positional adjustment for DH. Positional adjustments are explained here. Long story short, some positions are more valuable than others, so players who play important positions (shortstop, etc.) get a boost while players at less important positions (left field, etc.) get docked. The positional adjustment for DH is -17.5 runs per 1,458 innings (162 nine-inning games), indicating a DH is -17.5 runs less valuable than an average defender. Those -1.3 runs charged to A-Rod are the pro-rated positional adjustment.
Jackson asks: There was some prospect buzz over the winter about guys who haven't played any games yet, college guys like Will Carter and Brandon Wagner. In addition, it seems Katoh and Jose Mesa, Jr., who already have 2 plus years under their belt in the system have gone MIA. Any reason why the Yankees can't give them more development/playing time? They're not injured, correct?
Carter started the season with Low-A Charleston, made one start, then was placed on the DL for an unknown reason. Wagner, Mesa, and Gosuke Katoh are presumably in Extended Spring Training right now, ditto others like Drew Finley, Jeff Degano, and Kolton Mahoney. Mesa is the only one that really surprises me because he's a reliever, he's 22, he dominated last year (2.23 ERA and 2.28 FIP), and he finished the season in Charleston. He might be hurt. Otherwise I have to think he would be in High-A Tampa.
Wagner and especially Katoh seem like victims of the numbers crunch. The Yankees have a lot of infield prospects at the lower levels, so much so that guys like Thairo Estrada, Hoy Jun Park, Kyle Holder, and Abi Avelino are bouncing around the infield. Jorge Mateo and Miguel Andujar are playing short and third, their respective natural positions, full-time because they're among the team's best prospects. Everyone else is bouncing around. There's no room for Wagner or Katoh anywhere. Finley and Degano are presumably fine-tuning in ExST and not hurt. And even if they were hurt, good luck getting that information.
Geoffrey asks: In the DotF this morning, you mentioned that Ronald Herrera is 20 and on the RailRiders, which seems rather notable. I don't remember reading much about him besides getting him for Jose Pirela, what's his story? Is he a potential big league call up?
The call-up to Triple-A was only temporary. Herrera made a spot start there because Tyler Olson and Luis Cessa were getting moved around at the MLB level. Still though, Herrera is only 20 and he's in Double-A, and that's impressive. He's almost four years younger than the average Double-A Eastern League player. Here is Baseball America's scouting report on Herrera from their free trade write-up:
Herrera's not particularly physical, standing only 5-foot-10, and does not have much projection left, but he's very athletic with an easy-to-repeat delivery. With the fastball, he shows above-average command to both sides of the plate and touched 94 mph while sitting 90-93. Herrera also throws a cutter and a big, soft curveball. But the change this season came when Herrera began to trust the fastball more, setting up the cutter and curve, instead of trying to trick hitters, as one evaluator said.
The Padres got Herrera from the Athletics in the Kyle Blanks trade two years ago, then San Diego sent him to the Yankees in the Pirela trade over the winter. He's always limited walks (career 5.7 BB%) and his strikeout rate did jump from 14.5% in 2014 to 16.8% in 2015, so that's interesting. Herrera's not a top prospect by any means, but he has a chance to be a useful big league arm for sure. Next year seems more realistic than this year.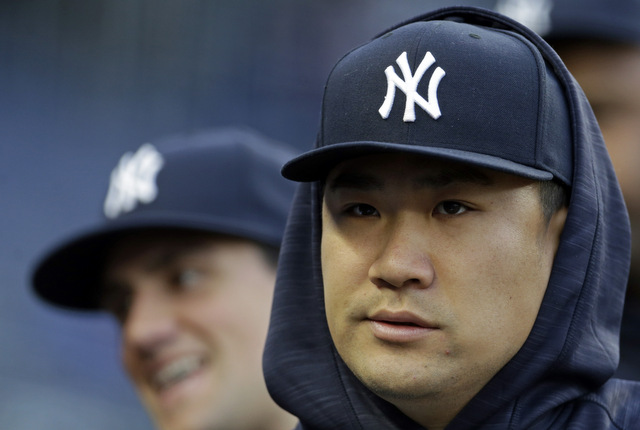 Mark asks: Curious to see your prediction for what the opening day starting staff will be next year as well as in 2018. With Kaprelian on the fast track along with CC's vesting, Tanaka's opt out and both Pineda's and Eovaldi's arbitration all coming up, do you think we'll see as many as 4 new names in the rotation by 2018?
I would not be surprised if the Yankees looked to trade Michael Pineda and/or Nathan Eovaldi this coming offseason. They're both due to become free agents following next year and the qualifying offer is no guarantee — will the qualifying offer even exist then? — so they could move both rather than lose them for nothing. Masahiro Tanaka and Luis Severino aren't going anywhere, but CC Sabathia could pitch his way into the bullpen, I suppose. How does this sound:
| | 2017 Opening Day Rotation | 2018 Opening Day Rotation |
| --- | --- | --- |
| SP1 | Tanaka | Severino |
| SP2 | Severino | Trade Pickup No. 1 |
| SP3 | Pineda or Eovaldi | Trade Pickup No. 2 |
| SP4 | Trade Pickup No. 1 | James Kaprielian |
| SP5 | Sabathia | Mitchell or Cessa |
| SP6 | Mitchell or Cessa | Mitchell or Cessa |
I'm going to guess — and this is nothing more than a guess — either Pineda or Eovaldi is traded after this season. Not necessarily for another starter — Trade Pickup No. 1 could come from a completely separate deal — but traded. Tanaka is going to opt-out of his contract following 2017 as long as he's healthy, and both Sabathia and Pineda/Eovaldi will become free agents as well. Trade Pickup No. 2 comes in a separate trade, maybe something involving Didi Gregorius with Mateo taking over at short.
Point is, I don't see the Yankees spending on a free agent starter following this season or next season. Stephen Strasburg is by far the best pitcher scheduled to hit free agency those two winters, and the Yankees are unlikely to hand out a $200M+ pitching contract at this point. They're waiting for the big contracts to expire. They're not looking to add any. Perhaps that changes with the 2018-19 epiphany free agent class.
Rob asks: During one of the games this last week one of the YES broadcasters (O'Neil I think) said young players may struggle with the shift when they first come up because they don't shift, or at least don't shift very much, in the minors. Is that true?
I don't know about other teams, but the Yankees absolutely shift in the minors. From what I understand they use increasingly more shifts as you get closer to MLB, so they don't shift much in Low-A but do shift a lot in Triple-A. That makes sense, right? You have to give players a chance to learn their position gradually. They had Mateo working out at second base in Instructional League last fall to help him get used to the right side of the infield in preparation for the shift, for example.
Teams are not aligning their defense the "old fashioned way" in the minors and then telling their young players to go out and execute the shift at the MLB level with no training. That's silly. Young players struggle with the shift when they first come up for the same reason they struggle with anything: baseball is hard. The game is faster at the big league level and they're playing against the very best players in the world. I can't imagine there's a team out there not using the shift to some degree in the minors. If such a team exists, they're behind the times.
Brian asks: I feel like the Yankees starters are throwing a lot of pitches per plate appearance and it's one of the reasons they aren't lasting more than 5 innings (Tanaka aside). Where do they rank in terms of the rest of the league in this?
Believe it or not, the Yankees' rotation is averaging 3.86 pitches per plate appearances so far this year, tied for 11th lowest among the 15 AL teams with the Astros and Indians. That surprised me. The league average is 3.97 pitches per plate appearance and only the Twins (3.81) and Blue Jays (3.74) are lower than the Yankees. Here are the individual starter averages:
Severino: 3.96
Sabathia: 3.94
Eovaldi: 3.91
Pineda: 3.85
Tanaka: 3.83
Adam Wainwright is baseball's most efficient pitcher (3.29) so far and Derek Holland is the least efficient pitcher (4.45). The Yankees have had some very long innings and high pitch counts because they've allowed a lot of base-runners. The rotation's 1.36 WHIP is sixth highest among the AL teams. The individual at-bats are not necessarily long, but they face more batters per inning.
Steven asks: Both John Ryan Murphy and Aaron Hicks are off to very cold starts in their new uniforms. How much do you think the change of scenery affects both of them? And in Hicks case, how much of his struggles are due to his lack of starts thus far? I thought he'd be taking more starts from Beltran, but Carlos has been too hot to sit very often.
I think both guys are struggling because of a lack of playing time so far. Hicks has 23 plate appearances in 14 games and Murphy has 27 in 16 games. I can understand being buried behind Brian McCann on the Yankees, but being buried behind Kurt Suzuki on the 5-11 Twins? Rough. Poor JRM. I'm not sure the change of scenery itself has hurt either guy much. Hicks changed roles, going from everyday center fielder to fourth outfielder, which could be having an impact. Murphy is in the same role as last year. I think it's just one of those things, to be honest. The noise of a small sample. Boring answer, but we're talking about 20-something at-bats spread across two and a half weeks of games.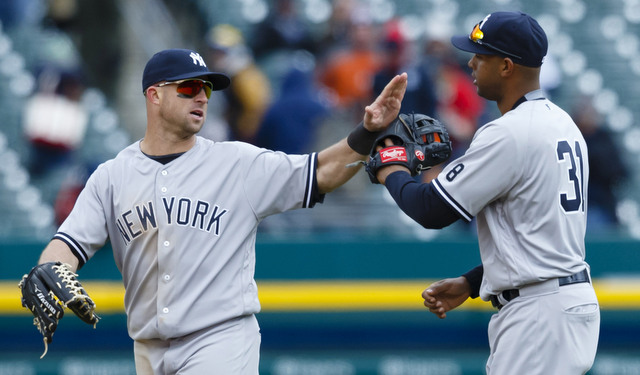 Paul asks: How crazy of an idea is it for Gardner to switch LF and RF with Beltran so that Gardner is in whichever field the batter is more likely to hit to?
Brett Gardner has played one game in right field in his career and I remember it. It was at Fenway Park two years ago and he looked completely lost out there. I remember he misread two or three balls because they sliced away from him more than he expected. This could work with someone like Hicks, who is used to both corner spots, but not Gardner given his inexperience in right.
Andy asks: What do you make of the Yankee's rotation ranking 4th in the MLB in SIERA (3.40)? Do you expect the results to catch up with the underlying skills soon?
The rotation has a 5.01 ERA, 3.70 FIP, 3.38 xFIP, and a 3.30 SIERA at the moment. Last year the starting staff had a 4.25 ERA, 4.04 FIP, 3.75 xFIP, and a 3.85 SIERA. The Yankees are big believers in DIPS Theory, they've made it clear with the players they've acquired, and that's all well and good. Lots of strikeouts, lots of grounders, few walks, and few homers is a wonderful recipe for success.
I think the Yankees have a rotation that will generally post lower FIP/xFIP/SIERAs than ERA for a few reasons. One is Yankee Stadium, which is very homer happy, and I don't think the ERA estimators account for that properly. Two is the fact guys like Eovaldi and Pineda are hittable. That might be true with Severino as well. SIERA does account for balls in play (FIP and xFIP donot), but it's not perfect. Come the end of the season, I think all four stats will be much closer to 4.00. The 5.01 ERA is too high and the 3.30 SIERA is too low because weird stuff happens in the first 14 games.
John asks: I realize that it's early yet and that we're all hoping that A-Rod turns things around. But if we get to June 30th or so and he still has a .163/.250/.302 split through 250 or so plate appearances, do you think the team will finally cut ties? I know the Yankees have been reluctant to release players with time left on their contracts, but several other teams have done so recently (Swisher's an example). The Yankees gave Soriano until July 4th two years ago, and his stats were better than Alex's so far this year.
They Yankees were only paying Alfonso Soriano $5M in 2014 and that was the final year of his contract. Cutting him loose didn't hurt the wallet too much. Cutting A-Rod at midseason would mean eating $30M and no one wants to do that. The Braves ate $10M in one season to release Swisher (the Indians were paying the rest of his salary), which is very different than $30M across two years. I would be surprised if A-Rod is struggling that badly comes June. I would be even more surprised if the Yankees released him at that point. I think they would seriously consider releasing him in the offseason if he does go the entire season looking down. Like done done.