By

The Yankees have placed Carlos Beltran on the seven-day concussion disabled list and recalled Yangervis Solarte from Triple-A Scranton, the team announced. Beltran suffered two small facial fractures during a fluke batting practice accident yesterday — he hit a ball off the cage and it ricocheted into his face. He will be eligible to return after the All-Star break.

Solarte, 27, was sent down last week and went 12-for-20 (.600) with three doubles and a triple in five games for the RailRiders. It would be totally awesome if that got him going and he comes back to hit like he did earlier in the season. Beltran has not played since Sunday due to a  minor knee/hamstring problem, and he also missed about a month due to the bone spur in his elbow earlier this year. The 37-year-old is hitting .216/.271/.401 (79 wRC+) with nine homers in 61 games this season. · (67) ·
The Yankees lost ace Masahiro Tanaka for at least two weeks yesterday thanks to what is being called elbow inflammation. He still has to be looked at by team doctor Dr. Ahmad before a final diagnosis is made. Either way, the team was dealt a serious pitching blow that exposes just how little pitching depth they have at the moment, even after acquiring the adequate Brandon McCarthy.
Both the Diamondbacks and Cubs have already started selling off players in advance of the trade deadline. It's only a matter of time before more non-contenders follow suit, including the truly awful Padres. They come into today with baseball's eighth worst record (40-51) and are on pace to have the lowest team on-base percentage (.276!) since the 1910 White Sox (.275). You think the Yankees' offense is frustrating? Imagine watching that night after night.
Anyway, the Padres are in a weird place right now because they don't have a GM. Josh Byrnes was fired two weeks ago and they've been relying on front office staffer and  former Mets GM Omar Minaya to make personnel decisions (along with some others) for the time being. Will he be allowed to make trades in advance of the deadline, or do they want to wait for the new GM to make those moves? Either way, they have some players who could interest the somehow still in contention Yankees. Here are the pitchers. We'll look at the position players in the coming days.
RHP Ian Kennedy
Kennedy, now 29, is having his best season since his surprise 21-win campaign for the Diamondbacks back in 2011. He has a 3.71 ERA (2.93 FIP) in 19 starts and 116.1 innings thanks to career-best strikeout (9.67 K/9 and 26.0 K%) and ground ball (41.9%) rates. Kennedy has never really walked anyone (2.32 BB/9 and 6.2 BB%) and spacious Petco Park has helped him keep the ball in the park (0.77 HR/9 and 8.5 HR/FB%) more than ever before.
Between that 2011 season and this year, IPK had a 4.43 ERA (4.30 FIP) in 389.2 innings from 2012-13, so he's sandwiched two very strong seasons around two very mediocre ones. Kennedy is what he is — a mid-rotation workhorse (180+ innings every year from 2010-13) who can be homer prone (career 1.06 HR/9 and 8.5 HR/FB%) because of his fly ball heavy style (38.1%). Fly balls aren't a bad thing, mind you, they are high percentage outs, but they do go over the fence from time to time. Here is the PitchFX breakdown of Kennedy's arsenal:
| | Four-Seam | Sinker | Cutter | Curveball | Changeup |
| --- | --- | --- | --- | --- | --- |
| Avg. Velocity | 92.7 | 93.0 | 85.6 | 78.5 | 84.1 |
| % Thrown | 59.4% | 1.1% | 6.8% | 17.9% | 14.5% |
| Whiff+ | 131 | 137 | 144 | 76 | 122 |
| GB+ | 87 | 40 | 95 | 136 | 90 |
Kennedy does not have a single pitch that rates as above-average at getting both swings and misses and ground balls. (Whiff+ and GB+ are like ERA+, only for the individual pitch's swing and miss and ground ball rates, respectively.) He's basically a three-pitch pitcher who mixes in some show-me cutters and sinkers per start, which is fine because he has a breaking ball for same-side hitters and a changeup for opposite handers.
Kennedy is owed about $3M through the end of the season and he will remain under team control as an arbitration-eligible player next year as well, so he wouldn't be just a rental. The Padres did an excellent job buying low on the right-hander last year — he cost them a big league lefty specialist (Joe Thatcher) and Double-A bullpen prospect (Mike Stites), that's it — and I doubt he will come that cheap this summer. With Jeff Samardzija and Jason Hammel now in Oakland, Kennedy might be the second best realistically available pitcher at the deadline behind David Price.
Other pitchers who were dealt a year and a half prior to free agency in recent years include Edwin Jackson (D'Backs to White Sox) and Dan Haren (D'Backs to Angels). Jackson cost Chicago two good but not great pitching prospects (David Holmberg and Daniel Hudson) while Haren fetched a four-player package that included big leaguer Joe Saunders and two top pitching prospects (Tyler Skaggs and Patrick Corbin). Kennedy is much more Jackson than Haren to me. Not even close. Remember, 2010 Haren was pretty awesome.
It's worth noting that, obviously, the Yankees know Kennedy well from his time in the organization. He's had a reputation for being a bit of a jerk and a hot head, most notably throwing at Zack Greinke's head during a game last season. That sparked a benches clearing brawl. (Kennedy led the baseball with 14 hit batsmen in 2012.) The Yankees value makeup and high-character players and all that. I wonder if it'll be a dealbreaker if and when Kennedy becomes available based on what they know.
RHP Tyson Ross
The Athletics are the best team in baseball and GM Billy Beane built that team by trading all of his young players, including Ross. The 27-year-old righty cost the Padres nothing but two Quad-A guys (Andy Parrino and Andrew Warner) two winters ago, and last season he gave the club 125 innings of 3.17 ERA (3.20 FIP) ball.
Ross has pitched to a 2.93 ERA (3.37 FIP) in 122.2 innings so far this year to earn a well-deserved spot in the All-Star Game. His strikeout (8.58 K/9 and 23.1 K%), walk (3.08 BB/9 and 8.3 BB%), and ground ball (58.1%) rates are almost identical to last season. It's kinda freaky (23.6 K%, 8.7 BB%, 54.9 GB%). The only significant difference is the long ball — Ross has allowed 0.73 HR/9 (12.8 HR/FB%) this year after managing a 0.58 HR/9 (8.2 HR/FB%) in 2013. Here is the pitch breakdown:
| | Four-Seam | Sinker | Slider | Changeup |
| --- | --- | --- | --- | --- |
| Avg. Velocity | 94.4 | 93.4 | 86.9 | 86.7 |
| % Thrown | 22.6% | 34.7% | 37.6% | 5.0% |
| Whiff+ | 89 | 104 | 157 | 89 |
| GB+ | 110 | 141 | 120 | 126 |
The changeup is basically a show-me pitch. Ross uses the sinker to get grounders and the slider to get swings and misses. As you might expect given the general lack of a changeup, lefties (.319 wOBA) have hit him harder than righties (.297 wOBA) over the years. Not many pure fastball/slider guys succeed as starters, but Ross is making it work. (Bud Norris, Garrett Richards, and Chris Archer are some others with a fastball/slider/no changeup repertoire.)
The Padres deserve a lot of credit for stealing Ross from Oakland. He will earn $1.98M total this season, his first of four arbitration years as a Super Two. That means he will remain under team control for another three years and not qualify for free agency until after the 2017 season. Ross would be furthest thing from a rental and that means the price will be rather high. Doug Fister was traded from the Mariners to the Tigers at a similar point in his career, and, as I detailed in our Scouting The Trade Market: D'Backs Pitchers post, Detroit gave up two top prospects and two pieces off their MLB roster to get him. Acquiring Ross would help both the 2014 Yankees as well as the 2015-17 Yankees.
RHP Joaquin Benoit & RHP Huston Street
Very quietly, San Diego has one of the most dominant setup man/closer tandems in baseball. Benoit has a 1.91 ERA (2.42 FIP) with a 30.9% strikeout rate and a 5.0% walk rate in 37.2 innings this season while Street has a 1.13 ERA (2.93 FIP) in 32 innings. He has a 28.0% strikeout rate and a 5.9% walk rate. They aren't quite Dellin Betances and David Robertson, but they're not far off either.
Bob Nightengale says the Padres have let teams know Benoit is available, and I assume Street would be as well. The last thing a bad team needs is a high-priced closer with an injury history on the wrong side of 30. Benoit is under contract for next season ($8M) with a club option for 2016 ($8M) while Street has an 2015 club option worth $7M. The Yankees could certainly use another shutdown reliever (what team couldn't?) and both guys would give them some protection for next season in case Robertson bolts as a free agent.
* * *
Righty Andrew Cashner would also make sense as a trade target because he is both really good (2.86 ERA and 3.19 FIP from 2013-14) and under team control as an arbitration-eligible player through next year, but he is currently on the disabled list with a shoulder injury. It's his second shoulder-related DL stint of the season and he has a lengthy injury history too. It seems like every pitcher to come out of TCU has arm problems. TCU is the new Rice.
Anyway, I'm not sure the Padres would be willing to deal Cashner right now for anything less than a knockout return, otherwise they'd be trading away their most valuable asset for less than full value. They're better off holding onto him, letting him finish the year healthy, then shopping him either over the winter or at next year's trade deadline. Kennedy figures to be very much available though, ditto Benoit and Street, but Ross is someone a team would have to pay a handsome price to acquire. The Padres have little reason to move him.
By

Via Jon Morosi: The Yankees are not one of the teams included in Cole Hamels' no-trade list. The southpaw is unable to block trades to just about every big payroll team as well as his hometown Padres. The Phillies are terrible and appear ready to sell off veterans prior to the trade deadline, and even if you think the Yankees have no business being buyers in the coming weeks, Hamels is someone who could help them years into the future.

Hamels, 30, has a 2.87 ERA (3.14 FIP) in 100.1 innings after missing the start of the season with a shoulder issue. He's been consistently durable (190+ innings every year from 2008-13) and excellent (3.27 ERA and 3.43 FIP since 2008) since breaking into the league. Hamels is owed approximately $100M through 2018 and reportedly the Phillies would be willing to eat money in order to receive better prospects in return. Obviously the Yankees (and every other team) could use a pitcher of this caliber, but after seeing ex-workhorses CC Sabathia, Matt Cain, Justin Verlander, and Roy Halladay crumble in their early-to-mid-30s, adding another $20M+ a year pitcher is kinda scary. · (88) ·
The Yankees were dealt a pretty significant blow yesterday, when what they called elbow inflammation landed Masahiro Tanaka on the 15-day disabled list. He returned to New York for an MRI and will soon travel to see team doctor Dr. Ahmad, who is currently in Seattle for a conference. Even though the team does not have a full diagnosis, Joe Girardi indicated to reporters the situation was serious enough to warrant a DL stint with or without the upcoming All-Star break. Argh. Here are some scattered thoughts.
1. Everyone is thinking it, so let's just come out and say it: the prospect of losing Tanaka to Tommy John surgery is terrifying. (There have been so many Tommy John surgeries this year that I don't know how someone could not think about it.) The timing of the procedure would especially suck — Tanaka would miss the rest of the season and at least the first half of next season. Considering how prone the Yankees are to setbacks the Yankees would likely be conservative during his rehab, he might not return until next August or September. I'm getting way ahead of myself here, but like I said, it's hard not to fear the worst whenever a pitcher goes down with an elbow injury these days. My fingers are crossed and I am really hoping for the best. Things will be a little tense until Ahmad gets a chance to look at Tanaka.
2. The Yankees have not yet announced who will start in place of Tanaka on Sunday — the 15-day DL stint means he will also miss at least one start after the All-Star break, but they can figure that during the break next week — and it seems like Chase Whitley will be the guy unless he is needed out of the bullpen again at some point between now and then. The Yankees can't recall Bruce Billings because of the ten-day rule — they used Tanaka's injury to call up Zoilo Almonte, so they can't use that to bring Billings back early — and right now Triple-A Scranton's scheduled starter for Sunday is TBA due to a recent rainout and subsequent doubleheader. It might just be a bullpen game the day before the All-Star break. Two or three innings from Whitley, two or three innings from David Huff, two innings from Adam Warren, etc. Yikes. This team needs the four-day break in the worst way right now.
3. If Tanaka does have to miss an extended period of time for whatever reason, the Yankees will have to consider selling at the trade deadline more seriously than at any point in the last, I dunno, 20 years or so. Or at least consider not buying. That might be the Yankees' version of selling — not doing anything and standing pat. They are 13-5 in games started by Tanaka and 33-39 in games started by everyone else, and at some point the injuries become too much to overcome. That's what happened last year. They've lost four-fifths of their Opening Day rotation to injury (at least three to long-term injury) and there are too many underperforming everyday players in the lineup to compensate. The Yankees are not a move or two away from serious contention even with Tanaka. Remove him from the equation and it's damn near impossible. Make another small Brandon McCarthy for nothing to soak up some innings and save the bullpen trade, but give up something of value? No way. The organization prides itself on contending every single year and I can't imagine throwing in the towel on 2014 would be easy after spending all that money over the winter, but losing Tanaka for an extended period of time would be the straw that breaks the 2014 Yankees camel's back.
4. Now, in the unprecedented event that the Yankees do decide to sell before the deadline, who exactly can they market? David Robertson for certain since he's due to become a free agent and literally every team could use another shutdown reliever. The Tigers, Dodgers, Angels, Braves, Giants, and possibly the Athletics would all have interest in Robertson, at the very least. I'm sure they would have no trouble finding a team willing to take Shawn Kelley off their hands too. Hiroki Kuroda has a full no-trade clause but might be willing to waive it for one of the two Los Angeles teams since his family still lives there. Brett Gardner would fetch a nice return but his contract makes him worth keeping around. Hard to see a team giving up enough to make trading him worth it. Other than those three, there's not much to offer. Brian Roberts and Ichiro Suzuki have no trade value, same with Brendan Ryan. Maybe a team would be willing to give up a Grade-C prospect for Kelly Johnson or Frankie Cervelli, but I doubt it. Point is, even if the Yankees do decide to sell at the deadline, their most marketable pieces are a rental reliever and a rental starter. The cupboard is pretty bare.
5. Without Tanaka, these Yankees are about a two out of ten on the watchability scale. That is true regardless of whether he misses the minimum 15 days or something longer. His starts along with Robertson and Dellin Betances innings are pretty much the only time I get excited to watch this team. That's just my opinion. I mean, yeah both Gardner and Jacoby Ellsbury have been awesome, but they aren't must-see television. The Yankees in general are a very boring bunch, mostly because they struggle to score and have no exciting young position players in the lineup everyday. Remember when we were trying to convince ourselves Yangervis Solarte was a guy? Yikes. You're welcome to feel differently and I hope you do, but man, to me this is the most boring and uninteresting Yankees team of the last 20 years or so. Maybe I'm just a grouch.
For the third time in the last ten games, the Yankees needed extra innings on Wednesday. Thankfully they managed to win this time. Some stellar bullpen work and a clutch 14th inning homerun gave New York a 5-4 win over the Indians. The Bombers have won five of seven games on this never-ending road trip.
Welcome To New York, Brandon
The Yankees did not waste time showing Brandon McCarthy the ropes during his first start with the team — a throwing error led to three unearned runs in the very first inning. A bunch of singles that dropping in front of outfielders and bounced by infielders did the damage along with Mark Teixeira's throw off Michael Brantley's back. He tried to get the lead runner ay second on a ground ball when he should have just taken the sure out at first base, in hindsight. Nick Swisher's two-run single with two outs was the big blow.
After that first inning, McCarthy settled down and allowed only one run in the next 5.2 innings. Fifteen of the 29 batters he faced hit the ball on the ground and four got through the infield for base hits. That's basically his game, McCarthy doesn't walk anyone (one walk in this game with a 4.2% walk rate on the season) and he makes hitters hit the ball on the ground (55.6%). He stayed true to form in his first start for the Yankees and the infield defense burned him in the first inning, which will happen from time to time. I mean, a throw into the back of a base-runner? Geez.
Overall, McCarthy gave the Yankees exactly what they were looking for when they acquired him: strikes and innings. He threw 101 pitches in his 6.2 innings and was only lifted to get the left-on-left matchup against the seemingly unstoppable Brantley. The Yankees were not acquiring an ace when they traded for McCarthy. They added someone who is more predictable and better able to pitch deep into the game than Vidal Nuno. Very solid first outing for the new guy.
Two Swings, Three Runs
Those unearned runs in the first inning put the Yankees in a quick three-zip hole, and it wasn't until the middle innings that they started to chip away. Teixeira opened the team's scoring with a leadoff solo homer in the fourth inning and he capped off their fifth inning rally with a monster two-run homer. A Jacoby Ellsbury double combined with a Derek Jeter single and a Brian McCann sacrifice fly created the first run in the fifth before Teixeira's two-run tater. Five of ten batters reached base during that stretch between homers in the fourth and fifth.
Following Teixeira's second homer, the offense did its best Derek Bell impersonation and went into Operation Shutdown, at least for a few innings. The next nine and 13 of the next 15 batters after the second homer made outs — neither base-runner reached scoring position — taking the Yankees into extra innings. That has become a theme on this road trip, scoring a bunch of runs relatively early then not doing much offensively the rest of the game. Quite annoying.
Who Wants To Win?
Both teams had excellent chances to score in the tenth inning, but neither capitalized. The Yankees put the first two men of the inning on base (Jeter walk, McCann single), but the next three made outs (Teixeira fly out, Roberts fielder's choice, Ichiro Suzuki strikeout) to end the threat. Brian Roberts banged into what was initially ruled an inning-ending double play, but Joe Girardi challenged and replay showed Cody Allen's foot slipped off first base before receiving the throw. Of course Ichiro didn't make the Tribe pay and stranded runners at the corners. Of course.
In the bottom half, Adam Warren got a quick ground out from Asdrubal Cabrera before David Huff was brought in to get the platoon matchup against Brantley. Huff, who is apparently still on the Cleveland payroll as an Embedded Indian, then walked the next three batters to load the bases with one out. He did go to a full count on all three hitters, so he made it look like he was trying to get them out, which I'm sure the Indians brass appreciated. You gotta keep up appearances. Anyway, Shawn Kelley came in and escaped the jam with a strikeout (Swisher) and a routine ground ball to short (David Murphy). Five runners left on base between the two teams in the tenth.
The 11th, 12th, and 13th innings went by rather quietly — Roberts singled to leadoff the 13th and for whatever reason Ichiro did not bunt him over. I guess the bunt is reserved for the second inning when the opposing pitcher is struggling — and it appeared the 14th inning would be more of the same until Ellsbury hooked a Vinnie Pestano slider into right field for a two-out solo homer. Pestano threw him a few nasty sliders earlier in the at-bat and Ellsbury was sitting all over it with two strikes. Perfect.
Leftovers
Aside from Huff, who walked all three batters he faced, the bullpen was really strong in this game. Matt Thornton (one out), Dellin Betances (three outs), and Warren (one hit, four outs) bridged the gap between McCarthy and extra innings, then Kelley bailed out Huff in the tenth before adding a perfect 11th. Chase Whitley retired six straight after allowing a leadoff single in the 12th. David Robertson pitched around a one-out single in the ninth. The non-Huff portion of the bullpen allowed three singles and struck out nine in 7.1 scoreless innings.
The top four hitters in the lineup went a combined 8-for-24 (.333) with a double and three homers. The other five lineup spots went a combined 4-for-28 (.143) with no extra-base hits. Considering the starting lineup, I don't think that's too surprising. When Roberts is hitting fifth for your team in the year of our lord 2014, you can't expect the bottom of the lineup to do much of anything.
For some reason Allen was allowed to throw two warm-up pitches following the video replay in the top of the tenth. The rules say warm-ups are only allowed at the start of an inning or when a new pitcher enters the game. I don't think it changed the outcome at all, just wondering why it was allowed. Making up the rules as they go?
And finally, Kelly Johnson dropped the would-be final out in the bottom of the 14th. It was a tough basket catch play on a pop-up in foul territory, but the ball clanked off his glove. Brantley hit a rocket to left field that looked like it might get over Zoilo Almonte's head, but he twisted around and made the game-ending catch. Scary few moments there.
Box Score, WPA Graph & Standings
The box score and video highlights are at MLB.com while some other stats are at FanGraphs. ESPN has the updated standings. The Orioles lost and the Mariners are getting blown out as of this writing, so the Yankees are now three games back of the top spot in the AL East and will likely be 2.5 games back of the second wild-card spot. This feels like the 2000 season all over again. First team to 87 wins gets the division title.

Source: FanGraphs
Up Next
The Yankees and Indians wrap up this four-game series Thursday night. David Phelps and lefty T.J. House will be the pitching matchup.
By

Carlos Beltran has two small facial fractures after being hit by a ball that ricocheted off the cage during batting practice, Joe Girardi announced. They still need to make sure he did not suffer a concussion, but there's a chance he will avoid the disabled list. The All-Star break is only four games away, after all. This team, man. · (13) ·
2B Rob Refsnyder, OF Aaron Judge, and RHP Luis Severino all made Baseball America's All-Prospect Team for the month of June, which is pretty cool. Refsnyder was also listed as a non-top 50 prospect to watch by Baseball America.
Triple-A Scranton Game One (7-2 win over Charlotte in seven innings) makeup of yesterday's rainout
2B Jose Pirela: 2-4, 2 R, 1 RBI, 1 SB
RF Rob Refsnyder: 1-4 — during a recent radio interview, Brian Cashman said that if they call up Refsnyder this year, it will be to play right field than second base … don't like it at all, just let Zoilo Almonte play right and let Refsnyder continue to work on his defense at second
3B Yangervis Solarte: 3-4, 1 2B, 2 RBI
1B Kyle Roller: 0-4, 2 K
C Austin Romine: 2-3, 2 R
RHP Chris Leroux: 7 IP, 8 H, 2 R, 2 ER, 1 BB, 5 K, 6/2 GB/FB — 61 of 92 pitches were strikes (66%)
The Yankees were dealt a rather significant blow this afternoon when Masahiro Tanaka's barking elbow forced the team to place their ace on the 15-day DL. The All-Star break is next week, so the best case scenario means he will miss only two starts. Still, I'd rather not see him miss any.
Tanaka's injury comes a few days after the Yankees swung a deal for Brandon McCarthy, who will make his debut for the team tonight. I think he might be their ace right now. Boy things really fell apart in a hurry, huh? Hopefully McCarthy makes a strong first impression and the Yankees can get back in the win column following last night's loss. Here is the Indians lineup and here is the Yankees lineup:
It is cloudy and cool in Cleveland, but there is no rain in the forecast. Shouldn't be any trouble getting this game in. First pitch is scheduled for 7:05pm ET and can be seen on YES. Enjoy.
Injury Updates: Brett Gardner is day-to-day with a lower abdominal strain and is day-to-day. Tests confirmed it is not a hernia and he hopes to play tomorrow … Carlos Beltran was scratched from tonight's lineup after a ball ricocheted off the cage and hit him below the eye during the batting practice. I'm not joking.
Roster Updates: Almonte was called up to take Tanaka's spot on the roster … the Yankees have not yet announced who will start Sunday's game in Tanaka's place. I assume it depends on whether Chase Whitley is needed in relief these next few days.
5:01pm: The Yankees have placed Tanaka on the 15-day disabled list with elbow inflammation, Joe Girardi told reporters. He had the MRI earlier today but the team doctors have yet to review the results. "I'm not saying it's a significant injury, but there's soreness," said the manager. "It's not how you draw it up, but injuries are a part of the game."
3:28pm: Masahiro Tanaka has left the Yankees to travel to New York for an MRI on his right elbow, according to George King. Jon Heyman says Tanaka told the team he was dealing with some discomfort following last night's start, so hopefully this is nothing more than a precaution.
The Indians roughed Tanaka up for five runs on ten hits in 6.2 innings last night, though after the game he told reporters he "didn't feel that bad." Last time out the Twins got to him for four runs on nine hits in seven innings. That had been his worst start of the season up until that point. It's worth noting Tanaka's fastball velocity has wavered in his last few starts, but last night he actually had his highest average fastball velocity of the season at 92.46 mph.
Here's the obligatory velocity graph from Brooks Baseball: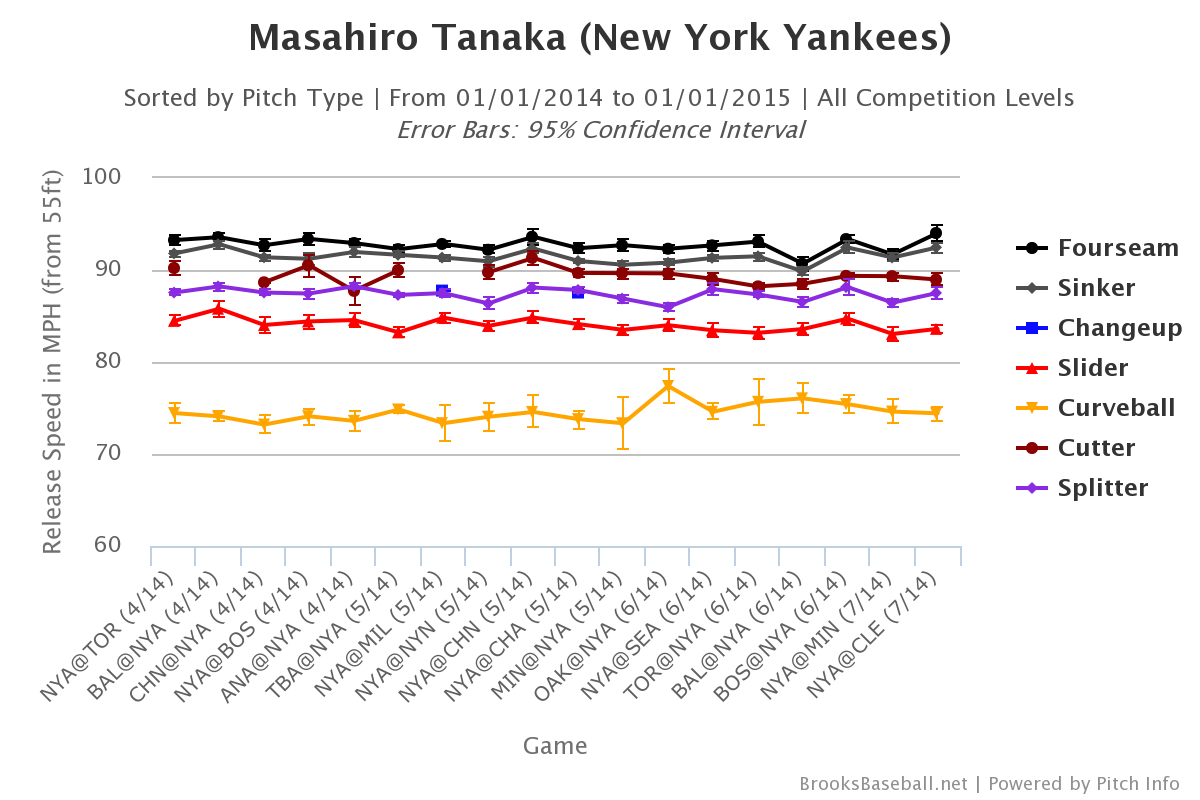 Tanaka has been relatively healthy throughout his career, though he did miss about a month with shoulder inflammation during the spring of 2012 while with the Rakuten Golden Eagles. His workload in Japan was a hot topic over the winter — Tanaka had thrown more than 1,300 innings before his 25th birthday, a number only Felix Hernandez has approached among MLB pitchers in recent years.
The Yankees have made sure to give Tanaka extra rest whenever possible this season — ten of his 18 starts this year have come with at least one extra day of rest — and only four times did he throw more than 110 pitches. They've been pretty careful with him as he transitioned from a seven-day schedule to a five-day schedule, no doubt about it.
Even if the MRI comes back perfectly clean, I would put money on Tanaka not making his scheduled start in Baltimore on Sunday. It's the final day of the first half and the Yankees have an opportunity to give him a nice extended rest during the All-Star break. No reason not to take advantage of it at this point. It goes without saying that losing Tanaka for any length of time would be devastating.
The following is a guest post from long-time reader Sung-Min Kim, who you can follow on Twitter at @SungMinKim116.
I don't know about you, but whenever I think of the offseason of 2006~07, I always think "what if?" the Yankees had signed Ted Lilly. Theodore Roosevelt Lilly, as you may recall, was a Yankee long time ago until the trade that brought Jeff Weaver to Bronx ("Lilly had cried the day in 2002 when Cashman traded him.") The lefty went on to have few solid seasons with the Athletics and the Jays – 9.7 cumulative fWAR from 2003-06 – until he hit free agency for the first time after the '06 season. Lilly strongly wanted to be a Yankee again but the team let him take the Cubs' offer. Actually, they had someone else in mind by the time Lilly agreed with the Cubs – on November 29, 2006, the Yankees had won the bidding to talk with the Japanese lefty, Kei Igawa. Lilly signed for a four-year, $40 million contract and the Yankees spent a total of $46 million dollars ($26 million in bidding, and $20 million in 5-year contract) for Igawa.
Safe to say, the Bronx Bombers probably should have gone the other way. During the four-year contract with the Cubs, and later the Dodgers, Lilly compiled 12.8 cumulative fWAR — a top 30 figure among the starters who pitched between 2007-10. Igawa, on the other hand, made only 16 total appearances during the five-year contract while compiling an abysmal -0.2 fWAR. Looking at it any shape or form, the Yankees lost out pretty big on this one. While in the Yankee organization, Igawa became the laughingstock of the fans, toiling in the minors for the most of his contract. But before the ill-advised decision by the Yankees front office, what got Igawa the Yankee attention? Who was he?