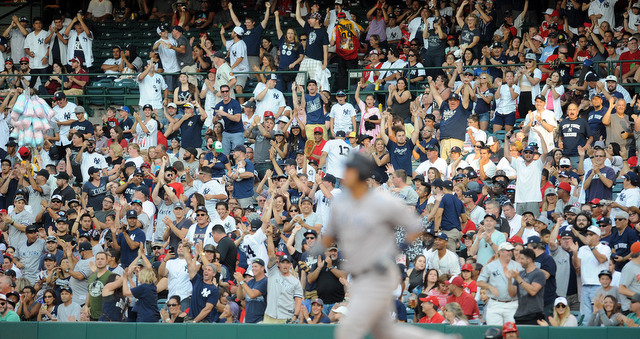 Do you want the Yankees to make the postseason? Of course you do. What's the point of watching otherwise? The Yankees came into today four games back of the second wildcard spot with five teams ahead of them. Starting tonight, they'll play their next 12 games against three of those five teams: Mariners, Orioles, Royals, and Orioles again.
These next 12 games are a big opportunity for the Yankees to gain ground in the the wildcard race, and you know what? They had chances like this earlier in the season and didn't capitalize. This team has been treading water for about three months now. At some point they have to get hot and stay hot to have a realistic shot at the postseason, and hey, maybe they're in the middle of that hot streak right now. The Yankees have won seven of their last eleven games, you know. Here is the Mariners' lineup and here is the Yankees' lineup:
It has been cool and cloudy all day in Seattle, the internet tells me. Typical Seattle weather, I guess. Tonight's game will begin at 10:20pm ET and you can watch on YES. Enjoy.
Awards!: Gary Sanchez was named the AL Player of the Week, MLB announced. That's cool. He went 11-for-21 (.524) with four homers last week. That'll do it. Sanchez is the first Yankee to be named AL Player of the Week since Gardner last June, and only the second Yankees catcher to win the award, joining Thurman Munson. Yowza.