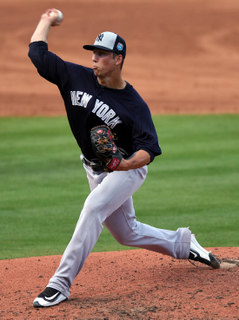 Yesterday afternoon, 2015 first round pick and the Yankees' top pitching prospect James Kaprielian made his second appearance of the Grapefruit League season. It was almost like two separate outings. In his first inning, Kaprielian carved up three legitimate big leaguers (Yoenis Cespedes, Lucas Duda, Neil Walker) with ease. In his second inning, some non-roster players tagged him for four runs (two earned) on four hits and two walks.
No one likes to see their favorite team's top prospects struggle in Spring Training, even if we all know the games don't mean much in the grand scheme of things. Did he make it through the outing healthy? If yes, it was a good day. That's pretty much all that matters from a performance standpoint. After yesterday's game, Kaprielian told reporters it was good to get smacked around in his second inning of work.
"It's good to get punched around a little bit," he said to Brendan Kuty."I want to keep my confidence obviously but these are good hitters. They're going to hit mistakes. If you leave mistakes out there too much they're going to get hit around. But it happens. It's all part of the experience. All I have to do is work on what I can work on this week and control what I can control and get out there and do what I can for next outing."
All the major scouting publications are in agreement Kaprielian has a chance to move quickly through the minors as a polished college pitcher with a solid four-pitch arsenal, and if you watched his first inning yesterday, it was easy to believe. The talk he could appear in the big leagues late this season didn't seem crazy. And then Kaprielian's second inning of work served as a reminder that hey, this is a 22-year-old kid fresh out of college.
That rough second inning of work was an unfamiliar experience for Kaprielian. He won a College World Series championship as a freshman at UCLA and was the best pitcher in the Pac-12 as a sophomore and junior. Kaprielian had nothing but success in college …

… and he performed well in the minors last season. He cruised in his first Grapefruit League outing the other day (six up, six down) and had an easy first inning yesterday. Then bam, things unraveled. The defense failed to make some plays behind him and Kaprielian made some mistake pitches. That's baseball. It happens.
A rough inning like Kaprielian's second inning yesterday can be a positive developmentally, assuming the pitcher takes it that way. All players are going to struggle at some point, even the game's truly elite players. The best players are the ones who can make adjustments quickly and right the ship. Kaprielian hasn't dealt with much failure in his career and he hasn't been forced to make those adjustments. Not yet, anyway.
I'm a firm believer in performance struggles being a positive development tool. Players will fail and you want them to fail for the first time in the minors, where they can learn to make those adjustments as soon as possible and in games that don't count. It doesn't always happen that way. Some players are simply too good and are never challenged in the minors. Phil Hughes didn't experience failure until he got to Yankee Stadium, for example.
Kaprielian struggled yesterday and it sounds like he understands it's a chance to get better. It's a learning experience. He's going to go to the minors at the end of Spring Training and begin his march to the big leagues, and of course the Yankees hope he gets there as soon as possible. That's the goal, after all. A little adversity — I mean on-field adversity, Kaprielian's had plenty of off-the-field adversity already — along the way wouldn't be a bad thing as long as it helps Kaprielian learn what it takes to be successful at the next level.