By

5:31pm: Beltran will try to swing a bat on Monday, Joe Girardi announced. If that doesn't go well, he will have surgery.

3:26pm: Via Mark Feinsand: Carlos Beltran will try to play through the bone spur in his elbow. If there is too much pain, he will have surgery and be sidelined for roughly two months. He received a second cortisone shot over the weekend.

Beltran, 37, is not eligible to be activated off the disabled list until next Wednesday, so I assume he'll spend the next several days trying to hit. He might try to "play through" the bone spur without actually playing for the Yankees, if that makes sense. If it bothers him in the batting cage or in minor league games, Beltran could decide to have the surgery without ever actually being activated. Seems like he knows he needs the surgery but will try to put it off until the offseason. We'll see. · (35) ·
Matt Chapman | 3B/RHP
Background
Chapman is an Orange County kid from Trabuco Canyon who went undrafted out of El Toro High School (Austin Romine's alma mater) in 2011. He hit .285/.380/.413 with seven homers and seven steals in 108 games as a freshman and sophomore at Cal State Fullerton, and so far this spring he has a .318/.417/.511 batting line with six homers, five steals, and nearly as many walks (22) as strikeouts (23) in 46 games.
Scouting Report
Listed at 6-foot-2 and 215 lbs., Chapman stands out for his defense at the hot corner, where he has quick feet, soft hands, and a rocket arm. He has some power in his right-handed swing and a good approach at the plate, but he has struggled against premium velocity throughout his career. Chapman has been classified as a hard-nosed, blue collar player who plays very hard. Although he has not pitched during his three years at Fullerton, Chapman threw 98 mph out of the bullpen with Team USA last summer. He is considered a better prospect as a position player, but the mound is an obvious fallback option.
Miscellany
In their recent rankings, Keith Law (subs. req'd), Baseball America, and MLB.com ranked Chapman as the 54th, 64th, and 77th best prospect in the draft class, respectively. As I mentioned yesterday, scouting director Damon Oppenheimer loves his SoCal prospects, and he has sown an increased affinity for college bats the last two drafts. Chapman appears to be a player the Yankees could target with their top pick, their second rounder (55th overall).
By

Via Ken Rosenthal: The Red Sox have re-signed Stephen Drew to a one-year contract worth $14.1 pro-rated, so basically the qualifying offer he turned down over the winter. He will presumably take over shortstop with Xander Bogaerts moving back to third base. Drew will be a free agent again after this season, but because he did not spend the entire season with Boston, they will not be able to make him a qualifying offer.

The Yankees had on again, off again interest in Drew during the offseason and even in recent weeks — we recently heard they would reconsidering signing him after the draft — which makes sense given the infield situation. Just this morning I said I expected Drew to sign with the Tigers after the draft, which shows what I know. Kendrys Morales is still unsigned, and if the Yankees lose Carlos Beltran to elbow surgery, he would make some sense as a full-time DH and replacement middle of the order bat. · (51) ·
For the fourth series in a row, the Yankees are playing a National League team. This time they're on Chicago's north side for two games against the Cubs. These clubs played two games at Yankee Stadium last month and the Yankees didn't just win both games — the first game was rained out, so they played a doubleheader the next day — they shut the Cubs out both times. It was pretty great. Alfonso Soriano is returning to Wrigley Field for the first time since being traded back to New York last July, so it'll be interesting to see the reception.
What Have They Done Lately?
The Lovable Losers took two of three from the Brewers over the weekend, winning both Saturday and Sunday. They dropped three straight and ten of 12 before that. The Cubs have lost 90+ games in each of the last three seasons and they are again terrible in 2014, coming into today with a 15-27 record and a -3 run differential. That is the very worst win-loss record in baseball despite a decidedly average run differential.
Offense
The Cubs average 3.95 runs per game and have a team 82 wRC+, so they are well-below-average offensively. They are missing two outfielders in OF Justin Ruggiano (80 wRC+) and OF Ryan Sweeney (36 wRC+), both of whom are on the 15-day DL with hamstring problems. Ruggiano started a minor league rehab assignment yesterday, so I suppose he could be activated at some point during this series. Sweeney is out long-term.
Rookie manager Rick Renteria has two above-average bats in his lineup in 1B Anthony Rizzo (134 wRC+) and SS Starlin Castro (126 wRC+). Rizzo has bunted to beat the shift several times this year, including once against the Yankees, so expect them to pull the third baseman a little closer to the line. Castro has rebounded quite well following a brutal 2013 season. IF Luis Valbuena (114 wRC+) plays just about everyday, either at second or third. OF Junior Lake (103 wRC+) has been solid in left field.
OF Emilio Bonifacio (89 wRC+) got off to a ridiculously hot start but has cooled down considerably. He leads the team with eleven steals and is their only serious threat to run. 3B Mike Olt (89 wRC+) has hit a bunch of homers (nine) but also has a .254 OBP and a 31.6% strikeout rate. C Welington Castillo (94 wRC+) has been good by catcher standards. Everyone else on the active roster — OF Nate Schierholtz (33 wRC+), OF Ryan Kalish (69 wRC+), UTIL Chris Coghlan (-6 wRC+), IF Darwin Barney (38 wRC+), and C John Baker (-46 wRC+) — has not hit at all.
Pitching Matchups
The Yankees are in serious need of rotation help following the CC Sabathia and Ivan Nova injuries, and it just so happens two prime pieces of trade bait will be on the mound for the Cubs this series. They aren't shy about being terrible for the sake of accumulating prospects with an eye towards a future that may never come. Consider this a chance to do some advance scouting.
Tuesday: RHP Masahiro Tanaka (vs. CHC) vs. RHP Jason Hammel (vs. NYY) (Pitcher GIFs)
Hammel, 31, took a one-year "I know you're going to trade me but hey, money" contract from the Cubs over the winter and has a 3.06 ERA (3.36 FIP) in eight starts and 53 innings so far this season. His strikeout (7.30 K/9 and 21.2 K%), homer (0.85 HR/9 and 8.5% HR/FB), and ground ball (43.9%) rates are alright, his walk rate (2.04 BB/9 and 5.9 BB%) very good. Lefties (.303 wOBA) have hit him much harder than righties (.207 wOBA), and his still ridiculously low BABIP (.217) has recently started to correct. Hammel has been throwing his low-90s two-seamer way more than ever before this year while cutting back on his mid-to-upper-70s curveball. A hard low-to-mid-80s slider is now his top breaking ball. He also throws the occasional mid-80s changeup. Hammel held the Yankees to three runs in seven innings a few weeks ago.
It's worth noting tonight's game will be the first time Tanaka faces a team for the second time this season, so the element of surprise will theoretically be gone. He held them to two singles and a walk with ten strikeouts in eight scoreless innings last month, and I'm not sure the Cubs will be the best litmus test for how Tanaka will pitch the second time around the league because they aren't a great offensive team.
Wednesday: RHP Chase Whitley (No vs. CHC) vs. RHP Jeff Samardzija (vs. NYY) (GIFs)
Some pitchers get undeservingly raised to ace status for some reason, and the 29-year-old Samardzija is one of those guys. He's been excellent so far this year — 1.62 ERA (2.86 FIP) in nine starts and 61 innings, and prepare yourself for a lengthy discussion about his 0-4 record — but there's also nothing in his track record as a starter to suggest his homer rate (0.30 HR/9 and 4.2% HR/FB) is close to sustainable. Samardzija's strikeout rate (7.50 K/9 and 20.7 K%) has fallen off big time this year while his walk (2.80 BB/9 and 7.7 BB%) and ground ball (50.3%) numbers are right in line with the last two seasons. Like Hammel, he's been getting knocked around by lefties (.308 wOBA) but not righties (.228 wOBA). I mean, don't get me wrong, he's very good. Let's pump the breaks on the ace talk for a bit though. Samardzija sits in the low-to-mid-90s with his running two-seam fastball and a couple ticks lower with his cutter. A low-80s slider is his top offspeed pitch, and he'll use a mid-80s splitter as a changeup. The Yankees did not see Samardzija in the Bronx earlier this year.
Bullpen Status
The Cubs are carrying eight relievers for the time being, presumably until Ruggiano is ready to come off the DL. Former Yankee RHP Jose Veras (10.03 FIP) just came off the DL himself and is being eased back into things right now. Renteria has been using RHP Hector Rondon (1.60 FIP) as his closer even though he's stopped short of declaring him the guy. RHP Pedro Strop (4.65 FIP) and former Yankees property RHP Brian Schlitter (3.45 FIP) have been seeing most of the setup time. Schlitter never actually pitched for the Yankees; he was briefly with the team between waiver claims in 2011.
LHP Wesley Wright (3.46 FIP) and LHP James Russell (5.77 FIP) are Renteria's two lefties, and both are specialists more than anything. RHP Justin Grimm (3.66 FIP) and RHP Neil Ramirez (1.89 FIP) fill out the rest of the bullpen. The Cubs were off yesterday, so their bullpen is nice and fresh. The same is true for the Yankees. Check out our Bullpen Workload page for details on the recent reliever usage, then check out Bleacher Nation for whatever you need to know about the Cubbies.
By

Tuesday: The Yankees have been scouting Carbonell during his workouts in Mexico, but they have not offered a contract and are not seriously pursuing him according George King, Dan Martin, and Jesse Sanchez. Carbonell is said to be seeking a four-year deal.

Saturday: Via Ken Rosenthal: The Yankees are one of five finalists for Cuban outfielder Daniel Carbonell. We heard they had interest in him a few weeks ago. Carbonell has to sign by July 2nd, otherwise he will be subject to the international spending restrictions.

Carbonell, 23, is said to be a speedy switch-hitting center fielder with some power. He hit .288/.378/.405 with two homers, six steals, ten walks, and eleven strikeouts in 127 plate appearances in Cuba last season before defecting. Here is his over the top workout video. It's unclear what kind of bonus Carbonell will command. The Yankees had interest in Cuban infielder Aledmys Diaz earlier this year, but not enough to make an offer. · (32) ·
The Yankees were off yesterday but there was still some rather large news delivered. Brian Cashman confirmed CC Sabathia will miss at least six weeks following the stem cell treatment on his twice surgically repaired right knee, meaning the team has lost its six-time Opening Day starter until at least July. If the stem cell treatment doesn't work, Sabathia will presumably have surgery and miss even more time. That's not good. Here are some miscellaneous thoughts.
1. Losing Sabathia for what is essentially two months — when you include the time he has already spent on the disabled list — really sucks. I have been an unabashed optimist about his ability to adjust to reduced velocity as he grew older, perhaps foolishly, but this injury means he will lose a lot of the time necessary to make those adjustments and learn how to pitch with his new arsenal. We'll probably never truly find out, but I'm very curious to know how long the knee has been bothering him. Maybe the injury has contributed to his struggles these last few weeks — at least the location issues since it his landing knee — and man I really hope that is the case because at least then we'd have an explanation. It would be really great if Sabathia came out on the other end of this injury and pitched effectively, even as like a 4.00 ERA innings eater, but I think the odds of that happening are on the small side. This really bites.
2. So obviously now we're going to be talking about the Yankees trading for a starter nonstop, with Cliff Lee and Jeff Samardzija the two big names. Lee might not even available, the Phillies are weird like that, but we all Samardzija will be out there. The Cubs are in a perpetual rebuilding process. Do the Yankees have the young pitching — Chicago has a ton of position player prospects and has been targeting arms in trades the last year or two — to swing a deal for him? Not unless the Cubs are open to a bunch of Single-A guys like Luis Severino and Rafael DePaula. Outside of Manny Banuelos and Shane Greene, the Yankees don't have any upper level prospect arms to offer. If they did, they'd probably be in the big league rotation right now. Jason Hammel would cost considerably less to acquire and might be the more realistic trade target just based on the likely asking price and available trade chips.
3. As for some other possible trade targets, guys like Justin Masterson and Brandon McCarthy jump out because they're due to become free agents this offseason and their teams are terrible. Masterson has lost nearly three miles an hour off his trademark sinker this year and besides, he's an extreme ground ball pitcher (61.6% in 2014 and 56.1% from 2011-13). A pitcher who relies on his infield that much is a very bad fit for the Yankees given their current roster. I mean, yeah, you can play Brendan Ryan at short on days he starts, but that would only help so much. McCarthy, on the other hand, is another ground ball heavy guy (54.1% in 2014 and 45.6% from 2011-13), except he has a long history of injury problems. He's visited the disabled list at least once with a shoulder injury every year from 2009-13. It's only a matter of time until he gets hurt this year. The Yankees need to add some reliability to the rotation, someone with a track record of durability who can miss bats and won't live and die by the infield defense. That's the perfect world scenario. Does that pitcher exist? I don't know.
4. Anyway, let's shift gears to another potentially devastating injury, the bone spur in Carlos Beltran's elbow. He received a second cortisone injection a few weeks ago and that's bad news — cortisone shots are supposed to provide instant relief and the need for a second shot indicates the first isn't working. Beltran is scheduled to see Dr. James Andrews today and it seems more and more likely he is destined for surgery, which would keep him out either 6-8 or 8-12 weeks, depending on who you ask. Either way, it'll be a while. Given the state of the rotation, the Yankees are basically going to have to out-hit their pitching staff this summer to contend, and that will be very difficult without the best all-around hitter on the roster. I know Beltran was in a big slump before he got hurt, but I think it was only a matter of time before he snapped out of it and started to hit like he did earlier this season. Between him potentially missing so much time and the shaky non-Masahiro Tanaka starters, extended winning streaks will be very tough to put together.
5. That said, if Beltran does need surgery and will have to miss so much time, the Yankees have to sign either Stephen Drew or Kendrys Morales in my opinion. Joe made the case for signing both and while that would be neat, I don't think it'll happen. Both guys have something to offer but squeezing Drew into the lineup to full take advantage of what he has to offer (specifically his defense) will be tough until the Yankees commit to playing Derek Jeter at DH on a near full-time basis. Considering they played him at short and moved Ryan to first base (!!!) on Sunday, I'm guessing there's close to zero chance of that happening. Morales, meanwhile, would more or less replace Beltran's switch-hitting bat and he could slot right in as the regular DH. Alfonso Soriano would have to play right field everyday, and while that isn't ideal defensively, he has said he prefers playing the field than sitting around for innings on end as the DH. The small sample numbers back that up. Signing Morales to replace Beltran would be the bigger upgrade in my opinion and give the Yankees a better chance to out-hit their pitching staff, so to speak.
6. I think Drew is going to sign with the Tigers almost immediately after the draft. Like, literally the day after. I remember reading somewhere that the earliest he and Morales could sign without requiring the signing team to forfeit a draft pick was the day after the first day of the draft, so Friday, June 6th. I think he'll be a Tiger that day. Detroit's shortstops have been atrocious (29 wRC+) and they are so very clearly in win now mode. Max Scherzer, Victor Martinez, and Torii Hunter are all free agents after this season and others like Miguel Cabrera, Justin Verlander, Ian Kinsler, Joe Nathan, and Anibal Sanchez aren't getting any younger. The window could not possibly get any more open. GM Dave Dombrowski tends to be decisive when addressing the team's needs and owner Mike Ilitch has certainly not been shy about opening his wallet to improve the team. Many teams we see deals that are so obvious and such great fits not happen for whatever reason. I think this is an exception. Drew to the Tigers feels inevitable.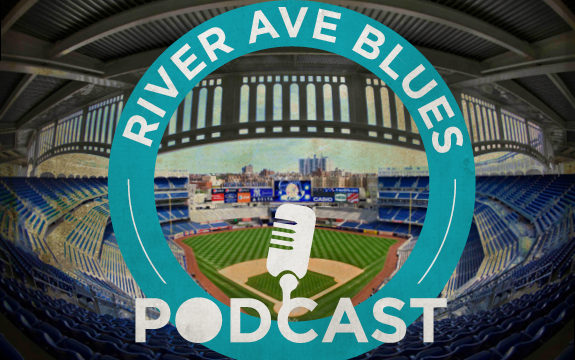 Guest: Christina Kahrl of ESPN. She writes for the SweetSpot blog (her archive here). We talk about the upcoming Cubs series, but really more about the woeful state of the team and what they're doing to get back on track. Plenty of Jeff Samardzija talk, as you might imagine.
We also dive into social issues in sports, where Christina plays an active role. You can follow her on Twitter, @ChristinaKahrl.
Before that, Jay, Mike, and I talk a bit about the Pirates series. Lots of prospect talk going on during that 35-minute opening segment. I guess it's appropriate, since Mike and I talk a bit more about the week in the minor league system.
iTunes link: subscribe here
Or you can subscribe to the RSS feed.
You can find us on Stitcher.
There are also plenty of iOS and Android apps that will grab the pod.
Podcast: Play in new window | Download (Duration: 1:12:19 — 33.1MB)
RHP Bruce Billings has cleared waivers and been outrighted to Triple-A Scranton, according to Chris Cotillo. Donnie Collins says he accepted the assignment instead of electing free agency, unsurprisingly. Billings was designated for assignment to clear a 40-man roster spot for Chase Whitley the other day. Also, I haven't updated the standings yet this season, so let's do that now.
Triple-A Scranton (5-3 win over Pawtucket in ten innings) they are 22-21 and in fifth place in the division, but only 2.5 games back of first
2B Jose Pirela: 3-3, 2 R, 2 BB – 10-for-15 (.667) in his last four games
CF Adonis Garcia: 2-4, 2 R, 1 HR, 2 RBI, 1 BB
LF Ramon Flores: 1-4, 1 RBI, 1 BB — singled in the go-ahead run in the top of the tenth
1B Kyle Roller: 2-3, 1 R, 1 2B, 1 RBI, 1 BB
3B Zelous Wheeler: 0-3, 1 HBP — he banged into an around the horn triple play in the eighth inning
SS Dean Anna: 0-4, 1 RBI, 1 K
RHP Joel De La Cruz: 5.2 IP, 4 H, 1 R, 1 ER, 2 BB, 6 K, 4/5 GB/FB — 56 of 95 pitches were strikes (59%)
RHP Mark Montgomery: 1.1 IP, 3 H, 2 R, 2 ER, 2 BB, 2 K, 1 WP, 1/1 GB/FB — 20 of 36 pitches were strikes (56%)
The Yankees are off today and they're already in Chicago, where they will play their next six games. They'll spend an entire week in the Windy City, which is pretty cool. Both the Cubs and White Sox have been pretty bad this year, especially the last few weeks, so this is a prime opportunity for the Bombers to create some distance between themselves and the rest of the division. At some point some team in the AL East is going to go on a run, like a 20-8 or 35-15 run, something like that, so banking as many wins as possible against bad teams is super important.
Here is your open thread for the off night. ESPN is airing Tigers-Indians (Smyly vs. Kluber), plus there are NBA (Thunder-Spurs, 9pm ET on TNT) and NHL (Rangers-Canadiens, 8pm ET on NBCSN) playoff games on as well. Use this thread to talk about whatever you like. Have at it.
(How fun is that video of Deion Sanders hitting an inside-the-park homer past a diving Bo Jackson? Answer: very.)
By

6:02pm: Banuelos told Peruffo it is more fatigue than soreness, which is good. Fits the idea of this stemming from not pitching for almost two years. He will rest for three days before playing catch.

6:00pm: LHP Manny Banuelos has been scratched from tonight's scheduled start for Double-A Trenton, according to Nick Peruffo. Banuelos has soreness in his arm, though it's unclear if it involves his surgically rebuilt elbow. A trip to the disabled list is possible and Matt Kardos says he will be evaluated in a few days.

Banuelos, 23, has a 4.03 ERA (~3.27 FIP) in 22.1 closely monitored innings split between High-A and Double-A this season as he returns from Tommy John surgery. The Yankees are obviously going to be very careful with the southpaw, so I would guess he winds up on the DL. Hopefully this is just normal soreness following surgery and not pitching for nearly two years. · (20) ·