Over the last two weeks we subjectively ranked and analyzed every player on the Yankees' 40-man roster — based on their short and long-term importance to the team — and you disagreed with our rankings. We've already covered Nos. 2, 3-5, 6-10, 11-14, 15-16, 17-19, 20-25, 26-31, and 32-40.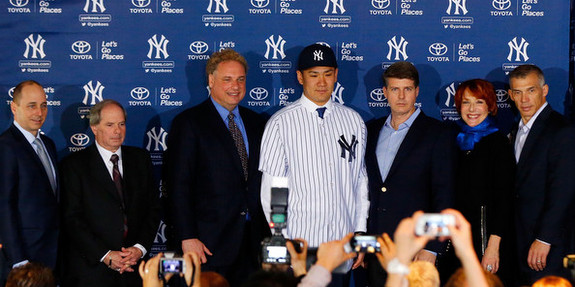 After two weeks and 39 players, we've finally reached the number one spot on our 40-man roster rankings. The most important player in the organization, both for this coming season and the next half-decade as well. There is no right answer for an exercise like this, but I am guessing most of you agree with the player who claims the top spot. I have a hard time seeing how it could be anyone else, really.
Also, shout-out to the Yankees for not making a 40-man roster move these last two weeks. That would have thrown a wrench into this little series, but it wouldn't have changed the top spot. Well, a blockbuster trade might have, but realistically that wasn't going to happen. Anyway, without further ado, here is the final entry into our 40-man roster ranking series.
2015 Role: Ace. It took very little time for Tanaka to show he is that caliber of pitcher last season. He really is the total package. Tanaka has primo stuff — highlighted by his devastating split-finger fastball — and top notch command, which allows him to pile up strikeouts, limit walks, and keep the ball on the ground. Plus he's a stone cold assassin on the mound. He pitches with conviction and nothing seems to rattle him.
In his first season as big leaguer, Tanaka struck out 26.0% of batters faced and walked only 3.9% of batters faced, the 11th and 7th best rates among the 120 pitchers to throw at least 130 innings in 2014, respectively. Only Clayton Kershaw (14.1%) and Francisco Liriano (13.6%) had higher swing-and-miss rates (13.4%). Tanaka also got a ground ball 46.6% of the time. This was a big time performance in his first season with the Yankees and the club wants to see more this coming season.
Of course, Tanaka's outlook for the 2015 season is marred by the partial tear in his ulnar collateral ligament. Tanaka suffered the injury in early-July and four different doctors recommended rest and rehab rather than Tommy John surgery. He missed three months, made two token "hey look my arm still works" starts the end of the regular season, and will come to Spring Training as a healthy player. That's what Brian Cashman and the Yankees keep saying. Tanaka is a healthy player. He completed the rehab regimen and the doctors gave him the okay to pitch.
With any luck, Tanaka will be like Adam Wainwright and Ervin Santana, who pitched for years with a partially torn UCL before needing Tommy John surgery. (Santana hasn't had surgery yet and is still pitching with the partial tear.) At some point the elbow is going to give out. It could be this year, next year, or ten years down the line. For obvious reasons, the Yankees hope Tanaka's elbow holds up this summer and he remains a force atop the rotation.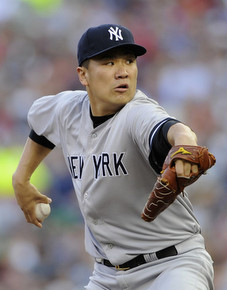 Long-Term Role: Short-term ace or long-term question mark. Tanaka just turned 26 in November, so as long as he stays healthy, there is every reason to believe he will be one of the top pitchers in MLB. But, beyond the thing with his elbow, Tanaka's contract structure clouds his long-term future with the Yankees.
New York gave Tanaka a seven-year contract worth $155M last winter that includes an opt-out after the fourth year. And why do players use opt-out clauses? To get more money. So if Tanaka stays healthy and productive, he'll opt out of his contract following the 2017 season and seek a bigger deal. Re-signing him could be a headache since you're talking about a massive contract for a pitcher approaching 30, especially if the elbow hasn't given out and you know it's still coming eventually.
But, if Tanaka's elbow does blow out at some point relatively soon and he scuffles these next few years, he'll take the guaranteed money and be a question going forward. The opt-out is almost a no win situation. I know people like to say you could get the best years of his career and let someone else pay through the nose for his decline, but that doesn't really happen with the Yankees. They want to keep their star players and are more likely to pay a steep price to keep Tanaka than let him walk. If he is healthy and dominant enough to justify opting out, the team's history suggests they'll try to bring him back.
Alright, so that said, Tanaka's role for at least the next three seasons continues to be ace. The elbow is an ugly cloud over everything, but hey, any pitcher can blow out at any time. I guess Tanaka is no different in that regard. The Yankees emphasized youth this offseason but it really started last winter, when they paid a handsome price to land Tanaka because he wasn't just dominant, he was dominant and only 25 years old. Elbow issues or not, a 26-year-old ace with potentially six more years left on his contract is an easy call for the most important player on the 40-man roster.