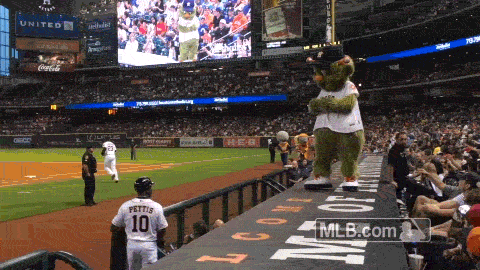 Despite losing three of four to the Indians this weekend, the Yankees are still 4-3 in the first seven games of this ten-game homestand. The Astros are in the Bronx for a three-game series starting tonight. They split a four-game series with the Yankees in Houston back in late-June. That feels like an eternity ago.
What Have The Astros Done Lately?
The 'Stros are red hot right now. They just swept three games from the Dodgers — Mike Fiers threw a no-hitter in the first game, then they beat Zack Greinke in the second game and Clayton Kershaw in the third game — and have won six of their last eight games overall. Houston is 69-56 with a +81 run differential this season, giving them a four-game lead in the AL West.
Offense & Defense
The Astros have an average-ish offense overall, scoring 4.26 runs per game with a team 100 wRC+. They do it with power (MLB leading 169 homers) more than on-base ability (22nd in MLB with a .306 OBP). Houston is currently without OF George Springer (131 wRC+), who has been out for a few weeks with a broken wrist and is not due to return for another week or two. IF Jed Lowrie (115 wRC+) left yesterday's game with a thumb injury and is day-to-day for the time being.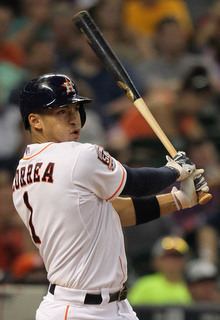 Manager A.J. Hinch, who I have to think is the favorite for AL Manager of the Year at this point, builds his lineup around rookie SS Carlos Correa (138 wRC+), who might already be the best shortstop in baseball. If he's not the best, he's certainly on the short list of candidates. 2B Jose Altuve (114 wRC+) is having a nice year and the trio of OF Colby Rasmus (106 wRC+), IF Marwin Gonzalez (100 wRC+), and IF Luis Valbuena (98 wRC+) have been average or thereabouts. Valbuena has 22 homers and a .206 AVG. He's the rich man's Stephen Drew.
OF Carlos Gomez (87 wRC+) hasn't done a whole lot since coming over at the trade deadline (25 wRC+ for the Astros) but I don't think that will last much longer. He's too talented. OF Jake Marisnick (69 wRC+) is Houston's only other healthy outfielder at the moment. 1B Chris Carter (88 wRC+) is having a down year and C Jason Castro (79 wRC+) and C Hank Conger (116 wRC+) have split catching duties. (Castro's the starter.) DH Evan Gattis (90 wRC+) is, well, the DH. Correa and Altuve are the two guys you really need to worry about right now.
The Astros are a much better defensive club now than they were at the start of the year. Correa and Altuve are very good on the middle infield and Gomez is unreal in center. He's the best center field defender in baseball in my opinion. Both Marisnick and Rasmus are very good in the outfield — they're center fielders playing the corners — and both Castro and Conger are good behind the plate. Gattis, Carter and Valbuena … not gonna win any games with the glove.
Pitching Matchups
Monday (7pm ET): RHP Nathan Eovaldi (vs. HOU) vs. RHP Scott Feldman (vs. NYY)
A knee injury has limited the 32-year-old Feldman to 16 starts and 97.2 innings this year, during which he's pitched to a 4.05 ERA (4.31 FIP). He doesn't walk anyone (5.4%) and his ground ball rate is very good (49.5%), but Feldman is homer prone (1.11 HR/9) and gosh, he misses no bats (13.0%). Righties (.355 wOBA) have hit Feldman harder than lefties (.287 wOBA) this year, though he historically has a very small platoon split. Feldman is a three-pitch pitcher, using upper-80s cutters, low-90s sinkers, and mid-70s curveballs as his main weapons. He will occasionally spin a low-90s four-seamer when he needs to throw a strike, and every so often he'll break out a mid-80s change. The cutter, sinker, and curve are his go-to pitches through. They throws them 90% of the time combined. The Yankees did not face Feldman during the series in Houston earlier this season. I'm pretty sure he was still on the DL at the time.
Tuesday (7pm ET): RHP Ivan Nova (vs. HOU) vs. LHP Dallas Keuchel (vs. NYY)
Keuchel, 27, started the All-Star Game this year and has established himself as one of the top starters in all of baseball. He's an ace. Keuchel has a 2.37 ERA (2.73 FIP) in 25 starts and 178.2 innings this year, and he does it by being the most extreme ground ball starter in the game (63.1%). He had a 63.5% grounder rate last year, which was the highest by a qualified starter in four years. Keuchel has added more strikeouts this year (22.3%) and he doesn't walk anyone (5.9%), and he predictably keeps the ball in the yard (0.45 HR/9) thanks to all those grounders. He crushes left-handed batters (.158 wOBA) and is merely excellent against righties (.271 wOBA). Keuchel has three dominant ground ball pitches in his upper-80s sinker, upper-70s slider, and upper-70s changeup. All three have grounder rates far above the league average for those individual pitches. Keuchel will also throw a few upper-80s four-seamers and mid-80s cutters to keep hitters honest. The Yankees saw Keuchel a few weeks ago and he manhandled them: 12 strikeouts in a complete game shutout.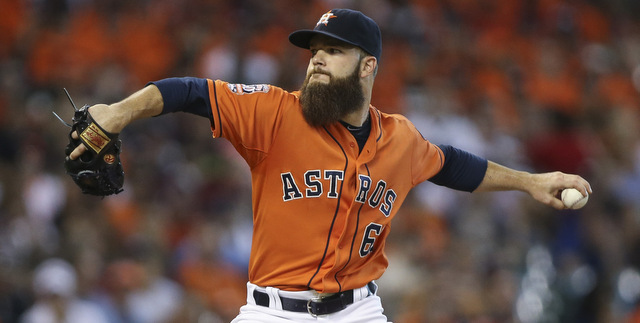 Wednesday (1pm ET): RHP Michael Pineda (vs. HOU) vs. RHP Collin McHugh (vs. NYY)
This has been a tale of two seasons for McHugh, who had a 5.04 ERA (4.44 FIP) in his first 14 starts and 85.2 innings, and has a 2.84 ERA (2.93 FIP) in his last 12 starts and 79.1 innings. That works out to a 3.96 ERA (3.66 FIP) in 25 starts and 159 innings overall. McHugh has average strikeout (19.0%) and grounder (45.8%) rates but better than average walk (6.1%) and homer (0.85 HR/9) numbers. He has a reverse split (.349 vs. .270 wOBA in favor of righties) that is the opposite of what he did last year. McHugh has a four-seam fastball right around 90 mph and he uses it only 35% of the time or so. He leans heavily on his mid-80s slider and low-70s curveball, throwing them almost 60% of the time combined. Crazy. He'll also throw a handful of low-80s changeups per start. The Yankees scored one run in eight innings against McHugh a few weeks ago. That was the second start of this 12-start stretch of dominance.
Bullpen Status
One of the biggest reasons the Astros are atop the AL West this year is their much improved bullpen — the relief corps has a 2.63 ERA (3.20 FIP) this year, up from a 4.80 ERA (4.11 FIP) last year and a 4.92 ERA (5.09 FIP) the year before. Closer RHP Luke Gregerson (2.88 ERA/3.22 FIP) has pitched each of the last two days, but otherwise Hinch's bullpen is in good shape.
RHP Pat Neshek (3.18/3.39) and LHP Tony Sipp (2.17/3.25) are Gregerson's primary setup men, and RHP Will Harris (1.47/3.28) sees a lot of fireman work. Ex-Yankee RHP Chad Qualls (3.79/3.64), LHP Oliver Perez (2.78/2.78), and RHP Vincent Velasquez (3.61/3.03) round out the bullpen. The Yankees will likely add a reliever today following yesterday's bullpen marathon. Check out the status of the team's relievers at our Bullpen Workload page, then check out Crawfish Boxes and Astros County for the latest and greatest on the 'Stros.