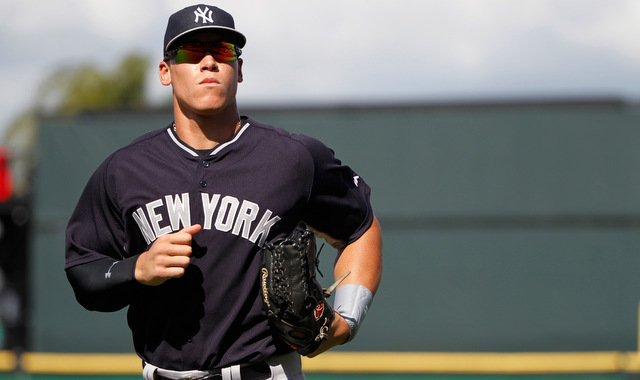 The Yankees played their first Grapefruit League game of the year yesterday afternoon and boy was it great to see baseball back. Yeah, the game ended in a tie, but who cares. Here are some thoughts after the first organized game of 2015.
1. First things first: I already love the new pace of play rules. I thought the game was more crisp with batters required to keep one foot in the box after taking a pitch — a few players, including Edwin Encarnacion, forgot the new rules and stepped out of the box, but that's why they're using Spring Training as an opportunity to adjust — though the whole "two minutes and 25 seconds between innings" thing is very much a work in progress. There were more than a few occasions when pitchers weren't ready to pitch when the clock struck zero, particularly when a reliever came out of the bullpen. I guess jogging in from the outfield and warming up in that short a time takes some hustle. They're going to have to adjust though. The rules aren't changing. Based on that one game, I'm a fan of hitters keeping their foot in the box. There was noticeably less downtime between pitches.
2. First thing I noticed about Aaron Judge: good gravy is he massive. Tall and thick but not fat. He's a massive human being. Second thing I noticed: he stands really far off the plate. Take a look (screen cap via Pinstripe Alley):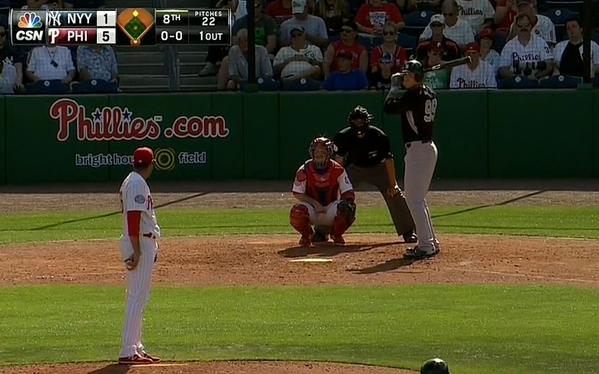 I suppose that makes sense because Judge is huge and has those long arms, so he can stand a mile off the plate and still cover the outer half. It should also allow him to better cover the inner half. Teams will undoubtedly try to bust him inside because he's so tall — they don't want him to extend those arms because bad things will happen — and this seems to put him in a better position to get around on inside pitches. I do want to see what happens when Judge gets to the upper levels and pitchers are better able to locate fastballs on the outer half. That's a lot of real estate to cover in a short amount of time.
3. Luis Severino's first inning of work could not have gone any better if you were a Yankees fan looking to be impressed. He struck out the first two batters — one looking, one swinging — then shattered a bat to get a weak ground ball for the final out. Severino's second inning didn't go as well but it wasn't like he got knocked around. He allowed two ground ball singles back up the middle then two bloops to the shallow outfield, leading to a run. Just one of those innings. At least one scout was impressed — "Love his changeup … very high ceiling," said the scout to Erik Boland while noting Severino sat 94-96 — and I'm guessing we'll see Severino another few times before camp lets out. The first inning was drool worthy. The second wasn't as good but those are the types of innings Severino will have to learn to battle through to limit the damage. It's part of growing.
4. Jacob Lindgren's inning of work (actually 0.2 innings of work) didn't go nearly as smoothly as Severino's first inning thanks in part to a Rob Refsnyder throwing error. He allowed two soft hits and struck out one around Refsnyder's error. Here's a GIF of Lindgren's much ballyhooed slider: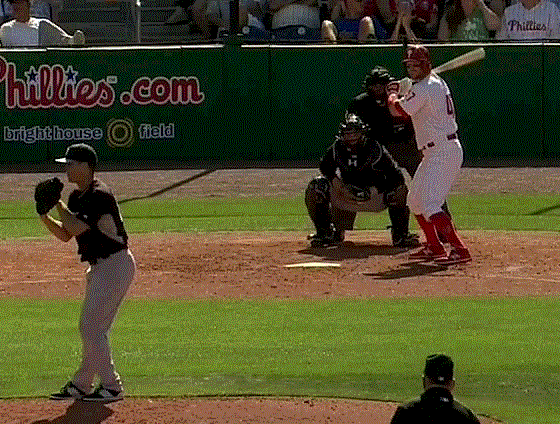 That pitch actually went through John Ryan Murphy's legs behind the plate and to the backstop. Murphy bobbled a few pitches and seemed to have a lot of trouble catching Lindgren's slider. He's not alone — Lindgren threw 18 wild pitches in 55.1 college innings last year and nine wild pitches in 25 pro innings. No, wild pitches are not passed balls, but they're functionally the same thing. Lindgren's slider appears to be hard to catch because it moves so much and so sharply. Also, yesterday's look made it seem like Lindgren throws two sliders. One he buries in the dirt for swings and misses (like the one in the GIF) and a shorter slider he throws for strikes, almost like a cutter. He'll be an interesting guy to look at once he gets to MLB and we get some PitchFX data.
5. And finally, this is Spring Training and these games aren't all that important, but one thing that always seems to mean something is bullpen usage. The high priority guys — MLB pitchers, top prospects, etc. — always work on set schedules while the lower priority guys are the extra arms who may or may not be used that day depending on what happens in the game. The guys who serve as extra arms are usually those ticketed for the minors. Yesterday, lefty Chasen Shreve was one of those extra arms. He got into the game in the ninth after Judge's game-tying homer but wasn't scheduled like Severino, Lindgren, Nick Goody, and Branden Pinder. That makes me wonder if he is on the outside of the Opening Day roster picture at the moment. That could always change in the coming weeks, there's plenty of Spring Training left, though this is something I will keep an eye on these next few weeks. Maybe the Yankees think three lefties in the bullpen is one too many even though Shreve — who looked pretty good yesterday — Andrew Miller and Justin Wilson can all get righties out.