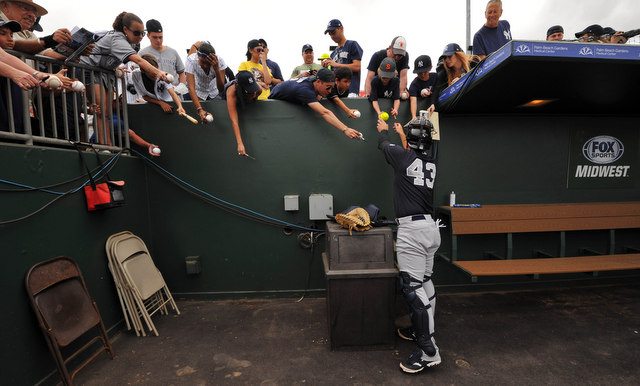 What's better than a Yankees game? Two Yankees games! The Yankees are playing a pair of split squad games this afternoon and yes, there will be broadcasts for both. The big story of the day is Aroldis Chapman's spring debut. The team is bringing him along slowly due to his 30-game suspension, so he won't pitch often this month. We might not see him again for another week or two after today.
The Yankees are playing two games but we're only going to have one game thread for the afternoon. A dual game thread, if you will. Half the team is at home in Tampa to play the Blue Jays. The other half is 75 minutes south in Sarasota to play the Orioles. Here is the Blue Jays' lineup and here is the Yankees' lineup for the home game:
3B Pete Kozma
LF Chris Denorfia
2B Jonathan Diaz
SS Tyler Wade
CF Dustin Fowler
RHP Nathan Eovaldi
Available Pitchers: LHP Andrew Miller, RHP Dellin Betances, LHP Aroldis Chapman, RHP Diego Moreno, RHP Tyler Cloyd, and RHP Vinnie Pestano are all scheduled to pitch after Eovaldi. LHP Tyler Olson, RHP Nick Rumbelow, LHP Tyler Webb, and RHP Kirby Yates are the extra arms.
Available Position Players: C Santiago Nessy, 1B Sebastian Valle, 2B Jose Rosario, SS Abi Avelino, 3B Deibinson Romero, LF Cesar Puello, CF Ben Gamel, RF Lane Adams, and DH Aaron Judge will be the second string off the bench. C Gary Sanchez, IF Dan Fiorito, and OF Michael O'Neill are the extra players.
As you can see, the Yankees brought several players up from minor league camp to help fill out the split squad rosters. I guess should also point out Kozma (back) and Eovaldi (groin) are making their spring debuts today, huh? That's kinda important. Well, one of them is. Anyway, here is the Orioles' lineup and here is the Yankees' lineup for the road game:
RF Aaron Hicks
C Carlos Corporan
1B Chris Parmelee
DH Kyle Higashioka
RHP Bryan Mitchell
Available Pitchers: RHP Kyle Haynes, LHP James Pazos, RHP Brady Lail, LHP Richard Bleier, and RHP Anthony Swarzak are all scheduled to pitch. The extra arms are RHP Vicente Campos, RHP Chad Green, LHP Matt Tracy, and three-time Tommy John surgery haver RHP Conor Mullee.
Available Position Players: C Austin Romine, 1B Chris Gittens, 2B Cito Culver, SS Jorge Mateo, 3B Miguel Andujar, LF Tyler Austin, CF Mark Payton, RF Juan Silva, and DH Eddy Rodriguez will come off the bench to replace the starters. C Francisco Diaz and IF Vince Conde made the trip as well.
Joe Girardi is actually with the road team in Sarasota this afternoon. He's a trooper. He spent the last two days on Florida's east coast and he's back on the road already. I guess this means bench coach Rob Thomson is managing the home team. Pitching coach Larry Rothschild stayed in Tampa to watch Eovaldi and the big three relievers.
The weather in Tampa and Sarasota is basically the same. A little cloudy with temperatures in the low-80s. Good baseball weather. Both of this afternoon's games will begin a little after 1pm ET. The home game against the Blue Jays will air on YES locally and MLB.tv everywhere. MLB Network will show the game on tape delay tonight. The road game against the Orioles will be shown on MASN in the O's home market. If you're not in that market, MLB.tv is your only option. As always, there are no MLB.tv blackouts in Spring Training. Enjoy both games, folks.