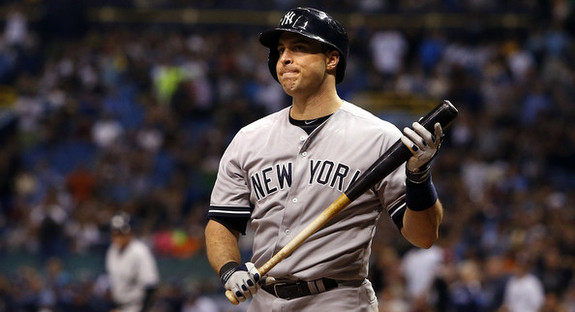 Coming into 2014, one of the bigger reasons to believe the Yankees would have an improved offense was the return of Mark Teixeira after he missed all of last season. Is he the same player he was a few years ago? Of course not. But even after wrist surgery it was a pretty good bet he would outproduce Lyle Overbay, and he has (106 vs. 86 wRC+). Overbay did an admirable job last summer, but the lack of first base production was part of the team's downfall.
Teixeira changed his batting stance in Spring Training at the behest of hitting coach Kevin Long, who reportedly noticed his first baseman had picked up on some bad habits coming off surgery. Remember, Teixeira wasn't 100% recovered at the start of camp, he was still easing back into things and did not play games until early-March. As I wrote in this May mailbag, Teixeira made the same adjustments as Curtis Granderson back in 2010: he closed his stance, stood more upright, lowered his hands, and used a two-handed follow-through.
The changes seemed to work too. Teixeira went deep five times in his first 15 games of the season and nine times in his first 27 games, good for a .271/.375/.573 (164 wRC+) batting line in 112 plate appearances. Obviously we all knew he wasn't going to hit quite that well all season, but proving he was still able to hit for power so soon after wrist surgery was important. There was some hope he would be a capable middle of the order power hitter for a team in need of one, even after signing Carlos Beltran and Brian McCann.
The production hasn't lasted, of course. Teixeira has hit .204/.305/.358 (85 wRC+) with only eleven homers in 318 plate appearances across his last 76 games. There have been some minor injuries — wrist inflammation, lat strain, finger contusion — mixed in during that time, but nothing that required a DL stint or even forced him to miss more than a week. Furthermore, Teixeira's production has declined with each passing month:
| | PA | AVG/OBP/SLG | wRC+ | ISO | HR | HR/FB% |
| --- | --- | --- | --- | --- | --- | --- |
| April | 48 | .231/.375/.487 | 145 | .256 | 3 | 27.3% |
| May | 106 | .247/.368/.472 | 136 | .225 | 6 | 23.1% |
| June | 99 | .241/.303/.471 | 109 | .230 | 6 | 21.4% |
| July | 75 | .203/.320/.375 | 95 | .172 | 3 | 16.7% |
| August | 98 | .193/.276/.307 | 64 | .114 | 2 | 7.1% |
Teixeira was able to continue hitting for power through the month of June before losing 58 points of ISO in July and another 58 points of ISO in August. His homer totals dropped accordingly. Combine that with fewer base hits in general — his walk rate has remained strong all season, with the normal peaks and valleys — and you suddenly get one really unproductive cleanup hitter in July and especially August.
So now the question becomes why has Teixeira's performance fallen off these last few months? That's tough to answer, especially because it may simply be "he's not healthy." The guy is coming off wrist surgery, after all, plus he's shown a knack for all sorts of other bumps and bruises. Who knows what Teixeira might be hiding or trying to play through, or how the combination of injuries is starting to take its toll. We can't know from where we sit.
As for some numbers, the amazing Baseball Savant says Teixeira's average distance on balls hit in the air was actually at its highest in July, and August was higher than both April and May. Month-by-month pitch selection data for hitters usually doesn't tell you anything useful other than at the extremes, and it isn't particularly enlightening with Teixeira:
Batted Ball Distance

(ft)


FB%

CH%

CB%

SL%

April
217.8
69.5%
9.8%
10.4%
8.3%
May
233.0
57.0%
17.7%
12.7%
11.7%
June
249.8
62.2%
16.0%
9.8%
10.9%
July
254.6
69.0%
10.3%
8.0%
10.0%
August
234.7
60.0%
22.2%
9.2%
8.4%
Basically all this tells us is Teixeira is still hitting the ball has far as he has all year and pitchers have not substantially changed the way they're pitching him. Those month-by-month changes in pitch selection are just the natural ebbs and flow of baseball. I'm not even going to bother posting the spray charts because they're one big garbled mess that look no different from month to month because he's a switch-hitter.
Figuring out the cause of Teixeira's power outage is little more than guesswork. Maybe he just stinks at baseball now. That's always possible. The wrist could be bothering him, Long could have given him bad guidance — Teixeira is still using his "new" stance, for what it's worth — maybe Foul Territory is taking up too much of his time, or maybe it's something else entirely. Who knows what else is going on behind the scenes. What we do know for sure is that Teixeira's production has dropped considerably as the season has progressed.
For all the recent talk about dropping Derek Jeter in the lineup, Teixeira doesn't belong in the cleanup spot either. Ideally he'd bat seventh or eighth at this point, he's been that bad these last few weeks, but you can't bat everyone in the lineup seventh or eighth. The Yankees have a whole lotta number seven and eight hitters on the roster right now. Teixeira started the season very well and I was thrilled he was that productive so soon after wrist surgery. The production didn't last though, and his fade is a reason why the Yankees are so far out of a postseason spot.