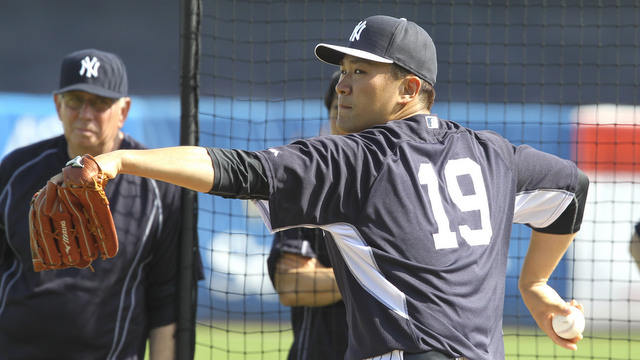 Since the very first day of Spring Training, Alex Rodriguez has dominated the headlines from Yankees' camp. They're inescapable. Hopefully that will start to change now that Grapefruit League play has begun, but I'm guessing that's not the case. C'est la vie.
Despite A-Rod's presence, the single most important story in camp this year is the status of Masahiro Tanaka's elbow. He faced hitters in live batting practice for the first time yesterday and so far everything is going well. Tanaka feels great and the coaching staff is pleased with how he is throwing. Can't ask for much more at this point. So far, so good.
Tanaka admitted to slightly altering his throwing program over the winter — he threw with less intensity, basically — following last season's elbow injury, but that's not the only change he made. Jeff Passan recently managed to tear himself away from A-Rod long enough to learn Tanaka has altered his mechanics in hopes of keeping his elbow healthy. That … seems like a pretty big deal. From Passan:
"I don't think (my mechanics) were solid (before the injury)," Tanaka told Yahoo Sports through interpreter Shingo Horie recently. "With the right mechanics, the right form, the right balance, you're able to throw a solid pitch. It's not about how much power you can put on the throw. It's more about the mechanics. That's what I believe.

"I'm never really satisfied. Your body is different every day. You've got to talk with your body and make small or, sometimes, big adjustments to get that pitch form right. It's hard to get to a point where you're completely satisfied with your mechanics."
Passan doesn't give many details about the mechanical adjustments but does say they "mostly (have) to do with ensuring his arm is in sync with the rest of his delivery, preventing excessive stress on the elbow." It sounds not like some sort of mechanical overhaul, but minor tweaks to be more efficient and maybe incorporate his lower half more.
So will the new mechanics a) keep Tanaka healthy, and b) impact his performance in any way? There's no possible way I could answer that and I'm guessing Tanaka and the Yankees wouldn't be able to tell you with any certainty either. They clearly think these adjustments at least have a chance to help him stay healthy without hurting performance. Otherwise the adjustments wouldn't have been made.
It's easy to say Tanaka's injury is the result of throwing so many splitters, and while that may very be true, it's worth noting pitchers in Japan use the splitter a ton and have a way lower rate of Tommy John surgery than their MLB counterparts. Tanaka's elbow may have started barking because his mechanics were a bit out of whack, which is what he is aiming to fix. Or maybe he hurt his elbow because sometimes pitchers just break. Who knows? Pitching ain't natural.
Many pitchers have suffered partially torn UCLs like Tanaka and very few have been able to significantly delay surgery. Even fewer have been able to avoid it all together. Tanaka is trying to become one of those exceptions and stay healthy after getting hurt, and these mechanical changes are part of his efforts to stay on the mound. Everything in camp has gone well so far, and while I'm not sure I'll ever truly feel confident in that elbow going forward, Tanaka seems to be, and that is important.