So the Yankees lost six in a row and ten of eleven, then the best team in baseball comes to town, and the Yankees … win the first two games? How about that. They followed up Monday's blowout win over the Royals with a solid, just how they drew it up 5-1 win Tuesday. Good pitching, good hitting, the works.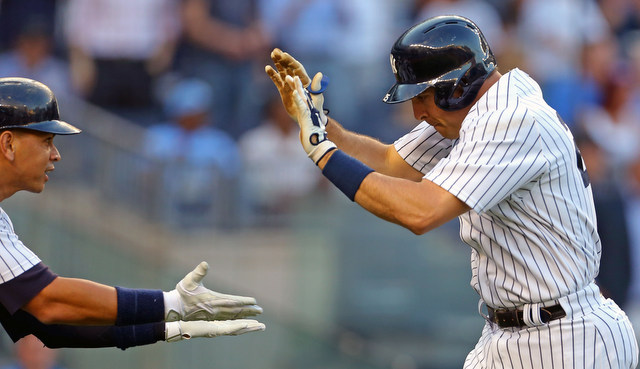 Dreaded Two-Run First Inning
Once again, the Yankees scored two runs in the first inning. That's supposed to be a good thing! But lately though, that's been bad news for the Yankees, who have developed a habit of scoring two runs in the first then never again the rest of the game. Thankfully, that was not the case Tuesday night. They scored their two runs and then tacked on later. It was fun. I like that. Do that more.
The two first inning runs came on a walk and a blast — Jason Vargas walked Alex Rodriguez and left a changeup right out over the plate for Mark Teixeira, who sent the ball into the visitor's bullpen. The Yankees didn't score again until the fifth inning — they stranded two runners in both the third and fourth innings — when back-to-back one-out singles by Chris Young and A-Rod started the rally.
Both runners scored on what appeared to be a rare Teixeira triple, but alas, it was ruled a double and an advance on the throw. He ripped a Joe Blanton pitch — Vargas was on a 75-pitch limit in his first start off the DL, so Blanton took over in the fifth — into right-center and Paulo Orlando missed with his dive. It rolled to the wall and boom, three bases. Young scored and A-Rod scored all the way from first. Five-zip Yankees.
Lorenzo Cain robbed Carlos Beltran of at least a double — it wasn't going to be a homer, but Cain made a leaping catch to grab a line drive before it clanked off the center field wall — for the final out of the fifth, but Teixeira had already scored on Chase Headley's sac fly. That kinda sucked, though it was a nice play. A-Rod and Teixeira were in the middle of both rallies, as has been the case for much of the season. It's been at least two years since the Yankees had two legit middle of the order hitters like this.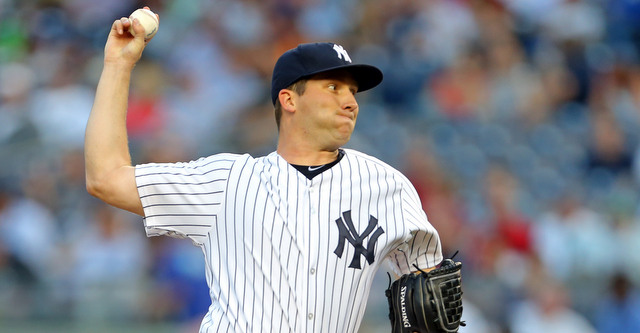 Starting Pitchah
Adam Warren seems to be getting the hang of this whole starting pitching thing. He's done it before in college and the minors, but starting in MLB is a different animal, and Warren's last three starts have been pretty darn good. He delivered his best start of the season (and thus his career) on Tuesday afternoon, holding the Royals to one run in 6.1 innings.
Warren allowed just two hits, one an infield single and one a Yankee Stadium semi-cheapie solo homer by Orlando, the number nine hitter. It was the first homer of Orlando's career. Warren didn't walk anyone, so just two base-runners on the night. The Yankees gave him an early lead and he cruised until Joe Girardi somewhat surprisingly pulled him at 88 pitches. Warren's shown a tendency to fade around the 90-pitch mark this year, and the middle of the order was about to see him a third time, so Girardi was pro-active. I get it. Either way, excellent start by Warren.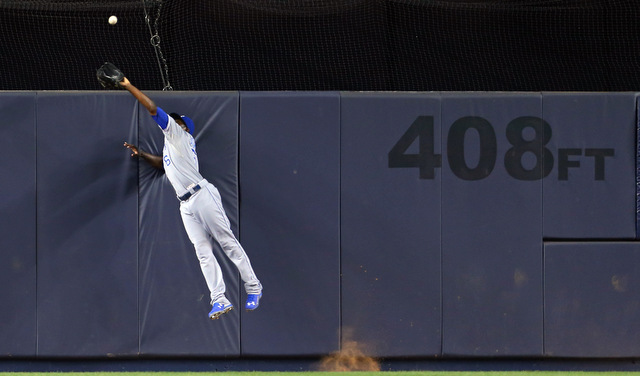 Leftovers
Justin Wilson took over for Warren and finished the seventh, sandwiching a soft line drive single between a ground out and a line out. The single glanced off the glove of a leaping Stephen Drew. Dellin Betances struck out the side in order in the eighth — he threw 14 pitches and got five swings and misses — and then Andrew Miller pitched around a single and an error (Headley) in the non-save situation.
Oh, by the way, Betances has thrown a hidden no-hitter. When he struck out Omar Infante for the second out of the eighth, hitters were in an 0-for-27 against him. See? A no-hitter, but one that spanned multiple appearances. Betances also had an 0-for-26 stretch earlier this year. Remember when we were all worried about him in Spring Training?
A-Rod and Teixeira went a combined 4-for-7 (.571) with a walk while the rest of the lineup went 3-for-24 (.125) with two walks. Young had an infield single, Beltran had a single to left, and John Ryan Murphy singled as well. Gardner and Chase Headley drew the walks.
Box Score, WPA Graph & Standings
Here are the box score, video highlights, and updated standings. We've also got a Bullpen Workload page to help you keep tabs on the relievers and an Announcer Standings pages for some still unknown reason. Here's the win probability graph:

Source: FanGraphs
Up Next
The Yankees will look to complete the sweep on Wednesday afternoon, when Michael Pineda and Chris Young square off for the second time in 12 days. It's a day game because the Yankees have to fly out to California for a seven-game West Coast trip starting Thursday night in Oakland.