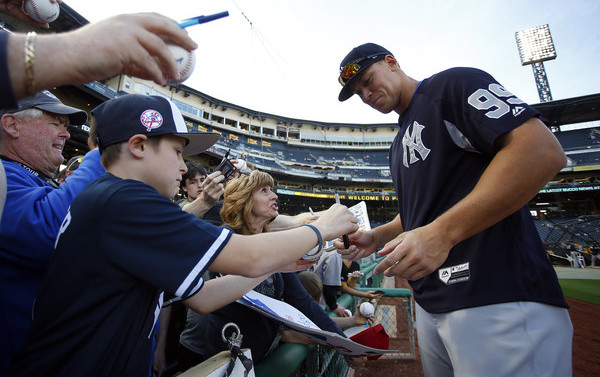 Four days ago the Yankees lost to the White Sox to snap their eight-game winning streak. They rebounded the next day with a blowout win. Last night the Yankees dropped the series opener to the Pirates due in part to some sloppy defense. How will they rebound today? Hopefully with another blowout win. That'll be tough with no designated hitter, but whatever. It's doable.
Anyway, the point is the Yankees have played well the last two weeks or so, and losses happen. Making sure a loss is just a loss and not the start of the losing streak is pretty damn important if the Yankees, who currently have the fifth best postseason odds in the AL, are going to sneak into the playoffs. Just keep winning series. Keep winning series and good things will happen. Here is the Pirates' lineup and here is the Yankees' lineup:
Not a great weather day in Pittsburgh. It's cold and cloudy, and there might be some on and off rain throughout the game. Today's game will begin at 4:05pm ET and you can watch on WPIX. Enjoy.
Injury Update: Gary Sanchez (biceps) continues to make progress with his rehab. He made 25 throws from 60 feet and another 25 from 90 feet today. Sanchez was also scheduled to hit off a tee for the first time at some point today. He's been taking dry swings. Now he'll hit an actual baseball.